Tofu can be tricky to cook, but don't let that stop you! Air Fryer Tofu is a delicious recipe and super simple method for getting a crunchy outside and a soft inside for all your tofu bites.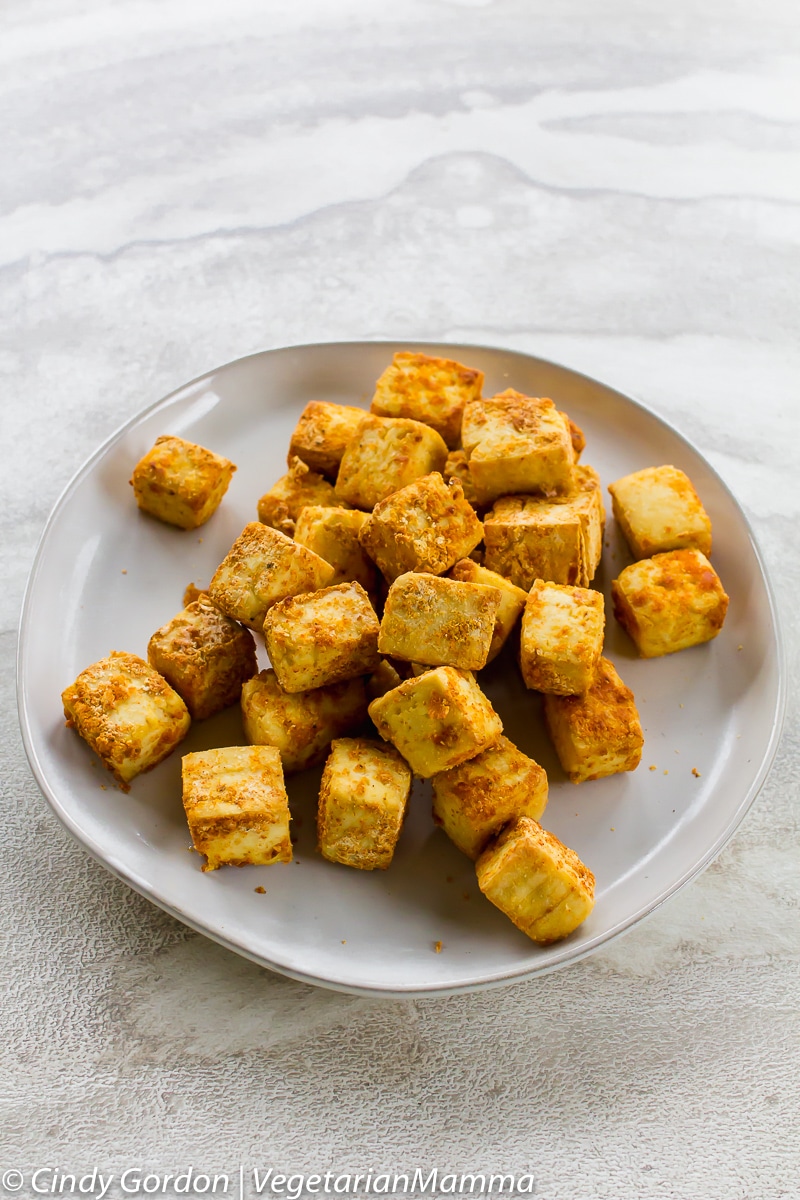 Air Fryer Tofu Bites
If you've been following me and reading some of my other air fryer recipes, then you know that I truly love using the Air Fryer. If there was ever a doubt of skepticism from me about if I would love the appliance or not, it's 100% gone now.
The Air Fryer is a GREAT way to cook many things and tofu is one of them!
In our house, we eat tofu quite often. Being vegetarian, it's a great way to supplement in something a bit different and healthy for us and our taste buds. We've cooked it so many different ways that it's hard to even truly remember them all now.
The one thing that I know for certain? If my family likes tofu, we're going to keep finding super delicious recipes to make that let tofu be the star of the show!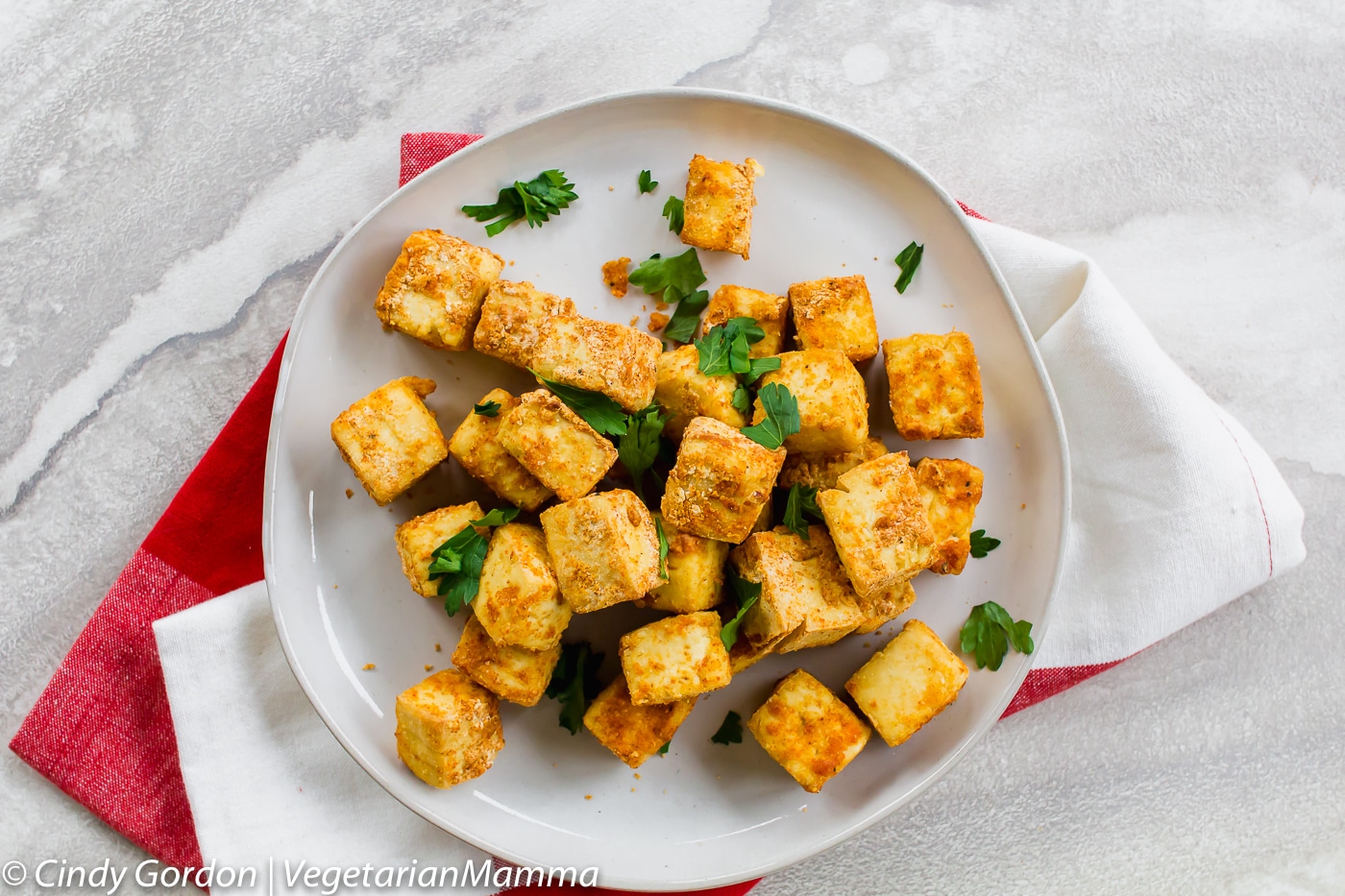 Not only is this recipe a quick and easy meal that the entire family loves, it truly is a great source of much-needed protein as well.
Finding a food that even the kids love can be a bit tricky at times, but when it comes to tofu, they love it too!
If you are new to the tofu world, then take some time to do a bit of research and get educated. You can check out our article on Understanding Tofu – A Beginners Guide or our Benefits of Tofu article.
Both have great information that will give you a little more info about the amazing benefits of tofu.
Truth be told, I've been playing with the Air Fryer quite a bit lately. It's so hard not too! While I was thinking of new things to cook in it, I found that it can cook up tofu in a SNAP! Like, super duper easy. No issues at all.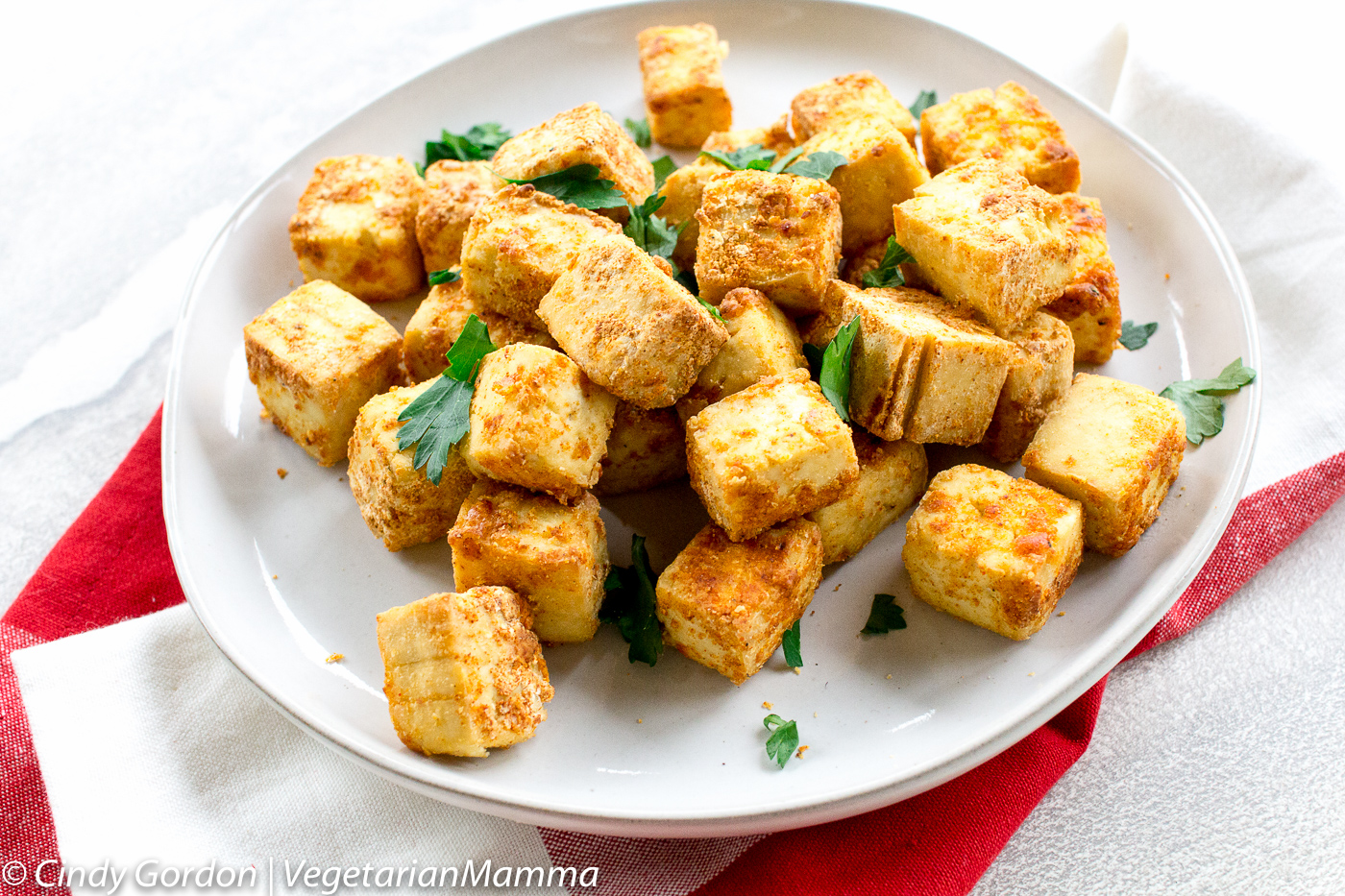 Don't forget to Press that Tofu!
One little tip that I want to share with you is that before I do anything with this tofu recipe, I always press the tofu. I do this with my EZ Tofu Press.
If you're unfamiliar with the pressing of the tofu, it's basically a way to help remove the water and moisture that can be found in it.
It's nothing new, and a lot of people do this as well. In other recipes pertaining to tofu, I've talked about the press many times before also.
If you find that you like tofu and want to start cooking with it more frequently, pressing is something that you should most definitely educate yourself on!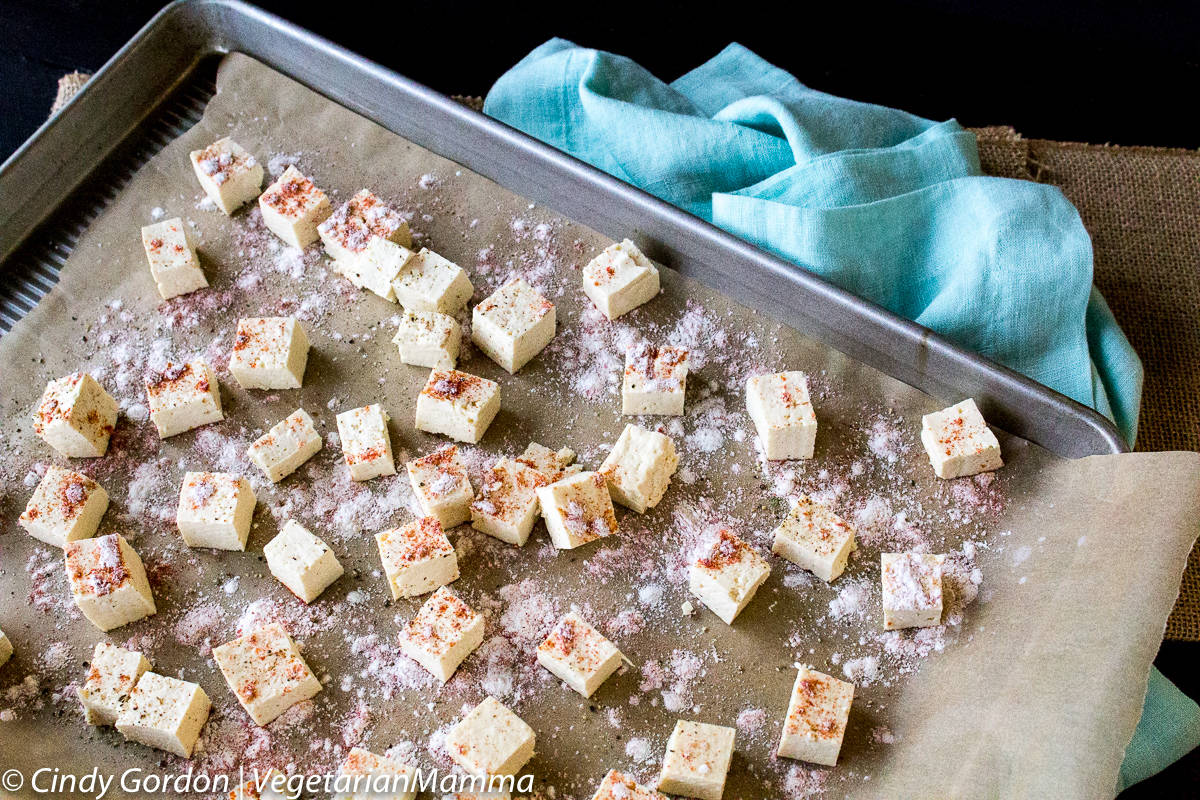 Simple Hack to Make that Air Fryer Tofu really Crunch
I have played a lot with the cooking options associated with this Air Fryer Tofu recipe and I have found that when I add in a secret ingredient, it makes the tofu even more crispy than I ever thought possible!
Any guesses about what the secret ingredient is? Drumroll, please…
While many of you may have guessed that it's gluten-free flour, it's actually not. The secret ingredient to really give the tofu a crunch is corn starch!
Who knew that corn starch was such a lifesaver in the gluten-free world to help in adding that much-needed crunch to certain foods! I love to use corn starch with my power air fryer! It truly does make a lot of difference.
And that crunch….outta this world!
Not only does it taste amazing, but it helps to create a delicious crispy outer coating! And while I love the crunch on its own, for this recipe I mixed some cornstarch and some smoked paprika together for a truly winning combo.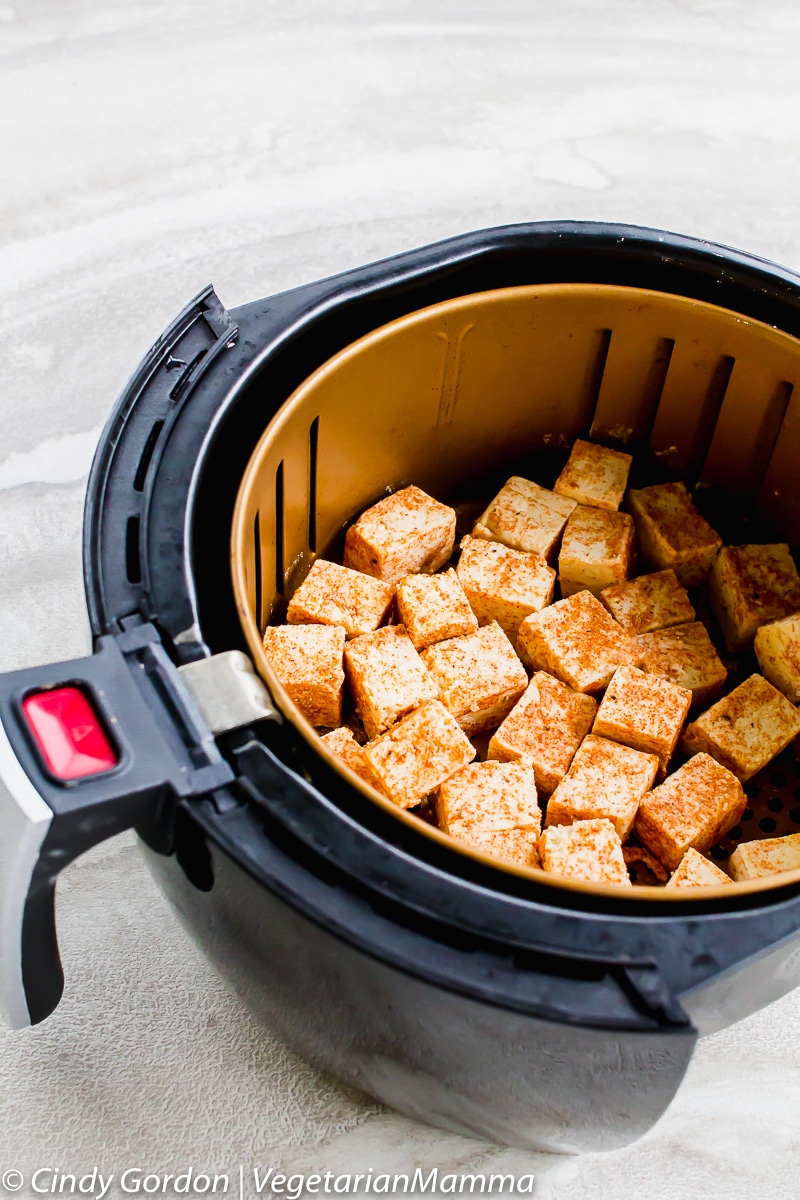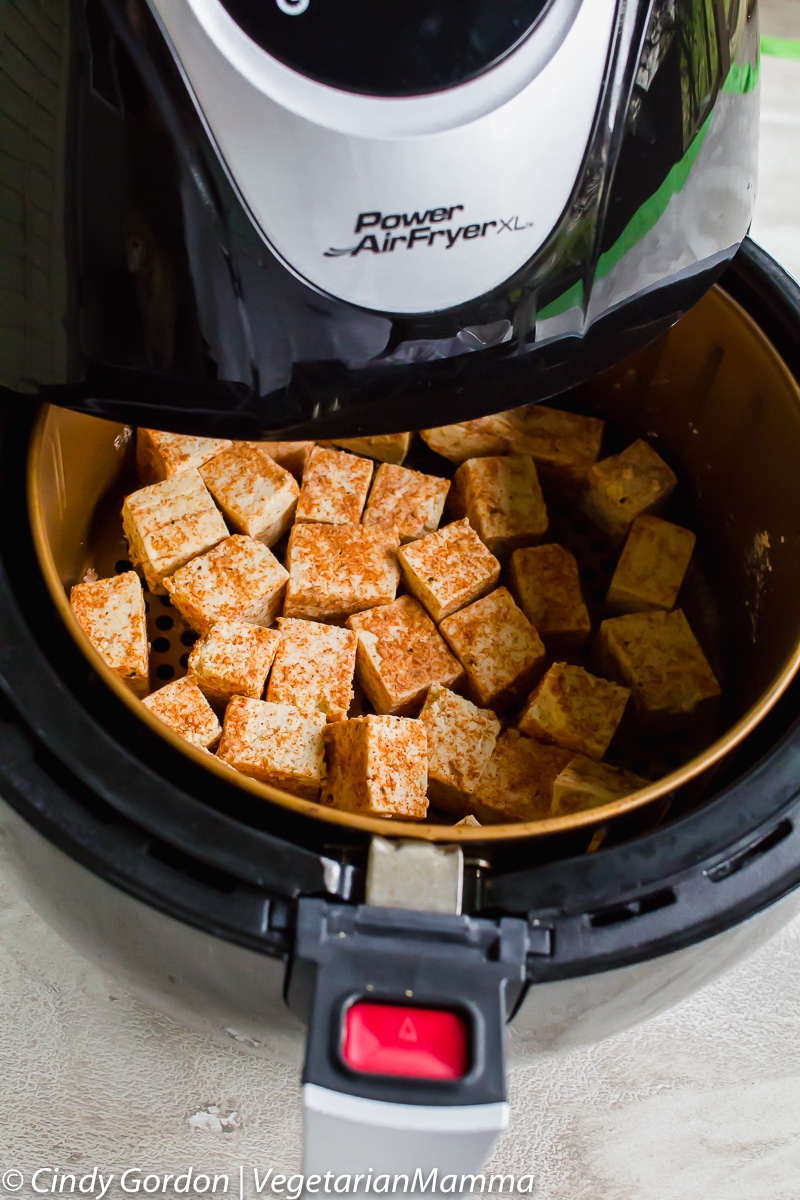 How to Fry Tofu
After I get the seasonings all mixed together, I add a bit of salt and pepper and gently toss with my hands to coat. Seriously, the prep work is minimal when it comes to this recipe!
You know me, right? I love cooking when it's easy! This air fryer tofu is seriously the best.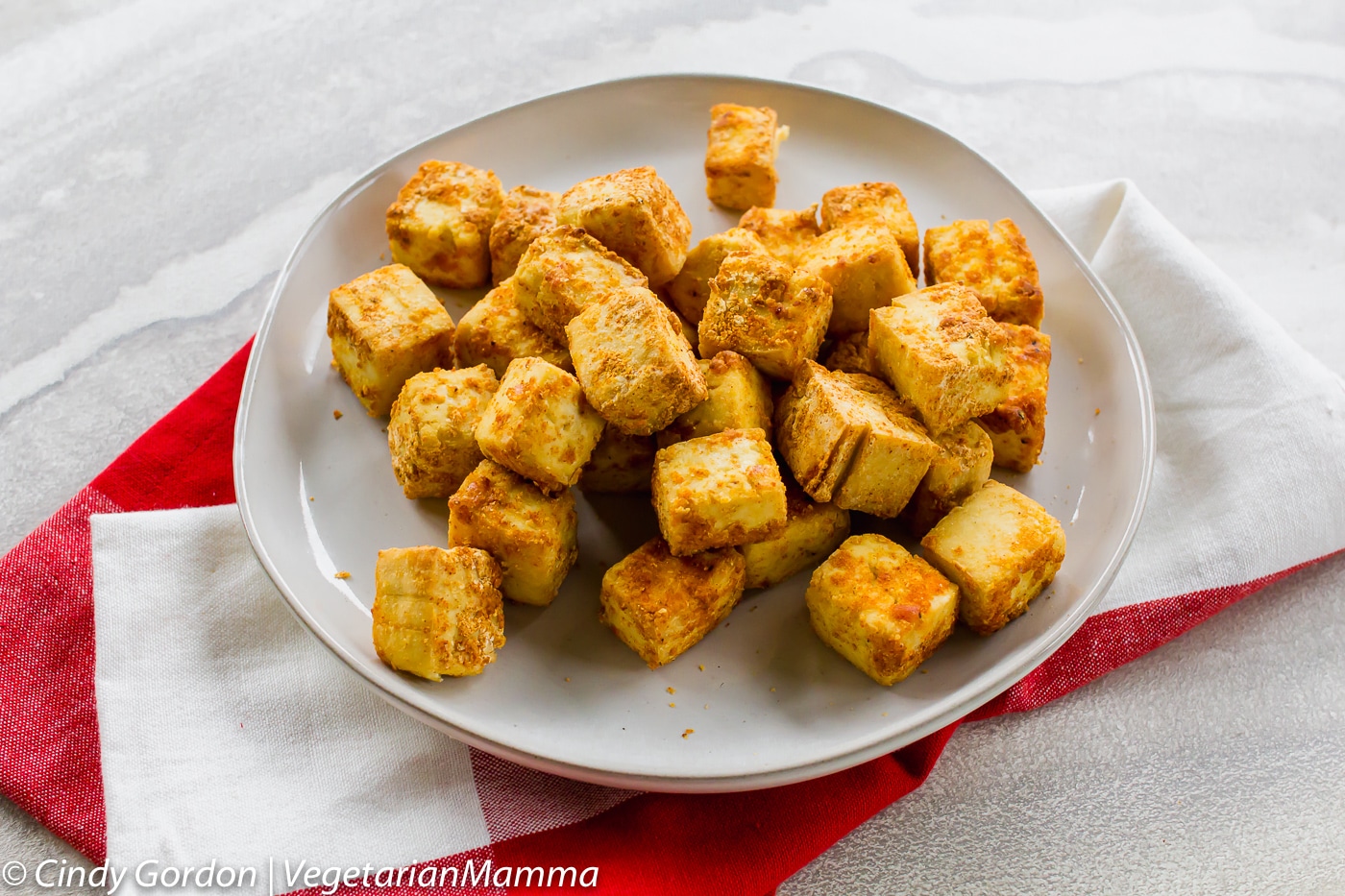 After those few simple steps, all that is left is to toss those tofu chunks into the Air Fryer basket! This is the best part because you know that in just a few moments you are going to have crispy and delicious bites of tofu just waiting for you to eat.
Think about the last time that you had a recipe that was truly this simple. If you are looking for a recipe that is so simple, anyone can do then this is the one for you!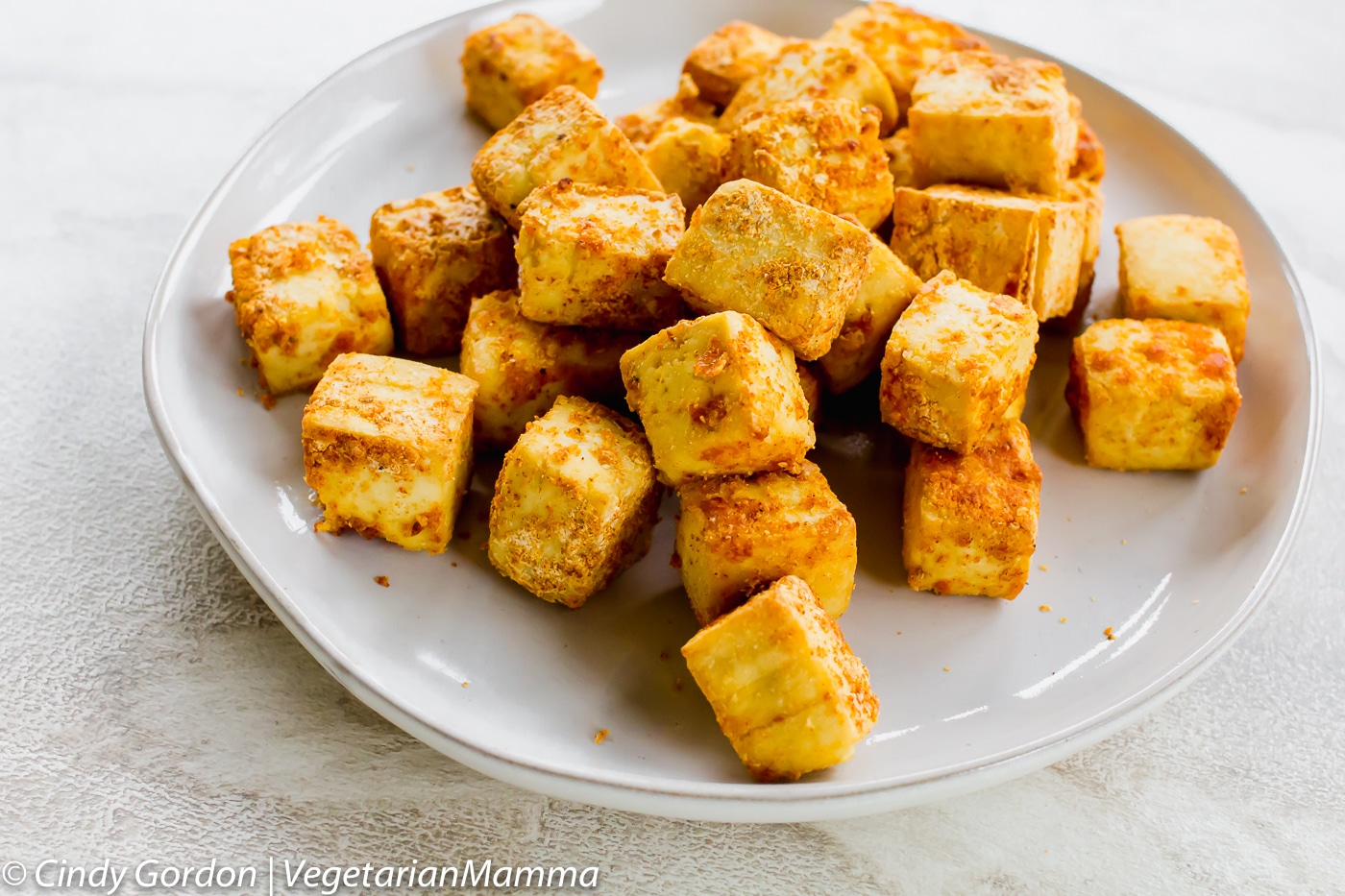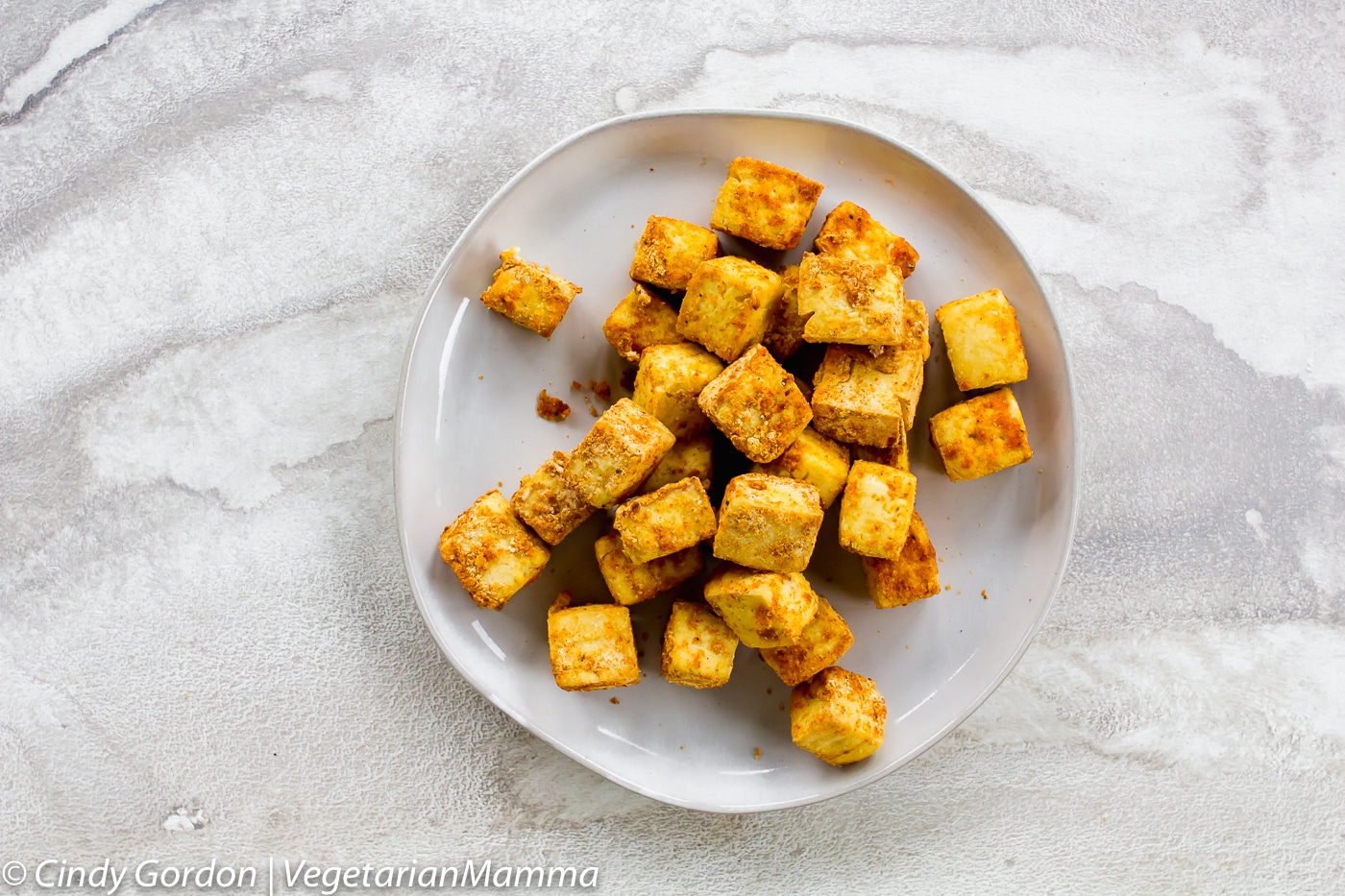 Please keep in mind that not all air fryers are 100% the same. If you find that during the cooking of this recipe that it isn't quite as crisp as you would like, then give it a bit more time in the air fryer.
The beautiful part about cooking tofu is that you can play around with it a bit to make certain that it's cooked exactly how you would like!
If you want it extra crispy, make it extra crispy! There is no true right or wrong way to make fried tofu and if you love vegan air fryer recipes, this tofu recipe should be right up your alley!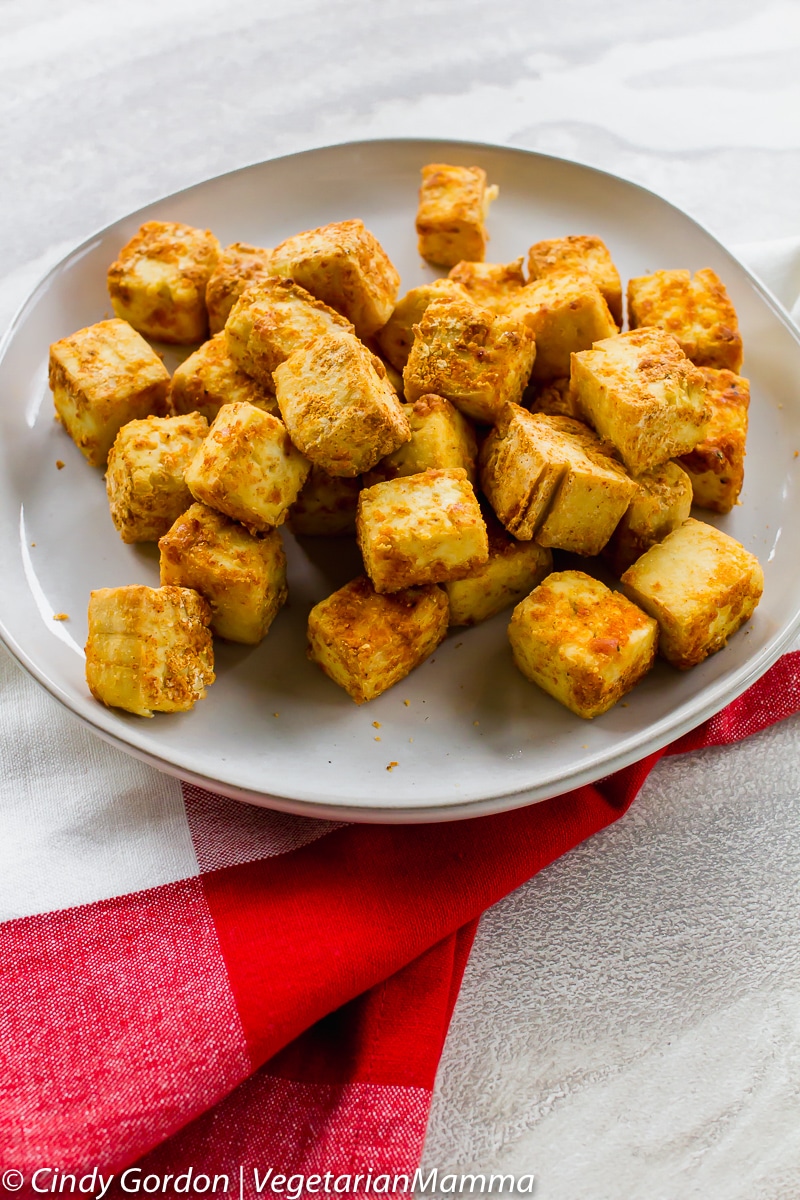 Tofu in the Air Fryer – Spice it up!
Also have a bit of fun with the seasonings for your tofu. If you like it spicy, make it spicy. I know that I can appreciate a hint of heat so if I'm making this tofu in the air fryer for myself, I'll give it quite a kick that I know I'll enjoy!
A little cayenne pepper never hurt anyone, right?
But seriously, adding spices to the fried tofu give it such a uqique flavor each and every time. It's 100% possible that you can make your fried tofu taste different each and every time.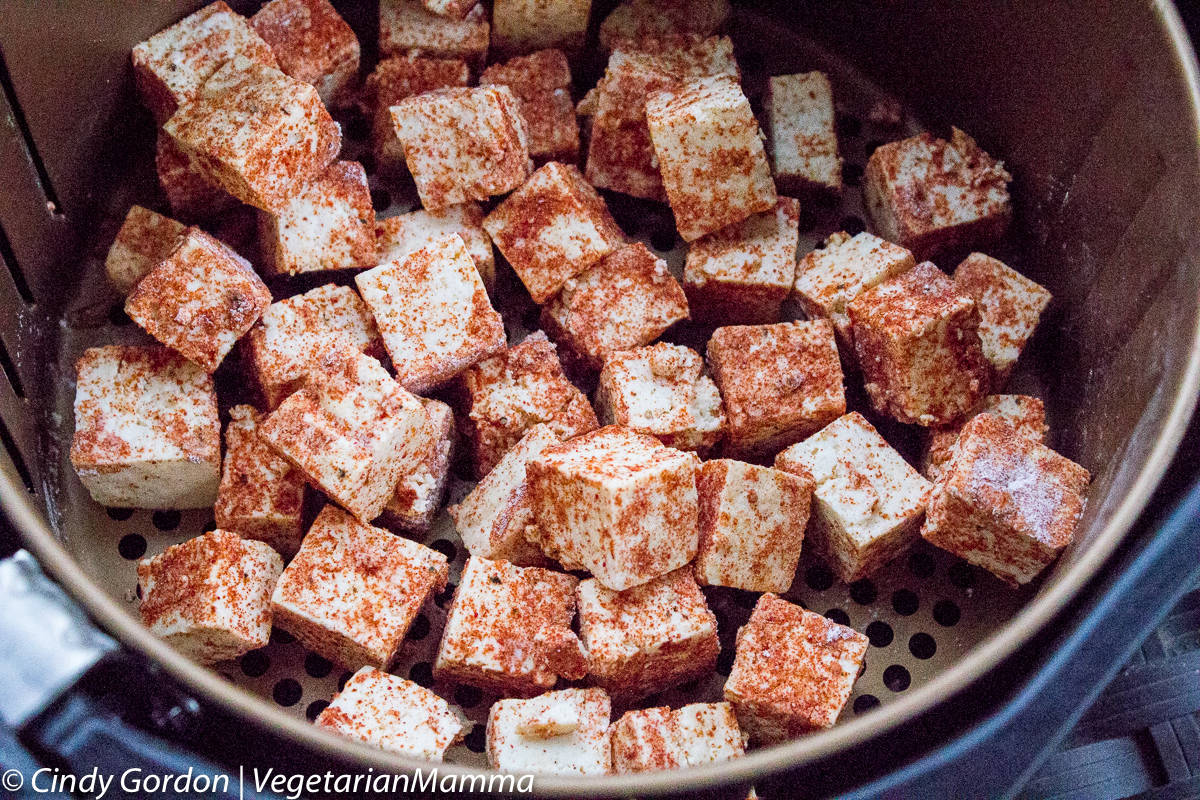 pin for later: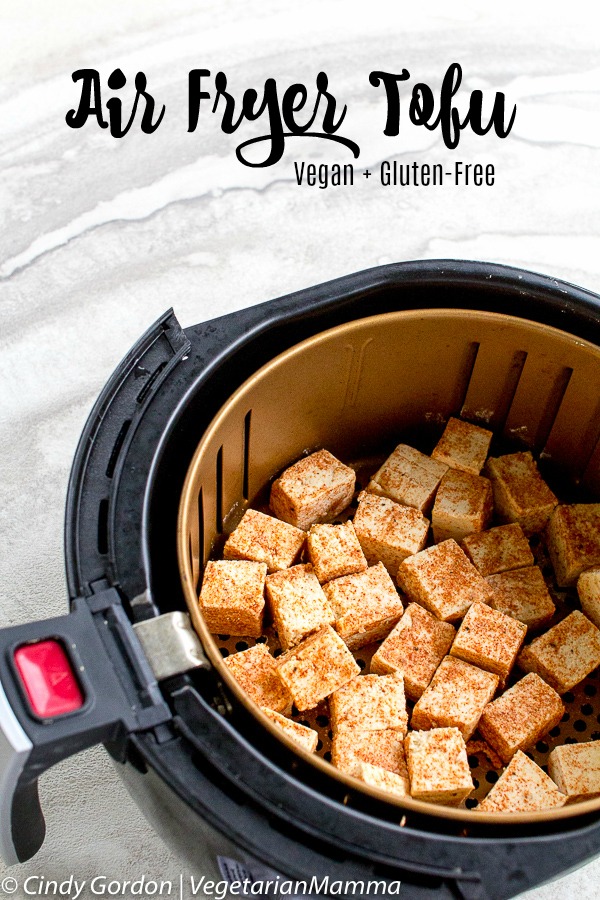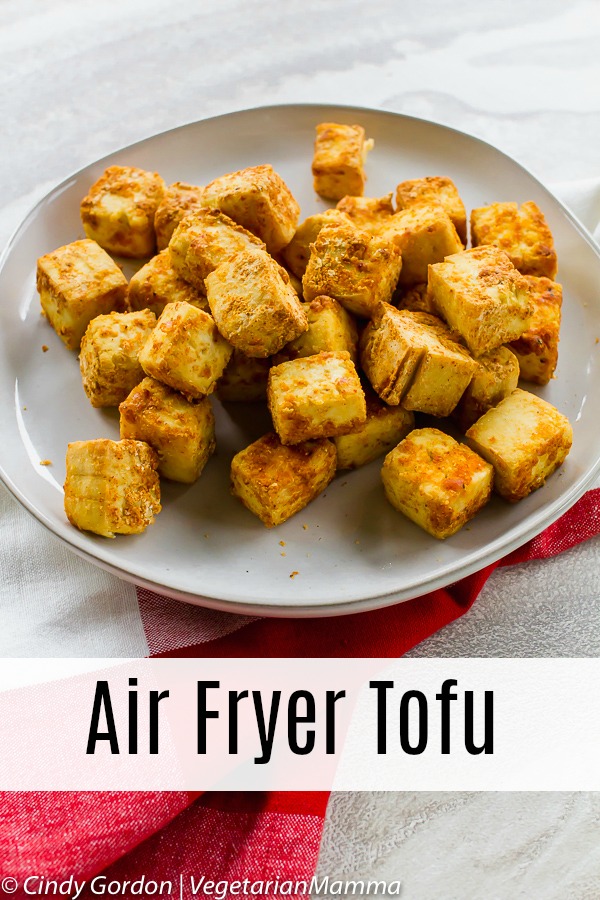 Pro Tip: If you feel that your tofu is not crispy enough OR if the cornstarch is powdery you can spray the tofu with a spray oil in the that minute and that will fix the problem!
Side note: If you are in the market for an air fryer, I recently created a post about the best air fryers on the market. The post is based off of reviews from friends, family and online consumers! Be sure to check out the best air fryers on the market!
Ready for this easy peasy recipe?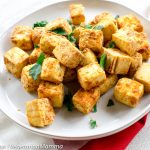 Air Fryer Tofu - with a touch of smoked paprika
Tofu can be tricky to cook, but don't let that stop you! Air Fryer Tofu is a delicious recipe and super simple method for getting a crunchy outside and a soft inside for all your tofu bites.
Instructions
After pressing the tofu, cut into squares or little bite sized pieces.

Mix the cornstarch and smoked paprika together then sprinkle over tofu.

Season with salt and pepper.

Put into Air Fryer basket.

Set temperature for 370 Degrees F. Turn on the Air Fryer for 12 minutes. (You may need to add a few minutes if you like crisper tofu)

Every 4 minutes remove the basket and "shake" to stir up the tofu. Every air fryer is different, be sure to monitor how it is cooking.

Enjoy!
Recipe Notes
Based upon reader comment it seems that Air Fryers out there are varying widely and that is affecting this recipe.
*If your tofu is not crisping, consider adding time to your cook time. Just add in small amounts and remember to shake*
*If you are getting a chalky feeling to your tofu, be sure you are pressing the tofu for at least 10 minutes before hand in a tofu press. Then you can also lessen the amount of corn starch :)*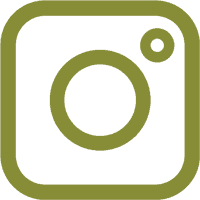 Did you make this recipe?
Be sure to snap a picture and post it to Instagram with the hashtag #VegetarianMamma! I love seeing our recipes being recreated!
Hungry for more gluten-free main dish recipes? Be sure to check out our recipe index.
You can also visit our Amazon store to see our favorite gluten-free products and kitchen equipment! This post contains an amazon affiliate link.
---
Let's talk! Leave me a comment telling me if you've ever used an Air Fryer. What do you think you'd cook first?
We recently updated the photos in this post. The day we originally took these it was quite dark outside (ugh rain clouds!) So we gave them a fresh look! But here is a sneak peak at the old ones!