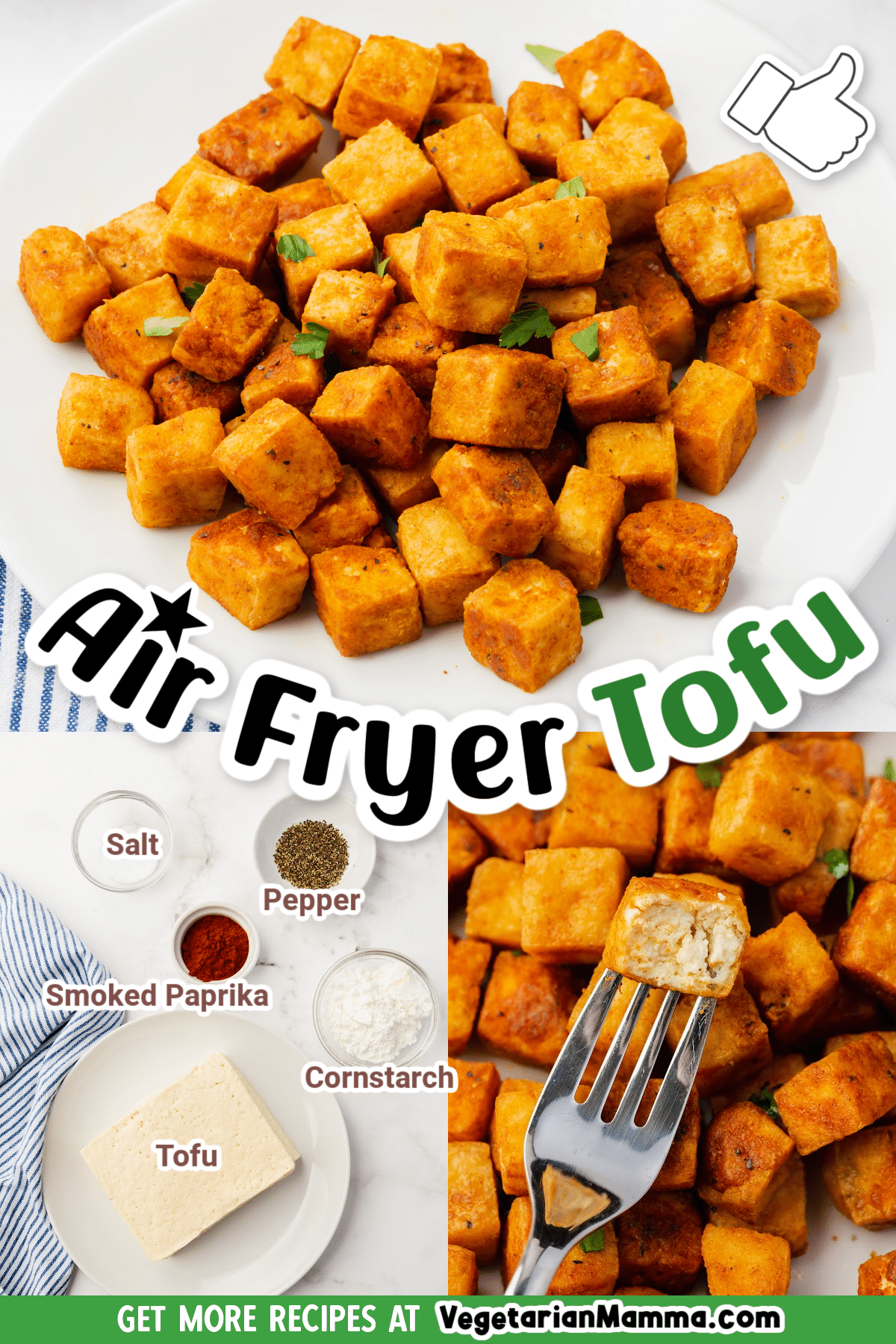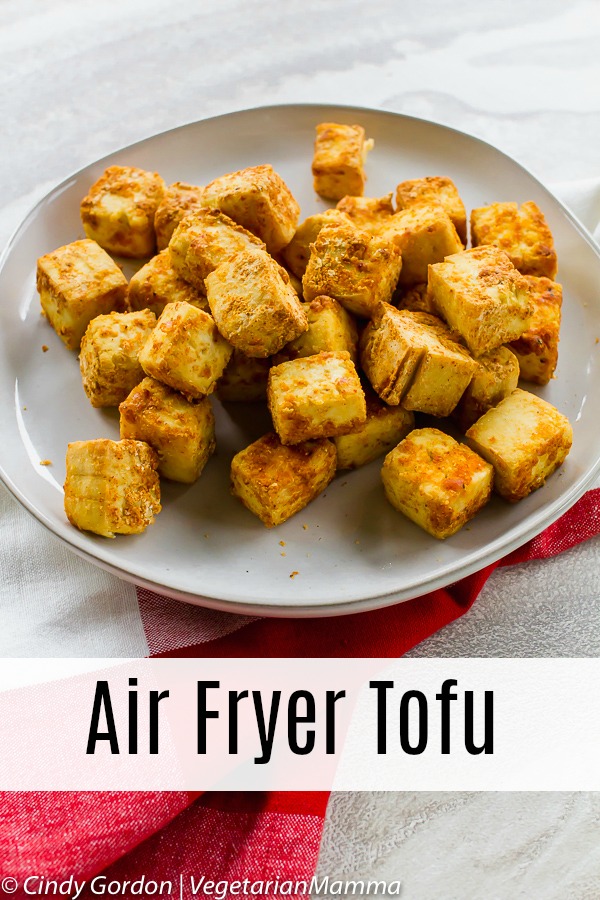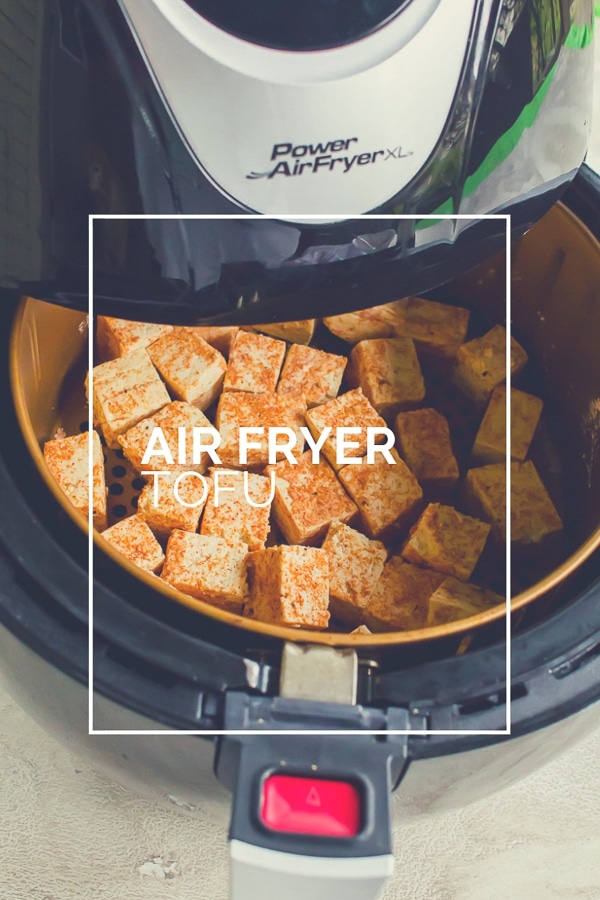 How do you cook tofu in an air fryer? Tofu can be tricky to cook, but don't let that stop you!
Air Fryer Tofu is a delicious recipe and a simple method for getting a crunchy outside and a soft light inside for all your airfryer tofu bites.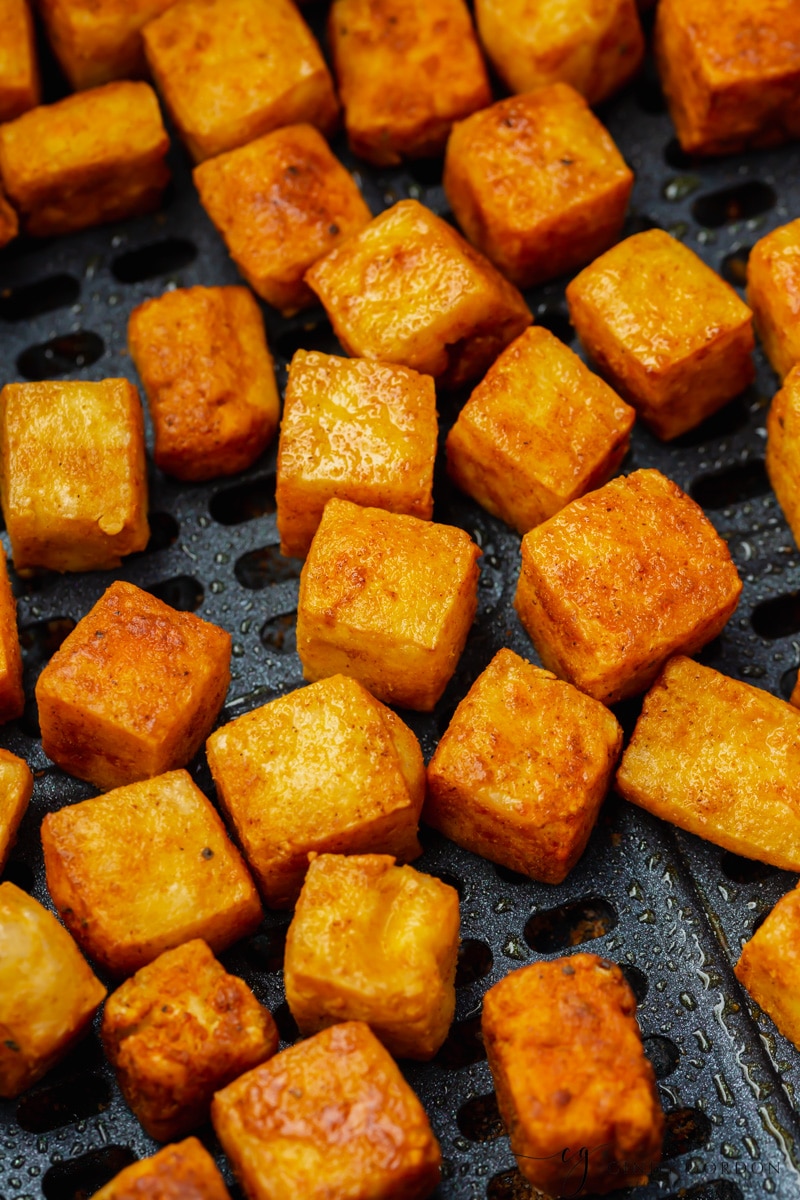 AIR FRYER TOFU BITES RECIPE
If you've been following me and reading some of my other air fryer recipes, then you know that I truly love using the Air Fryer. If there was ever a doubt of skepticism from me about if I would love the appliance or not, it's 100% gone now.
The Air Fryer is a GREAT way to cook many things and tofu is one of them! You can serve this Air Fryer Tofu with some air fryer broccoli or air fryer corn.
WHY YOU WILL LOVE AIR FRYER TOFU
Air fryer tofu is easy to make!
The health benefits of tofu are numerous!
You can season it with the spices you enjoy!
You can adjust the cook time to get your personal desired texture of the tofu!
It makes dinner a snap!
INGREDIENTS IN AIR FRYER TOFU
Extra Firm Tofu - Pressed to remove any extra moisture and cut into cubes.
Corn Starch - this is the thing that helps the tofu cubes crisp up with that beautiful crust.
Smoked Paprika - The flavor of this spice is so good on everything. I love the barbecue vibes I get from it.
Salt and Pepper - to season your tofu properly
Oil - This is optional, but a little bit of spray oil can help with the crispiness.
If you have any questions, please leave a comment below and I will get back to you ASAP!
AIR FRYER TOFU TIPS AND TRICKS
Always press your tofu!
Check in on your tofu while it's cooking. Adjust cook time as needed. This is not a set and forget recipe.
Want more flavor? Crank up the spice measurements and add in additional spices!
Use oil to crisp up your tofu! Spray oil directly on tofu chunks when you "shake" the basket mid way through cooking.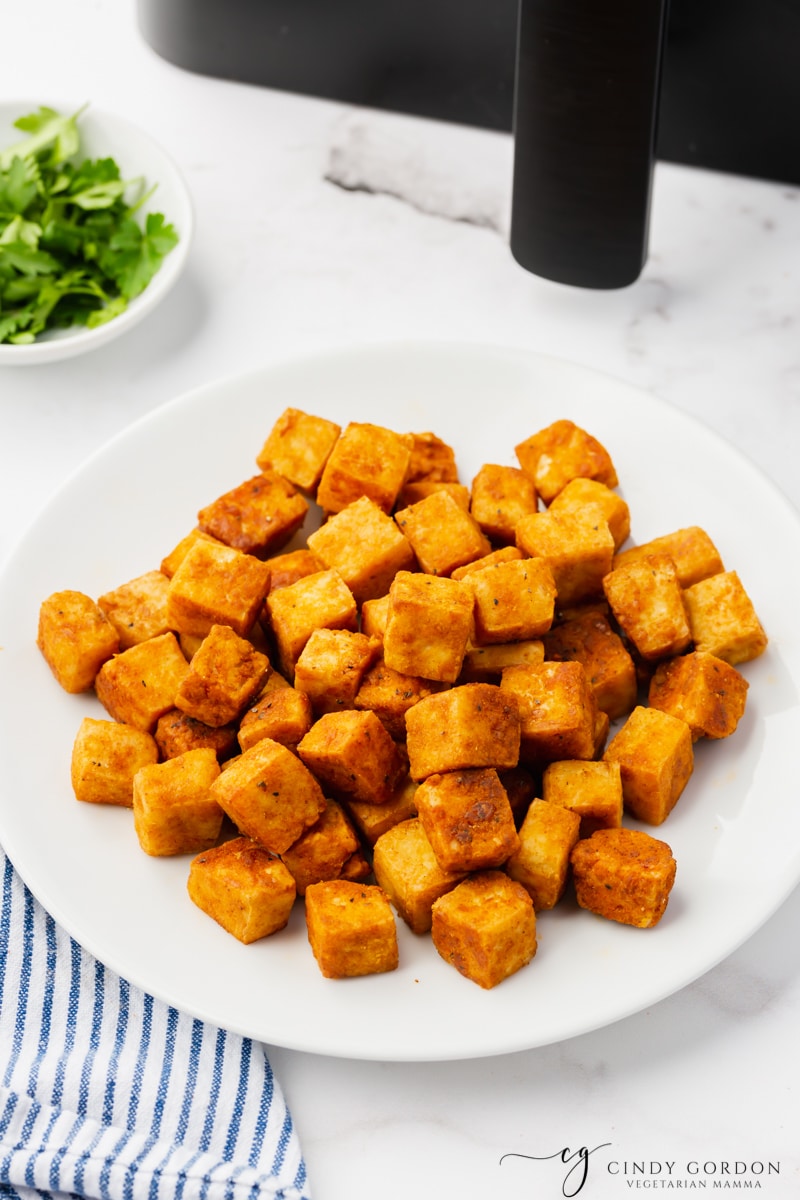 WHAT TO SERVE WITH AIR FRYER TOFU
Vegetarian Instant Pot Baked Beans go well with the smoked paprika flavors of this tofu as well as this delicious Summer Squash Zucchini Mac and Cheese.
Air Fryer Green Beans or Air Fryer Broccoli would be a perfect veggie side dish.
Use these instructions to make your favorite vegetarian Frozen Dumplings in the air fryer. I even have instructions for how to make Frozen Pierogies in the air fryer.
Yay! You have made it this far, and I am so glad! Hey - If you make this recipe, I'd love for you to give it a quick review & star rating ★ below. Make sure you follow me on Instagram, Pinterest, YouTube, and Facebook, too!
Air Fryer Tofu
How do you air fry tofu? Tofu can be tricky to cook, but don't let that stop you! Air Fryer Tofu is a delicious recipe and a simple method for getting a crunchy outside and a soft inside for all your airfryer tofu bites.
Instructions
Press your tofu to help remove extra liquid.

After pressing the tofu, cut into squares or little bite sized pieces.

Mix the cornstarch and smoked paprika together then sprinkle over tofu.

Season with salt and pepper. Put into Air Fryer basket.

Set temperature for 370 Degrees F. Turn on the Air Fryer for 12 minutes. (You may need to add a few minutes if you like crisper tofu) Your air fryer tofu is almost ready!

Every 4 minutes remove the air fryer basket and "shake" to stir up the tofu. Every air fryer is different, be sure to monitor how it is cooking.

Enjoy your air fryer tofu!
Notes
Based upon reader comment it seems that Air Fryers out there are varying widely and that is affecting this recipe.
*If your tofu is not crisping, consider adding time to your cook time. Just add in small amounts and remember to shake*
*If you are getting a chalky feeling to your tofu, be sure you are pressing the tofu for at least 10 minutes before hand in a tofu press. Then you can also lessen the amount of corn starch :)*
*You can also SPRAY a small amount of oil onto the tofu when you are shaking it mid way through. This will HELP your tofu to crisp up and get rid of any extra corn starch!*
Pro Tip: If you feel that your tofu is not crispy enough OR if the cornstarch is powdery you can spray the tofu with a spray oil in the that minute and that will fix the problem!
Side note: If you are in the market for an air fryer, I recently created a post about the best air fryers on the market. The post is based off of reviews from friends, family and online consumers! Be sure to check out the best air fryers on the market!
Air Fryer Tofu Tips:
Be sure to press your tofu before adding your cornstarch and paprika.
Be sure to coat your tofu on all sides so it cooks evenly.
Be sure that you are using a firm or extra firm tofu for this recipe.
Be sure to "shake" your air fryer basket during the cooking so that your tofu turns and cooks on all sides.
Nutrition
Calories:
74
kcal
|
Carbohydrates:
6
g
|
Protein:
7
g
|
Fat:
2
g
|
Sodium:
63
mg
|
Potassium:
192
mg
|
Sugar:
1
g
|
Vitamin A:
860
IU
|
Calcium:
35
mg
|
Iron:
1.5
mg
All though this website attempts to provide accurate nutritional information, the information should only be considered an estimate. Varying factors such as different product types, different brands, etc. can change nutritional information. It is your responsibility as a consumer to read all labels to make sure the ingredients fit your dietary needs as well as calculate your own nutritional information as a double check.
---
We recently updated the photos in this post. The day we originally took these it was quite dark outside (ugh rain clouds!) So we gave them a fresh look! But here is a sneak peak at the old ones!