Easy Broccoli Casserole is a delicious and colorful fresh broccoli casserole. This vegetarian recipe idea will be the perfect addition to your next dinner!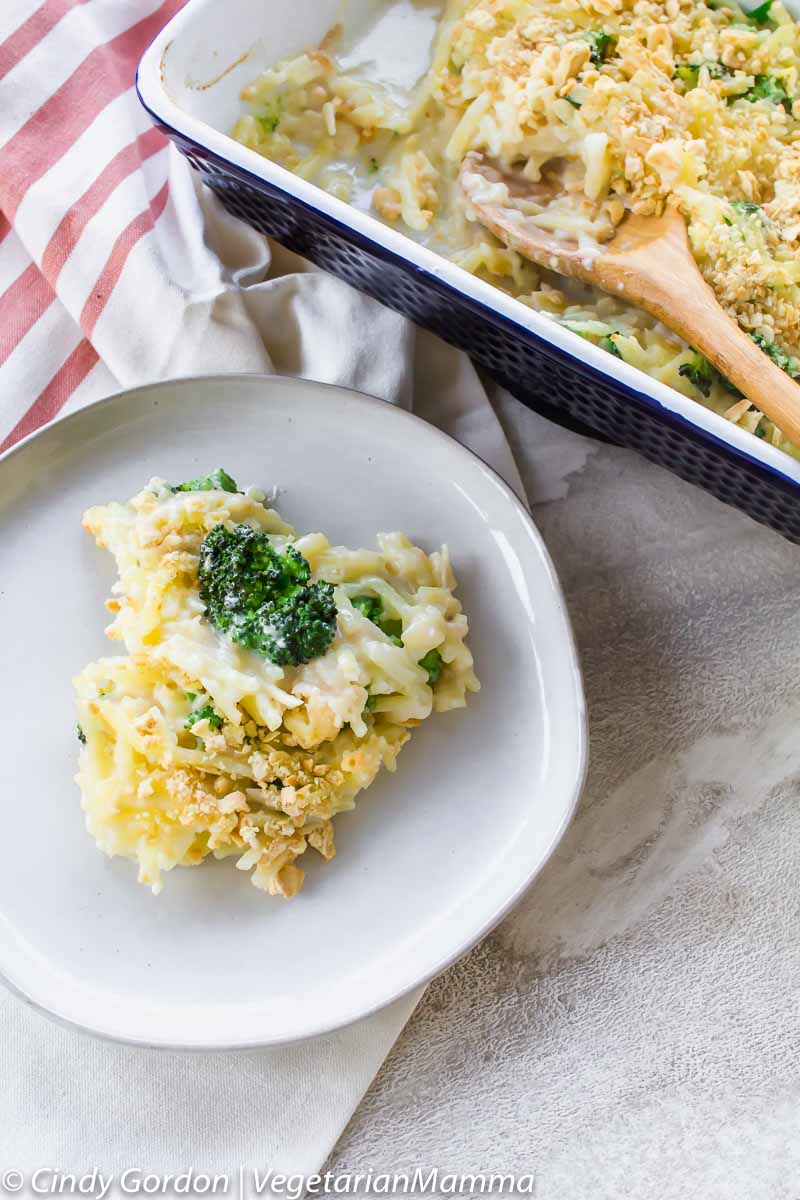 This post was sponsored by Schar. The opinions are my own.
Easy Broccoli Casserole
We love easy side dishes in this house. When it comes to eating, we know our vegetarian side dish recipes!
You know the favorites, especially around the holidays: mashed potatoes, green beans and of course cheesy broccoli casserole!
My kids have taken a fond liking to the little green trees. So if they love broccoli, why not figure out more ways to eat it. That's my plan!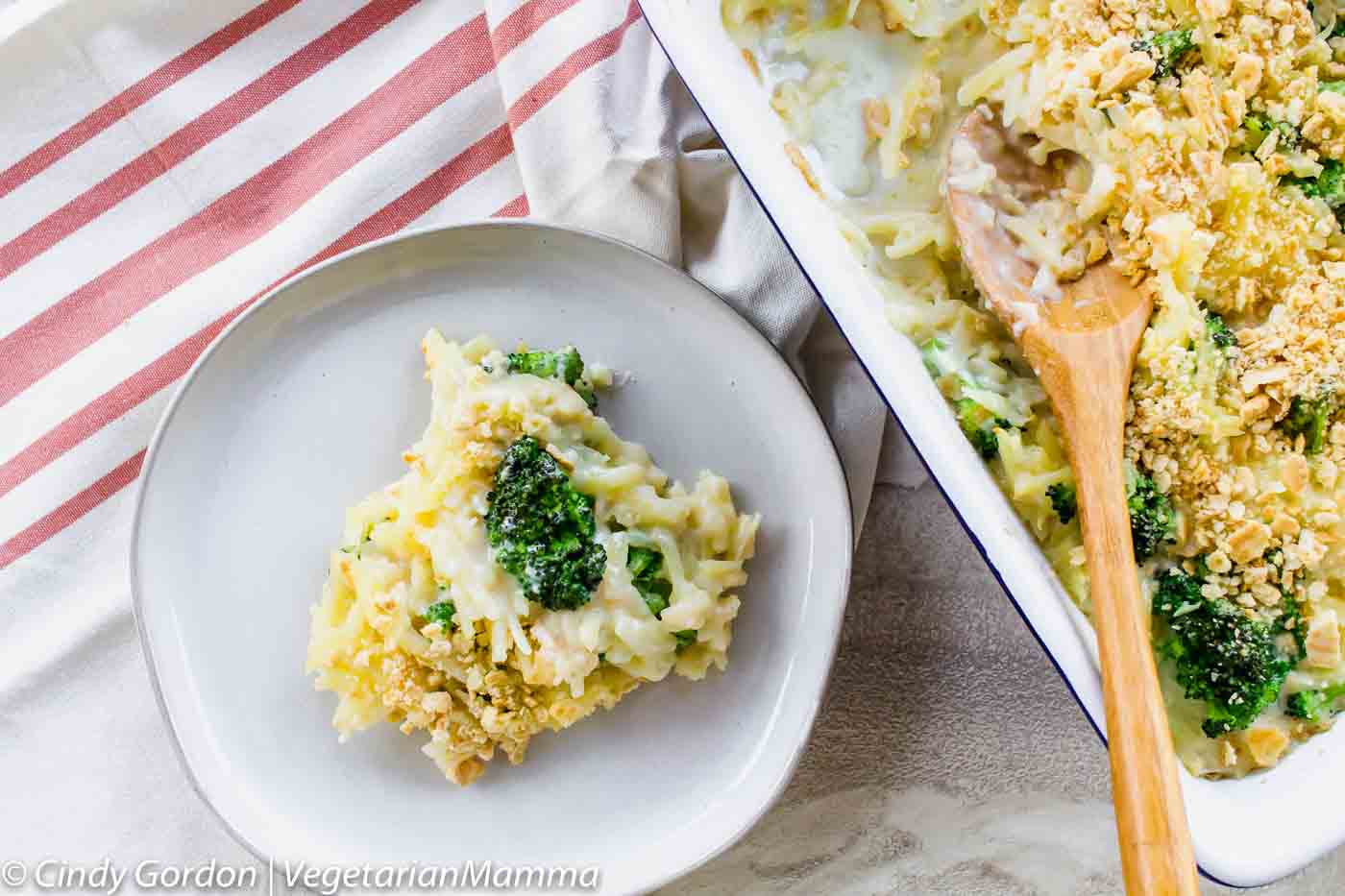 I think one of the things I love most about this easy broccoli casserole is honestly, just how simple it is. Let's check out the ingredient list:
Broccoli

Butter

Flour

Milk

Cheese

Hash Browns

Crackers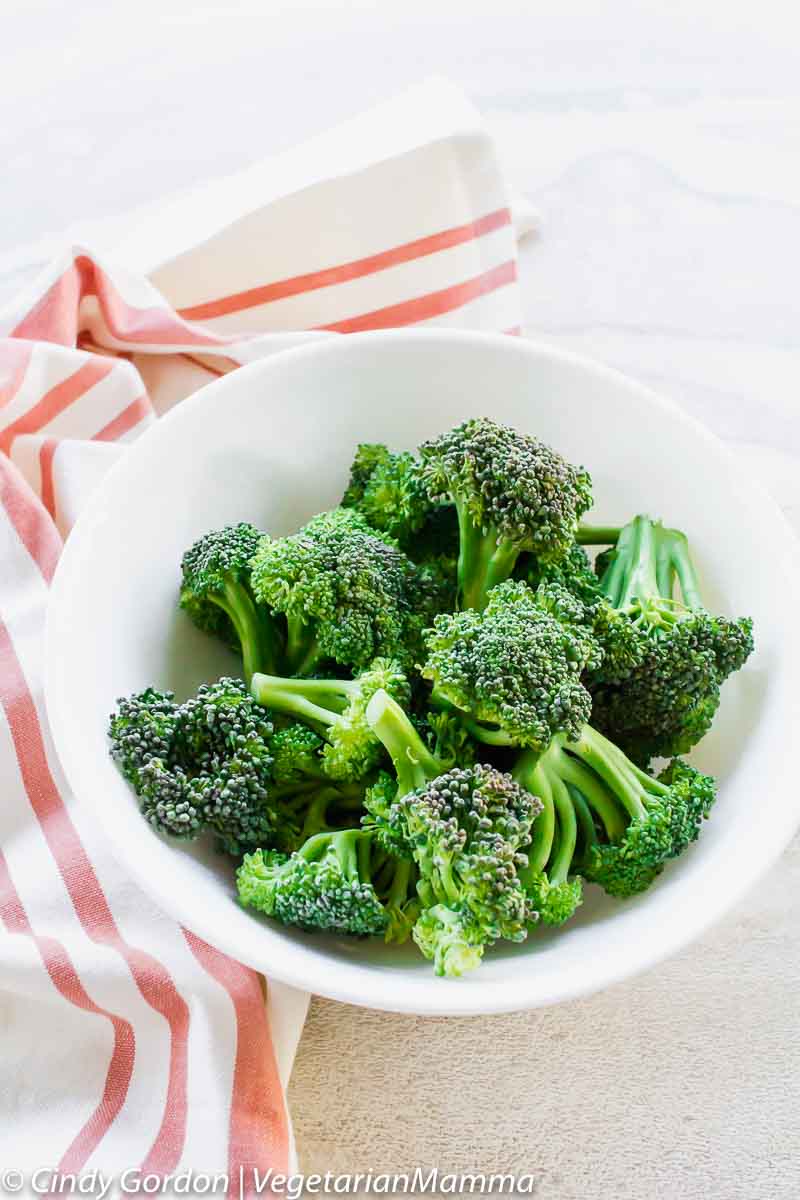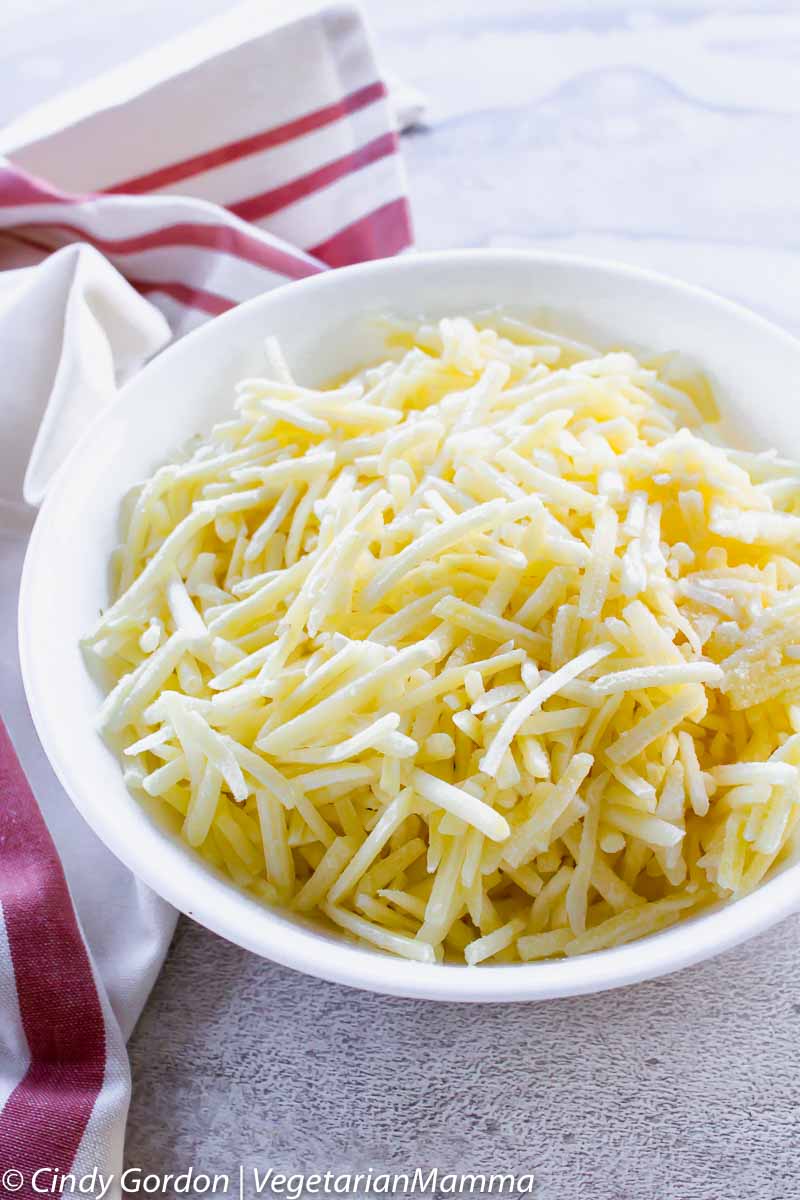 I bet you pretty much have most of those ingredients in your kitchen, right this very second! Am I right?
I am pretty certain that once you try this broccoli casserole recipe, you will not look back. I am serious, it is that good!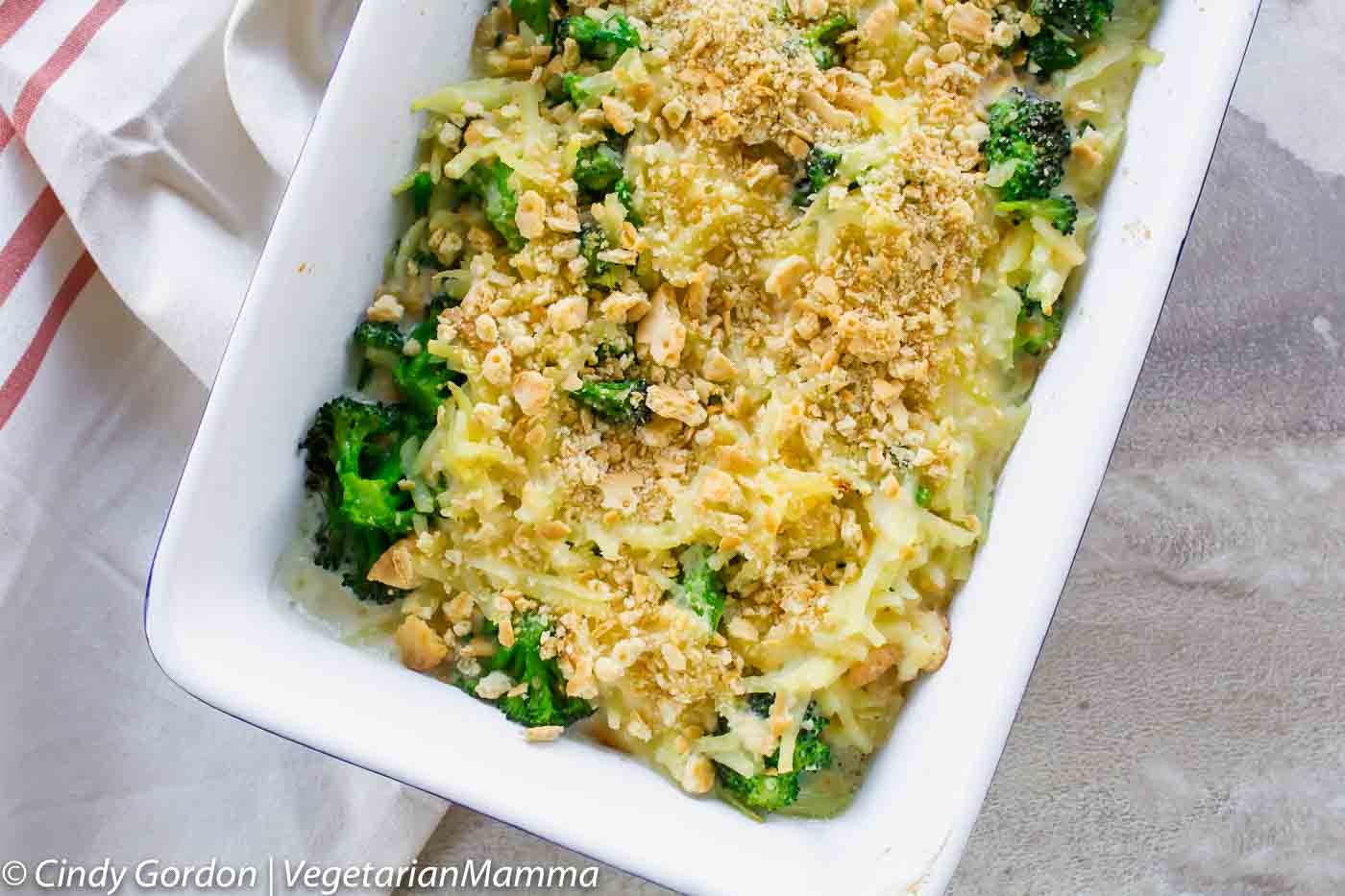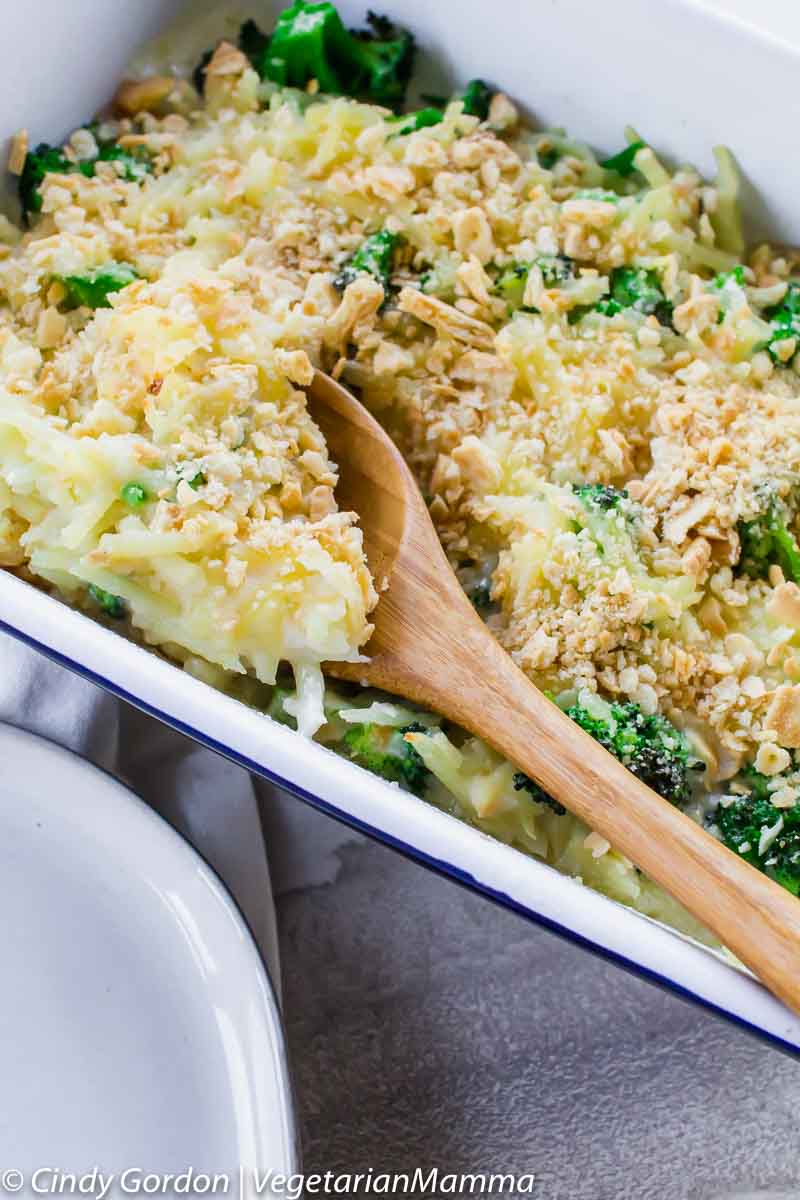 Tips for Vegetarian Broccoli Casserole:
Use fresh broccoli

Boil or steam broccoli before adding it to the dish

Use your favorite cheese

Use crackers for the topping

Use broccoli or cauliflower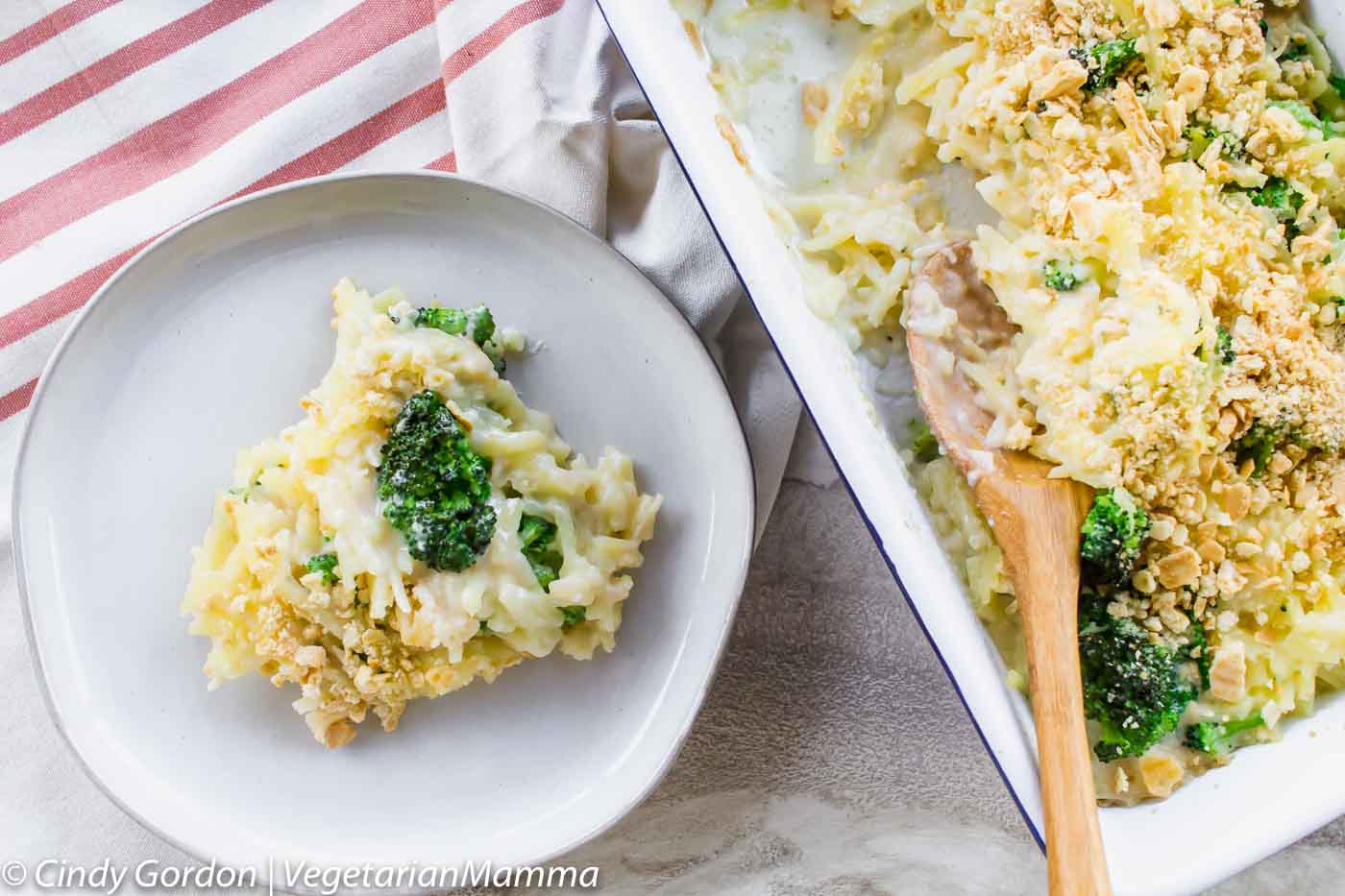 How to make easy broccoli casserole:
First, you are going to heat your oven to 350 degrees F. Then in a large pan over medium heat you are going to add the butter.
Once you have melted butter you are going to add the flour. (And of course you are always welcome to season with salt and pepper if you wish.) Next up, you are going to stir in the milk and cheese.
For this recipe, you are not making a cheese sauce, you are just using shredded cheese. I used mozzarella but you can also use cheddar cheese!
I love how easy this recipe is, you don't need sour cream or mushroom soup for this broccoli and cheese casserole recipe.
Then add the potatoes.Then remove from heat and mix in the crushed crackers, broccoli and stir to mix. Then add more crackers for the topping.
Pour the heated mixture into an oiled baking dish. Then it is ready to bake! Oh, did you remember to preheat oven to 350 degrees F? 🙂 Phew, good! I often forget to preheat the oven!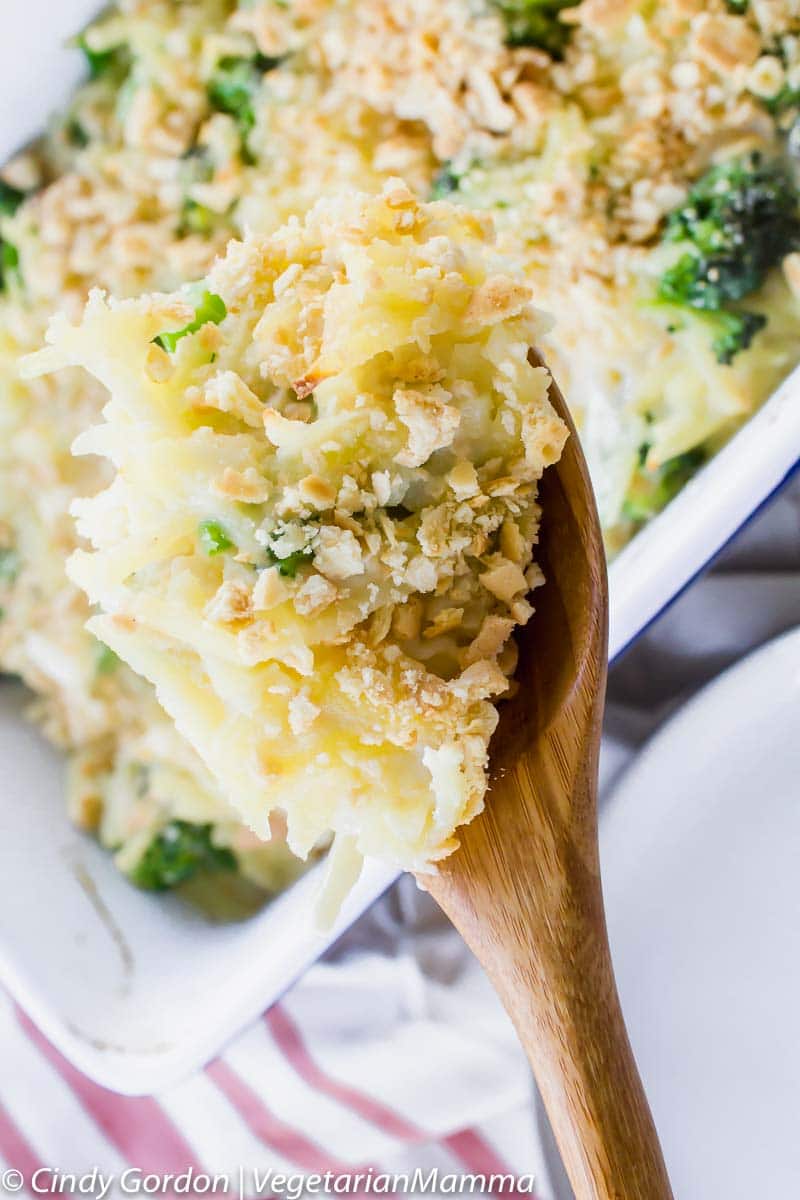 Schar Entertainment Crackers
This is the cracker that we used within the easy broccoli casserole to give it a crunch and of course for the crunchy topping.
The crackers are dairy-free as well as gluten-free. They are most definitely the closest GLUTEN FREE equivalent to gluten filled "Ritz" crackers! They are also preservative free and non GMO. Wondering WHY we love Schar? The reasons are almost endless, but you can read some of them here.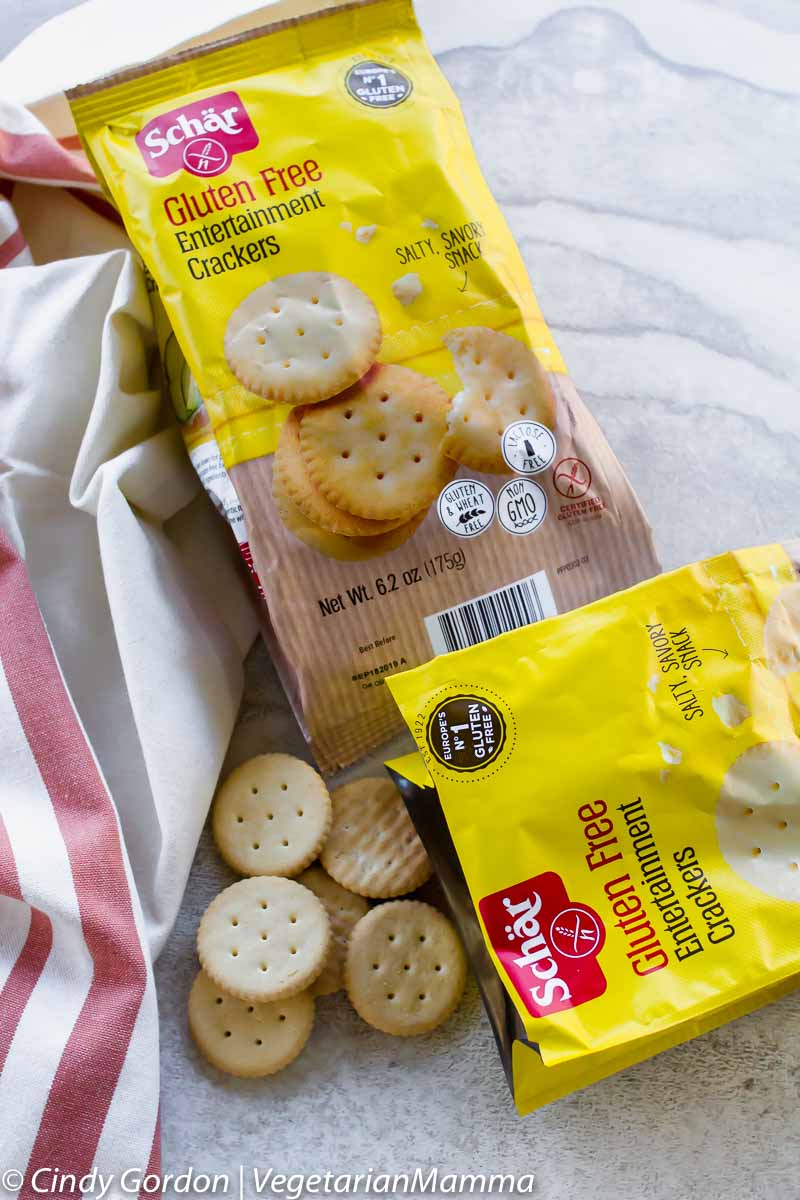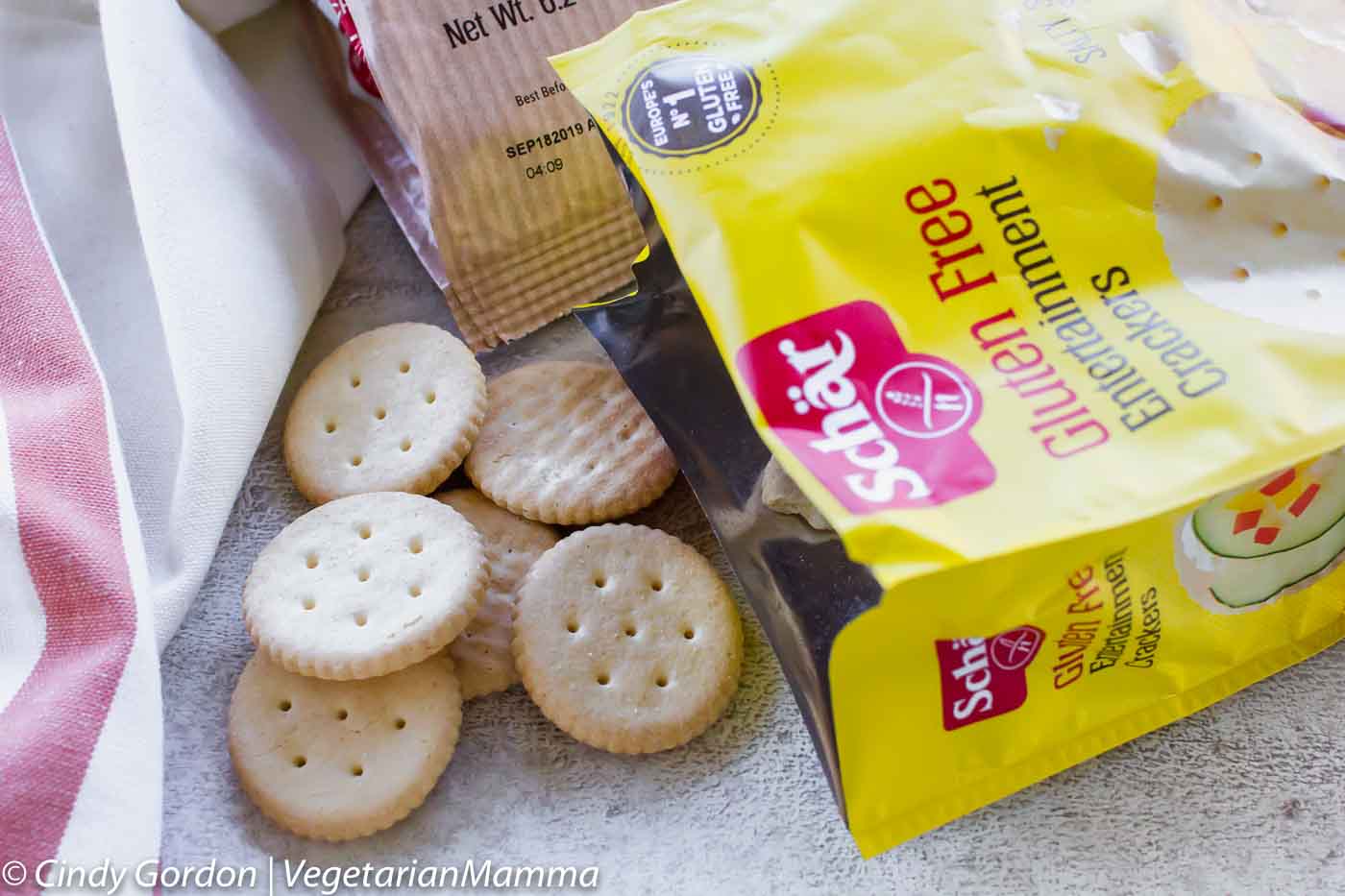 Broccoli and Cheese Casserole Questions:
Can I use frozen broccoli?
The short answer is no. For this recipe, just swing for the fresh stuff. I promise you that when you use fresh broccoli, it will make a huge difference in not only the texture but the freshness taste of this recipe. You will not able able to resist this fresh broccoli casserole!
Can I use a different type of cheese?
Yes, you can use any type of cheese that you like! This is your casserole, make it with your favorite cheese!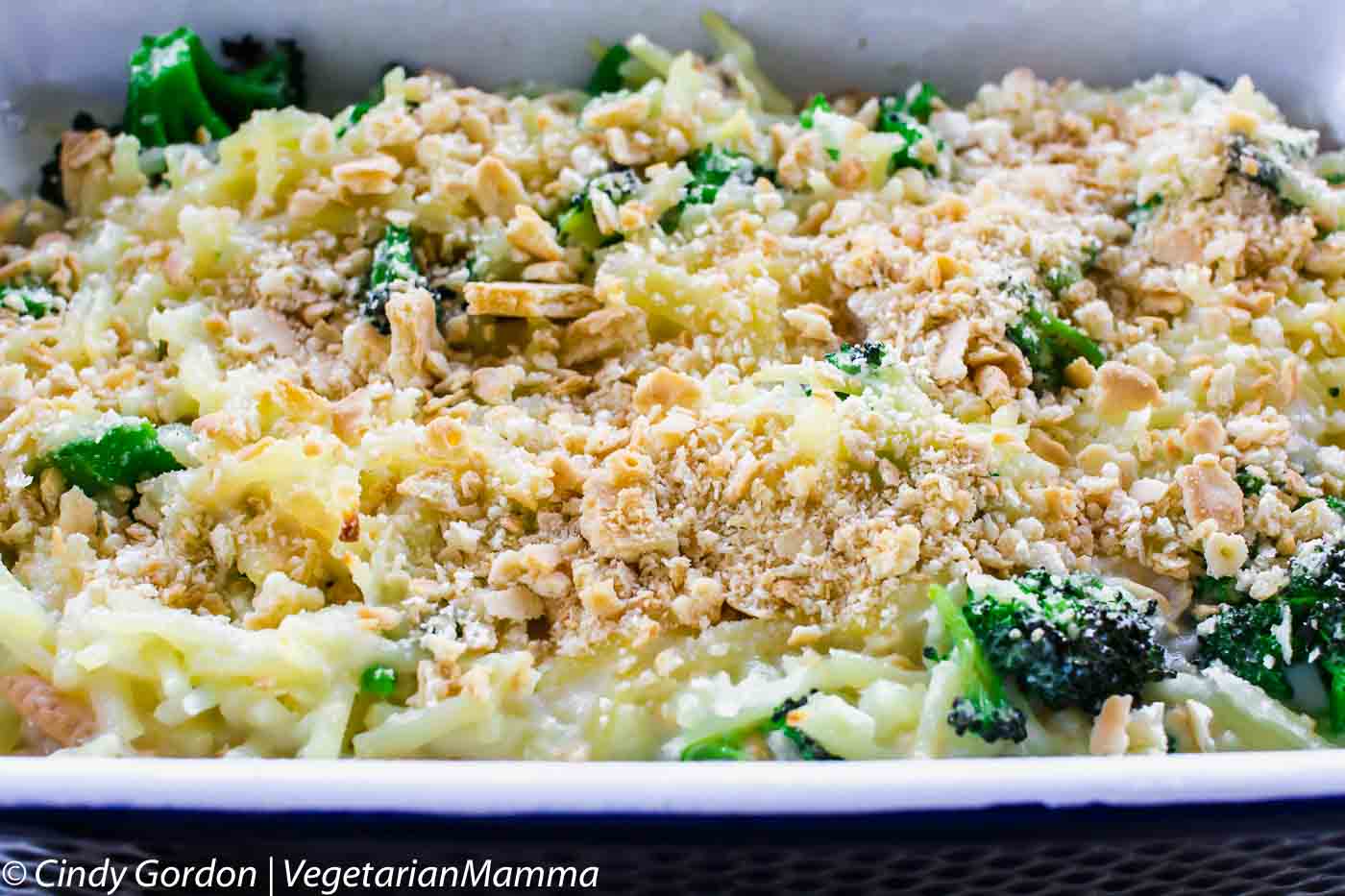 Can you make ahead this easy broccoli casserole?
Yes, you can. That is one reason that I love this dish. You can either prep it ahead of time and then cook later. If you do the "cook later" option, just hold off on adding the cracker layer on top until you are ready to bake. Or, you can cook it, divide into containers and eat later throughout the week!
Do I have to use hash browns?
No, if you would prefer to omit the hash browns you can sub them out and sub in cooked rice. You will need to eyeball the mixture when adding in rice to make sure you get enough in there. When you mix it in, you want the mixture to be thick, not runny. You can use brown rice or white rice.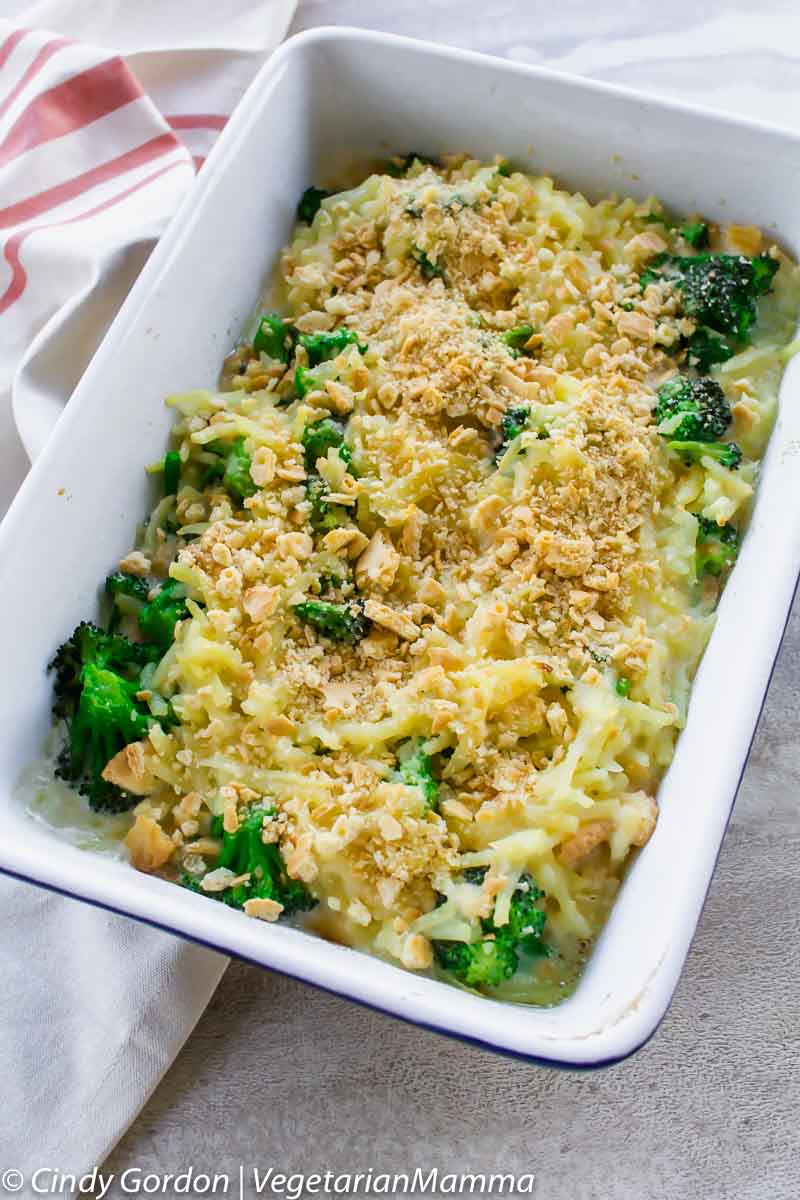 What if I don't have crackers?
If you are in a pinch and you don't have crackers you can use panko crumbs, but I highly recommend the use of crushed crackers! They make this gluten free broccoli casserole completely irresistible.
Is this broccoli casserole good for potlucks?
Yes, this dish is perfect for sharing. If you show up with this cheesy broccoli casserole at your next get-together, I am pretty sure you'll be the hit of the party! Not to mention, everybody will ask for the recipe! It's that good!
Is this broccoli and cheese casserole good at room temperature?
I would vote that you serve this easy broccoli casserole more on the hot to warm side verses are cooler or room temperature. This dish lends to it's best flavors when served warm or hot.
Pin this easy broccoli casserole for later: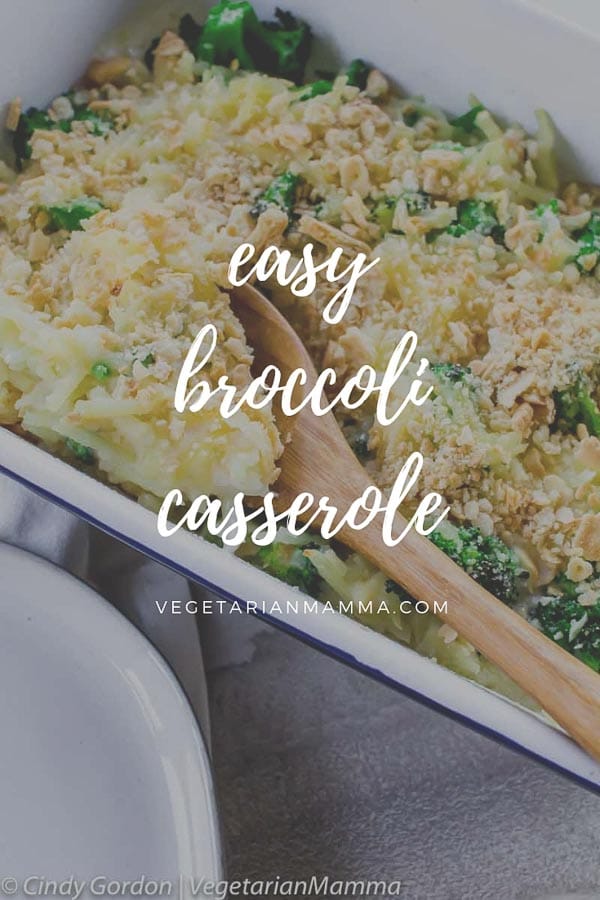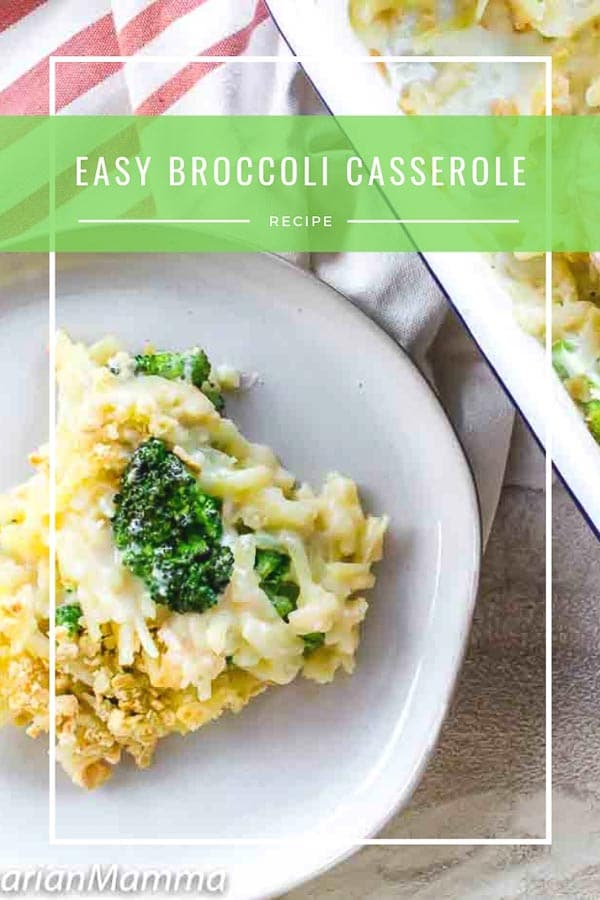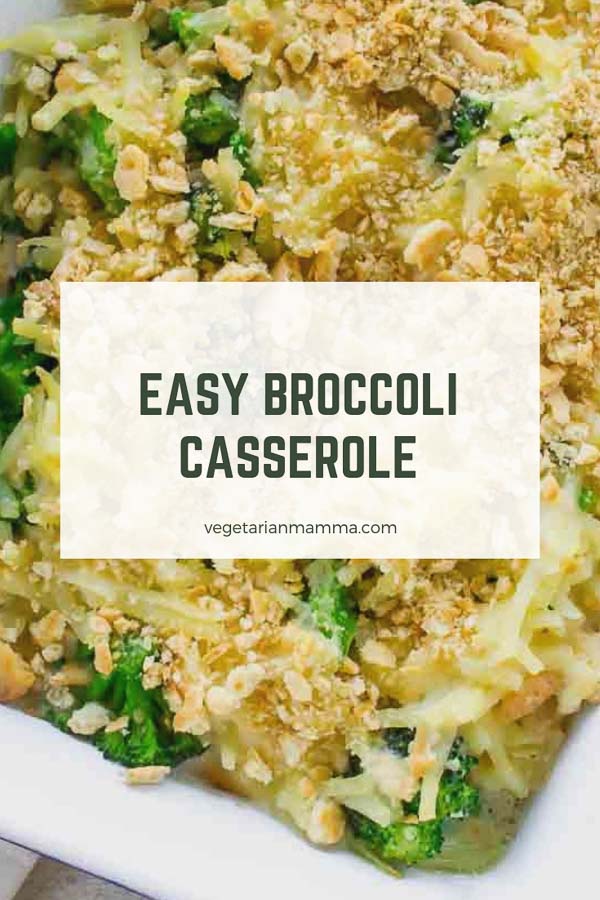 Get your fresh broccoli casserole recipe below: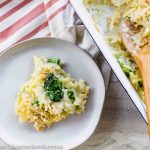 Easy Broccoli Casserole
Easy Broccoli Casserole is a delicious and colorful fresh broccoli casserole. This vegetarian recipe idea will be the perfect addition to your next dinner!
Keyword:
easy broccoli casserole, gluten free broccoli cheese casserole
Ingredients
2

tablespoons

butter

2

tablespoons

all-purpose gluten free flour

2

cups

milk

1/3

cup

shredded mozzarella cheese

1

12-16 ounce package frozen hash brown potatoes

3

cups

broccoli

steamed

1

cup

crushed crackers
Instructions
Preheat oven to 350 degrees F.

In a large pan, melt butter and stir in flour.

Next add milk and cheese. Stir until melted.

Add potatoes and heat thoroughly. Then add in 1/2 cup of crushed crackers.

Add steamed broccoli, stir. Remove from heat.

Pour into prepared (lightly oiled) casserole dish. Top with remaining crackers.

Bake for 20 to 25 minutes; or until browned.

ENJOY!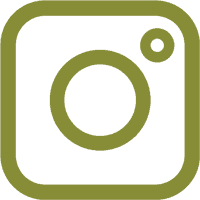 Did you make this recipe?
Be sure to snap a picture and post it to Instagram with the hashtag #VegetarianMamma! I love seeing our recipes being recreated!
Questions: Let's talk! Are you a broccoli fan? Do you have a special side dish, similar to this easy broccoli casserole, that is you go-to for family dinners or holiday meals? I'd love to hear what you like to make! Drop me a comment below!