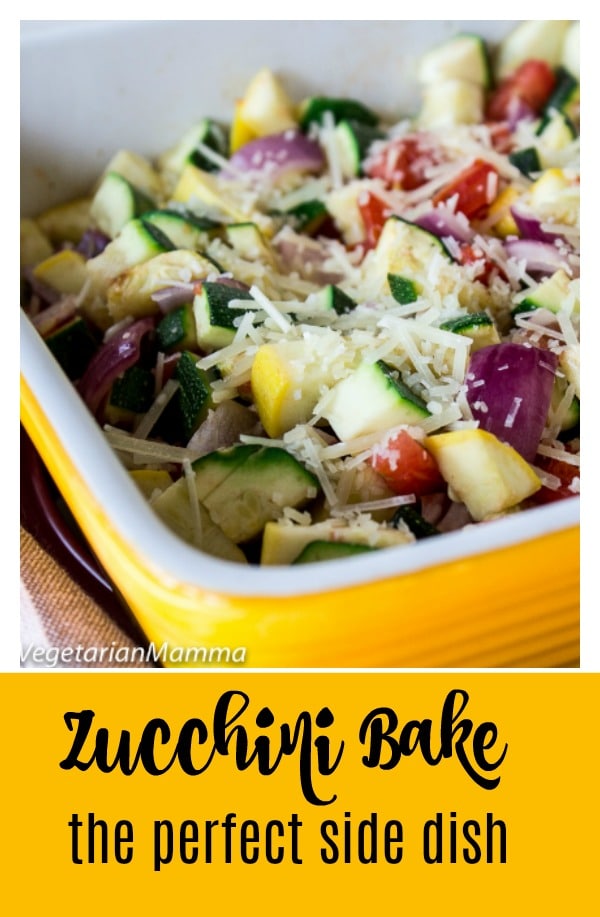 A simple combination of baked zucchini, yellow squash, tomato, and onion can create the perfect side dish. This zucchini bake will complement almost any main course with a beautiful splash of color.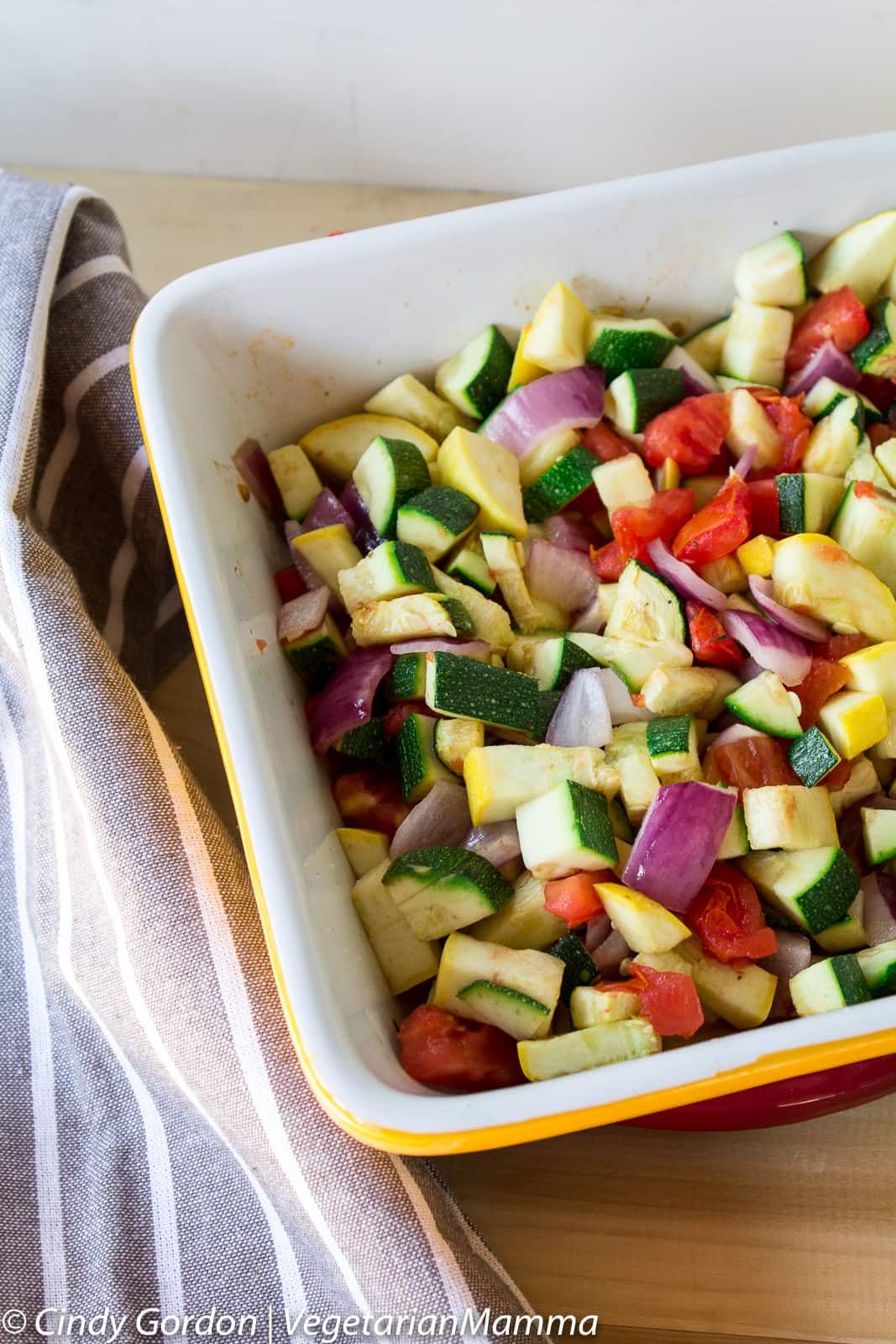 Zucchini Bake - A Colorful Side Dish Recipe
Do you love zucchini? I certainly do! I love making zucchini side dishes and meals like Air Fryer Zucchini Coins, Pan Fried Breaded Zucchini, and Vegan Zucchini Fritters, but this zucchini bake recipe is one of my favorites because it's so simple to throw together!
This recipe is naturally gluten-free! It's also vegetarian and if you leave the cheese out or substitute with vegan cheese, it's vegan too.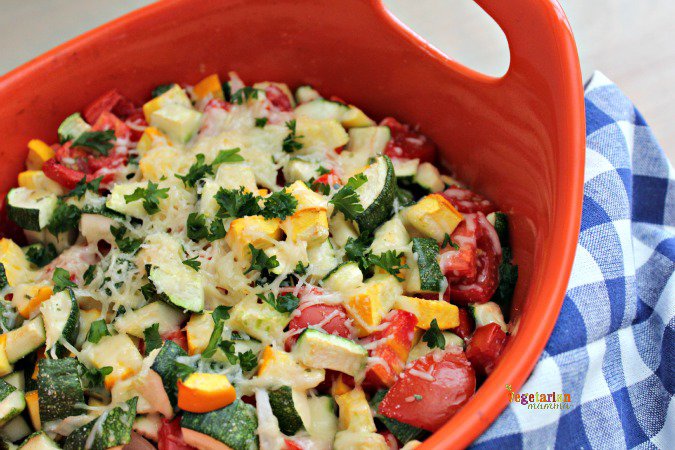 I have spent many summer seasons testing tons of zucchini recipes to share with you! Some of these zucchini side dish recipes have lots of ingredients and many steps.
But this baked zucchini recipe uses simple and wholesome vegetables with a touch of seasoning and a little bit of cheese to bring a big taste to your table.
This is the easiest way to turn summer vegetables into a delicious zucchini casserole dish that your whole family will enjoy.
Sometimes taking simple and colorful ingredients like fresh tomatoes, zucchini, and squash, and combining them together with some seasonings turns out to be a beautiful thing. This colorful veggie side dish is proof of that!
There's no need to complicate this recipe at all, although you could add other things to the mix if you want to.
Complicated ways to cook zucchini are delicious too, but sometimes you just don't need to be so fancy.
What You Need to Make Zucchini Bake
Fresh Vegetables: Summer goodies like zucchini, summer squash, tomatoes, and onions tend to be readily available at my house when they are coming out of the garden like crazy!
Garlic Salt: No need to make this recipe complicated. A sprinkle of garlic salt over the vegetables gives them the perfect amount of savory flavor.
Butter: I put dots of butter on top of the vegetables before baking. This way it melts into every bite. Feel free to use vegan butter or margarine if you prefer.
Cheese: Parmesan cheese is a natural choice for a baked zucchini casserole. It is salty and savory. Mozzarella is also a good option. Make this recipe dairy-free by using vegan cheese, or you can leave the cheese out altogether. Homemade vegan parmesan is another great add-in!
Supplies needed for this recipe are a baking dish, cutting board, knife - just the basics!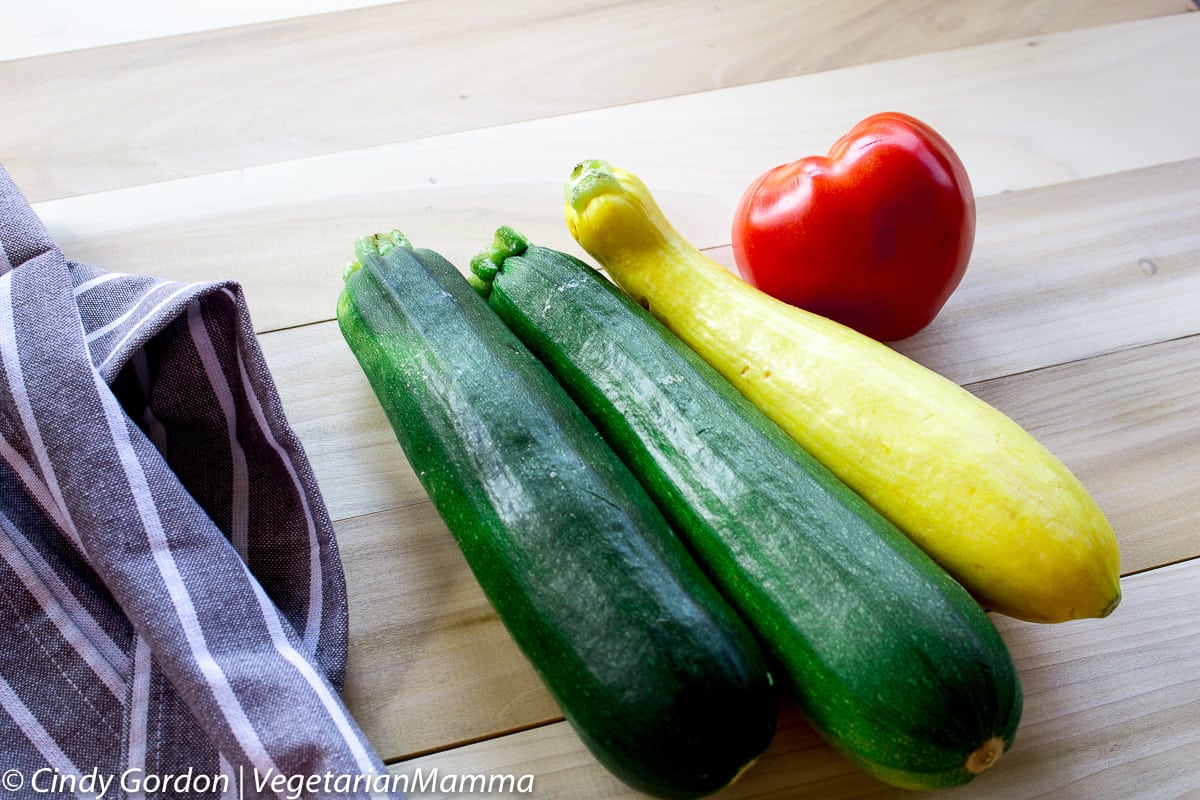 Squash and Zucchini Casserole Ingredients
In the summertime, zucchini and tomatoes are abundant in home gardens, farmer's markets, and grocery stores. Take those zucchini that your neighbor/sister/mom gave you, or that you got for a song from the farmer's market, and make this easy zucchini dish!
Throw in some other summer vegetables if you have them too. I think a small bell pepper, diced, would be lovely in this dish. Maybe even add some greens if you have them. Spinach or Kale would wilt down into the squash and add some additional color and nutrition.
Do you have zucchini in your own garden? They pretty much grow themselves once you plant them!
If you're like me, you planted way too many and are running out of ideas to use up all of your zucchini. This recipe is perfect for that!
How To Make This Simple Zucchini Bake
You know what I love about this particular zucchini side dish? It's crazy easy to prep and make!
As I'm sitting here typing this out, my mouth is literally watering! There's just something delicious about eating zucchini. I'm craving it so badly right now!
Start by washing and chopping your vegetables into bite sized pieces. You want to be sure that everything is about the same size so that it will cook evenly. Throw all of the diced veggies into a casserole dish that you've sprayed with oil (so nothing sticks) and season with garlic salt.
Then dot the top of the casserole with butter. Don't be shy, this is probably the best part! Hold off on adding the cheese for now, we'll do that after the zucchini bakes.
Bake in a preheated oven as directed in the recipe below. It should take about 25 minutes, but you can adjust that depending on how soft you want your veggies.
Add the cheese to your colorful vegetable side dish after the veggies are cooked.

Put the dish back in the oven just long enough to melt it.
That's it! You're done!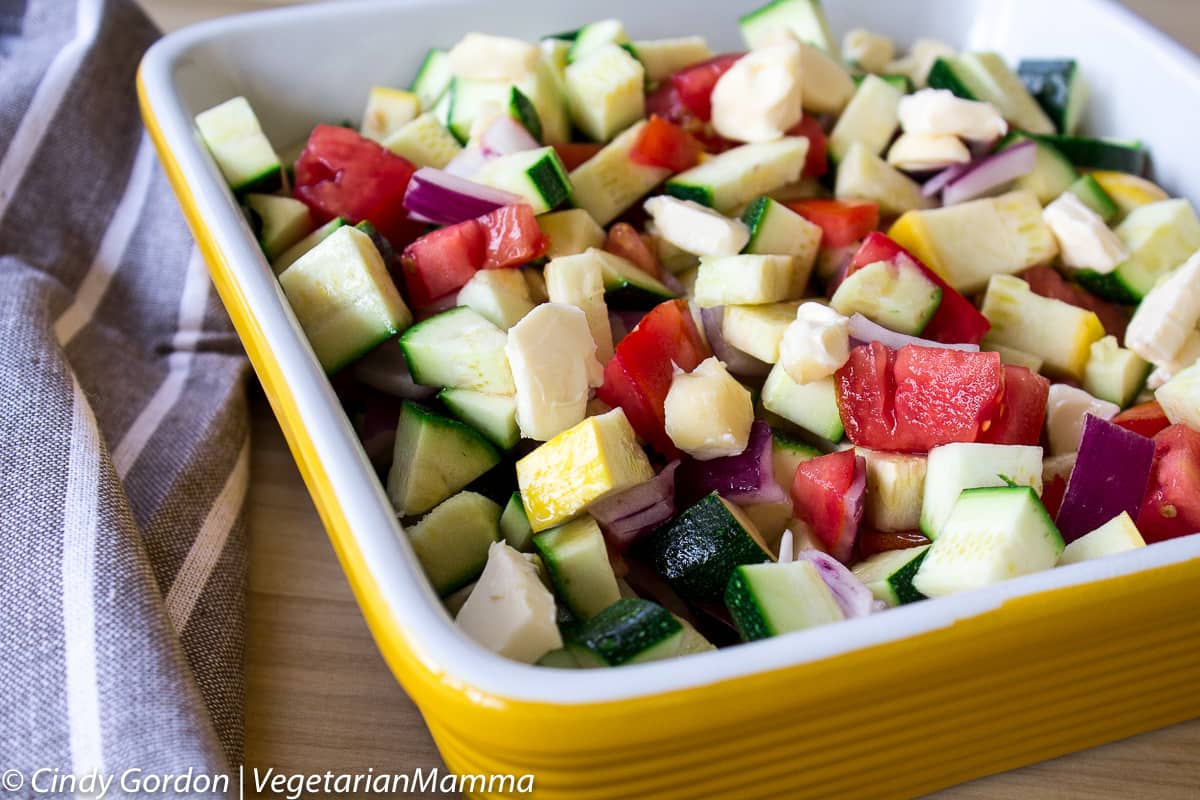 These are all colorful and delicious vegetables that you can easily grow in your own garden!
Can you add other vegetables to this zucchini side dish?
Sure you can, it's your zucchini side dish!
Add in some green beans, roasted Brussels sprouts, butternut squash or possibly even sweet potatoes if you want. There's always room to add in more vegetables, right?
If you want to add veggies that won't cook at the same rate as zucchini, consider roasting or sauteeing them first.
Are you a big zucchini fan? You need to check out these Zucchini Chips! This recipe looks great!
How to Serve Zucchini Bake
We have made this Zucchini Bake many times! As you can see from the post, we have a few different pictures here, taken at various meals over the years.
My family loves this recipe, and I find myself making it often in the summer to go with a grilled dinner or to bring to a pot-luck style party. I usually also bring a big bowl of Vegan Macaroni Salad to those summer parties!
Baked zucchini casserole is perfect with Air Fryer Hamburgers, grilled tofu, or any of your favorite summer meals.
You can eat this recipe hot from the oven, but it's also delicious at room temperature, so feel free to make it ahead of time.
Depending on the time of the year, I make this zucchini side dish recipe a bit differently.
If it's hot outside, I make this veggie side dish cold. If it's cold outside, I make it hot. See how clever I am?!
Can You Freeze Zucchini Casserole?
Because of the water content in zucchini and summer squash, it doesn't freeze very well. I suggest making this recipe fresh!
How Long To Bake Zucchini?
When you cut your zucchini squash into small pieces, it will bake pretty quickly. I find it usually takes 25 minutes to get this dish fully cooked. Now, if you like your zucchini softer, you may need to add a few minutes, and if you like it firmer, cook it for less time.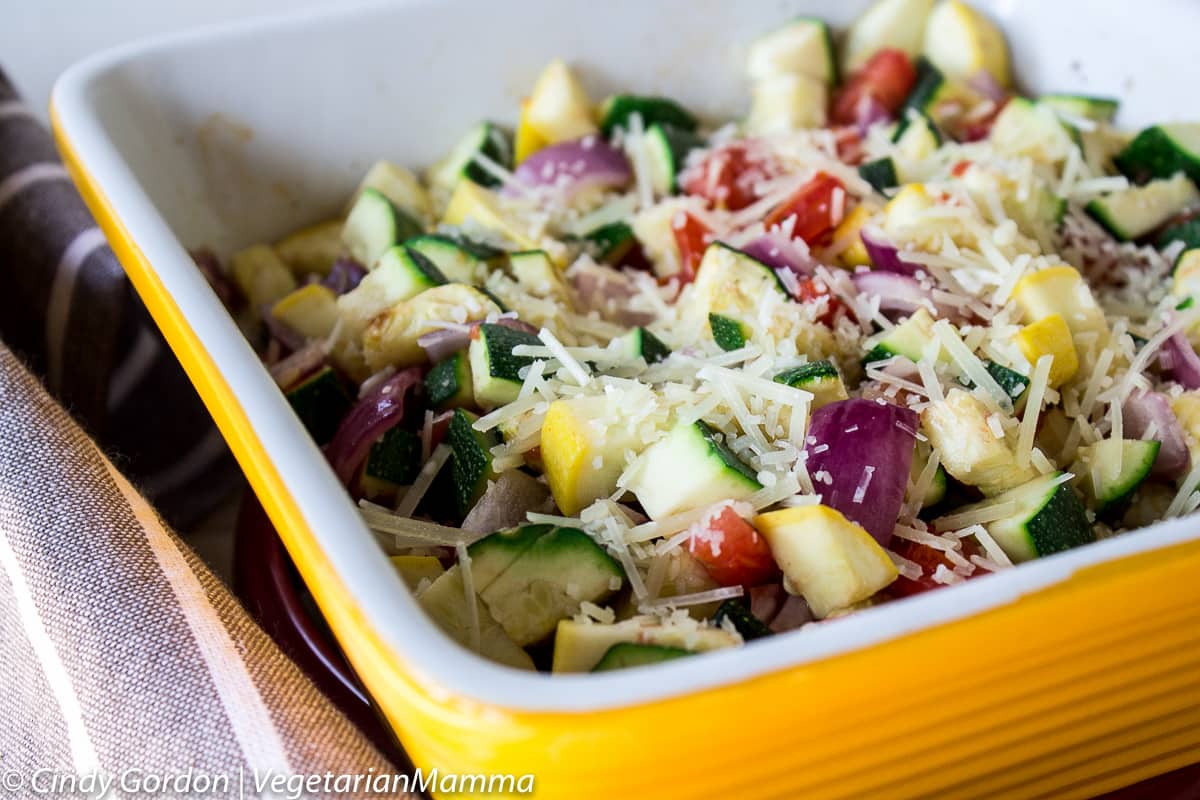 This side dish recipe is so super easy! Love all things zucchini? You might like our Zucchini Corn Cakes, Vegan Zucchini Muffins, and Air Fryer Zucchini Fries.
PIN this zucchini bake for later: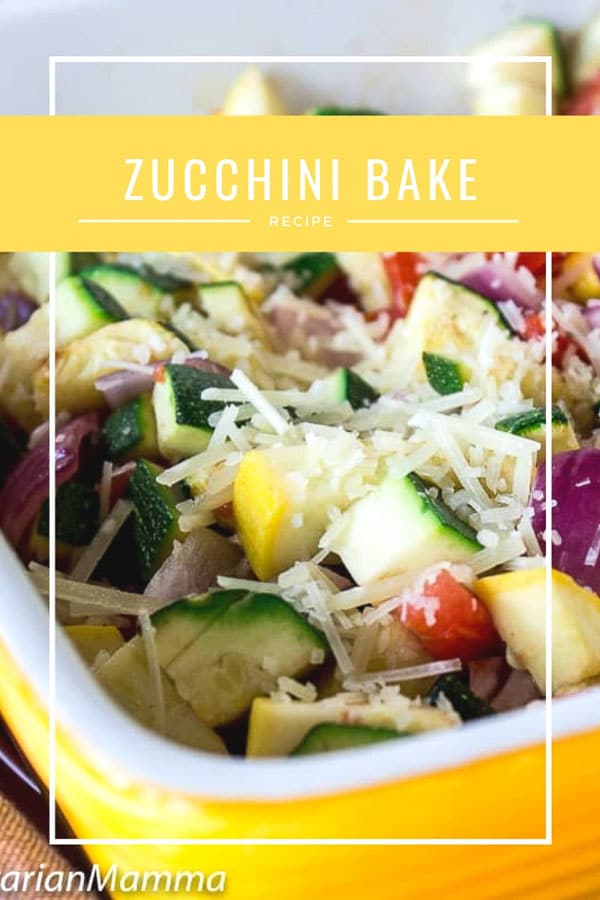 More Veggie Side Dishes to Make
Vegetable Side Dishes are sort of a specialty here! Try any of these reader favorites: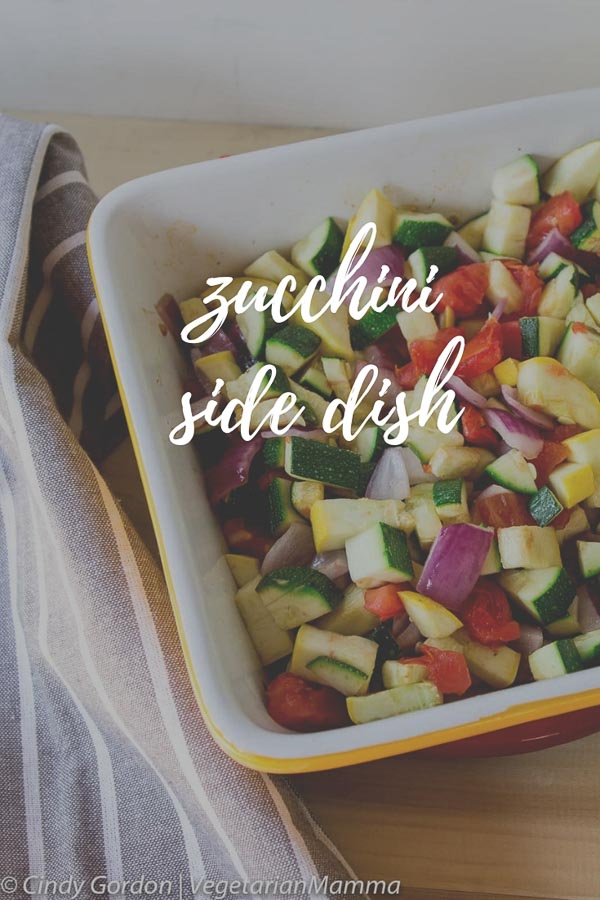 Yay! You have made it this far, and I am so glad! Hey - If you make this recipe, I'd love for you to give it a quick review & star rating ★ below. Make sure you follow me on Instagram, Pinterest, YouTube, and Facebook, too!
Zucchini Bake - A colorful side dish for your dinner table.
Make this zucchini bake side dish with colorful summer vegetables.
Ingredients
3

cups

diced zucchini

2

cups

diced tomato

fresh

½

cup

diced onion

1

cup

diced yellow squash

1

teaspoon

garlic salt

1

tablespoon

butter

or vegan butter

½

cup

parmesan cheese

optional
Instructions
Preheat oven to 350°F/180°C

Prepare a casserole dish by lightly spraying with oil.

Combine diced zucchini, tomato, onion, yellow squash and garlic salt in the casserole dish.

Place pieces of butter on top.

Bake for 25 minutes, or until the vegetables are tender.

If you would like to add cheese, top with cheese and bake for an additional 10 minutes.
Notes
To make this recipe vegan, use vegan butter and your favorite vegan cheese.
Add in other veggies if you like. Spinach, kale, or diced bell pepper would be delicious.
Serve zucchini casserole hot, or enjoy it at room temperature.
Nutrition
Calories:
82
kcal
|
Carbohydrates:
7
g
|
Protein:
4
g
|
Fat:
4
g
|
Saturated Fat:
2
g
|
Cholesterol:
10
mg
|
Sodium:
551
mg
|
Potassium:
388
mg
|
Fiber:
1
g
|
Sugar:
4
g
|
Vitamin A:
380
IU
|
Vitamin C:
22.7
mg
|
Calcium:
139
mg
|
Iron:
1.1
mg
All though this website attempts to provide accurate nutritional information, the information should only be considered an estimate. Varying factors such as different product types, different brands, etc. can change nutritional information. It is your responsibility as a consumer to read all labels to make sure the ingredients fit your dietary needs as well as calculate your own nutritional information as a double check.
---