Foil Packet Cooking – Peppers, Onions, Potatoes
Whether you are sitting around a campfire or grilling up dinner on your deck, foil packet cooking is a super easy and effective way to make dinner.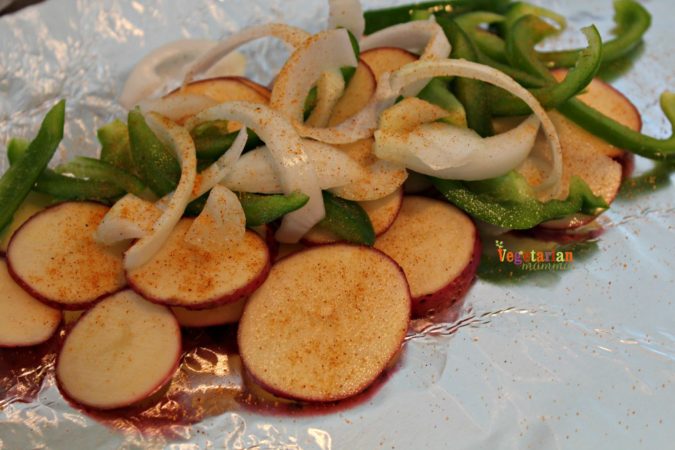 This literally is one of my favorite meals of all time. I cannot stress this enough. Each and every time I make it, I know I can make it with ease and that it is going to come out delicious each and every time. I'm serious in the fact that I've never been anything less than impressed with this recipe of grilled potatoes, onion and peppers in foil.
If you are looking for a recipe that hits the mark each and every time, try cooking potatoes, peppers, and onions on the grill. Your taste buds will thank you!
FOIL PACKET COOKING – PEPPERS, ONIONS, POTATOES
One of the reasons that I love this foil packet recipe so much is that it is full of amazing vegetables that my family and I love. Depending on your tastes and preferences, there are so really great options to choose from!
Our local market is great at offering up fresh red potatoes and bell peppers. Depending on your mood and likes, you can use whatever color bell pepper you want!
If you are a gardener, plan ahead and plant some peppers, onions, and potatoes. Can you imagine how this grilled potatoes, onion and peppers in foil would go from great to amazing by using fresh vegetables straight from the garden? Totally over-the-top amazing!
And don't forget about the onion. It is a must for this foil packet cooking recipe! If you want it a little sweeter, go with red. If you want to live on the wild side, do a combo of red and white! For this specific recipe, I used a white onion because I like the subtle flavor it gives.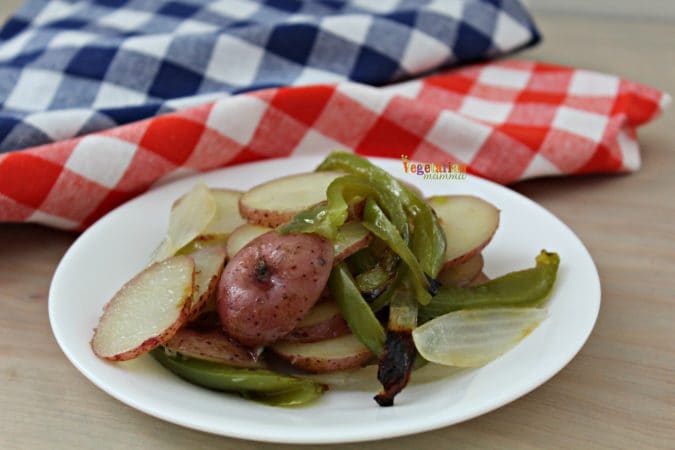 Looking for a truly versatile Foil Pack Cooking recipe? This is the one for you!
One of the biggest reasons that I've come to love this grilled peppers in foil recipe is because I love how versatile it is for me and my family.
While the main recipe below does call for potatoes, peppers, and onions to be grilled, the truth of the matter is that you can also add a few other veggies options as well. Sneaking in some squash or even hunks of sweet potato or always an option on how to add even more great flavors to this foil pack recipe.
And as always, it's 100% vegetarian and gluten-free. Just another perfect recipe that I can rest easy knowing that it's safe and healthy for my entire family to eat. To me, those reasons alone make this recipe one that goes above and beyond.


How to Cook Potatoes, Peppers, and Onions on the Grill
Give all the potatoes and peppers a good scrub to get them clean. Once they are sparkly and shiny, they are ready to start being cut up.
Cut them into sizes of your liking, and simply divide out the ingredients into large pieces of heavy-duty foil. (Heavy duty foil is key here because you don't want it to become flimsy and rip!)
Once you have the veggies separated and placed, you just need to fold them into nice, neat little packets. Ensure that all the ends of folded and closed tightly so nothing will fall out on the grill!
Once sealed, place on grill or over campfire coals. Keep in mind that when placing on campfire coals, those coals get hot quickly. It can be difficult to find a constant temperature for them to cook at so just watch them and rotate as needed.
A good indicator that they are getting close to being done is if you start to smell those smells coming from those grilled potato and onion packets. One those smells hit your nose, you know you're on the right track!
How to Safely Remove Grilled Potatoes, Onion and Peppers in Foil off the Grill or Campfire
I also made add that it is important to remember safety as well when removing this foil packet recipe off the grill. Foil can be a bit tricky in the fact that it may not feel hot to the touch immediately, but trust me…it is hot.
Always use an oven mitt to remove from the grill or campfire. One of the best things to think about purchasing to have in your possession is the tongs that are super long. Not only do they keep your hands cool because they are long enough that your hands don't have to get near the heat, but they can grab the foil packet on both sides as well ensuring that you've got a good hold on the hot item.
Place in on the heat-safe surface of your choice, and let it cool. It will take several moments for that heat to start to go away from the aluminum foil. Even though the smells are tempting you, be patient!
Safety is important and the waiting will only prep and prepare your taste buds even more for that first glorious bite!
Looking for more gluten-free recipes? You can check out our recipe index for more easy, yet mouthwatering recipes!  You might also love our Sweet Corn Pudding, Roasted Carrots and Brussels and our Wild Rice Casserole.
Let's talk! Have you ever tried foil packet cooking? What is your favorite thing to cook on the grill?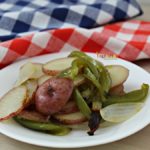 Foil Packet Cooking - Peppers, Onions, Potatoes
Whether you are sitting around a campfire or grilling up dinner on your deck, foil packet cooking is a super easy and effective way to make dinner.
Keyword:
Foil Packet Cooking
Ingredients
4-5

small red potatoes

thinly sliced

1

medium sized onion

sliced

1

large bell pepper

deseeded and sliced

4

large pieces of heavy duty foil

seasoning

Cooking spray
Instructions
Using your cooking spray, spray each foil sheet with a thin layer of cooking oil.

Divide cut potatoes, peppers and onions among foil pieces.

Season with your favorite seasoning, spray ingredients again with cooking spray. (This helps it from sticking.)

Fold foil packets tightly in a square or rectangle shape so moisture does not escape.

Place on the grill over medium heat. Grill for 10 minutes, flip and grill for 8-10 more minutes.

Sit down, relax and enjoy!
Recipe Notes
Cooking time may vary depending on the temp of your grill. Low and slow always cooks the best!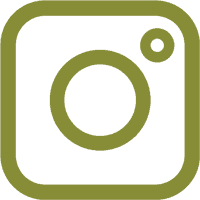 Did you make this recipe?
Be sure to snap a picture and post it to Instagram with the hashtag #VegetarianMamma! I love seeing our recipes being recreated!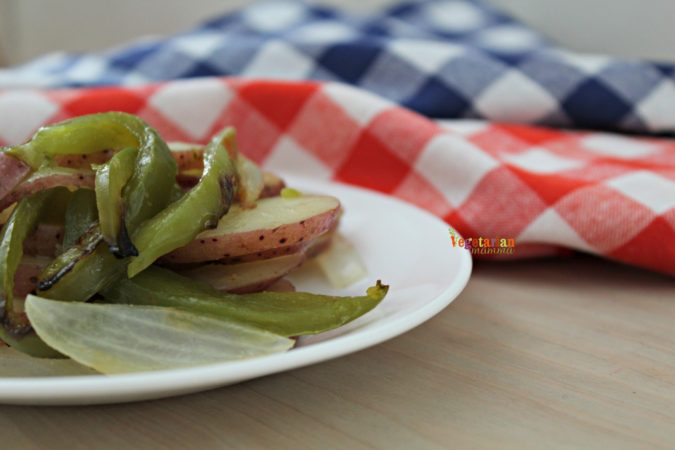 Pin this image for later: