Curry Tofu with Broccoli and Rice is a quick and easy dinner that will keep your tasting buds asking for more! You can adjust the curry flavor to your liking.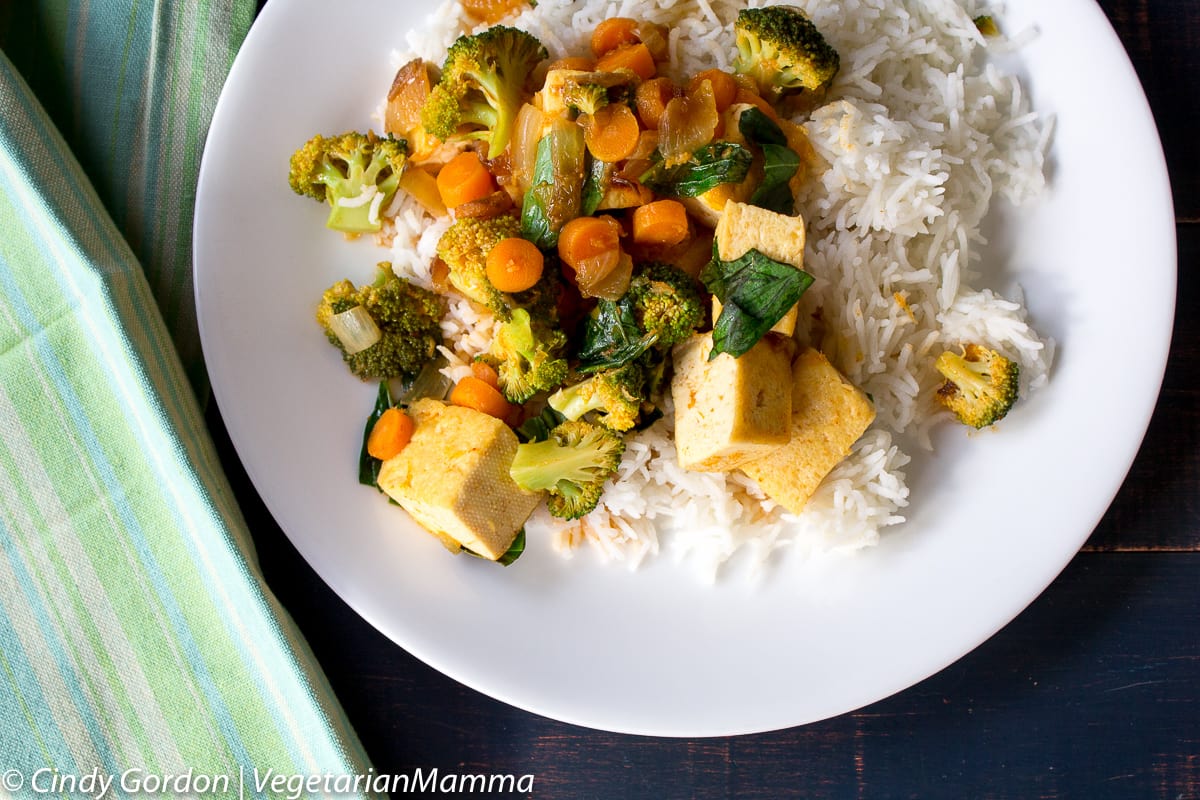 You know me, I love tofu! We are always looking for fun an exciting ways to add tofu into our dishes. For us as vegetarians it is a great source of protein.
If you are a meat eater, that is perfectly fine! Consider this an option for Meatless Mondays!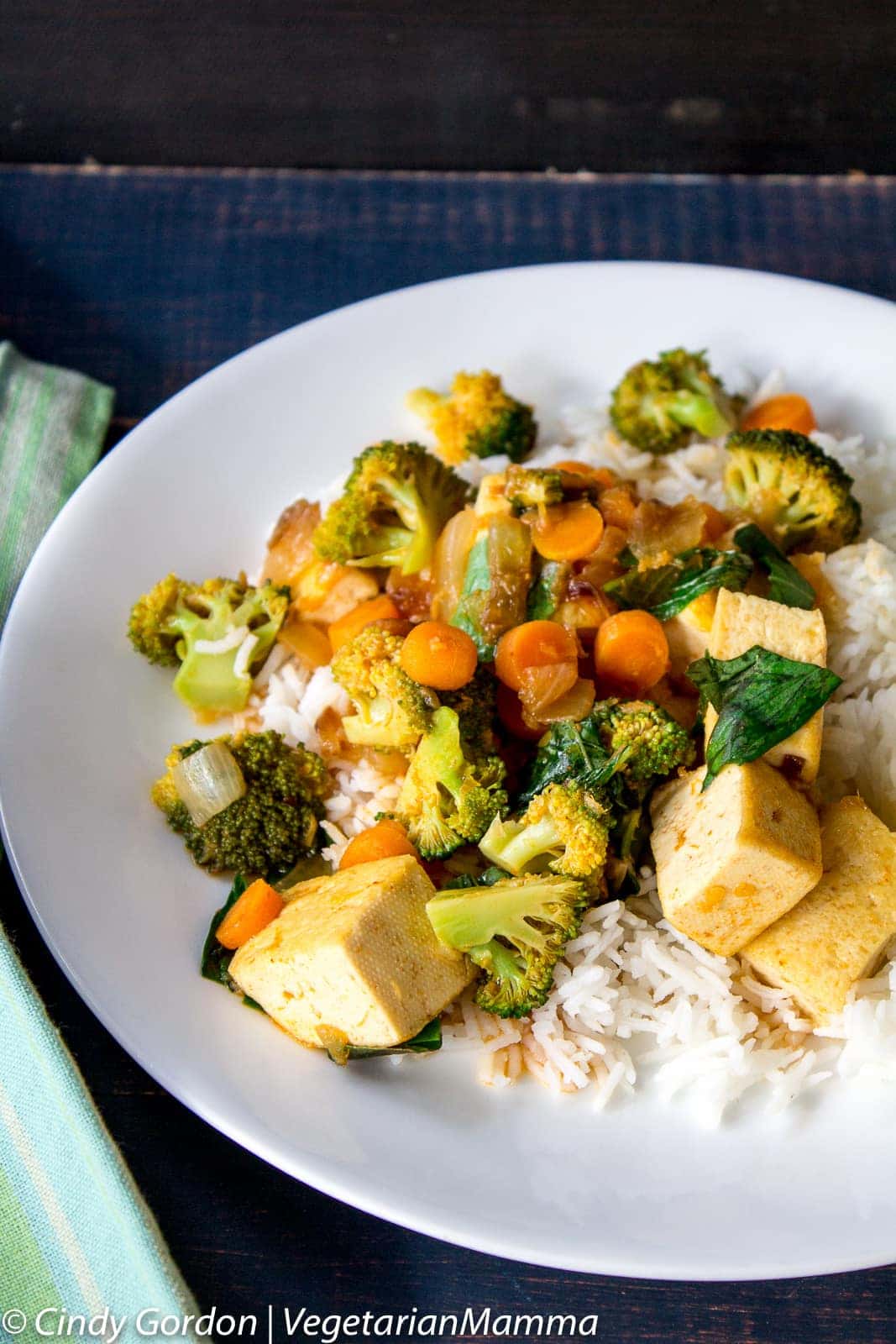 As you know, we love tofu recipe. We are always looking for fun ways to cook our tofu. Whether its Crispy Air Fryer Tofu, Balsamic Tofu and Mushrooms or Tofu Scramble Burritos, we got you covered.
We have even talked about the benefits of tofu and simple ways to cook tofu!
We used our EZ Tofu Press to press the tofu before frying it up. We fried the tofu to a beautiful golden brown.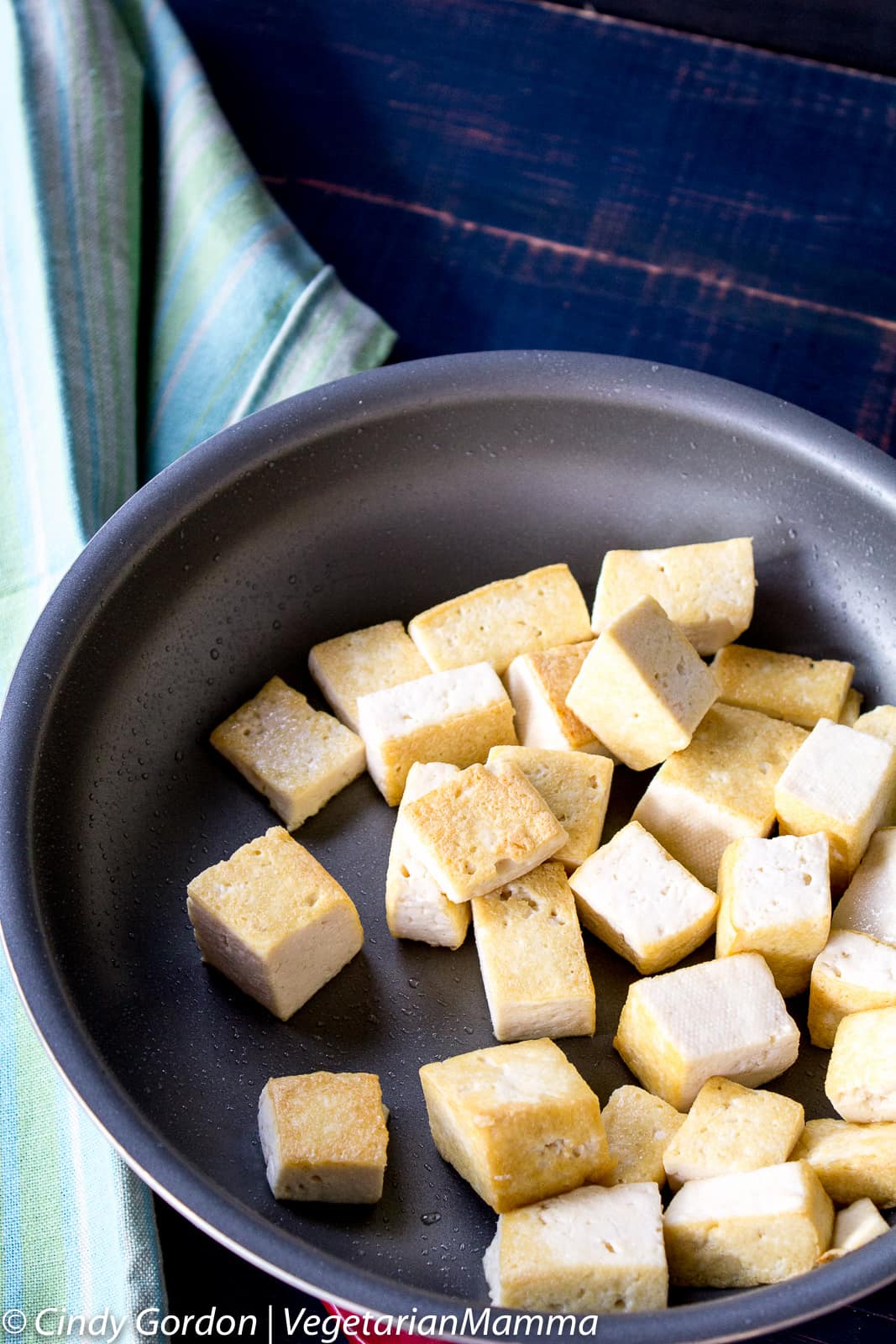 Next up, we need to make our sauce!
I used curry paste for this recipe instead of curry powder. You can adjust the amount per your tastebuds. The amount is this recipe is pretty tame!
In the recipe we used:
onion
carrots
fresh ginger
broccoli
I diced the onions and carrots up small and cut the broccoli into small florets.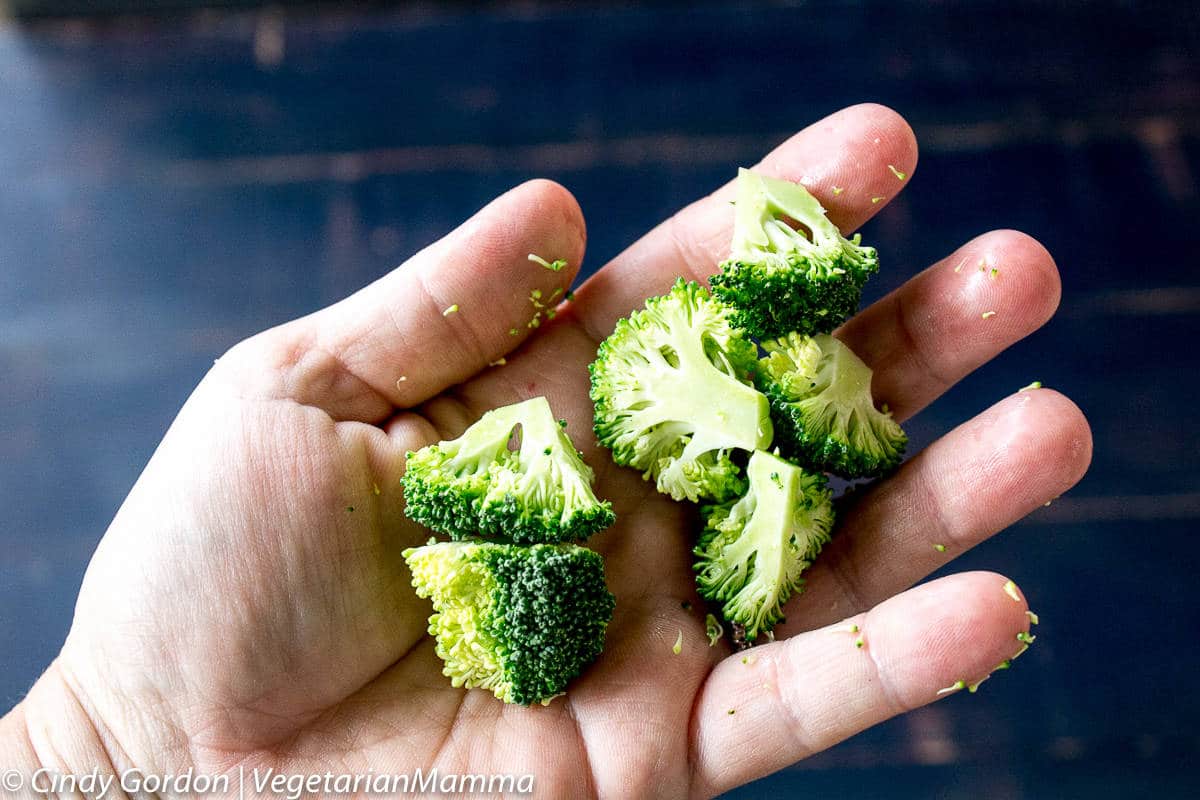 This meal cooks up pretty quick, the sauce does not take long at all to make!
The longest part is probably frying up the onions and carrots until they are soft! The sauce is quite beautiful!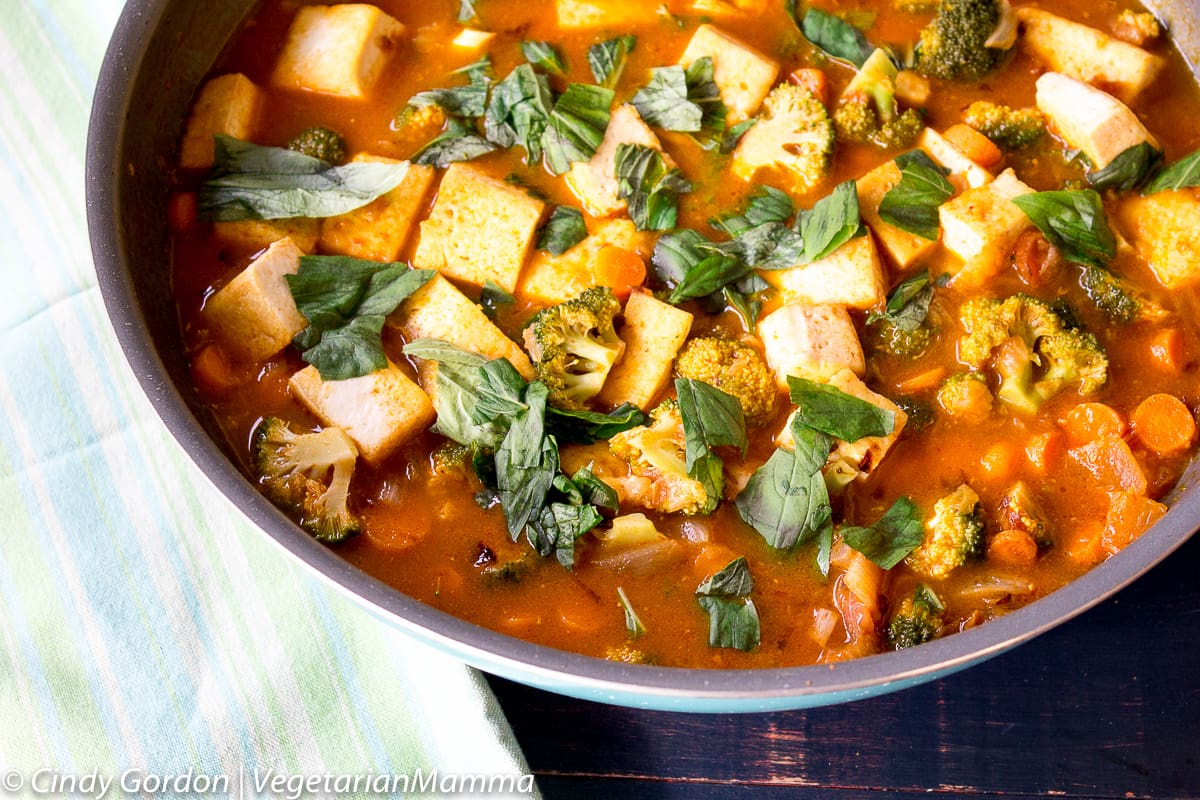 The addition of fresh basil on top of the sauce not only brightens the dish but elevates the flavor profile of this dish! I LOVE using fresh herbs when cooking!
I bet you are starting to get hungry now! I know that I am!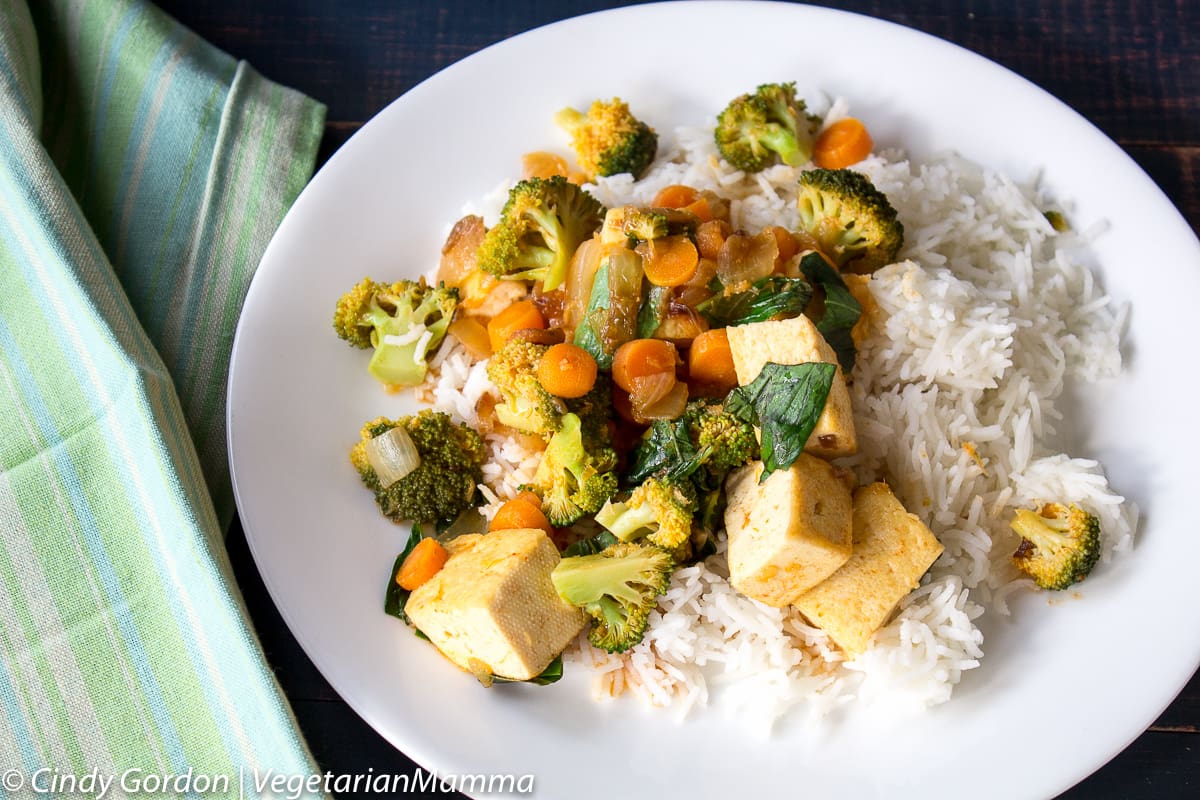 Love that curry flavor? You need to check out Creamy Chickpea Curry by Food Faith and Fitness!
It is recipe time! Let's do this!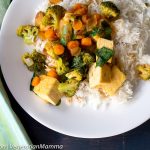 Print Recipe
Curry Tofu with Broccoli and Rice
Instructions
Prepare rice and set aside.

Press tofu, slice into cubes and fry using 1 T of oil in a medium skillet.

Prepare broccoli pieces into small florets and set aside.

In a clean skillet, warm the remaining oil. Saute the onions and carrots. When soft add in the curry paste, ginger, broth and coconut milk.

Stir to combine and bring to a boil.

Add in broccoli, cook until broccoli is tender.

Top with basil and serve over rice.

ENJOY!
---
It's that time again! We LOVE the EZ Tofu Press! You have another chance to win one of my favorite kitchen tools! This kitchen gadget is one that every tofu loving kitchen needs!
We have something special for you! An EZ Tofu Press Giveaway.
If you've spent some time following our little blog and our social media channels, you know that our household loves our EZ Tofu Press!
You've seen mine in action a lot on our Facebook and Instagram channels!
Every time I talk about the EZ Tofu Press, I share that it is something I didn't know that I needed. Now that I have one, I will never be without!
This device gets so much liquid from my tofu which allows it to cook up better!
---
Let's talk! Leave me a comment below telling me if you are a fan of Curry? Have you tried it?