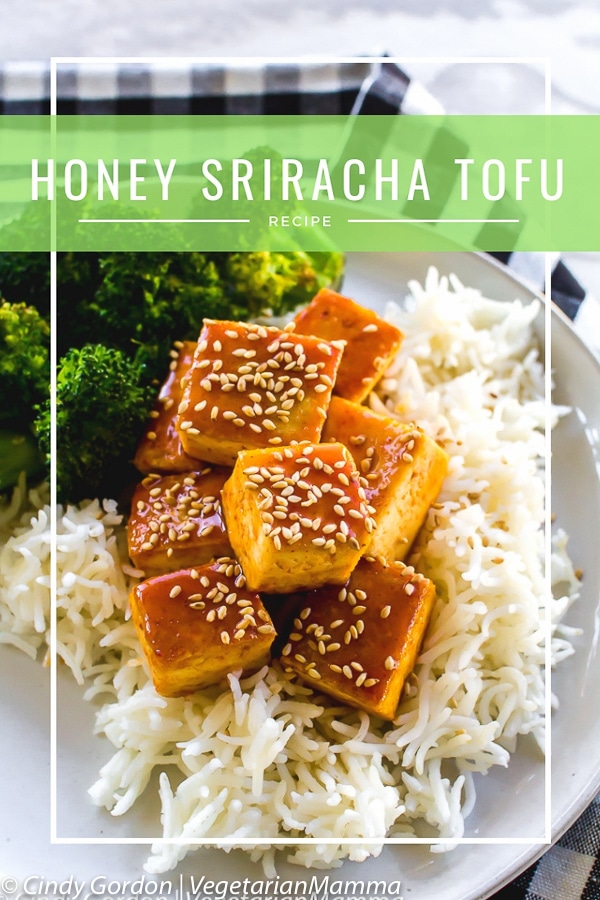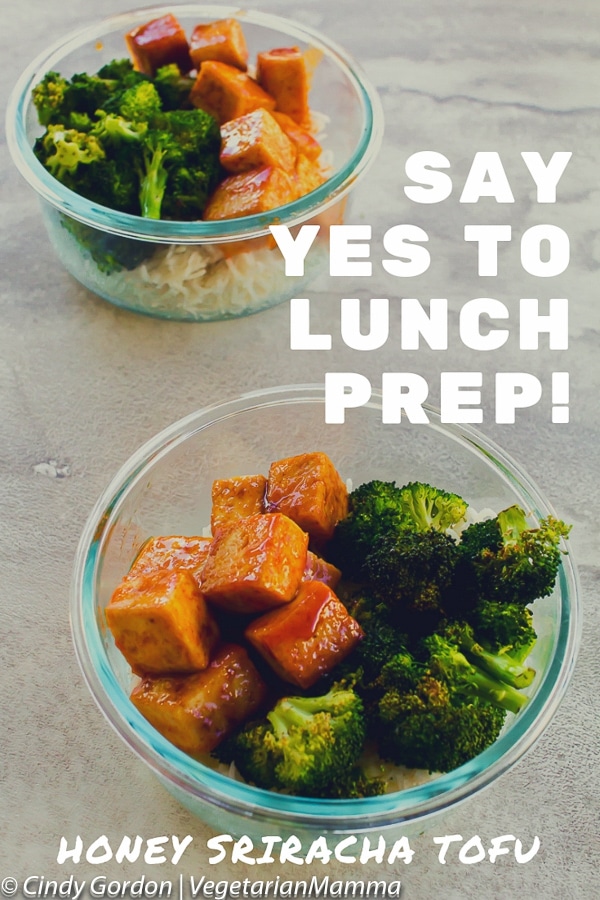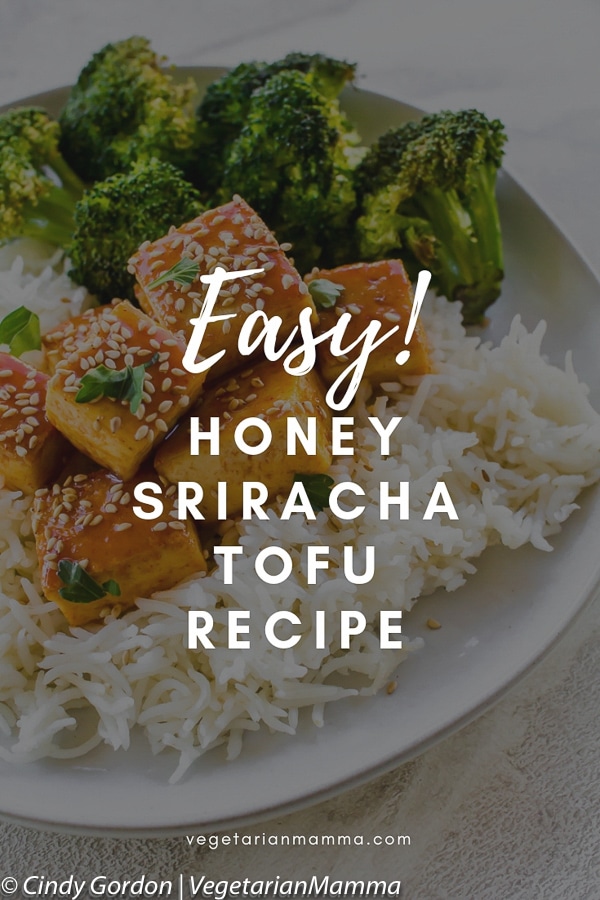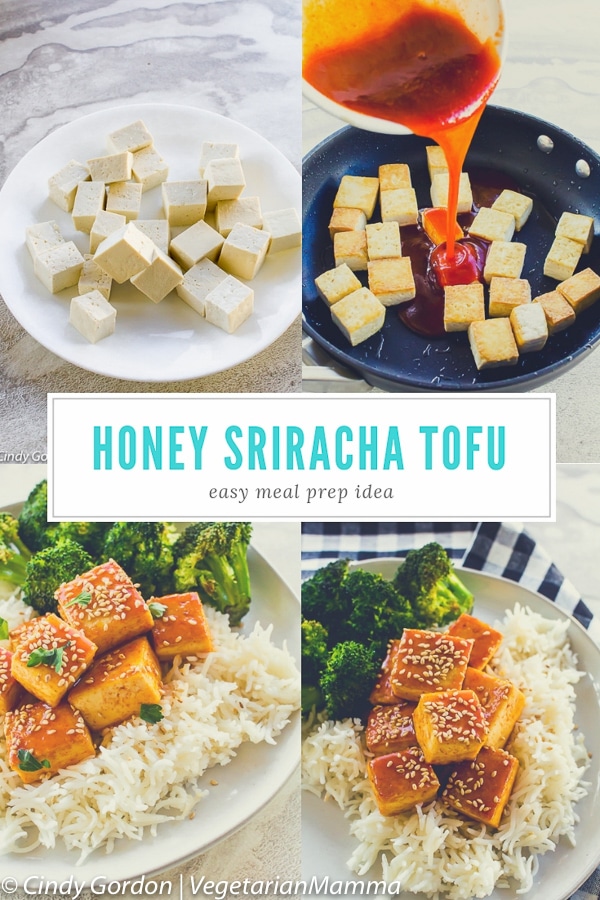 Honey Sriracha Tofu is a delicious spicy fried tofu recipe topped off with a sweet and spicy Sriracha sauce. This easy tofu recipe is a winner for game day!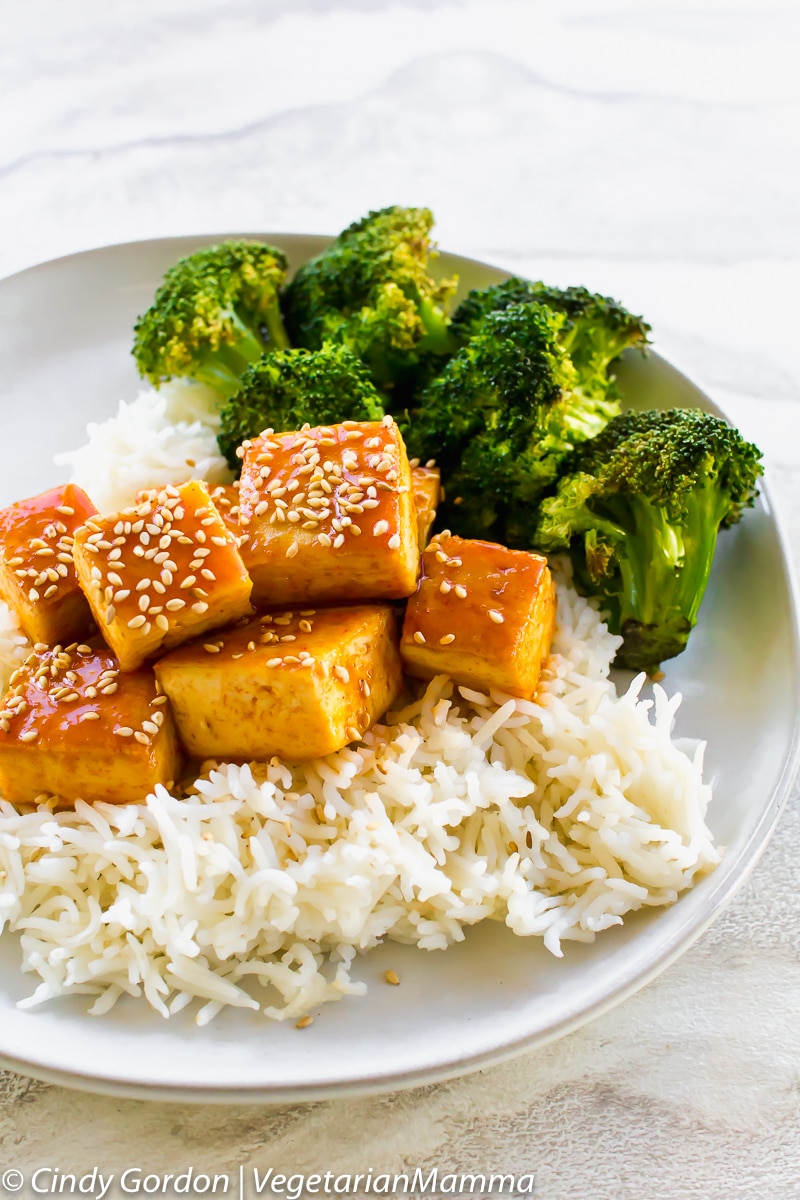 This recipe is sponsored by EZ Tofu Press. All opinions are my own.
Honey Sriracha Tofu Recipe
When I think of the phrase "Honey Sriracha" it makes me think of game day foods. I think it stems from the sriracha sauce.
That tangy and spicy sauce often times is shuffled into the football food or game day snack food category. Honestly, our Honey Sriracha Tofu can fit into that category if you want.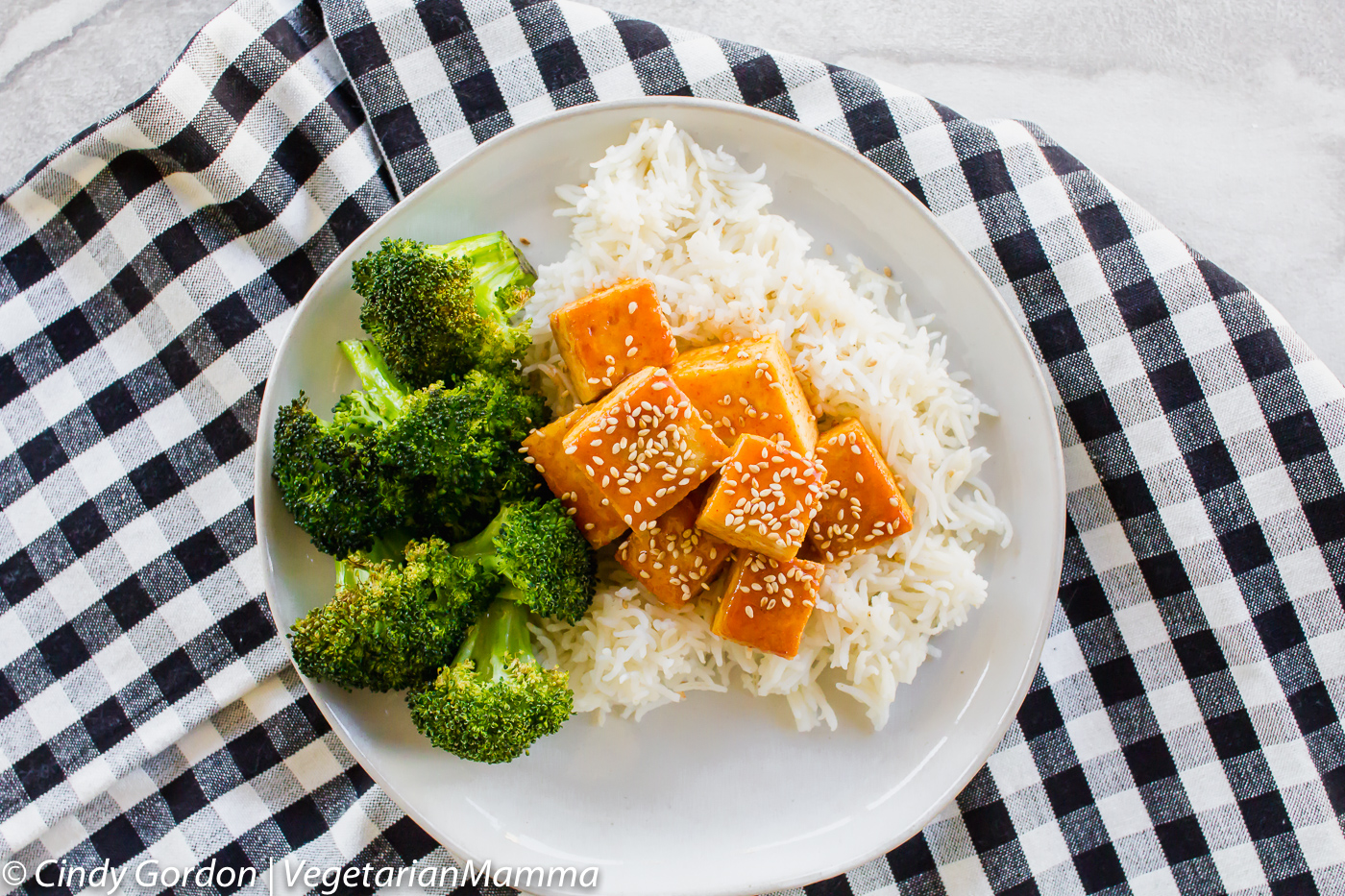 This Honey Siracha Tofu recipe is perfect for game day, especially if you want to bring a meatless flare or a vegetarian option to your game day celebration! I am pretty sure that even your meat loving friends will dive into this dish!
So go ahead and nix those honey sriracha wings from the menu plan and add in this vegetarian dish! The secret is most certainly in the sauce for this recipe!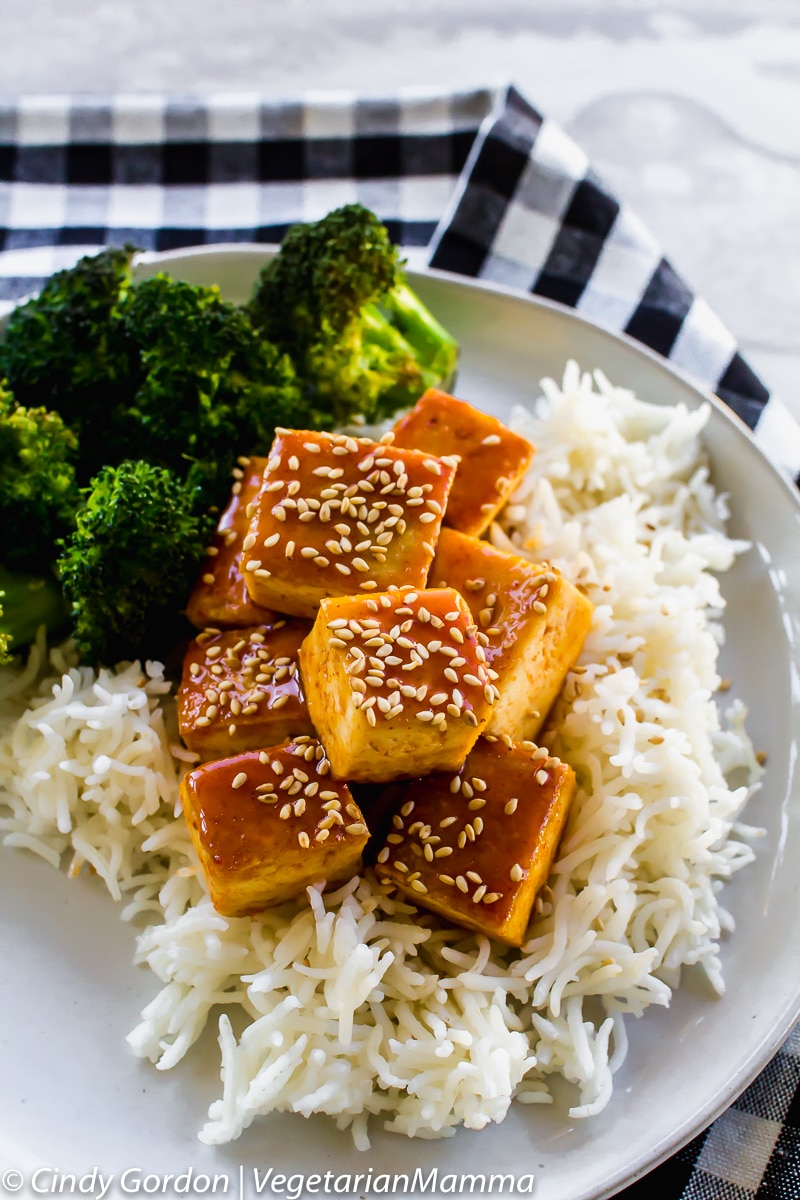 INGREDIENTS IN SWEET AND SPICY SRIRACHA SAUCE
Honey - Honey makes this sauce sweet and perfectly sticky. Go ahead and use the honey from your honeyed lemons if you have some ready too!
Sriracha- A must have to give this recipe it's spicy flavor.
Coconut Aminos - Use either this or gluten free soy sauce.
Sesame Oil - I love the flavor of sesame oil in this dish. It's warm and nutty.
Rice Vinegar - This vinegar is a classic addition to most Asian sauces.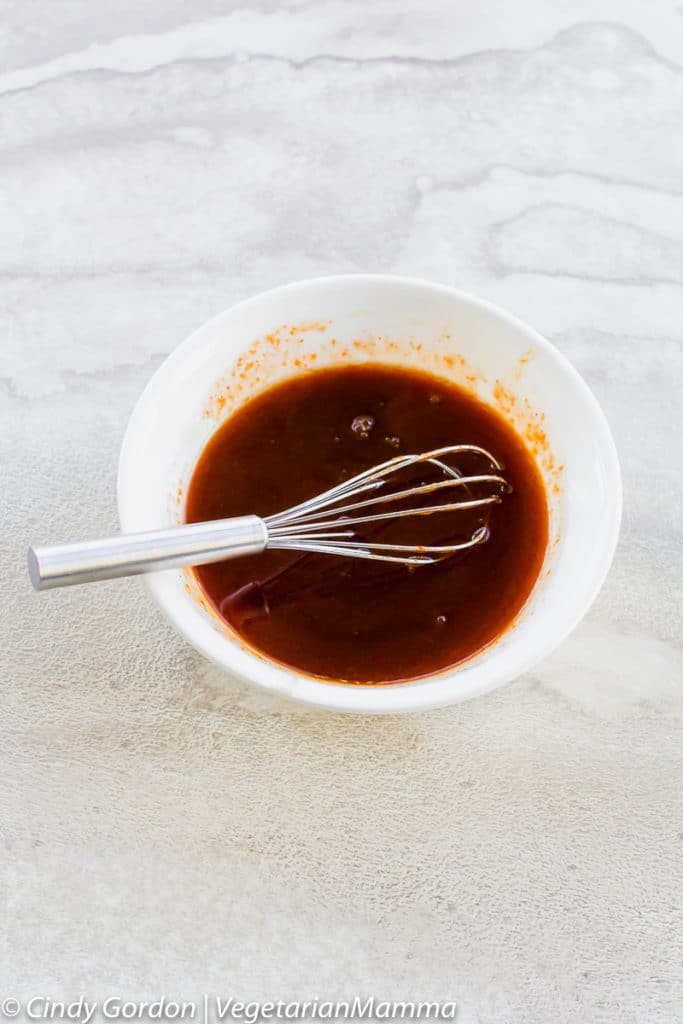 HOW TO MAKE HONEY SIRACHA TOFU
It is actually quite simple to make this delicious sauce. You are going to whisk together these few simple ingredients and then you will be ready!
In a medium sized bowl, whisk together honey, coconut aminos, siracha, rice vinegar, and sesame oil until well combined.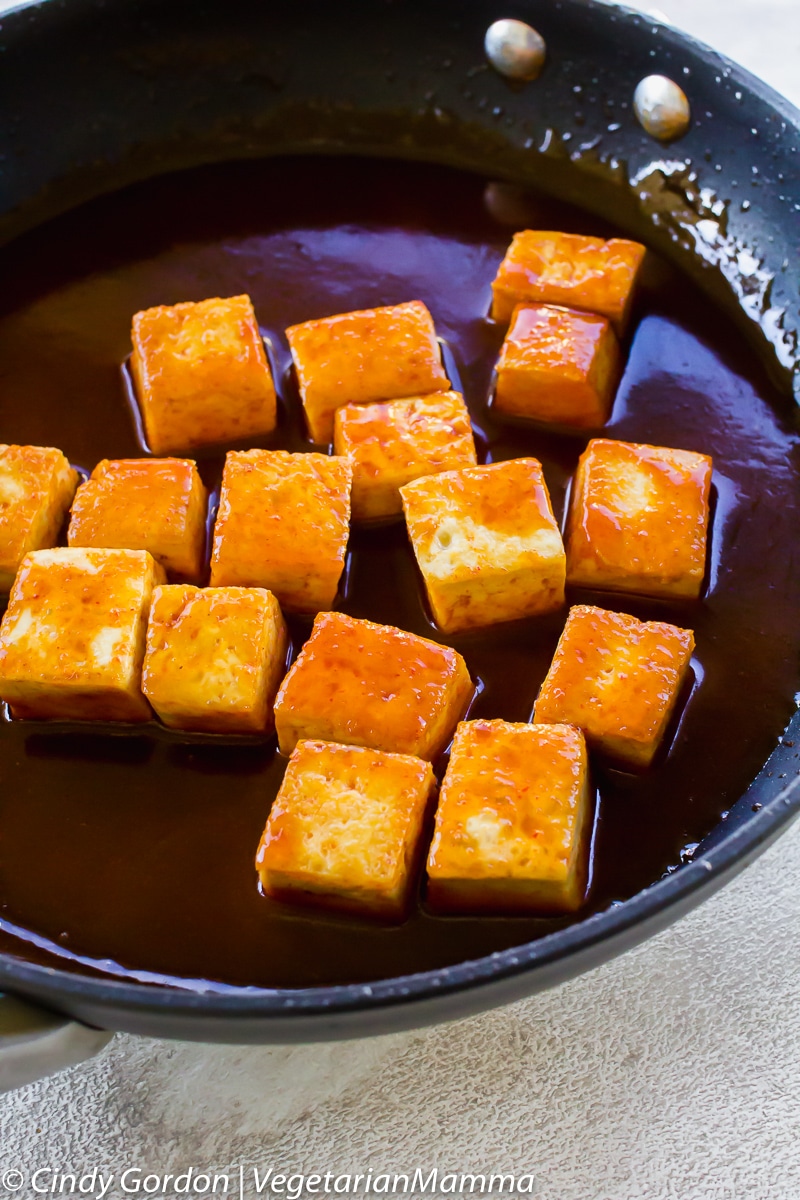 EATING TOFU
If you're brand new to eating tofu, it can be confusing. Just like fruits and vegetables there are many varieties to choose from.
There are a lot of variables to consider in terms of styles of tofu, and the nuances of each. First you should understand the basics of how tofu is made. There are very few ingredients involved, but it is quite the process!
WHAT IS TOFU?
Tofu is generally made by:
Soaking soybeans in water, then blending them up.

Straining out the pulp, leaving you with soy milk.

Adding a coagulant (lemon juice works well) to curdle the milk and create curds.

Straining again and keeping the solids.

Pressing the curds to create a block of tofu.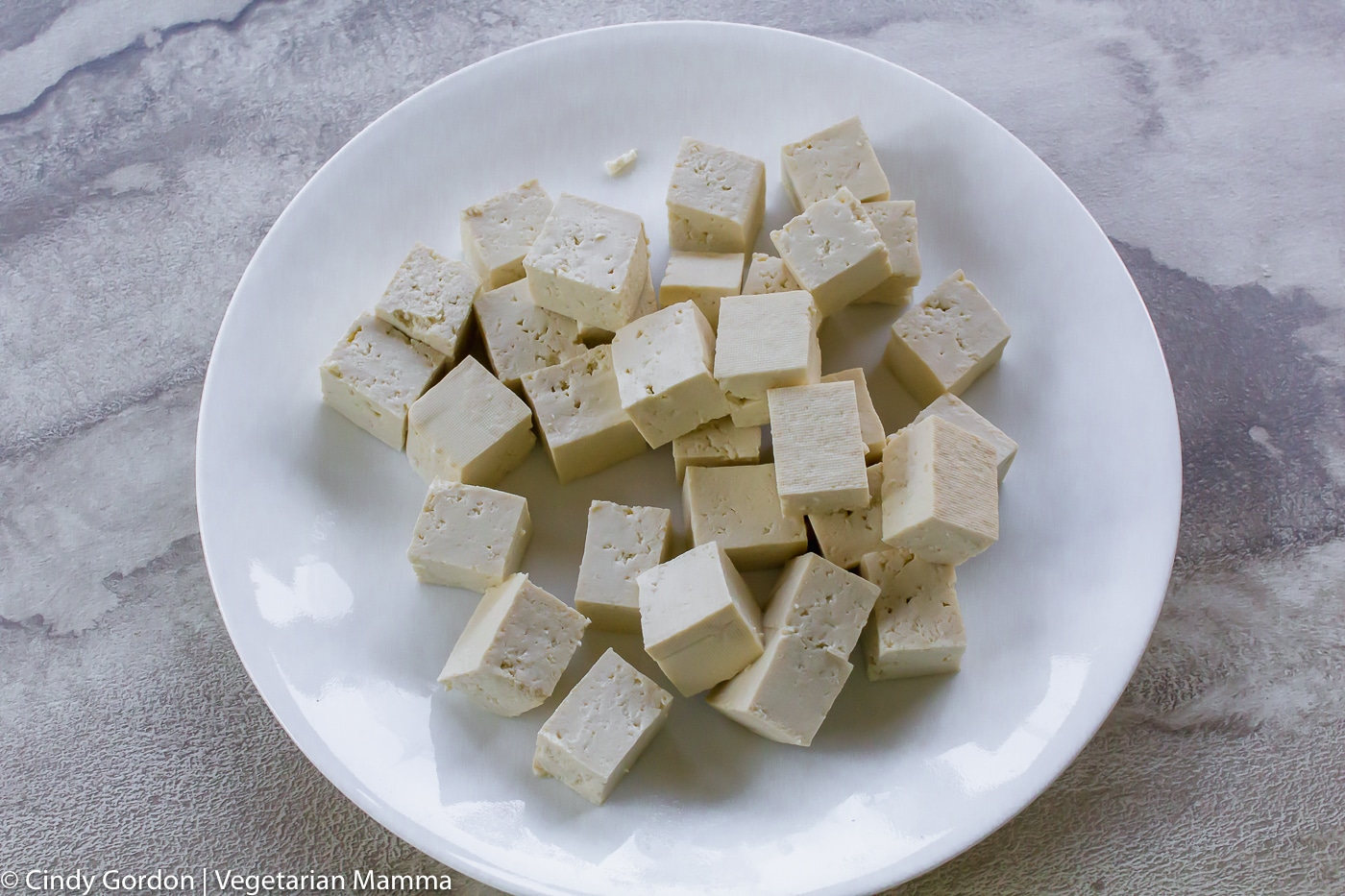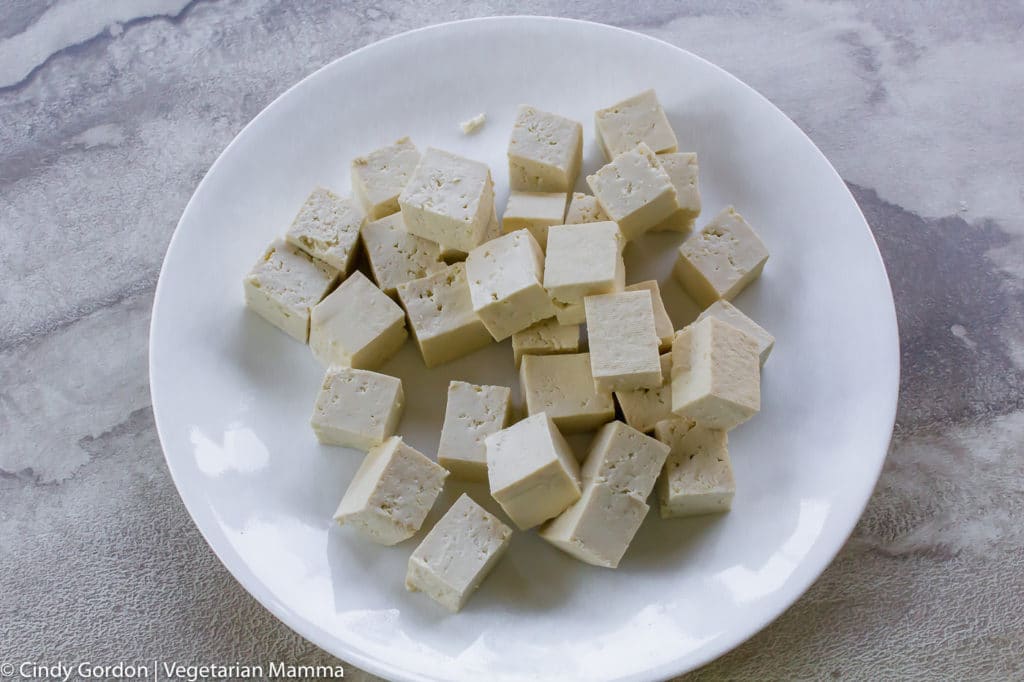 WHAT ARE THE TYPES OF TOFU?
There are many types of tofu, but here are the ones that you will probably see at the store.
Silken Tofu -

Silken tofu is made differently than block tofu, in that the soy milk is coagulated, but without curds forming. This means that the end product is smooth, without any lumps or bumps. These styles of tofu require delicate handling in order to avoid turning it to mush.

Firm Block Tofu -

Slightly softer than extra firm, firm block tofu is a very versatile style that will hold up to most types of cooking. Try it fried, stuffed, boiled, or pan fried in any savory dish.

Extra Firm Block Tofu -

This tofu is, as its name suggests, is the firmest and heartiest of the block tofu varieties. The curds have been pressed tightly together and the tofu is chewy and dense. Extra firm tofu is the best choice if you'd like to make crispy, fried tofu, or for any meal that requires a hearty bite.
TOFU BENEFITS
Tofu is a staple in many vegetarian and vegan diets because of its versatility in cooking and its protein content.
But aside from being a delicious non-meat protein source, there are many other health benefits to gain from including tofu into your diet, some of which you may not have realized.
Tofu is Low Fat with Zero Cholesterol
Tofu is a Complete Protein
Those two reasons right there are huge!
HOW DO YOU COOK TOFU?
Let's face it, tofu does not have the best reputation in the culinary world. It's still a strange ingredient to many people, and tofu, in its raw, natural form is a little bit wiggly and weird looking. How you cook it can often times make or break a person on their love for this ingredient!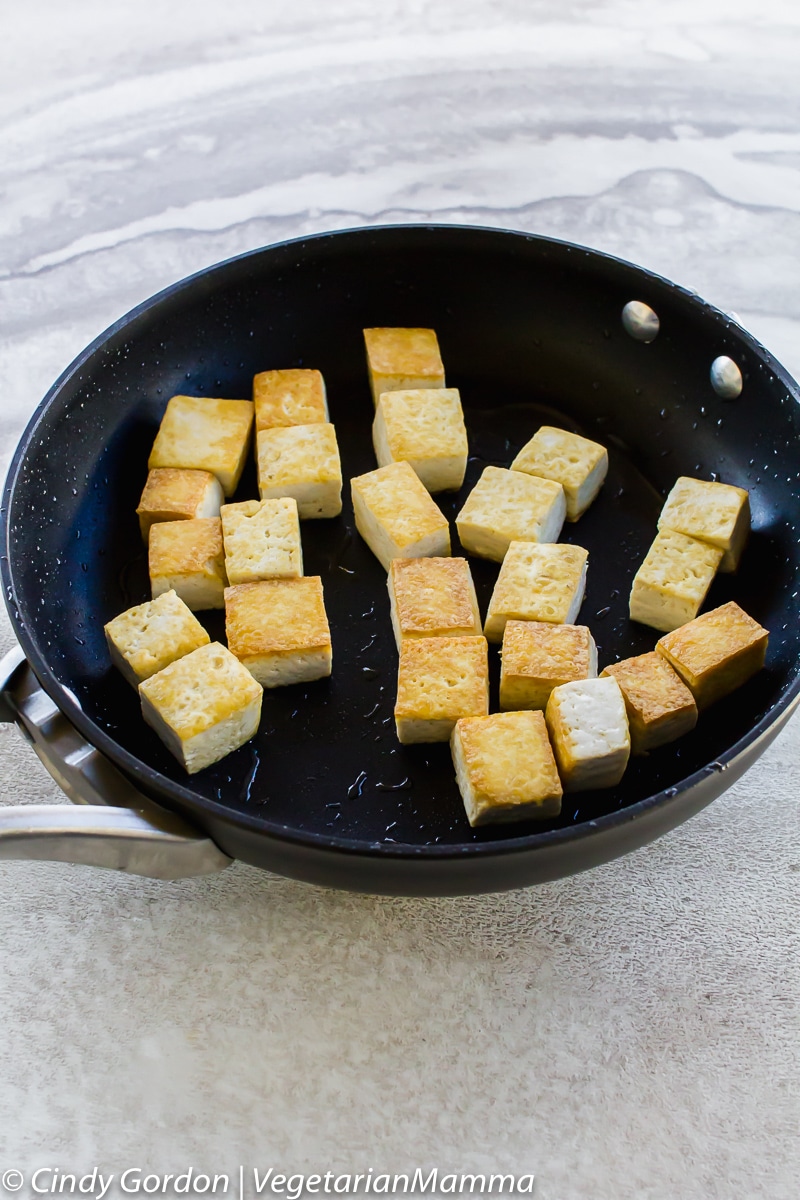 My favorite cooking methods are:
Pan Frying

Air Fried (Cooking tofu in the air fryer)

Broiled

Baked
HOW TO PRESS TOFU
Step one, regardless of which of the above four methods you choose, is to press your tofu block. You'll want to start with firm or extra firm block tofu, and before adding heat to it you need to remove some of the liquid from it.
If the tofu is too liquid-like, you won't get good browning or any crispiness – and you definitely want both of those things in your final dish! This step takes about 15 minutes if you're using a tofu press.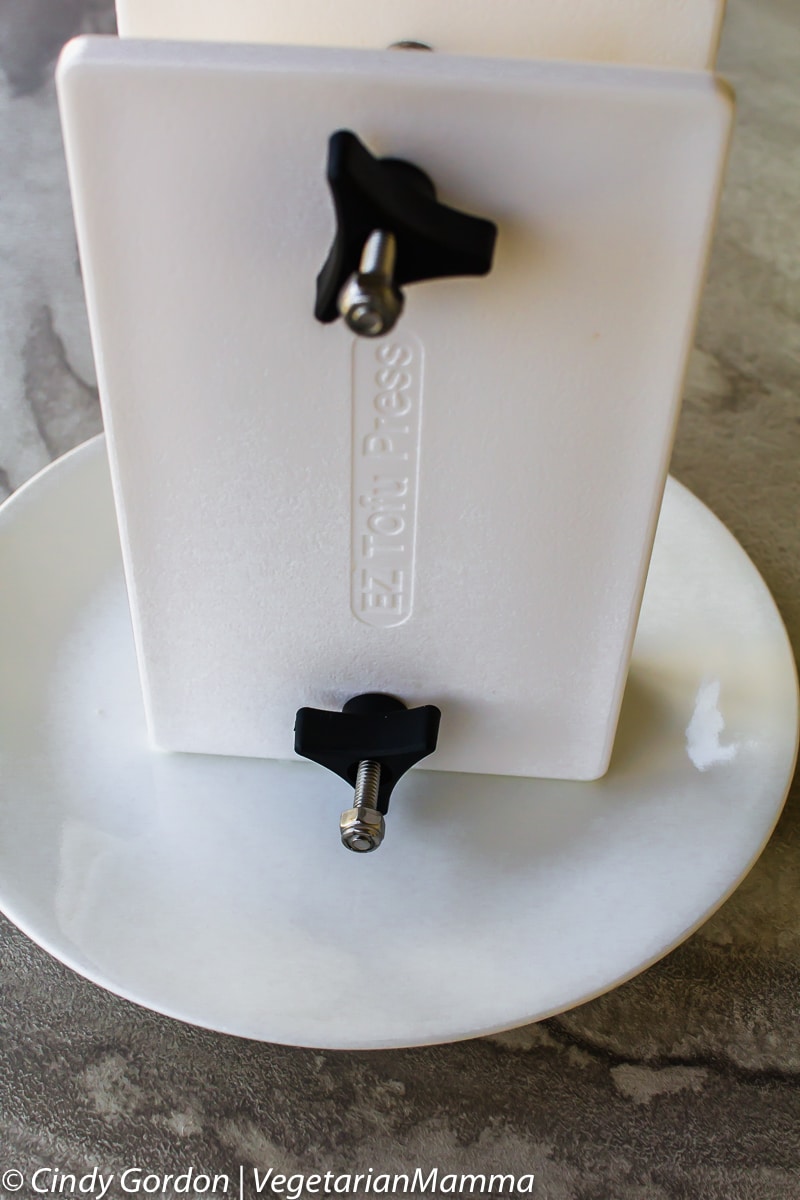 I use an EZ Tofu Press to press my tofu before I cook it. I've had mine for years, and it is by far my favorite kitchen tool. This press is unique in that it is made from BPA free plastic and stainless steel so it won't rust and will keep pressing for years to come.
Reasons WHY I LOVE my EZ Tofu Press:
It can press virtually all sizes of firm and extra firm tofu.

The pressing can be achieved in 15 minutes or less. (Talk about a huge time saver!)

The press is substantially faster than spring based tofu presses.

The press is easy to clean!
You can pick up your own on Amazon.(affiliate ad link) I promise you'll love it! Check them out on Facebook to learn more.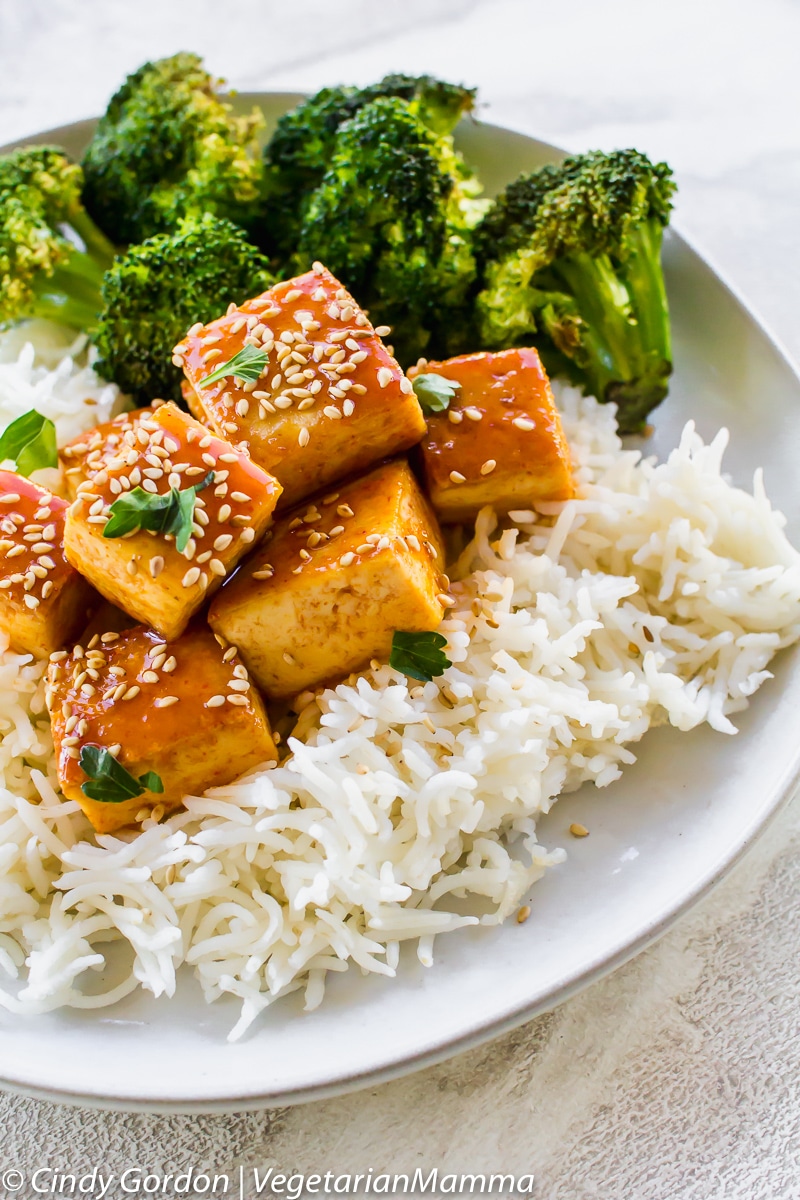 QUESTIONS ABOUT HONEY SIRACHA TOFU
What are Coconut Aminos?

Coconut Aminos

(affiliate ad link) are my new favorite thing! It is a sauce (that is completely delicious) and it is made from coconut sap. The thin dark sauce has a sweet and salty taste. It is very similar and can be exchanged for soy sauce in this honey siracha tofu recipe.

Coconut Aminos

are gluten-free.

Does my soy sauce need to be gluten-free?

If you use a soy sauce and you have Celiac Disease, a wheat allergy or a gluten sensitivity you need to make sure it is gluten-free. If you DO NOT have any restrictions that call for you to at a gf diet, you can use non gluten-free soy sauce.

Just exactly how HOT is sriracha? Is Sriracha spicy?

That is a good question. I can tell you when it come to spiciness, I am a total wimp. I can tolerate easily 1-2T of sriracha sauce in a recipe. After that the HEAT kicks up a notch for me. So basically, its a hotter sauce but not THE hottest!

What country did sriracha sauce come from?

I searched the interwebs for this answer. I wasn't sure. It appears that sriracha originated in Thailand from a Thai woman.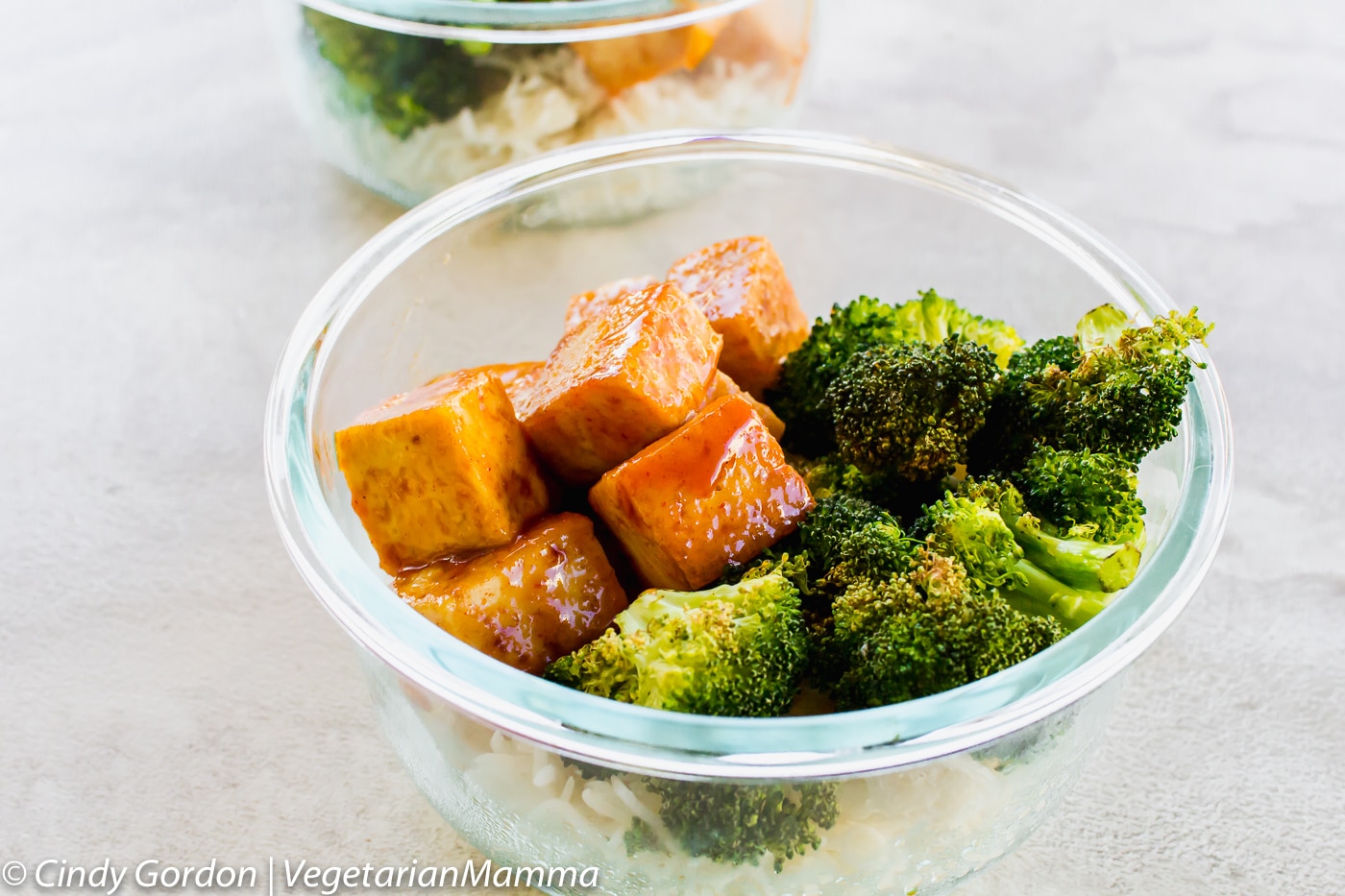 HONEY SIRACHA TOFU MEAL PREP
I make this recipe for Honey Siracha Tofu in double and triple bathes along with some Air Fryer Broccoli. I batch up this recipe to have on hand for delicious lunches all week long!
IS TOFU GLUTEN FREE?
Yes, tofu is gluten-free. Tofu is made from soy. You need to always read ingredient labels just to double check. If you are purchasing a tofu that has added flavorings, you might find some hidden gluten! Just be a label reading watch dog and you should be fine! As always, shoot me a message if you need help!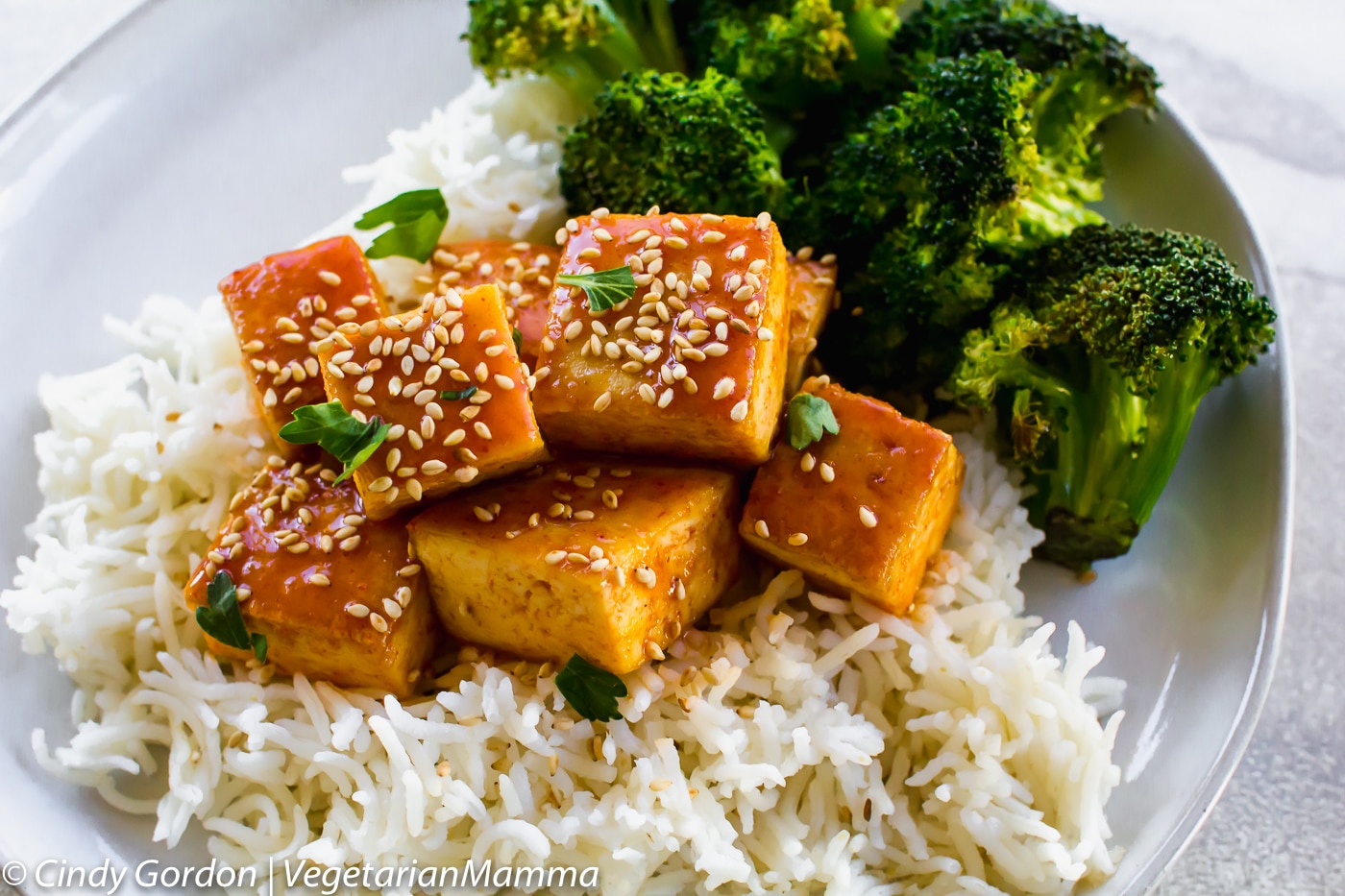 IS TOFU ONLY FOR VEGANS?
Tofu isn't only for vegans. This ingredient is for everybody! It is an acceptable part of your diet whether you are a vegan, meat eater or vegetarian.
WHAT TYPE OF TOFU DO YOU USE?
I typically use an extra firm tofu for Honey Siracha Tofu and for most of my recipes. I often times buy it at Costco. The price for organic tofu to be extremely reasonable. our family personally like House Foods Tofu.
DO ALL TYPES OF VEGETARIANS EAT TOFU?
Yes, all types of vegetarians each tofu. There are several different types of vegetarians.
If you want to read more about the different types of vegetarians, you can visit our vegetarian educational posts.
Hungry for more tofu recipes? If you are looking for tofu recipes for kids, tofu for babies or tofu for toddlers we have you covered too! There is something here for everybody!
We get a lot of inquires about tofu recipes for toddlers. Many of our recipes are suitable for toddlers. As always, just make sure that the ingredients you are using are ones that have already been introduced into their diets.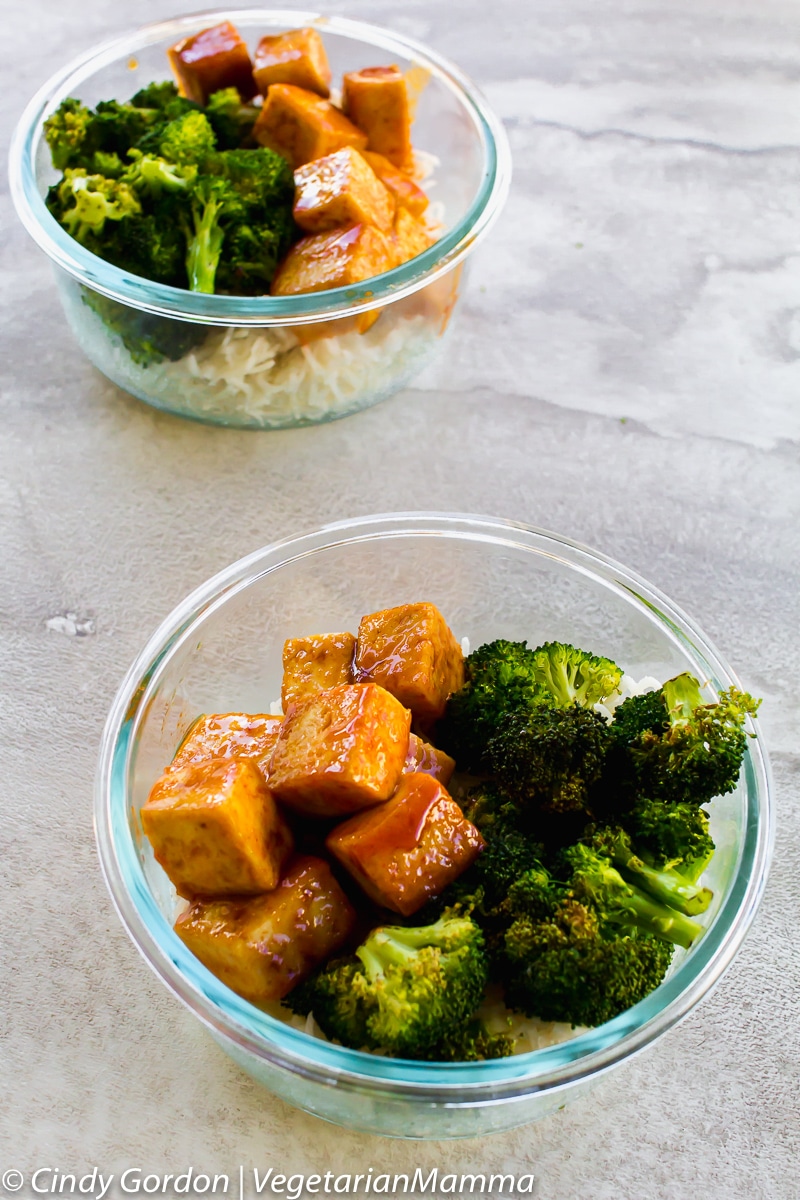 MORE EASY TOFU RECIPES:
Sweet and Sour Tofu is another Asian style tofu recipe that works really well for meal prep or just an easy weeknight meal. This recipe is less spicy than Honey Siracha Tofu.
I love making Balsamic Tofu and Mushrooms in colder months. It's a warm and delicious meal that fills me right up.
Pineapple BBQ Tofu is a great summertime meal in a Hawaiian style.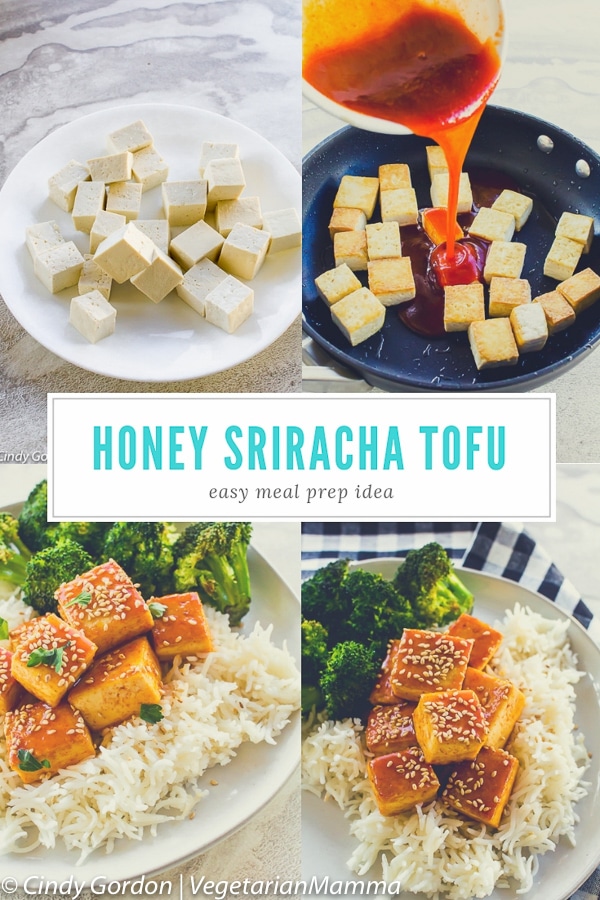 Have you made this recipe? Please leave a comment AND rating below! It helps other readers!
Be sure to tag @VegetarianMamma on instagram, if you share a picture on the gram! Let's get social, you can follow me on Youtube, Instagram, Facebook, Pinterest or join one of our Facebook Groups: Tasty Vegetarian Recipes and Vegetarian Air Fryer Recipes.
Don't forget to subscribe to our EMAIL newsletter.
Honey Sriracha Tofu
Honey Sriracha Tofu is a delicious spicy fried tofu recipe topped off with a sweet and spicy Sriracha sauce. This easy tofu recipe is a winner for game day!
Instructions
Using your tofu press, press the tofu for 10-15 minutes. Then cut into chunks.

In a bowl mix together the honey, Sriracha, coconut aminos, sesame seed oil and rice vinegar. Whisk together, set aside.

Heat oil (1T) in a frying pan over medium heat. Fry tofu until golden brown. This usually takes a 3-4 minutes per side.

Pour whisked sauce into the skillet with tofu. Let sauce come to a boil and cook with tofu. Sauce will not thicken much.

If using rice, divide among 4 plates. Top the rice with tofu and spoon additional sauce on tofu if needed. Top with sesame seeds! Love Broccoli? This dish pairs well with our Air Fryer Broccoli!
Nutrition
Calories:
180
kcal
|
Carbohydrates:
26
g
|
Protein:
7
g
|
Fat:
5
g
|
Sodium:
676
mg
|
Potassium:
195
mg
|
Sugar:
24
g
|
Vitamin A:
30
IU
|
Vitamin C:
14.9
mg
|
Calcium:
31
mg
|
Iron:
1.4
mg
All though this website attempts to provide accurate nutritional information, the information should only be considered an estimate. Varying factors such as different product types, different brands, etc. can change nutritional information. It is your responsibility as a consumer to read all labels to make sure the ingredients fit your dietary needs as well as calculate your own nutritional information as a double check.