Instant Pot Stuffed Peppers is a quick and filling meal that you can make in a flash! Love your instant pot? Making stuffed peppers in your instant has never been easier!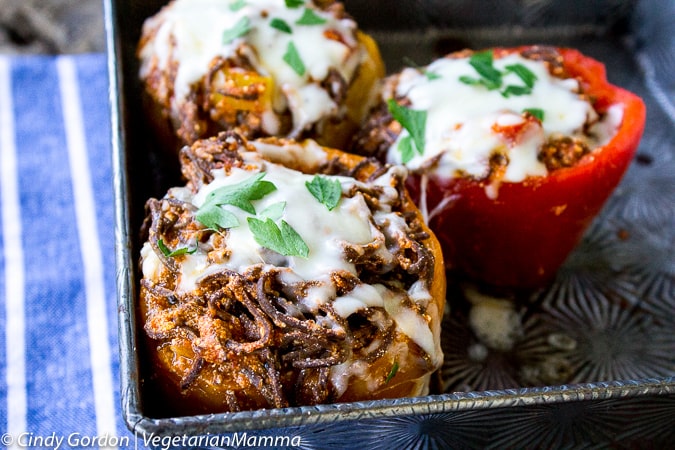 Instant Pot Stuffed Peppers - dinner in a flash!
If you joined the Instant Pot craze? I did a few months back, I was late to the game. But once I started to cook in my Instant Pot, I fell in love. I saw what everybody else was talking about! It sure does make my life easier!
Thinking back, I wish I wouldn't have waited so long to make it happen. It's a high-pressure cooking method that really does get the job done a lot faster.
Think of all the time I've wasted cooking with other methods before discovering these instant pot stuffed peppers!?
The good part about it is that it's great for any level of recipes, these vegetarian stuffed peppers included.
I love this recipe because it turns out delicious each and every time. I know many people tend to have worry about cooking in their Instant Pot or even purchasing one, to begin with, but don't.
If you can follow along with the directions and take it slow in the beginning, I have no doubt that you'll be a pro at it in no time at all. Don't be scared of it. Give it a try and use it according to the directions listed on the owners manual.
Seriously. You won't want to miss out on making these stuffed bell peppers in the instant pot.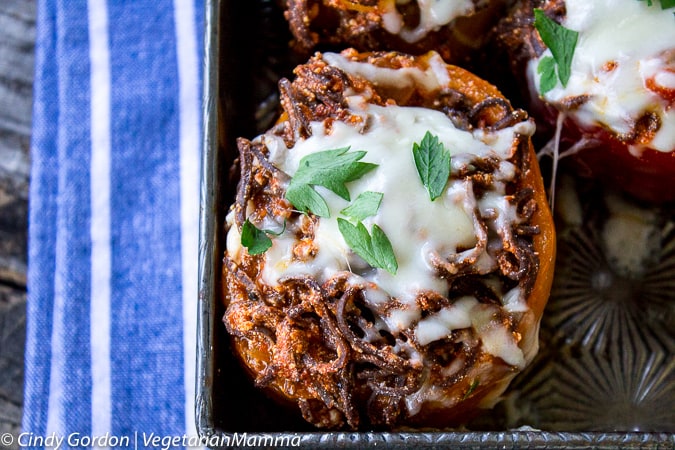 Stuffed Peppers has always been a delicious vegetarian meal that we make often. I thought I'd give it a whirl in the instant pot! (affiliate ad link)
If you've been craving a recipe for Instant Pot Stuffed Bell Peppers, you're in luck! This is just one of those pressure cooker recipes that you'll make over and over again.
The cool thing about owning an Instant Pot is that many regular recipes can be converted to work in your Instant Pot as well. How awesome is that?
If you're looking for some more Instant Pot recipes, check out these options:
Love your instant pot?
So glad I gave it a try! I can't believe how easy and how quickly these cook!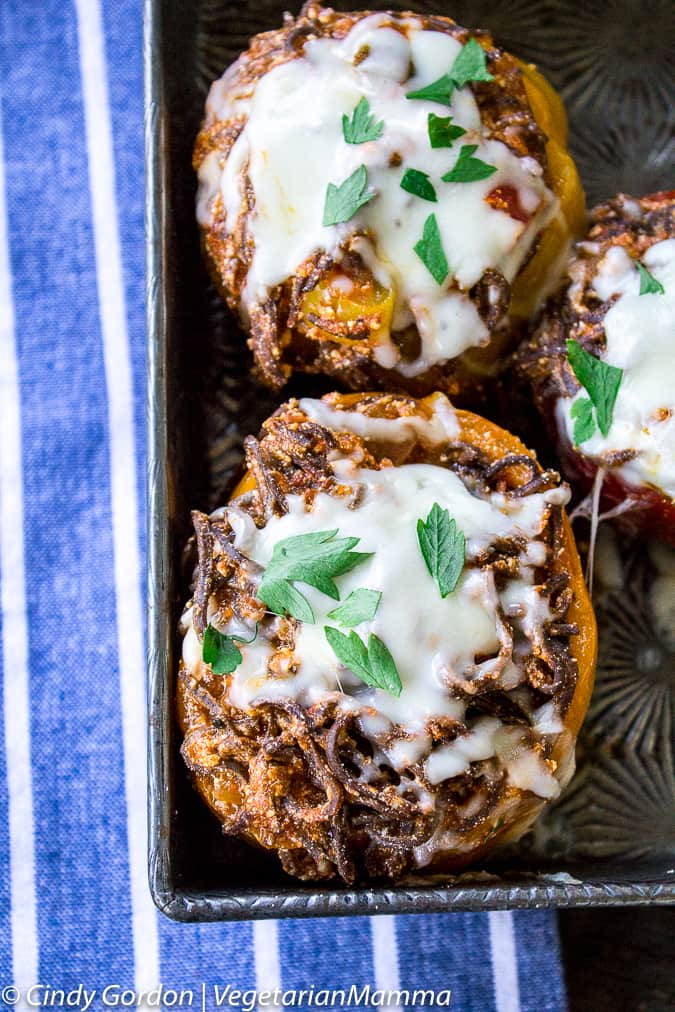 We adapted a stuffed pepper recipe that we made in the past and made it Instant Pot-friendly! Seriously, you can't go wrong with Instant Pot Stuffed Peppers!
There tend to always be questions when it comes to Instant Pot recipes and alterations, so here are a few questions that I had been asked that I thought some of you may benefit from as well!
Can you use meat in these pressure cooker stuffed peppers?
Of course. Obviously, we don't since we are vegetarian, but you can add in ground beef or ground turkey if you choose. You'll need to figure out what stage of the pre-cooking part that you want to cook up the minute, but you should be able to do so without issues.
Can you add spicy tomato sauce to this recipe and season with Italian seasoning?
Absolutely. Any type of tomato sauce that you want to add, you can. If you want a little heat, add a little heat! This is ultimately your recipe, so you add whatever you want to make it keep your taste buds happy!
Getting hungry for instant pot stuffed peppers?
For this particular recipe, I used a black bean pasta for extra protein! You are welcome to use your favorite pasta! Or you can add in some other means of protein as well. Black beans are always a great choice if you need or want a quick boost of protein!
I never realized truly how simple it was to cook in the Instant Pot...and now I can't wait to convert a bunch of my other recipes as well!
Anytime I can find a recipe that takes 15 minutes or less...seriously, count me in. Am I right? Long gone are the days of me dirtying up a baking dish when I can have everything cooked in one simple step in the Instant Pot.
Seriously, why did I wait so long?!
If you're on the fence about getting one, I urge you to do so! It's seriously just about as easy as opening the lid and putting in your ingredients….the Instant Pot really does do all the work.
Looking for more instant pot recipes, I'd would recommend that you check out these Instant Pot Rice and Beans.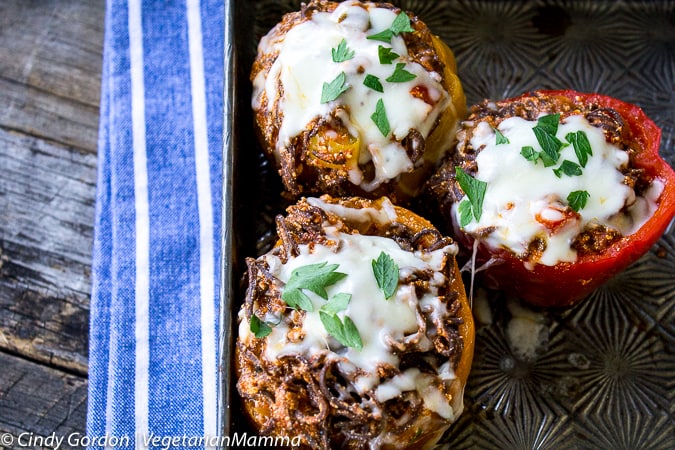 This Instant Pot Stuffed Peppers recipe will make 6-8 servings, depending on the size of your peppers.
Also, depending on the size of your instant pot and your peppers, you might have to do TWO batches or rounds of cooking. 🙂
(Trust me though, it's not a lot of work)
In my house, I typically go ahead and plan on making two batches for this recipe because it seriously goes so fast!
We are all about quick and easy meals in my house. I mean, who wants to spend tons of time in the kitchen? If you love quick and easy meals too, you need to check out this Gluten Free Pizza recipe from Gluten Free Palate.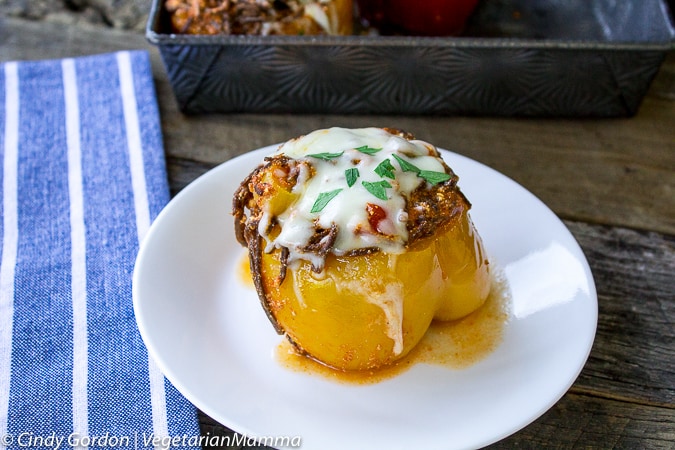 I like to use a variety of pepper colors. This just enhances the visual appeal of the Instant Pot Stuffed Peppers! Of course, I added some freshly torn parsley on the top of the stuffed peppers! I just really enjoy the texture of the cooked rice, and sweet pepper. It's like a match made in taste bud heaven.
Vegetarian? Or maybe wondering more about vegetarian life or meatless cooking? There are several different types of vegetarians.
Basic types of vegetarians are:
If you want to read more about the different types of vegetarians, you can visit our vegetarian educational posts.
Pin these instant pot stuffed peppers for later: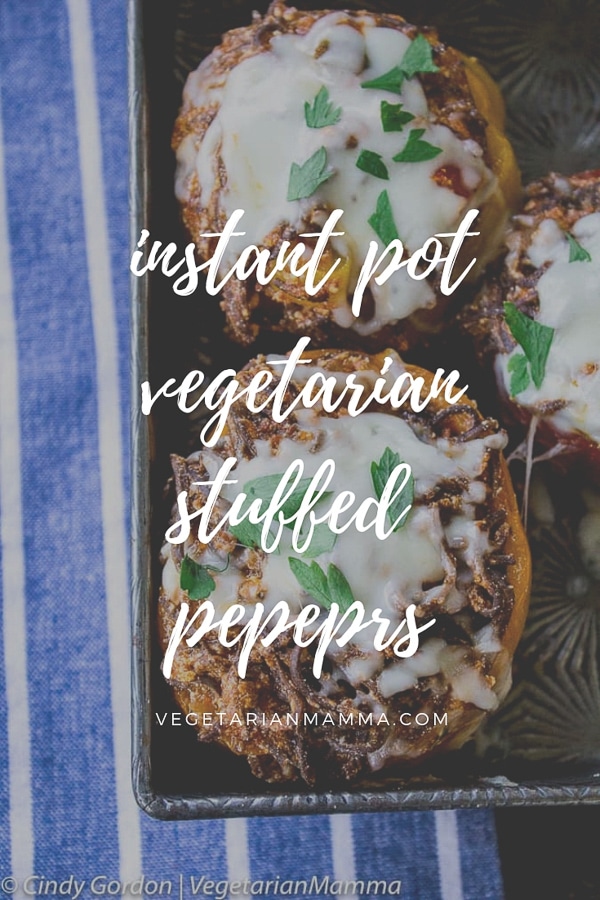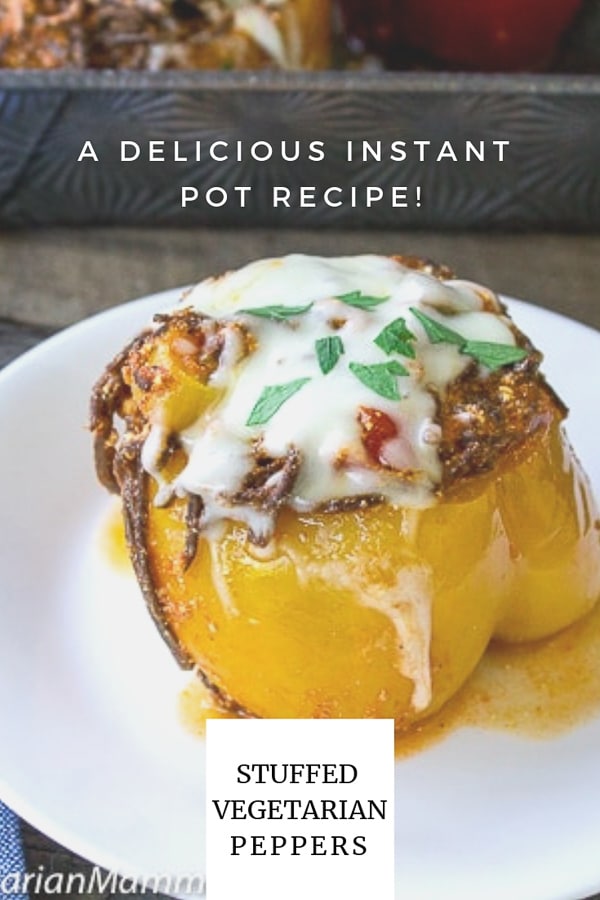 More Stuffed Peppers Recipes
Spaghetti Stuffed Peppers
Ready for the recipe? Instant Pot Stuffed Peppers coming right up!
Instant Pot Stuffed Peppers - dinner in a flash!
Instant Pot Stuffed Peppers is a quick and filling meal that you can make in a flash! Love your instant pot? Making stuffed peppers in your instant has never been easier!
Ingredients
Instructions
Gently cut the tops of the bell peppers. Remove stem and seeds. Dice the bell pepper tops.

Heat the oil in a skillet over medium heat. Saute the diced bell pepper tops and onion.

In a pot boil water and cook spaghetti per directions on box. When cooked, drain and rinse with cool water.

Once the bell pepper and onion are softened. Turn off heat. Add pasta sauce, ricotta cheese, parmesan and parsley. Stir to combine.

Add in cooked pasta, stir to combine.

Stuff peppers.

Put ⅓ c of water in the bottom of your Instant Pot.

Put peppers into Instant Pot (Depending on the size of your Instant Pot, you may need to make two batches).

Attach the lid. Press manual, press the pressure button. Select HIGH pressure for 6 minutes.

Once the 6 minutes is complete. Gently and carefully use the release spout to release pressure.

Remove lid. Top with cheese and garnish with more parsley.

ENJOY!
Nutrition
Calories:
2374
kcal
|
Carbohydrates:
306
g
|
Protein:
111
g
|
Fat:
87
g
|
Saturated Fat:
42
g
|
Cholesterol:
217
mg
|
Sodium:
8949
mg
|
Potassium:
6609
mg
|
Fiber:
42
g
|
Sugar:
97
g
|
Vitamin A:
30855
IU
|
Vitamin C:
1028.9
mg
|
Calcium:
1814
mg
|
Iron:
22.2
mg
All though this website attempts to provide accurate nutritional information, the information should only be considered an estimate. Varying factors such as different product types, different brands, etc. can change nutritional information. It is your responsibility as a consumer to read all labels to make sure the ingredients fit your dietary needs as well as calculate your own nutritional information as a double check.
See how easy that is? If you are looking for more gluten-free recipes, please check out our recipe index.
---
Let's talk! Leave me a comment telling me if you've joined in the Instant Pot fun!
What is the most delicious instant pot recipe you've tried so far?