Thai Lettuce Cups aka Thai Lettuce Wraps will be your new favorite appetizer. You will swoon over this vegan and nut free recipe!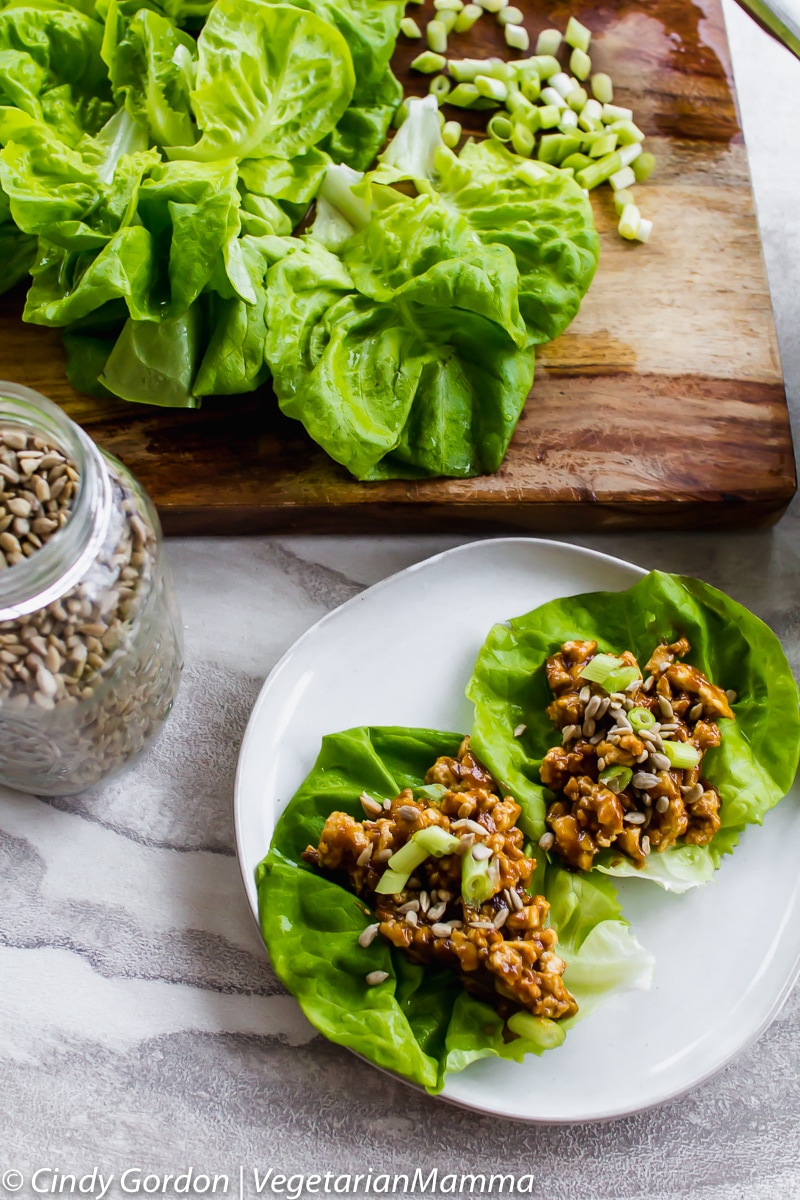 This recipe is sponsored by SunButter. The opinions are my own.
Vegan Thai Lettuce Cups
This recipe checks of so many items on my foodie list!
This recipe is quick!

This recipe uses minimal ingredients.

This recipe is nut-free.

This recipe is vegan.

This recipe tastes SOOOOO good, you won't have leftovers.
That about sums it up! Seriously though, I always have craved lettuce cups or as the world seems to know call them, lettuce wraps.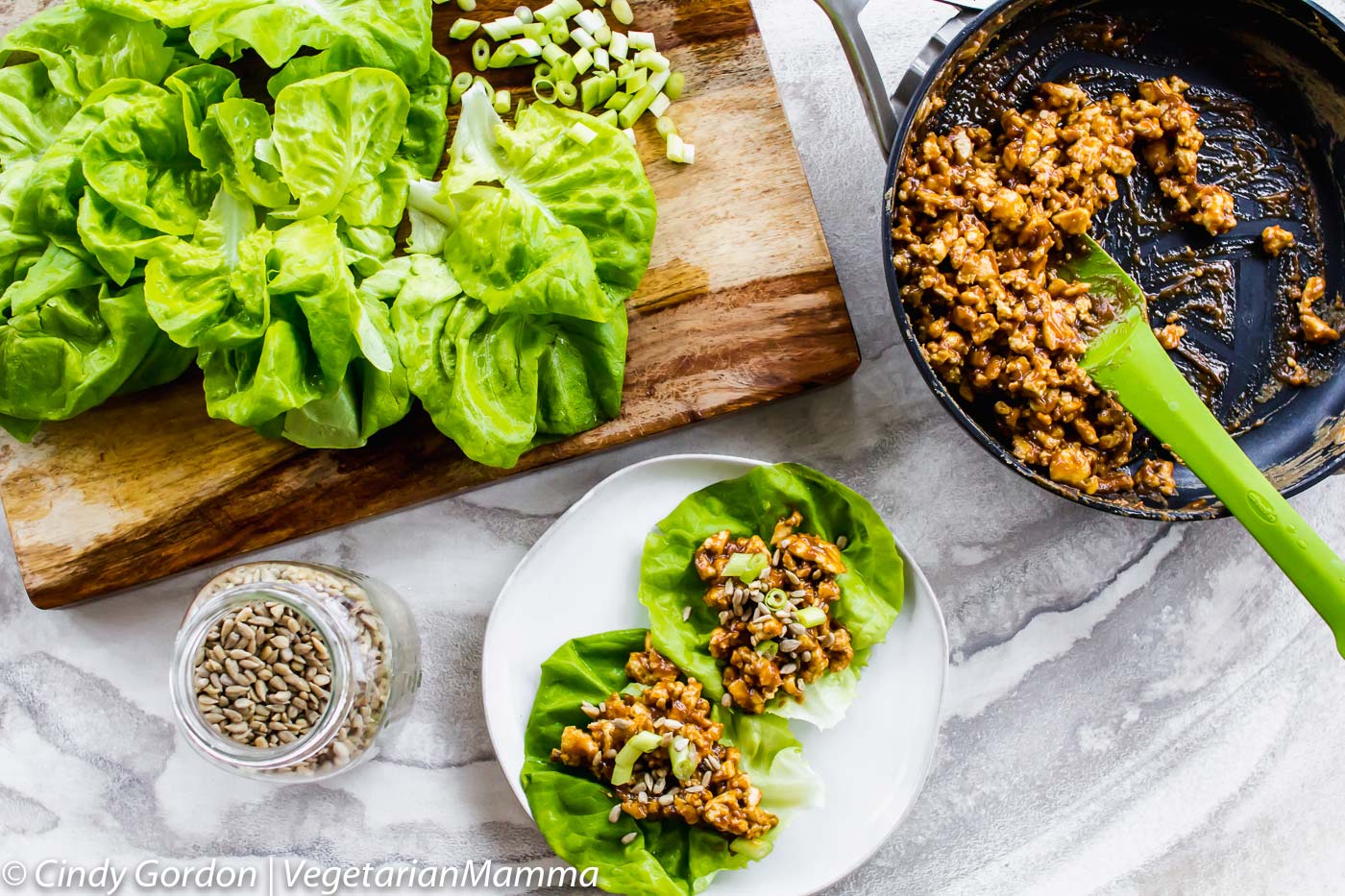 I would see these on a menu when I dine out but there was never a vegan or vegetarian option. I also have to be mindful of nuts when dining out.
While we have been able to reintroduce peanuts back int our lives, we will have to be vigilant when it comes to almonds! So for this dish, we decided to recreate it as home! You seriously, can't resist a quick and easy vegan appetizer!
No need to worry about whether you food is safe or or when you are dining at home! We know the ingredients we are putting into our recipes and we can easily create our own nut-free Thai food!
While this might not be authentically Thai, it is most certainly Thai inspired. It is said that Thai flavors include: sweet, sour, salty, creamy and spicy. This recipe hits them all!
If you are looking for a sweet treat to pair with this meal, I would try this Strawberry Banana Nice Cream
SunButter is part of the secret sauce!
The star of this dish is the SunButter. That is the delicious sunseed spread that I added to the sauce to make it nut-free. This is a nut-free recipe that you are going to love! Even if you have a peanut butter lover in the house, they will not notice the difference!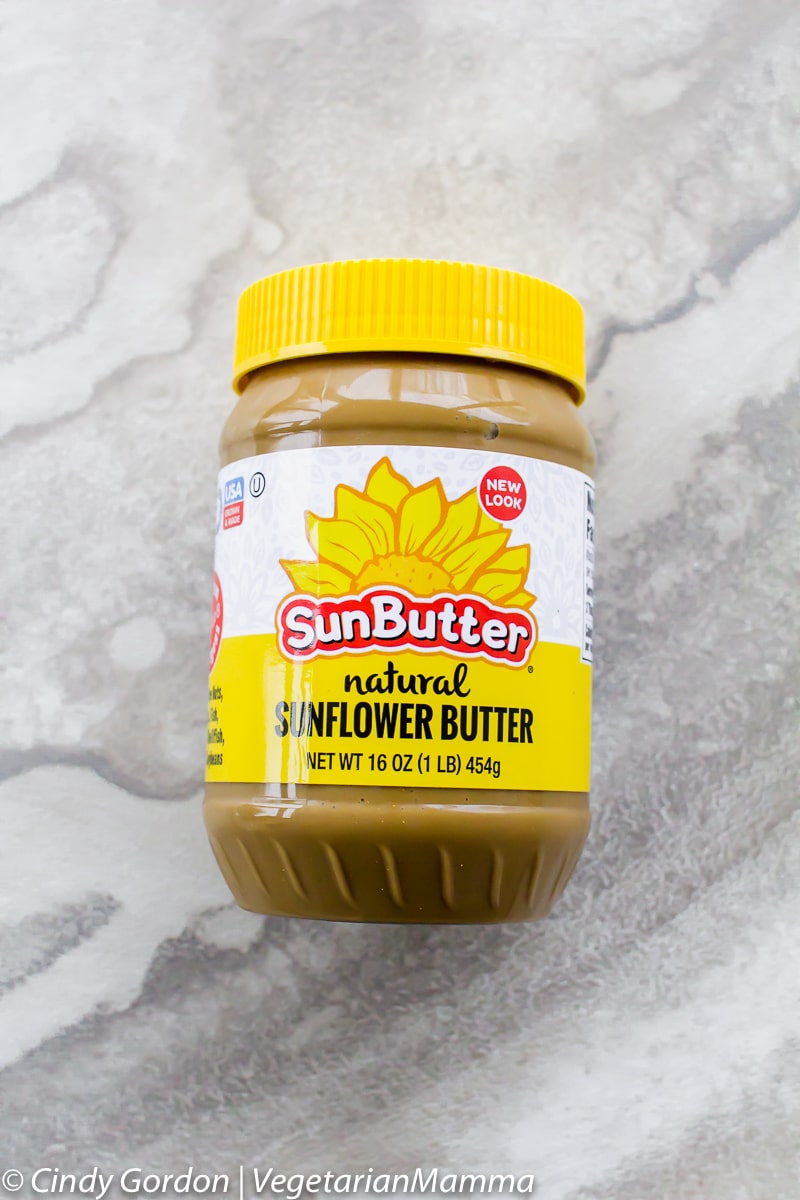 If you've been following us for a while, you've seen that we talk about and use SunButter a lot. Whether we are cooking in the kitchen, on vacation or just snacking on the go. SunButter is a trusted brand with my family.
SunButter is free from the TOP 8 allergens. So we are talking about: peanuts, tree nuts, soy, dairy, eggs, wheat, fish, and crustacean shellfish. It is FREE FROM all those allergens! This product is extremely friendly allergy wise, extremely tasty and school safe!
Want a coupon for SunButter? Click here for the SunButter Coupon.
The coupon is $1 off any SunButter Jar (good for 2 prints each month per consumer). This is a print-at-home coupon, consumers will have to bring the coupon to a physical store.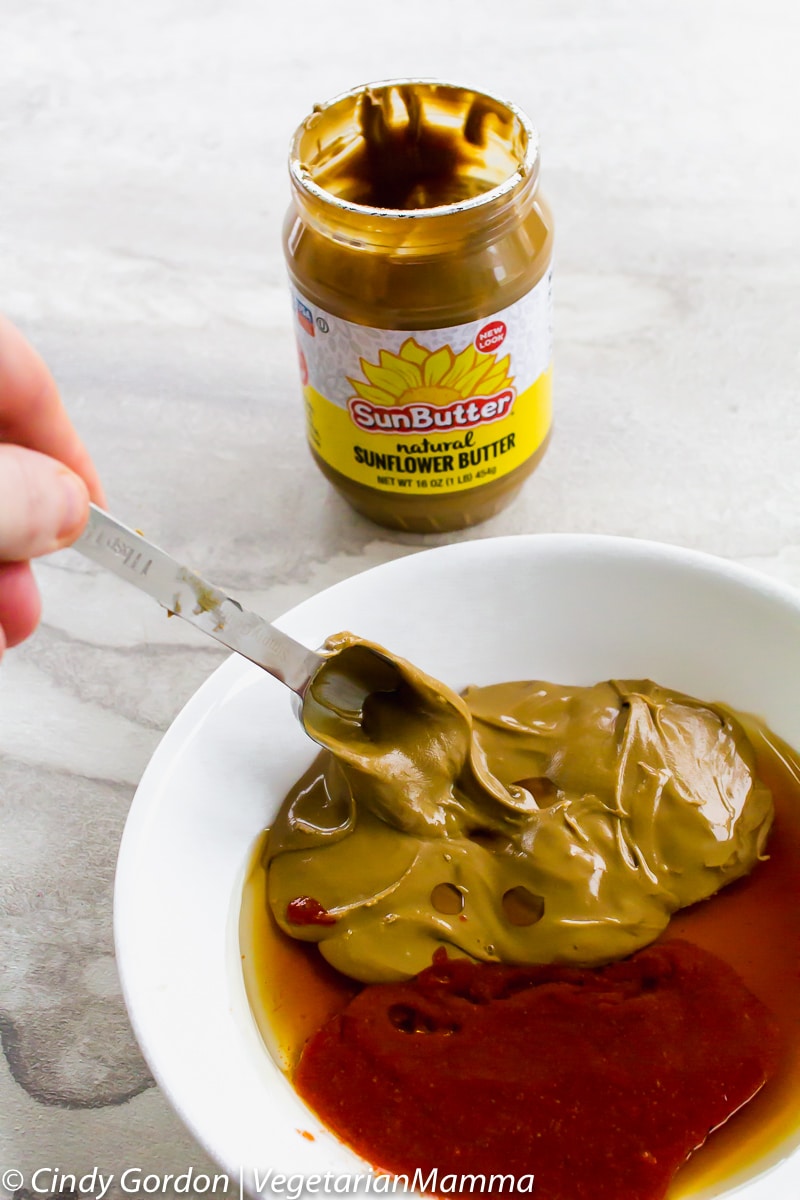 I was actually lucky enough to head to the SunButter headquarters to see the entire process of "seed to SunButter." It was amazing. We went to the fields, the elevators, the processing area, the packing area and more. There is SO much love and so much safety that goes into this product!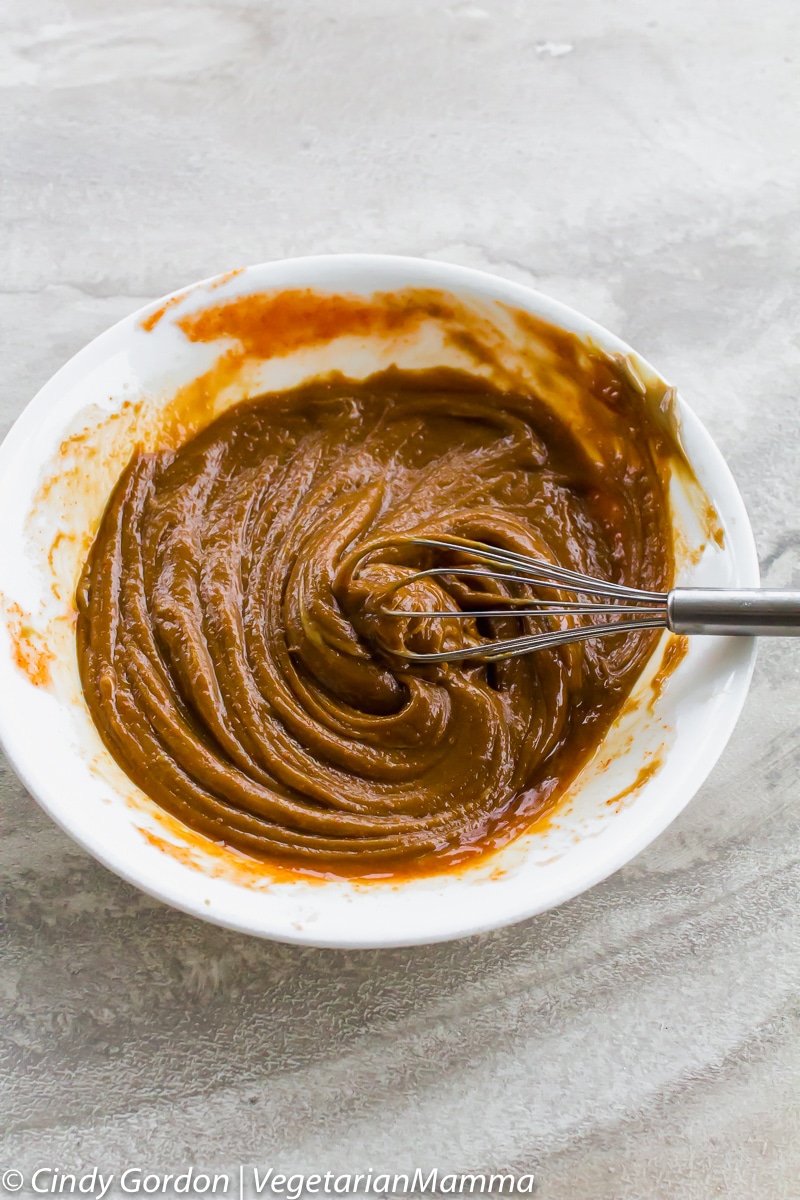 Tofu
This Thai lettuce wrap recipe is vegan. We used tofu to make it vegan. If you are not vegan or tofu isn't your favorite I still urge you to try this!
Let's talk about tofu for a while. Tofu is generally made by:
Soaking soybeans in water, then blending them up.

Straining out the pulp, leaving you with soy milk.

Adding a coagulant (lemon juice works well) to curdle the milk and create curds.

Straining again and keeping the solids.

Pressing the curds to create a block of tofu.
For this thai lettuce cup recipe, I used an Extra Firm Block Tofu. This tofu is, as its name suggests, is the firmest and heartiest of the block tofu varieties. The curds have been pressed tightly together and the tofu is chewy and dense. Extra firm tofu is the best choice if you'd like to make crispy, fried tofu, or for any meal that requires a hearty bite.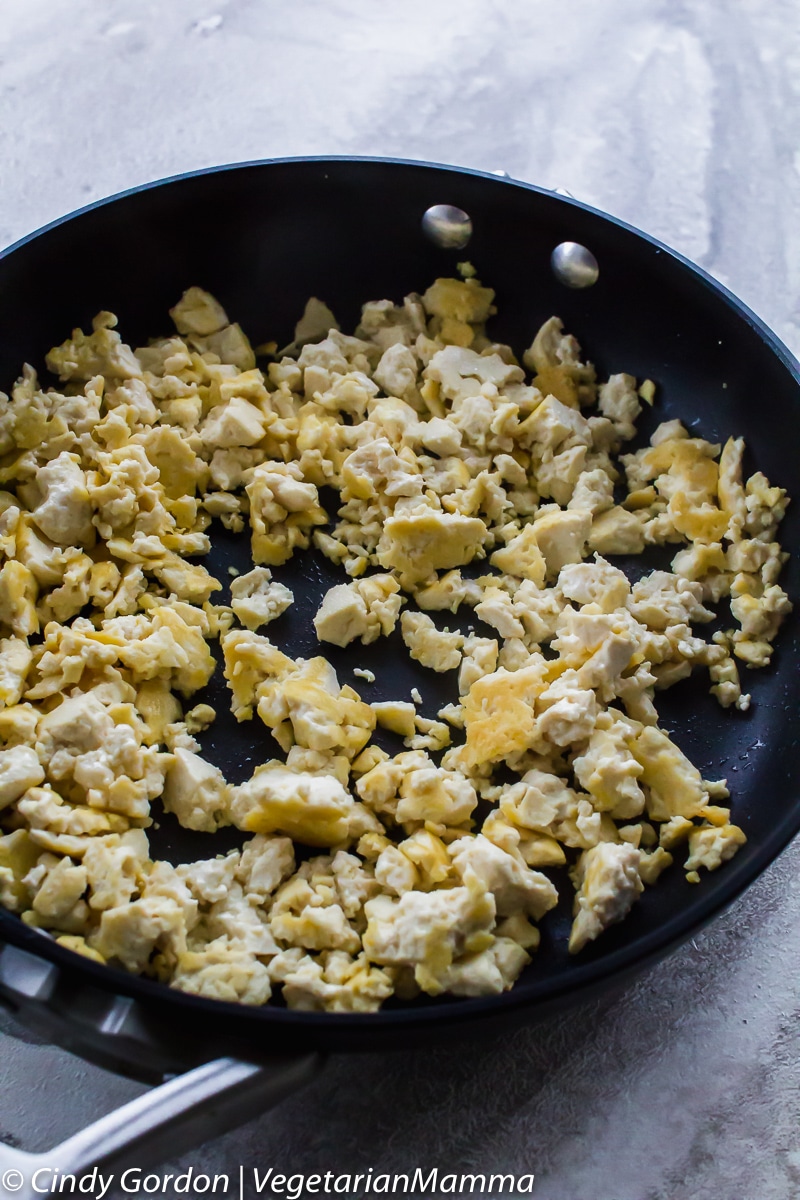 I use an EZ Tofu Press to press my tofu before I cook it. I've had mine for years, and it is by far my favorite kitchen tool. (right next to my air fryer!)
If you are going to cook tofu it is essential that you have a tofu press! You can pick up your own on Amazon.(affiliate ad link) I promise you'll love it!
So this recipe is suitable for vegans and suitable for vegetarian diets too. Are you vegetarian? Or maybe wondering more about vegetarian life or meatless cooking? There are several different types of vegetarians.
Basic types of vegetarians are:
If you want to read more about the different types of vegetarians, you can visit our vegetarian educational posts. You can also find lots of easy vegetarian recipes on our site.
Maybe you are wondering about vegan vs vegetarian? In a nutshell, vegans do not consume any animal products. So we are talking about dairy (milk, cheese), eggs and meat. Most vegans also do not consume honey!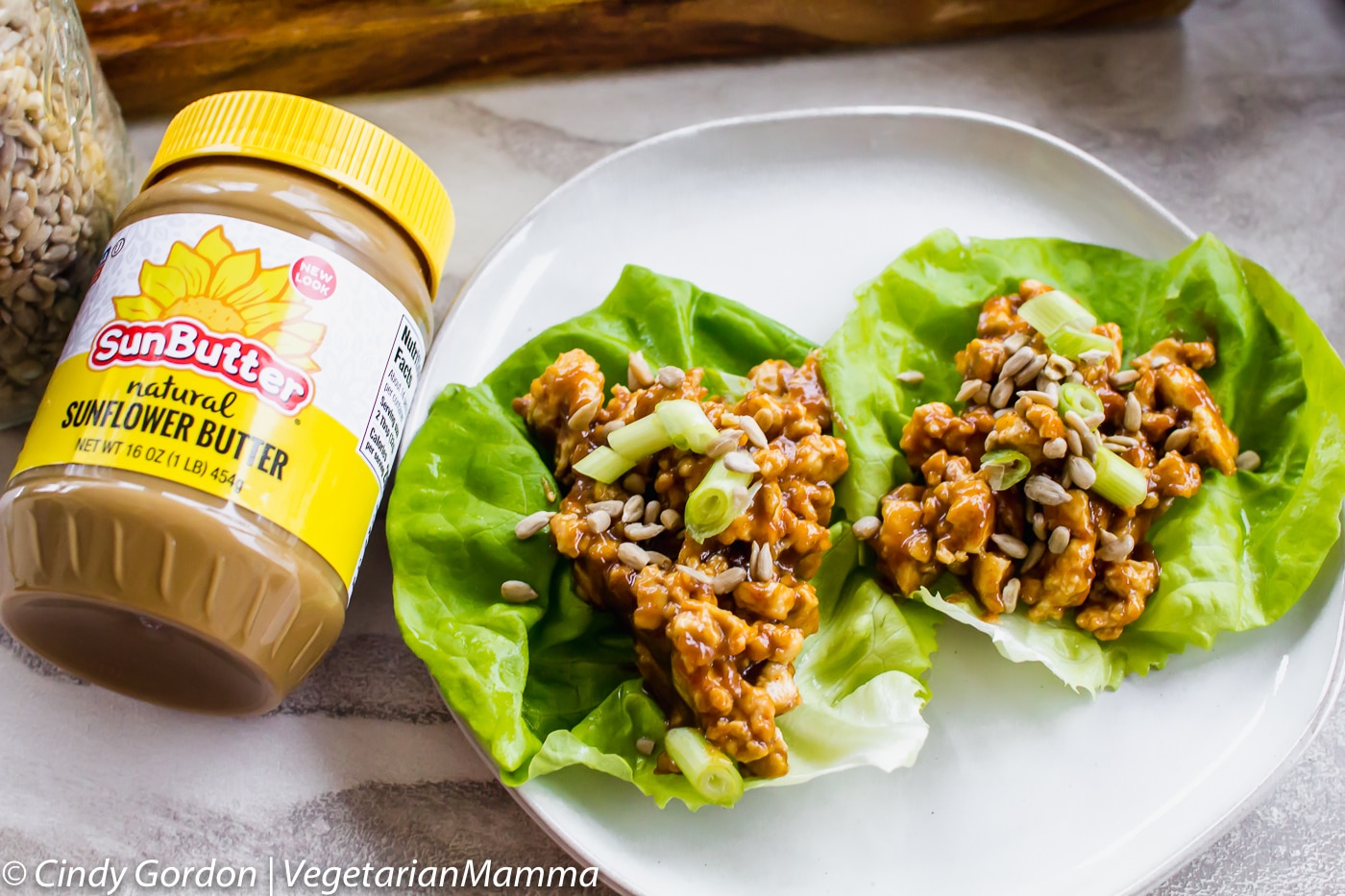 Question Time:
Is tofu only for vegans?
Tofu isn't only for vegans. This ingredient is for everybody! It is an acceptable part of your diet whether you are a vegan, meat eater or vegetarian.
I only eat meat!
That's totally fine, you can use the same recipe but sub out the tofu and sub in some chicken for your protein. Cook your chicken as you normally would. Dice the cooked chicken and add to the sauce. Then put into your lettuce wraps. It is an easy sub!
Topping your Vegan Lettuce Cups
These cups are topped with sunflower seeds. If you cannot easily digest sunflower seeds as a whole, you are welcome to sub them off.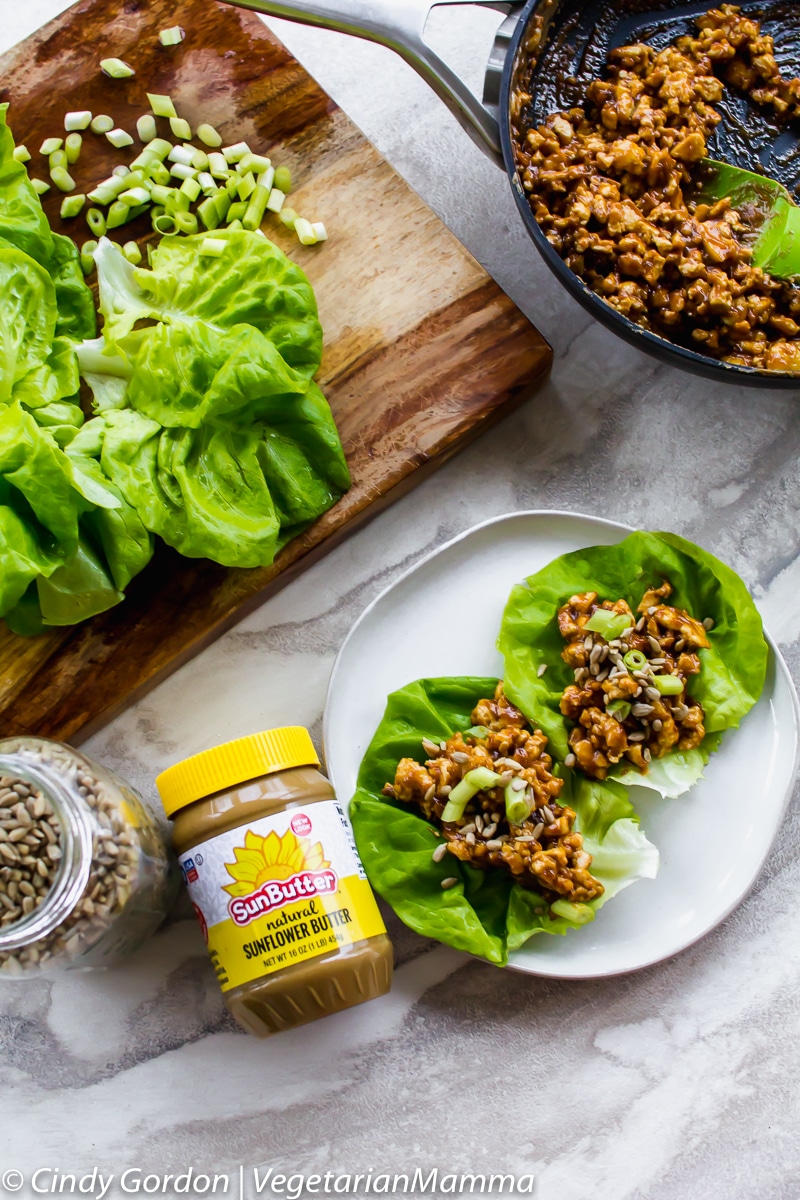 More recipes using SunButter
Tangy Honey Mustard Salad Dressing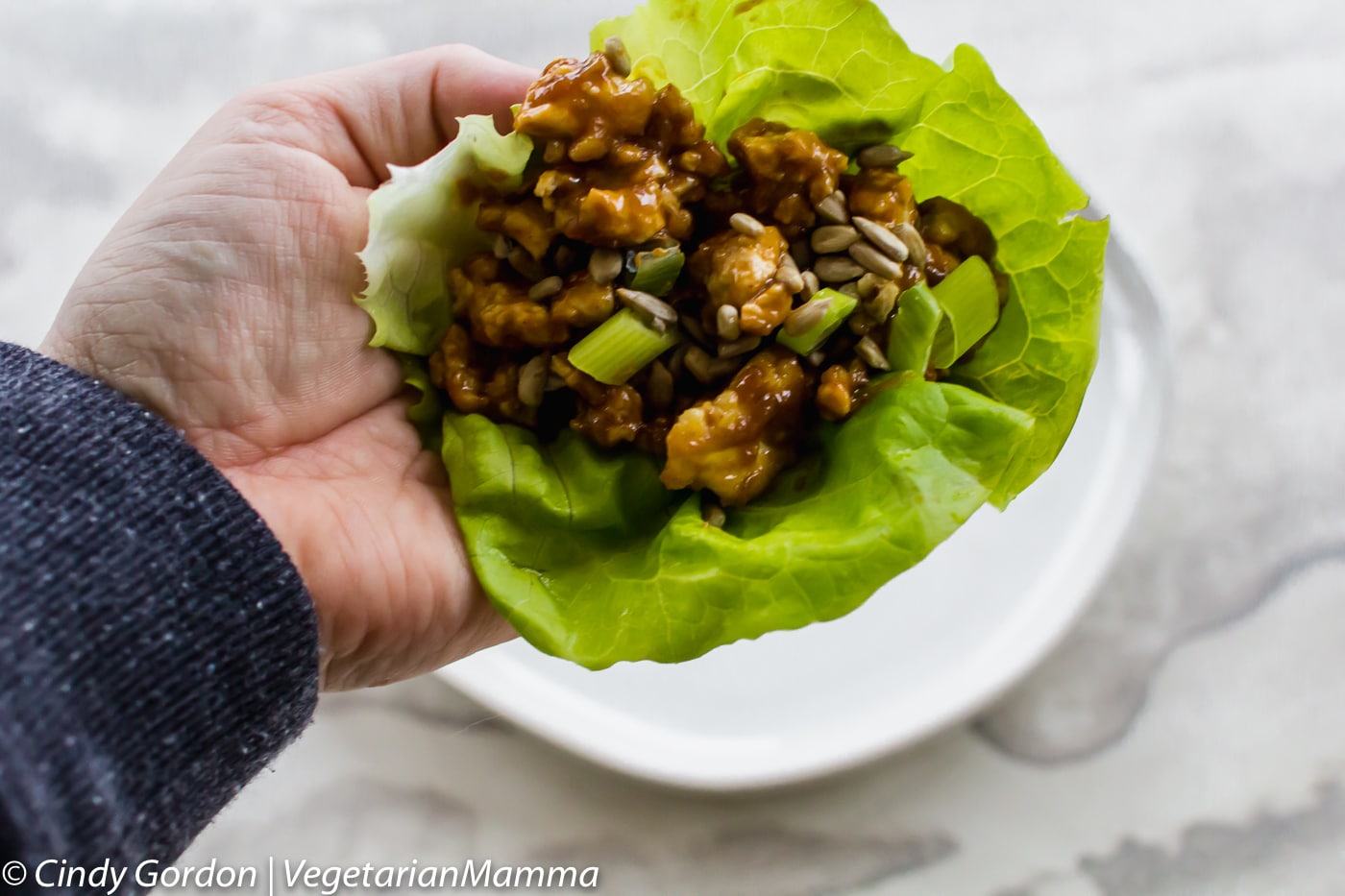 More easy tofu recipes: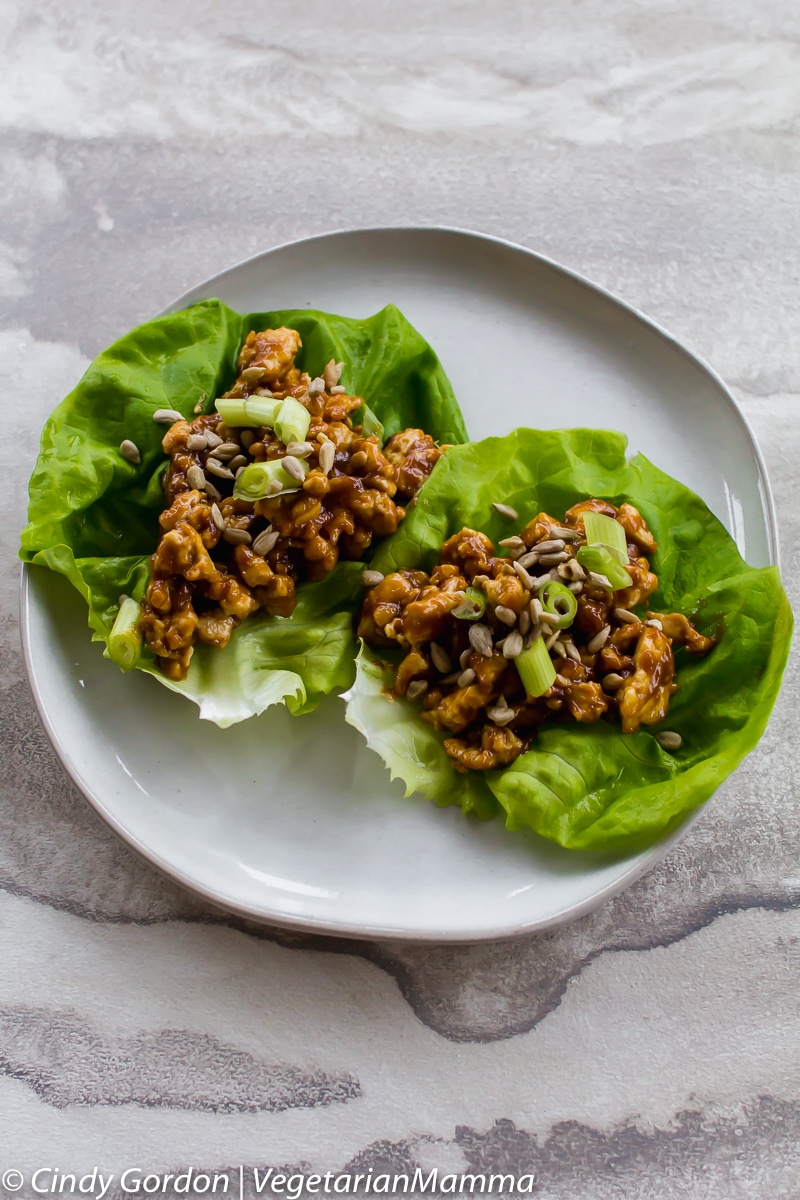 Pin these Thai Lettuce Wraps for later: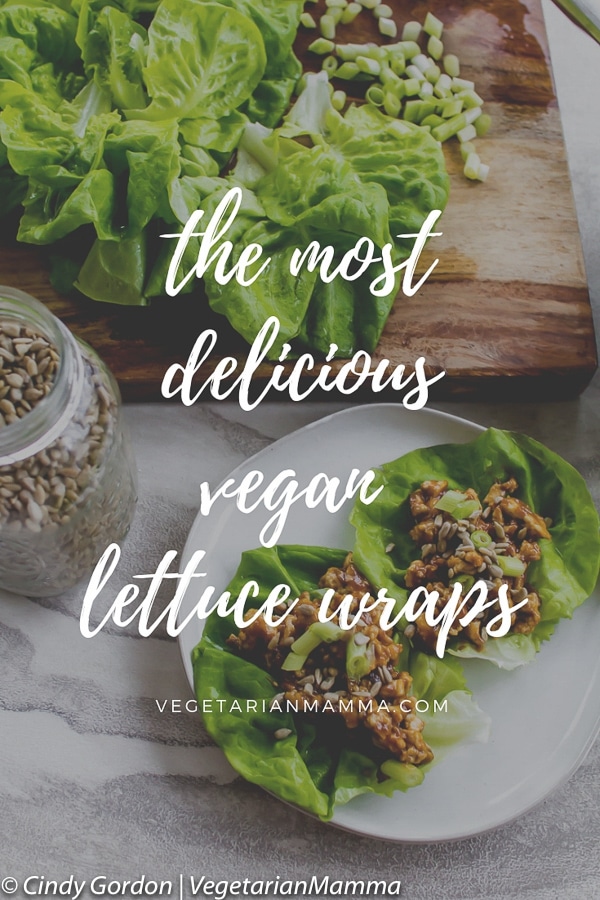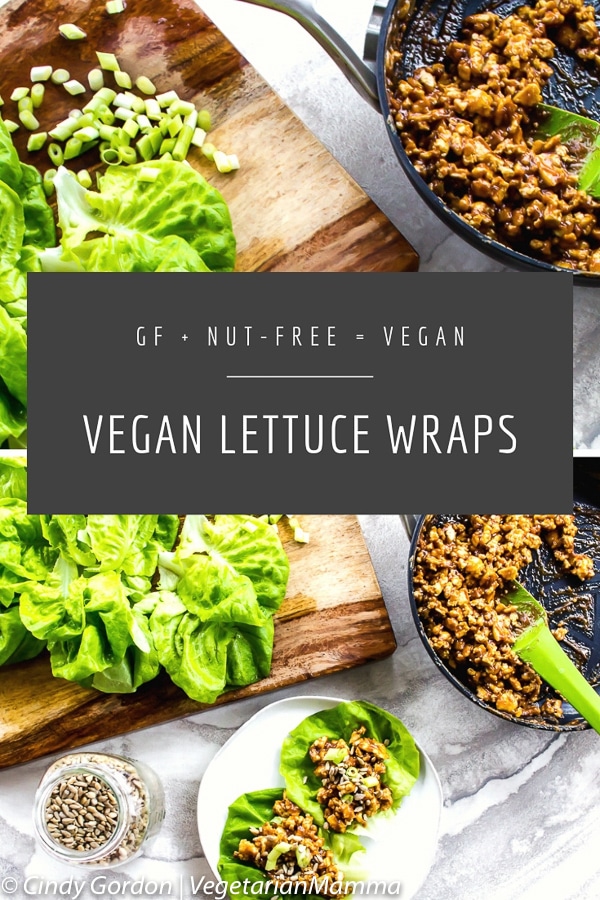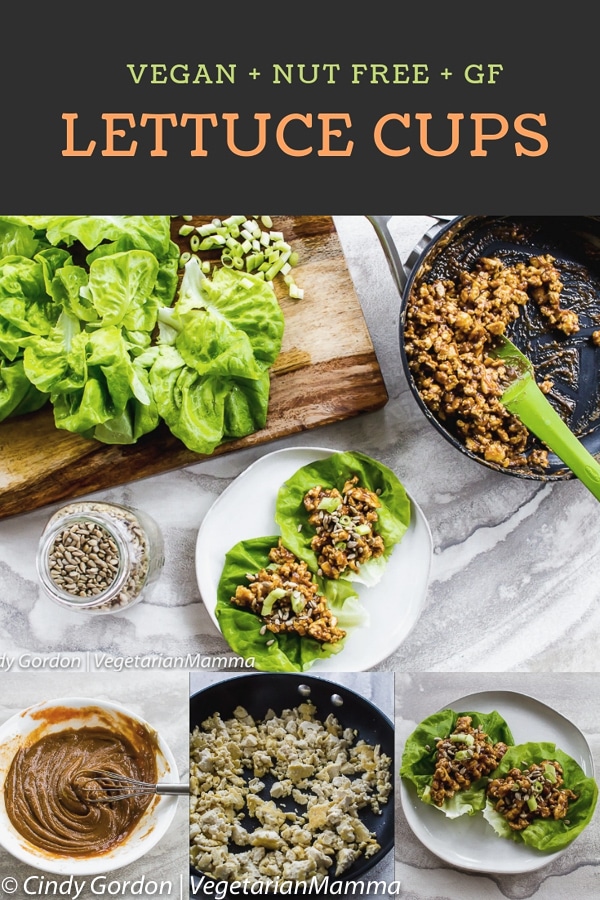 Gets you vegan lettuce wrap recipe here: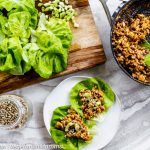 Print Recipe
Thai Lettuce Cups (aka Thai Lettuce Wraps)
Thai Lettuce Cups aka Thai Lettuce Wraps will be your new favorite appetizer. You will swoon over this vegan and nut free recipe!
Instructions
Press the tofu for 10 minutes.

While tofu is pressing, make your sauce. In a bowl combine seed butter, honey, sriracha and sesame oil. Whisk until smooth. Set aside.

Warm 1 T of oil in a skillet. Crumble tofu into skillet. Fry until golden brown. Add sauce to tofu, stir until well combined.

Divide tofu mixture into lettuce leaves, top with green onion and sunflower seeds.

ENJOY!
Nutrition
Calories:
609
kcal
|
Carbohydrates:
37
g
|
Protein:
25
g
|
Fat:
42
g
|
Saturated Fat:
5
g
|
Sodium:
477
mg
|
Potassium:
601
mg
|
Fiber:
1
g
|
Sugar:
20
g
|
Vitamin A:
2880
IU
|
Vitamin C:
17.4
mg
|
Calcium:
161
mg
|
Iron:
5.9
mg
All though this website attempts to provide accurate nutritional information, the information should only be considered an estimate. Varying factors such as different product types, different brands, etc. can change nutritional information. It is your responsibility as a consumer to read all labels to make sure the ingredients fit your dietary needs as well as calculate your own nutritional information as a double check.
Question: Have you tried SunButter before? This is a delicious and nutritious sub for peanut butter and almond butter! Drop me a comment below and tell me if you've tried it!