Roasted Red Pepper Risotto
Roasted Red Pepper Risotto is a delicious and easy to make risotto that is FULL of flavor! You are doing to love the flavor that the red peppers bring to this dish! We recently reworked this recipe and the photos to go along with it.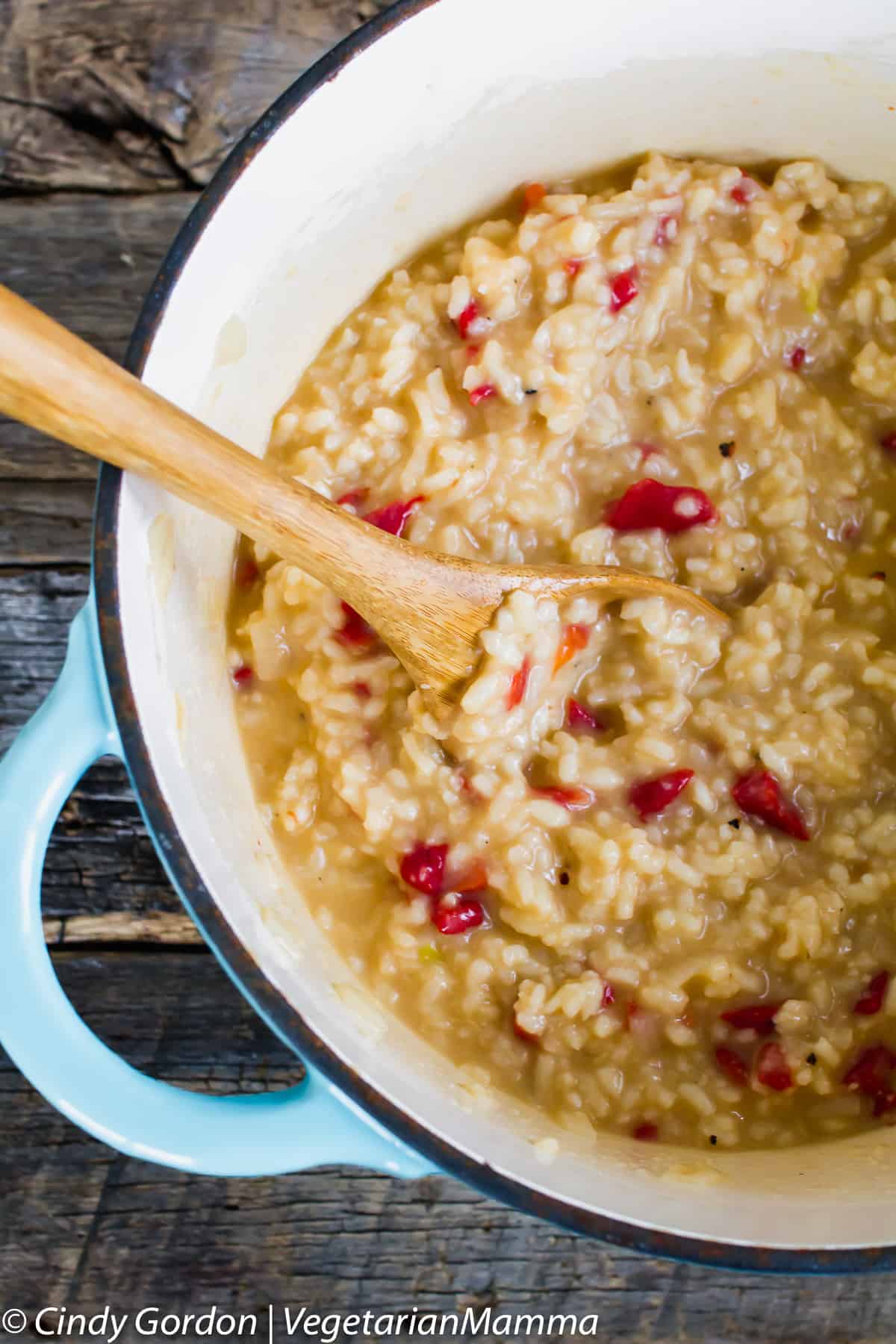 Why I Love Roasted Red Pepper Risotto
If you've been following me for a while, it's no surprise that I consider myself a bit of a "foodie". As long as I can make recipes that adhere to our lifestyle, and ones that taste good, I'm down to make and try anything! And my family typically is, too!
Before cooking Risotto, I'd never really had it…It was one of those dishes that I'd heard about or read on a menu a million times, but never actually ordered because I was "unsure" of the taste and flavor.
Looking back now, I missed out on some really great Risotto dishes! But, that's okay…because I'm making up for that lost time now. (Spoiler Alert: There's a ton of other great Risotto recipes at the end of this post!)
I'm crazy about this Red Pepper Risotto recipe because it's hearty, delicious and truly flavorful. I can eat it as a side dish or honestly, as a meal on its own. And the true winner? My kiddos love it, too! Our entire family is head over heels for the awesome flavor of Risotto.
Truth be told, this recipe was actually my very first guest post ever! This is a fun recipe that I created for a guest post over at Reduce Footprints! You can see my original post here.
I seriously love risotto! It's a fun dish that you can individualize with different veggies! And if you want to get even more creative, you can add other food items as well. When you make this at home, the options are truly endless!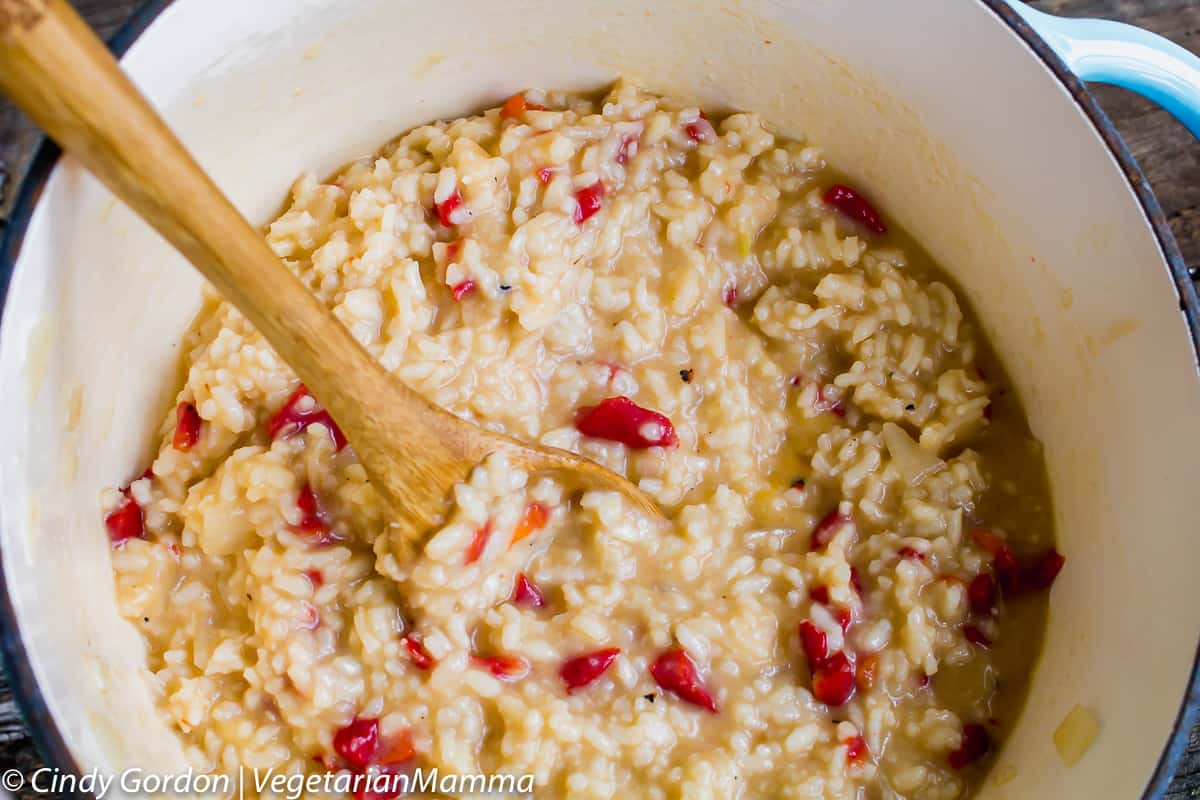 Is your mouth watering right now? We literally cook this recipe a TON in our house, but seeing this picture is making me geared up and ready to make it again! With the cooler weather approaching, there's nothing better than eating homemade risotto.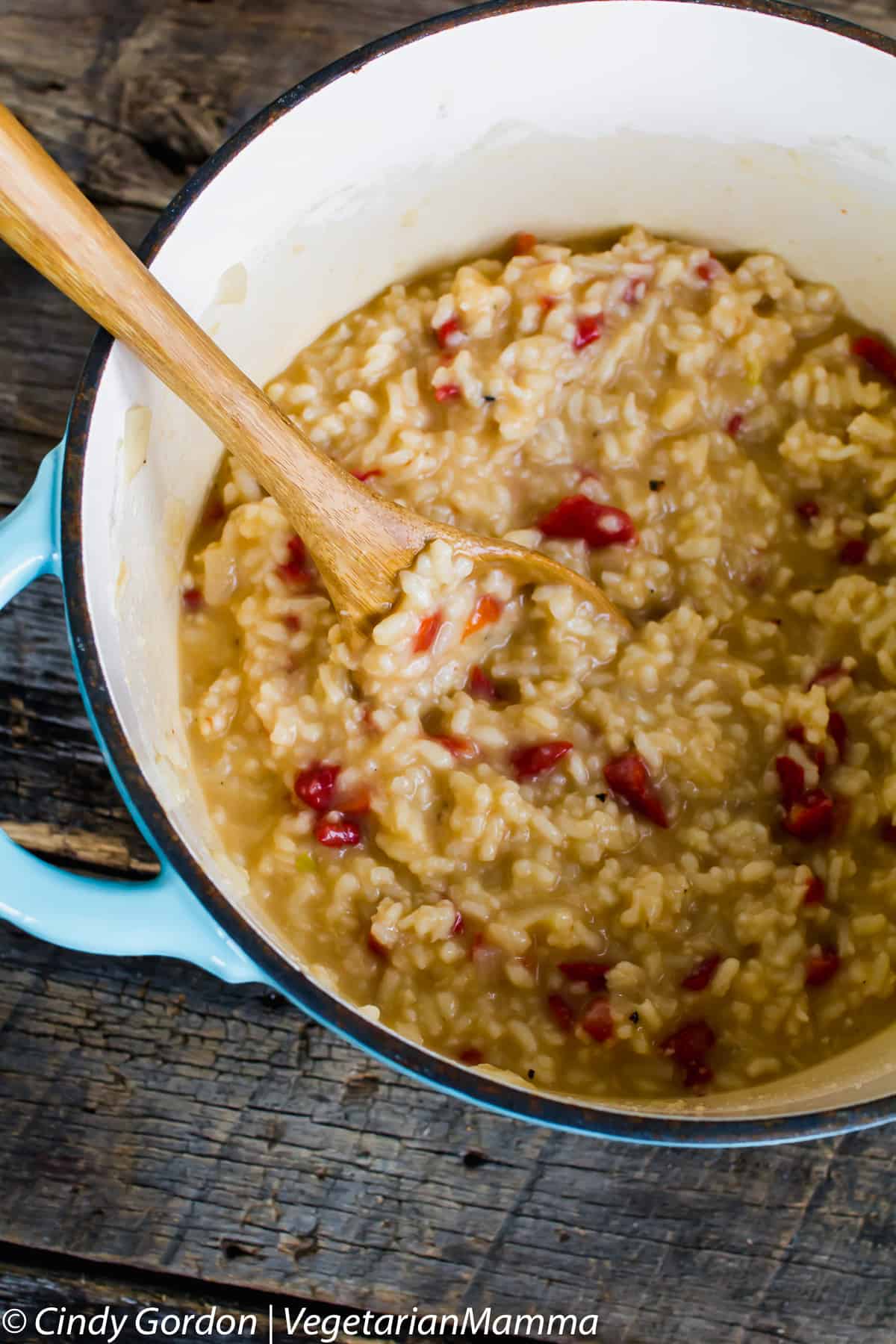 What other food items can you add to Roasted Pepper Risotto?
Don't get me wrong…I love Red Pepper Risotto in its true and pure form, but if you have the veggies to add to it, why not?
The great thing about adding vegetables to Risotto is that almost any veggie will work! Mushrooms, peppers, onions…you name it! Whatever vegetable you have in your house that you love or just need to get eaten up, you can add it and the flavor will be delicious!
While we use vegetable broth because we choose to, you also have the option to add chicken broth or other options such as that as well.
And if you need a few other ideas about ways to cook this rice dish, here are some great recipes to check out as well!
What about the rice in Risotto recipes?
I have found that the key to good risotto is great rice. In our risotto recipes, we generally use Lundberg White Arborio Rice. (affiliate ad link) For us, we like this rice because it is certified gluten-free. Wondering what Arborio Rice is? It is actually a traditional rice used when cooking creamy Italian dishes! If you want a creamy texture with your rice, Arborio Rice is the rice to use!
While we typically use a gluten-free rice for our red pepper risotto, it is possible to use other types of rice as well. Rice is naturally gluten-free, but we look for companies who clean and package it in facilities that do not contain wheat. It is possible to use long-grain rice, but there is a chance that the end result may not be as creamy as if you used Arborio rice.
Brown rice is also an option but the cooking times will vary for the rice. Anytime you use a different rice than listed on the recipe, you always need to check your cooking times because different kinds of rice take different amounts of time to cook!
Bottom line…if you have rice in your cabinets that you're wanting to use in your risotto, you can totally use it as a substitute. Just know that the texture may come out differently depending on the type of rice that you use.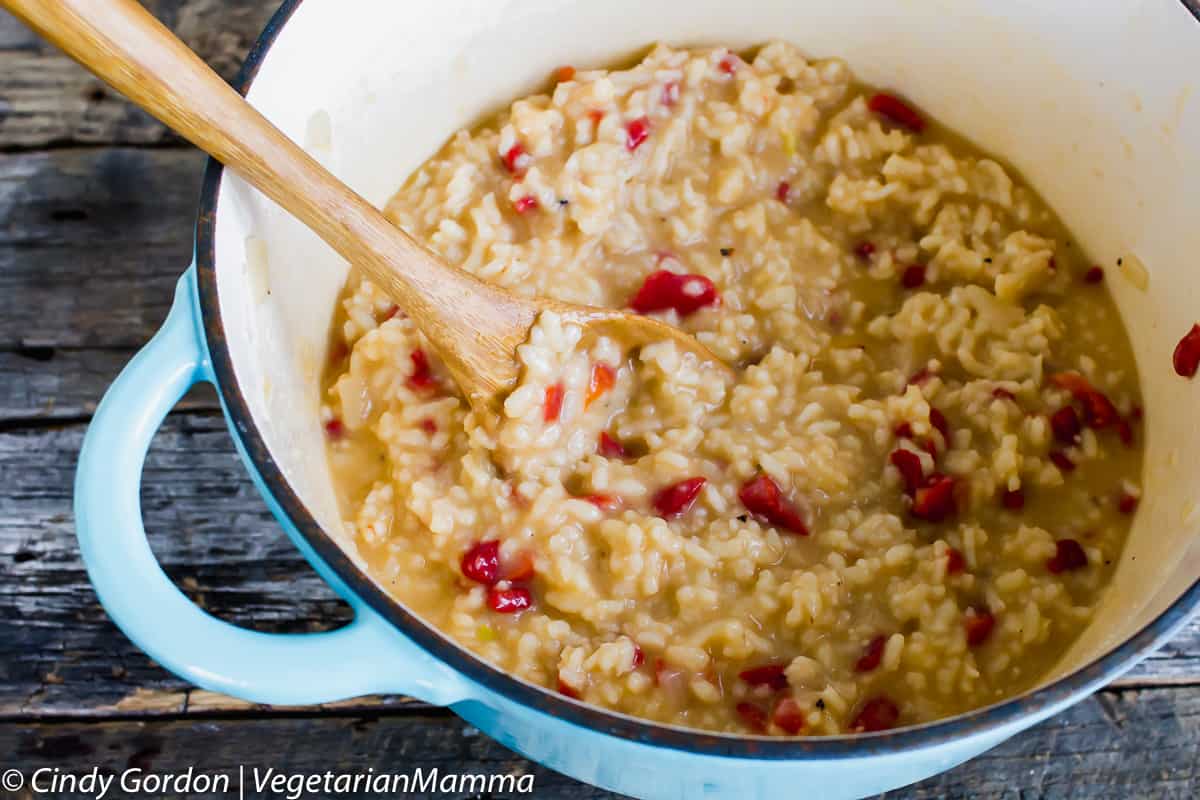 Hello Risotto! We are huge risotto fans in our house! You have probably seen our other risotto recipes. If not, be sure to check out Broccoli and Cheese Risotto, Tomato Risotto and Spinach and Shallot Risotto!
Pin for later: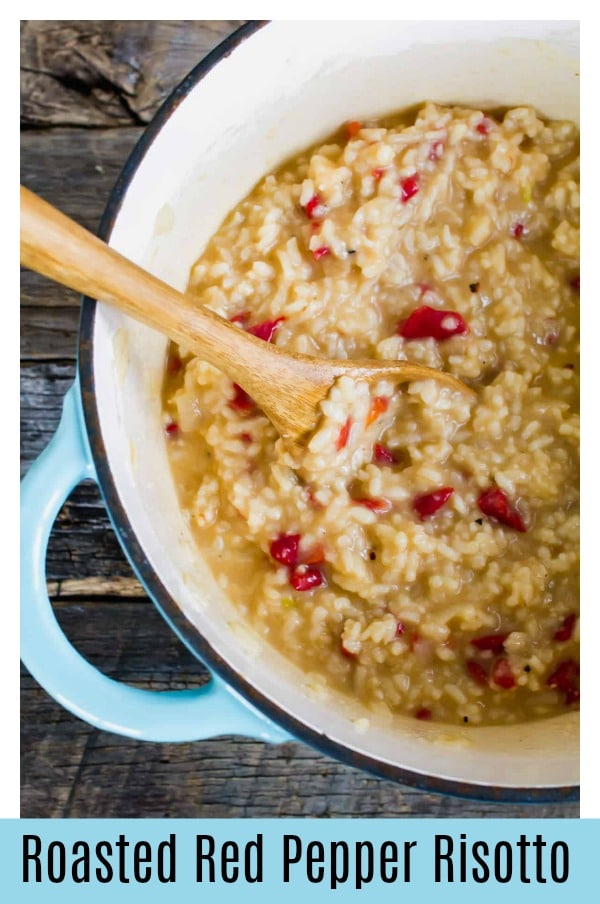 Here's the delicious pepper risotto recipe that you've all been waiting for! Make it a fun, family night and create this amazing dish together!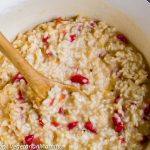 Print Recipe
Roasted Red Pepper Risotto –
Roasted Red Pepper Risotto is a delicious and easy to make risotto that is FULL of flavor! You are doing to love the flavor that the red peppers bring to this dish! We recently reworked this recipe and the photos to go along with it.
Instructions
First, you will need to roast the red pepper. Wash, de-seed and slice the pepper into halves. Lightly mist the pepper halves with oil and place on a baking sheet under the boiler. Soon the peppers skin will begin to blacken. When the pepper is covered in darkened patches, remove from the broiler. Place in a paper sack to cool. (Or in a covered bowl) This will allow the moisture to stay in to help loosen the skin as the peppers cool. Once the peppers cool, peel back the skin with your fingers. Once peeled, puree the peeled peppers and set aside.

Splash the 1 tablespoon of extra virgin olive oil into a pan. Heat the pan to a medium heat, saute the chopped onions. Once onions are cooked, add dry rice and saute for 1 minute.

Next, add your wine to the pan. Let the liquid cook down for about 1 minute. Next, add 2 cups of veggie broth. Let the broth cook down while you continually stir to avoid any burning. Once the liquid has been cooked down, add 2 more cups. Continue with this process until all your liquid is gone and your rice is soft. This process should take about 20 minutes.

Finally, stir in your roasted red pepper puree, cheese, season with salt and pepper, then ENJOY!
Question: Do you love risotto? I'd love to hear from you about what you add to your risotto recipe to make it your "own"!
Original picture!