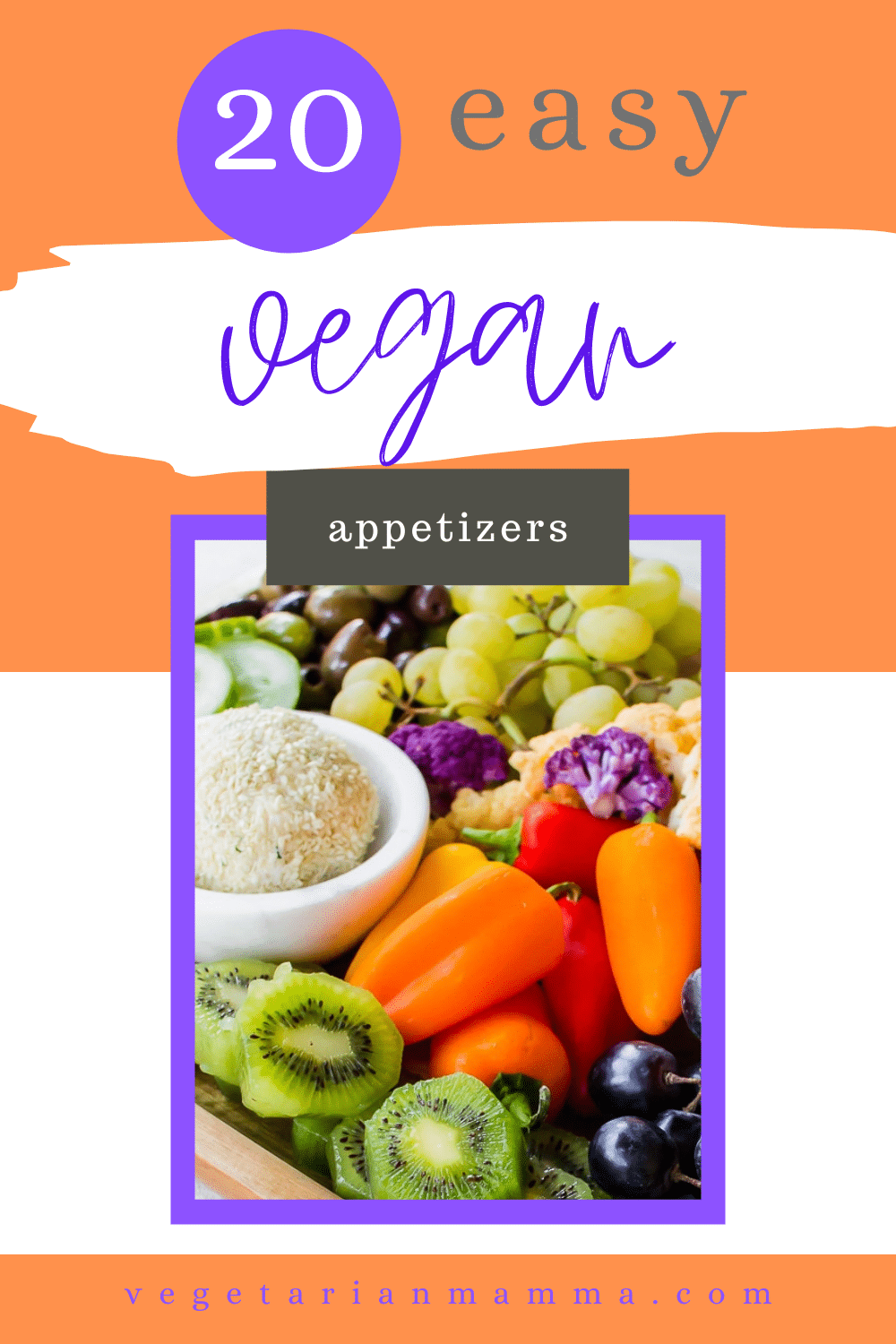 Make these vegan appetizers to impress at your next party! Whether you need a cool, creamy dip or a piping hot appetizer, this list has everything you need! Read on to learn how to make over 20+ of the best vegan appetizers.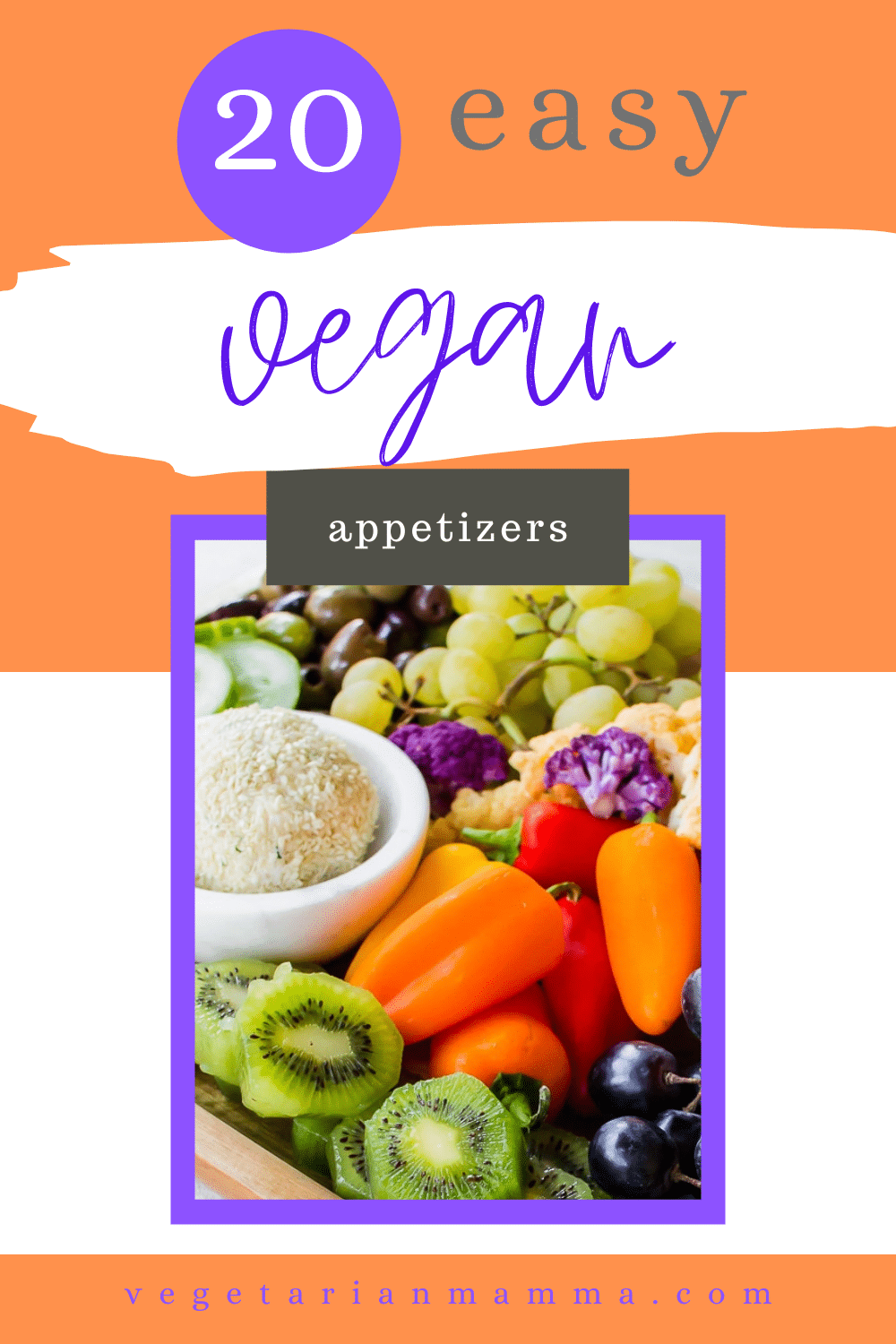 WELCOME TO VEGAN APPETIZERS!
Are you new to plant-based diets? We are so happy you are here! We love to help people fall in love with vegetarian and vegan recipes of all kinds. If you are new, wee have a whole community just waiting to welcome you and share tons of vegan and vegetarian recipes.
Whether you are a lifelong vegan or are looking for more dairy-free appetizers, we have got some easy and delicious vegan appetizer recipes to share with you today! No need to fret over your holiday spread or game day menu with this list of amazing appetizers everyone will love! Keep strolling for some great planning tips and all my favs.
BEST TIPS FOR MAKING VEGAN APPETIZERS
Plan the menu. The best way to prep for a bunch of appetizers is simply planning! When you can, make recipes that share some ingredients, like tofu, seasonings, and veggies. This will save on cost and fridge space!
Use your fav protein. A lot of these vegan appetizer recipes use tofu, plant-based ground "meat" or just plenty of veggies. Play with the ingredients to make your favorite vegan appetizers that become beloved family recipes.
Make ahead of time. Whenever you are party planning, pick recipes you can make a day or two in advance. That way, you can spend the day cleaning, decorating, or relaxing, and the food can be waiting when you are ready!
Variety is key. From fancy dinner parties to casual tailgate days, a variety of treats and snacks is the way to everyone's hearts. A mix of savory and sweet, hot and cold, salty and spicy, is best. And do not forget the dips!
Don't forget the sweets! Most appetizers are savory, but I love a little sweetness mixed in, too. Whenever I am making a charcuterie board or planning a tailgate party, I add a few sweet treats into the mix.
Turn leftovers into meal prep. No matter how hard I try, I always have tons of leftover appetizers after a party. Luckily, a lot of these recipes can be used for a tasty, snacky vegan meal prep lunch! I love to pack stuffed mushrooms, mini pizzas, and all the dips in my work lunches.
If you have any questions about how to make the best vegan appetizer recipes every time, please leave a comment below and I will get back to you ASAP!
FAVORITE VEGAN APPETIZERS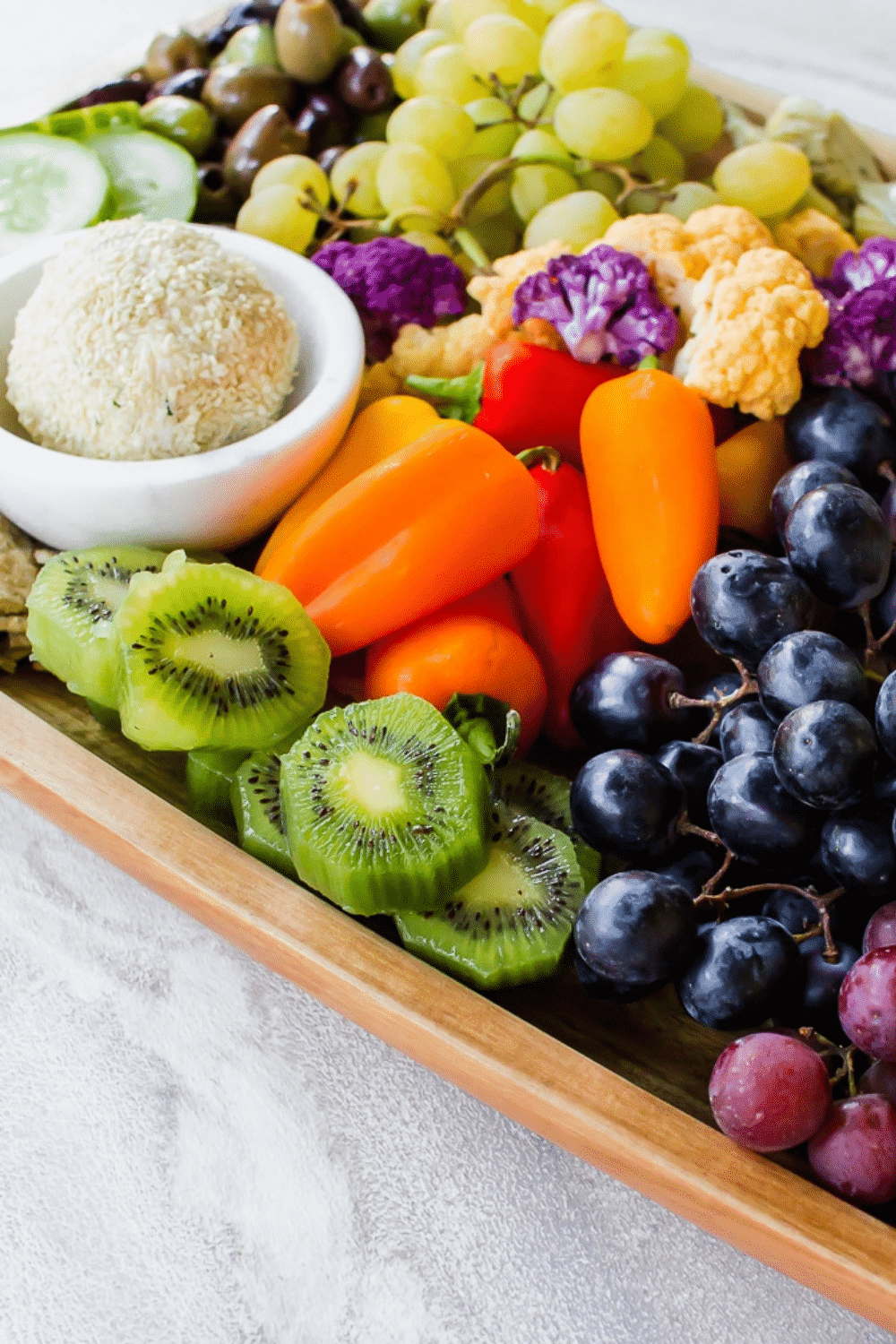 Vegan Charcuterie Board: Vegan Charcuterie anyone? This Vegan Charcuterie Board will be your newest obsession. Push aside the traditional meat and cheese platter and welcome this vegan option! Get creative with all your fruits, veggies, crackers, spreads, and dips. The options are endless for these trendy vegan appetizers.
Air Fryer Morel Mushrooms: I could eat mushrooms for every meal, but these stuffed mushrooms are my absolute favs. Air Fryer Morel Mushrooms are an earthy, mouthwatering fried morel mushroom recipe! They are stuffed with vegan cream cheese and breaded to perfection.
Gluten-Free Fried Pickles: Fried Pickles are a popular and delicious appetizer at many restaurants. Gluten-free fried pickles are hard to find, but thanks to this delicious recipe, you can make them at home. I love fried pickle spears, circles, you name it! There is something perfect about that crunchy exterior around a soft, vinegary pickle.
Lettuce Wraps: Looking for the best Asian-inspired app? This is it! These Vegan Thai Lettuce Cups will be your new favorite appetizer. You will swoon over this vegetarian Thai lettuce wrap recipe packed with veggies and a creamy, spicy nut butter sauce. Yum!
Vegan Crackers: These Italian herb and Parmesan flaxseed crackers have ben my go-to vegan snack recently! It has all the flavors you want — herbs, salt, and a little cheesiness — all in one healthy vegan snack. They go with so many dips. Let me know your favorite combo in the comments!
YUMMY VEGAN APPETIZERS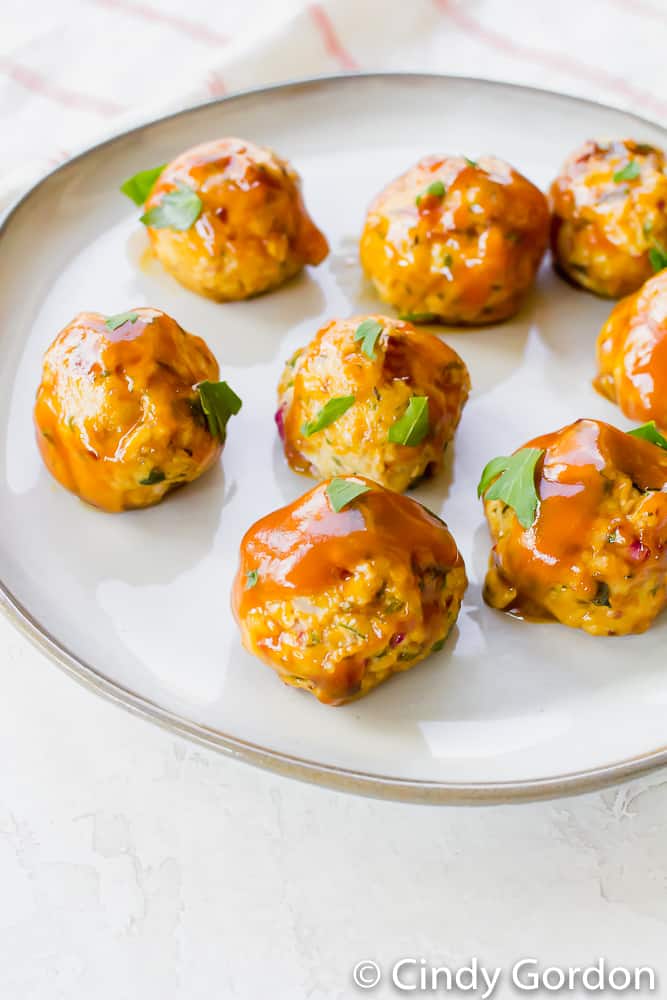 Vegan Meatballs: Great vegan appetizers are hard to find, and these Vegan Meatballs are super flavorful, packed with seasonings and glazed in a sweet sauce. These tofu meatballs are completely meat-free, made with red onion, parsley, oregano, garlic salt, liquid smoke, and breadcrumbs. You can easily make these gluten free with a simple gluten-free breadcrumb swap!
Wild Rice Stuffed Mushrooms: If you are looking for the perfect starter, these vegan stuffed mushrooms would be a great addition to your menu! If you really love mushrooms you can easily make this into your main dish. These stuffed mushrooms will even make meat eaters drool with delight!
Air Fryer Tortilla Chips: No matter what dip you are serving, these air fryer tortilla chips will make it so much better! They are fresh, perfectly crispy, and fried with way less oil than normal chips. Save money and use less salt, too!
Vegan Olive Tapenade: There is no more classic appetizer than a simple olive tapenade dip! You can serve it in a bowl for simple dipping or smear it on bruschetta. I love this recipe because it is ready in minutes and can be made vegetarian or vegan.
Homemade Chex Mix: Honestly, I am such a snacker. It is almost my downfall! Air Fryer Chex Mix is a quick and easy way to prepare your Chex Mix. Simply mix ingredients together, cook in air fryer and in 16 minutes you will have delicious air fryer Chex Mix in no time! Forget the store-bought version.
HOT VEGAN APPETIZERS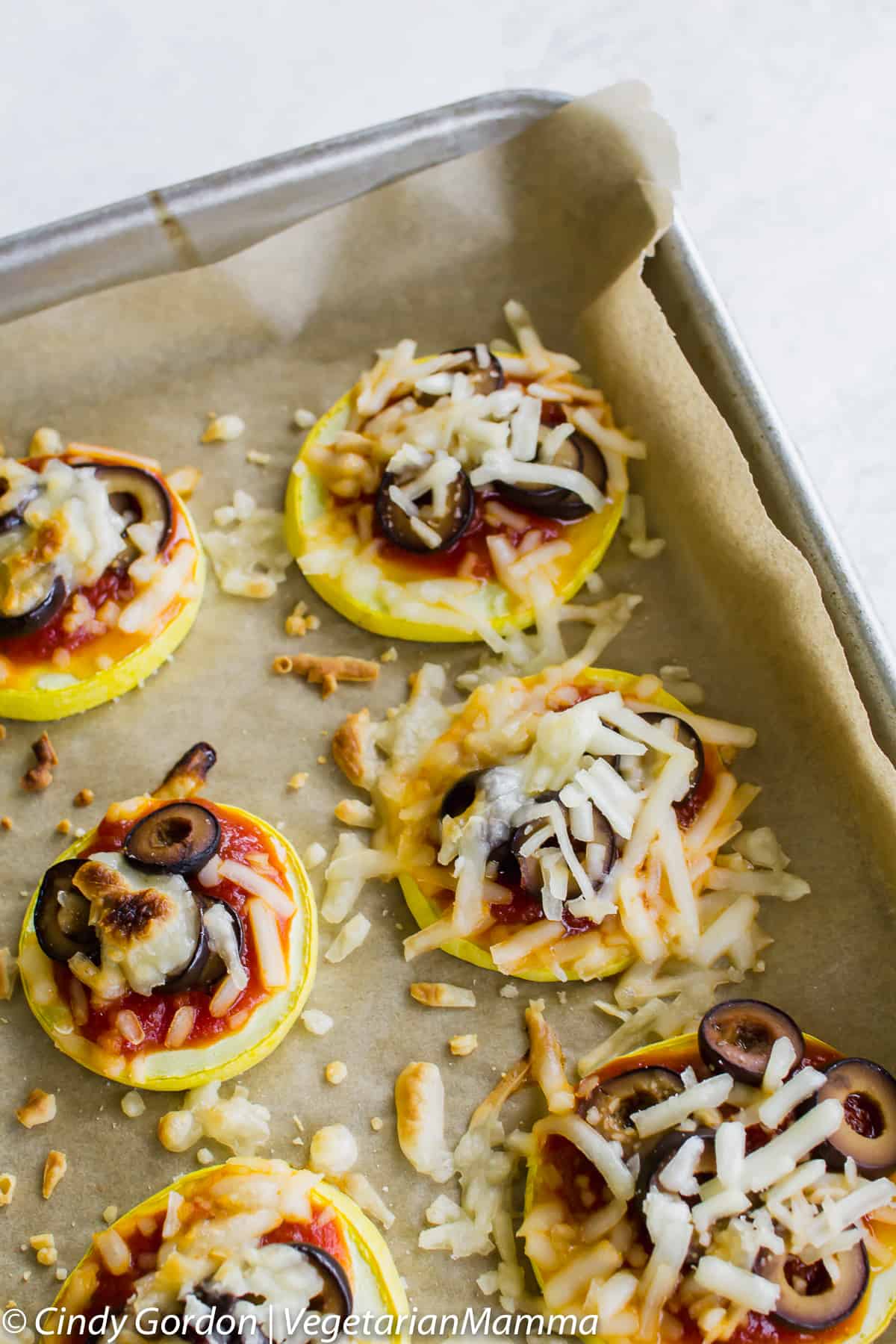 Mini Zucchini Pizzas: Looking for a fun and easy appetizer? These mini zucchini pizzas are easy to make and fun to customize! This is also a great low-carb option with zucchini coins for the crust. Use all your fav vegan pizza toppings for a great unique recipe!
Air Fryer Buffalo Cauliflower: Buffalo style has come to mean anything you can enjoy with hot sauce and some ranch or blue cheese for dipping, and this Air Fryer Buffalo Cauliflower fits the bill perfectly. Air Fryer Buffalo Cauliflower is the spicy vegetarian finger food that you have been waiting for. Tender Cauliflower florets, lightly breaded and tossed with buffalo sauce are an amazing appetizer that everyone will enjoy.
Hot Corn Dip: This Hot Corn Dip will be loved by all your dairy-free friends and your dairy-loving friends! This vegan dip is so easy and packed with sweet corn flavor. I love the addition of green chiles to give it a little more spice! Use your favorite chips or crackers.
Air Fryer Jalapeño Poppers: Need a big hit for your next tailgate? Air Fryer Jalapeño Poppers are a delicious game day snack that can be prepared in under 15 minutes! These air fried poppers will quickly become your favorite vegan snack option with crunchy jalapeños stuffed with vegan cream cheese and covered with crispy panko breadcrumbs.
Air Fryer Potato Skins: You will not even need to leave your house or pay for delivery to enjoy air fryer potato skins with all your favorite baked potato garnishes. Making potato skins in your air fryer is so easy, and the final dish is out of this world delicious. I make these for every tailgate, and our friends gobble them up. Keep it vegan with dairy-free sour cream and cheeses. These vegan bacon bits are a great topping!
Vegan Lil Smokies: I loved eating these tiny sausages as a kid. Now, I swap the sausage for baby carrots with a great vegan BBQ sauce. Serve them for holidays, gamedays, birthdays, you name it! There is no better vegan appetizer recipe than this.
EASY VEGAN APPETIZERS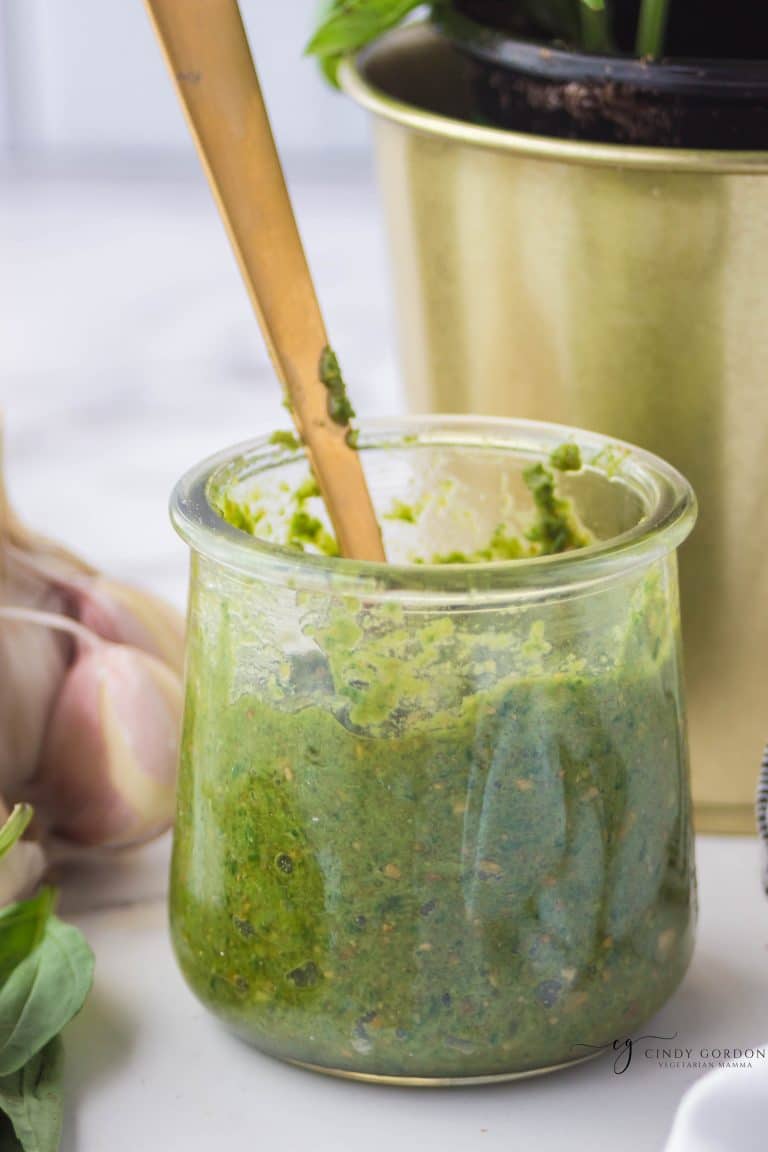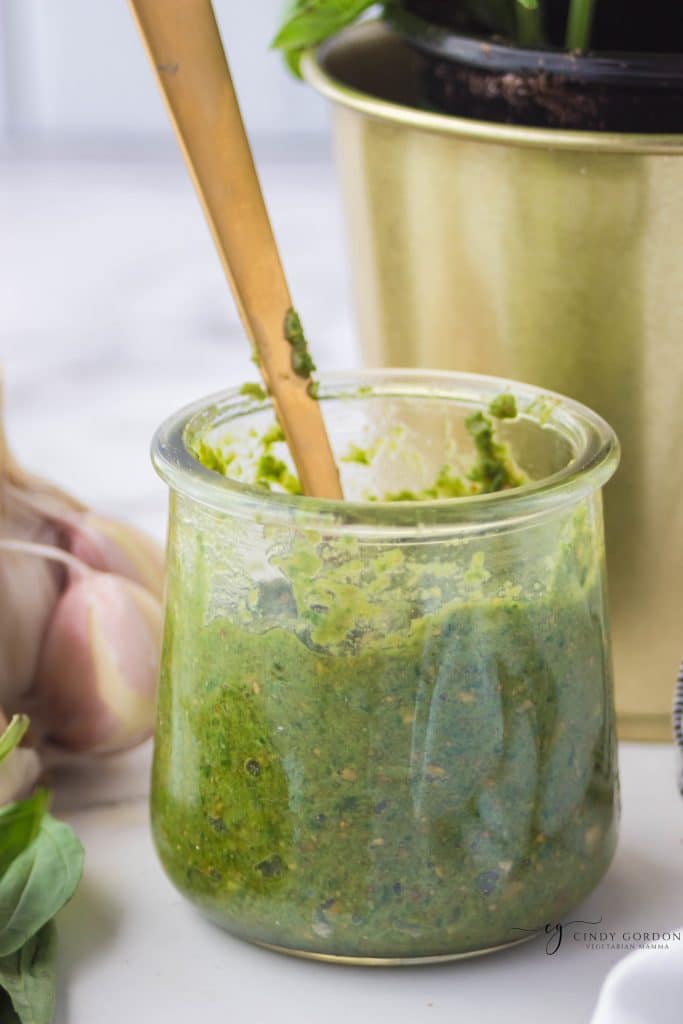 Nut-free Pesto: Most pesto recipes are vegan, I know. But this one is also nut-free! I swap the pine nuts for sunflower seeds to make it totally allergy friendly but still delicious. Use it as a dip, a sauce, or a vegan slider spread!
Air Fryer Banana Chips: I love that combo of salty and sweet. If you can add fruit, that is a win-win for me! These Air Fryer Banana Chips are a healthy, crunchy vegan app you will love to eat and feel good giving your kids, too. These are naturally sweet, dusted with kosher salt, and air fried with a small amount of oil so they come out crispy, crunchy, and irresistible.
Vegan Onion Dip: I am always on the hunt for a gluten-free French onion dip. There is just something so delicious about this dip. I am so glad that I have discovered this vegan dip recipe. Not only do I love the taste, but I love how simple this is to make as well. It is seriously crazy simple and takes literally no time at all!
Air Fryer Kale Chips: Potato chips, tortilla chips, pretzels — you name it, I love a crunchy, dipable, handheld snack. These Air Fryer Kale Chips are done so fast your family will not know you have cooked! Just four staple ingredients and 10 minutes between you and crispy, healthy "fried" veggies! These are a great substitute for chips if you are doing a keto or low-carb diet, and they bring an amazing extra crunch to a salad without the extra calories of croutons.
Vegan Spring Rolls: Hot apps are great, but I love the balance of a cold, crunchy spring roll. Make this delicious homemade peanut sauce alongside these crispy and fresh rolls all year long. There are so many options for the veggie filling, too!
MORE VEGAN RECIPES
Some of my favorite vegan dinner recipes are made in the air fryer! If you have not tried my Mexican sweet potatoes yet, you are in for a treat. These recipes are bound to give you tons of inspiration for those mid-week meals and busy night dinners.
I love all things potatoes. Mashed, baked, roasted — they are all comforting and delicious with minimal work. But the best way to make potatoes, I think, is in the air fryer. If you have never made potatoes in the air fryer, you are in for a treat! Cooking potatoes in your air fryer is quick, simple and oh so delicious.
I use tofu every week for lunch and dinner, but sometimes I run out of ideas. These easy tofu recipes will inspire creativity with your favorite plant-based protein!
Whether you are a seasoned baker or a beginner, we have got some easy and delicious vegan cookie recipes to share with you! You can make the same delicious cookies, from basic chocolate chip to all your favorite Christmas cookies, with just plant-based ingredients.
Easy Vegan Appetizers : Featuring Vegan Zucchini Fritters
Make these vegan appetizers to impress at your next party! Whether you need a cool, creamy dip or a piping hot appetizer, this list has everything you need! Read on to learn how to make over 20+ of the best vegan appetizers.
Ingredients
Zucchini Fritter Ingredients
Salsa Ingredients
2

tomatoes

diced

½

jalapeño pepper

½

red onion

small

¼

cup

basil

1

lime

juiced
Instructions
Preheat oven to 350 degrees F (176 degrees C).

Use a food processor to blend the carrots and zucchini briefly. Blending time will depend on your food processor and your chop size preference.

In a large mixing bowl, mix the blended zucchini and carrots with all other fritter ingredients. Mix well.

Make the fritters by rolling ¼ cup of zucchini mixture into a ball. Flatten ball with your hand on baking sheet covered in parchment paper.

Bake for 7 to 10 minutes until desired crispiness. Tops should be golden brown.

While the fritters bake, use a food processor to make the salsa. Add all ingredients and blend until your desired smoothness.

Place fritters on a place and cover with salsa to serve. Enjoy!
Notes
To make on the stovetop, use a little neutral oil and cook over medium heat. Gently flip after 5 to 6 minutes.
Store leftovers in the refrigerator for up to 5 days or in the freezer for up to 3 months.
Nutrition
Calories:
84
kcal
|
Carbohydrates:
14
g
|
Protein:
5
g
|
Fat:
2
g
|
Saturated Fat:
1
g
|
Polyunsaturated Fat:
1
g
|
Monounsaturated Fat:
1
g
|
Sodium:
23
mg
|
Potassium:
374
mg
|
Fiber:
3
g
|
Sugar:
4
g
|
Vitamin A:
1412
IU
|
Vitamin C:
12
mg
|
Calcium:
40
mg
|
Iron:
1
mg
All though this website attempts to provide accurate nutritional information, the information should only be considered an estimate. Varying factors such as different product types, different brands, etc. can change nutritional information. It is your responsibility as a consumer to read all labels to make sure the ingredients fit your dietary needs as well as calculate your own nutritional information as a double check.
VEGAN RECIPES POST
If you have made any of these vegan appetizer recipes, please be sure to leave a comment on the recipe page letting us know what you thought.