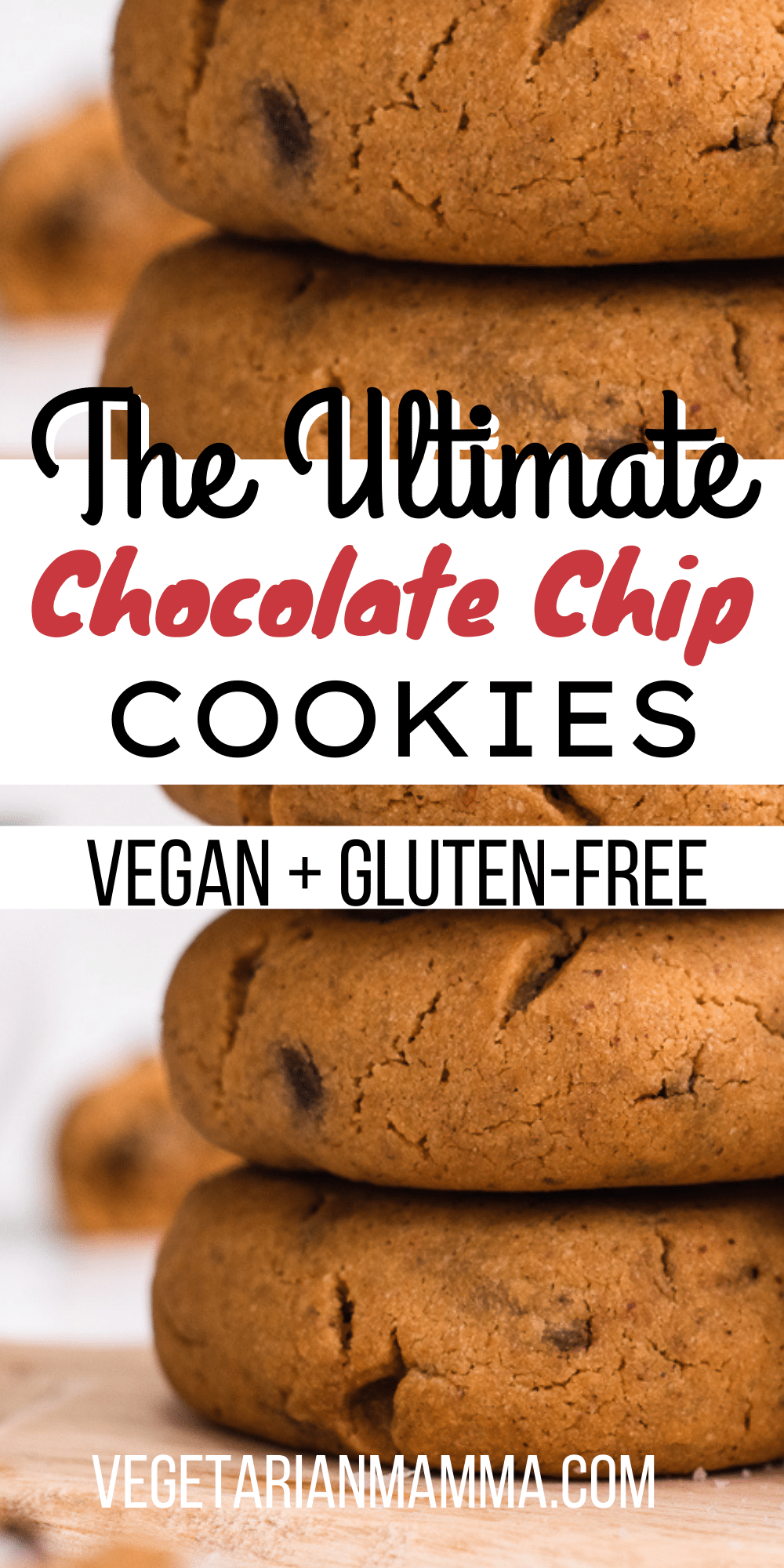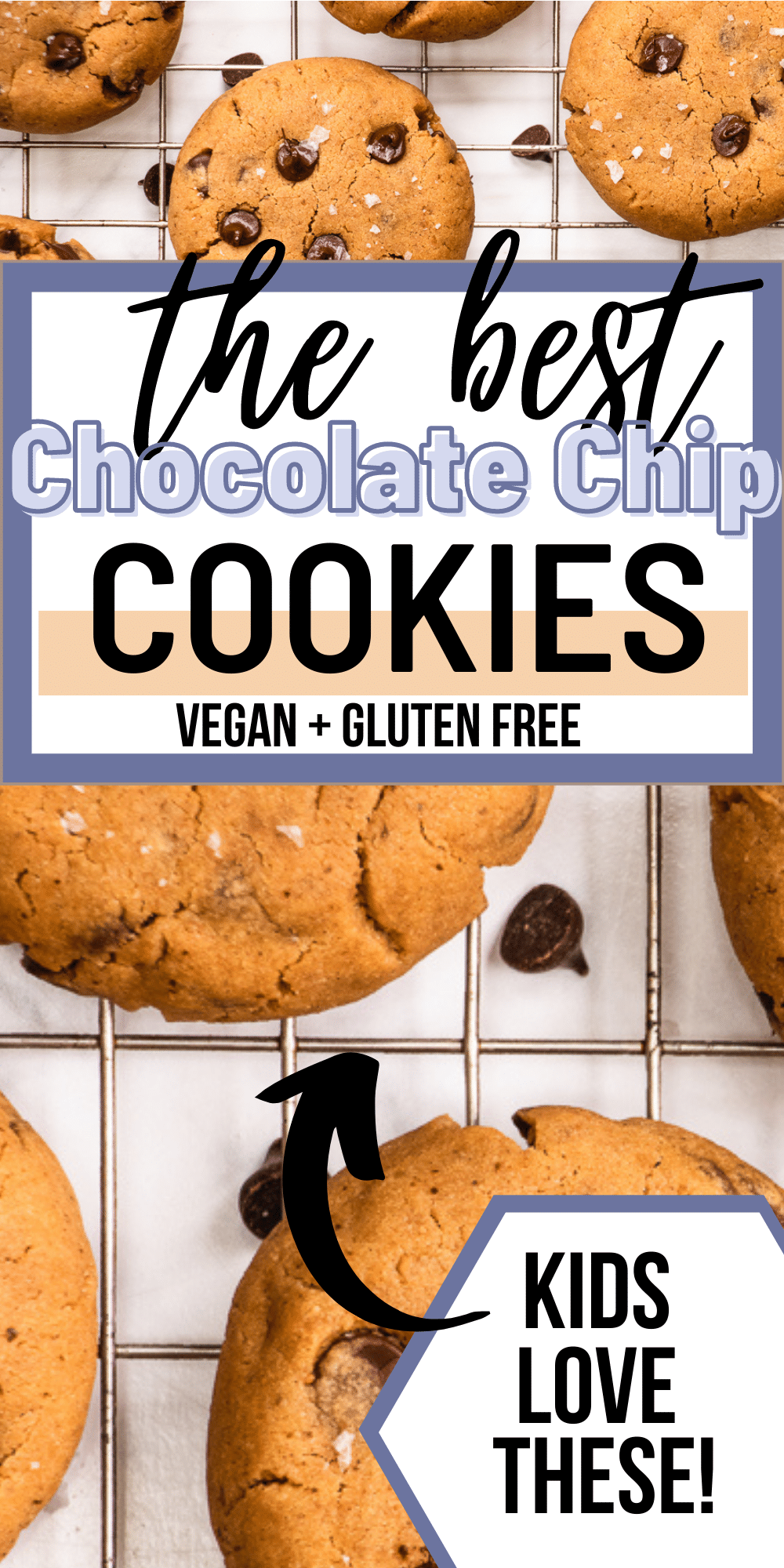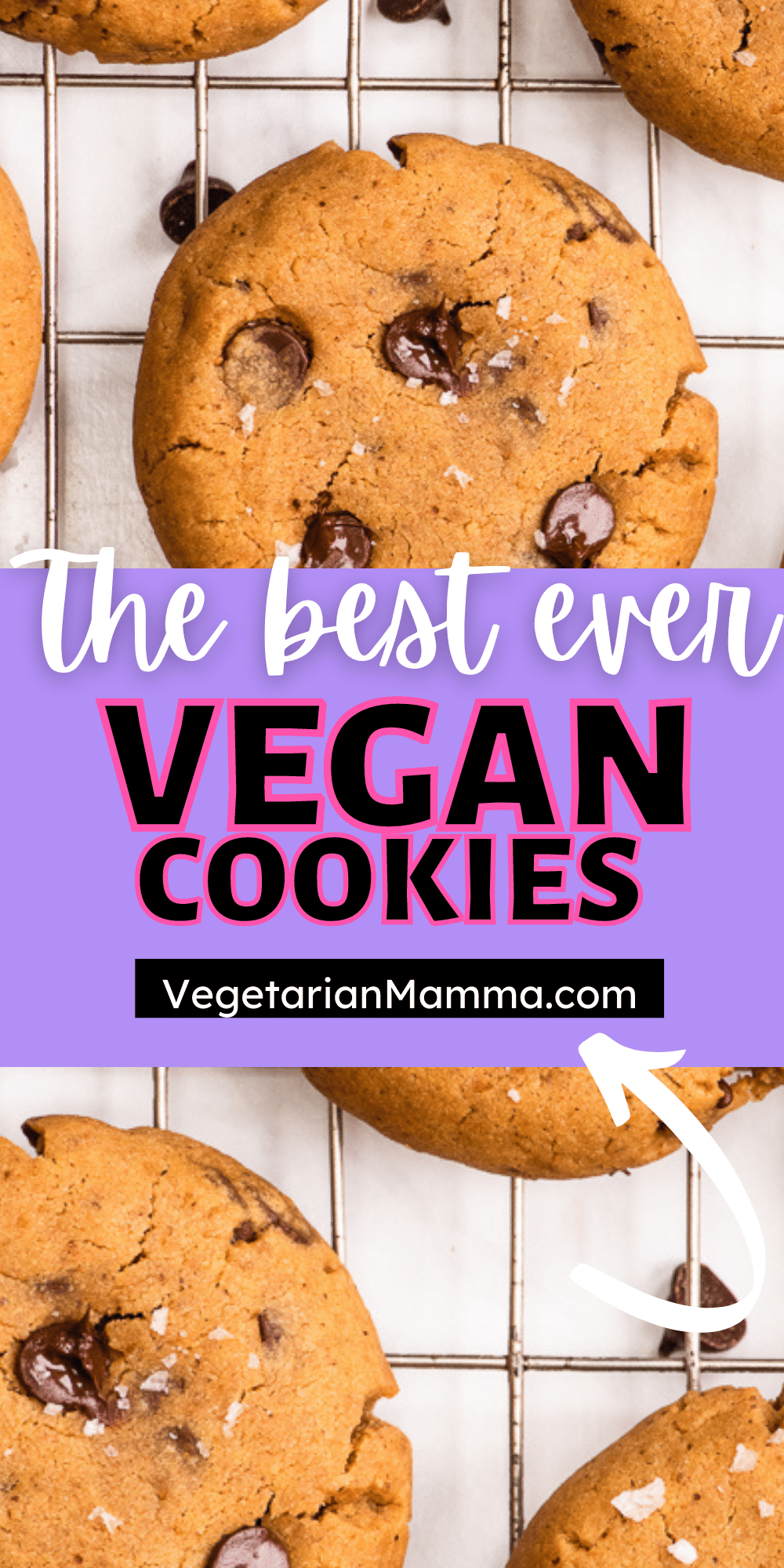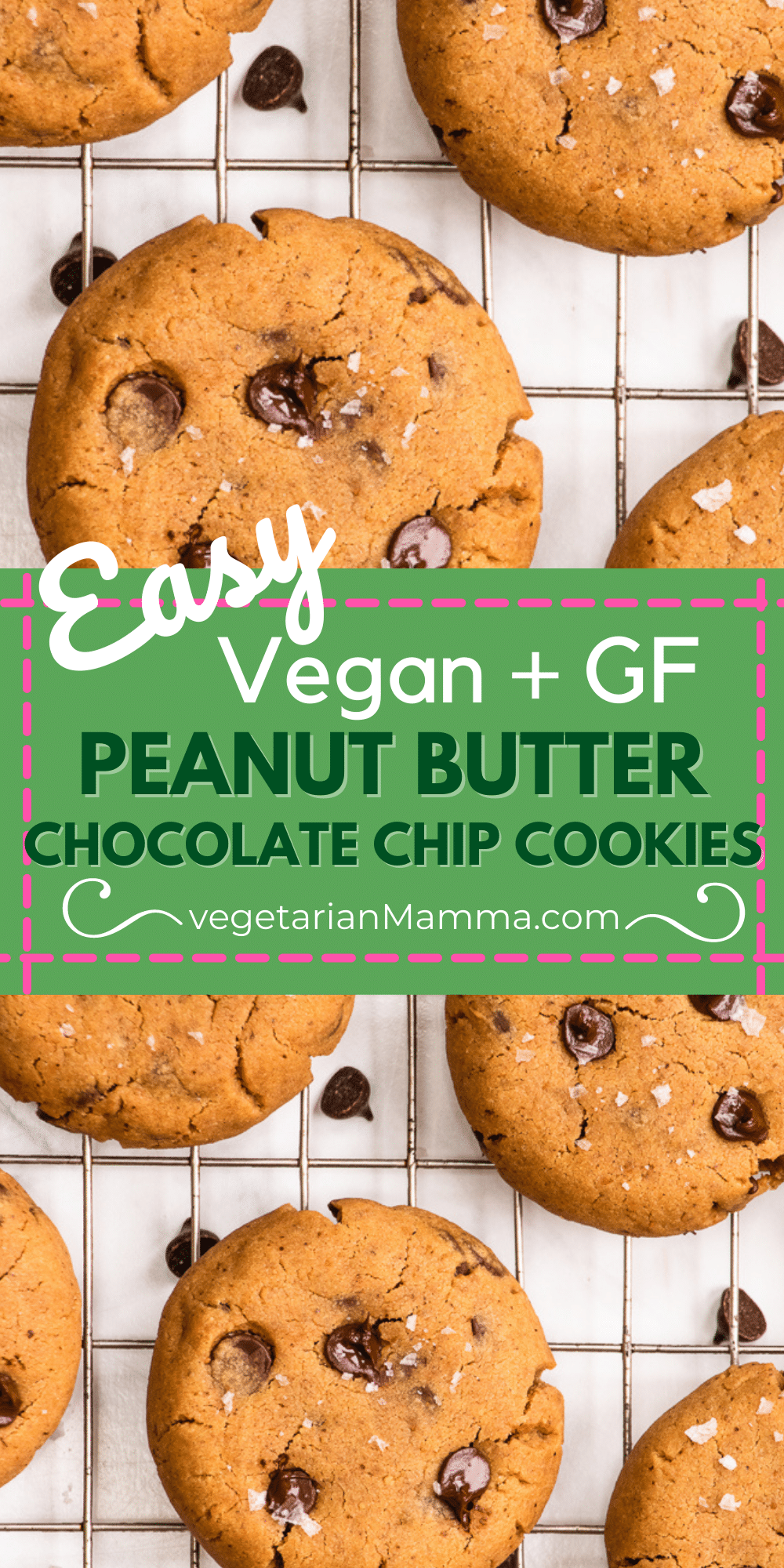 Gluten-free and Vegan Peanut Butter Chocolate Chip Cookies are chewy, soft, and packed with chocolate! These are truly the best vegan cookies you'll ever make.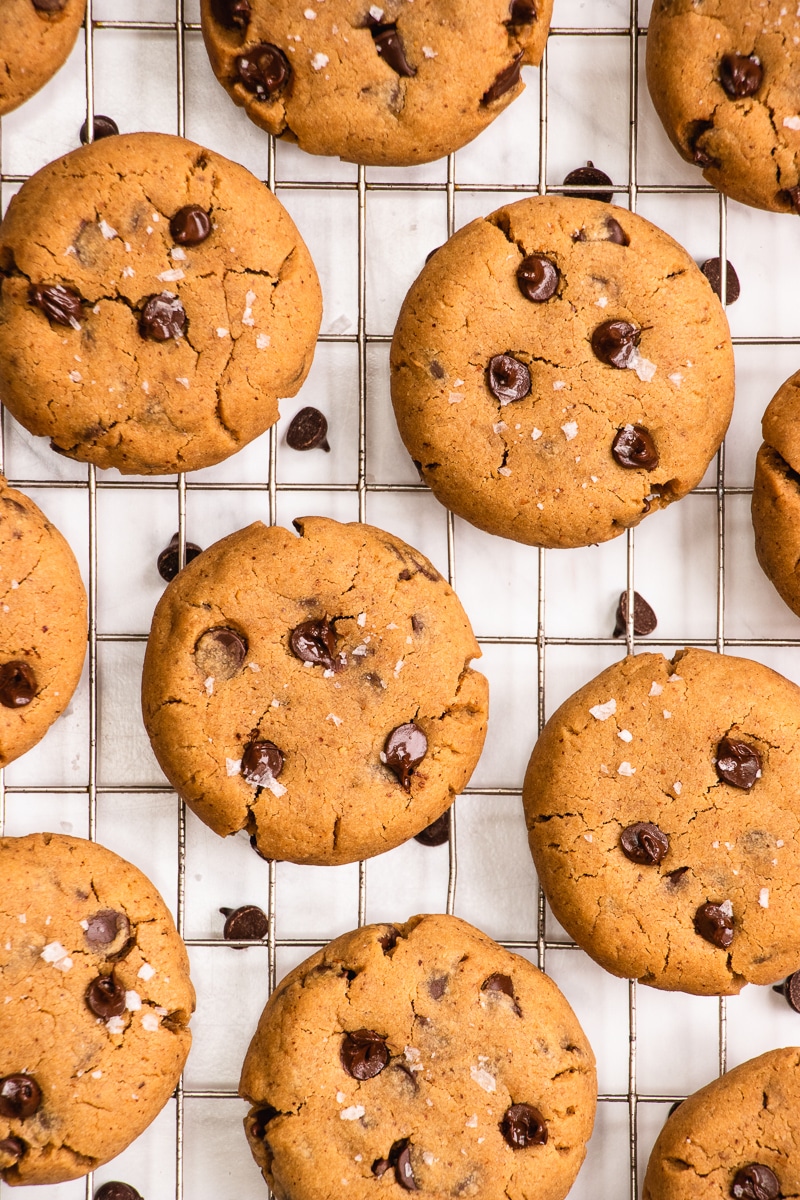 VEGAN PEANUT BUTTER CHOCOLATE CHIP COOKIES RECIPE
There's no better combination than peanut butter and chocolate! These totally Vegan Peanut Butter Chocolate Chip Cookies are gluten free and perfectly chewy.
I love to make gluten-free vegan cookies for my family, and you'll find recipes here for vegan snickerdoodles, vegan oatmeal cookies, and so much more!
The recipe I'm sharing today, for vegan peanut butter cookies, is packed with melty dark chocolate chips, so everyone loves them.
Sprinkle the tops with a little sea salt and these cookies are perfect.
Want a slightly different vegan peanut butter cookie recipe? Check out my Peanut Butter Oatmeal Cookies!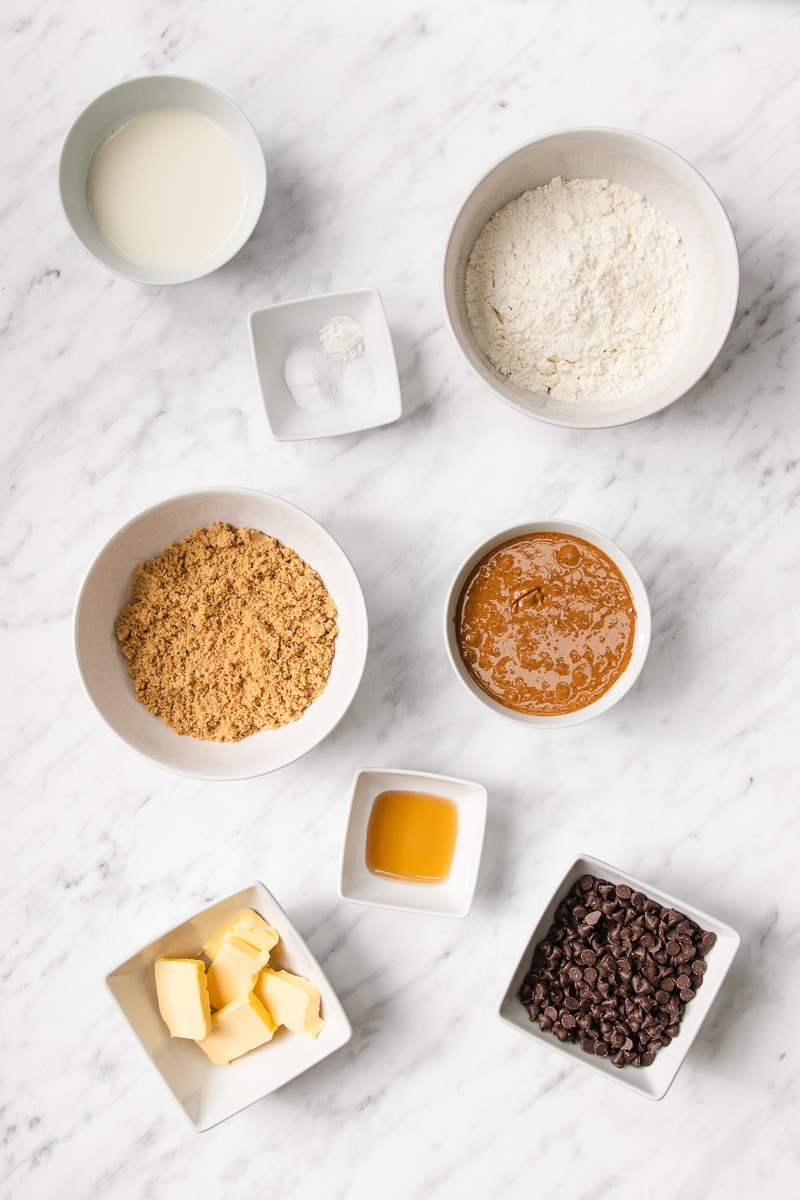 INGREDIENTS IN VEGAN PEANUT BUTTER CHOCOLATE CHIP COOKIES
Peanut butter: I love the extra nuttiness and moistness natural peanut butter adds to this vegan cookie recipe. Use any brand you love!
Vegan butter: You can make peanut butter cookies without butter, simply replace it with a vegan butter substitute! I like to use Earth Balance buttery sticks. Make sure your butter is softened before you begin your vegan cookie prep. Just leave it on the counter until you can press into it with your fingertips. I like to use Earth Balance buttery sticks.
Brown sugar: I love the richness that brown sugar brings to cookies. I usually use light brown sugar, but you can always use dark brown sugar for a deeper taste, too.
Vanilla extract: If you love the taste of baked goods, you love vanilla extract. A little goes a long way here, but it's totally required for the best homemade vegan cookies.
Almond milk: Baking cookies with almond milk makes them even nuttier!
All-purpose flour: I like to keep my vegan cookies gluten-free when I can! If you're not on a gluten-free diet, you can use regular all-purpose flour instead.
Salt: Everything needs a little salt — even cookies! It helps balance the sweetness.
Baking soda: For fluffy cookies, you need some baking soda. Otherwise, these will end up hard, flat cookies.
Xanthan gum: Most gluten-free flours have a bit of xanthan gum already mixed in. If yours doesn't, add just a bit to the dough for a thick dough with no gluten.
Vegan chocolate chips: Your favorite brand of dairy-free dark chocolate chips will work in this vegan cookie recipe. You can also chop up a bar of vegan chocolate!
If you have any questions about this vegan peanut butter chocolate chip cookie recipe, please leave a comment below and I will get back to you ASAP!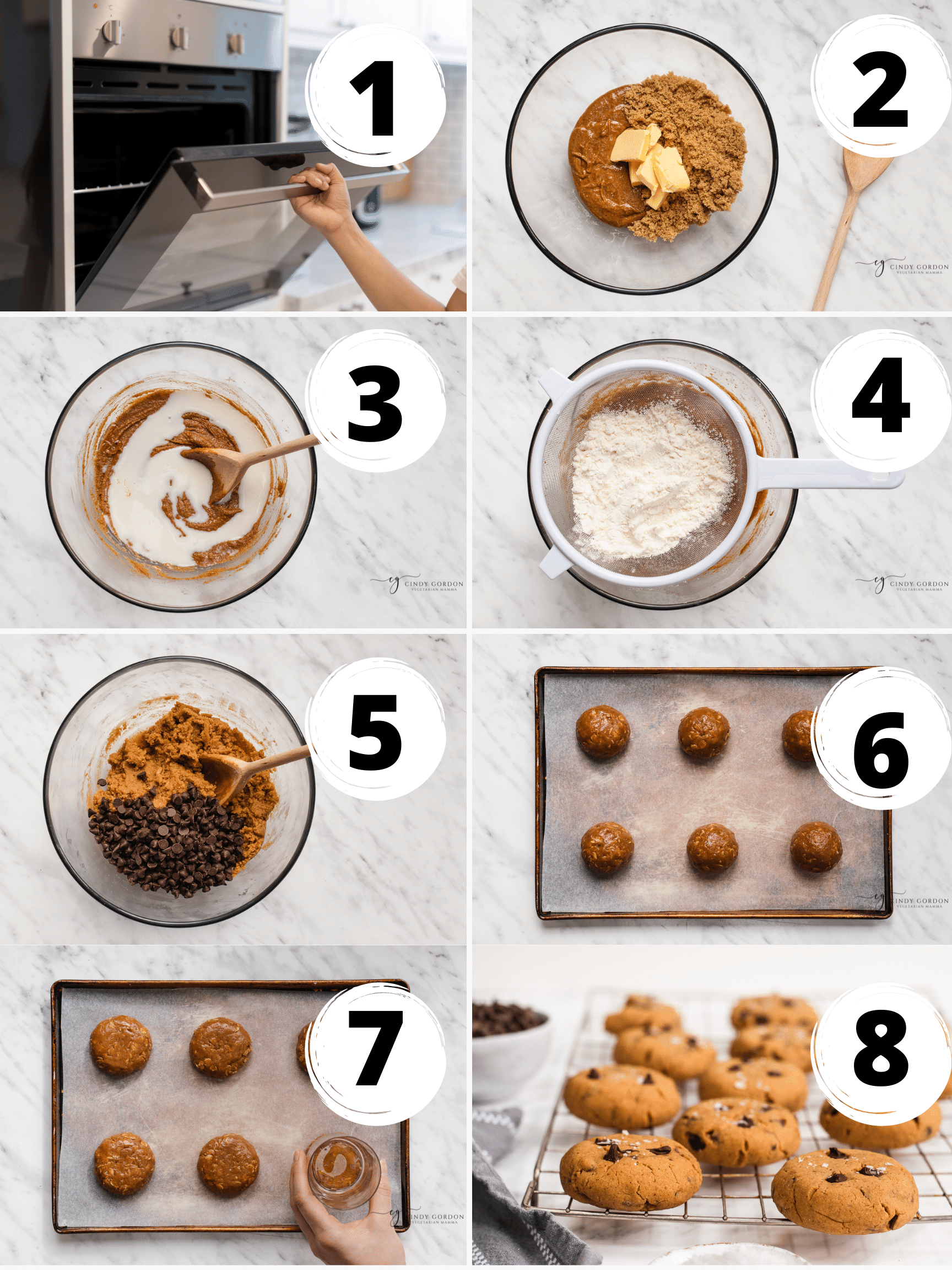 HOW TO MAKE VEGAN PEANUT BUTTER CHOCOLATE CHIP COOKIES
First, preheat the oven and prep 2 baking sheets with parchment paper.
Then, beat the softened vegan butter, peanut butter, and brown sugar in a large mixing bowl with a wooden spoon. Don't use an electric mixer — you'll get hard, dense cookies.
Now, add the almond milk and vanilla extract. Beat until well combined.
In a second mixing bowl, whisk together your gluten-free flour, xanthan gum if needed, baking soda, and salt. Sieve it into the wet ingredients, and mix gently until it's all combined.
Next, add the chocolate chips, and fold them into the batter.
Roll your dough into a dozen evenly sized dough balls, and spread them out on the lined baking sheets.
Using the bottom of a glass or measuring cup, gently flatten the cookies slightly. This helps them bake evenly!
Finally, bake until the cookies are just set on the edges but a little soft in the middle. Don't worry, they'll keep cooking. Let them rest a few minutes before moving them to a wire cooling rack.
These numbered steps match the numbered photos above and are for illustration purposes. For the complete list of ingredients and instructions for vegan cookies, please see the recipe below.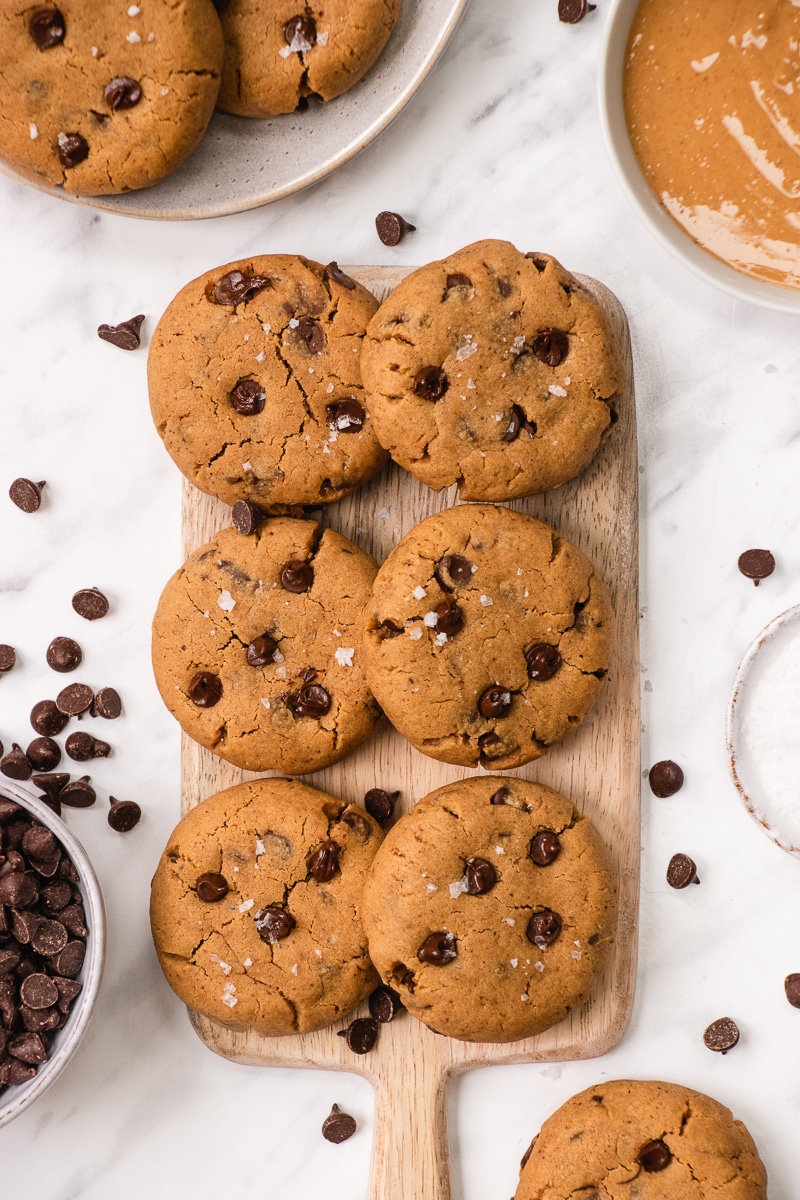 MORE AMAZING VEGAN DESSERTS
You'll be making all of the best desserts using my decadent, easy vegan dessert recipes!
Vegan Panna Cotta is so decadent and creamy with just 6 ingredients and no gelatin! This amazing chocolate dessert comes together in just a few minutes to impress at your next party.
If you like lemon you will absolutely love my Vegan Lemon Cookies recipe! They have the perfect balance of sweet and tart.
Want to bake a really impressive cake? This Vegan German Chocolate Cake is out of this world!
Need even MORE chocolate? This vegan chocolate cake is so good. It's covered with mocha icing and topped with a decadent chocolate ganache.
CAN YOU FREEZE VEGAN COOKIE DOUGH?
Absolutely you can!
If you want to be able to make vegan peanut butter cookies at the drop of a hat, freeze some individual dough balls on a baking sheet with parchment paper until firm.
Then, toss them in a freezer-safe container for up to 3 months. Just thaw and bake as usual for an easy midnight snack in a flash!
You can also freeze baked cookies before they go stale. They'll stay fresh for up to 3 months in an airtight container. Just thaw and enjoy!
WHAT CAN I SUBSTITUTE FOR EGGS IN VEGAN COOKIES?
Surprisingly, I don't use vegan egg replacements of any kind in these cookies! The peanut butter itself helps keep these super moist cookies from crumbling.
However, I've tried a lot of vegan egg replacements, and none of them stand up to a simple flax egg! You only need 2 ingredients to make one, and it's great for all of your vegan baking.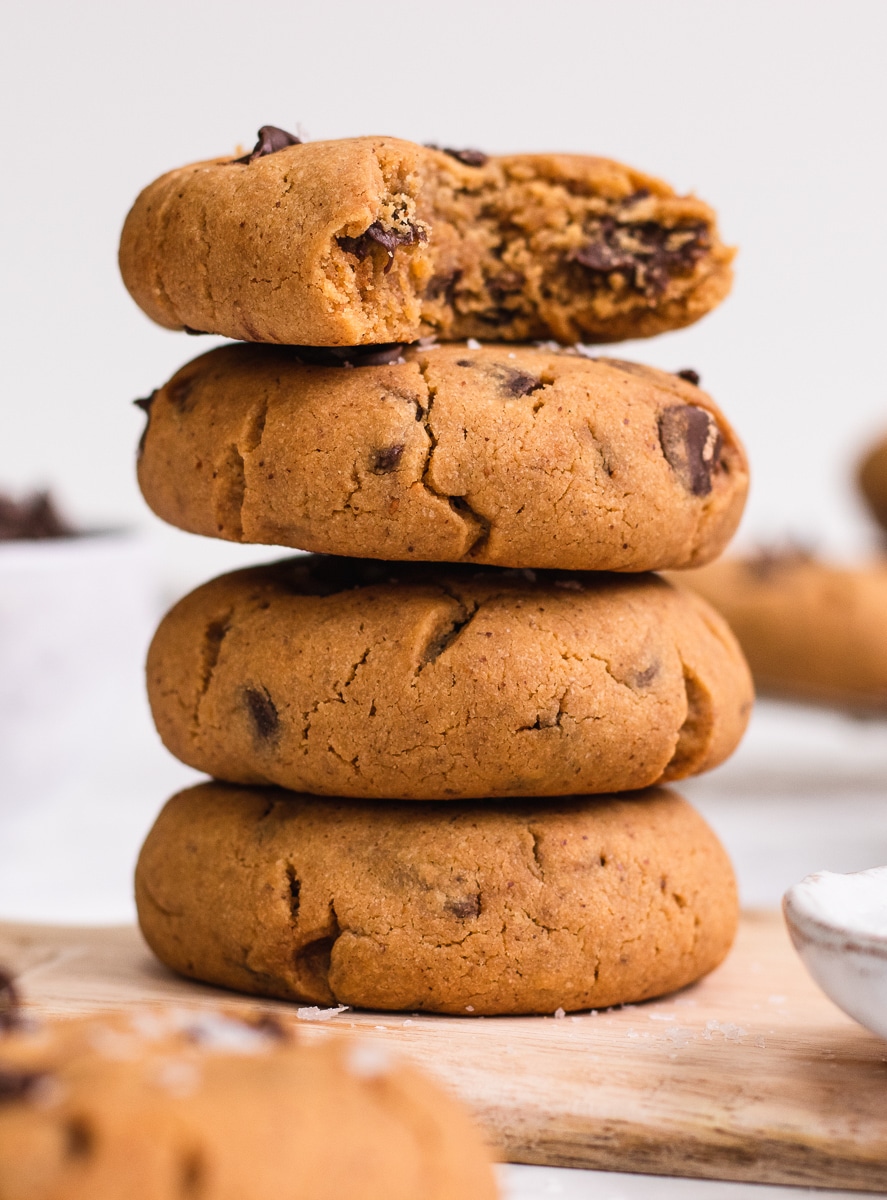 MORE YUMMY VEGAN COOKIES TO BAKE
There is no cookie recipe you cannot make vegan! I love all cookies equally, and I try to keep my baking gluten free as well as vegan. Many of these recipes use gluten-free flour. If you are not on a gluten-free diet, you can easily swap for regular all purpose flour.
Did you know you can make cookies in the Air Fryer?! See our recipe for Air Fryer Oatmeal Cookies that are totally vegan and gluten free, too!
CHOOSING GLUTEN FREE ALL PURPOSE FLOUR
There are so many choices when it comes to gluten-free flours. We typically use a gluten-free all-purpose flour. We have found that Bob's Red Mill (blue bag) Gluten Free Cup for Cup works well with our recipes. It is important to get the BLUE bag and not the red bag.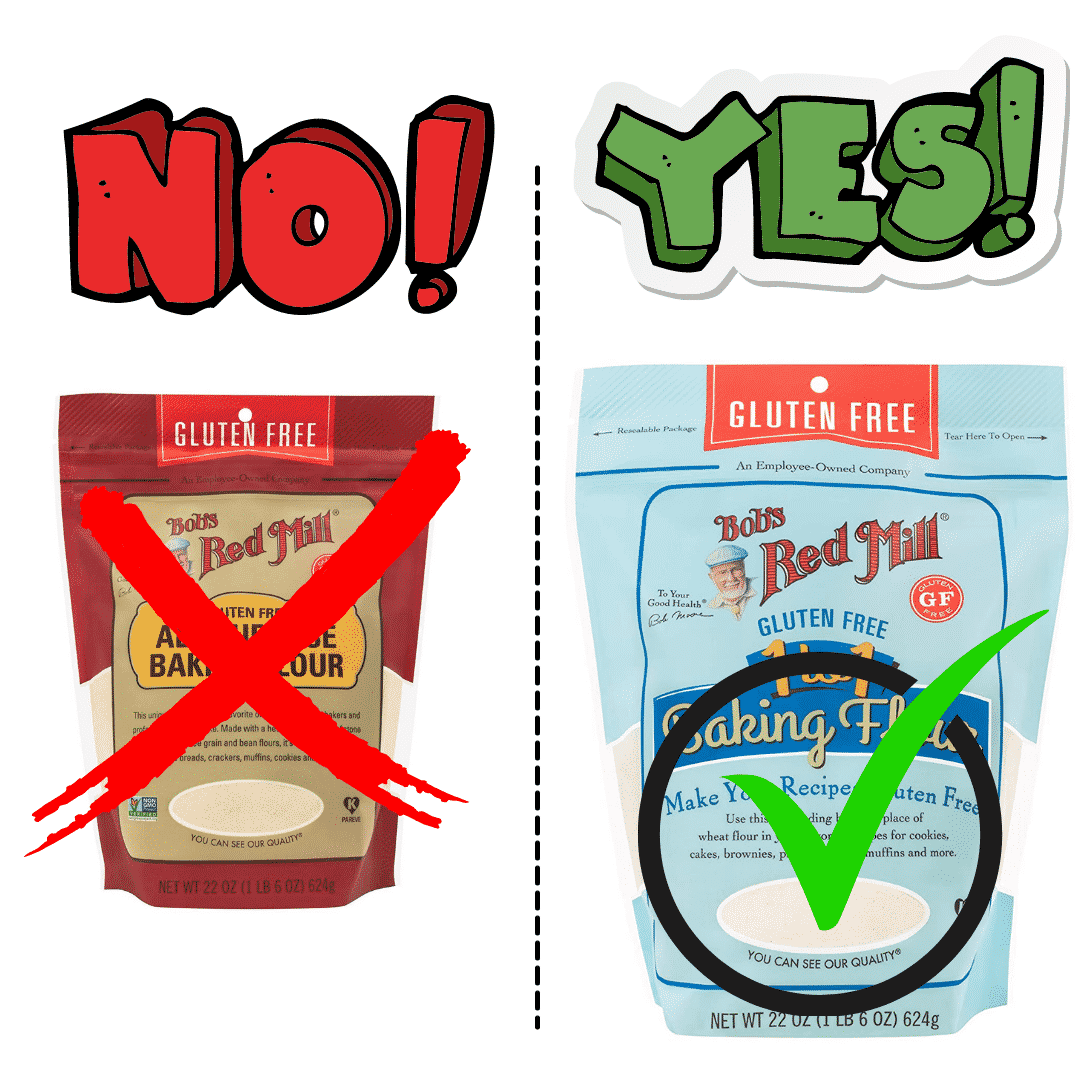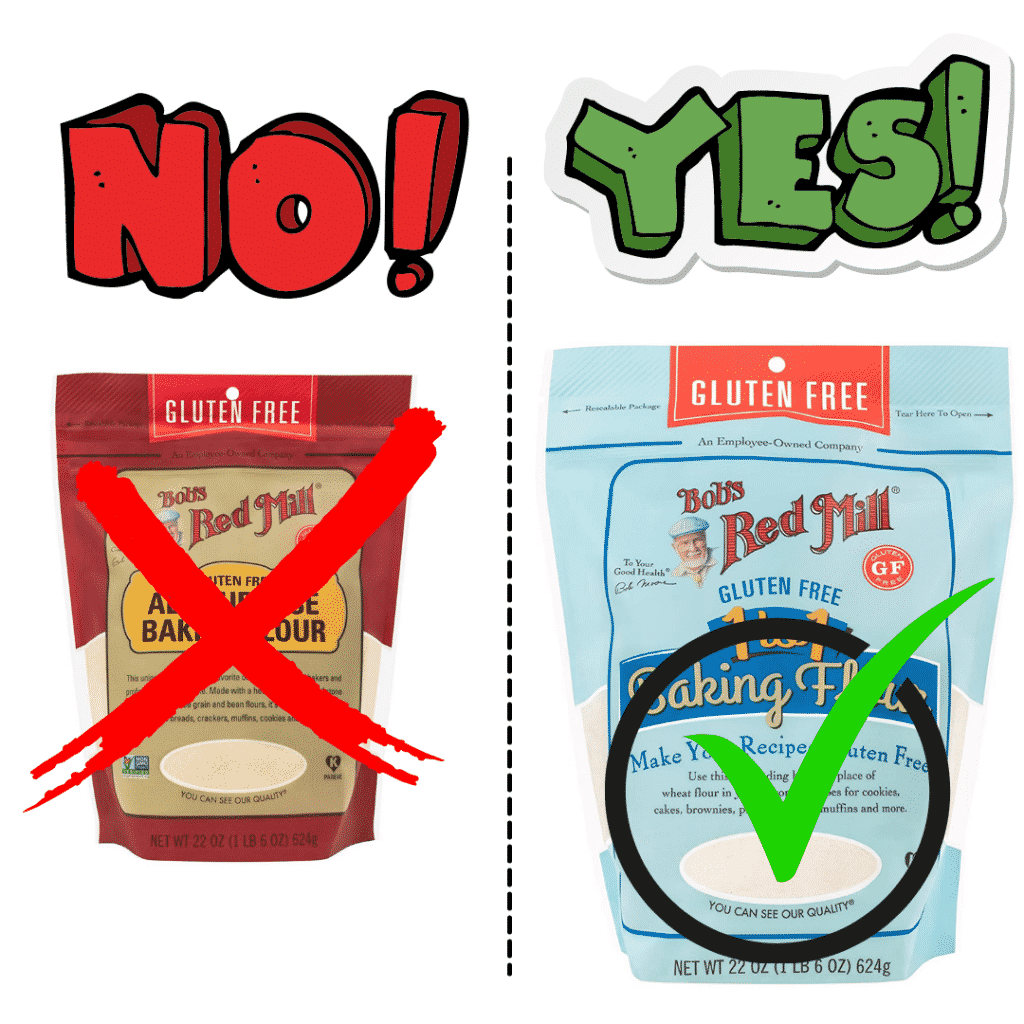 If you use the blue bag Bob's Red Mill flour, you do NOT need to add Xanthan gum to this cookie recipe. It's already blended in!
This is true of many all-purpose gluten-free flour blends, so be sure to check that before you start baking. If Xanthan gum is included in the flour, don't add any extra.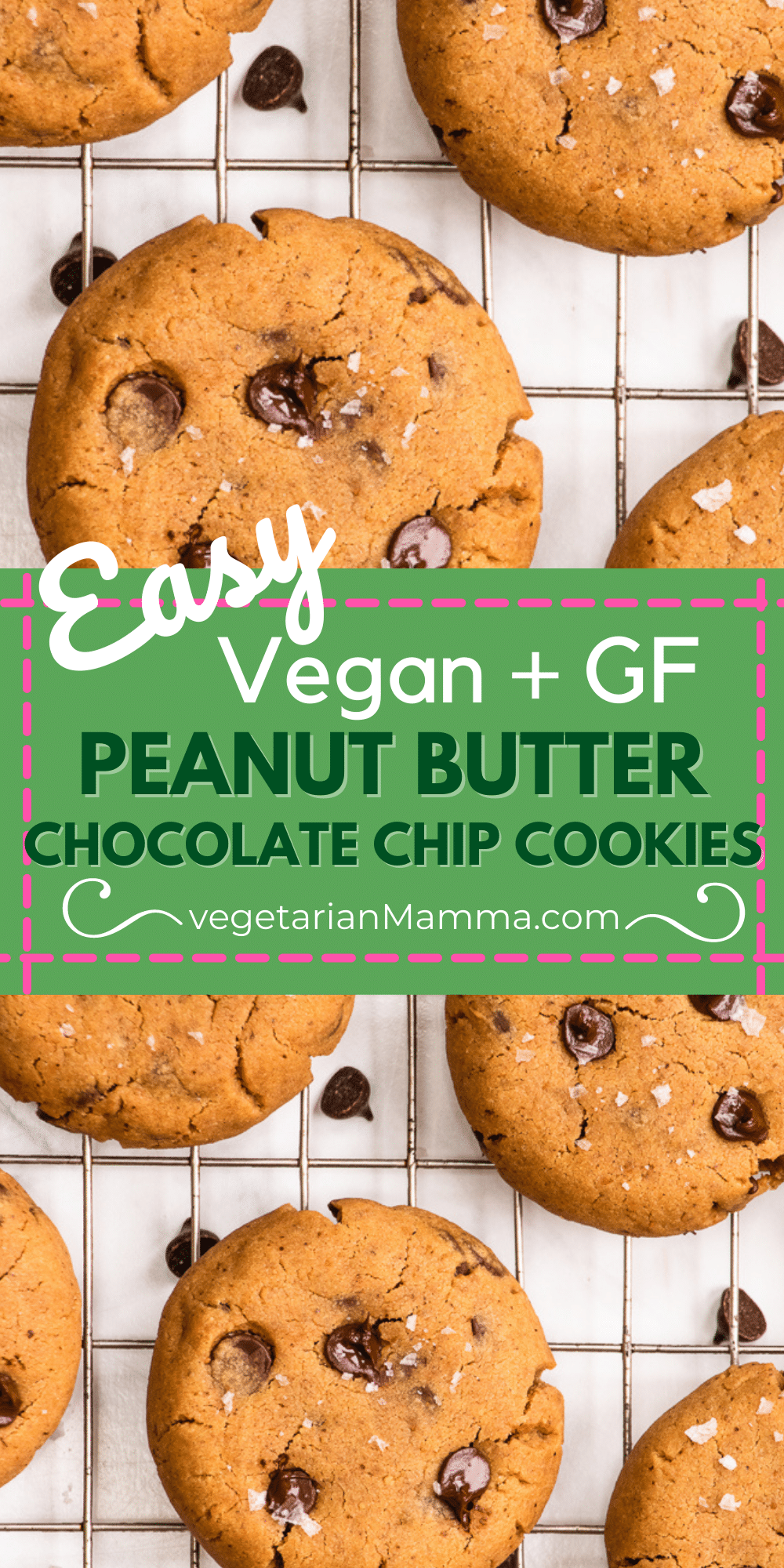 Have you made this recipe? Please leave a comment AND rating below! It helps other readers!
Be sure to tag @VegetarianMamma on instagram, if you share a picture on the gram! Let's get social, you can follow me on Youtube, Instagram, Facebook, Pinterest or join one of our Facebook Groups: Tasty Vegetarian Recipes and Vegetarian Air Fryer Recipes.
Don't forget to subscribe to our EMAIL newsletter.
Vegan Peanut Butter Chocolate Chip Cookies
This gluten-free cookie recipe is so moist and chewy! Your family will love these simple vegan peanut butter cookies packed with chocolate chips.
Equipment
Wooden spoon

Sieve

Glass for flattening

Wire rack
Instructions
Preheat the oven to 350 degrees F (180 degrees C). Line 2 baking sheets with parchment paper.

Add vegan butter, peanut butter, and brown sugar to a large mixing bowl. Beat with a wooden spoon until smooth and creamy.

Pour in the almond milk and vanilla extract. Beat to combine.

In another mixing bowl, whisk the flour, xanthan gum, baking soda, and salt together until well combined. Sieve the flour mixture into the bowl with wet ingredients.

Fold everything together until just combined. Add chocolate chips, and fold again to combine.

Roll the cookie dough into balls and place on lined baking sheets. Leave room for spreading.

Using the bottom of a glass, gently push each cookie ball to flatten it slightly. Cookies will spread more during baking.

Bake for 10 to 12 minutes until edges are firm. Leave cookies on the baking sheet to cool for 5 to 10 minutes before moving them to a wire rack.
Notes
Avoid using an electric mixer to make these cookies. You should be able to easily mix the dough by hand, and overmixing will make them dry.
If your gluten-free flour blend includes Xanthan gum, you do NOT need to add any extra.

Optional: When the cookies are fresh out of the oven, put a few extra chocolate chips onto the top of each cookie for decoration.

Optional: Sprinkle cookies with flaky sea salt before serving.
Nutrition
Calories:
293
kcal
|
Carbohydrates:
37
g
|
Protein:
6
g
|
Fat:
15
g
|
Saturated Fat:
5
g
|
Polyunsaturated Fat:
3
g
|
Monounsaturated Fat:
5
g
|
Trans Fat:
1
g
|
Sodium:
235
mg
|
Potassium:
131
mg
|
Fiber:
3
g
|
Sugar:
25
g
|
Vitamin A:
180
IU
|
Calcium:
51
mg
|
Iron:
2
mg
All though this website attempts to provide accurate nutritional information, the information should only be considered an estimate. Varying factors such as different product types, different brands, etc. can change nutritional information. It is your responsibility as a consumer to read all labels to make sure the ingredients fit your dietary needs as well as calculate your own nutritional information as a double check.