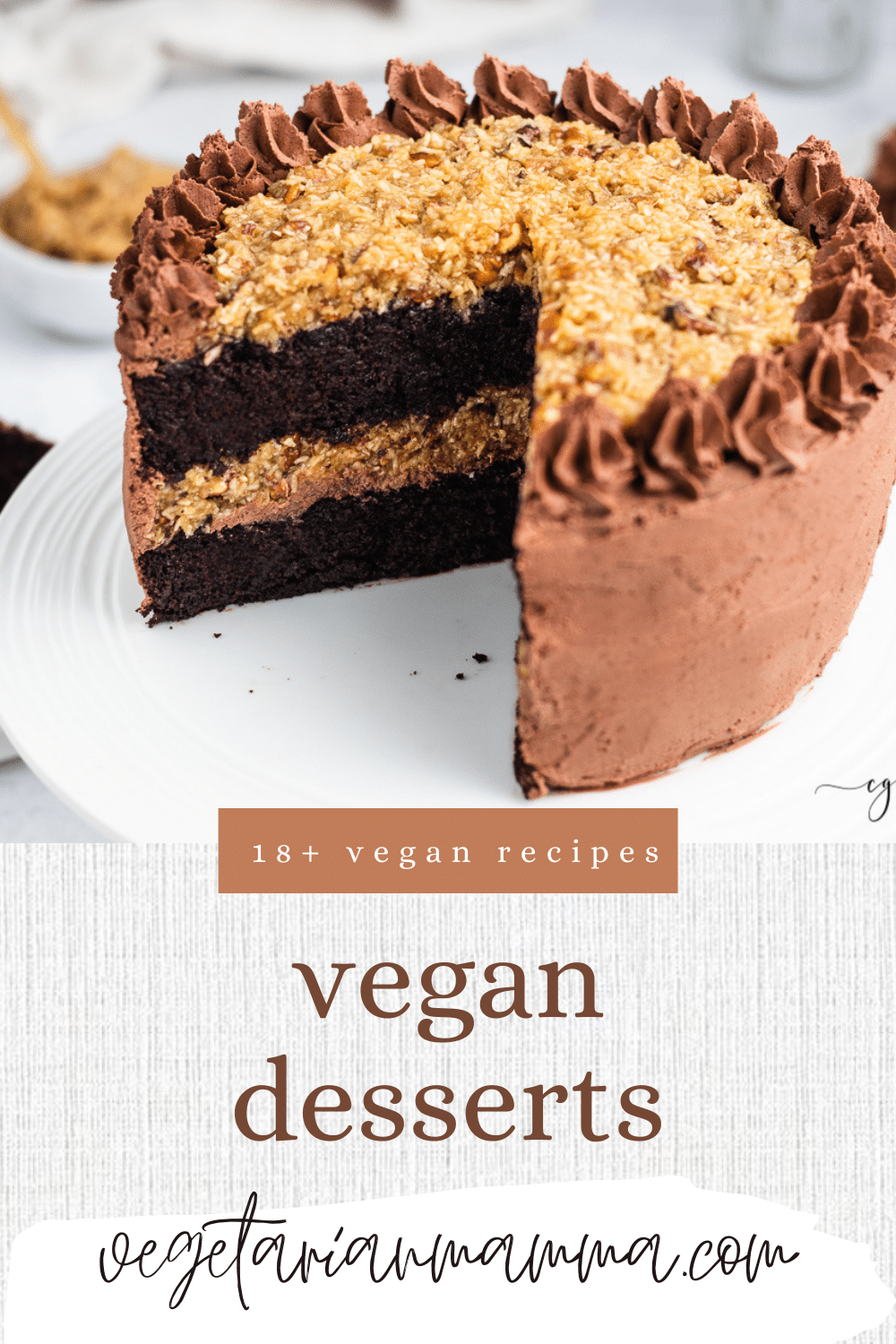 Make the best vegan desserts with these decadent, easy recipes! This list has tons vegan and gluten-free desserts from soft, chewy homemade cookies to towering layer cakes. Read on to learn how to make 18+ dessert recipes.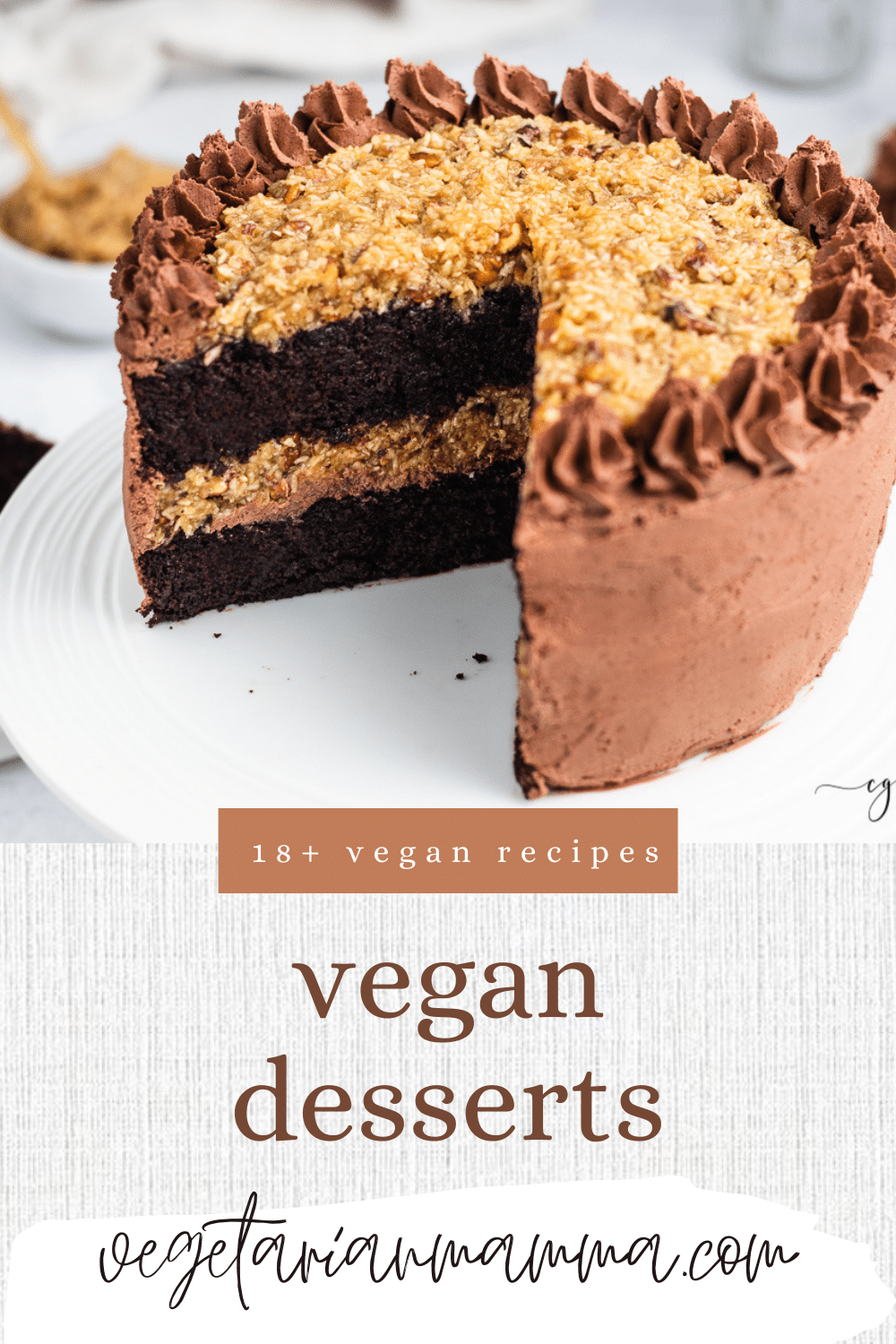 VEGAN DESSERT RECIPES
Until I started my vegan journey, I did not realize how few desserts are truly vegan! Once I started making my own vegan desserts, I was unstoppable. I started with cookies and have worked my way up to luscious cheesecakes, decadent chocolate cakes, and even creamy dairy-free puddings!
Dessert is a treat we enjoy in moderation here, but I try to keep all my vegan dessert recipes clean with all-natural ingredients. This makes me feel so much better about giving my the family sweet treats we both crave. Keep scrolling for some of the best ingredients in vegan desserts and some of my all-time fav recipes. You will not be disappointed!
INGREDIENTS FOR VEGAN DESSERTS
Flour: I make most of my desserts gluten-free when I can. This gluten-free all purpose flour mix makes it so easy!
Sugar: We all know most desserts are packed with sugar. That rings true here, too! I like to use caster sugar in my baking since it is finer and results in a lighter cake or cookie. However, granulated sugar is always good, too!
Also, I use brown sugar in all my cookie recipes. It has a deep richness I just love. Pro-tip: For the best brown sugar, make it yourself! For light brown sugar, mix 1 cup of granulated sugar with 1 tablespoon of molasses. For dark brown sugar, use 2 tablespoons for every cup of sugar! It is worth the effort, I promise.
Flax egg: Eggs give baked goods a lot of moisture and rise. Picking the perfect vegan egg replacement is key when making vegan desserts. I almost exclusively use a flax egg because it is easy, made from pantry staples, and always available! All you need is ground flaxseed and water.
Vanilla extract: If you love baked goods, you love vanilla extract. A little goes a long way here, but it's important for the best vegan desserts. Looking for a different flavor? Try almond extract!
Chocolate chips: It is no secret that not all dark chocolate is purely vegan. Be sure to check the packaging on all your baking chocolate before buying for extra dairy products added.
If you have any questions about how to make the best vegan desserts, please leave a comment below and I will get back to you ASAP!
FAVORITE VEGAN DESSERT RECIPES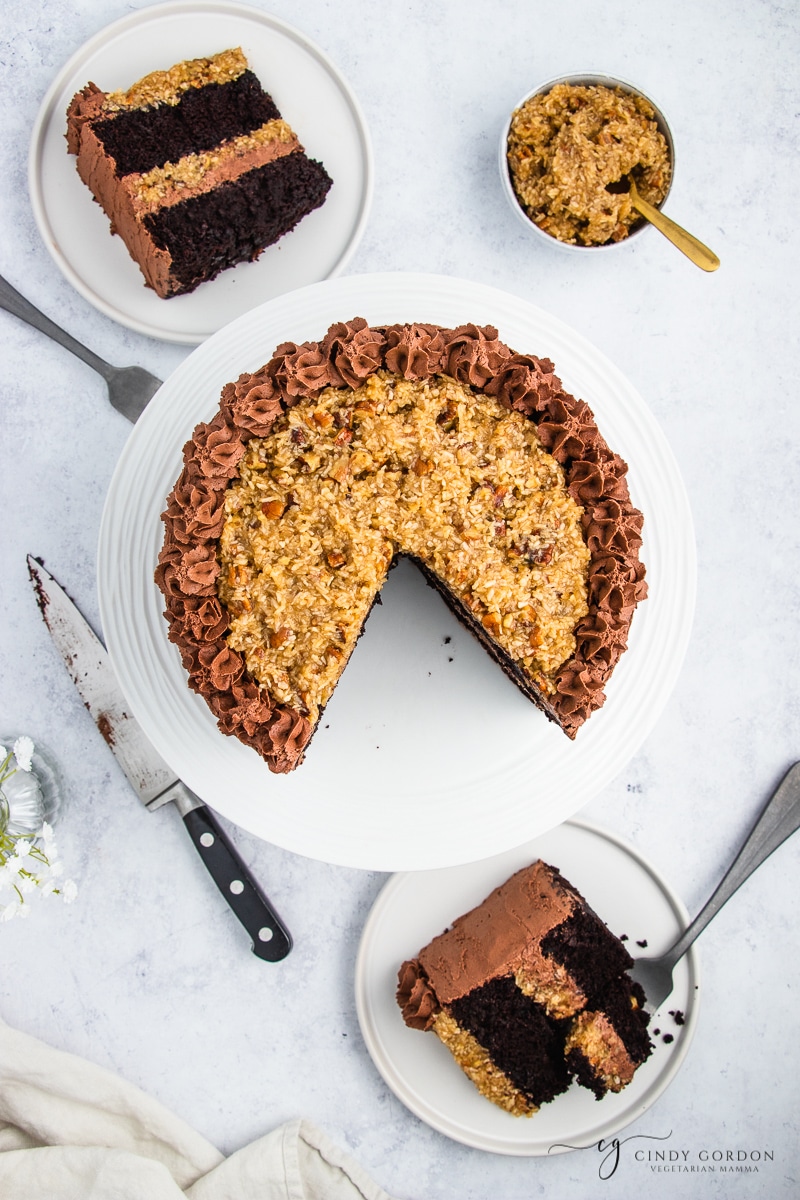 Make the best vegan German chocolate cake from scratch! This decadent chocolate cake is covered in a smooth pecan-coconut filling and vegan chocolate buttercream, too! I am here to teach you how to make this impressive chocolate cake from scratch for your next dinner party. It is one of my favorite desserts because it's so rich and flavorful.
Of all the vegan cookie recipes, this has to be my favorite. These sweet and spiced Vegan Snickerdoodle Cookies are so fluffy and soft, you'll never believe they're gluten-free, too! These simple homemade cookies are rolled in cinnamon sugar for a delicate but delicious dessert. There's no occasion where you can't serve them!
This simple yet delicious Vegan Apple Crisp is the perfect holiday dessert! The crunchy oat topping and sweet cooked apple filling goes great on every table. This gorgeous vegan dessert is similar in shape to apple pie but has no crust — just a rolled oat and pecan topping filled with cinnamon and sugar deliciousness.
The moment I see fall foliate, it is officially pumpkin season for me. These Vegan Pumpkin Chocolate Chip Cookies are decadent enough for dessert, but I've definitely enjoyed a few for breakfast with a dirty chai latte. With creamy pumpkin puree and the perfect fall spice blend, you will be munching on these delicious gluten-free chocolate chip cookies all pumpkin spice season.
EASY VEGAN DESSERT RECIPES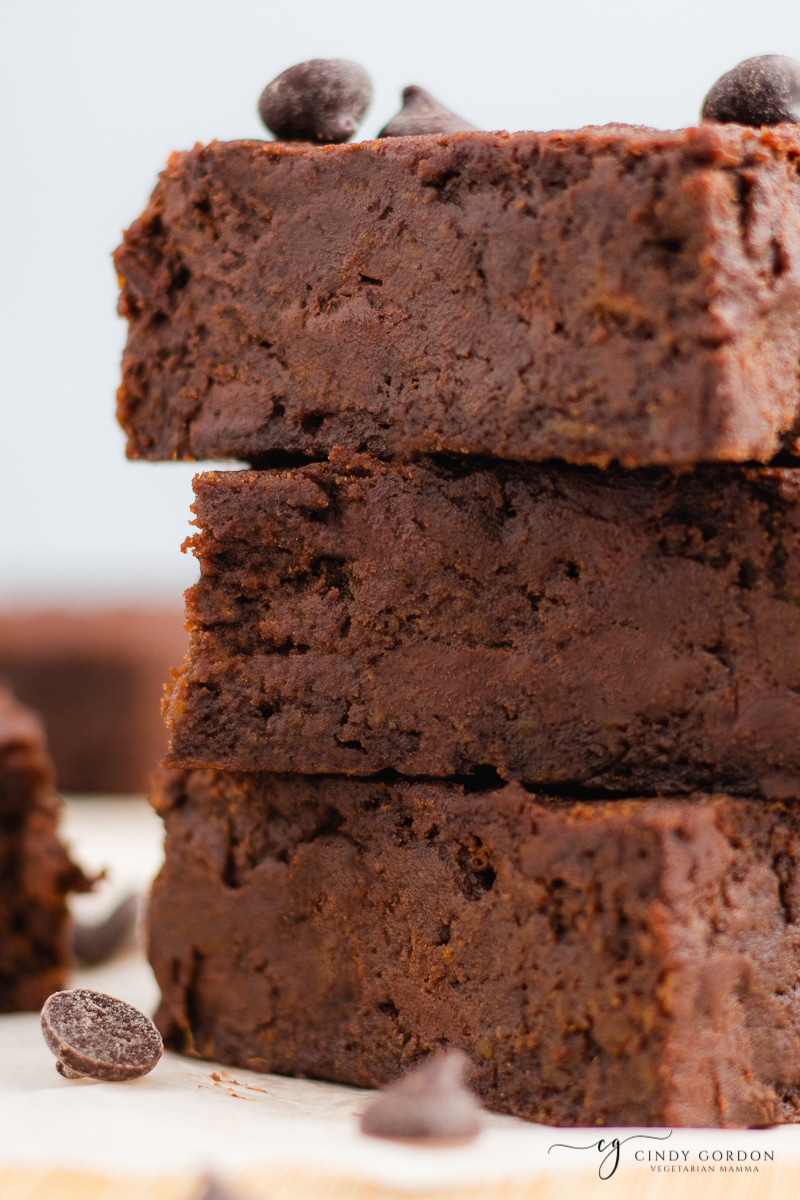 I love all things sweet potato, but in a dessert? Trust me, these Sweet Potato Brownies taste like fudgy chocolate and are melt-in-your-mouth decadent. Unlike the classic sweet potato pie, these taste nothing like potatoes! It adds a creamy richness to the batter and leaves behind a moist, chocolatey brownie. If you have only had dry, crumbly gluten-free brownies, this is the recipe for you.
There's two types of sugar cookies: the soft, fluffy sugar cookies, and the firm, crunchy ones. These Vegan Sugar Cookies are perfect for any season! They can be cut into any shape from pumpkins to Christmas tree cookies and decorated with royal icing, too. I love this vegan cookie recipe because it's so simple with just 8 ingredients.
Bliss Balls are so decadent you'll forget they're healthy, too! These creamy chocolate tahini balls are covered in sesame seeds for the best no-bake dessert, afternoon snack, or even breakfast on-the-go. The luscious chocolate and tahini truffle center is coated with nutty sesame seeds.
I love this vegan pumpkin cheesecake recipe because it's great for parties but it's easy, too! It is so luscious and creamy with a gorgeous color. Keep it gluten free with a crunchy graham cracker crust surrounding a super flavorful and creamy pumpkin filling.
Did you know Oreos are naturally vegan? Most crescent rolls are too, making this a great vegan option for a party! These Air Fried Oreos are the perfect quick and delicious dessert to whip up after dinner. With just three simple ingredients — Oreos, canned crescent rolls, and powdered sugar — anyone can help with this dessert recipe!
VEGAN GLUTEN FREE DESSERTS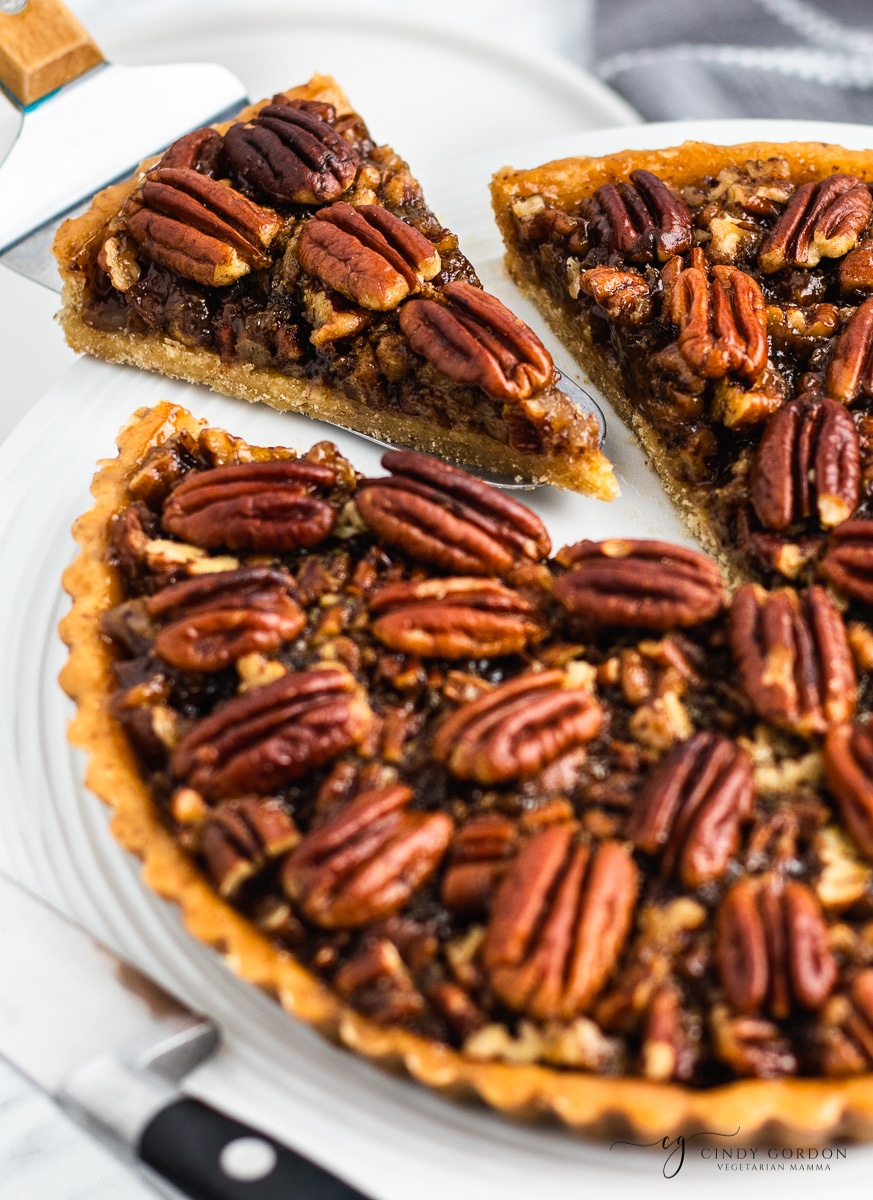 Once I nailed my gluten-free pie crust recipe, I started learning to make delicious vegan versions of every pie I love. I had to start with Vegan Pecan Pie, and this easy holiday recipe does not disappoint! It is made with a simple and oh-so-buttery crust and just a few all-natural ingredients in the ooey gooey pecan filling.
I used to go to Starbucks every morning in the fall for a slice of moist, warm pumpkin bread. Now, I make this vegan pumpkin bread instead! It's made with basic ingredients and is packed with delicious fall flavor, too! No one would ever guess this pumpkin bread is vegan — and gluten-free, too! It's so moist, fluffy, and perfectly sweetened with a little pumpkin pie spice blend to boot.
Cookies are my favorite dessert, but I don't like to wait. Enter Chickpea Cookie Dough! This totally edible raw cookie dough is made with basic vegan ingredients for a sweet treat packed with chocolate and sprinkles. This gluten-free raw cookie dough is made with coconut flour, coconut sugar, and of course chickpeas!
I love these gluten-free chocolate chip muffins because they are half breakfast, half dessert, all delicious. This is a great vegan meal prep breakfast or afternoon snack my kids actually love to eat. Looking for a fall version? Just add pumpkin!
This vegan banana pudding layers sweet from scratch pudding, freshly sliced bananas, crumbled vanilla cookies and vegan whipped cream. Minimal ingredients come together quickly to create a comforting vegan dessert.
BEST VEGAN DESSERT RECIPES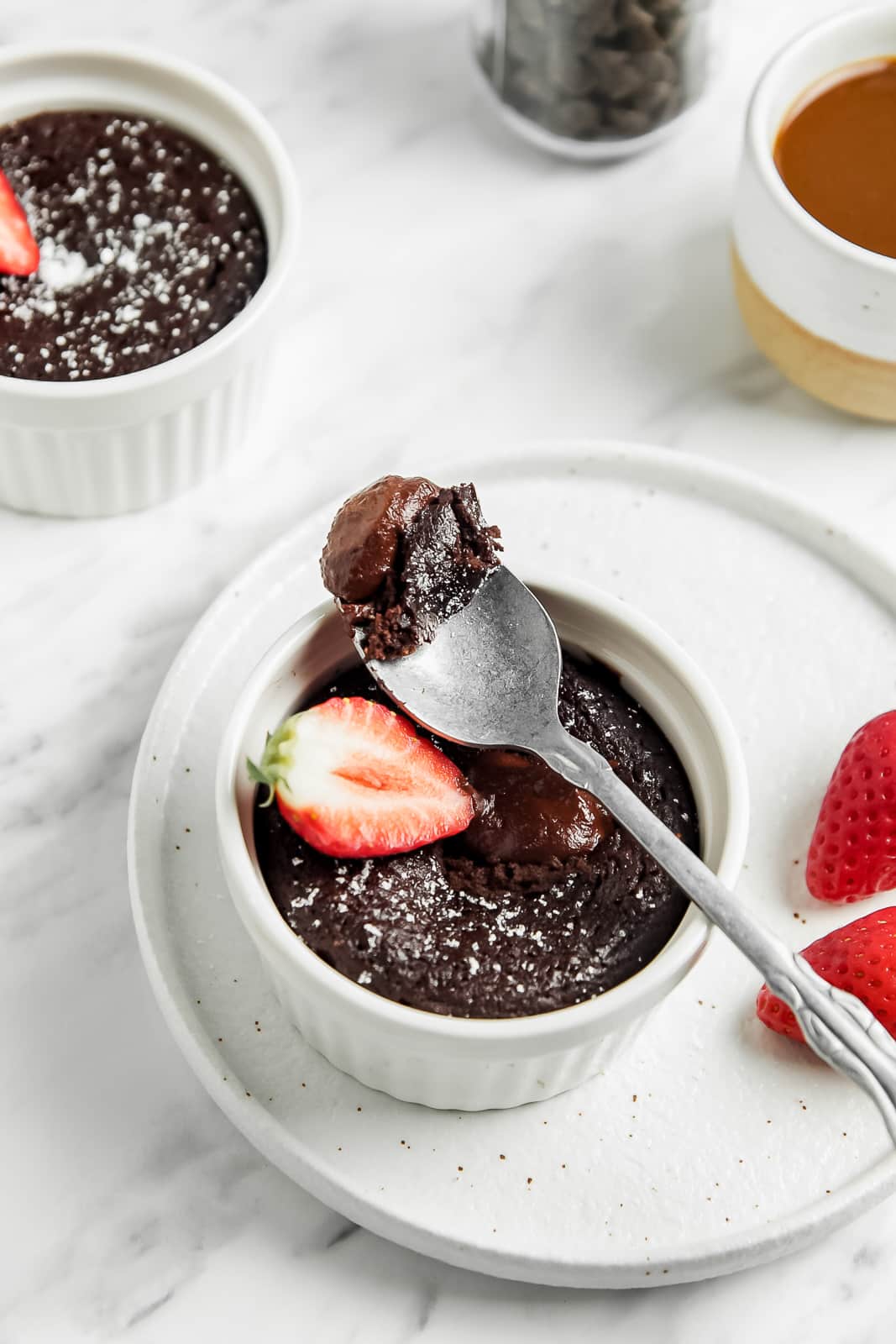 The best vegan desserts are quick, easy, and totally delicious. When that midnight chocolate craving strikes, make these vegan chocolate mug cakes! These decadent gluten-free chocolate cakes are so rich and chocolatey, you'll never believe it was made in the microwave. This single-serve dessert is made with almond flour and cornflour instead of all-purpose flour but it's still just as fluffy with a beautiful rise.
I love making Christmas cookies, and there's no more classic cookie than gingerbread cookies! Decorate angels, ornaments, stars, and gingerbread people with these perfectly chewy cookies and homemade vegan royal icing. No one will guess these cookies are vegan and gluten-free with the adorable frosted decorations. Try to save some for Santa!
Aquafaba Mousse is a vegan and egg-free alternative to traditional mousse. This chocolate aquafaba mousse uses dark chocolate and maple syrup to create a healthier, refined sugar free, vegan chocolate masterpiece. It only takes about 15 minutes to set into a decadent dessert.
Sometimes, only the classics will do. These Vegan Oatmeal Chocolate Chip Cookies are chewy, soft, and packed with chocolate! These are truly the best gluten-free cookies you'll ever make. They'll quickly become your go-to vegan dessert for every occasion.
MORE VEGAN RECIPES
I use tofu every week for lunch and dinner, but sometimes I run out of ideas. These easy tofu recipes will inspire creativity with your favorite plant-based protein!
Vegan Chili is an easy weeknight recipe that anyone can make. If you are looking for a meatless chili recipe, this list has some of my favorites!
I love my air fryer. It makes some of the best meals! If you have not tried it, start with some simple vegetable recipes. You will be amazed how crispy your asparagus and potatoes are in half the time!
Some of my favorite vegan dinner recipes are made in the air fryer! If you have not tried my Mexican sweet potatoes yet, you are in for a treat.
Did you know you can make desserts in the air fryer, too? Seriously! These air fryer cookie recipes are some of the easiest homemade cookies — all made with no baking sheet or oven in sight. You can use your favorite cookie dough in the air fryer to make the best vegan cookies.
HOW TO MAKE THE BEST VEGAN DESSERTS
When it comes to vegan desserts, crispy on the outside and fluffy on the inside is always the goal. That's where all the comfort comes from! Here's some tips and tricks to make the most yummy potatoes in the air fryer every time:
Read the directions first. Unlike cooking, baking can be very specific. If you miss a step or do things out of order, it can result in a flat cake or dense donuts. Always read the recipe completely before starting, even if you have made it before.
Do not over mix. Many recipes will say to mix the wet and dry ingredients together until just combined. This means until you stop seeing clearly defined wet and dry ingredients. Once the batter is all one color or texture, stop mixing!
Always cool completely. For the most beautiful slice of pie or best decorated sugar cookie, let everything cool to room temperature first. A hot pie will still be very runny until cool, and warm cookies and cakes will quickly melt any frosting or sprinkles. For the best results, give it time!
Make it ahead of time. Most vegan desserts can be made the day before the party and reheated if needed. This saves tons of pre-dinner stress and gets the dishes out of the way early.
WHAT TO SERVE WITH VEGAN DESSERTS
Skip the Starbucks line and make your own vegan pumpkin spiced latte at home! You only need 6 basic ingredients to make this latte recipe — and no fancy equipment required!
What is better than milk and cookies? Homemade Strawberry Almond Milk is so creamy and easy with just 4 ingredients! Make this all-natural vegan strawberry milk in just 10 minutes that kids and adults alike love.
Vegan Desserts : Featuring Vegan German Chocolate Cake
best vegan desserts with these decadent, easy recipes! This list has tons vegan and gluten-free desserts from soft, chewy homemade cookies to towering layer cakes. Read on to learn how to make 18+ dessert recipes.
Equipment
Two 8" cake pans

Three mixing bowls

Wire cooling rack

Large saucepan
Ingredients
Chocolate Cake Ingredients
Coconut Pecan Filling Ingredients
Chocolate Buttercream Frosting Ingredients
Instructions
To Make Chocolate Cakes
Preheat the oven to 350 degrees F (180 degrees C). Grease and line two 8" round cake pans.

Whisk together the gluten free flour, xanthan gum, baking powder, baking soda, salt, and cocoa powder in a mixing bowl.

In another large bowl, whisk together the sugar and oil. Then, add the flax egg, oil, non-dairy milk, water, vanilla extract, and apple cider vinegar, and whisk to combine.

Sieve the flour mixture into the bowl with the wet ingredients and whisk everything together until just combined.

Transfer the cake mixture to the prepared pans, dividing it evenly between the two.

Bake for 35 to 45 minutes, or until a skewer poked into the center of each cake comes out clean.

Leave the cakes in the pans for about 10 minutes before transferring them to a wire rack to cool completely.
To Make Coconut Pecan Filling
Heat the butter, sugar, coconut milk, and cornstarch in a large saucepan over medium heat. Stir frequently while everything begins to melt together.

Simmer for 5 minutes until thickened.

Remove the pan from the heat, and stir in the vanilla extract. Then, add the pecans and coconut. Stir well to combine. Let the mixture cool a little before putting on the cake.
To Make Vegan Chocolate Buttercream Frosting
In a large mixing bowl, beat the butter with an electric whisk until smooth.

Gradually sieve in powdered sugar and cocoa powder a little at a time, whisking well after each addition until smooth.
To Assemble Vegan German Chocolate Cake
Place one cake layer on a large plate or cake stand, and spread chocolate frosting on top in an even layer.

Spoon about half of the coconut pecan mixture on top and spread it out evenly.

Place the second cake layer on top, and spread chocolate frosting all around the sides.

Spoon the other half of the coconut pecan mixture on top of the cake, spreading it out but leaving a gap of about an inch and a half wide around the edge.

Pipe swirls of chocolate frosting around the edge to fill the gap.
Nutrition
Calories:
862
kcal
|
Carbohydrates:
86
g
|
Protein:
7
g
|
Fat:
59
g
|
Saturated Fat:
17
g
|
Polyunsaturated Fat:
14
g
|
Monounsaturated Fat:
25
g
|
Trans Fat:
1
g
|
Sodium:
735
mg
|
Potassium:
349
mg
|
Fiber:
7
g
|
Sugar:
62
g
|
Vitamin A:
1300
IU
|
Vitamin C:
3
mg
|
Calcium:
94
mg
|
Iron:
3
mg
All though this website attempts to provide accurate nutritional information, the information should only be considered an estimate. Varying factors such as different product types, different brands, etc. can change nutritional information. It is your responsibility as a consumer to read all labels to make sure the ingredients fit your dietary needs as well as calculate your own nutritional information as a double check.