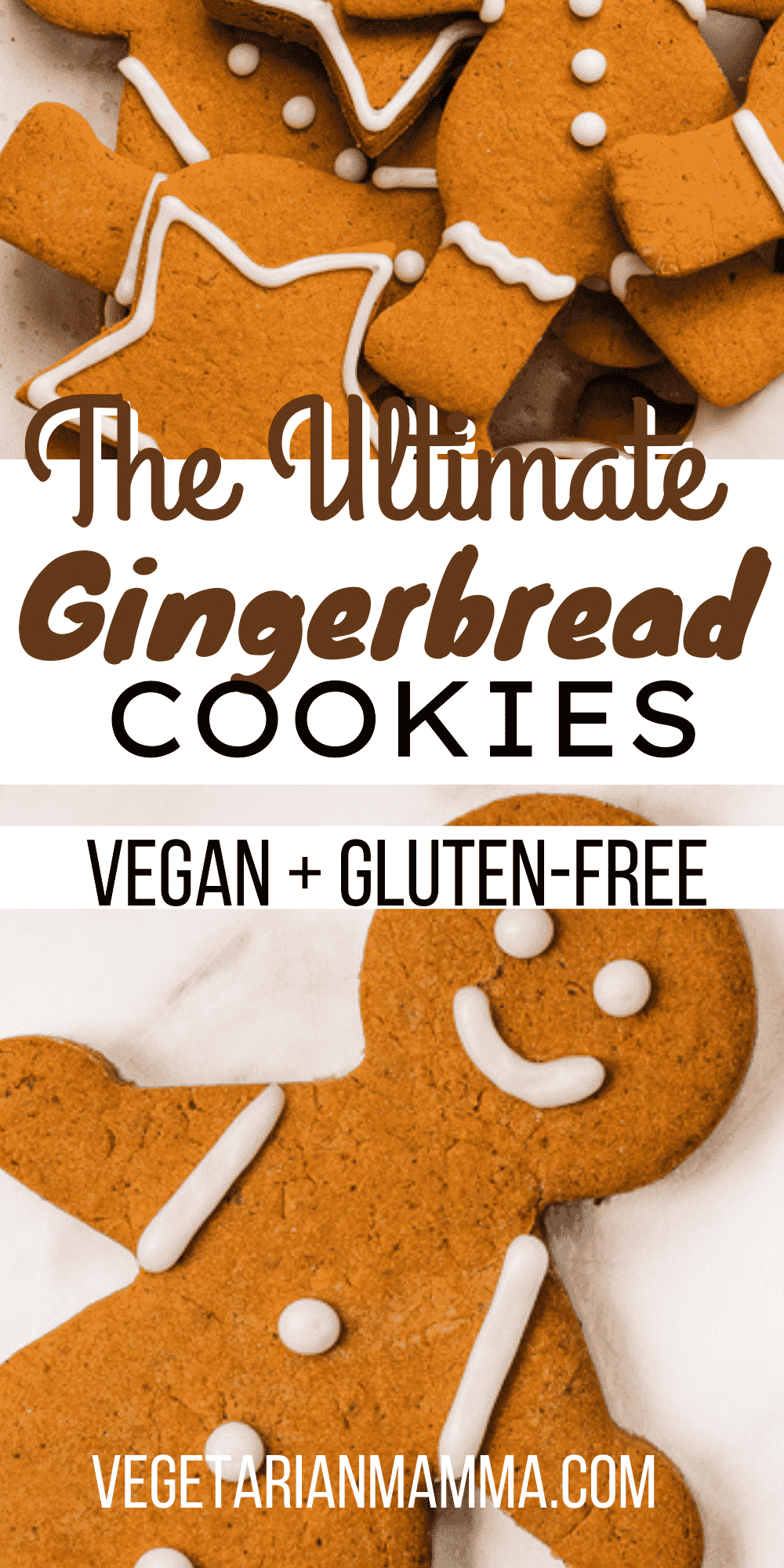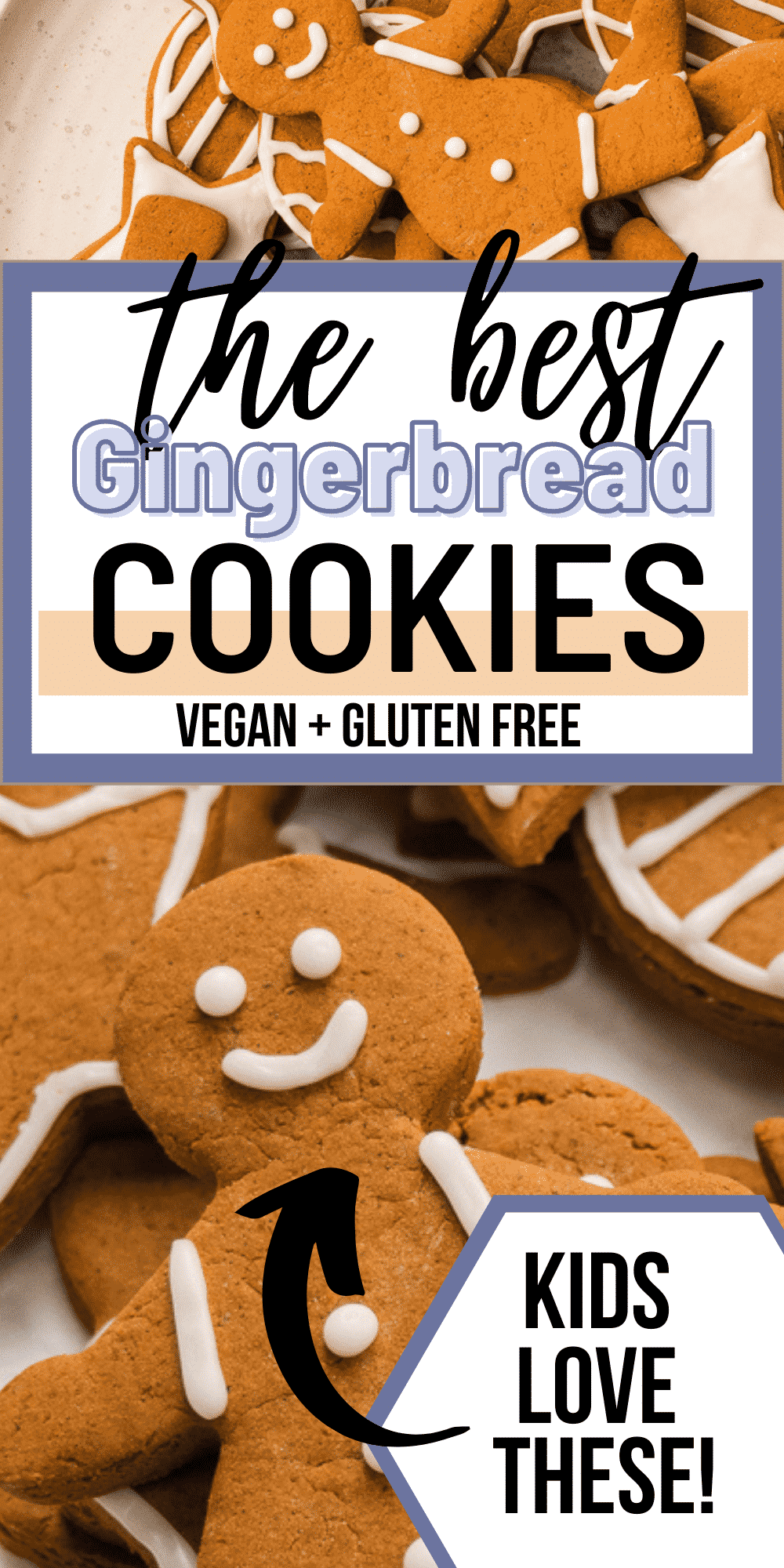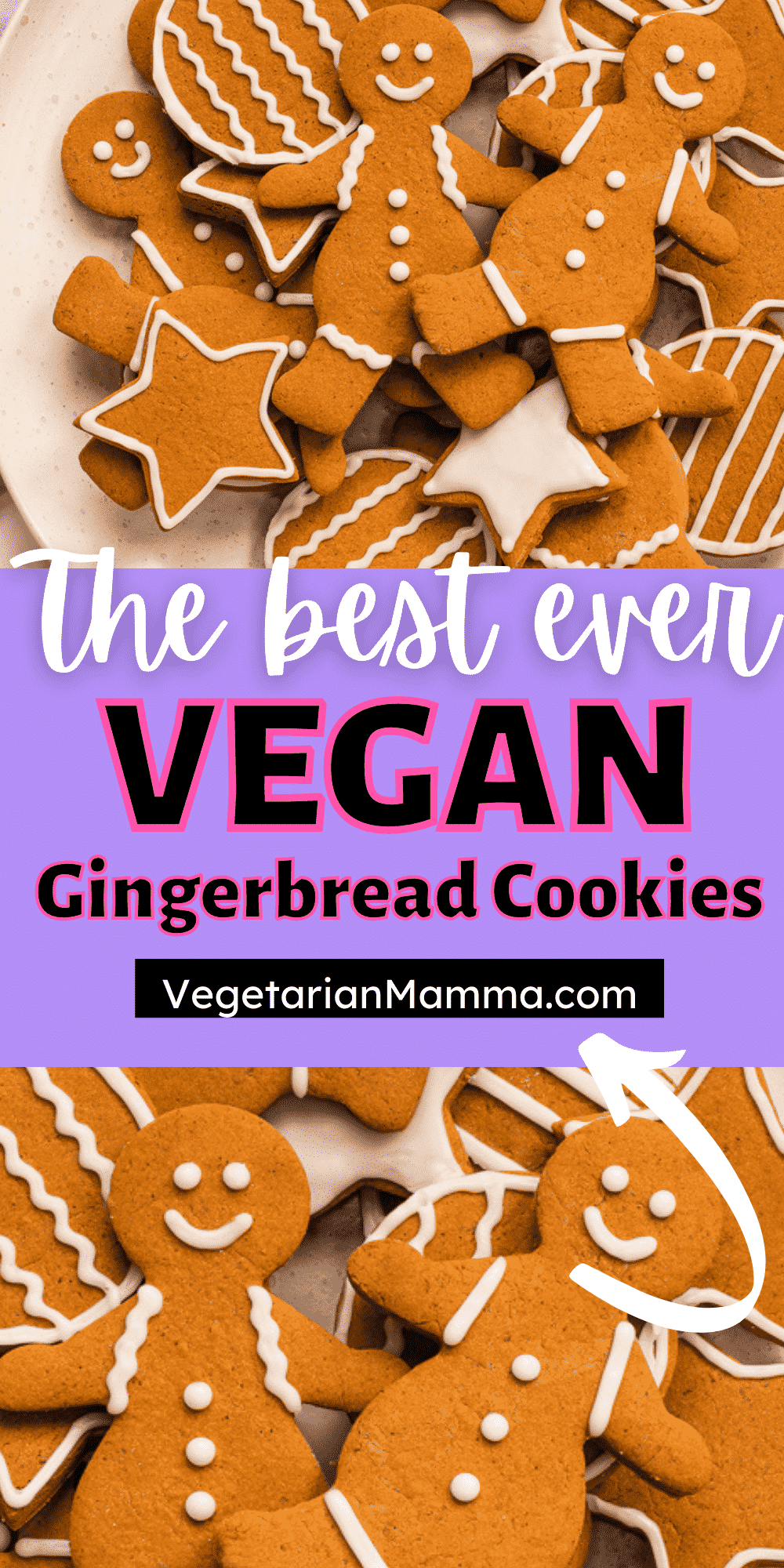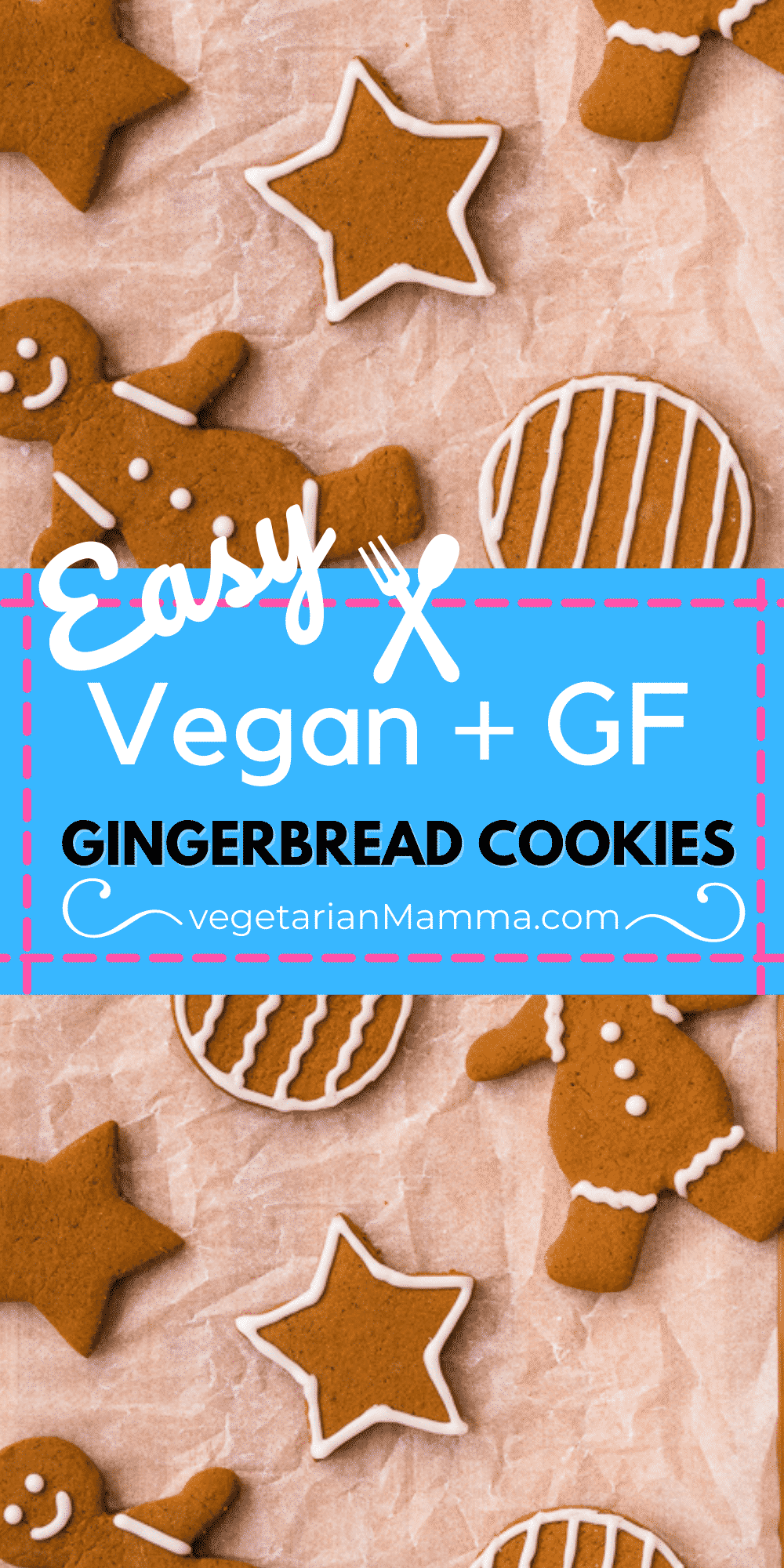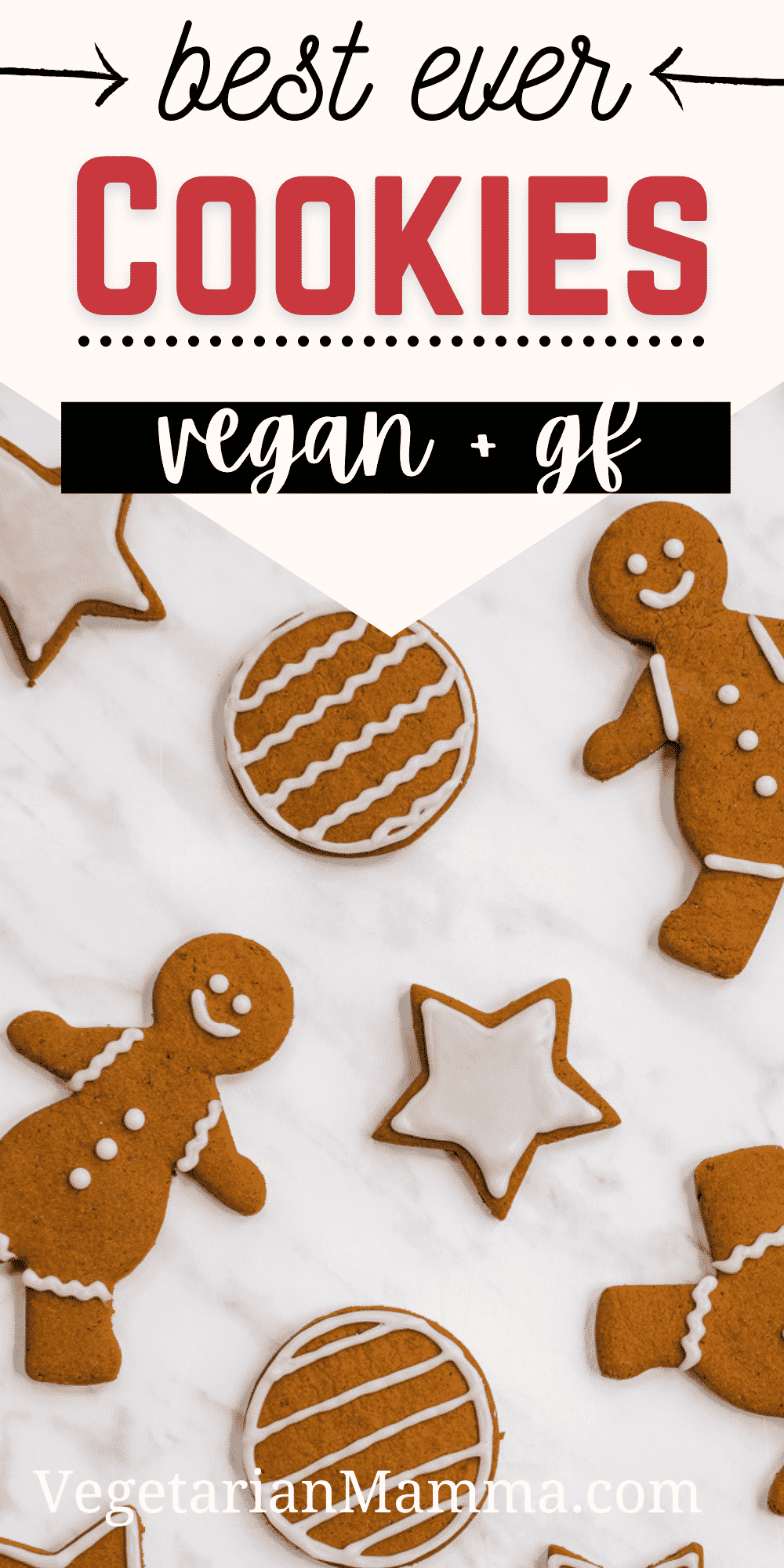 Vegan Gingerbread Cookies are the ultimate Christmas cookies!
Decorate them with sweet homemade vegan icing for the best holiday treat you can make together in just a few hours.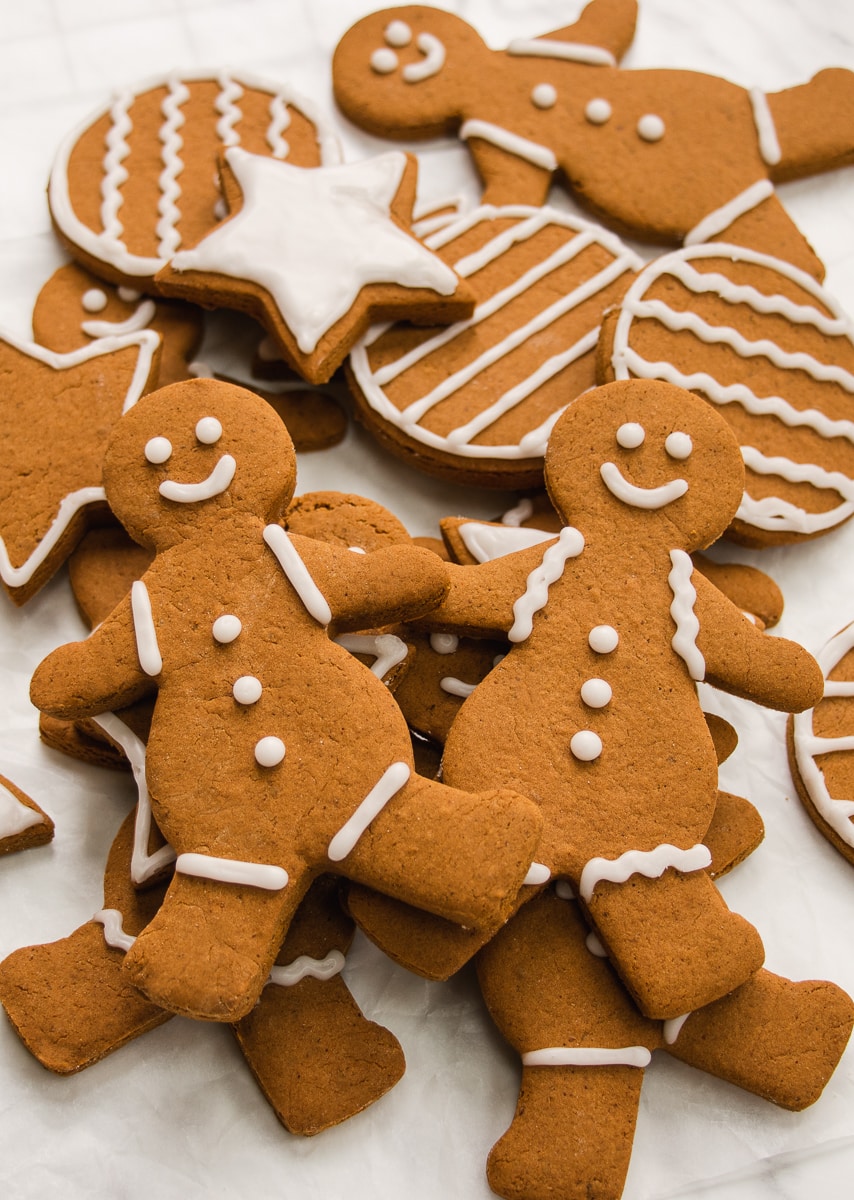 VEGAN GINGERBREAD COOKIE RECIPE
I love making Christmas cookies, and there's no more classic cookie than gingerbread cookies! Decorate angels, ornaments, stars, and gingerbread people with these perfectly chewy cookies and homemade vegan royal icing.
It's always a toss-up between these and my lemon cranberry cookies for best holiday dessert. And did I mention they're gluten-free, too? No one will guess these cookies are vegan and gluten-free with the adorable frosted decorations. Try to save some for Santa!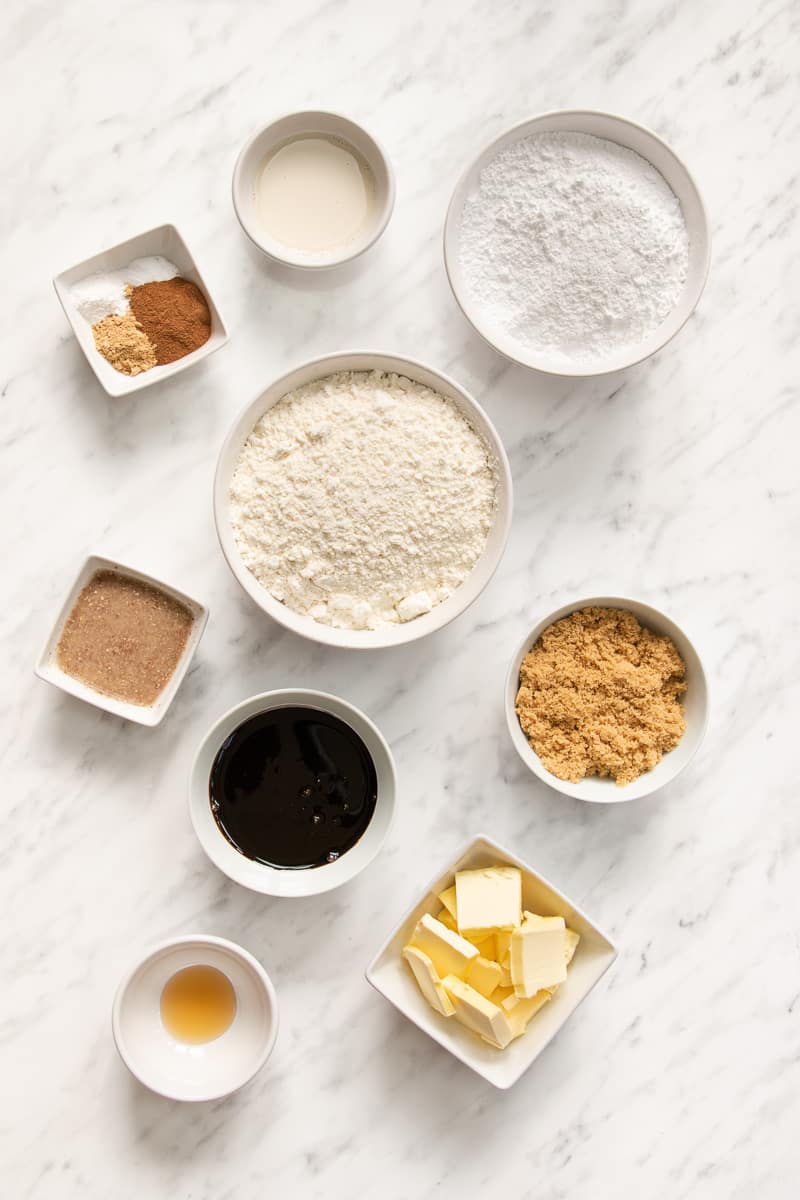 INGREDIENTS IN VEGAN GINGERBREAD COOKIES
Vegan butter: Make sure your melted vegan butter is cool to the touch. If it's too warm, the dough will be runny.
Molasses: You know that warm, sweet, slightly smokey flavor of gingerbread cookies? It comes from molasses! It's also the thing that makes brown sugar brown.
Light brown sugar: There's an extra richness with brown sugar. It's just so good in cookies!
Flax egg: Keep it ovo-free with this 2-ingredient flax egg. It's so easy!
Vanilla extract: Baked goods always need a little vanilla extract. It's where all the flavor comes from!
All-purpose gluten-free flour: I'm always making gluten-free cookies when I can. Luckily Bob's Red Mill gluten-free flour makes it so easy, and most people can't tell!
Xanthan gum: This helps give your gluten-free dough that elasticity missing in gluten-free flour. Just a little is all you need.
Baking soda: If you want a little rise in your cookies, you'll need some baking soda. It's not just for cleaning!
Ground ginger: There would be no gingerbread cookies without the ground ginger! This popular Asian seasoning is the main spice in these cookies.
Ground cinnamon: Everything is better with cinnamon, trust me. I think it adds so much depth to the recipe.
Powdered sugar: You only need 2 ingredients to make this easy homemade icing, and this is one of them! If it gets too thin, add a little more sugar.
Almond milk: You just need a little almond milk to make the icing perfectly runny.
If you have any questions about this vegan gingerbread cookies recipe, please leave a comment below and I will get back to you ASAP!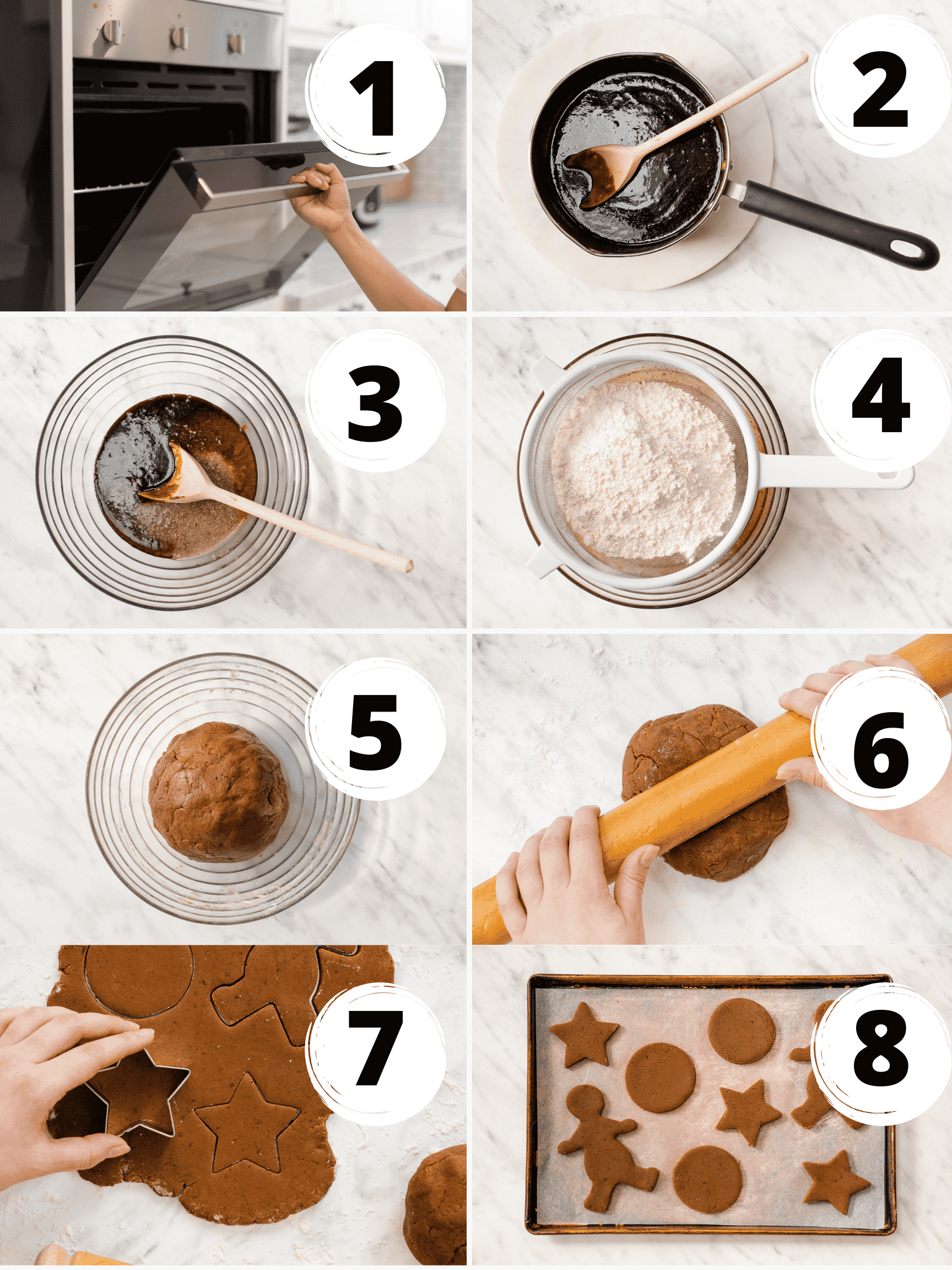 HOW TO MAKE VEGAN GINGERBREAD COOKIES FROM SCRATCH
First, preheat your oven and prep a couple baking sheets with parchment paper. No stuck gingerbread people here!
Then, melt the vegan butter with the brown sugar and molasses in a small sauce pan over low heat. Keep stirring!
Once the butter is melted, add it to a large mixing bowl with a flax egg and vanilla extract. Beat it together with a wooden spoon until well combined.
Next, sieve the gluten-free flour into the wet ingredients and add the cinnamon, ground ginger, baking soda, and xanthan gum. Mix it together with a spoon, then use your hands to form the dough.
Before rolling out the cookie dough, chill it in the fridge.
Then, split your large dough ball in half, and roll one half flat with a rolling pin. In a pinch, use a wine bottle!
Now, cut your shapes! I recommend dipping your cookie cutters in a little flour and shaking the excess to keep your shapes from sticking.
Finally, bake until they're the perfect texture for you. I start checking around 8 minutes. Let cookies cool completely on a wire rack before decorating!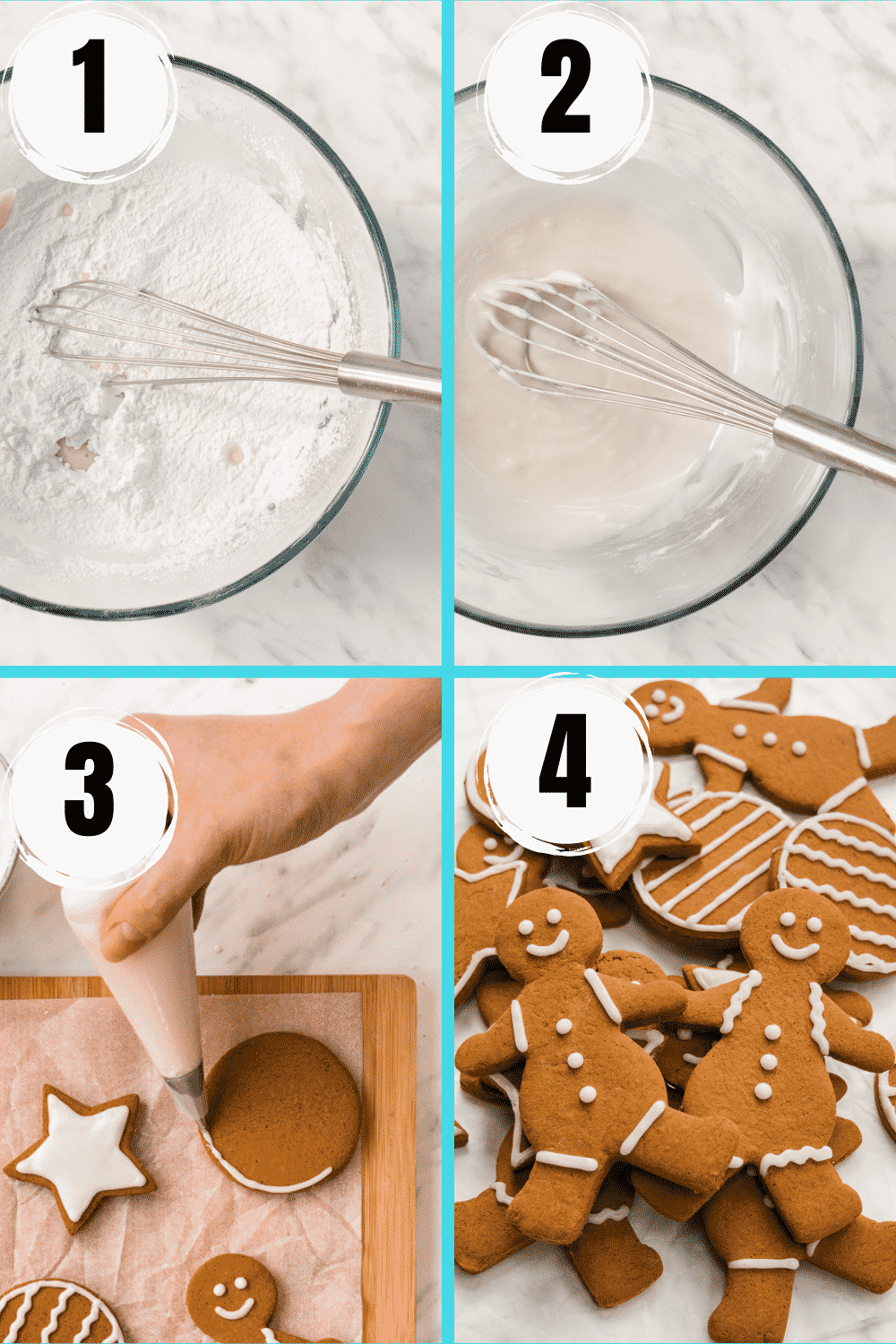 HOW TO DECORATE GINGERBREAD COOKIES
To make the vegan royal icing, sift the powdered sugar into a mixing bowl.
Then, add the almond milk and whisk until it's super smooth.
For the best gingerbread cookie decorations, use a piping bag! The smaller the nozzle, the thinner your lines will be.
The fun part: Decorate your cookies however you want! I like to outline some, flood others, and of course make smiley faces on the gingerbread people. There's no wrong way to do it.
These numbered steps match the numbered photos above and are for illustration purposes. For the complete list of ingredients and instructions, please see the recipe below.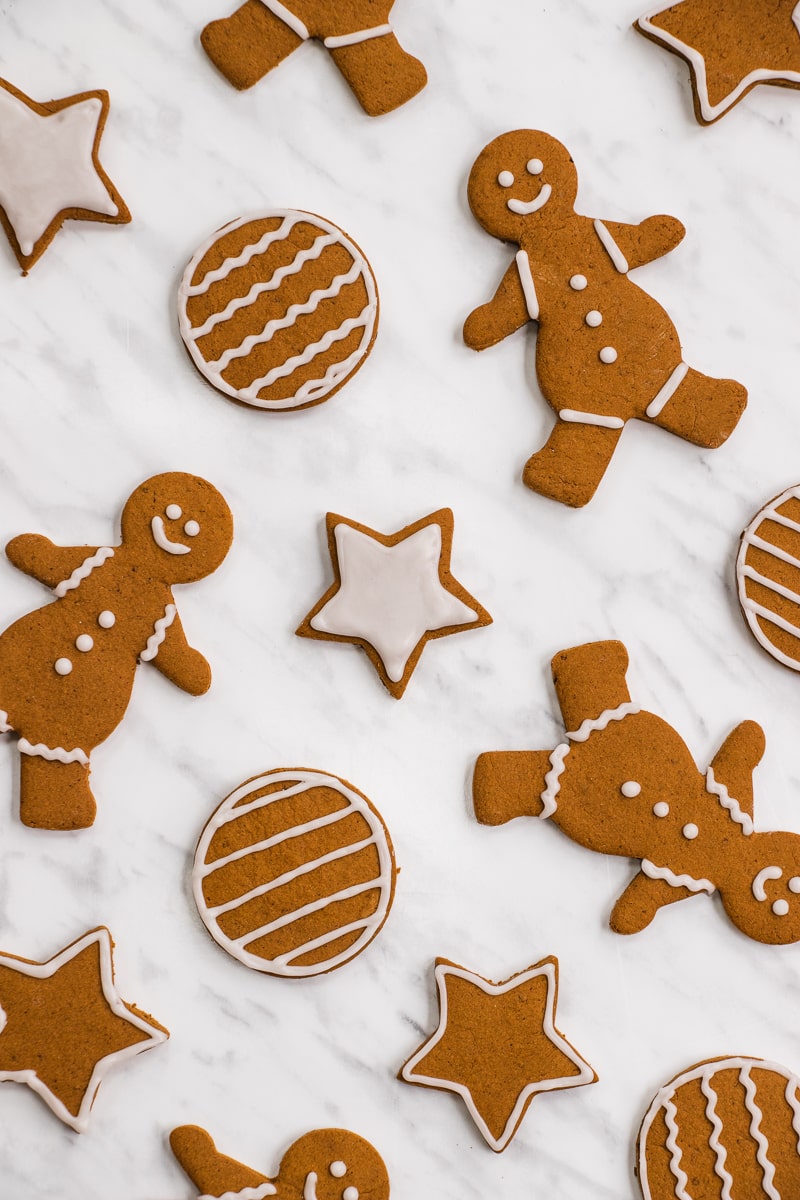 WHAT TO SERVE WITH VEGAN GINGERBREAD COOKIES
Impress this year with your holiday dessert spread! This super simple apple crisp recipe has all the fall flavors but none of the heavy dairy.
It's not a holiday dinner without green bean casserole. Make this vegan recipe in the air fryer and save some oven space this year.
When you need a warm but light meal around Christmas, try this Instant Pot ramen! It's super versatile and filling with a delicious broth base.
This vegan sweet potato casserole is like dessert for dinner! The fluffy sweet potato filling and crunchy pecan topping will be the star of the show!
If Santa gets to eat cookies all day, so do I. I love dipping these gingerbread cookies in this oat milk latte with maple syrup and a little cinnamon. Yum!
Making a holiday dinner for a mixed crowd of vegans and non-vegans? You can make a Ham in the Air Fryer to keep things simple.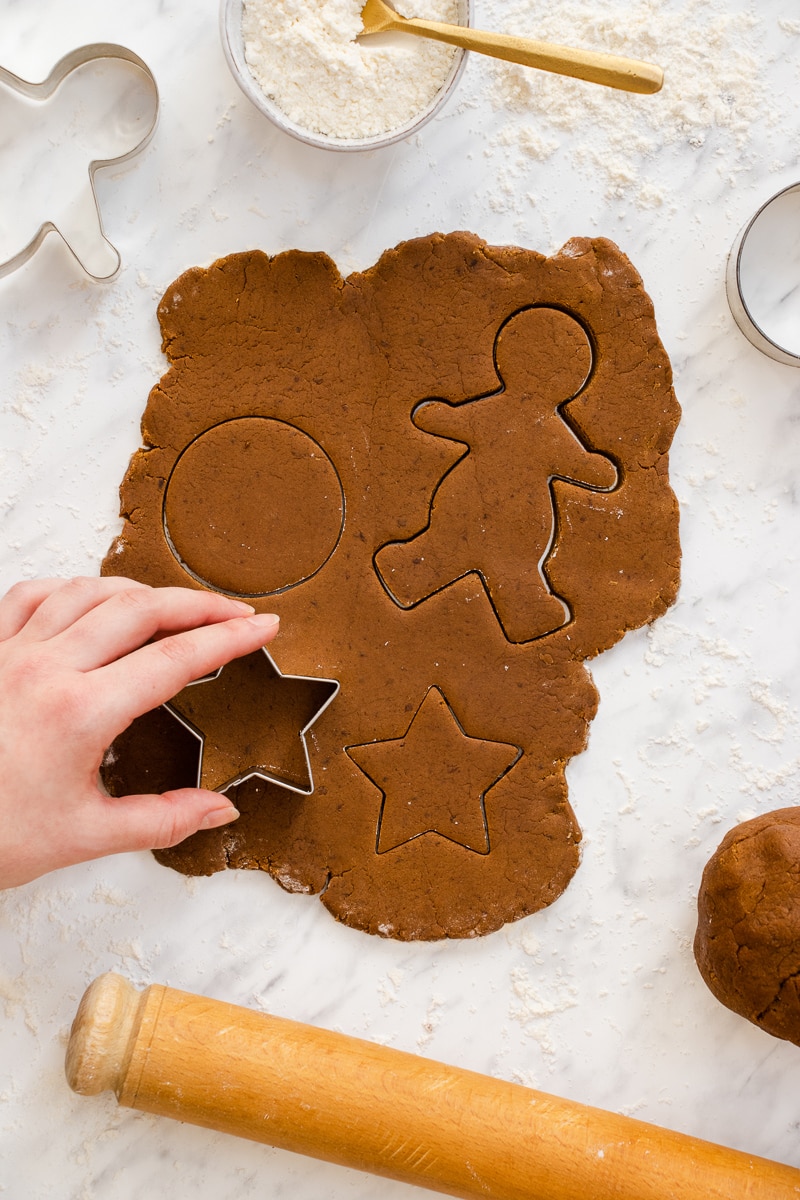 SHOULD GINGERBREAD COOKIES BE HARD OR SOFT?
There's a fine line between too soft and too hard when it comes to gingerbread cookies. You want them to be firm for decorating, but you don't want them to be break-your-teeth hard!
The final texture of your cookies comes down to 2 crucial points: the raw dough, and the baking process. A wet dough won't roll out properly, but a dry dough crumbles on contact.
If you over- or under-bake your cookies, they'll fall apart or be rock hard. I've used this recipe for a few years now, and they've always been perfect!
HOW TO STORE GINGERBREAD COOKIES
Like most cookies, you want to store gingerbread cookies in an airtight container at room temperature. Some people swear by refrigerating them, but I think they dry out faster in the fridge.
Make too many? Freeze them! There's no better way to have Christmas in July than with the delicious gingerbread cookies from Christmas past. Just thaw and enjoy!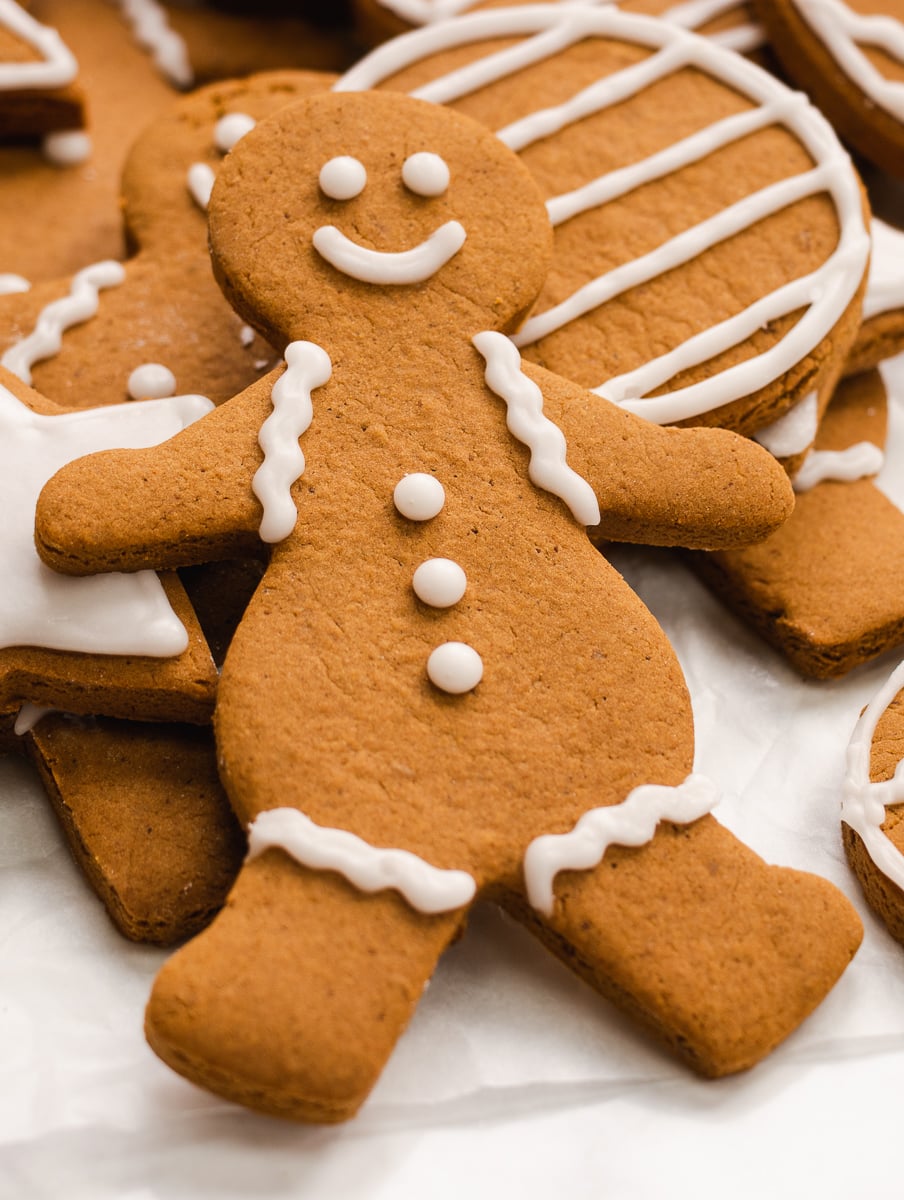 MORE AMAZING COOKIE RECIPES
My favorite vegan cookies are one of the following: Vegan Oatmeal Raisin Cookies, Vegan Lemon Cookies, or Vegan Peanut Butter Oatmeal Cookies.
It's so hard to choose!
Did you know you can make peanut butter cookies in the air fryer? It's true! You'll never bake the same again.
Take your midnight snack up a notch with these Air Fried Oreos! They're so easy and totally vegan with crescent rolls and the classic sandwich cookie.
These chocolate tahini bliss balls are cookie-adjacent, so I'm counting it. You'll love these truffle balls with a salty and sweet kick.
Not all cookies have to be baked! Try these super easy no-bake cornflake cookies with creamy peanut butter you can decorate for any holiday!
Be sure to check out all of our amazing vegan baking recipes!
Best Gluten Free Flour for Cookies
There are so many choices when it comes to gluten-free flours. We typically use a gluten-free all-purpose flour. We have found that Bob's Red Mill (blue bag) Gluten Free Cup for Cup works well with our recipes. It is important to get the BLUE bag and not the red bag.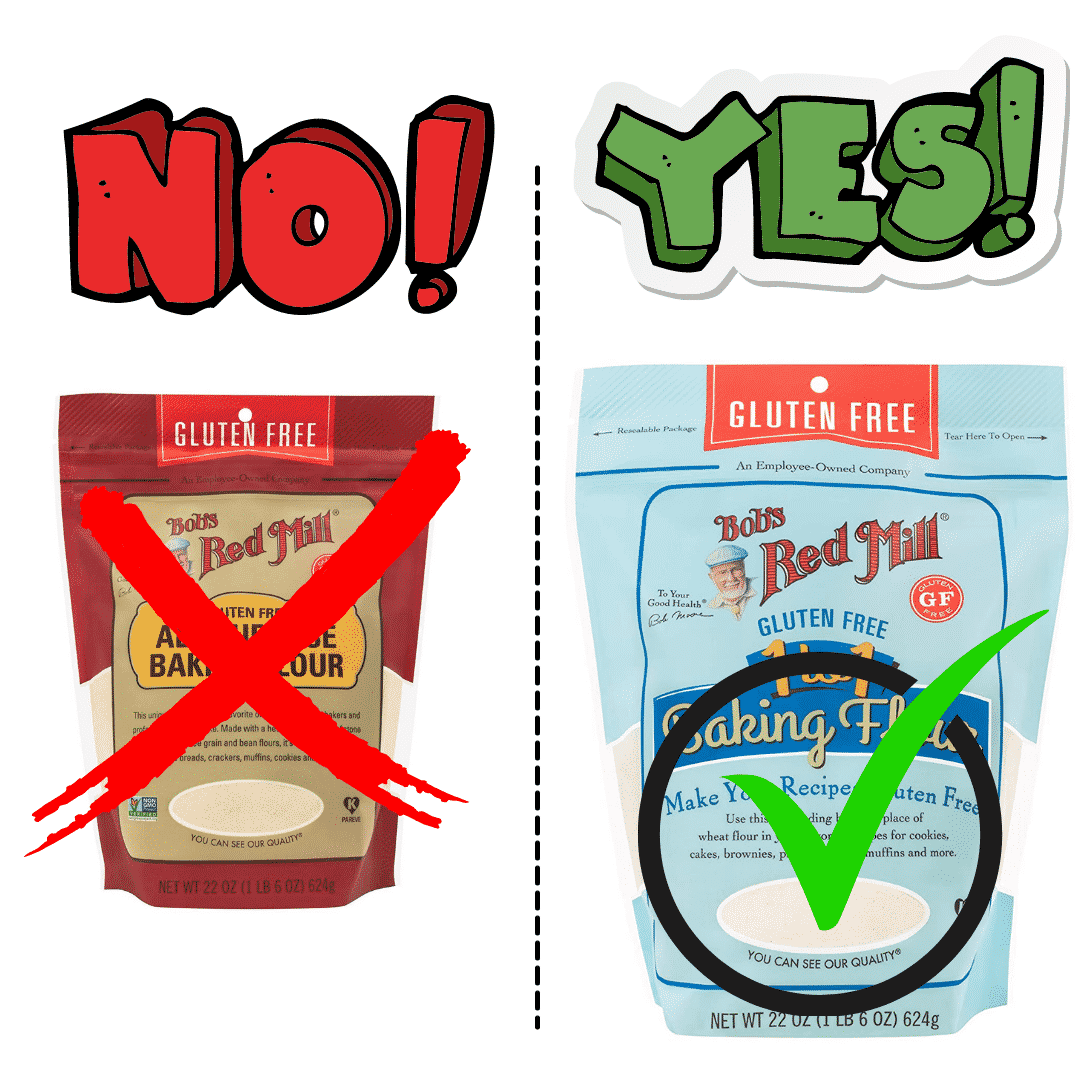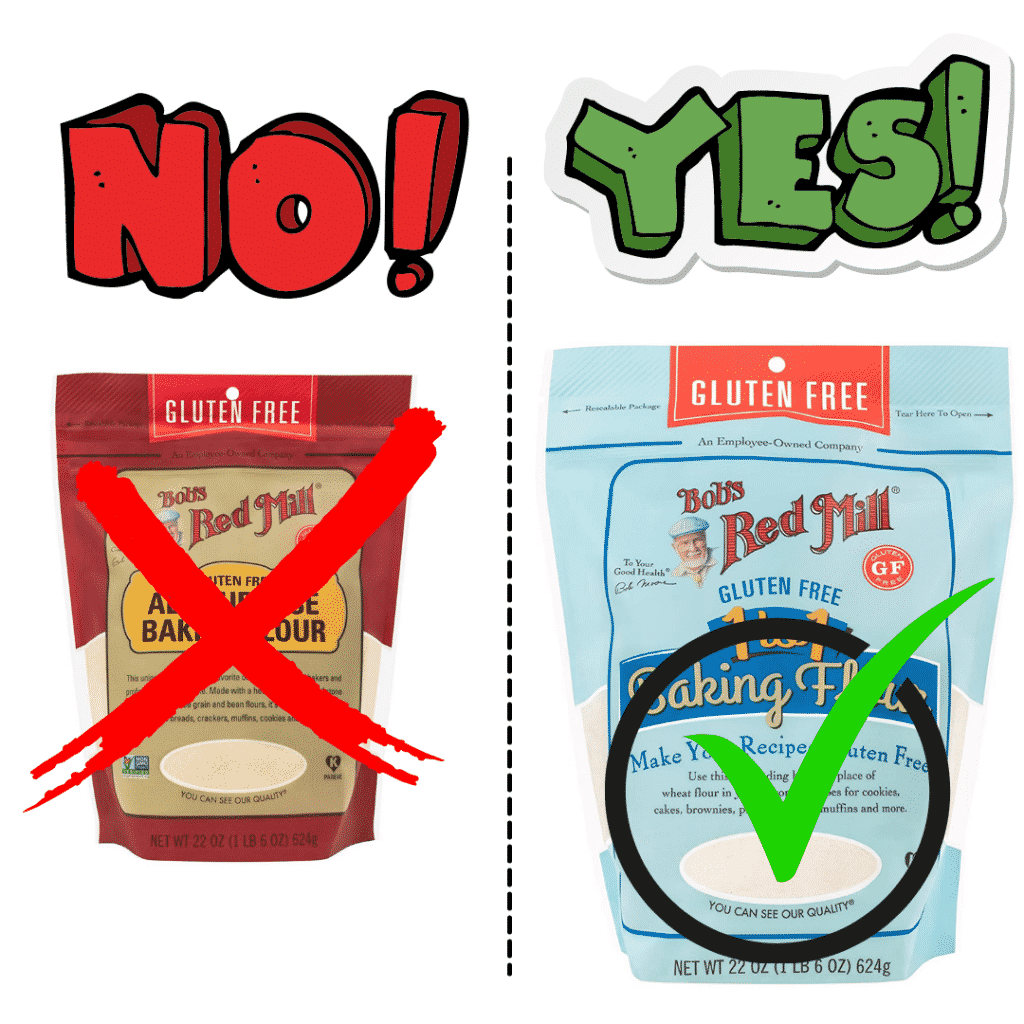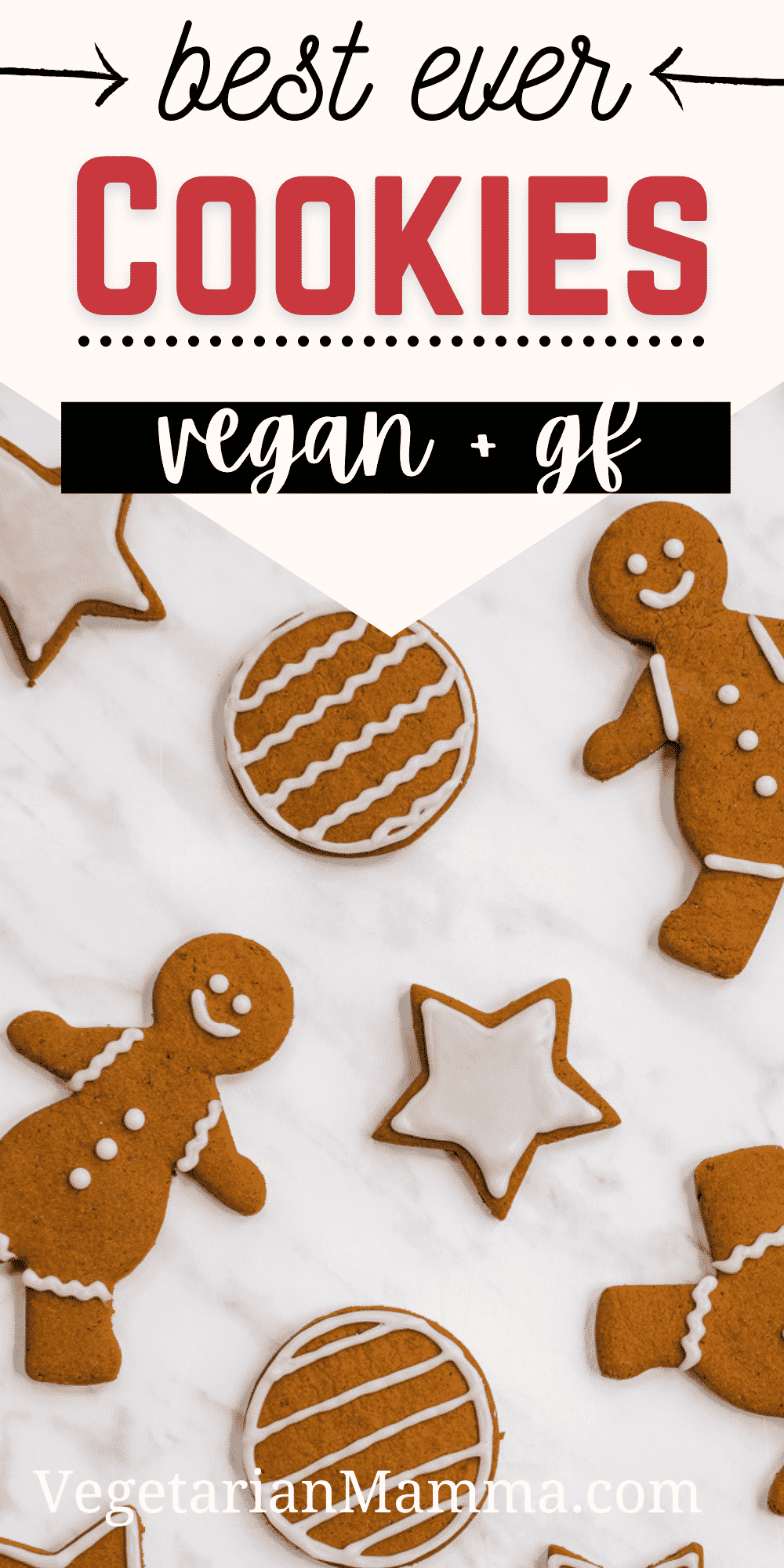 Have you made this recipe? Please leave a comment AND rating below! It helps other readers!
Be sure to tag @VegetarianMamma on instagram, if you share a picture on the gram! Let's get social, you can follow me on Youtube, Instagram, Facebook, Pinterest or join one of our Facebook Groups: Tasty Vegetarian Recipes and Vegetarian Air Fryer Recipes.
Don't forget to subscribe to our EMAIL newsletter.
Vegan Gingerbread Cookies
These gluten-free gingerbread people are the perfect Christmas cookies! Decorate them all with this homemade vegan royal icing for the sweetest spiced treat this holiday season.
Equipment
Baking sheets

Saucepan

2 large mixing bowls

Wooden spoon

Rolling Pin

Cookie cutters

Cooling rack

Piping bag
Ingredients
Gingerbread Cookies Ingredients
Instructions
Preheat the oven to 350 degrees F (180 degrees C). Line 2 baking sheets with parchment paper.

In a medium saucepan, melt the vegan butter, sugar, and molasses over a low heat. Stir frequently.

Once melted, transfer to a large mixing bowl. Add the flax egg and vanilla extract. Beat with a wooden spoon until well combined.

Sieve in the gluten-free flour, and add cinnamon, ground ginger, baking soda, and xanthan gum. Mix together first with a wooden spoon, then by hand to form a dough.

Shake the dough into a ball. Chill in the fridge for 30 minutes.

Split the dough in half, and roll one section with a rolling pin. Cut out shapes using cookie cutters and transfer them to the lined baking sheets.

Bake for 8 to 10 minutes — 8 minutes will result in a softer cookie, and 10 minutes will make them more crisp. Let cookies cool completely on a wire rack before decorating them.

To make the vegan royal icing, sieve the powdered sugar into a large mixing bowl. Add the almond milk and whisk until smooth. Transfer icing to a piping bag with a small tip and decorate as desired.
Nutrition
Calories:
164
kcal
|
Carbohydrates:
31
g
|
Protein:
2
g
|
Fat:
4
g
|
Saturated Fat:
1
g
|
Trans Fat:
1
g
|
Sodium:
89
mg
|
Potassium:
64
mg
|
Fiber:
2
g
|
Sugar:
20
g
|
Vitamin A:
223
IU
|
Vitamin C:
1
mg
|
Calcium:
27
mg
|
Iron:
1
mg
All though this website attempts to provide accurate nutritional information, the information should only be considered an estimate. Varying factors such as different product types, different brands, etc. can change nutritional information. It is your responsibility as a consumer to read all labels to make sure the ingredients fit your dietary needs as well as calculate your own nutritional information as a double check.