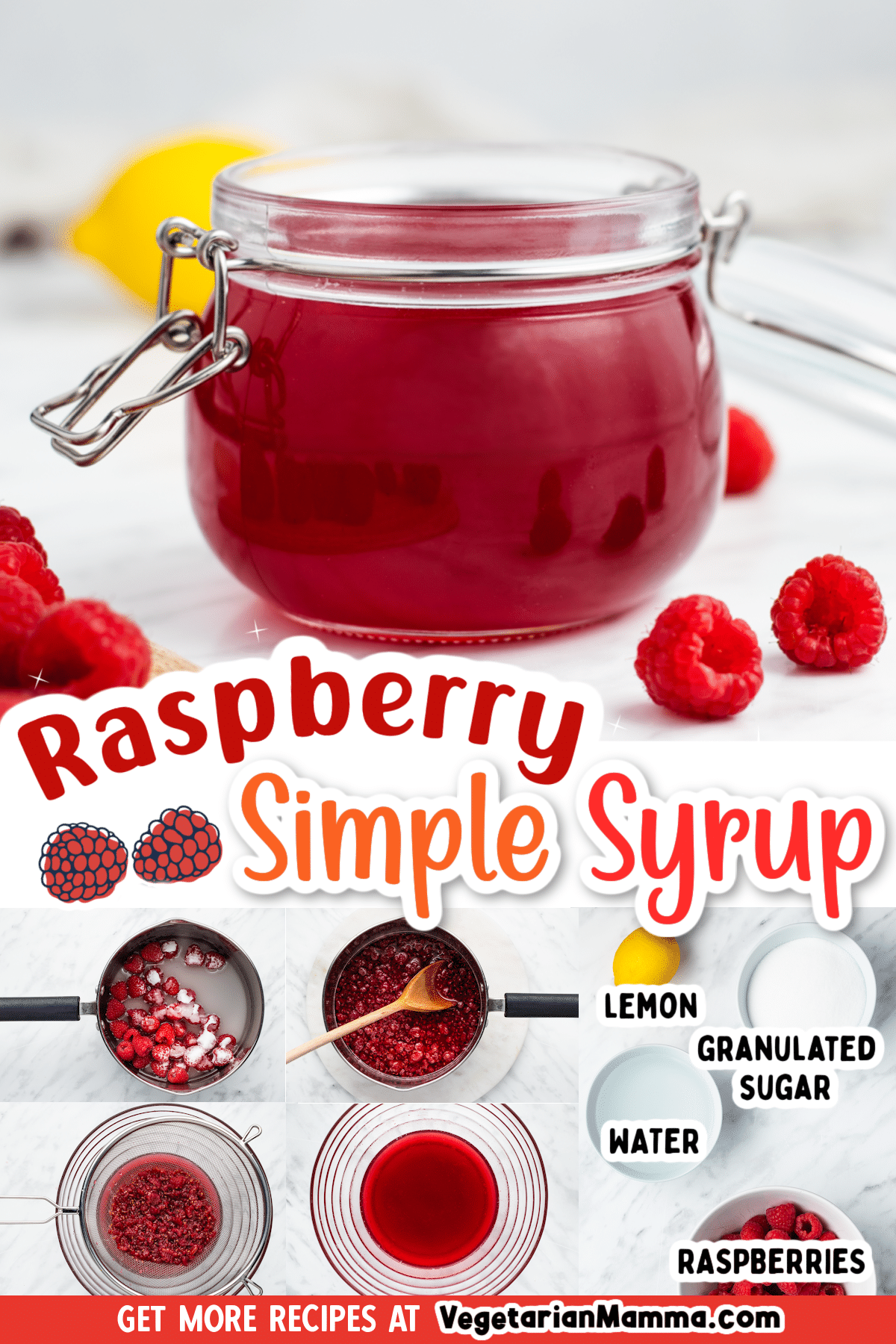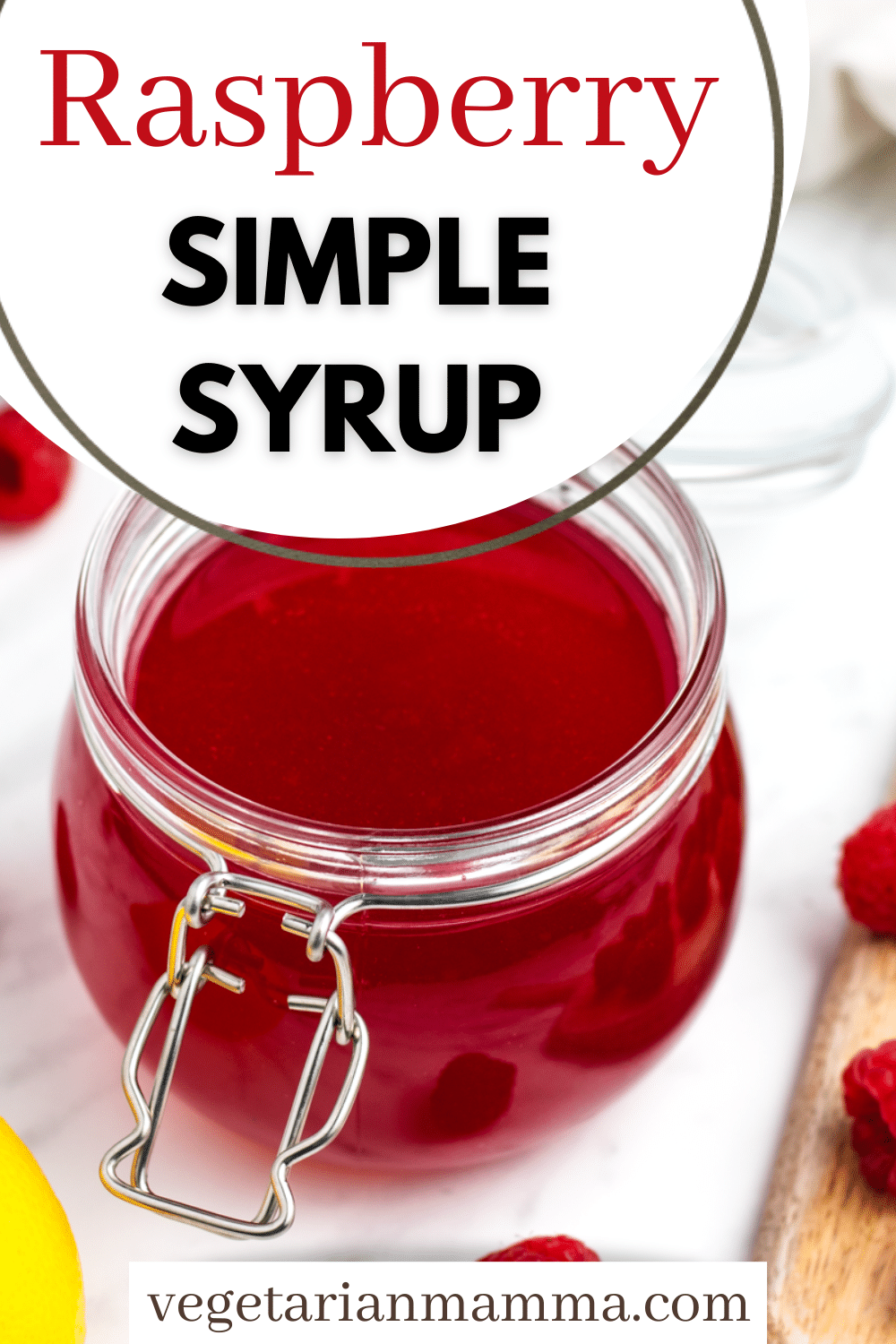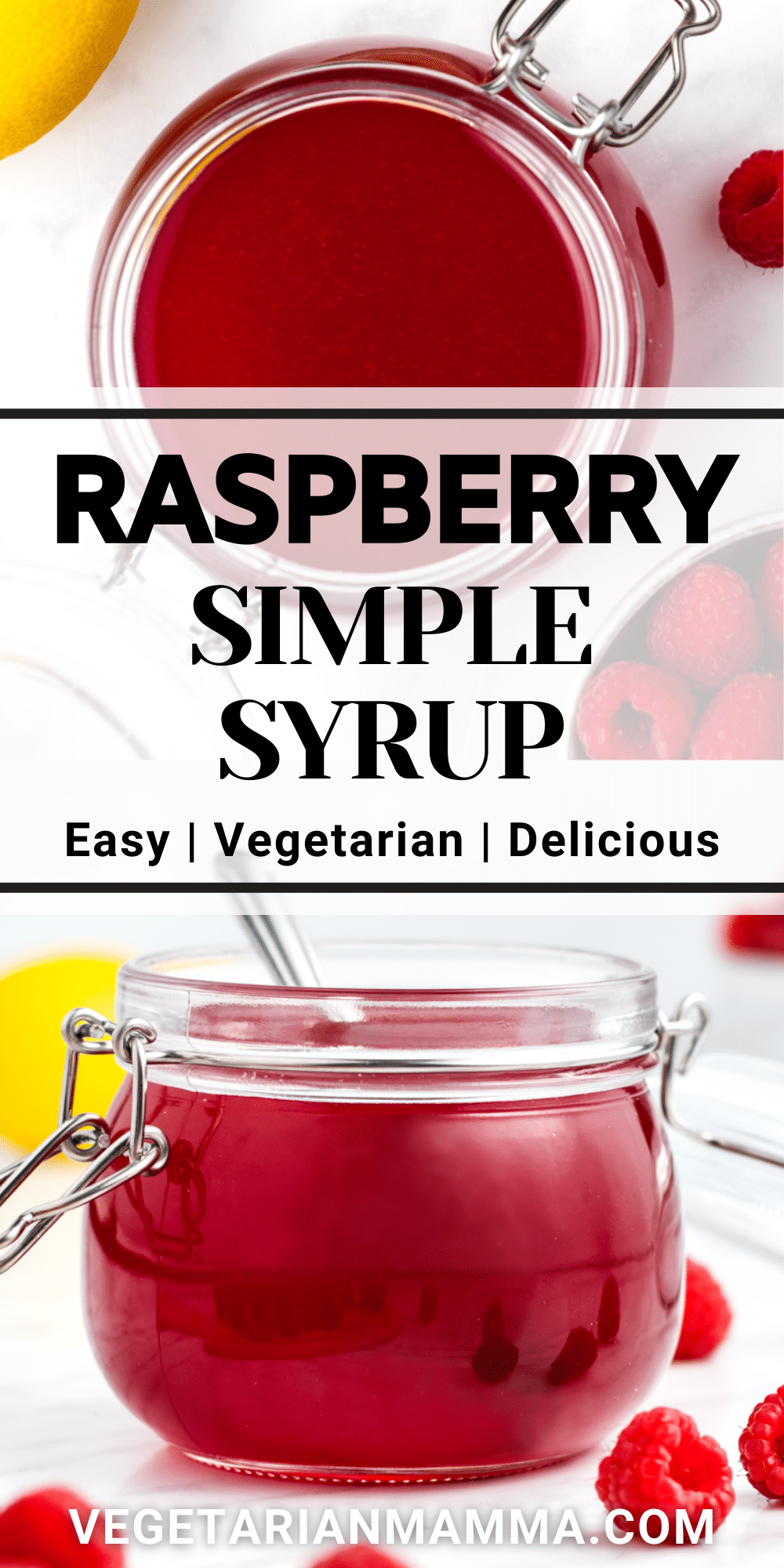 Homemade Raspberry Simple Syrup is made with 4 simple ingredients, and ready in just a few minutes. Pour it over ice cream or add it to ice tea, lemonade, or your favorite cocktails!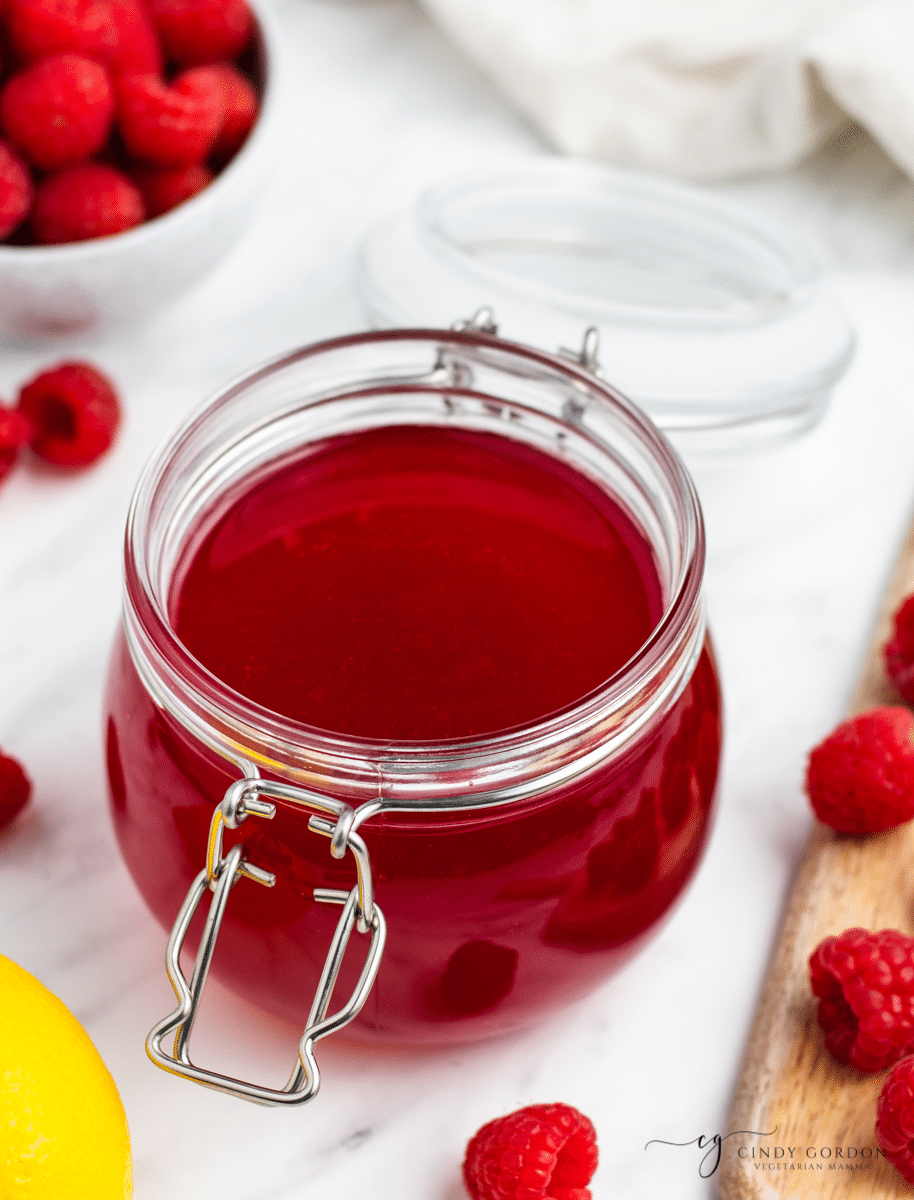 RASPBERRY SIMPLE SYRUP RECIPE
Making simple syrup with fresh fruit is the easiest thing, and it's so, so good. This Raspberry simple syrup is sweet, bright, and a bit tart with the familiar flavor of fresh raspberries and a hint of lemon juice.
You'll want to make simple syrups all the time once you learn the easy method I'm about to show you. A few minutes on the stove is all it takes to make a liquid raspberry sweetener that is perfect for drinks and desserts.
I'll show you how to make this easy recipe for raspberry simple syrup first, and you'll also find Peach Simple Syrup and Pumpkin Spice Simple Syrup recipes here too! Once you have the basic recipe down, you'll be able to make flavoring syrups from any type of fruit or flavor.
Looking to boost your immunity? Make a homemade Elderberry Syrup.
If sweet summer fruits are your thing, you are going to love my Cherry Delight Dessert! It's gluten and dairy-free, plus so simple to throw together.
WHAT IS A SIMPLE SYRUP?
The term "simple syrup" is given to a mixture that is made from sugar and water or another liquid. The liquid is heated so that the sugar will melt. Once the sugar is melted, it will stay that way, creating a syrup.
Plus, it's so, so simple to make!
Simple syrup is often used in bars and coffee shops to sweeten drinks. Simple syrup is better than sugar for cold drinks because the sugar is already dissolved. You won't end up with granules of undissolved sugar at the bottom of your iced coffee or iced tea if you sweeten it with simple syrup.
Do you like making summer cocktails? Try my Summer Beer recipe!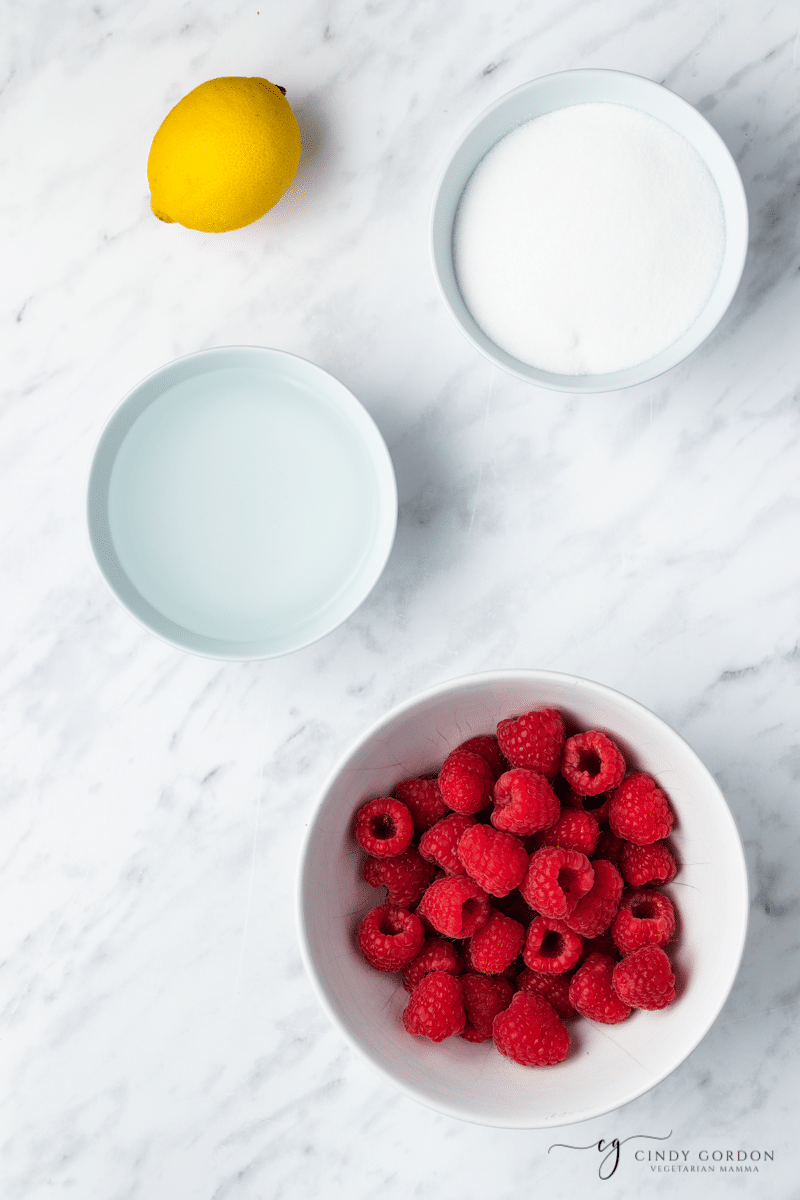 INGREDIENTS FOR RASPBERRY SIMPLE SYRUP
Four easy ingredients are needed to make a homemade Raspberry Simple Syrup!
Granulated Sugar - Granulated sugar is the basic building block of any simple syrup!
Raspberries - Use fresh raspberries in this recipe for best results. If you don't have fresh raspberries, you can also use frozen berries. I often find that they are sweeter than fresh ones.
Water - To make a simple syrup, you'll use the same amount of water as sugar.
Lemon Juice - Freshly squeezed lemon juice adds brightness and enhances the flavor of the berries.
If you have any questions about raspberry simple syrup, please leave a comment below and I will get back to you.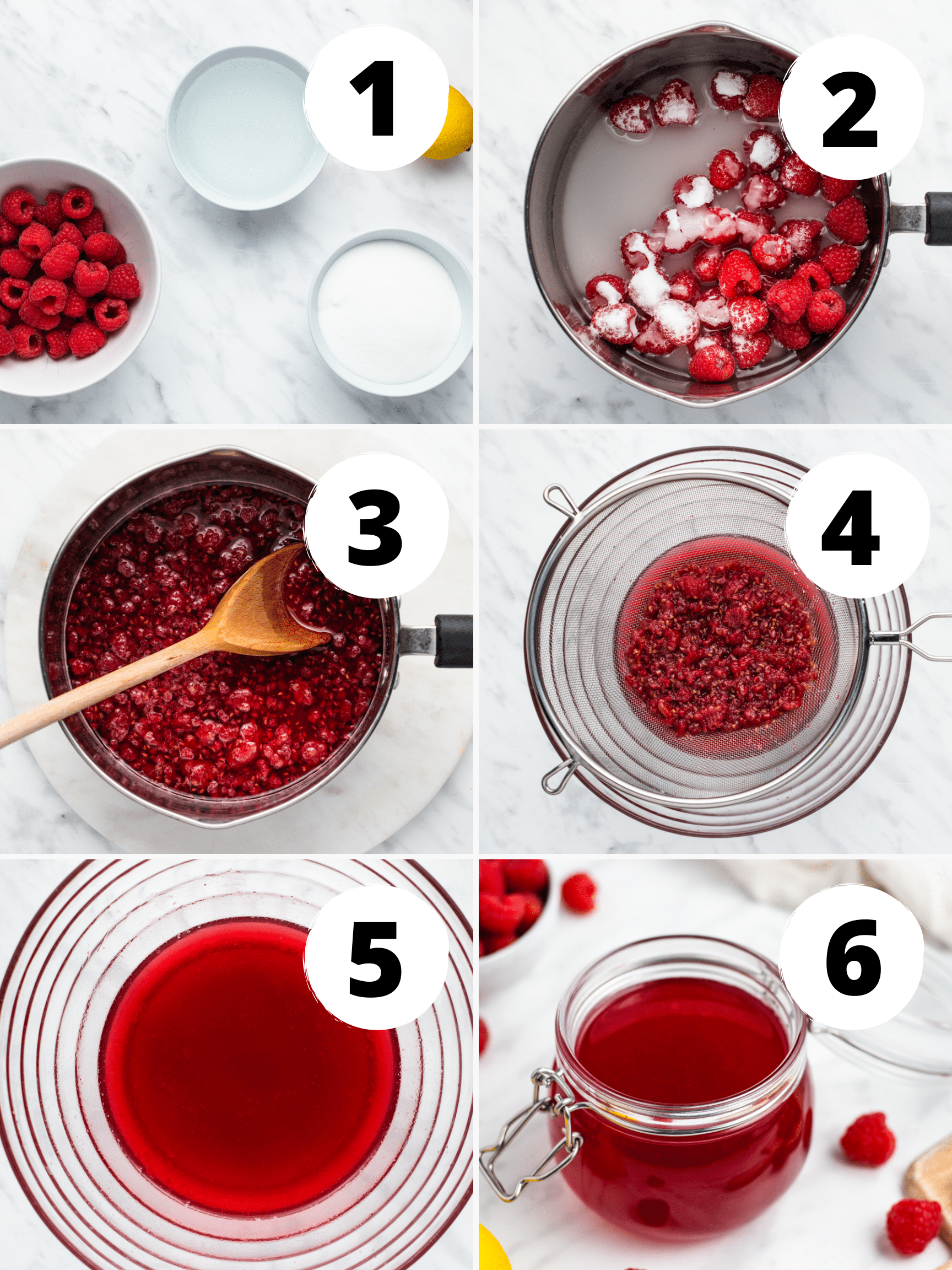 HOW TO MAKE RASPBERRY SIMPLE SYRUP
Gather and prepare your ingredients. Rinse the raspberries, and measure out the right amount of water and sugar. Freshly squeeze a lemon for its juice.
Add all of the ingredients to a saucepan and stir to combine.
Heat on medium heat until the mixture begins to boil. Then reduce the heat to low and let it cook, simmering for 10 minutes. Stir occasionally.
Remove the pan from the heat and let the mixture cool for at least 15 minutes. After it has cooled and the flavor has steeped, remove the berries and seeds by straining the mixture through a fine sieve.
Discard the raspberry pulp, leaving behind a beautiful red raspberry syrup.
Transfer the syrup to a jar or another airtight container for storage.
These numbered steps match the numbered photos above and are for illustration purposes. For the complete list of ingredients and instructions for making raspberry simple syrup, please see the recipe card below.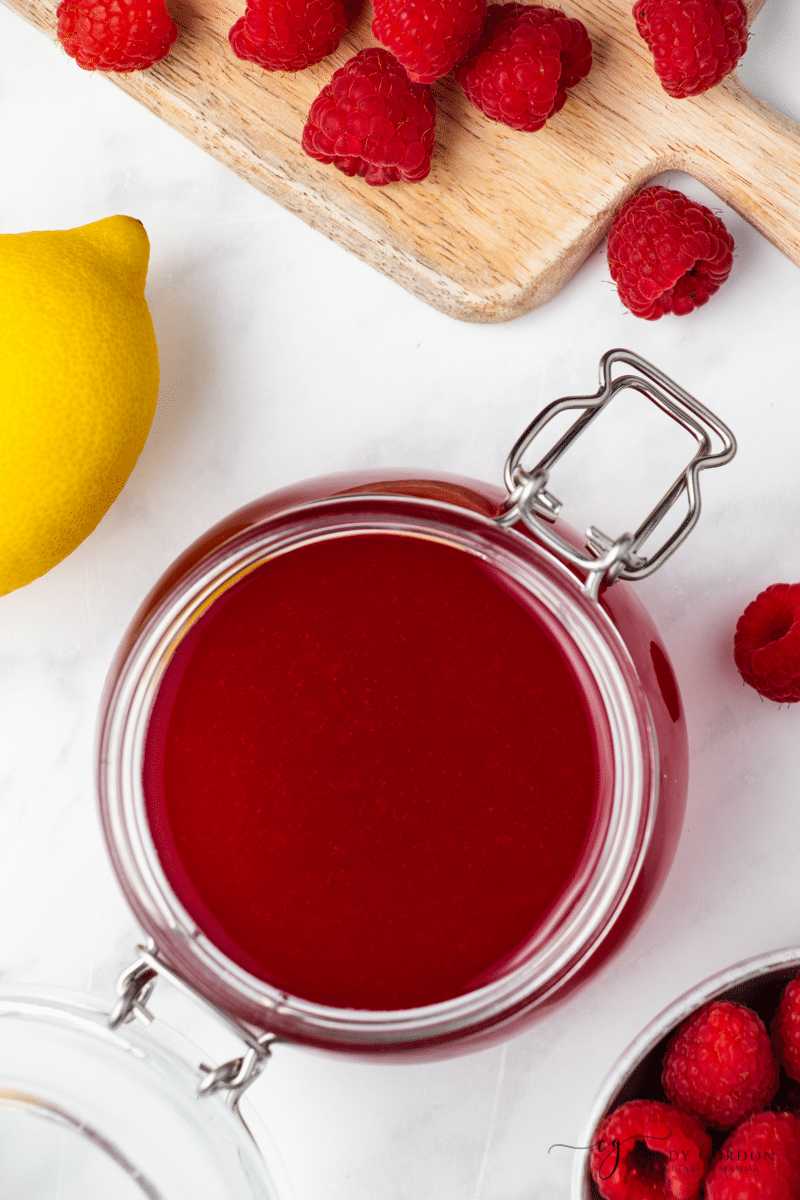 HOW TO STORE RASPBERRY SIMPLE SYRUP
If you aren't going to use your simple syrup right away, you can store it in the fridge for up to two weeks! I like to keep mine in a glass jar in the door of the fridge. Then I can easily grab it to pour into drinks!
HOW LONG DOES SIMPLE SYRUP WITH FRUIT LAST?
While plain simple syrup could potentially stay fresh for a month or more, syrups made with fruit like raspberries or peaches need to be enjoyed more quickly. This recipe should last up to 2 weeks if properly stored in the fridge.
HOW TO USE RASPBERRY SIMPLE SYRUP
As a Topping: Pour raspberry simple syrup over a bowl of ice cream, a cup of Greek yogurt, unsweetened applesauce, or over a bowl of fresh fruit.
With Baked Goods: In bakeries, simple syrup is often brushed on top of cakes before frosting to keep them moist and flavorful. A drizzle of raspberry syrup can also revive a cake or cupcake that has become stale. You can use this simple syrup as a dessert sauce to decorate plates too!
Make an Italian Soda: It's so easy to make these at home, and super fun too! Just add 2-4 tablespoons of raspberry simple syrup to a tall glass of iced sparkling water or soda. Make it extra delicious with a splash of cream or half and half.
Iced Tea: Add raspberry flavor and sweetness to your brewed iced tea or summer Sun Tea.
Lemonade: Yum! Raspberry pink lemonade is delicious. Just drizzle in a tablespoon or two.
Cocktails and Mocktails: Keep reading for some amazing cocktails to make using raspberry simple syrup! A raspberry simple syrup mocktail is easy, just mix an ounce of this syrup with ice and your favorite bubbly mixer, like Sprite or soda water. Garnish with fresh berries for a beautiful presentation.
RASPBERRY SIMPLE SYRUP VARIATIONS
Once you have this recipe committed to memory (it's easy! 1 part water to 1 part sugar, plus some raspberries and lemon juice) you'll be ready to experiment. Try these variations, or come up with your own exciting new recipes.
Sugar: Simple syrup can be made with any type of granulated sugar. White sugar is fine, but cane sugar (turbinado or demerara) or coconut palm sugar can be used just the same. Brown sugar simple syrup has a richness to it that is really delicious too.
Try Honey: For a more natural simple syrup, make it with honey. You should increase the amount of honey if you want the syrup to be thick since honey is a liquid already.
Other Fruits: Use this same method to make Strawberry or blueberry simple syrup, or make a specialty syrup using a combination of different fruits.
Elevate it: Take Raspberry simple syrup to another level by adding herbs, spices, and more! A small piece of ginger, a vanilla bean, or a handful of mint are all great flavor options that go well with raspberries.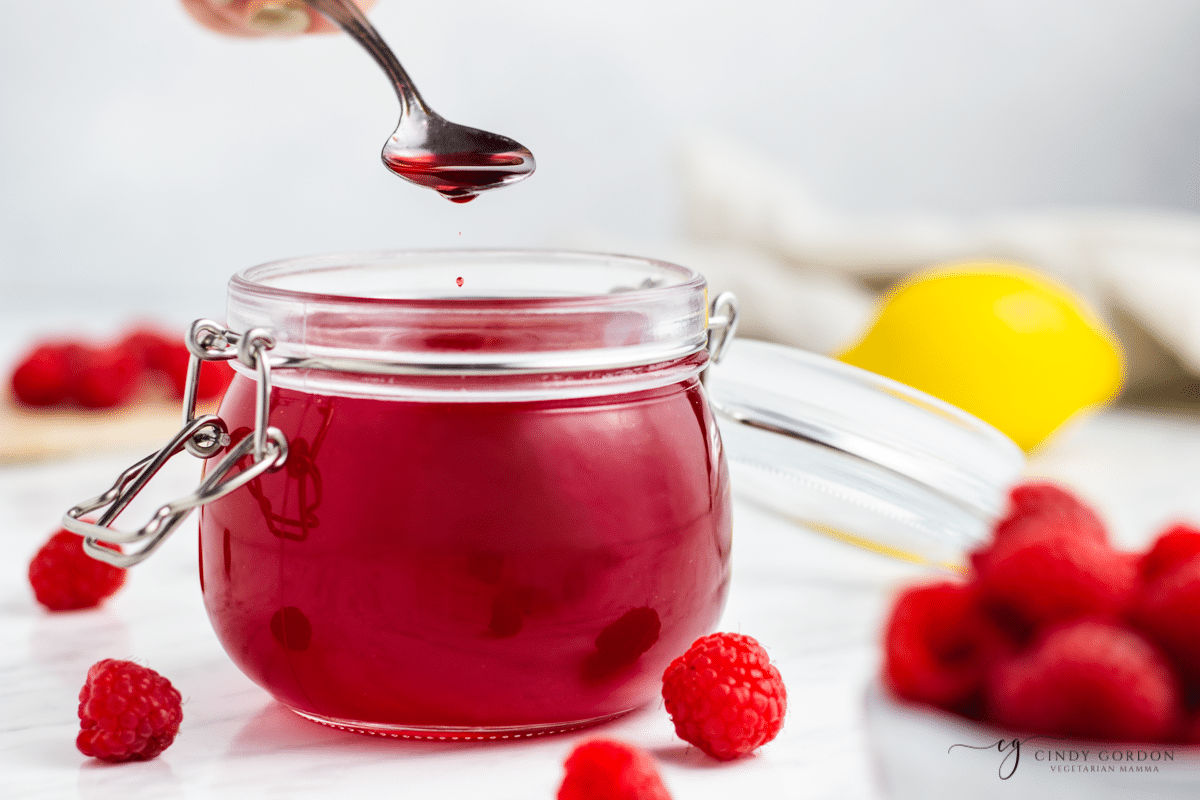 SIMPLE COCKTAILS WITH RASPBERRY SYRUP
Raspberry Simple Syrup is the secret bar ingredient that will help you make the most delicious pink drinks! You can try a fancy cocktail recipe like This Raspberry Gin Fizz or a Clover Club Cocktail (be forewarned, this recipe is old-school, and uses egg whites!), or make things simple and use my foolproof cocktail ratio:
1 ounce raspberry simple syrup + 1 ounce sprits + a mixer (as much as you like!)
Try these easy combinations for raspberry simple syrup drinks:
Raspberry syrup with vodka and a splash of soda
Raspberry syrup with rum and pineapple juice
Raspberry syrup with Gin and lime juice
You can use raspberry simple syrup in place of Chambord or raspberry liqueur. A French Martini could be made with vodka, raspberry syrup, pineapple juice, and a lemon twist!
Try a splash of raspberry syrup in any of your favorite drinks, like Sex on the Driveway, a Malibu Sunset, or a Vodka and Coke.
How to make a rich simple syrup
If the simple syrup is made using a higher ratio of sugar to water, it's called a "rich" simple syrup. This syrup is made with 2 cups of sugar to 1 cup of water and comes out thicker and sweeter. I like to make a rich raspberry simple syrup if I know I'm going to be using it to make ice cream sundaes.
DO YOU NEED TO BOIL SIMPLE SYRUP?
Interestingly, you don't need to boil simple syrup. A mixture of sugar and water in a 1:1 ratio will eventually dissolve, it just takes longer. Possibly a half hour or more.
The main reason that we bring the mixture to a boil and then simmer it is to extract all of the delicious flavor from the raspberries.
CAN I MAKE RASPBERRY SIMPLE SYRYUP WITH FROZEN BERRIES?
You certainly can! Frozen berries are as delicious as fresh ones. No need to thaw them, just toss them in and follow the recipe as written.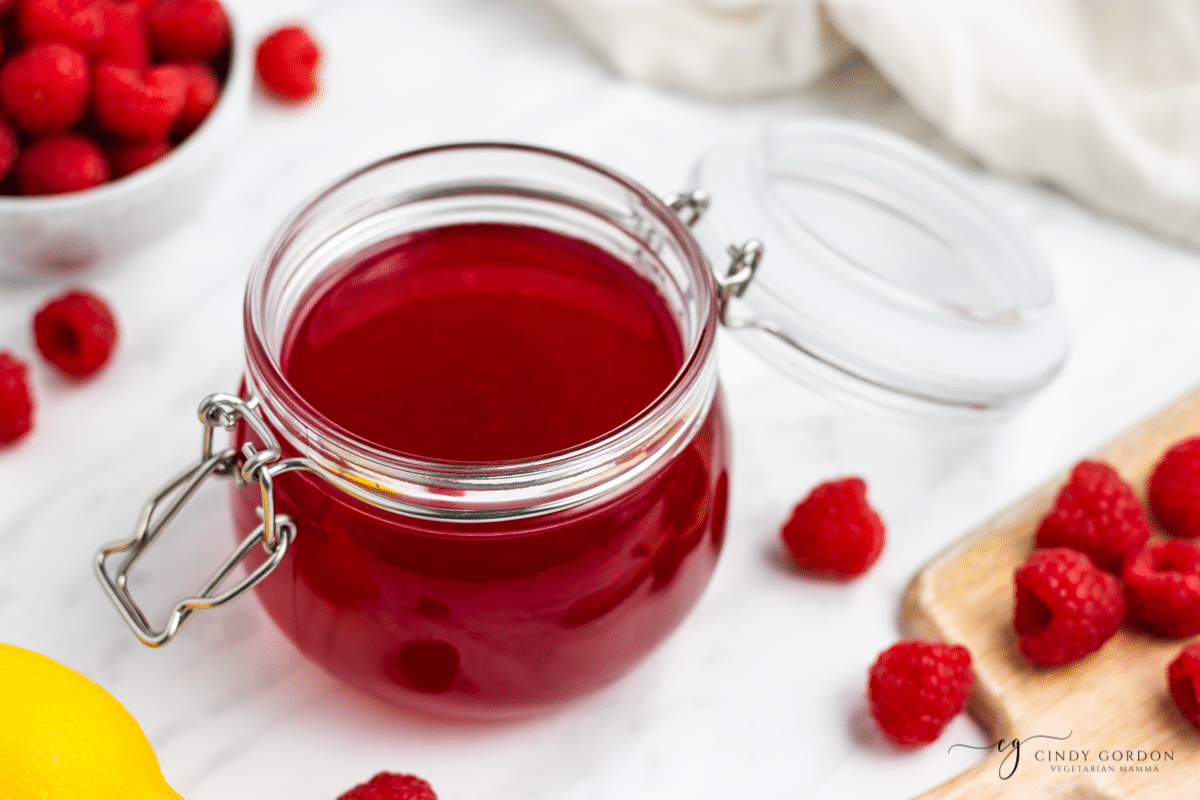 MORE DELICIOUS DRINK RECIPES YOU WILL LOVE
Making your own fancy drinks at home is tons of fun, and much less expensive than a Starbucks run!
If you are a Coffee lover, you'll love my easy Cold Brew Coffee Recipe.
Make your afternoon java extra special and whip up an Oatmilk Latte. It's so creamy, and totally vegan!
More of a tea person? I've got you covered too with my Iced Matcha Latte and Iced Chai Tea Latte.
For the kids (or the kids at heart), learn how to make homemade Strawberry Almond Milk or a Vegan Version of Mexican Horchata.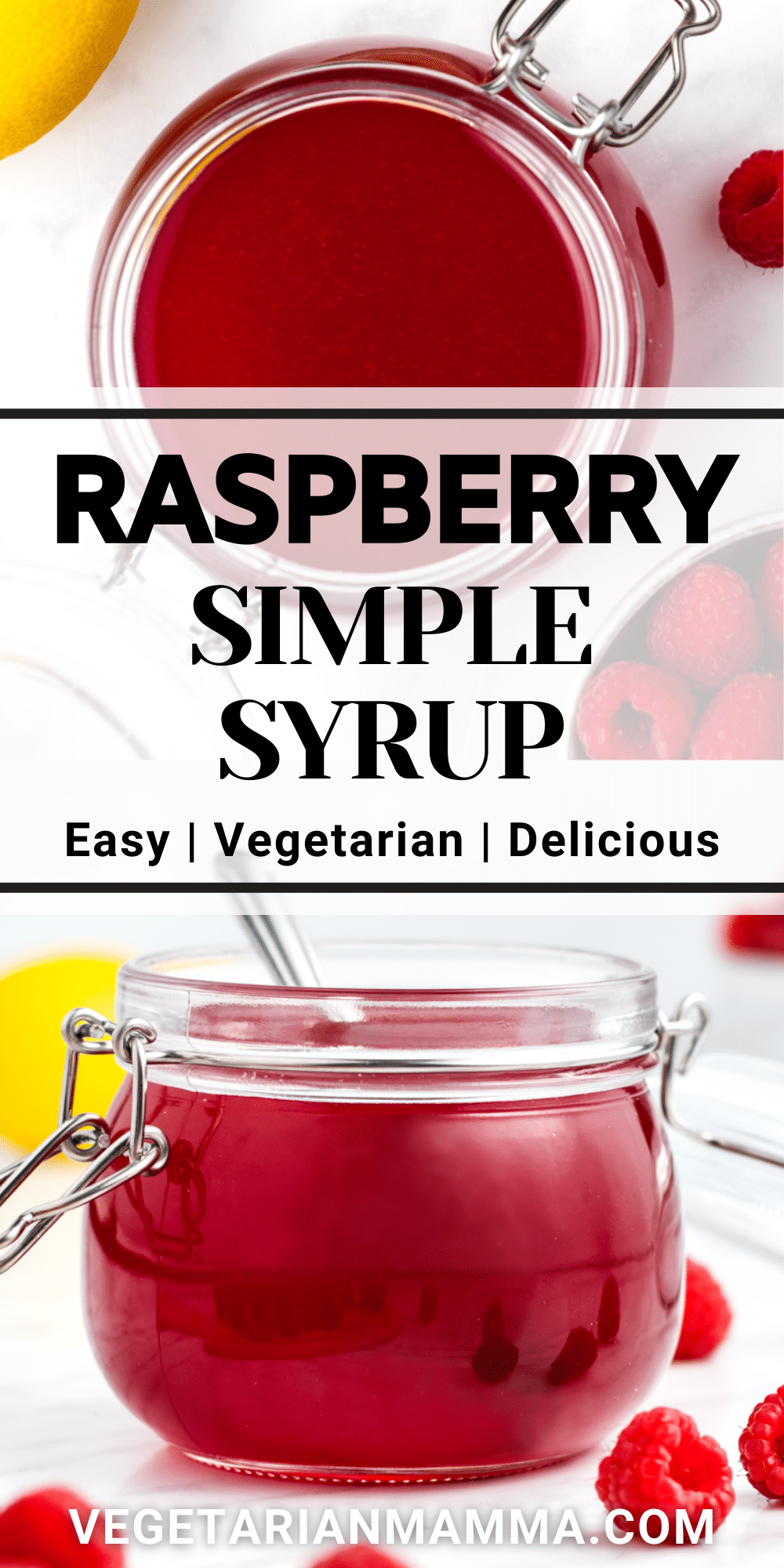 Have you made this recipe? Please leave a comment AND rating below! It helps other readers!
Be sure to tag @VegetarianMamma on instagram, if you share a picture on the gram! Let's get social, you can follow me on Youtube, Instagram, Facebook, Pinterest or join one of our Facebook Groups: Tasty Vegetarian Recipes and Vegetarian Air Fryer Recipes.
Don't forget to subscribe to our EMAIL newsletter.
Raspberry Simple Syrup
Homemade Raspberry Simple Syrup is made with 4 simple ingredients, and ready in just a few minutes. Pour it over ice cream or add it to ice tea, lemonade, or your favorite cocktails!
Servings:
8
2-tablespoon servings
Instructions
Add all of the ingredients (sugar, berries, water, and lemon juice) to a saucepan and stir to combine.

Heat over medium heat until the mixture begins to boil, then reduce heat to low and simmer for 10 minutes.

Remove the pan from the heat, and set it aside to cool for at least 15 minutes.

Strain the berry mixture through a sieve, pressing with a spoon to release all the juice from the berries. Discard the raspberry pulp.

Transfer the simple syrup into a glass jar or other airtight container for storage.
Notes
You can use any type of granulated sugar to make simple syrup.
Frozen raspberries can be used in place of fresh berries.
For a thicker syrup, increase the sugar up to 2 cups.
Raspberry simple syrup will keep in the refrigerator for up to 2 weeks.
Use it to flavor iced tea, lemonade, cocktails, and mocktails, or top cakes, ice cream, or yogurt.
Nutrition
Serving:
2
tablespoons
|
Calories:
108
kcal
|
Carbohydrates:
28
g
|
Protein:
1
g
|
Fat:
1
g
|
Saturated Fat:
1
g
|
Polyunsaturated Fat:
1
g
|
Monounsaturated Fat:
1
g
|
Sodium:
2
mg
|
Potassium:
36
mg
|
Fiber:
1
g
|
Sugar:
26
g
|
Vitamin A:
8
IU
|
Vitamin C:
6
mg
|
Calcium:
7
mg
|
Iron:
1
mg
All though this website attempts to provide accurate nutritional information, the information should only be considered an estimate. Varying factors such as different product types, different brands, etc. can change nutritional information. It is your responsibility as a consumer to read all labels to make sure the ingredients fit your dietary needs as well as calculate your own nutritional information as a double check.