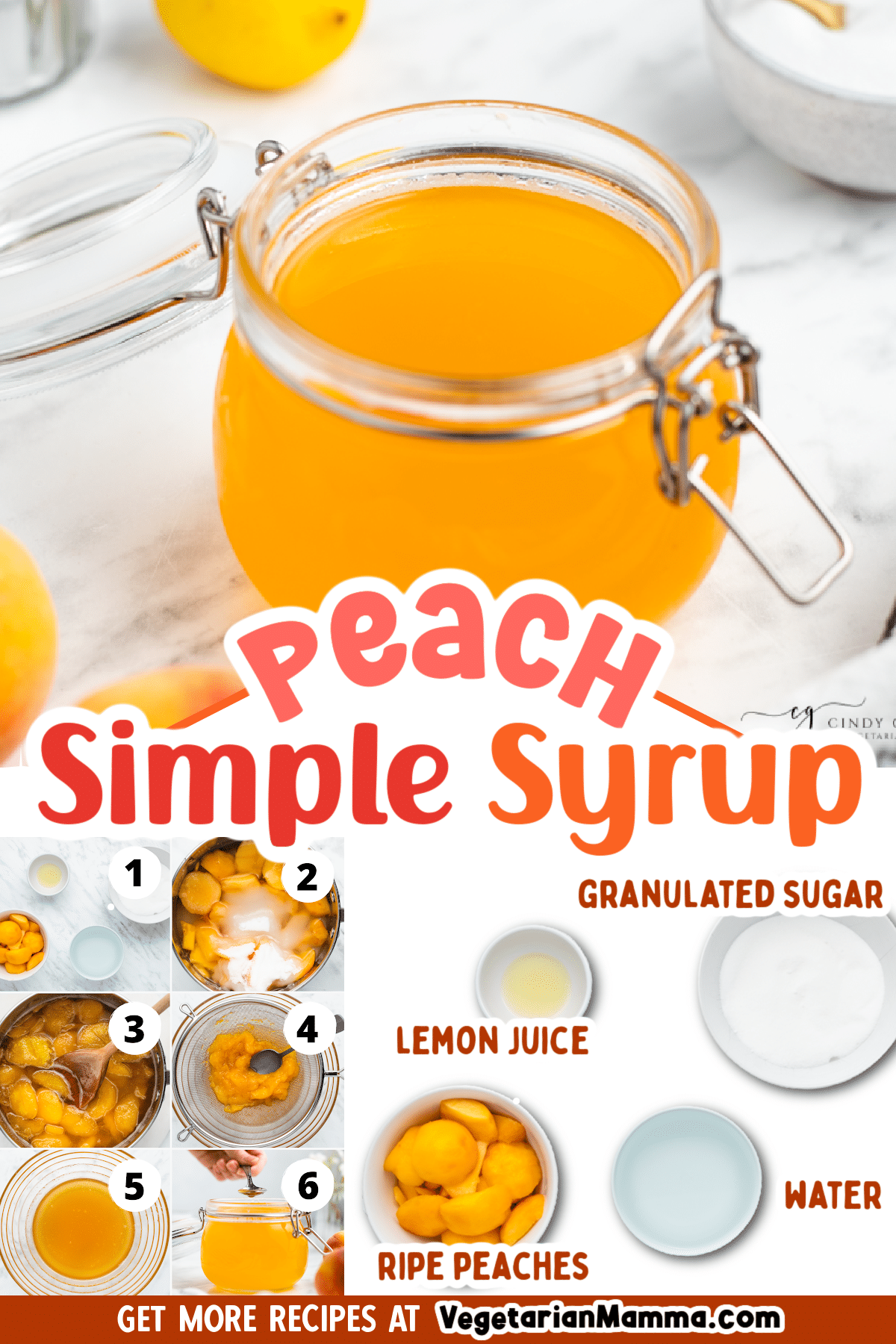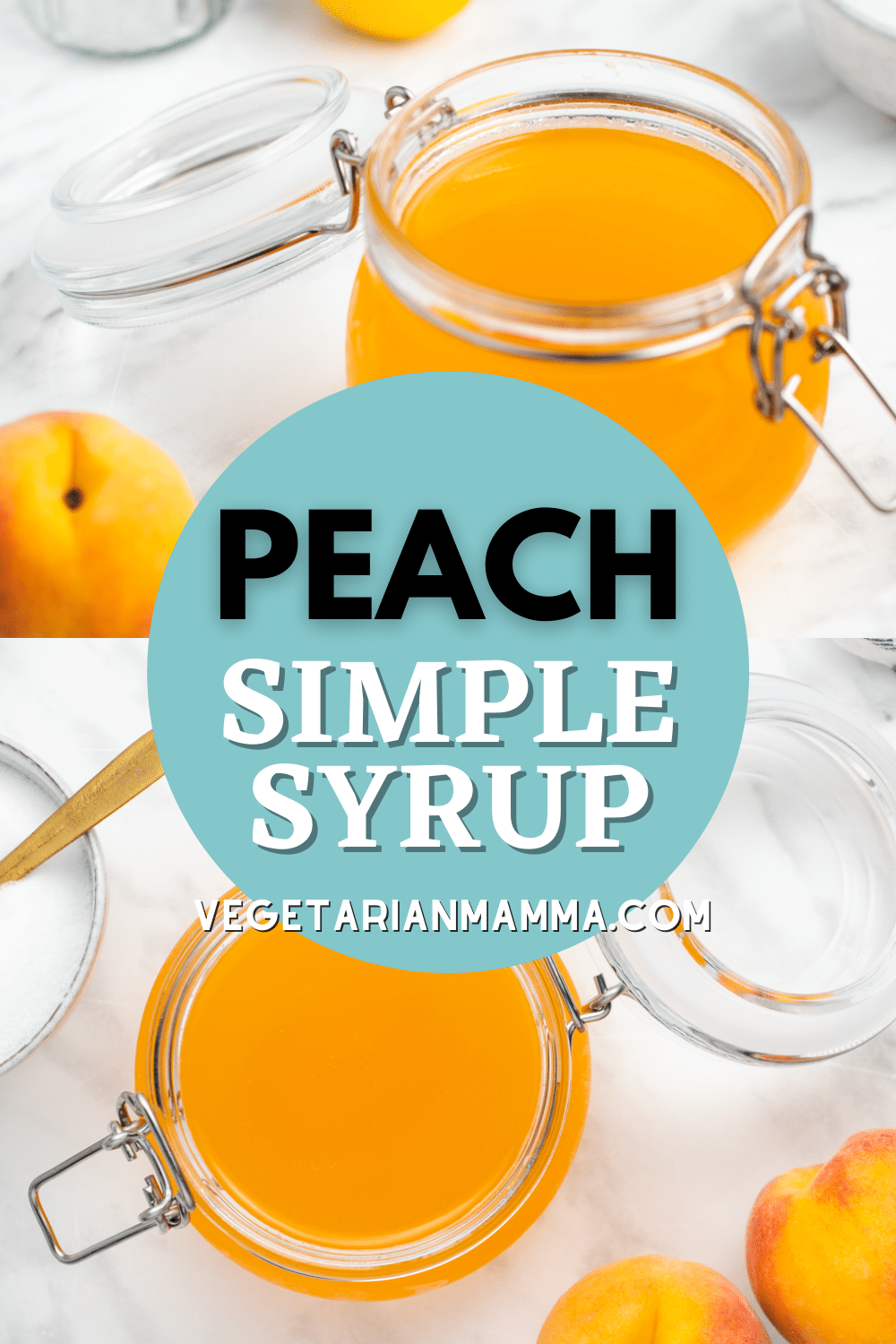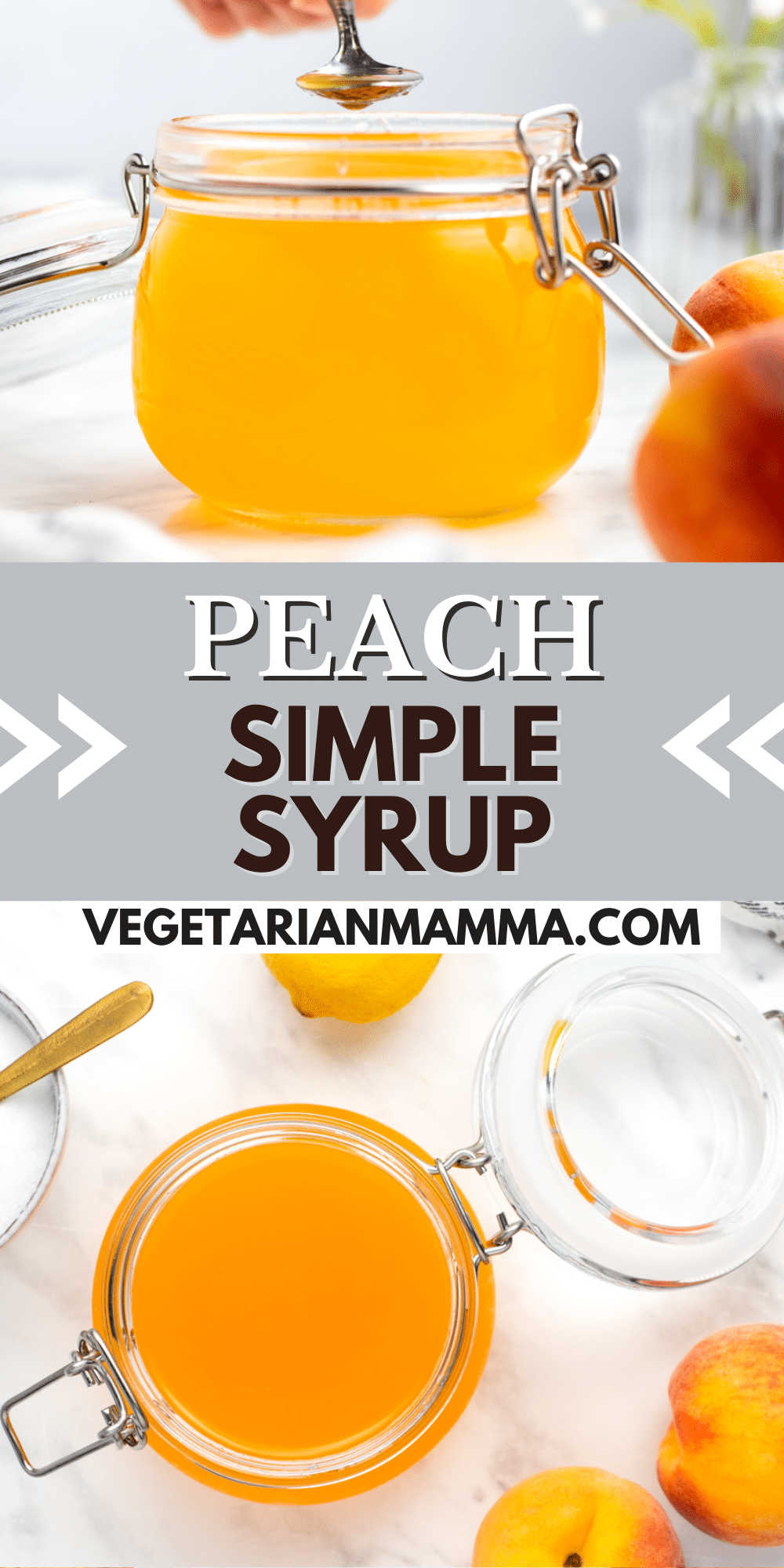 Pack tons of sweet summer flavor into a Peach simple syrup that is delicious drizzled into and onto everything!
Add peach simple syrup to iced tea, cocktails, or enjoy it over a bowl of vanilla ice cream for a real treat.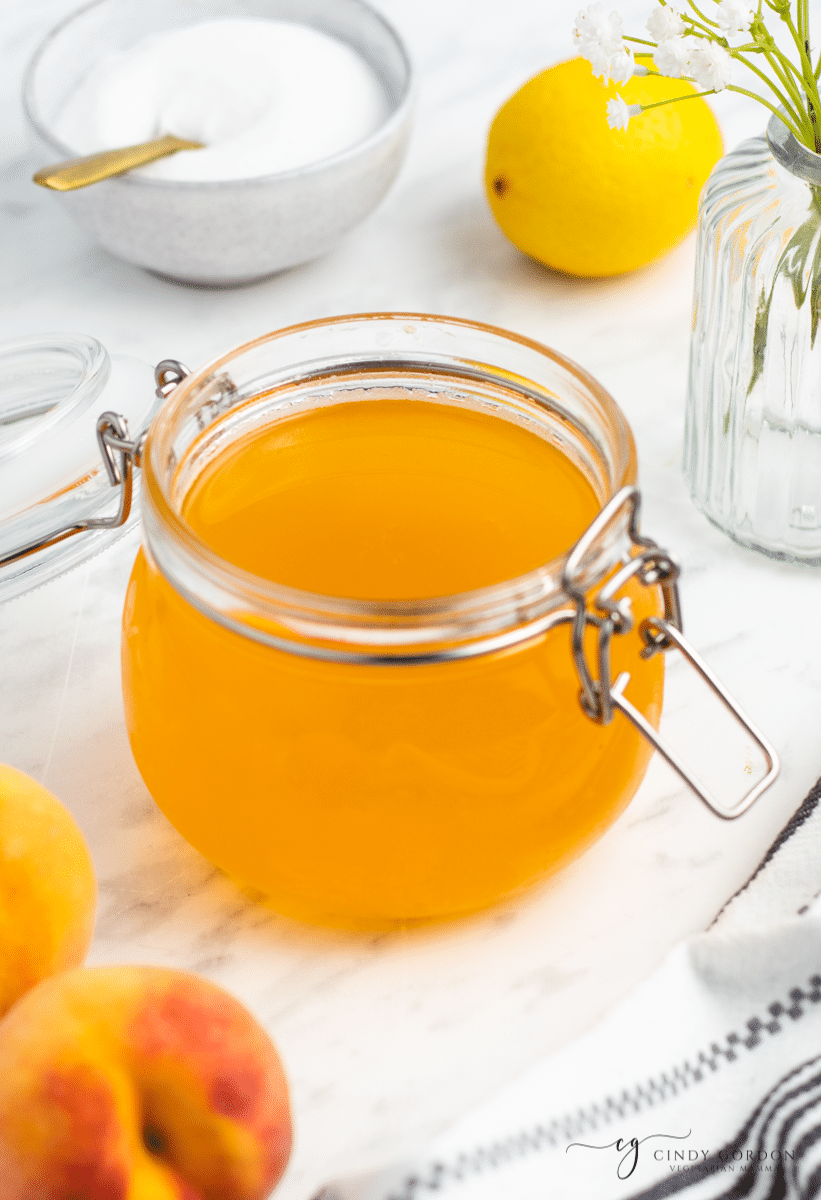 PEACH SIMPLE SYRUP RECIPE
Peach Simple Syrup is so easy to make! This sugary syrup is liquid gold, and it even has the right color for it.
This is the best use of fresh summer peaches. When you have extras, or the farmer's market has them on special, it's the perfect time to cook them to create a natural sweetener.
If you're like me and enjoy preserving fresh fruits and veggies, see how I freeze fresh corn on the cob so we can enjoy it all year long.
If it's not the right season for fresh peaches, you can make simple syrup with frozen peaches too!
I'll show you how to make this easy recipe for peach simple syrup, and you'll also find Raspberry Simple Syrup and Pumpkin Spice Simple Syrup recipes here too! Once you have the basic recipe down, you'll be able to make flavoring syrups from any type of fruit or flavor.
Do you like making summer cocktails? Try my Summer Beer recipe, or a delicious Malibu Sunrise!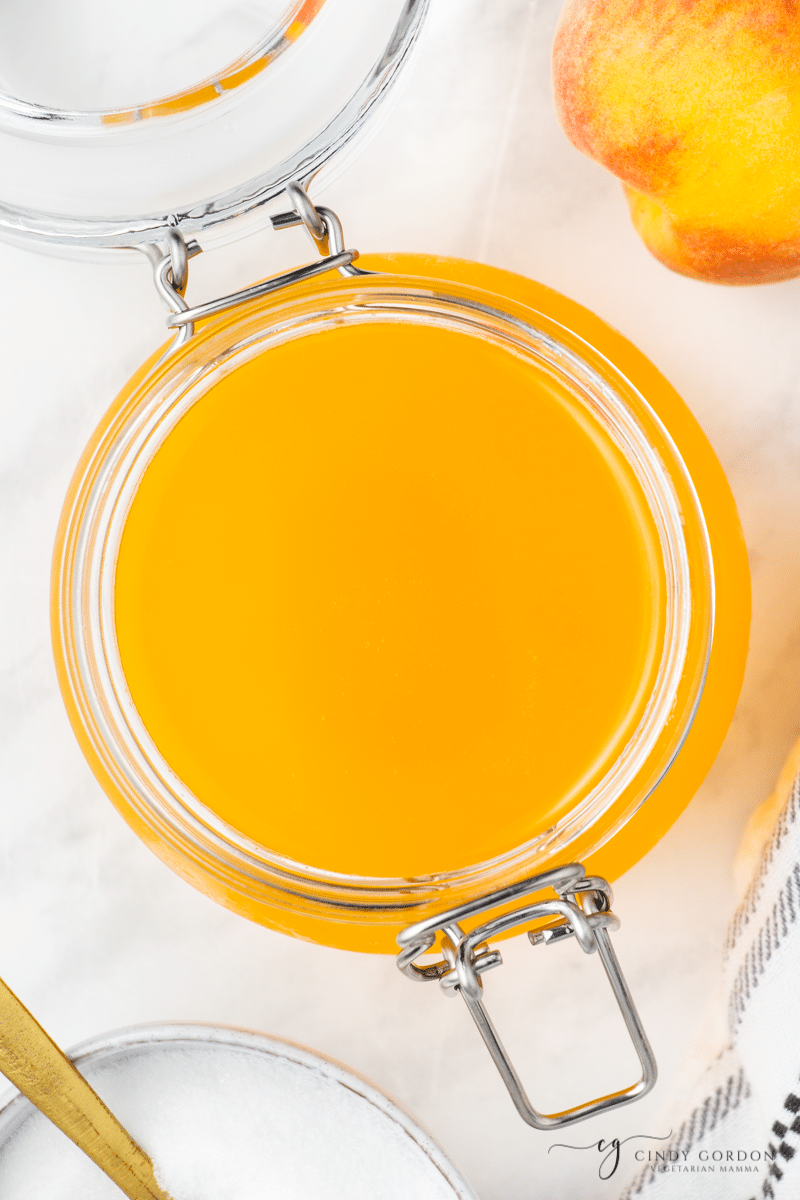 WHAT IS A SIMPLE SYRUP?
The term simple syrup is given to a mixture that is made from sugar and water, or another liquid. The liquid is heated so that the sugar will melt.
Simple syrup is used in bars and coffee shops to sweeten drinks. Simple syrup is better than sugar for cold drinks, because the sugar is already dissolved. You won't end up with granules of undissolved sugar at the bottom of your iced coffee or iced tea if you sweeten it with simple syrup.
Peach simple syrup is the perfect sweetener for iced tea. It's like summer in a jar! A tablespoon or two added to a tall, icy glass of sun tea or an iced matcha latte is just divine!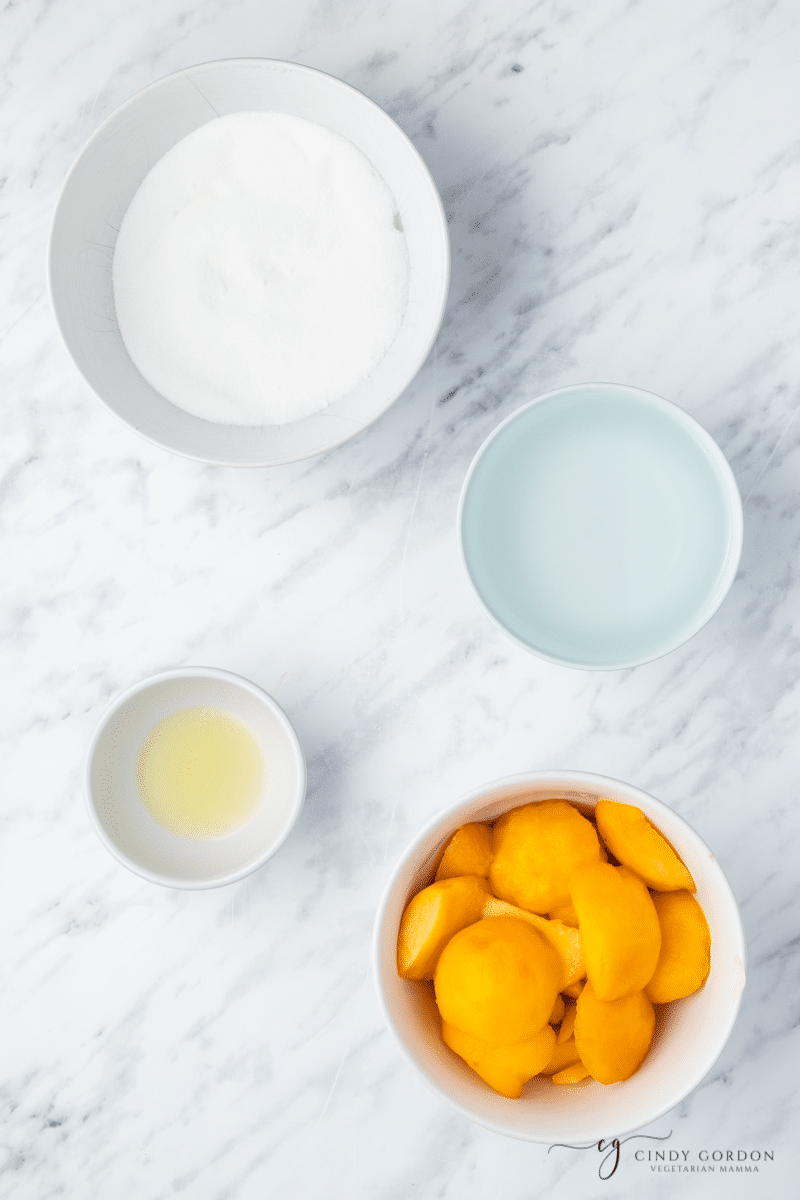 INGREDIENTS FOR PEACH SIMPLE SYRUP
Just four ingredients are needed to make this homemade peach simple syrup!
Sugar: Granulated sugar is the basic building block of any simple syrup!
Peaches: For this amount of simple syrup, you will want to use 4 ripe peaches, peeled and sliced. If fresh peaches aren't available, you can also use frozen peaches that you've thawed.
Water: To make a simple syrup, you'll use the same amount of water as sugar.
Lemon Juice: This adds a fresh flavor, keeps the color of the peaches bright, and enhances the delicious peach flavor of our syrup.
If you have any questions about making Peach Simple Syrup, please leave a comment below and I will get back to you ASAP!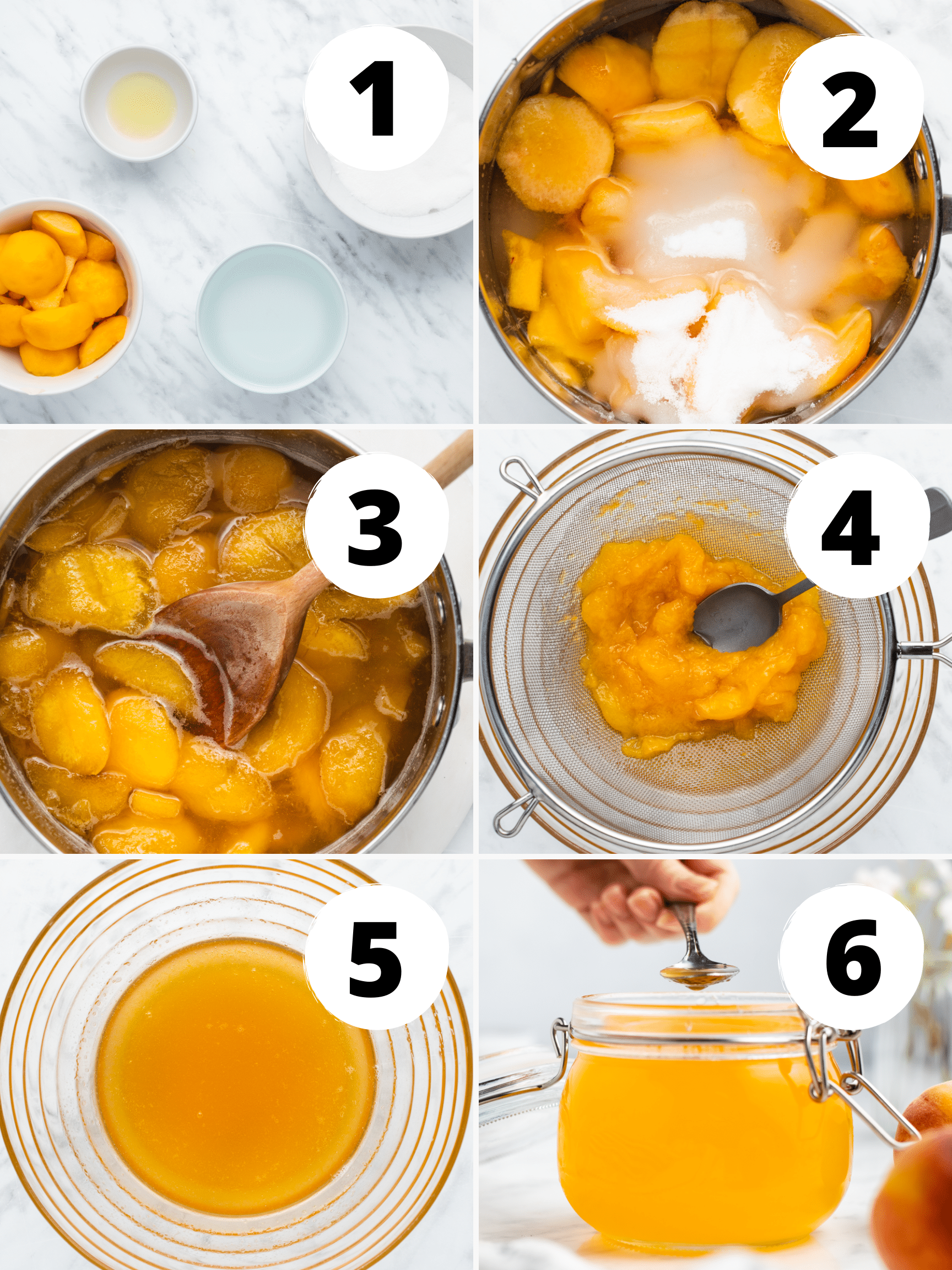 HOW TO MAKE PEACH SIMPLE SYRUP
Gather and prepare your ingredients. Peel and roughly slice the peaches, and measure out the right amount of water and sugar. Freshly squeeze a lemon for its juice.
Add all of the ingredients to a saucepan and stir to combine.
Heat on medium heat until the mixture begins to boil. Then reduce the heat to low and let it cook, simmering for 15 minutes. Stir occasionally.
Remove the pan from the heat and let the mixture cool for 1 hour. After it has cooled and the flavor has steeped, remove the peaches by straining the mixture through a fine sieve.
Discard the peach pulp, leaving behind a beautiful, golden peach syrup.
Transfer the syrup to a jar or another airtight container for storage.
These numbered steps match the numbered photos above and are for illustration purposes. For the complete list of ingredients and instructions for Peach Simple Syrup, please see the recipe below.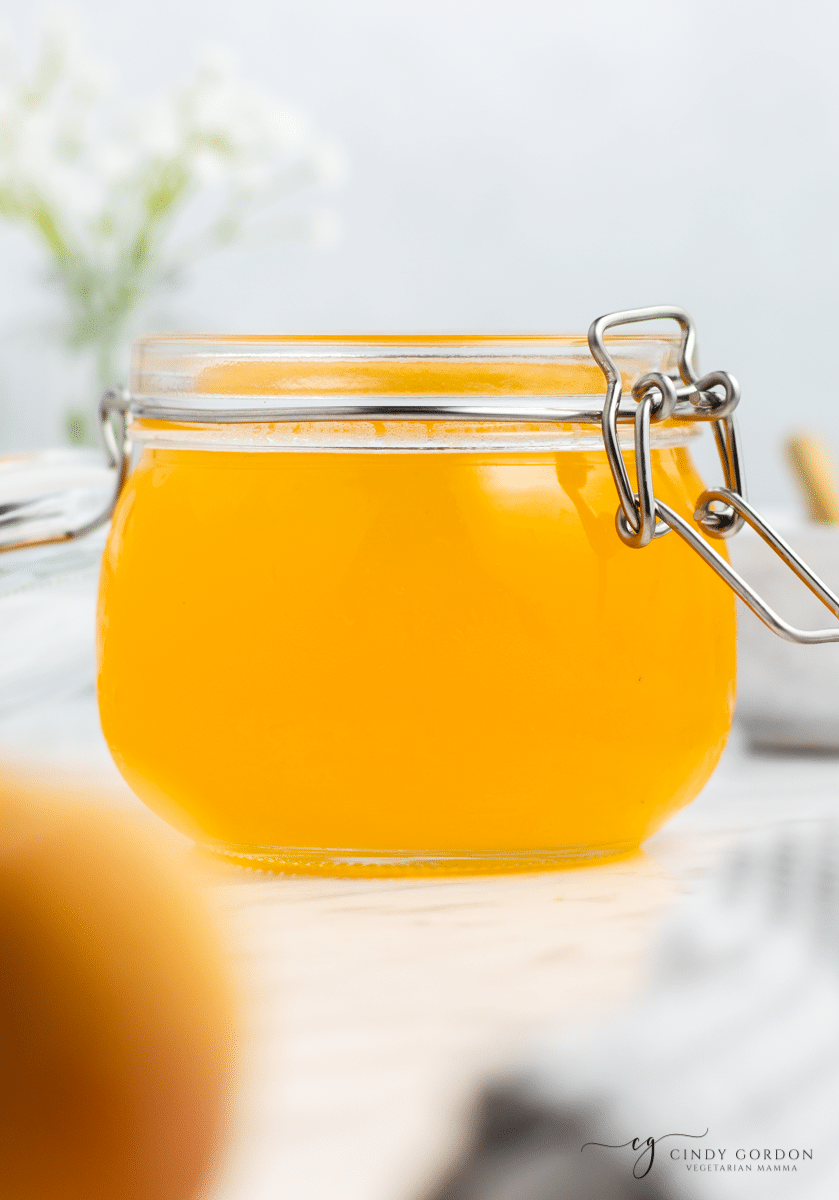 HOW TO STORE PEACH SIMPLE SYRUP
If you aren't going to use your simple syrup right away, you can store it in the fridge for up to two weeks! I like to keep mine in a glass jar in the door of the fridge. Then I can easily grab it to pour into drinks!
PEACH TIPS
Using Frozen Peaches: If you want to use frozen peaches to make a simple syrup, you'll want to use about 1 ½ cups of frozen peach slices. You can let them thaw first, or put them into the pot still frozen. It will just take a bit longer to boil.
To Peel Peaches: It's super simple to peel peaches using boiling water! Cut a small x into the bottom of each peach. Drop the peaches into boiling water for about 1 minute, then transfer them into a bowl of ice water for 1 minute. The skin should slide right off.
How to know if a Peach is ripe: Ripe peaches are soft, and smell amazing! If your peaches are still hard, place them in a paper bag for a day or two. This helps them ripen faster.
Get all the peach flavor: When straining the simple syrup, use the back of a spoon to gently squeeze the cooked peaches to get every bit of that fresh peach flavor into your sugar syrup.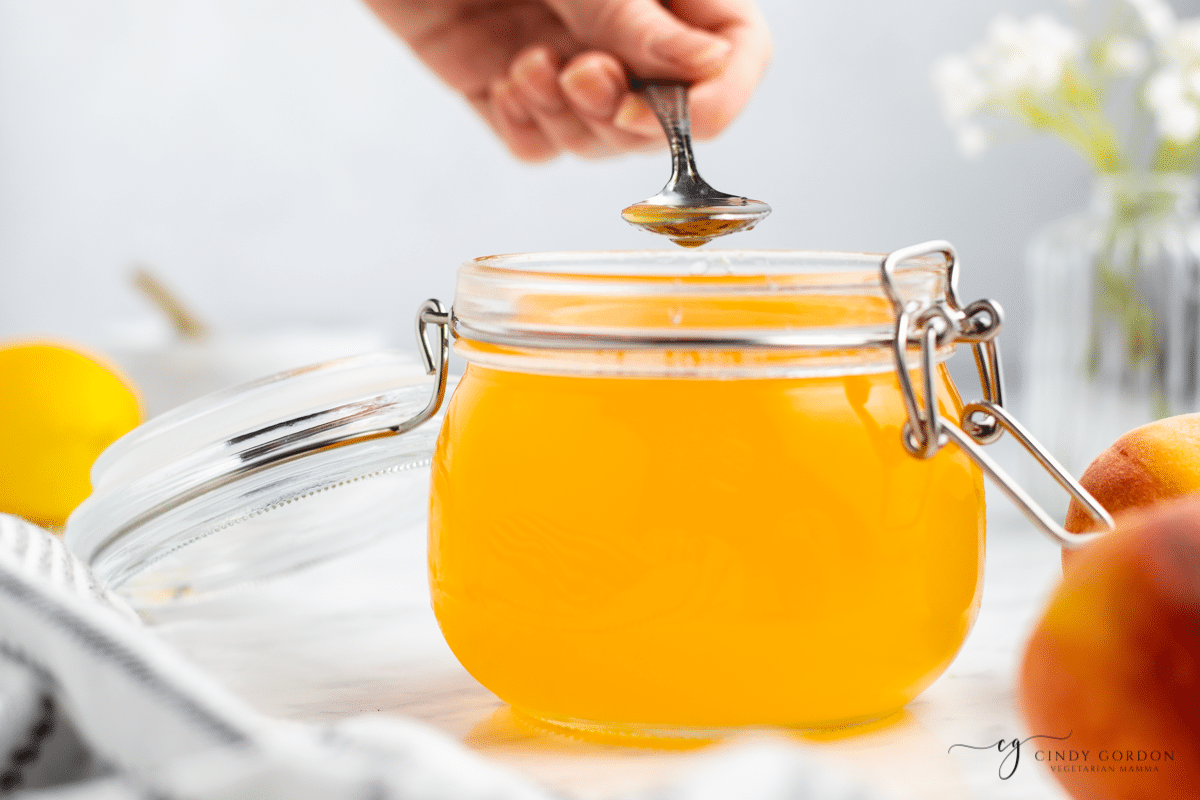 WHAT TO MAKE WITH PEACH SIMPLE SYRUP
Italian Soda - A peach Italian Soda can be made by adding 2-4 tablespoons of syrup to a tall glass of iced sparkling water or soda. Make it extra delicious with a splash of cream or half and half.
Iced Tea - Drizzle your peach simple syrup into a glass of iced tea until you get the sweetness level you like. Sweet peach tea is the ultimate summer drink.
Lemonade - Use simple syrup in place of some or all of the sugar in your homemade lemonade recipe.
Cocktail Recipes - Try one of these fancy peach cocktails, or read a bit further where I give you the easy version!
Baked Goods - Drizzle this syrup over pound cake, bundt cakes, or cupcakes. This is a great trick to revive slightly dry or stale cakes too.
As a Topping: Peach simple syrup is SO GOOD on vanilla ice cream, or mixed in with greek yogurt or unsweetened applesauce. Try it on pancakes or drizzled over a halved grapefruit with breakfast too.
A SIMPLE COCKTAIL WITH PEACH SIMPLE SYRUP
Even if you aren't a master mixologist, you can create a delicious cocktail using this peach flavored simple syrup.
Peach syrup plays well with bourbon, rum, vodka, tequila, and even gin!
Cocktail mixing isn't an exact science, but I like to use this general formula to make simple syrup cocktails:
1 ounce peach simple syrup + 1 ounce spirits + a mixer (as much as you like).
Vodka, peach simple syrup, and a splash of lemonade.
Bourbon, peach simple syrup, and a bit of iced tea.
Tequila, peach simple syrup, and margarita mix.
Gin, peach simple syrup, and tonic water.
Add peach simple sryup to prosecco to create a beach bellini style drink.
Make the best peach mocktail with peach simple syrup and your favorite flavored seltzer water.
I like this recipe for making a fresh peach bourbon sour with peach simple syrup.
WHY IS SIMPLE SYRUP USED IN COCKTAILS?
You might be wondering why we'd go through the trouble of making a simple syrup when we could just add sugar to the drinks. We use simple syrup in cold drinks like cocktails, mocktails, and iced teas because the sugar is dissolved first. If we just added sugar, it wouldn't dissolve and would just pile in the bottom of the glass.
DO YOU HAVE TO BOIL SIMPLE SYRUP?
Technically, sugar will dissolve in water without boiling, it just takes a while. It can take up to 45 minutes for sugar to dissolve in room temperature water.
The reason that we cook and boil fruit-infused simple syrups like this peach one is so that we can extract all of the delicious fresh flavor from the fruit.
Boiling will also destroy any naturally occurring microbes and bacteria that might be present in the mixture, which is better from a food-safety standpoint.
PEACH SIMPLE SYRUP VARIATIONS
Once you've made this peach simple syrup once, you'll start coming up with ideas to make it even more delicious! Here are a few places for you to start experimenting.
Sugar: Simple syrup can be made with any type of sugar. It works with regular white granulated sugar, cane sugar (including turbinado and demerara sugar), brown sugar, or coconut palm sugar. Sugars other than white sugar will provide additional flavors too.
Try it with Honey: This natural sugar makes a delicious peach simple syrup. Use a 2:1 honey to water ratio to get the right consistency in your final product.
Change the Ratio: Simple syrup uses a 1:1 ratio. That's one part sugar to one part liqud. You can adjust this to get a thicker syrup. A sugar syrup made with 2 parts sugar to one part water is sometimes called a rich simple syrup.
Add Herbs: Peach Mint Simple Syrup? Peach Lavendar Simple Syrup? Yes please! Toss in a handfull of fresh herbs to the pan to add rich layers of flavor to this summer sweet treat.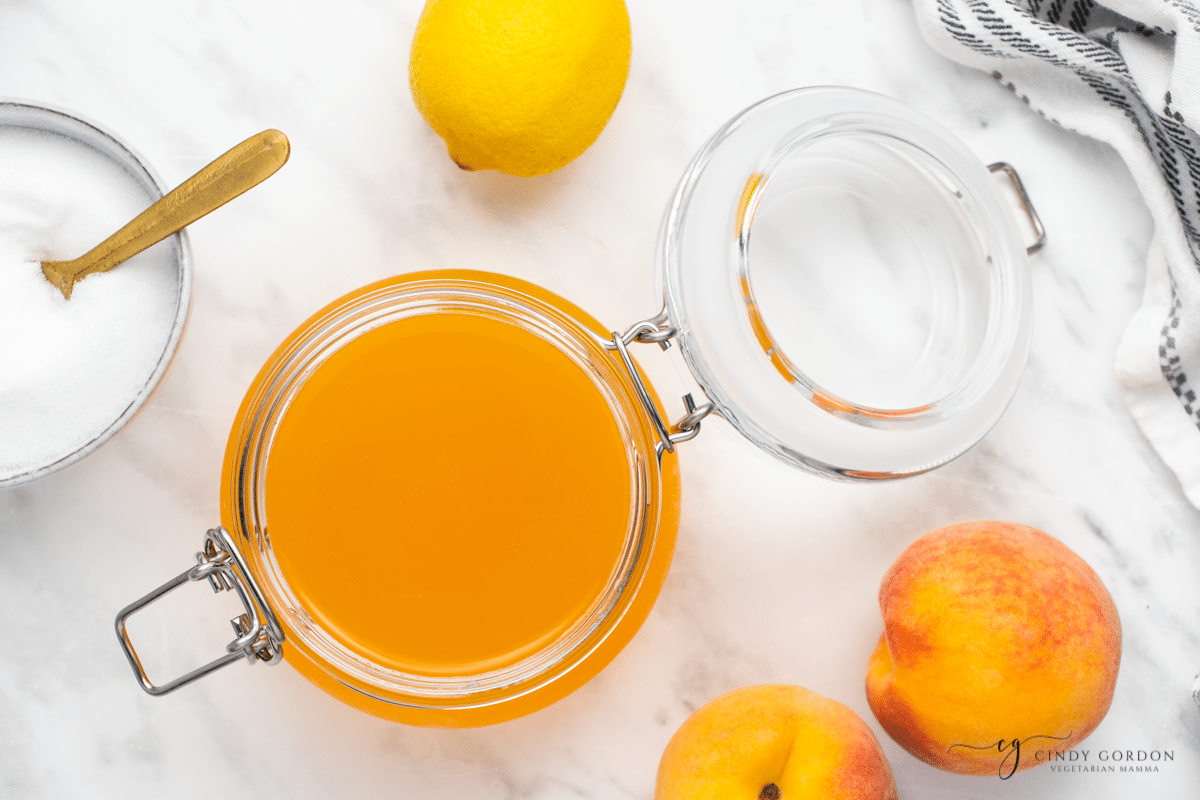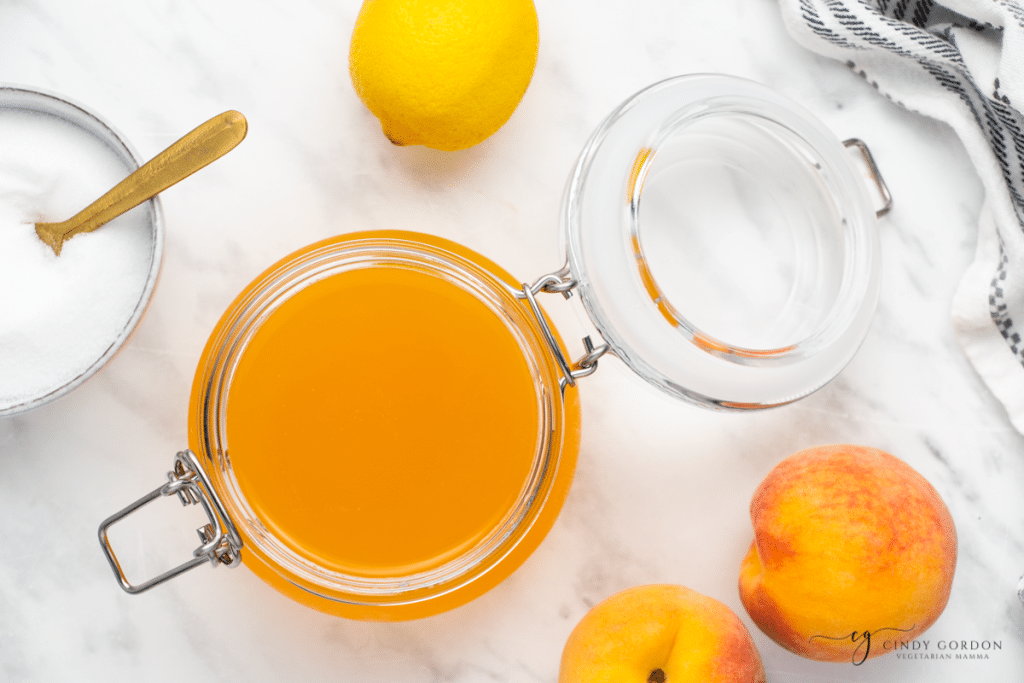 MORE SUMMER RECIPES YOU'LL LOVE
There are so many recipes that are just perfect for summertime eating!
Zucchini is abundant in the summer months, and I love cooking it in all sorts of ways. Try my Gluten Free Pan Fried Zucchini, or make Vegan Zucchini Muffins. The air fryer makes amazing Air Fryer Zucchini Fritters too.
If you love summer sweet corn, Try making Zucchini Corn Cakes, sweet and savory Corn Potage (creamy corn soup, served cold!), or Smoked Corn on the Cob.
Don't miss my best tips for Grilling Tofu for your next summer barbecue!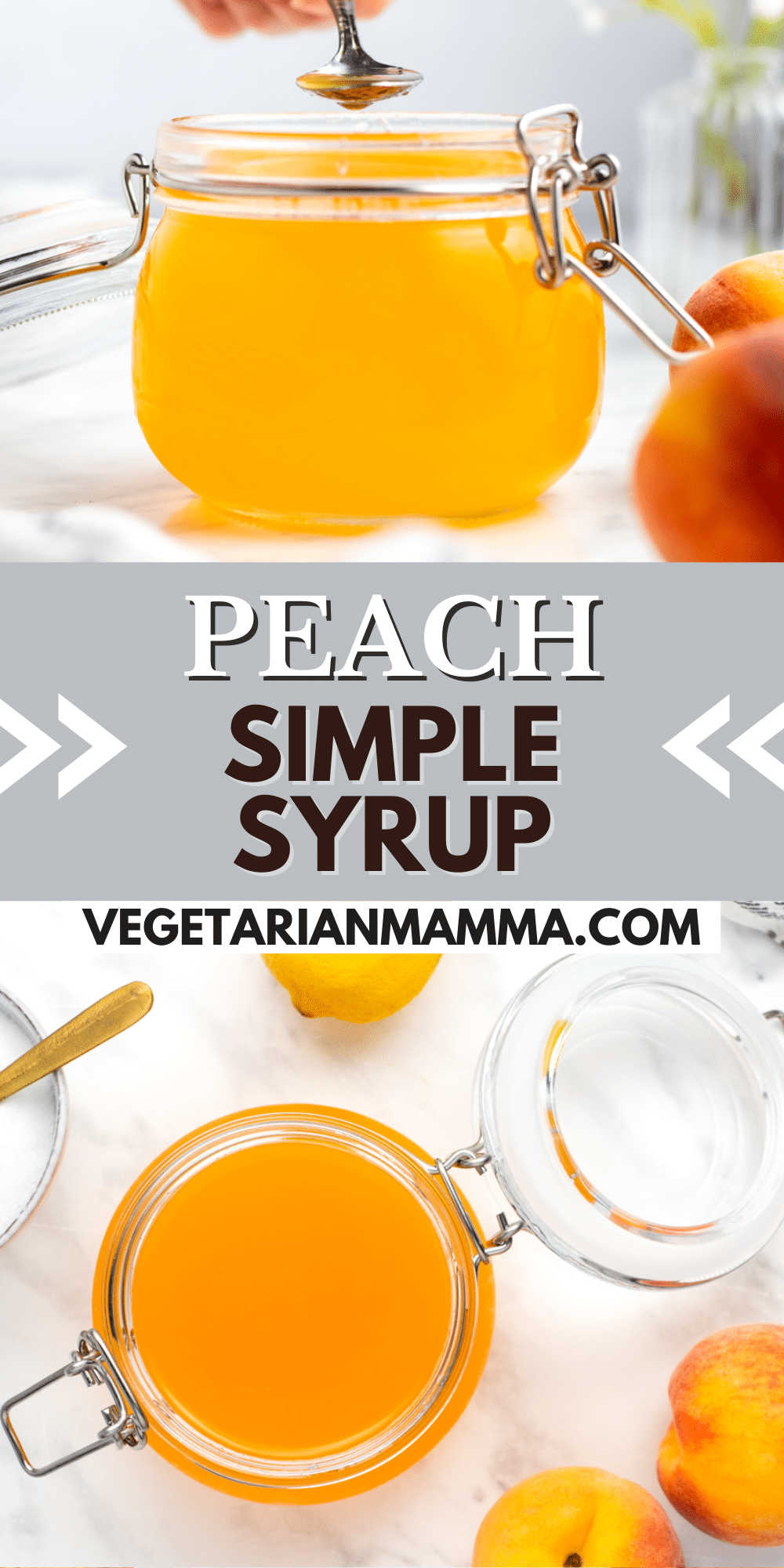 Have you made this recipe? Please leave a comment AND rating below! It helps other readers!
Be sure to tag @VegetarianMamma on instagram, if you share a picture on the gram! Let's get social, you can follow me on Youtube, Instagram, Facebook, Pinterest or join one of our Facebook Groups: Tasty Vegetarian Recipes and Vegetarian Air Fryer Recipes.
Don't forget to subscribe to our EMAIL newsletter.
Peach Simple Syrup
Pack tons of sweet summer flavor into a Peach simple syrup that is delicious drizzled into and onto everything from iced teas to ice cream!
Servings:
8
2-tablespoon servings
Ingredients
1

cup

granulated sugar

regular, cane, or palm sugar

4

ripe peaches

peeled and sliced, or 1 ½ cups frozen peach slices

1

cup

water

2

teaspoons

lemon juice

freshly squeezed
Instructions
Add all of the ingredients (sugar, sliced peaches, water, and lemon juice) to a saucepan and stir to combine.

Heat on medium heat until the mixture begins to boil, then reduce heat to low and cook for 15 minutes, stirring occasionally.

Remove the pan from the heat, and allow the mixture to cool for 1 hour.

Strain the peach mixture through a sieve or mesh strainer and discard the peach pulp.

Transfer the syrup to a glass jar or other airtight container and store in the fridge.
Notes
If you can't get fresh peaches, use 1 ½ cups of frozen peach slices.
To easily peel peaches, blanch them for 1 minute in boiling water, then submerge into ice water for 1 minute. The peels should slide right off.
When straining, use the back of a spoon to squeeze the peaches to get all of the flavor out.
You can use any type of granulated sugar to make simple syrup.
For a thicker syrup, increase the sugar up to 2 cups.
Peach simple syrup will keep in the refrigerator for up to 2 weeks.
Use it to flavor iced tea, lemonade, cocktails, and mocktails, or top cakes, ice cream, or yogurt.
Nutrition
Serving:
2
tablespoons
|
Calories:
128
kcal
|
Carbohydrates:
33
g
|
Protein:
1
g
|
Fat:
1
g
|
Saturated Fat:
1
g
|
Polyunsaturated Fat:
1
g
|
Monounsaturated Fat:
1
g
|
Sodium:
11
mg
|
Potassium:
93
mg
|
Fiber:
1
g
|
Sugar:
31
g
|
Vitamin A:
245
IU
|
Vitamin C:
4
mg
|
Calcium:
4
mg
|
Iron:
1
mg
All though this website attempts to provide accurate nutritional information, the information should only be considered an estimate. Varying factors such as different product types, different brands, etc. can change nutritional information. It is your responsibility as a consumer to read all labels to make sure the ingredients fit your dietary needs as well as calculate your own nutritional information as a double check.