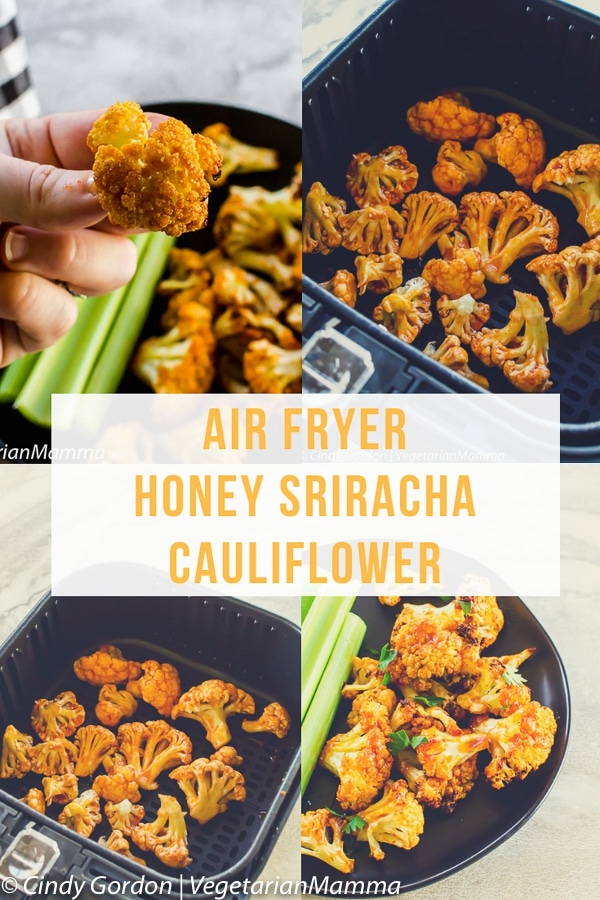 Air Fryer Honey Sriracha Cauliflower is a delicious spicy air fryer recipe topped off with a sweet and spicy Sriracha sauce. This vegetarian air fryer recipe is a winner for game day!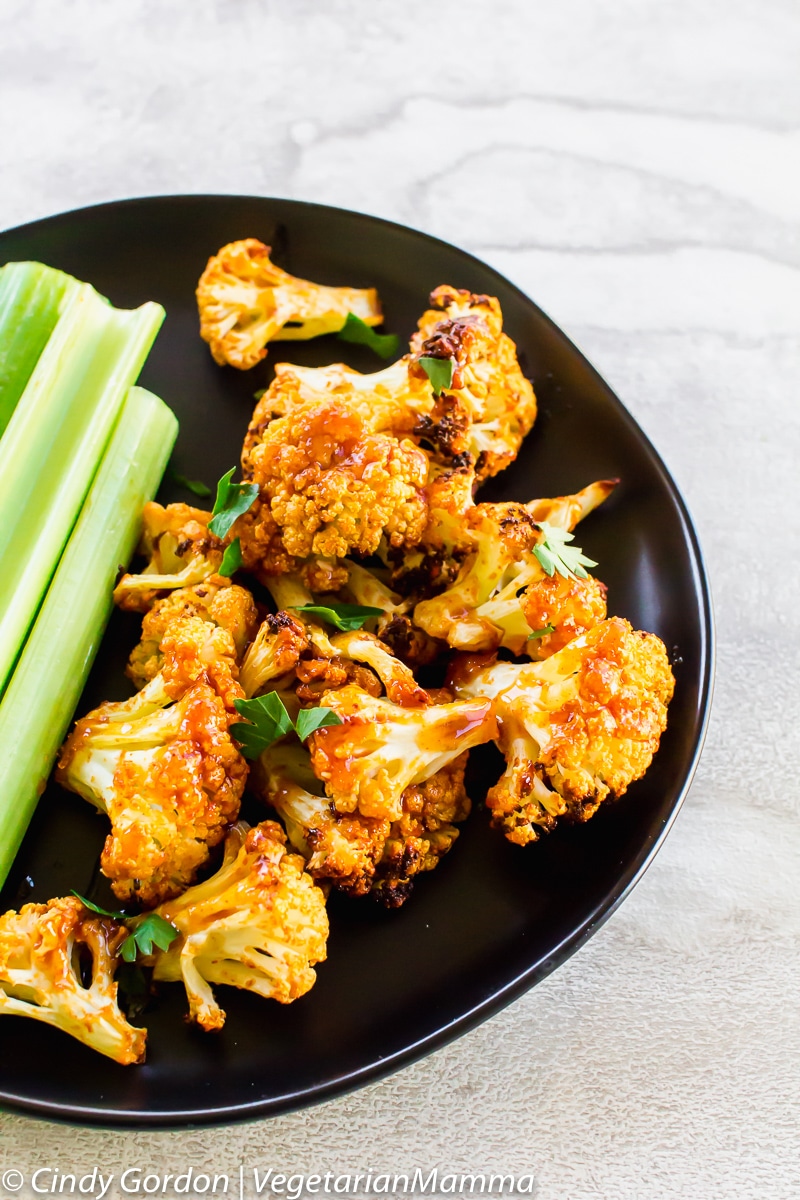 Air Fryer Honey Sriracha Cauliflower
When I think of the phrase "honey Sriracha" it makes me think of game day foods. I think it stems from the sriracha sauce.
That tangy and spicy sauce often times is shuffled into the football food or game day snack food category. Honestly, our Honey Sriracha Cauliflower can fit into that category if you want.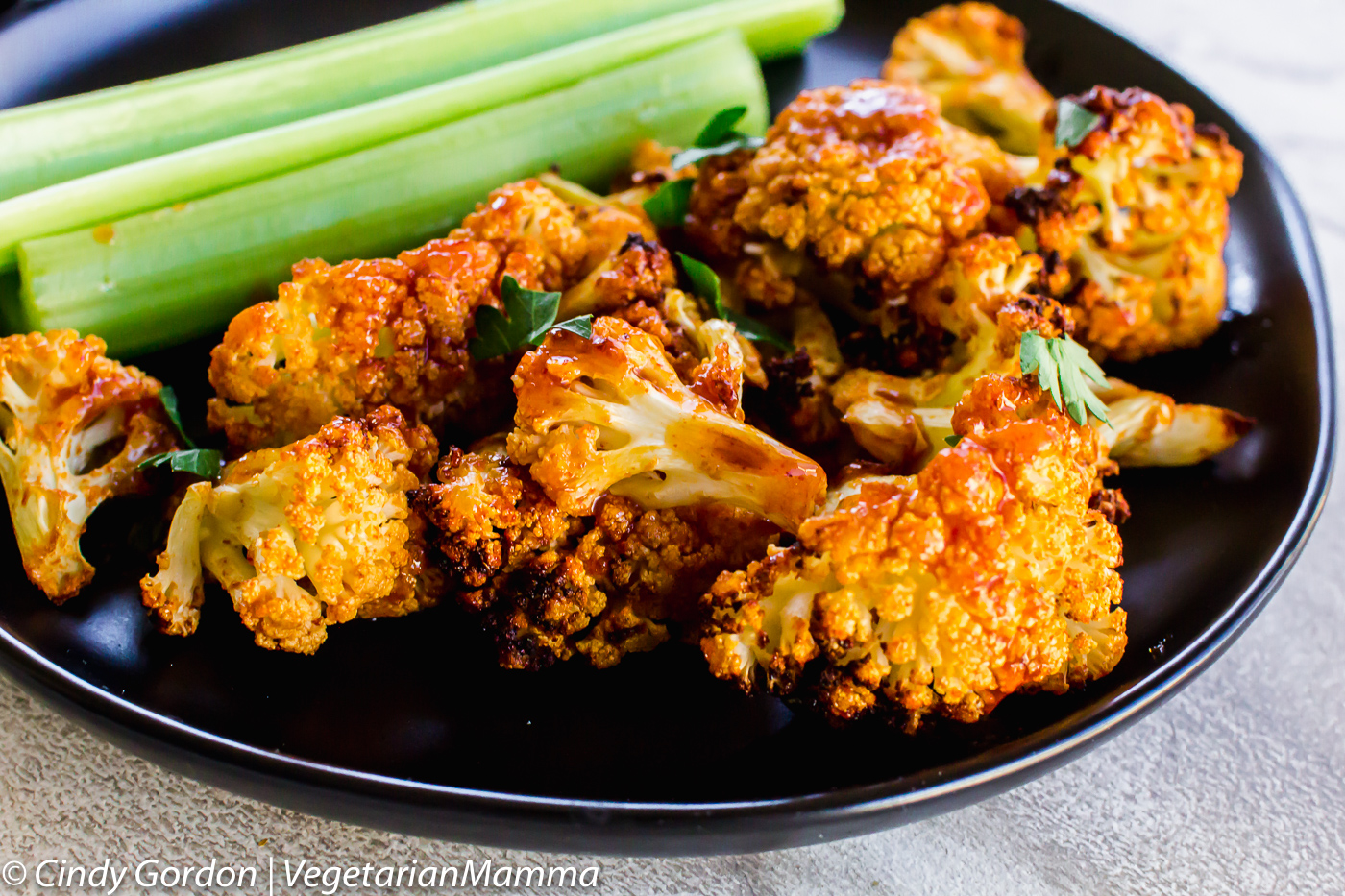 This recipe is perfect for game day, especially if you want to bring a meatless flare or a vegetarian option to your game day celebration! I am pretty sure that even your meat loving friends will dive into this dish!
The secret is most certainly in the sauce for this recipe!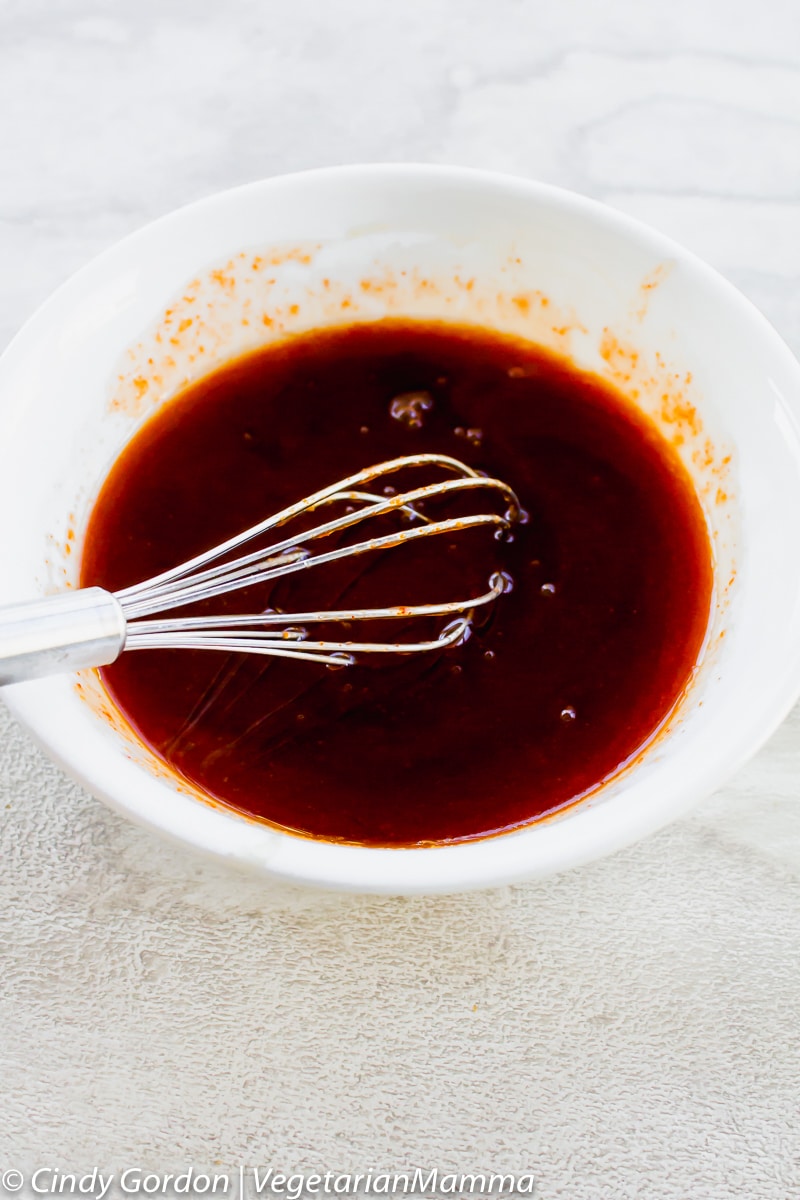 How do you make honey sriracha sauce?
It is actually quite simple to make this delicious sauce. You are going to whisk together a few simple ingredients and then you will be ready!
Our Honey sriracha sauce ingredients are:
Honey

Sriracha

Coconut Aminos (or gf soy sauce)

Sesame Oil

Rice Vinegar
This honey sriracha cauliflower bites are the perfect replacement for air fryer wings! As you know we LOVE our air fryer and that is how we made this recipe!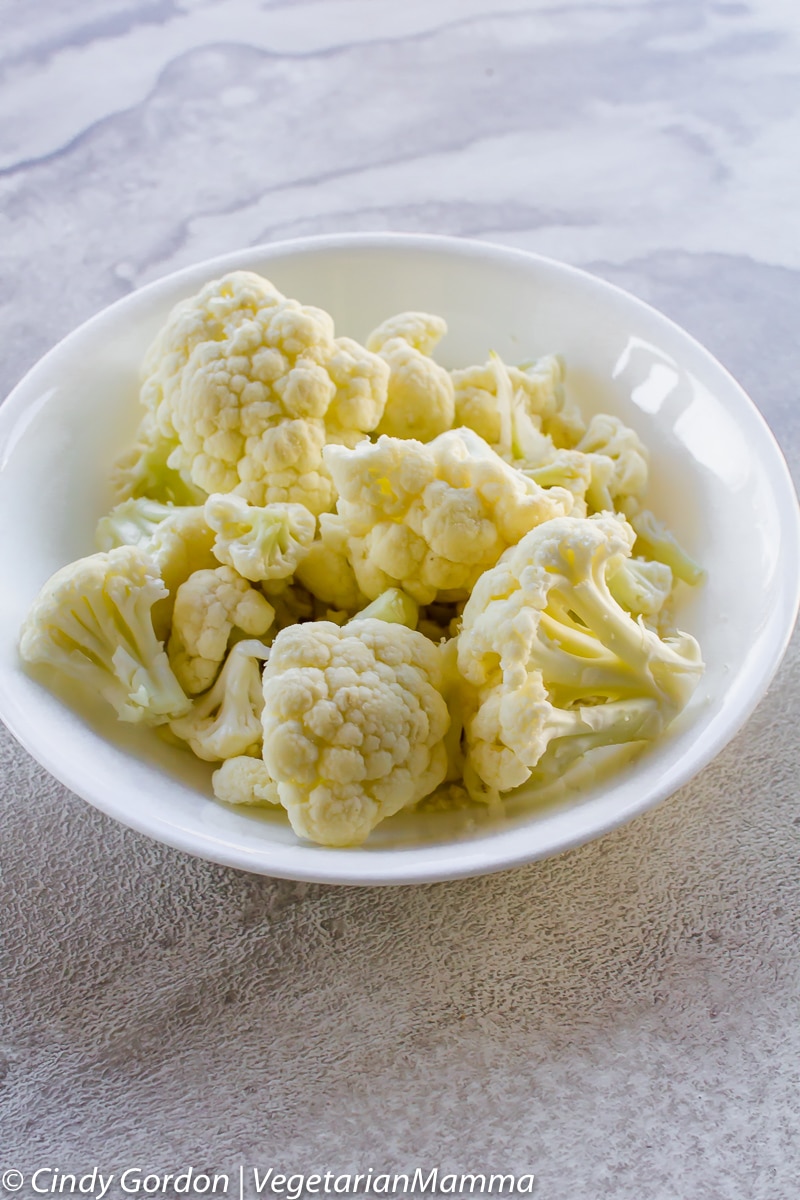 Let's recap WHY I LOVE MY AIR FRYER!
This kitchen gadget is easy to use, straight out of the box.

There are endless recipes you can make!

Cook times are faster than your conventional oven and often food is equally heated.

The cook time of a recipe is the actual time, unlike waiting for the pressure to rise on your instant pot or your oven to preheat!

It uses a lot less oil!

You can easily adapt recipes you already!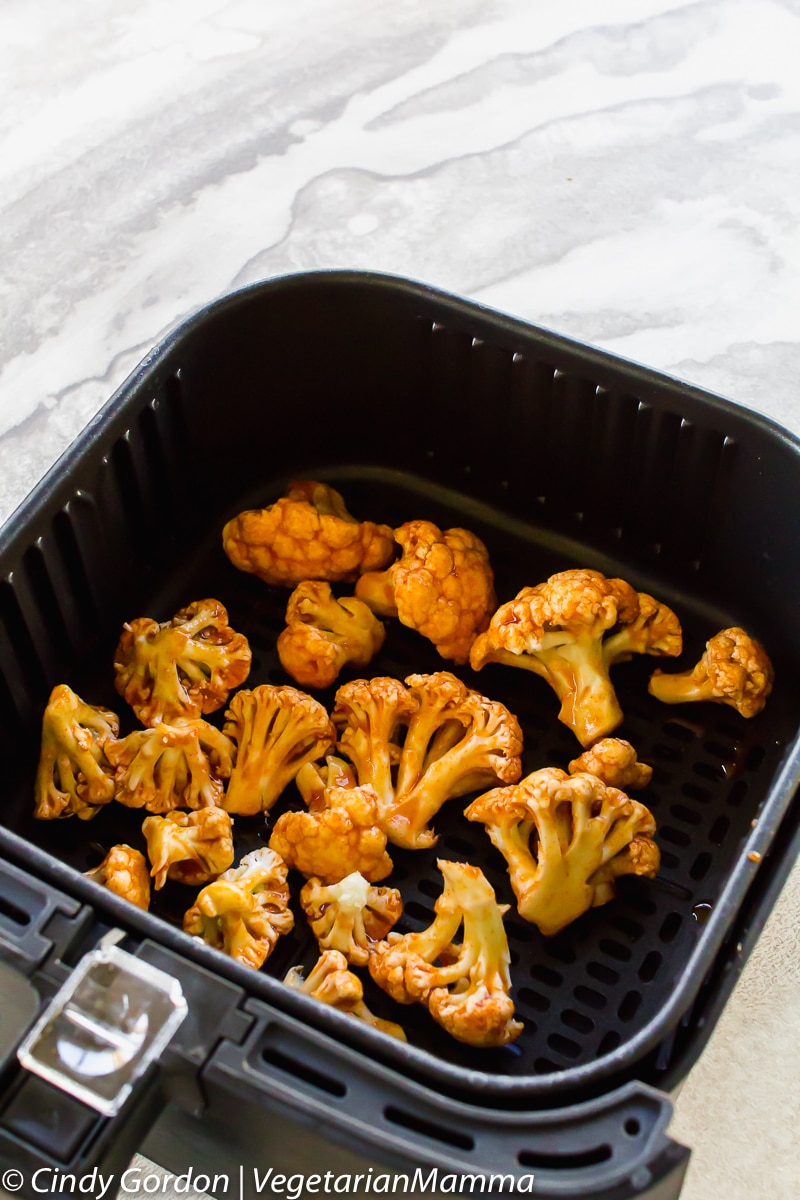 I love my air fryer
Let me just admit it here, that I love my air fryer. I think it has become fairly clear over the past year or two that I LOVE this kitchen gadget.
It was originally a Christmas gift that my mom bought my husband and I. She always likes to get us things for our kitchen. One of her friends suggested this oil less fryer! So off to Khols she headed with her coupon and got us one!
While I'd read all the rave reviews about how amazing the air fryer truly was, I seriously had NO idea how much I'd really love it! From the moment I unwrapped the gift, my mind was already racing with everything that I couldn't wait to cook in it.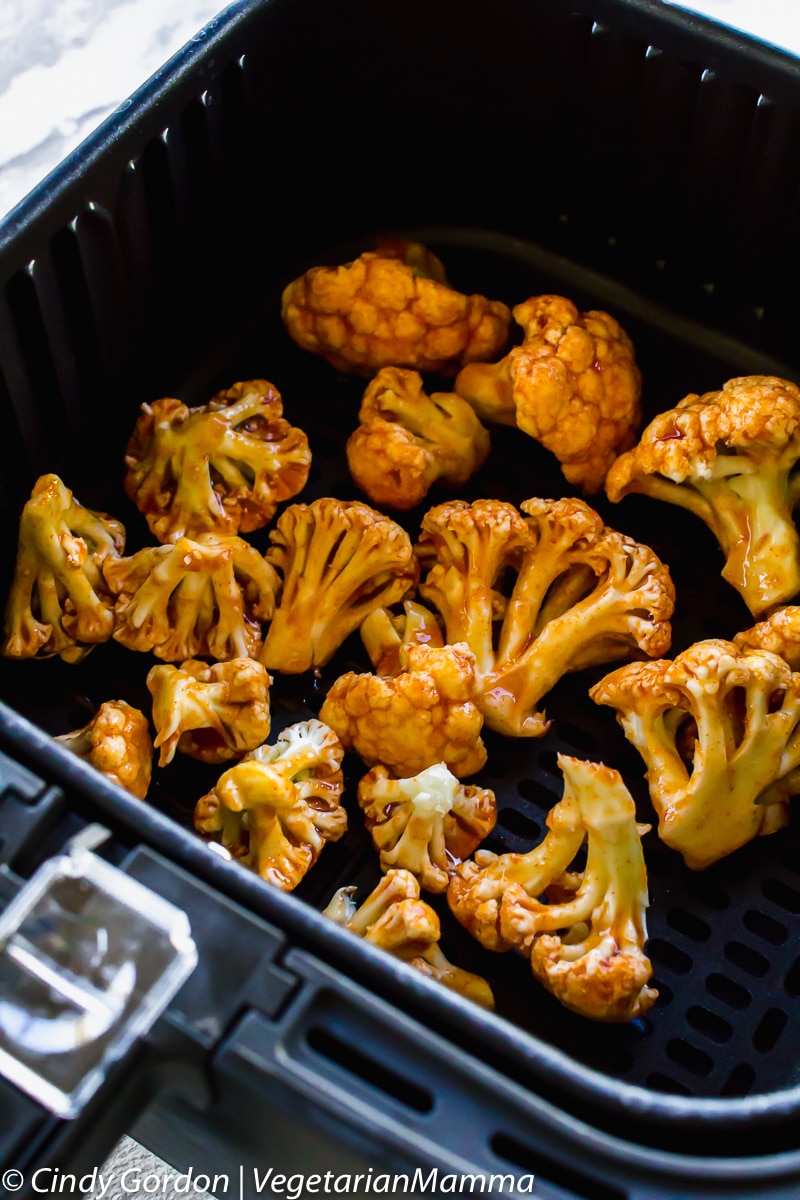 Trust me when I say that if you've been on the fence about purchasing an air fryer, encourage yourself to go ahead and make that buy. Once you use it just ONE time, you'll be wondering what took you so long to make that decision!
Honestly, at this point in time we couldn't be more thankful we were gifted an air fryer. We love our air fryers. Yes, we do have MORE than one!
These air fryers have come staples in our home. Many people ask how we store them. We actually do not have a lot of counter space, so we keep them in our laundry room. (which is slowly turning into a second pantry!)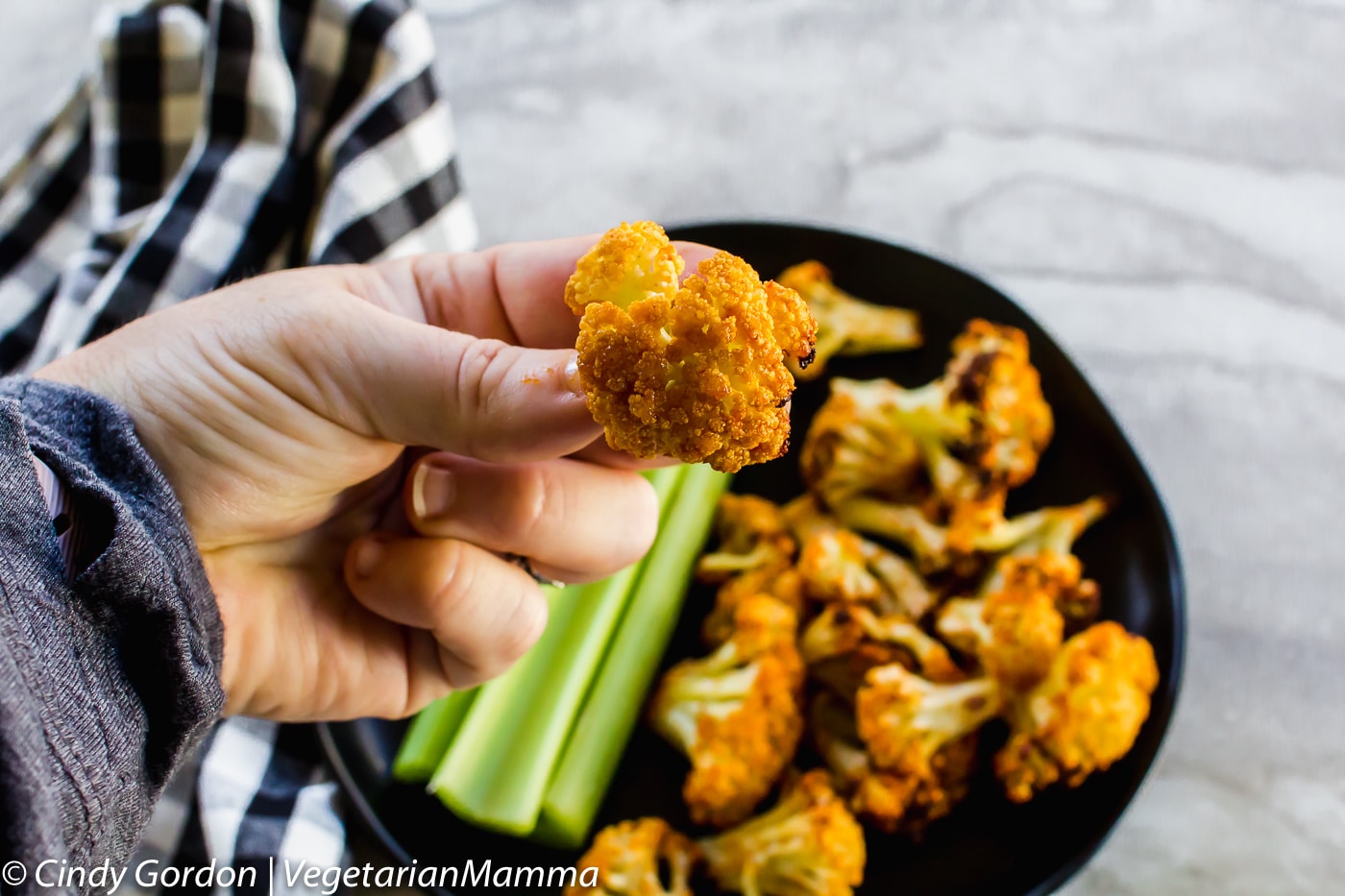 Side note: If you are in the market for an air fryer, I recently created a post about the best air fryers on the market. The post is based off of reviews from friends, family and online consumers! Be sure to check out the best air fryers on the market!
Air Fryer Sriracha Cauliflower QUESTION TIME:
What are Coconut Aminos?

Coconut Aminos

(affiliate ad link) are my new favorite thing! This is my FAV sauce (that is completely delicious) and it is made from coconut sap. The sauce is a thin dark sauce that has a sweet and salty taste. It is very similar and can be exchanged for soy sauce.

Coconut Aminos

are gluten-free.

Does my soy sauce need to be gluten-free?

If you use a soy sauce and you have Celiac Disease, a wheat allergy or a gluten sensitivity you need to make sure it is gluten-free. If you DO NOT have any of those restrictions you can use non gluten-free soy sauce.

Just exactly how HOT is sriracha? Is Sriracha spicy?

That is a good question. I can tell you when it come to spiciness, I am a total wimp. I can tolerate easily 1-2T of sriracha sauce in a recipe. After that the HEAT kicks up a notch for me. So basically, its a hotter sauce but not THE hottest!

What country did sriracha sauce come from?

I searched the interwebs for this answer. I wasn't sure. It appears that sriracha originated in Thailand from a Thai woman.
Even Cabi the Tabby approves of this recipe 🙂
More easy air fryer recipes:
Looking for vegan air fryer recipes? We have some of those too! You can even check out our YouTube channel for some air fryer videos.Still don't have an air fryer of your own? Be sure to check out our air fryer reviews from several of the top models out there. You'll be whipping up free air fryer recipes in no time!
Want to learn more about Air Fryers? Check out our Air Fryer 101 post! Having an Air Fryer is great but may also mean that you have a ton of questions as well. We have some great tips for using your air fryer!
(And while I'm crazy over my Air Fryer, I'm also just as crazy about my Instant Pot as well. I love gadgets, what can I say? If you are looking for a few instant recipes or easy instant pot recipes, you can check out our instant pot stuffed peppers, instant pot taco soup, instant pot cheesy potato leek soup, instant pot black beans and instant pot leek soup.)
If you LOVE #GameDay foods you might also be interested in Cauliflower Pizza Crust Recipe which would be great for game day pizzas! For all the snackers on game you I would recommend you serve up some Healthier Dill Dip from my friend Amanda! It always seems to be chilly on Super Bowl Sunday so I would recommend also serving a soul warming soup such as Roasted Butternut Squash Soup!
Pin this Air Fryer Honey Sriracha Cauliflower for later: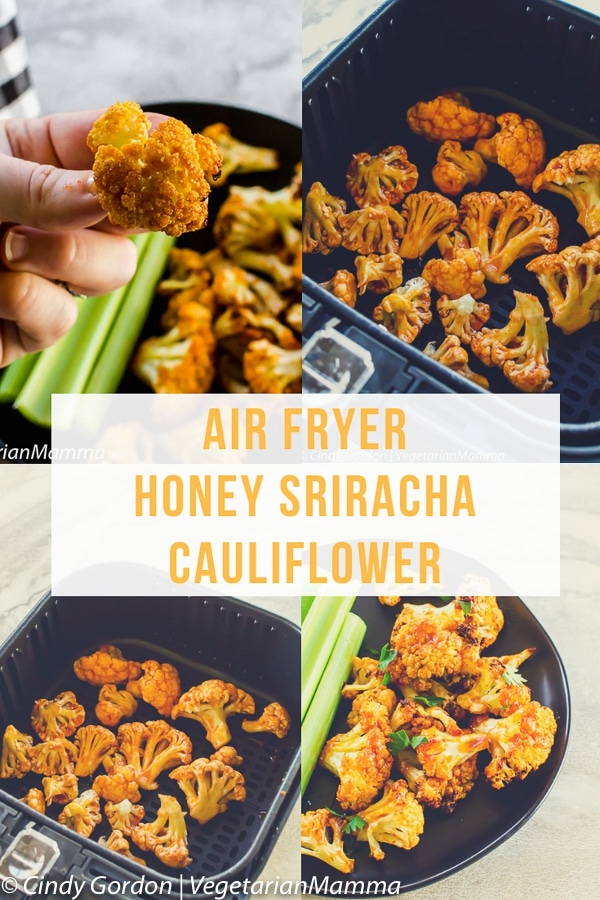 Vegetarian Air Fryer Resources – We have a vegetarian air fryer newsletter, which you can subscribe to here. We also have a specific vegetarian air fryer recipes group on facebook. You can find that Veg Air Fryer FB Group here.
If you are looking for vegetarian recipes beyond air fryer ones, we have a Vegetarian Newsletter as well as a Vegetarian Recipes facebook group. This newsletter and FB group offers up recipes that on the stove, in the oven, on the grill, in the instant pot and more!
Other Resources:
More Air Fryer Goodies: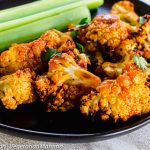 Print Recipe
Air Fryer Honey Sriracha Cauliflower
Air Fryer Honey Sriracha Cauliflower is a delicious spicy air fryer recipe topped off with a sweet and spicy Sriracha sauce. This vegetarian air fryer recipe is a winner for game day!
Ingredients
Vegetable
3-4

c

cauliflower florets
Instructions
In a bowl mix together the honey, Sriracha, coconut aminos, sesame seed oil and rice vinegar. Whisk together, set aside.

Dip each cauliflower piece into the sauce to cover the cauliflower with sauce.

Gently place cauliflower in the air fryer at 370 degrees F for 10 minutes. Shake the basket mid way through (about the 5 minute mark). 10 minutes will give you tender cauliflower. If you prefer crunchier cauliflower, lessen the time.

Top with additional sauce after plating.
Notes
Serve with celery and ranch or blue cheese dressing on the side for dipping. 
Save a few minutes and buy pre-washed, pre-cut cauliflower for this recipe to come together even faster!
Nutrition
Calories:
113
kcal
|
Carbohydrates:
28
g
|
Protein:
1
g
|
Sodium:
637
mg
|
Potassium:
267
mg
|
Fiber:
1
g
|
Sugar:
24
g
|
Vitamin A:
30
IU
|
Vitamin C:
51.2
mg
|
Calcium:
16
mg
|
Iron:
0.5
mg
All though this website attempts to provide accurate nutritional information, the information should only be considered an estimate. Varying factors such as different product types, different brands, etc. can change nutritional information. It is your responsibility as a consumer to read all labels to make sure the ingredients fit your dietary needs as well as calculate your own nutritional information as a double check.
Question time: Drop me a comment below telling me if you've ever had food with honey sriracha sauce! Are you willing to give this recipe a try?