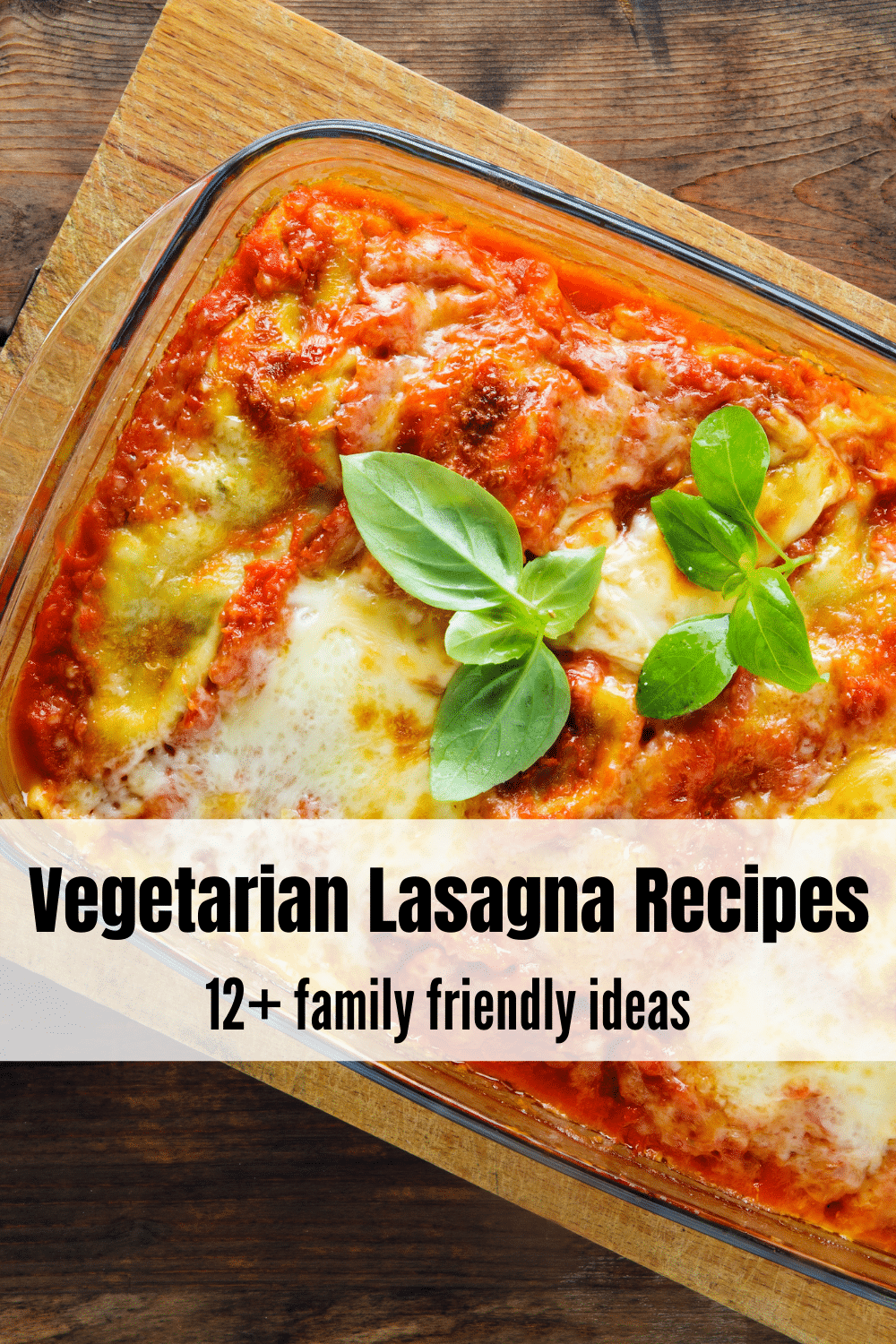 These vegetarian lasagna recipes are packed with flavor without the meat! Keep it simple with a delicious veggie lasagna for a healthy dinner. Read on for more than a dozen quick and easy vegetarian lasagne recipes your family will love!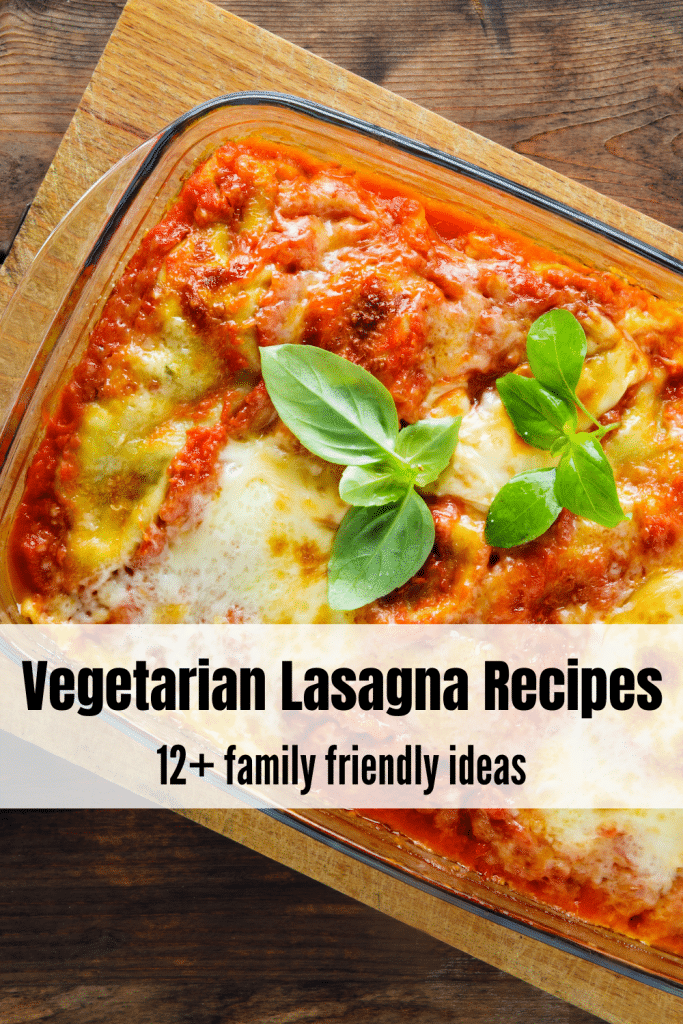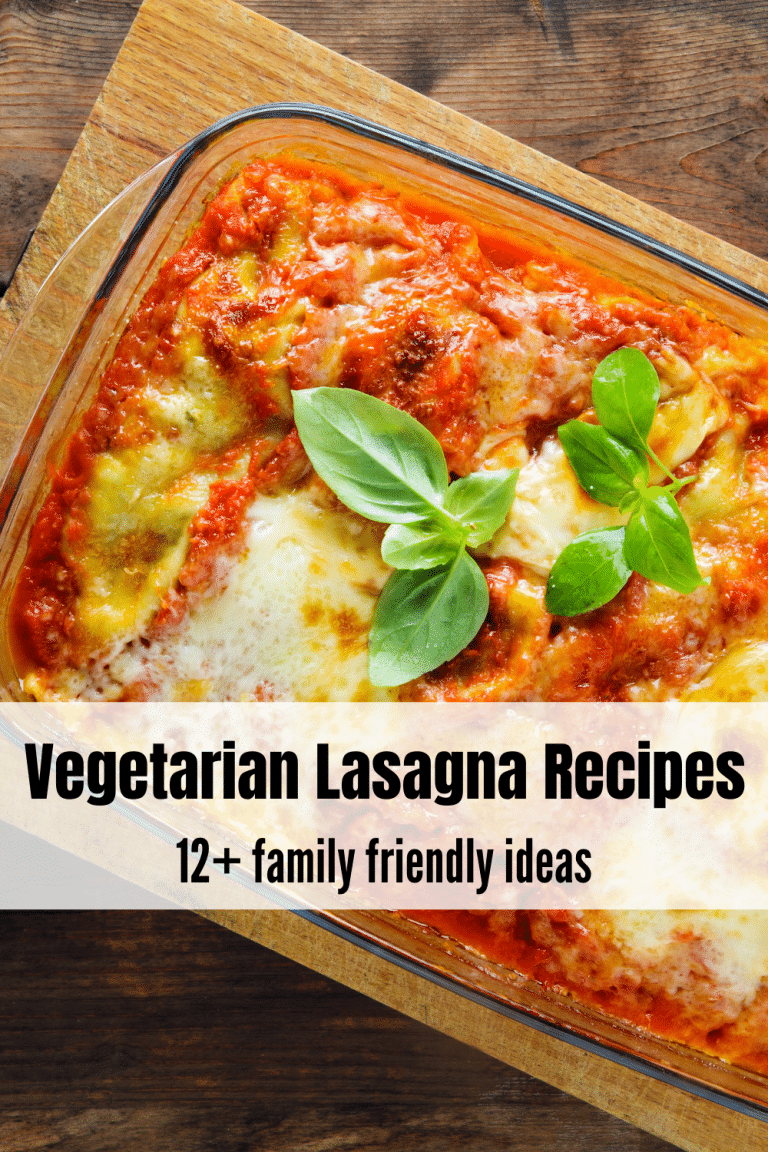 VEGETARIAN LASAGNA RECIPES
Pasta is a great budget-friendly dinner idea, but I get sick of the same spaghetti, alfredo, and carbonara dishes. This list of vegetarian lasagnas is great to break up the mid-week meal slump with tons of veggies without THINKING you are eating tons of veggies.
I love vegetarian lasagna recipes because they are so versatile and great for family dinners. Change the sauces, swap the noodles, and add all the vegetables you have on hand!
When it comes to lasagna, almost anything goes: As long as it has layers, sauce, and of course cheese, I will call it a lasagna. And I will also happily eat it.
INGREDIENTS FOR VEGETARIAN LASAGNA
Noodles: There is no shortage of lasagna noodles to choose from! Every lasagne recipe on this list can be made with regular noodles, wheat noodles, or gluten-free noodles. Simply follow the instructions on the package before assembling!
Pro tip: If you want to add even more vegetables to the mix, use eggplant instead! Slice it super thin lengthwise and roast the eggplant in the oven before assembling.
Sauce: You need a delicious sauce for every lasagna to hold it all together. Most lasagnas use a red sauce, but a white sauce or even a pesto sauce works, too.
Cheese: I love a hearty lasagna recipe with plenty of melty cheese on top. Mozzarella is the easiest cheese to melt, but Parmesan cheese is also great on top of lasagnes. Most recipes also include a creamy cheese on the inside like ricotta or cottage cheese. If you want to make a vegan lasagna, swap the cheese for your favorite plant-based option!
Vegetables: There is no vegetarian lasagna without the veggies! These lasagna recipes are merely suggestions. In most cases, you can add more vegetables to the filling or swap for whatever you have in the fridge. I highly recommend trying spinach, mushrooms, tomatoes, kale, bell peppers, zucchini, leeks, eggplant, squash, onions, broccoli, garlic, or carrots.
Herbs and Spices: There are so many delicious flavors you can pack into a vegetarian lasagna! Oregano, basil, parsley, fennel seeds, thyme, Italian seasoning blends, and garlic powder are all amazing options to add an extra punch of flavor. I love to top my lasagnas with ribbons of fresh basil for that extra floral kick.
If you have any questions about how to make the best vegetarian lasagna, please leave a comment below and I will get back to you ASAP!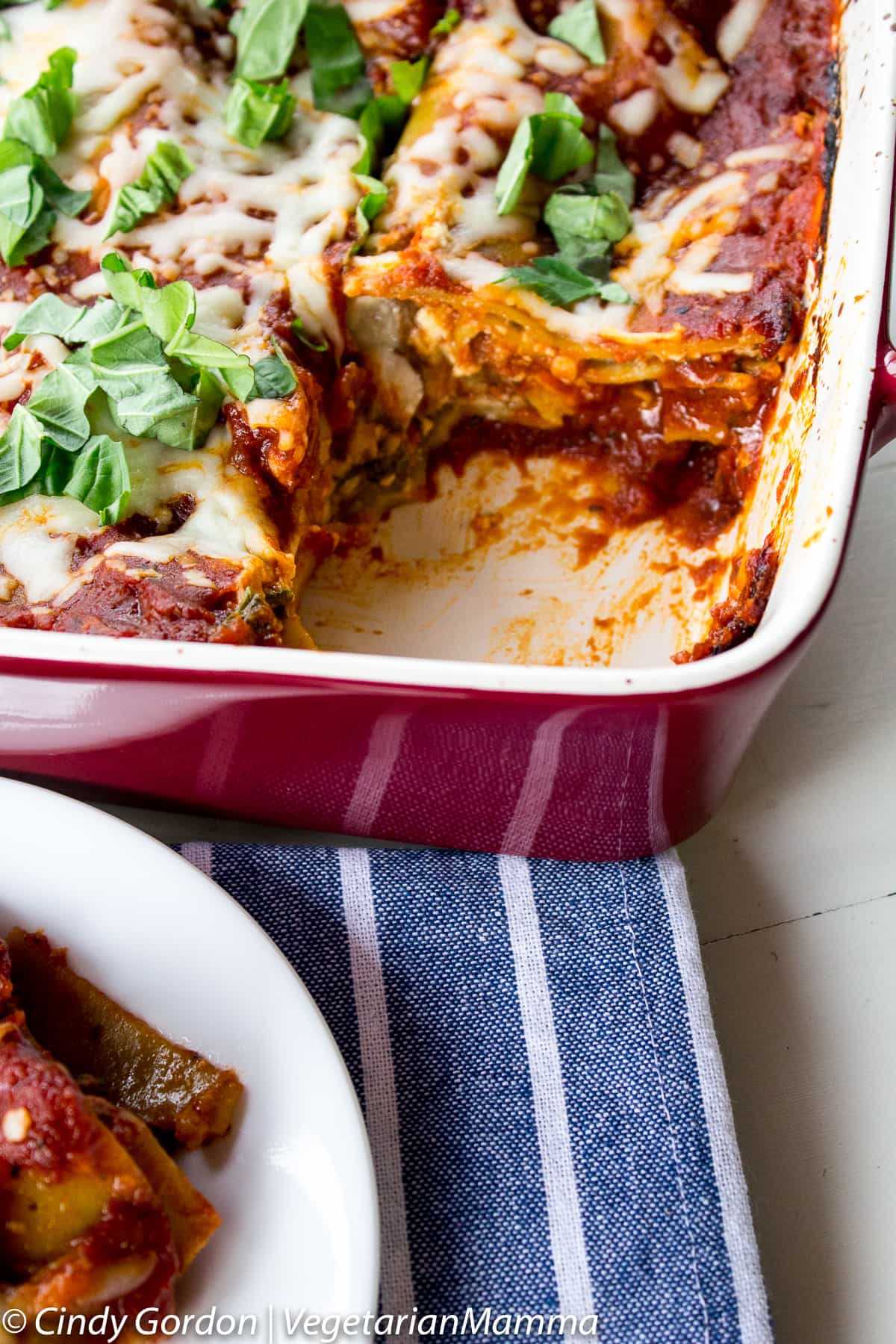 MORE DELICIOUS VEGETARIAN LASAGNA RECIPES
This super savory Spinach Mushroom Lasagna is a simple and delicious comfort food dish. It is a snap to prep, and your whole family will be begging for a second serving of this fresh spinach lasagna! Luckily, most lasagne recipes serve 8, so seconds for everyone.
Most lasagna recipes call for some type of ground meat. Swap it for a plant-based version with this Vegetarian Lasagna Bolognese recipe! It has all the comforting flavors of your childhood favorite with a richly seasoned plant-based meat alternative and a super quick marinara sauce.
Did you know you can make lasagna in the slow cooker? It is true! This Crockpot Lasagne is great for a cold weeknight dinner! Simply chop the veggies and layer everything totally raw in the slow cooker. You can come home to a perfectly cooked lasagna with no extra effort. I love a slow cooker recipe that lets the appliance do all the work.
Tomato sauce is my favorite part of a vegetarian lasagne, but sometimes I want to switch it up. This white sauce vegetarian lasagna has a simple sauce you do not have to cook!
Roasted veggies are simply the best side dish. Throw your eggplant, mushrooms, bell peppers, and zucchini in the oven before assembling for a delicious Roasted Vegetable Lasagna. It adds all of that beautiful charred flavor to your already delicious vegetarian lasagna.
Who said lasagna has to be an Italian dish? I love this Greek-Style Vegetarian Lasagna with all my mediterranean favorites in one casserole dish. The addition of kalamata olives and feta cheese are a perfect change of pace for this hearty lasagna recipe. Add a little Greek seasoning blend for even more flavor!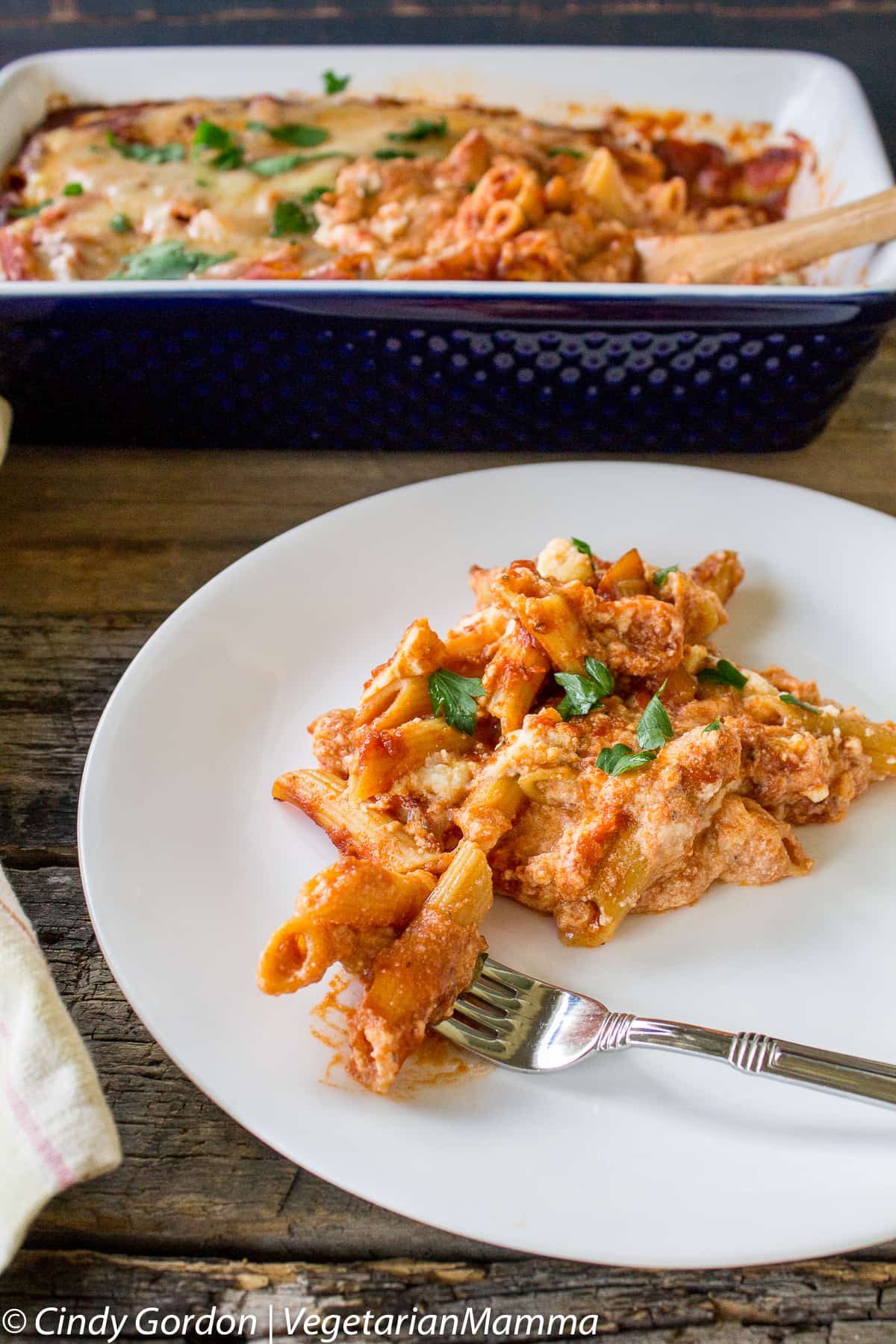 Deconstructed Lasagna is the ultimate easy comfort food dinner. Skip the fussy lasagna noodles and use a penne pasta instead! The tender noodles are enveloped in a flavorful tomato sauce and topped with melted cheese. If you love baked ziti, try this vegetarian recipe!
Want to make a fully plant-based lasagna? Try this vegan lasagna recipe! If you are looking for a lasagna just like grandma used to make, this is it. It is packed with a vegan meat sauce, a vegan ricotta, and topped with vegan mozzarella! I love the distinct layers in this delicious dish.
Every fall, I have to make this vegetarian lasagne with kale and leeks. Swap the red sauce for this herbaceous pesto and ricotta sauce that is so bright and creamy. I love this super green recipe. It is just as comforting as a potato leek soup and results in just as many leftovers!
When lasagna feels like too much work, try lasagna rolls instead! These White Bean and Spinach Vegetarian Lasagna Rolls are so easy and full of fiber. Use frozen spinach and canned beans to make this super easy weeknight dinner even easier! My kids love these.
Pack every vegetable you can think of into a hearty Garden Vegetable Lasagna! Start with broccoli florets, carrots, onions, frozen spinach, yellow squash, and zucchini. With all those veggies, no one will miss the meat in this yummy vegetarian lasagne recipe.
MORE VEGETARIAN PASTA RECIPES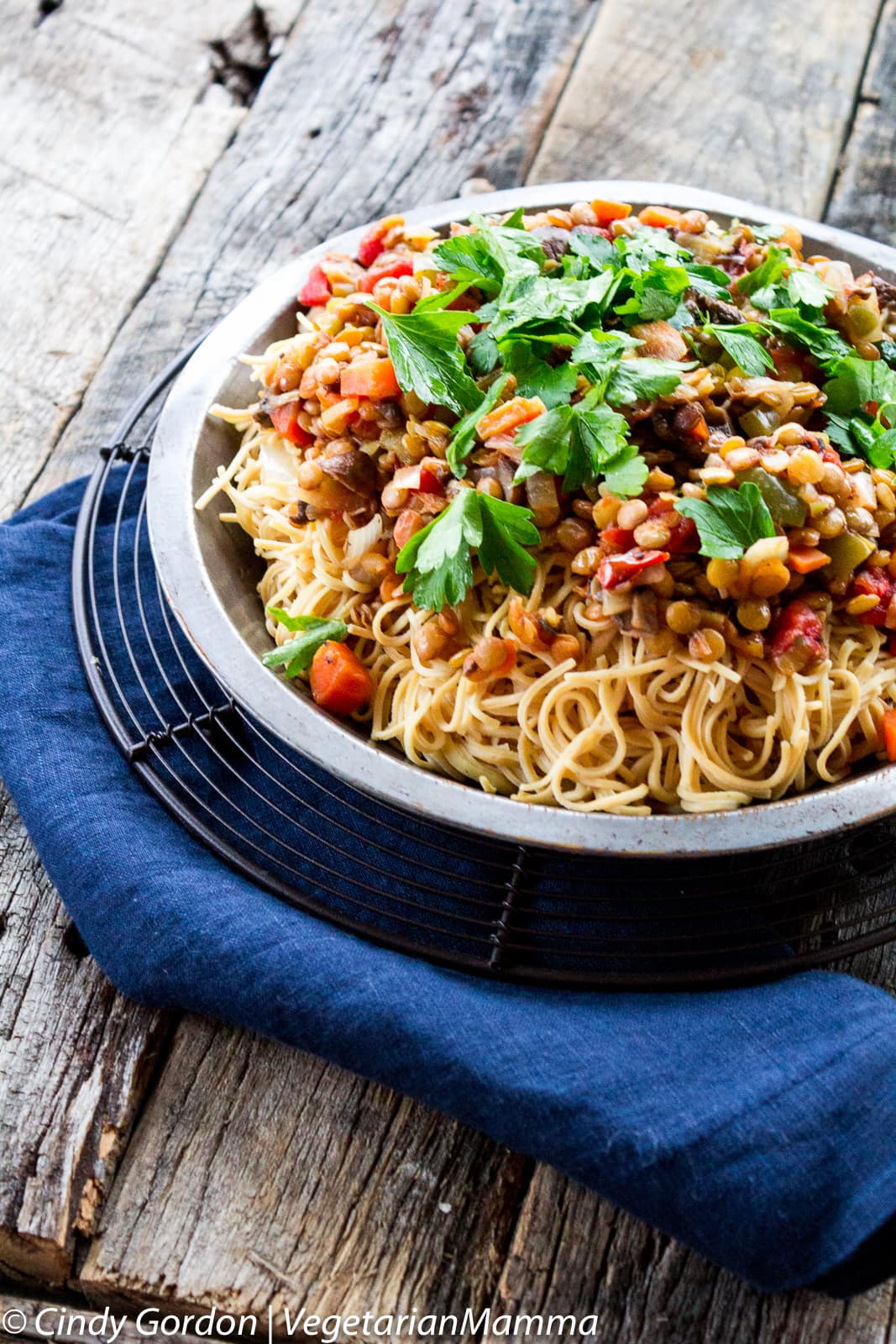 Vegetable Ragu is a hearty and flavorful pasta dish that is perfect for your dinner table. This vegetable ragu recipe is just right for busy week nights or lazy weekends. To say this recipe is a comfort food would be 100% accurate, well at least in my recipe book. Everything about this recipe is comforting to my foodie soul. The heartiness of the lentils, the fresh ingredients, and the delicious pasta!
When vegetables are the goal, pasta primavera is THE recipe! This summery pasta dish is filled with all the colors of the rainbow and perfectly al dente penne pasta. It is a great way to use tons of fresh vegetables before they go bad. From red bell peppers to purple onions and every color in between, there is no veggie you cannot add to this vegetarian recipe.
If you are looking to keep the pasta dishes but ditch the carbs, try an air fryer spaghetti squash swap! Unlike roasting spaghetti squash in the oven, this air fryer recipe is so fast and perfect for shredding! You just need a squash to for this recipe! Make this your own a million different ways with seasonings, proteins, and sauces!
I love eggplant parmesan, but I do not love all the gluten. Luckily, I made my own gluten-free eggplant parmesan recipe that is baked instead of fried! It is still just as crispy as your fav restaurant dish without all the messy oil and cleanup.
I love a chunky spaghetti sauce filled with veggies. Ditch the store-bought marinara sauce and try this vegetarian bolognese sauce recipe. It is full of hearty, chunky vegetables that give this easy sauce a comforting flavor and texture. Even your meat loving friends will love this Bolognese.
HOW TO MAKE THE BEST VEGETARIAN LASAGNA
Whether this is your first lasagna ever or you are a vegetarian lasagna pro, here are some tips and tricks to
Keep all the veggies small. When you are working with multiple types of vegetables, they will all cook at different rates. For example, if you are using carrots and zucchini, the zucchini will cook much faster than the carrots. No one wants raw carrots or overly mushy squash!
Spray the pan. If you want your lasagna to come out super cleanly, add a little oil to all sides before layering. For the most fool-proof protection, try parchment paper.
Use no-boil noodles. For the fastest vegetarian lasagna, use noodles you do not have to cook in advance! Check the box for lasagna noodles you can simply layer and let simmer in the delicious sauce as it bakes.
Make it ahead of time. Did you know you can refrigerate a fully assembled lasagna? All you have to do is bake! You can make any of these vegetarian lasagna recipes up to 2 days in advance for an even easier dinner!
Freeze for later. Lasagna is a great dish to freeze! Whether you are freezing a whole lasagna, or sliced leftovers, cover it very well to avoid freezer burn. I usually use two laters of foil, just in case. When it is time to eat, defrost the lasagna overnight in the fridge, and bake until bubbly and browned.
WHAT TO SERVE WITH VEGETARIAN LASAGNA
These hearty vegetarian lasagna recipes are a whole meal in one casserole dish! I love to serve mine with crunchy bread and a simple salad.
If you need an appetizer recipe while the lasagna bubbles, try these air fryer arancini balls! Throw some leftover risotto in the air fryer for a tasty budget-friendly recipe. I love to use the leftover sauce from my vegetarian lasagna recipe as a dipping sauce, too.
If you have never tried toasted ravioli in the air fryer, you are missing out! They are super crunchy without all the oil. I always have a bag of frozen toasted ravioli in my kitchen for a quick appetizer or easy handheld dinner.
Air Fryer Stuffed Mushrooms are the vegetarian appetizer everyone wants to eat! These yummy stuffed mushroom caps are filled with gooey mozzarella cheese, red and yellow bell peppers, and a delicious Italian seasoning blend.
HOW MANY LAYERS DOES A LASAGNA HAVE?
I love all lasagnas, but the best lasagnas have clear, defined layers of noodles, sauce, cheese, and of course vegetables.
Typically, a lasagna has 3 layers of all the good stuff, topped with melted cheese. You can always do more layers, but it is difficult to do less and still get that hearty lasagna.
WHAT IS THE CORRECT ORDER TO LAYER VEGETARIAN LASAGNA?
First, start with the lasagna noodles. Most pans need 3 noodles for each layer. Then, add the veggie filling any any cheeses, like ricotta or cottage cheese.
Repeat until you have done noodles, filling, sauce, and cheese three times. Top with your favorite mozzarella or parmesan cheese, and it is time to bake!
SHOULD YOU COOK SPINACH BEFORE PUTTING IT IN LASAGNA?
When it comes to vegetables, some of them are notorious for leaking water as they cook. Mushrooms and spinach are two of the main culprits for this!
To avoid a soggy lasagna, I like to cook a lot of my veggies first, so I can remove the excess liquid before adding. When you are working with spinach, be sure to sauté it first, and discard any extra liquid.
Let me know in the comments which lasagna you liked best! You will have to try all the vegetarian lasagne recipes to see for sure. Happy cooking!
Vegetarian Lasagna recipes - Deconstructed Lasagna
These vegetarian lasagna recipes are packed with flavor without the meat! Keep it simple with a delicious veggie lasagna for a healthy dinner. Read on for more than a dozen quick and easy vegetarian lasagne recipes your family will love!
Ingredients
8

oz

of Organic Red Lentil Penne by Explore Cuisine

32

oz

pasta sauce

15

oz

Ricotta Cheese

2

eggs

¾

c

parmesan cheese

1

cup

mozzarella cheese
Instructions
Prepare the pasta, per the directions on the box.

In a bowl combine the ricotta, eggs and parmesan. Blend until smooth and well mixed.

When pasta is done, drain under cool water.

In a new bowl, combine the pasta and sauce. Stir to combine.

Lightly oil a 9X13 baking casserole. Put half the pasta mixture in the casserole dish.

Top with all the ricotta mixture.

Add remaining pasta mixture to the casserole dish, creating layers.

Cover and bake at 350 degrees F for 30 minutes. Remove cover, add mozzarella. Put back in oven until cheese is melted.

ENJOY!
Notes
If your pasta jar is only 28 oz, you will be fine! 28-32 oz is good!
Nutrition
Calories:
426
kcal
|
Carbohydrates:
39
g
|
Protein:
25
g
|
Fat:
19
g
|
Saturated Fat:
11
g
|
Trans Fat:
1
g
|
Cholesterol:
114
mg
|
Sodium:
1192
mg
|
Potassium:
705
mg
|
Fiber:
3
g
|
Sugar:
8
g
|
Vitamin A:
1273
IU
|
Vitamin C:
11
mg
|
Calcium:
425
mg
|
Iron:
3
mg
All though this website attempts to provide accurate nutritional information, the information should only be considered an estimate. Varying factors such as different product types, different brands, etc. can change nutritional information. It is your responsibility as a consumer to read all labels to make sure the ingredients fit your dietary needs as well as calculate your own nutritional information as a double check.