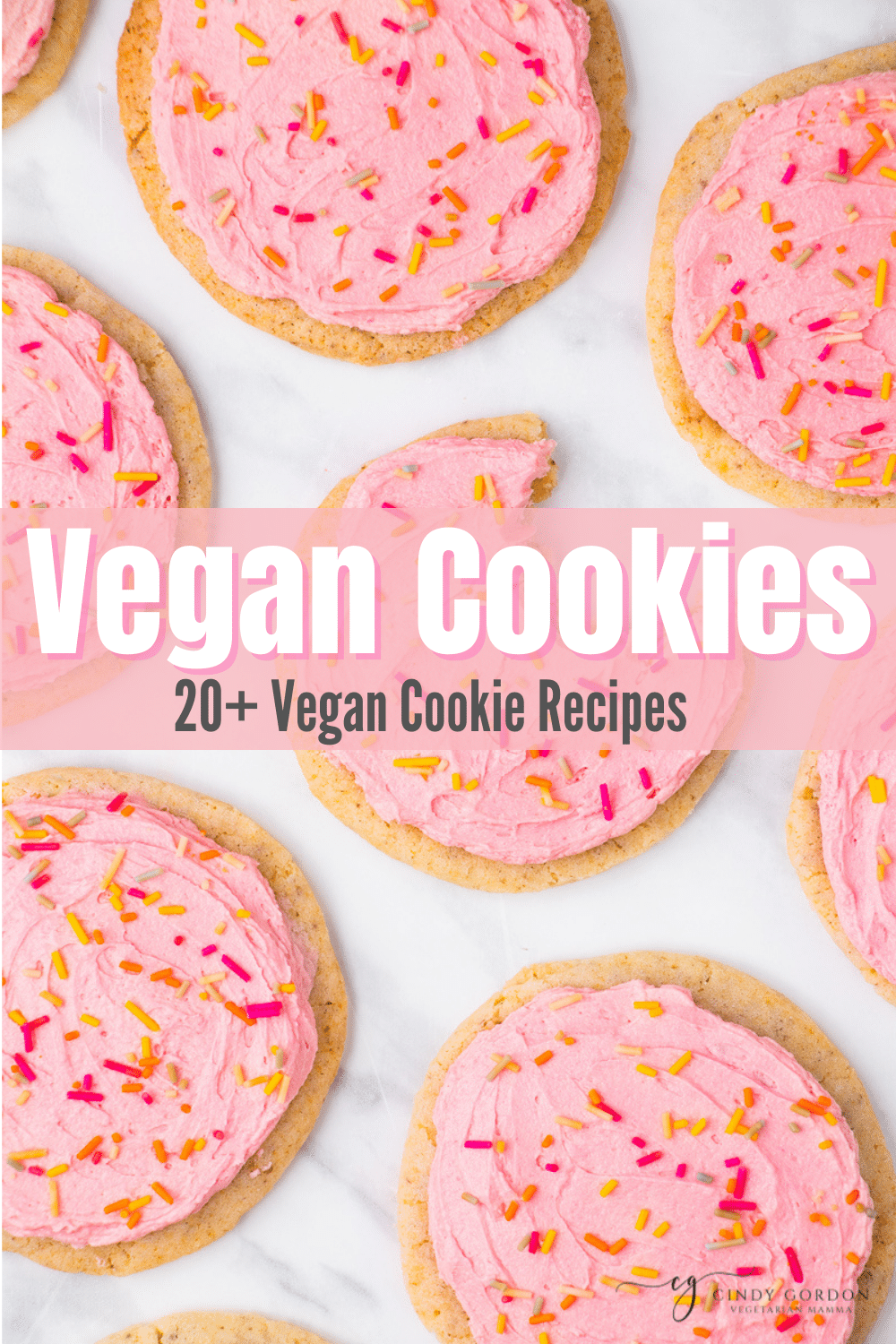 These vegan cookies are so easy to make with no dairy or eggs! From simple chocolate chip cookies to festive Christmas cookie recipes, you will find everything you need here for the best vegan cookies. Read on to learn how to make over 20 vegan cookie recipes.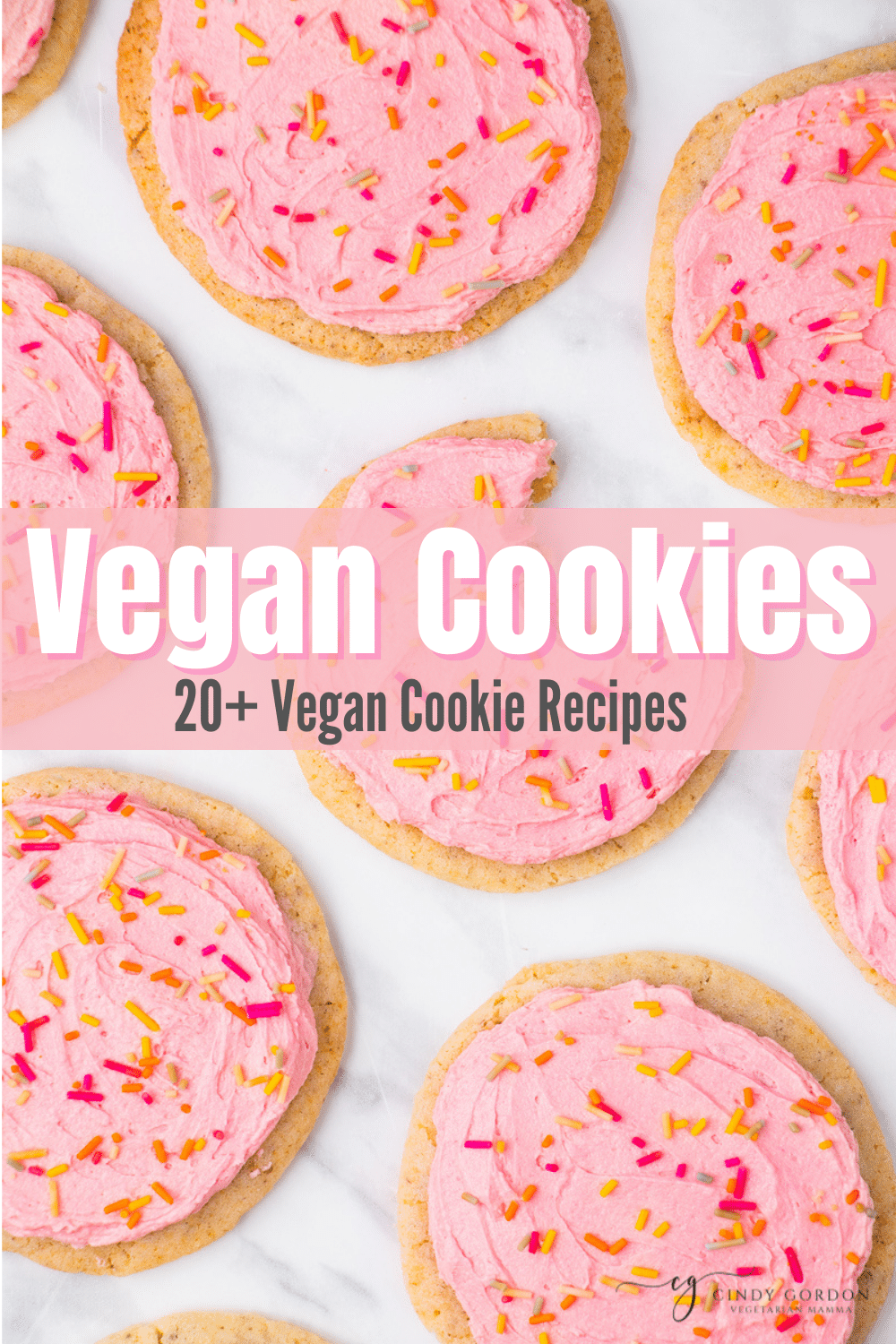 WELCOME TO VEGAN COOKIES
Are you new to vegan baking and do not know where to start? We are so happy you are here! We love to help people become experts at all things vegetarian and vegan. We have a whole community just waiting to welcome you!
Whether you are a seasoned baker or a beginner, we have got some easy and delicious vegan cookie recipes to share with you today! You can make the same delicious cookies, from basic chocolate chip to all your favorite Christmas cookies, with just plant-based ingredients.
BEST TIPS FOR MAKING VEGAN COOKIES
Always use parchment paper: There is nothing worse than freshly baked cookies that are stuck to the baking sheet. You can use oil, but it can sometimes fail or make the vegan cookie recipe greasier. I always use parchment paper for my vegan cookies! They slide off every time with no mess or fuss.
Stick to unsweetened non-dairy milks: Whether you are using almond milk, oat milk, soy milk, or any other plant-based milk, be sure it is unsweetened. The added sweeteners and flavors can alter your recipe and lead to bad vegan cookies. No one wants that! Save the sweetened milk for your lattes.
Check your chocolate chip labels: While most dark chocolate chips are vegan, not all of them are. Whenever you buy a new brand, be sure to double check the bag. Some chocolates sneak on milk powder, milk fat, or milk solids.
Choose your egg substitutes wisely: For most of my vegan cookies, I use a flax egg. It is just 2 simple ingredients — ground flaxseed and water. I love that it uses all-natural ingredients. It has the perfect texture to bind your cookie dough together.
Swap egg whites for whipped aquafaba: If you find a cookie recipe you love and want to make vegan swaps, this is an easy one to memorize. You only need 2 tablespoons of whipped aquafaba for every egg white, or 3 tablespoons if the recipe calls for a whole egg.
Be careful not to over-bake: Obviously, there are no raw eggs or animal products in these vegan cookies. Most cookie bake times are calculated for the raw eggs to be safe to eat. With vegan cookies, however, you can simply pull them from the oven or air fryer as soon as they set. They will continue to harden as they cool, so do not wait too long.
Use an oven thermometer: Did you know most oven temperatures vary from what they claim to be? Using an internal oven thermometer makes vegan baking easy! Never end up with burnt cookies or raw dough with this handy device.
Start with vegan recipes: Thanks to the internet, there is no shortage of vegan cookie recipes online! If you are new to vegan baking, start with vegan recipes before trying to make swaps. Lucky for you, these are tried and true vegan cookie recipes.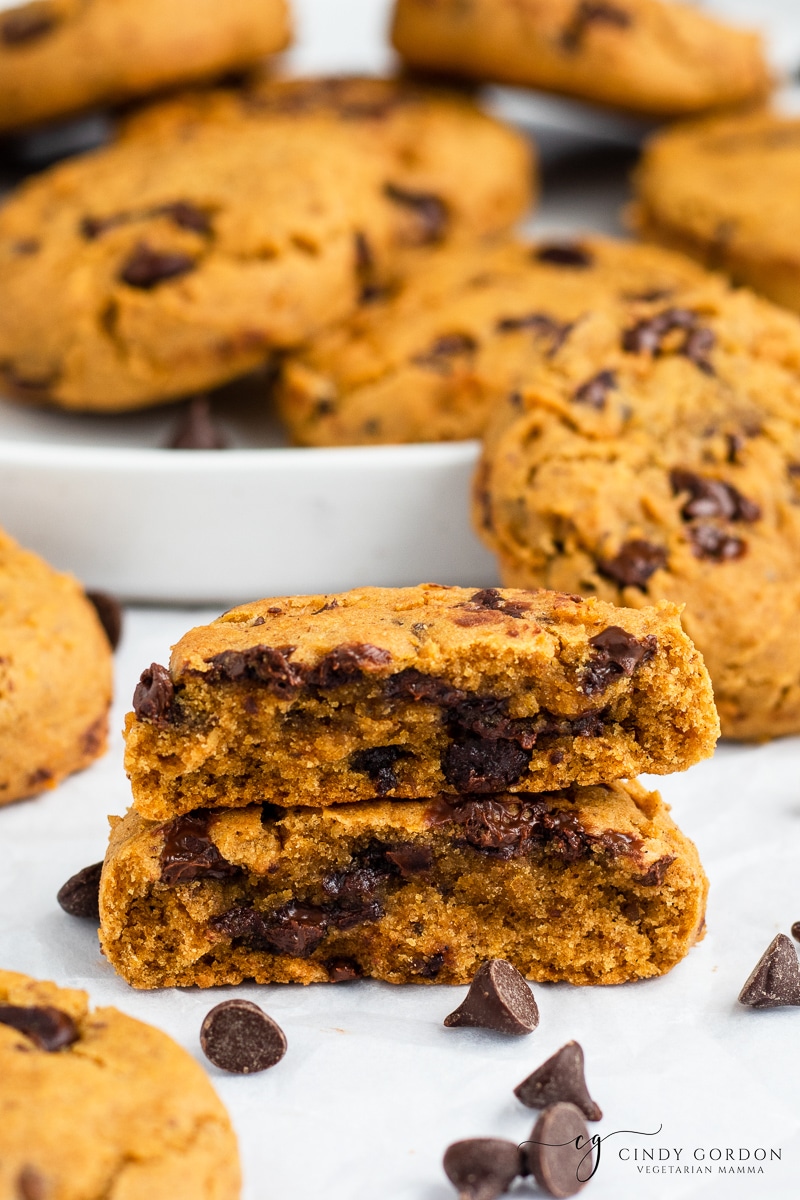 FAVORITE VEGAN COOKIES
There is no cookie recipe you cannot make vegan! I love all cookies equally, and I try to keep my baking gluten free as well as vegan. Many of these recipes use gluten-free flour. If you are not on a gluten-free diet, you can easily swap for regular all purpose flour.
Vegan Oatmeal Cookies: These Vegan Oatmeal Cookies are totally gluten free and a great Celiac snack! They are super easy to whip together with gluten-free rolled oats, yummy raisins, and a pinch of cinnamon. Keep them plain, or add raisins, chocolate chips, or any mix-ins you love.
Vegan Snickerdoodle Cookies: Vegan Snickerdoodle Cookies are so chewy and soft, you will never believe they are gluten-free! Rolled in homemade cinnamon sugar, they are the perfect simple cookie recipe.
Vegan Peanut Butter Chocolate Chip Cookies: There is no better combination than peanut butter and chocolate! These totally Vegan Peanut Butter Chocolate Chip Cookies are gluten free but perfectly chewy.
Vegan Pumpkin Cookies: Get a bite of pumpkin spice without the latte thanks to this cookie recipe. With a simple flax egg and some gluten-free flour, these cookies are totally vegan and made for a gluten-free diet.
Air Fryer Oatmeal Cookies: Did you know you can make vegan cookies in the air fryer? Seriously! These vegan oatmeal cookies are sweet, chewy, and packed with raisins.
Vegan Oatmeal Chocolate Chip Cookies: Vegan Oatmeal Chocolate Chip Cookies are chewy, soft, and packed with chocolate! These are truly the best gluten-free cookies you will ever make.
Gluten-Free Lemon Cookies: These Vegan Lemon Cookies are one of my favorite cookie recipes because they are so easy but packed with juicy lemon flavor. Do not forget the poppy seeds for a great look and even better crunch.
Matcha Chocolate Chip Cookies: Matcha Chocolate Chip Cookies are packed with earthy green tea flavor and rich chocolate chips. These cookies are gluten free, refined sugar free and totally delicious. Simply swap the egg whites for 6 tablespoons of whipped aquafaba.
Air Fried Oreos: Did you know Oreos are completely vegan? Wrap them in refrigerated crescent roll dough for an easy vegan snack. This easy vegan cookie recipe is ready in just 5 minutes! You will love this classic fair food with none of the fry oil and messy cleanup.
Vegan Pumpkin Chocolate Chip Cookies: I will put pumpkin in anything from bread to pancakes as soon as the weather cools down. These Vegan Pumpkin Chocolate Chip Cookies are decadent enough for dessert, but I have definitely enjoyed a few for breakfast.
Vegan Cookie Dough Bars: Get the yummy cookie taste with only half the work thanks to this vegan cookie recipe! These no-bake cookie bars are coated with chocolate for a sweet snack with less work.
Vegan Shortbread Cookies: There is something amazingly comforting about a simple shortbread cookie. I love these buttery, crumbly cookies that are not too sweet.
Vegan Peanut Butter Oatmeal Cookies: No mixer? No problem! These Vegan Peanut Butter Oatmeal Cookies are the easiest cookies to make without a mixer! They are made with rolled oats, natural peanut butter, and gluten-free flour. Truly that easy!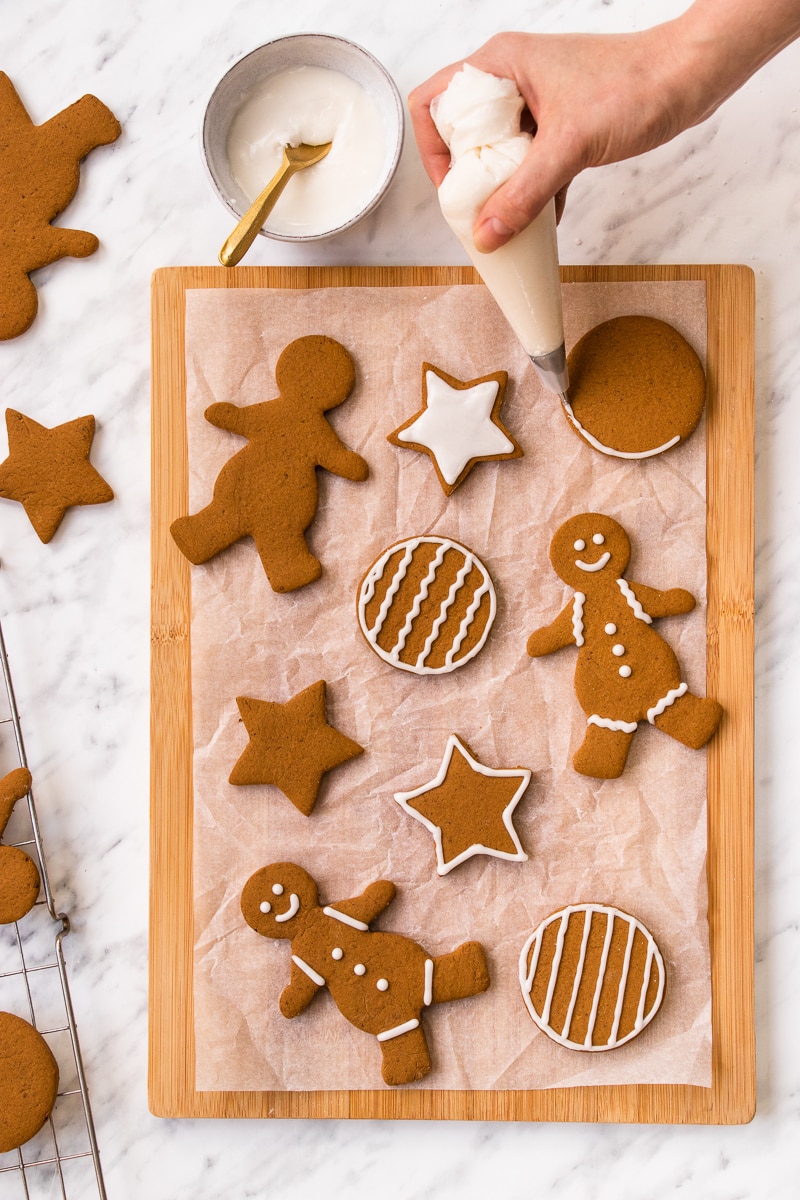 EASY VEGAN CHRISTMAS COOKIES
Christmas is my favorite season for cookies! I love to do annual Christmas cookie swaps, so I need new recipes all the time to vary it up. Most of these vegan cookie recipes can be varied for any holiday by changing the sprinkles or frosting color.
Vegan Sugar Cookies: These crunchy sugar cookies are the best for every holiday! They can easily be decorated with vegan royal icing for Christmas, Valentine's Day, Halloween, and even Thanksgiving. They are super buttery and packed with ground flaxseed — but the kids do not have to know that.
Vegan Thumbprint Cookies: I love these little cookies! They are so scrumptious with raspberry jam on top. Use almond flour to keep them gluten free, too. You can always swap the jam for another flavor, just keep it gelatin-free.
Vegan Gingerbread Cookies: There is no more quintessential Christmas cookie than the classic gingerbread. Whether you are building a gingerbread house from scratch or making a plate of tasty gingerbread people, this recipe is perfect every time. The cookies are hard enough to decorate easily and have that perfect snap.
Vegan Unicorn Cookies: You can make these easy no-bake vegan cookies for any holiday! Add red and green sprinkles for the perfect festive Christmas cookie with no oven required. There are only 4 ingredients in this amazing vegan cookie.
Lemon Cranberry Cookies: Something about the tartness of cranberries just screams holiday season. I mix it with a bright lemon cookie for a sweet, tart, delicious cookie dusted in powdered sugar. Be sure to use vegan white chocolate chips for that extra creaminess.
Vegan Frosted Sugar Cookies: Of all the vegan cookie recipes, this is my favorite to make because it is so versatile! These fluffy frosted sugar cookies are just like the bakery version. Add a little slightly sweet, perfectly creamy homemade vegan frosting and they are perfect.
Cornflake Cookies: Not all cookies have to take all day to make! These no-bake cookies are so easy with just 4 ingredients, including fun sprinkles. Keep the white chocolate chips dairy-free for a vegan version.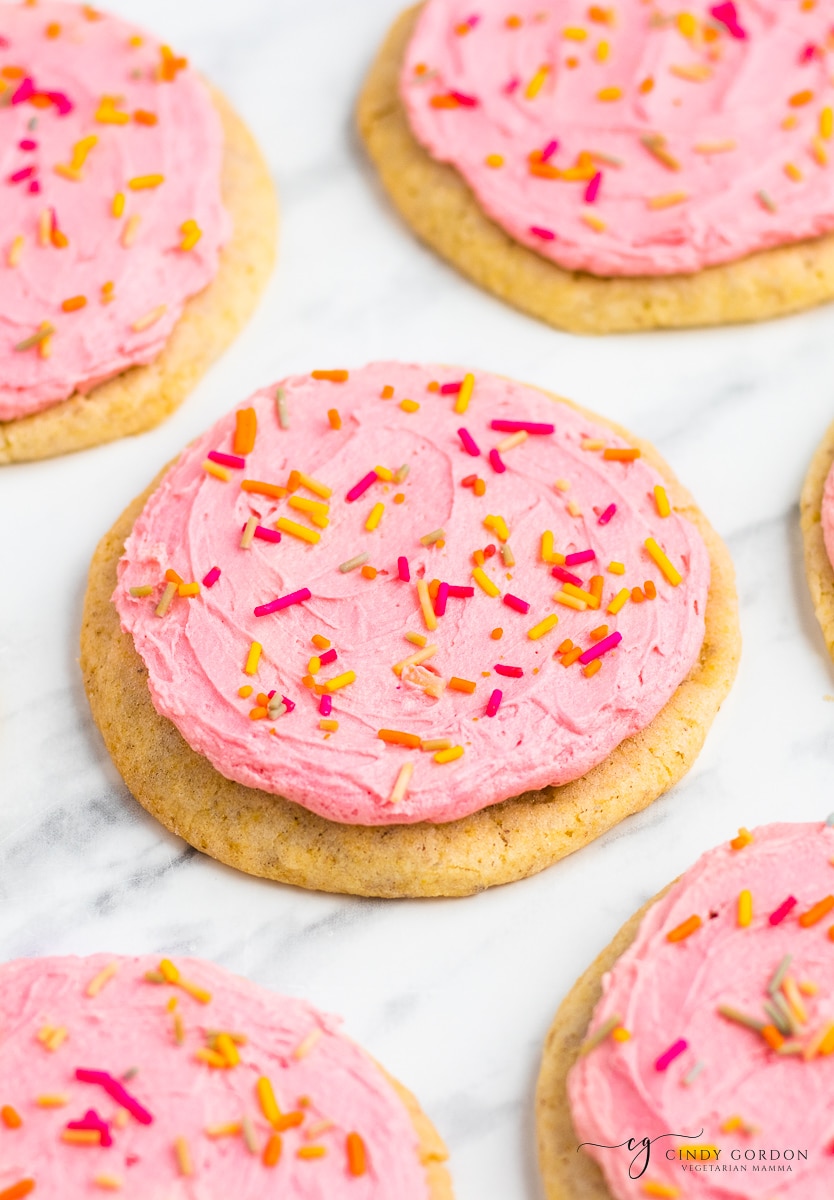 MORE VEGAN DESSERT RECIPES
Once you have gone through all the vegan cookies, chances are you will still have a sweet tooth. Try these delicious vegan desserts for dinner parties or family dinners.
Chickpea Cookie Dough: Want that same cookie flavor but none of the baking? This chickpea cookie dough is totally plant-based and completely edible. You can also bake it for amazing chickpea chocolate chip cookies.
Aquafaba Mousse: This plant-based mousse is a vegan and egg-free alternative to traditional mousse. This chocolate aquafaba mousse uses dark chocolate and maple syrup to create a healthier, refined sugar free, vegan chocolate masterpiece.
Vegan Brownies: Once you have made all these vegan cookie recipes, try these decadent vegan brownies! I love the addition of applesauce to keep them super moist.
Vegan Banana Pudding: This vegan banana pudding layers sweet from scratch pudding, freshly sliced bananas, crumbled vanilla cookies, and vegan whipped cream. Minimal ingredients come together quickly to create a comforting vegan dessert.
Vegan Pumpkin Cheesecake: There is something so perfect about a light but fluffy cheesecake. Make this vegan pumpkin cheesecake for every fall holiday from Halloween to Thanksgiving! It is so creamy and the perfect counterpart for a pumpkin pie.
Vegan Pie Crust: Pies are my absolute favorite dessert. There is no need to be intimidated by homemade pie crust! This vegan pie crust recipe is so tender and easy to make from scratch thanks to a food processor and stand mixer. From a sweet cherry pie to a savory spinach quiche, you can fill this vegan pie crust with anything you want!
Vegan Chocolate Mug Cake: Vegan Chocolate Mug Cakes are the perfect single-serve dessert! These decadent gluten-free chocolate cakes are so rich and chocolatey, you will never believe it was made in the microwave.
Bliss Balls: Is it dessert, or is it a healthy snack? No one has to know! These creamy chocolate tahini balls are covered in sesame seeds for the best no-bake dessert, afternoon snack, or even breakfast on-the-go.
Vegan Panna Cotta: This super creamy panna cotta is so decadent with just 6 ingredients and no gelatin! This amazing chocolate dessert comes together in just a few minutes to impress at your next party.
Vegan Cookies - Featuring Vegan Snickerdoodle Cookies
These vegan cookies are so easy to make with no dairy or eggs! From simple chocolate chip cookies to festive Christmas cookie recipes, you will find everything you need here for the best vegan cookies. Read on to learn how to make over 20 vegan cookie recipes.
Ingredients
Cinnamon Sugar Ingredients
Instructions
Preheat the oven to 350 degrees F (180 degrees C). Line 2 baking trays with parchment paper.

Mix the cinnamon sugar together in a small bowl. Set aside.

In a large bowl, whisk together the dry ingredients for the cookies.

Add the wet ingredients, and mix everything together. Use a wooden spoon, then your hands, until it forms a dough.

Shape the cookie dough into balls. Roll each ball in cinnamon sugar.

Flatten each dough ball on the baking tray with a glass or your hand.

Chill the cookie dough for 30 minutes before baking.

Bake for 10 to 12 minutes, until the edges are golden brown.
Notes
Cookies will last up to 5 days at room temperature or frozen up to 3 months.
Nutrition
Calories:
189
kcal
|
Carbohydrates:
19
g
|
Protein:
3
g
|
Fat:
12
g
|
Saturated Fat:
2
g
|
Trans Fat:
1
g
|
Sodium:
135
mg
|
Potassium:
49
mg
|
Fiber:
2
g
|
Sugar:
16
g
|
Vitamin A:
362
IU
|
Vitamin C:
1
mg
|
Calcium:
35
mg
|
Iron:
1
mg
All though this website attempts to provide accurate nutritional information, the information should only be considered an estimate. Varying factors such as different product types, different brands, etc. can change nutritional information. It is your responsibility as a consumer to read all labels to make sure the ingredients fit your dietary needs as well as calculate your own nutritional information as a double check.
VEGAN COOKIES POST
If you have made any of these vegan cookies recipes, please be sure to leave a comment on the recipe page letting us know what you thought!