Air Fried Hard Eggs are a fun airfryer breakfast that your entire family can enjoy! These air fryer hard boiled eggs are an easy make to make eggs.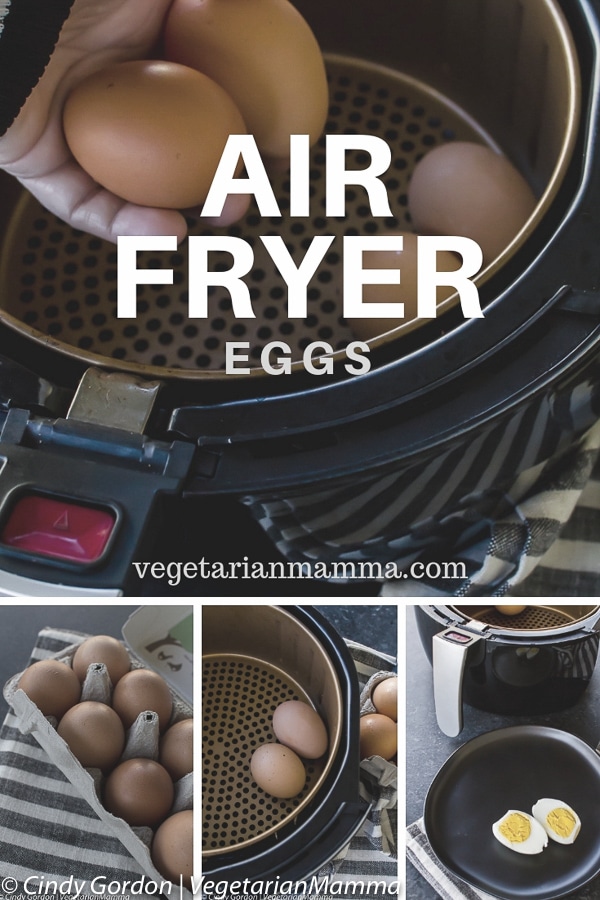 Air Fryer Hard Boiled Eggs – Air Fried Hard Eggs
Eggs are a staple in many households. Hard boiled eggs have seemed to peak in popularity again, especially with the amazing way they peel when you make them in the instant pot.
But did you know that you can make air fryer eggs? That is right, you can actually "hard boil" your eggs in the air fryer. That sounds so funny saying that since you aren't boiling them but I know you understand what I am saying!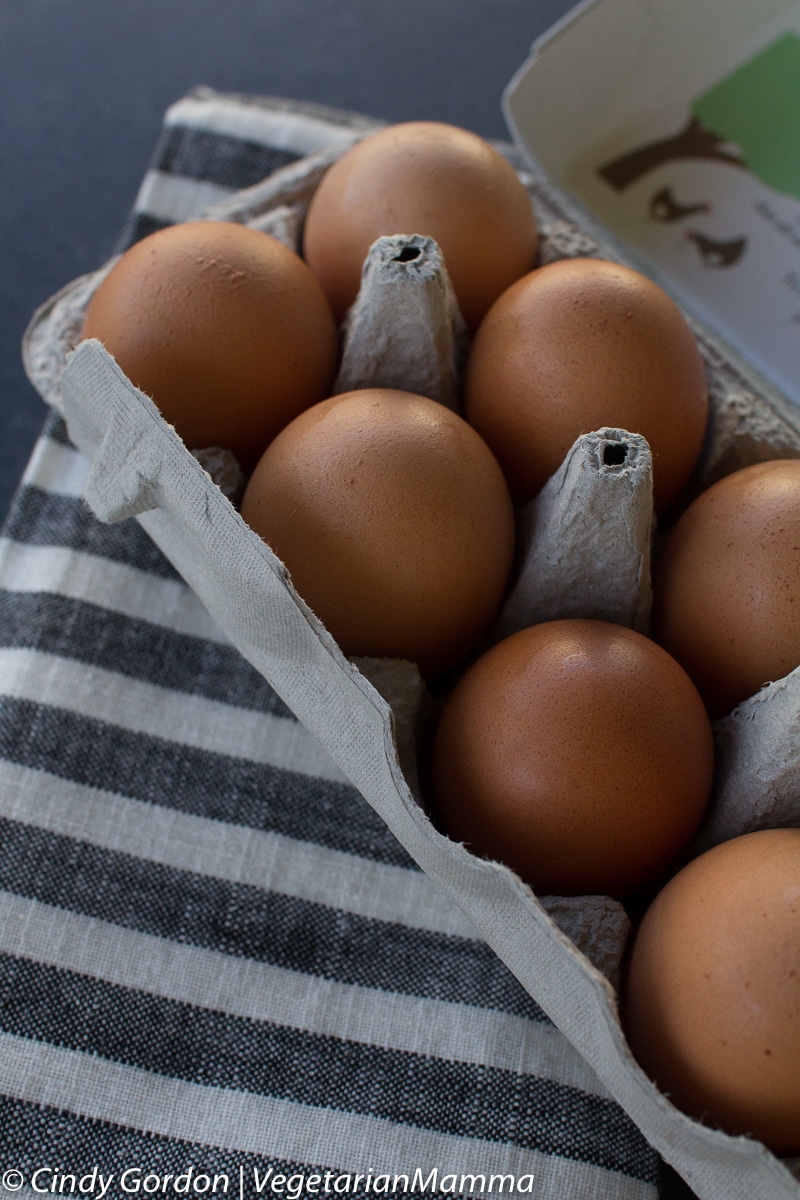 So if you are on the hunt for air fryer breakfast recipes, this one is an easy one. Have you ever tried a dab of butter with some salt and peppers on a warm hard boiled egg? If not, you are missing out!
What is an Air Fryer?
It is a counter top appliance that will soon win your heart over! It is basically a smaller (the inside of it) type of convection oven that moves very hot air around.
The circulating air cooks your food quickly and evenly. I am guessing that you have probably seen an air fryer infomercial or two!
While smaller inside than a convection oven, the outside is often typically the size of a toaster oven or slightly smaller. Many people buy air fryers to use when camping in their RV or even for cooking "stinky" foods (think air fryer broccoli) outside.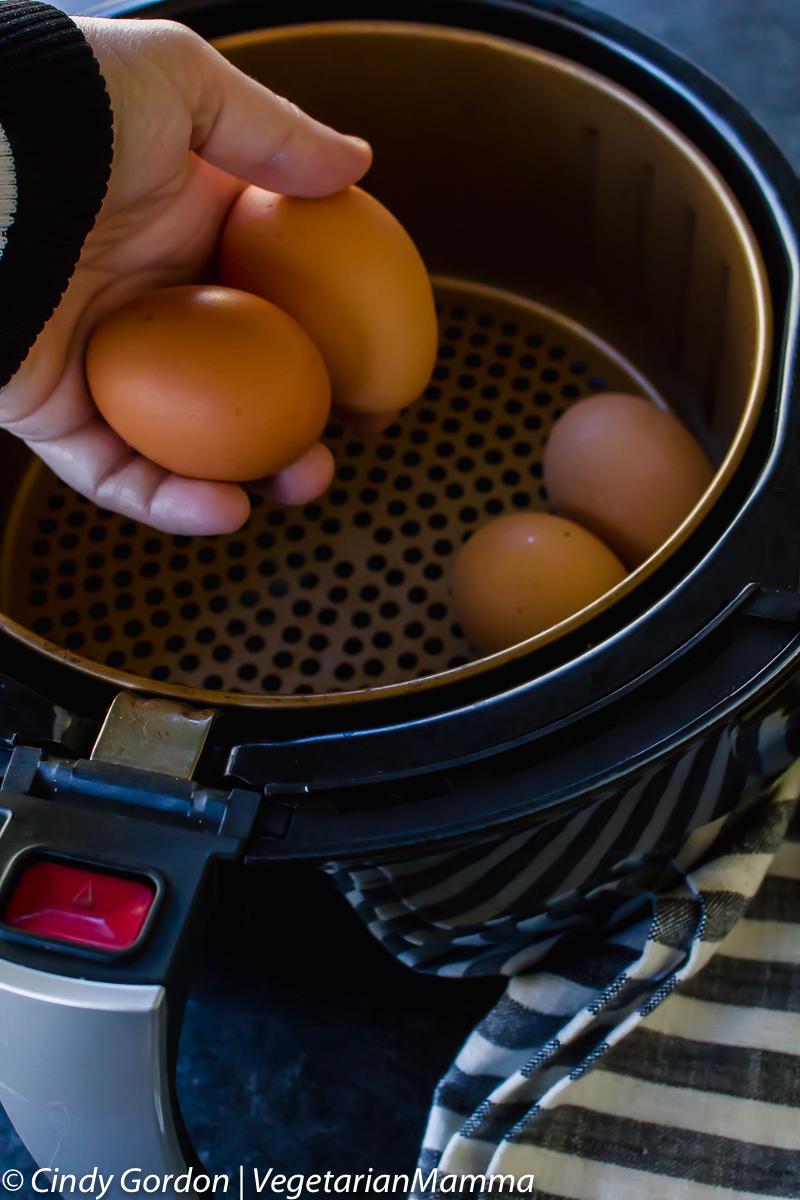 What can you actually cook in an AIR FRYER?
The options of what you can cook in this amazing appliance are truly endless! You know I'm crazy over this hot air frying recipe, but we've also cooked tofu, potatoes, french fries, Brussel sprouts and more! Anything that your taste buds want to try straight out of this gadget, give it a go!
While we don't eat meat in our family, that doesn't mean that you can't cook up some fried chicken, chicken tenders, or anything else beer battered or deep fried to that perfect golden brown that you love and that you want with ease in the air fryer basket.
The great part about cooking with an air fryer? The cook time is a breeze. Like literally no time…at all.
For us, we love to use our Power AirFryer XL (affiliate ad link) Yes, so that makes all of our air fryer recipes, specficially power air fryer xl recipes! We also own a Cosori Air Fryer, which you can also buy on Amazon! (affiliate ad link).
How do I clean my air fryer?
That is a great question and it will vary by model. For our power fryer Xl and Cosori Air Fryer we have a removable inner basket. So we can hand wash each basket individually. It is listed on the new ones in the instruction manual that the basket is dishwasher safe. Be sure to check your manual.
The inside of the air fryer really shouldn't get dirty. If it does, let it COOL completely. Then take a damp rag and wipe out the inside. Cleaning your oil less fryer is easy!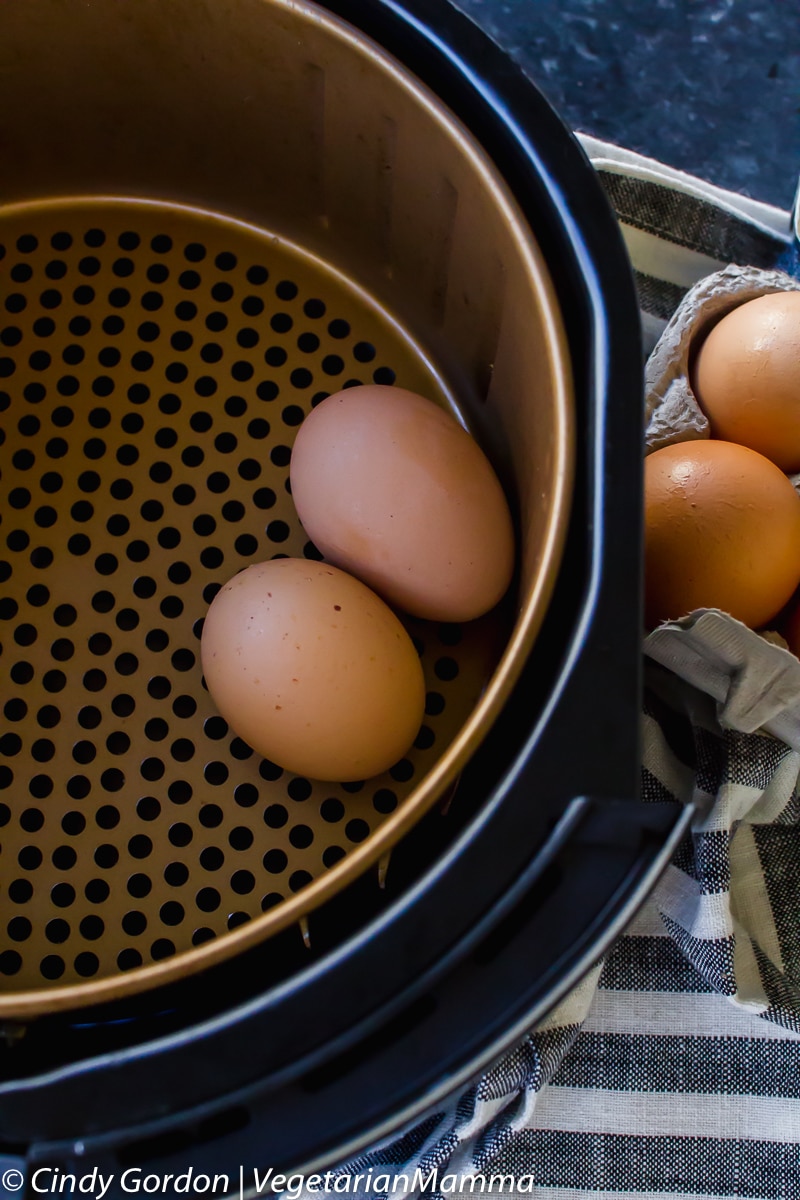 Let's recap WHY I LOVE MY AIR FRYER!
Let me just admit it here, that I love my air fryer. I think it has become fairly clear over the past year or two that I LOVE this kitchen gadget.
It was originally a Christmas gift that my mom bought my husband and I. She always likes to get us things for our kitchen. One of her friends suggested this oil less fryer! So off to Kohls she headed with her coupon and got us one!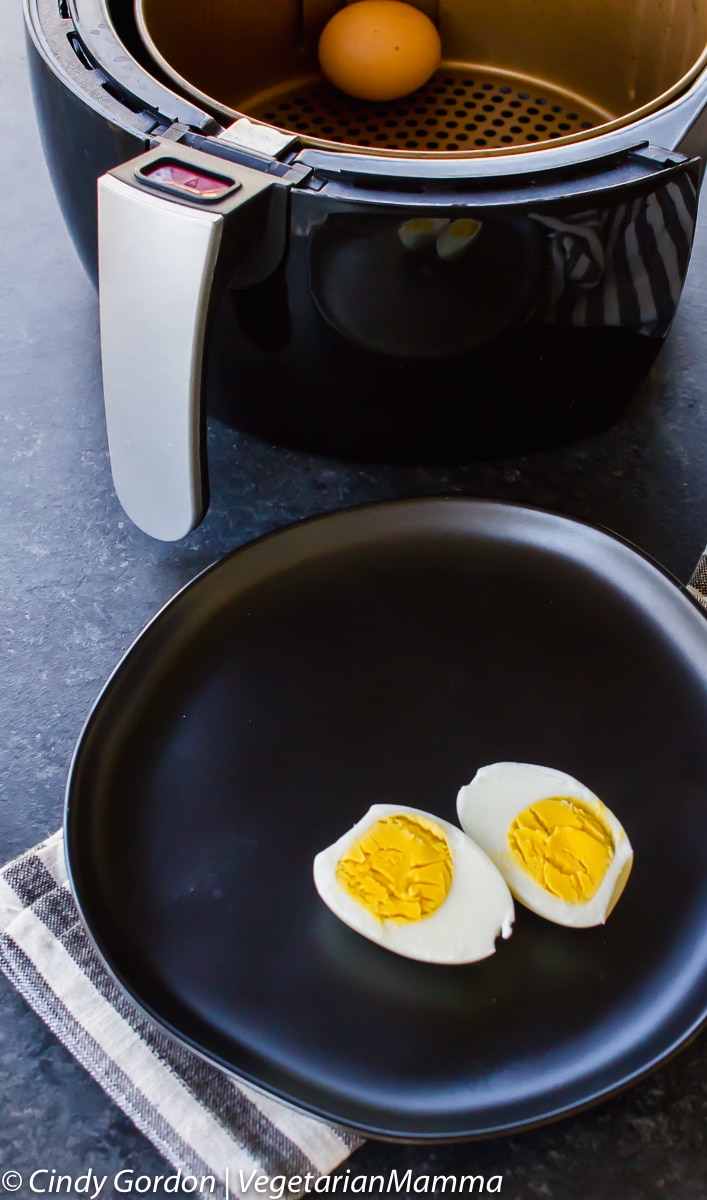 While I'd read all the rave reviews about how amazing the air fryer truly was, I seriously had NO idea how much I'd really love it! From the moment I unwrapped the gift, my mind was already racing with everything that I couldn't wait to cook in it.
Trust me when I say that if you've been on the fence about purchasing an air fryer, encourage yourself to go ahead and make that buy. Once you use it just ONE time, you'll be wondering what took you so long to make that decision!
Honestly, at this point in time we couldn't be more thankful we were gifted an air fryer. We love our air fryers. Yes, we do have MORE than one!
These air fryers have come staples in our home. Many people ask how we store them. We actually do not have a lot of counter space, so we keep them in our laundry room. (which is slowly turning into a second pantry!)
Side note: If you are in the market for an air fryer, I recently created a post about the best air fryers on the market. The post is based off of reviews from friends, family and online consumers! Be sure to check out the best air fryers on the market!
Maybe you aren't ready to try air fryer eggs, but you can also make Hard Boiled Eggs in the Instant pot as well!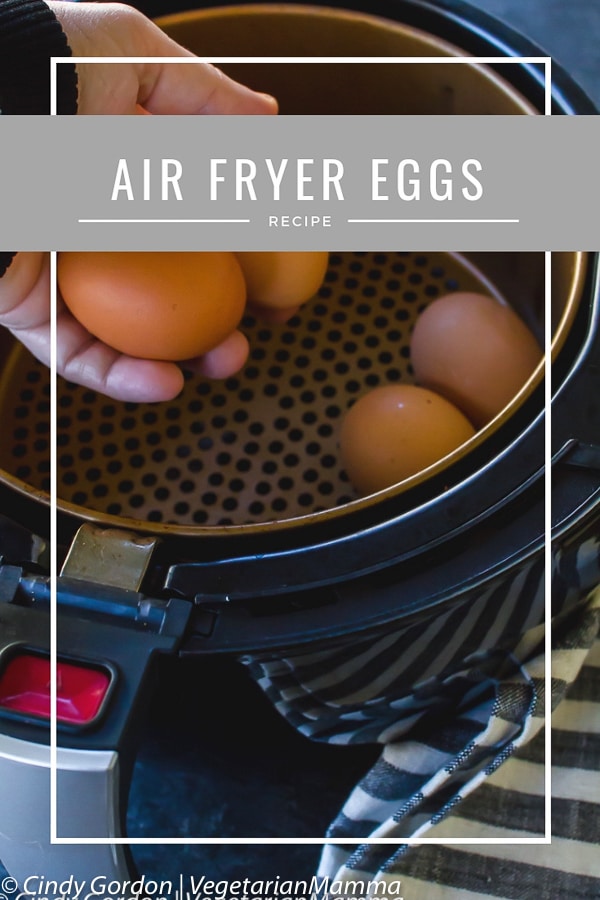 Question Time:
What size eggs should I use?
I used a large size egg for this recipe. If you use a small egg, it will affect the cooking time. I have not done any recipe testing of this recipe with a smaller egg.
My AF temperature only goes down to 300F!
That's okay. I've had good feedback on eggs turning out okay when cooked at 300 degrees F. Just lower your cook time a touch. If your machine doesn't go low for temp, just play around a bit with it!
Do I need to preheat?
Sometimes different AF machines encourage you to preheat before recipes. I did not use a preheat setting or preheat my machine before making this recipe. It is not needed.
Is an ice bath needed?
Sometimes you will a recipe call for you to plunge the eggs into an ice bath (water and ice) after cooking. It is not needed for this recipe. I wanted until the eggs were cool enough to the touch and then peeled them. If you want to speed along the process, you can cool them down in an ice bath.
Air Fryer vs. Instant Pot?
Each method has it's own pros and cons. I feel that I can cook more eggs at a time in my instant pot and that they peel nicer when cooked in an instant pot. But if I am in a hurry, using my AF machine is the best option…besides boiling water! But the argument is still out, some people prefer their perfect hard boiled eggs to come from their AF!
Do I need a tray or container for my eggs?
Nope, you simply for your eggs into the AF basket and you are ready to cook eggs in the airfryer!
Do you smell something?
I did notice that the eggs tend to smell LESS than if I made them in the instant pot or boiled them. That might be one of the best perks!
Does this work in an oven air fryer?
I am not sure, I used one of the original style air fryers with a basket…NOT the oven style. If you try it, let me know.
More easy air fryer recipes:
Looking for vegan air fryer recipes? We have some of those too! You can even check out our YouTube channel for some air fryer videos.
Still don't have an air fryer of your own? Be sure to check out our air fryer reviews from several of the top models out there. You'll be whipping up free air fryer recipes in no time!
Want to learn more about Air Fryers? Check out our Air Fryer 101 post! Having an Air Fryer is great but may also mean that you have a ton of questions as well.
We have some great tips for using your air fryer! Be sure to check out our Common Air Fryer Mistakes post so you are avoiding common problems when using your air fryer.
Here is your air fryer breakfast recipe!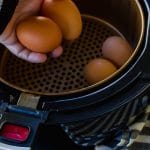 Print Recipe
Air Fryer Hard Boiled Eggs - Air Fried Hard Eggs
Air Fried Hard Eggs are a fun airfryer breakfast that your entire family can enjoy! These air fryer hard boiled eggs are an easy make to make eggs.
Instructions
Gently wash the outside of the eggs and pat dry. Place eggs into air fryer basket.

Cook at 270 degrees F for 16 minutes. Allow eggs to cool or plunge eggs into an ice water bath to cool enough to peel.
Notes
The yolk comes out solid for this eggs. If you prefer a very firm yolk, I would add another 1-2 minutes.  Softer yolk, I would take away 1-2 minutes from the time listed in the recipe.  
Each air fryer runs slightly different so you may need to adjust times. 
Nutrition
Calories:
125
kcal
|
Protein:
11
g
|
Fat:
8
g
|
Saturated Fat:
2
g
|
Cholesterol:
327
mg
|
Sodium:
124
mg
|
Potassium:
121
mg
|
Vitamin A:
475
IU
|
Calcium:
49
mg
|
Iron:
1.5
mg