Air Fryer Baked Potatoes are a simple, yet quick and easy way to prepare your baked potatoes. No need to heat your big oven for this job, the air fryer can do it.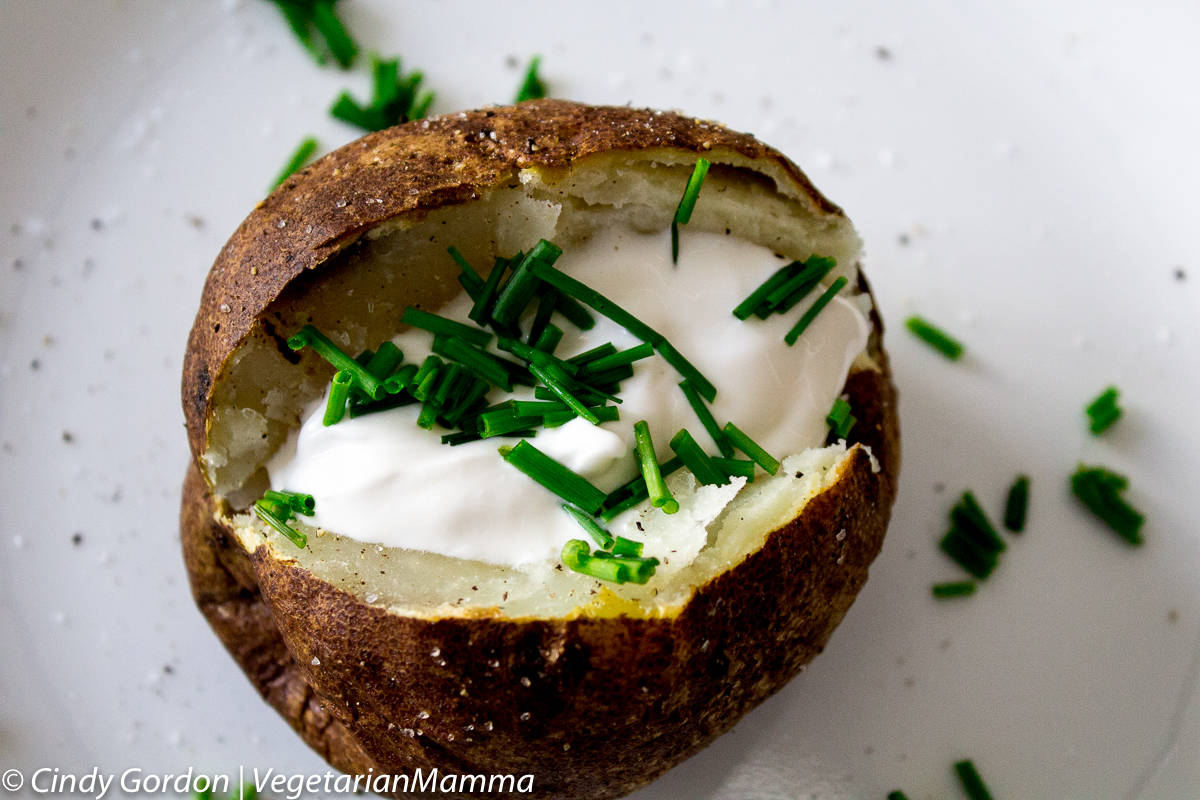 Air Fryer Baked Potatoes
Air fryers have been one of those appliances that have been on my wish list for a while. I'd heard amazing things about them, reading about how they can take away the grease use and cut the fat calories from food, all with ease.
Eating healthy with ease? Yes, please!
Needless to say, I was pretty excited when my mom got our family an air fryer  (affiliate link) for Christmas. I must have been on Santa's good list that year for sure! It was something I had been wanting to experiment with ever since I'd first heard about it.
While I'd read all the rave reviews about how amazing the air fryer truly was, I seriously had NO idea how much I'd really love it! From the moment I unwrapped the gift, my mind was already racing with everything that I couldn't wait to cook in it.
Trust me when I say that if you've been on the fence about purchasing an air fryer, encourage yourself to go ahead and make that buy. Once you use it just ONE time, you'll be wondering what took you so long to make that decision!
What can you actually cook in an air fryer?
The options of what you can cook in this amazing appliance are truly endless! We've cooked tofu, potatoes, french fries, Brussel sprouts and more! Anything that your taste buds want to try straight out of the air fryer, give it a go!
But one of my most favorite food items to make in the air fryer? Baked Potatoes. There is just something about a perfectly cooked baked potato with all the toppings that makes me and my tummy very happy.
And not to mention, they make the perfect side dish. Truth be told, baked potatoes don't have to be the side dish alone. If you add some delicious and amazing toppings to them, they can easily become the main meal that will steal the show.
What toppings do you like on your baked potato?
For me, I love anything veggies as a hearty topping to my baked potato. Mushrooms, broccoli, and onions are just a few of my favorite.
Is there ever a wrong way to load up your potato? My answer is no.
How easy is it to use the air fryer?
When I say it's super simple, it's simple. You literally set the temp, figure out the time, and wait for that food to be done.
Is there any other appliance out there that is as simple as that? And clean-up? A total breeze.
Preparing your potato for the air fryer
While one of the reasons that I love cooking baked potatoes is because they are super simple and easy, I also love cooking them because the prep time is minimal. Like, mere minutes minimal.
Before I do anything, I always start by scrubbing off and washing the potatoes. I'm a huge fan of eating the potato skins, so having them clean is a must! If you don't prefer to eat the skins, your next step would be to peel those skins off.
After that potato is sparkly clean, poke some holes in it so that the heat and air can escape. I love to run olive oil all over the outside as well and then cover with my favorite spices.
This is where you can really have some fun with your taste buds. You can have a spicy potato or one that's a little sweeter.
Whatever your heart desires, just add those spices on the outside of the skin.
And if you do like to eat the skins of the baked potatoes, I can assure you that the skins come out crisp and delicious from the air fryer. Crispy goodness!
If you've never tried eating potato skins before, these may be the perfect potato skins for you to try. They seriously are cooked perfectly in the air fryer.
Fair warning that you might get addicted after trying these Air Fryer Baked Potatoes!
Side note: If you are in the market for an air fryer, I recently created a post about the best air fryers on the market. The post is based off of reviews from friends, family and online consumers! Be sure to check out the best air fryers on the market!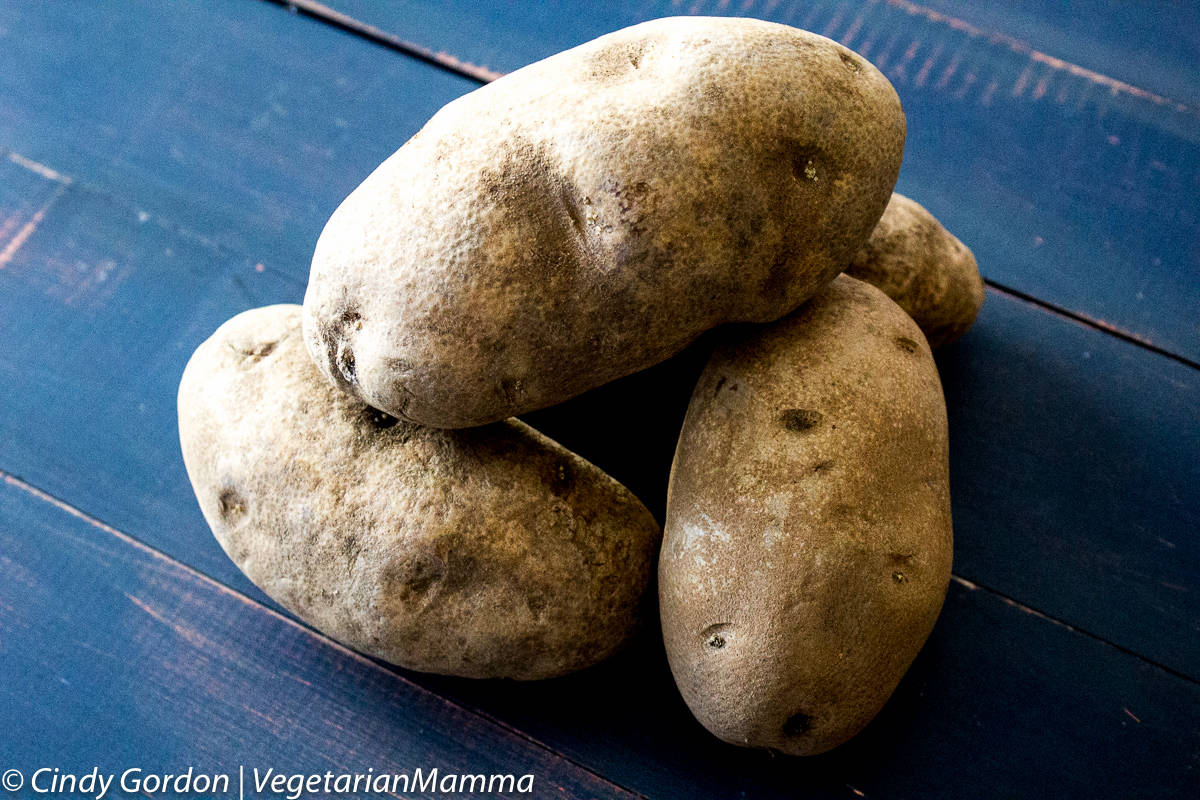 Baked Potatoes make the perfect side dish. Or if you want a main you can easily dress up the potato with mushrooms, beans and more!
The prep is easy:
olive
salt
pepper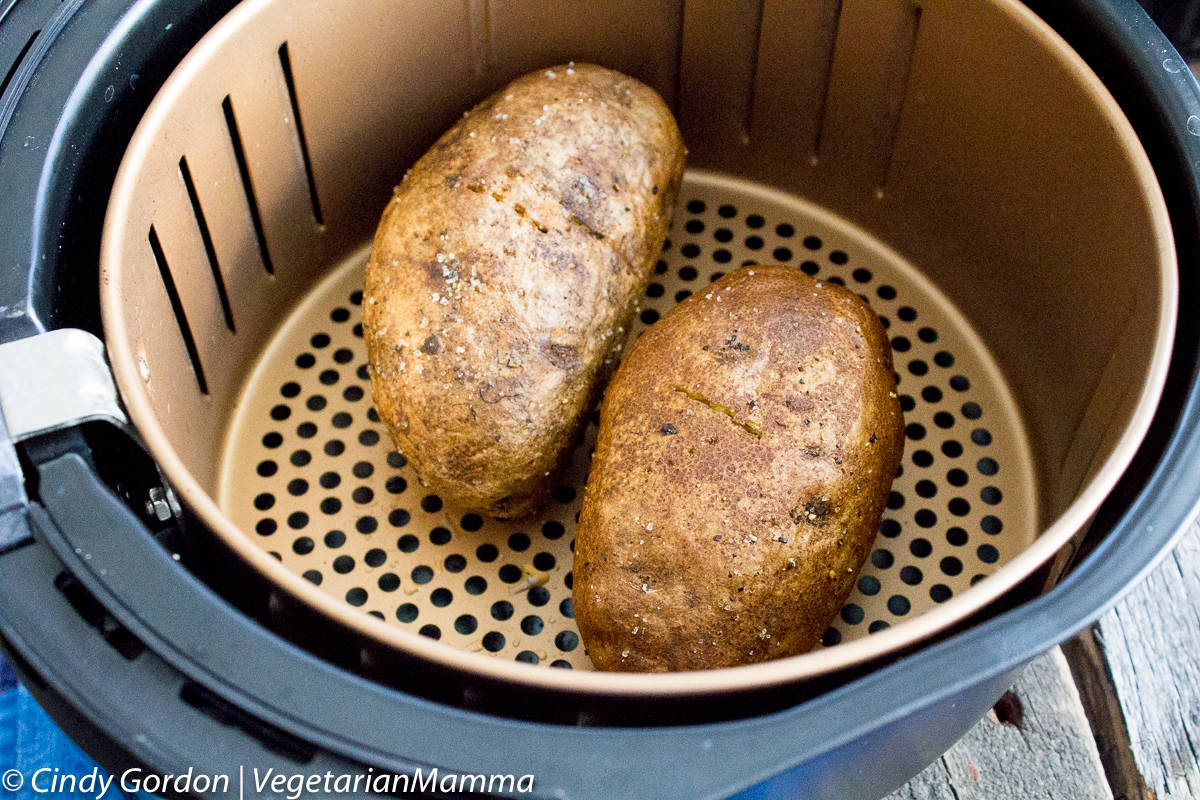 Air Fryer success each and every time
I've owned my air fryer now for a while, and I have to be honest…I've yet to find a recipe that I don't love. And did I mention how simple it is?
To say I'm a creature of habit is an understatement. I love being able to cook a meal and know with confidence that it's going to taste amazing each and every time.
With the Air Fryer, I absolutely have no doubts. I know that from the moment I press start, to the moment that I remove the food from the machine, it will be cooked to perfection each and every time.
And trust me when I say that once you try a baked potato in the Air Fryer, you will never want to go back to the oven method. And if you are one that uses the microwave to cook your potatoes, that method will be long gone for you as well!
Do you own an Air Fryer? What's one of your favorite foods to cook in it?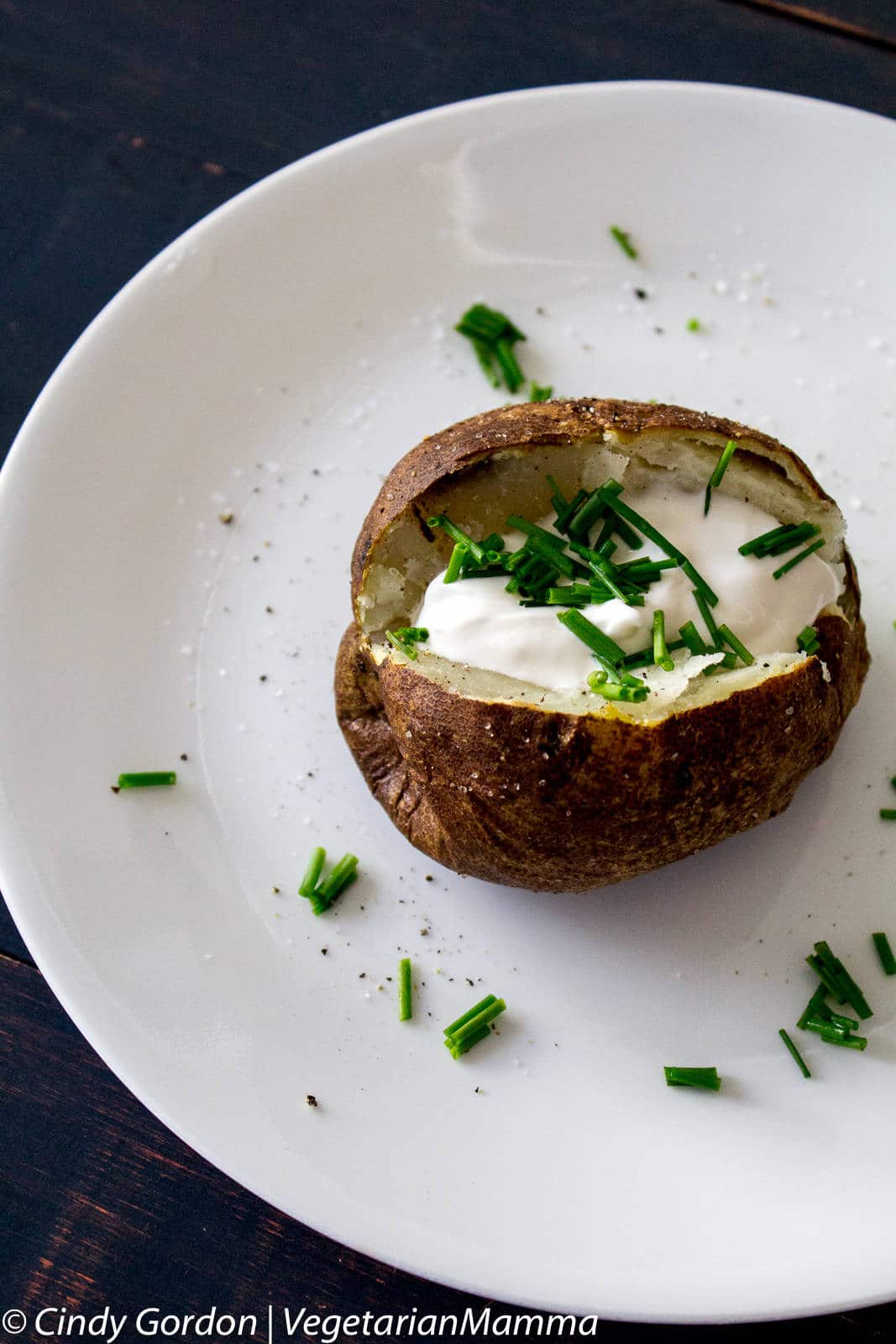 What if I only have two potatoes?
Whether you have 1,2,3 or 4 potatoes, you do not need to adjust the cook time!
Do I need to poke holes in the potato?
I do, I think it helps, but I am not 100% sure its necessary.  But I'd go with poking some holes! Just use your fork, that makes it easier!
Do I need to flip during cook time?
I try to flip the potatoes 1 time during cooking. You don't need to flip more than that. 
If you are looking for more delicious recipes, you can check our our recipe index and our listing of gluten-free side dishes. We have many gluten-free, vegetarian recipes on our site!
If you are looking for nut-free and dairy-free we have those too!
And while I'm crazy over my Air Fryer, I'm also just as crazy about my Instant Pot as well. I love gadgets, what can I say?
If you are looking for a few instant recipes or easy instant pot recipes, you can check out our instant pot stuffed peppers, instant pot taco soup, instant pot cheesy potato leek soup, instant pot black beans and instant pot leek soup.
pin for later: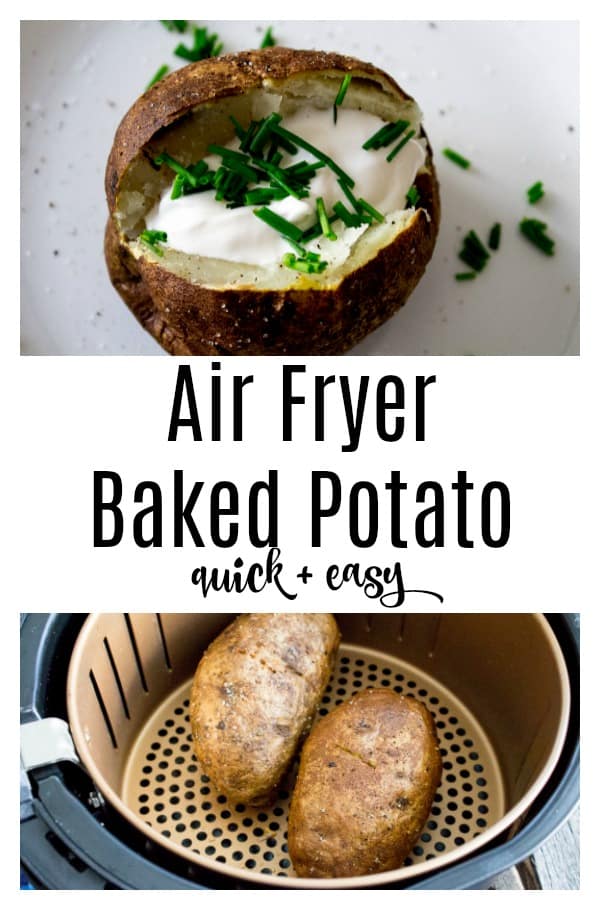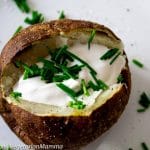 Air Fryer Baked Potatoes
Instructions
Gently poke holes into the potatoes using a fork.

Rub outsides of potatoes with oil and sprinkle salt and pepper onto potatoes.

Put potatoes into air fryer basket.

Cook at 390 degrees F for 35-40 minutes.

ENJOY!
Recipe Notes
Cooking times will vary depending on the size of the potato, you may need to add more time for larger sized potatoes. You can test the doneness of the potato by inserting a knife or fork into the potato.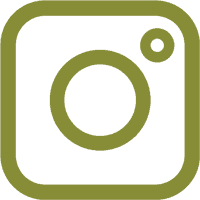 Did you make this recipe?
Be sure to snap a picture and post it to Instagram with the hashtag #VegetarianMamma! I love seeing our recipes being recreated!
This post does contain an affiliate link to amazon for an air fryer.
Let's talk! Leave me a comment telling me if you have tried using an Air Fryer? What did you cook? Or what do you think you'd cook first?