There are air fryer mistakes you could be making. Here are some ways you might be using your air fryer wrong and some delicious air fryer recipes to make things right! See which of these Common Air Fryer Mistakes you might be making.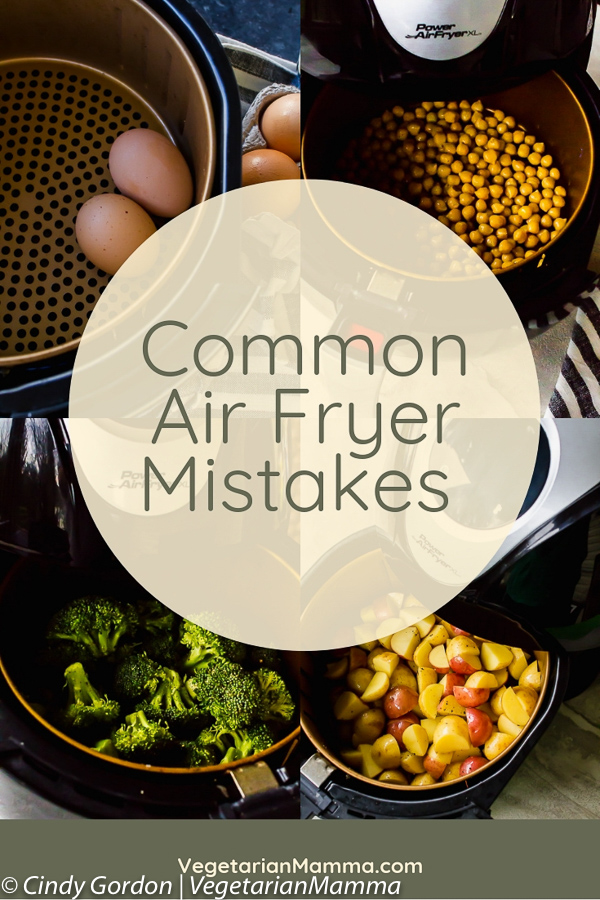 Common Air Fryer Mistakes
We all know that the Air Fryer is a fantastic kitchen appliance. In our fast paced world, there is something very satisfying about cooking up dinner without every turning on the stove!
The air fryer is amazing for saving time, making food crispy, and using less oil, but be careful! There are air fryer mistakes you could be making. Here are some ways you might be using your air fryer wrong.
Mistakes When Buying an Air Fryer
Air Fryer Mistake #1: Buying the Wrong Size Air Fryer.
These appliances come in different sizes for a reason! If you plan to be cooking for 1 or 2 people, get a smaller one. If you'd like to cook meals for a larger family, get a larger one. There's nothing more irritating that finding out that your air fryer can't cook the right amount of food and having to do more than one batch to get everything cooked.
For 1-3 people, I would suggest an air fryer no larger than 4 quarts. For a larger family, get something 5 quarts or more.
Air Fryer Mistake #2: Buying a Low Quality Air Fryer.
Like everything else you buy, you get what you pay for. Stick with brands that have a good track record for making quality small appliances, and check the reviews on Amazon to find out how the machines really work for other customers.
Mistakes While Cooking with Your Air Fryer
Air Fryer Mistake #3: Not Using Oil
It's right that you can fry food using less oil than deep frying, but you can't fry food with zero oil. (unless we are talking frozen french fries, etc)
Spray or lightly coat your food with oil before putting it in your air fryer. Your fries and veggies will come out crispy and delicious!
Air Fryer Mistake #4: Overfilling Your Air Fryer
The air fryer works by circulating hot air around your food. If you put too much food in the basket, there will be food that won't get the benefit of that hot air, and your food will not cook evenly.
Follow the instructions for how much food to put in your air fryer basket, and use your judgement. Make sure there is room for the food to move around.
Air Fryer Mistake #5: Not Checking on Your Food.
You can't see inside of most air fryers, so it's important to check on things as they cook, especially if you're cooking something you haven't cooked in the air fryer before.
I like to open my air fryer at the halfway point of any recipe cooking time to check, shake, and sometimes flip over my food.
Air Fryer Mistake #6: Cooking the Wrong Things
There are some things that you just shouldn't try to do in the air fryer. One is battered items. You cannot air fry battered things the same way you would deep fry them. The batter will just drip all over and make a mess.
This can be confusing, I am talking about a straight liquid type of batter that would typically change to a solid once it hits the HOT oil in a deep fryer. That doesn't work well in the air fryer. BUT you can make things like fried pickles or air fryer oreos by dredging them through a liquid and coating the outside with a solid like breadcrumbs to help hold everything together 🙂
The other thing you shouldn't try in the air fryer is foods that are delicate or without some weight to them. (Think: Leafy greens, uncooked grains) The air fryer pushes air around, so anything that might get picked up by that air will hit the heating element and burn.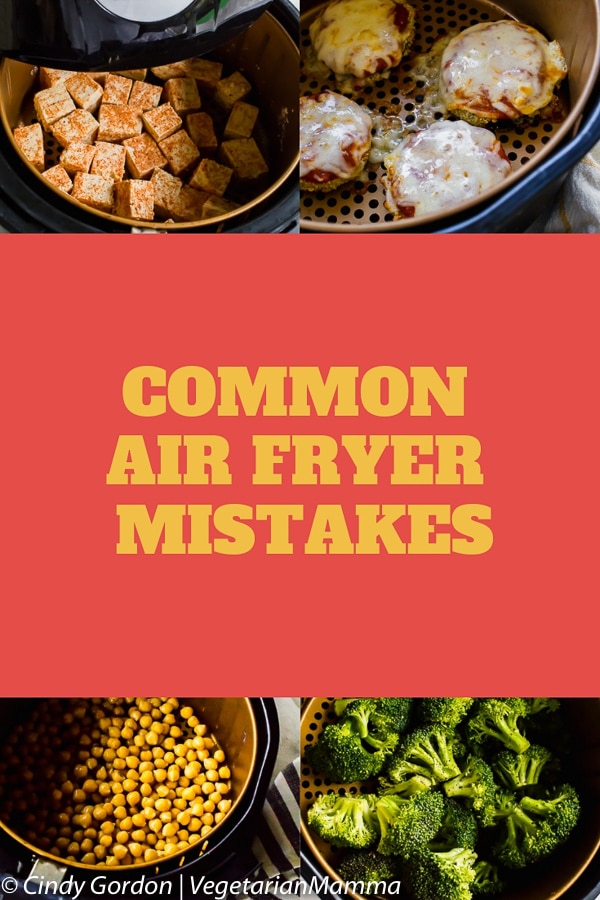 Safety and Care Mistakes
Air Fryer Mistake #7: Forgetting about Fire Safety
Air Fryers get hot! It's important to make sure that wherever you place the appliance, it isn't touching anything that could melt or burn. It's also very important to use tongs and potholders when handling the air fryer parts and the food inside of it.
Air Fryer Mistake #8: Not Washing Your Air Fryer After Every Use.
You might think that you can leave your air fryer on the counter, and not wash it unless it's really dirty. I disagree! The air fryer will hold onto smells from food you've cooked before, and it's more likely to burn if excess crumbs are left behind.
Wash the air fryer parts by hand in warm, soapy water after each use.
What is the Best Air Fryer?
Read my review of the Cosori air fryer here. I'm really happy with it.
What Vegetables Can I Make in the Air Fryer?
Almost anything! I've had so much fun this year testing recipes in my air fryer, and I've made everything from brussels sprouts to zucchini. There are many vegetarian and gluten free air fryer recipes in the recipe index for you to try.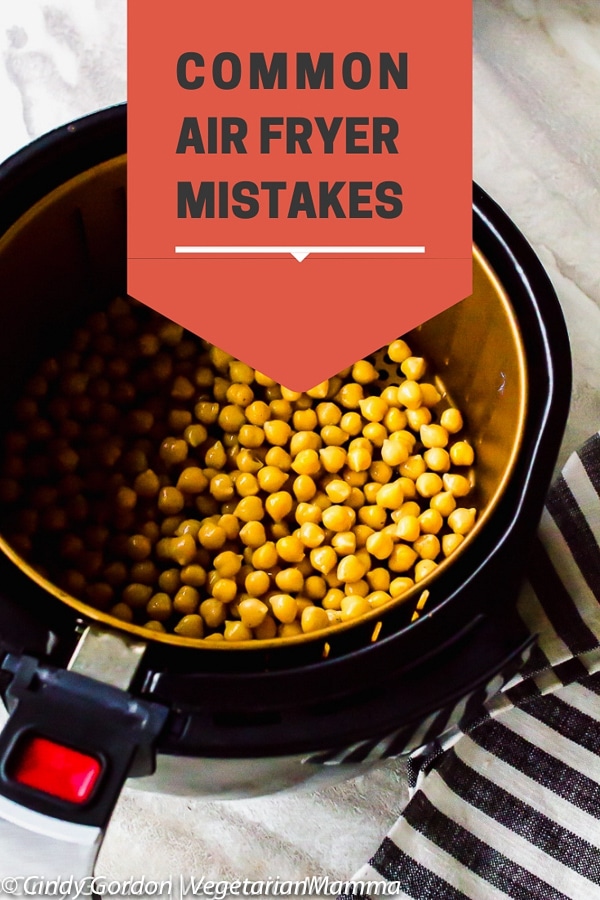 More easy air fryer recipes:
We also have a sister website called Air Fryer Eats! On that air fryer site, we have a "start here" page which is an Air Fryer 101 for you. We answer some frequently asked air fryer questions. We also have a newly updated How to Clean Your Air Fryer post and a Tips for Using your Air Fryer. If you are a meat eater you might want to check out our Air Fryer Chicken Breast or our Air Fryer BBQ Chicken Wings recipe on our new sister site.
If you are looking for an air fryer conversion chart, we just launched one on our Air Fryer Eats Site. You can visit it here: Air Fryer Conversion
Vegetarian Air Fryer Resources – We have a vegetarian air fryer newsletter, which you can subscribe to here. We also have a specific vegetarian air fryer recipes group on facebook. You can find that Veg Air Fryer FB Group here.
If you are looking for vegetarian recipes beyond air fryer ones, we have a Vegetarian Newsletter as well as a Vegetarian Recipes facebook group. This newsletter and FB group offers up recipes that on the stove, in the oven, on the grill, in the instant pot and more!
We have an extended common air fryer mistakes post on our sister site: Air Fryer Eats! Click here to see the extended common air fryer mistakes
Other Resources:
More Air Fryer Goodies:
Thanks for stopping by! While you are here, we'd love for you to check out some of our favorite non-air fryer recipes! We have some delicious sauces that you can dip your favorite foods into as well a sweet treats and drinks!
Be sure to check out these recipe! Dirty Chai, Avocado dressing, Mediterranean Sauce, Vegetarian Charcuterie, BBQ Ranch, Vegan Rice Krispie Treats, Vegan Honey Mustard, Vegan Croutons
Have you made any of these Common Air Fryer mistakes? I hope you've found some helpful air fryer tips here, and I'd love to hear your own tips! Leave a comment telling me your favorite way to use your air fryer, or your best tip for using it.