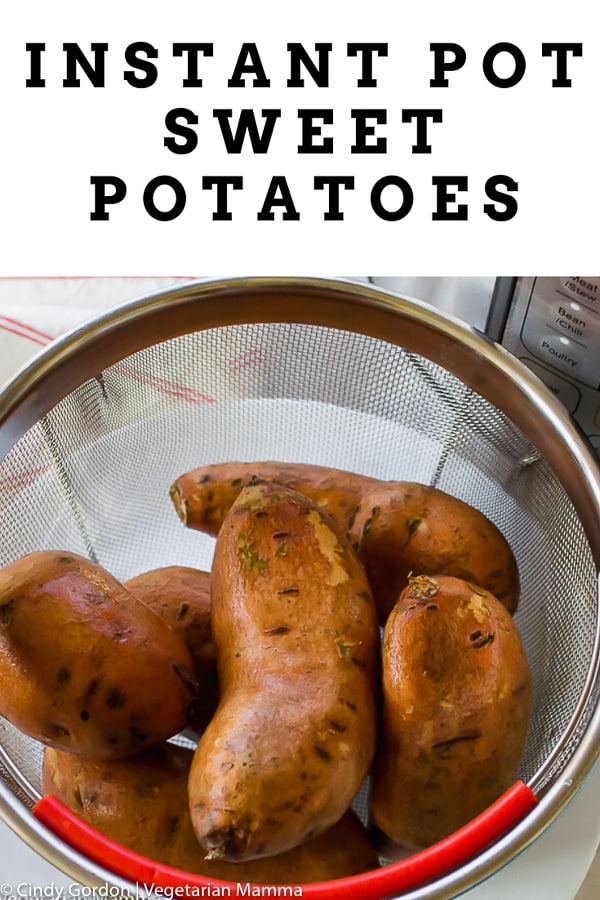 Instant Pot Sweet Potatoes are cooked in a half hour from start to finish! They come out fluffy, smooth, and perfectly cooked every time!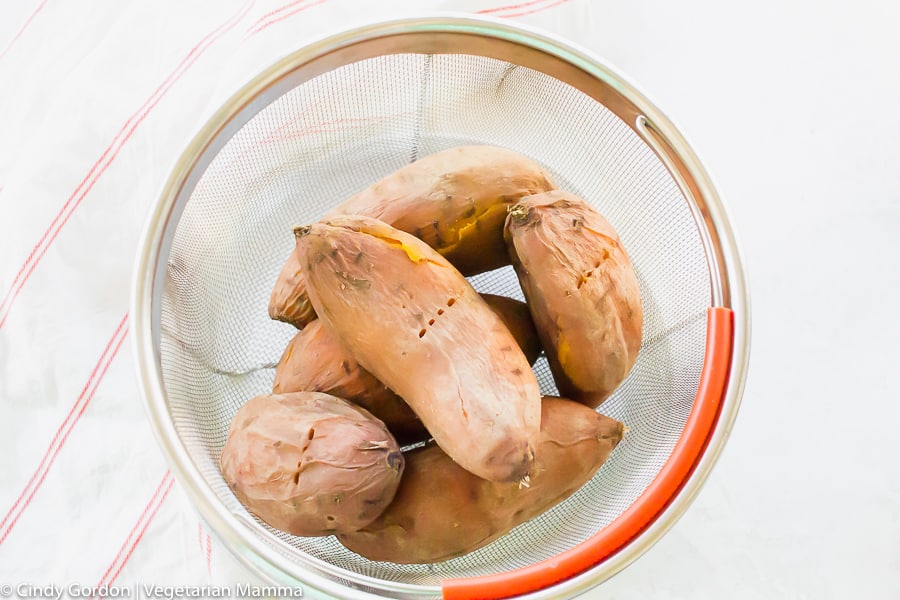 INSTANT POT SWEET POTATO RECIPE
Instant Pot Sweet Potatoes are easy to make and so versatile! I love cooking sweet potatoes in my Instant Pot because they are basically effortless and take half the time that it takes to bake them in the oven.
A pressure cooker gives sweet potatoes the softest, most fluffy texture, so they're perfect for making sweet potato casserole in no time, or eating right out of the skin!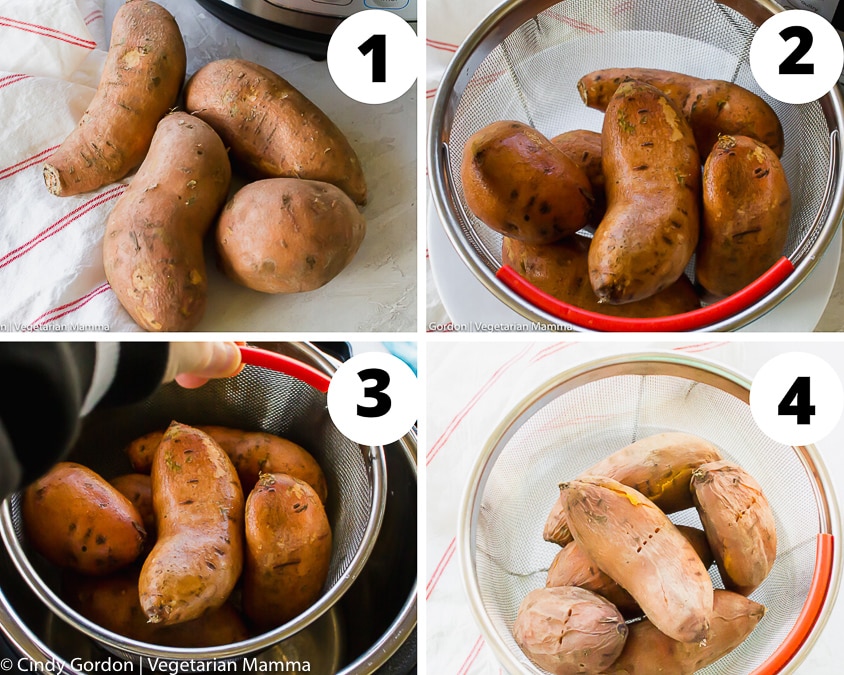 HOW TO COOK SWEET POTATOES IN THE INSTANT POT
This is seriously the easiest recipe, ever! All you need are sweet potatoes, a pressure cooker, some water, and a steamer basket accessory for your pressure cooker. That's it!
To cook sweet potatoes in a pressure cooker, here are the steps you'll need to take:
Wash your sweet potatoes thoroughly to remove any excess dirt, grit, and unseen elements. Pour 1.5 cups of water into your Instant Pot.
Place your sweet potatoes in a steamer basket
Lower the basket into your pressure cooker. Cook as directed in the recipe below.
Remove the steamer basket with the sweet potatoes from your Instant Pot. Allow the sweet potatoes to cool before handling.
The texture of these pressure cooker sweet potatoes is ideal for adding to casseroles and pureeing. If you want to eat your sweet potatoes like a baked potato, lower the cook time and the steam release time by 2-3 minutes apiece.
Making vegetarian Instant Pot recipes is easy as can be! You can also make these sweet potatoes in your air fryer if you have one.
CHOOSING THE RIGHT SWEET POTATO
If you're planning to use the flesh of the sweet potatoes, be sure to choose potatoes that are not too thin or too long. Choose decently sized potatoes that are round and symmetrical, avoiding those with odd shapes that may make peeling difficult if your recipe calls for peeling the sweet potatoes.
If you plan to eat your sweet potatoes as baked potatoes, choose longer potatoes that can be easily sliced in half and opened up.
HOW TO KNOW WHEN A SWEET POTATO HAS GONE BAD
If your sweet potatoes have bruises, large gashes, or small sections that look like they're rotting out, leave them alone! The only exception would be to cut off the bad parts, then use what's left in soups, curries, purees, etcetera.
If your sweet potato has a foul smell or has liquid oozing from its skin, toss it.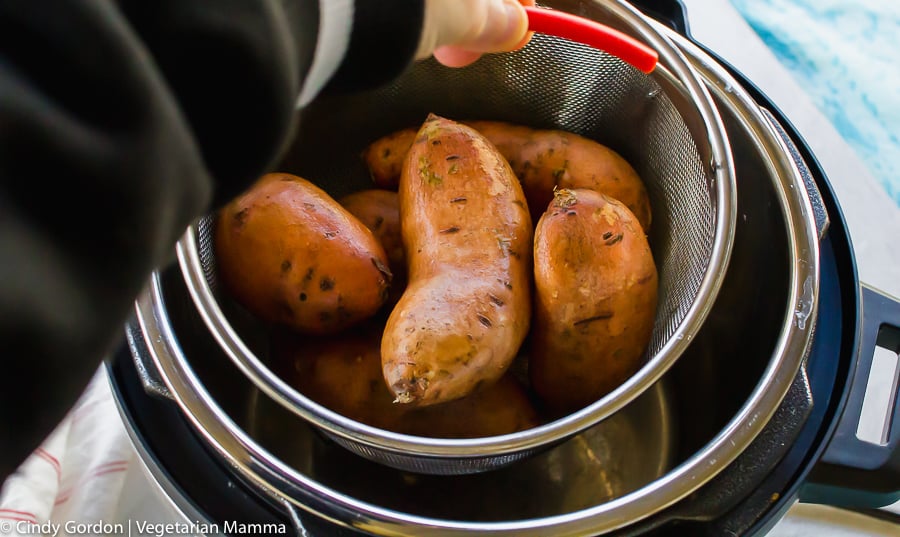 DO YOU WASH SWEET POTATOES BEFORE BAKING?
Yes! It's essential to wash sweet potatoes before cooking them. Because sweet potatoes are grown in the ground, you need to wash off any remaining dirt and grit that may not have been removed in the handling process. Plus, no matter where you buy your sweet potatoes, even if they're organic, they may have been exposed to pesticides and other elements.
Even if you plan to peel your sweet potatoes and discard the skins, it's important to wash them before cutting into them. If not, you could run the risk of your knife introducing germs and chemicals into the flesh of the potatoes.
To wash sweet potatoes, give them a good rinse under cool water, and scrub the skins with a vegetable brush if you have one. If not, a paper towel works pretty well, too. You could also use your favorite natural veggie wash from your local specialty foods store.
DO YOU HAVE TO PEEL SWEET POTATOES BEFORE COOKING THEM?
That depends! If you're simply cooking sweet potatoes to mash them, eat them whole like my Air Fryer Sweet Potato recipe or to use them in some kind of dish where the potato is pureed, there's no need to peel them before baking. It's best to keep the sweet potato as whole as possible if you plan to puree it after cooking, or else you could end up with an inconsistent texture that's not very smooth.
If you plan to eat your sweet potatoes roasted, or cut into fries, you should peel them before cooking. This way of cooking the potatoes allows for the outsides of the pieces to crisp up, while the insides stay soft and buttery.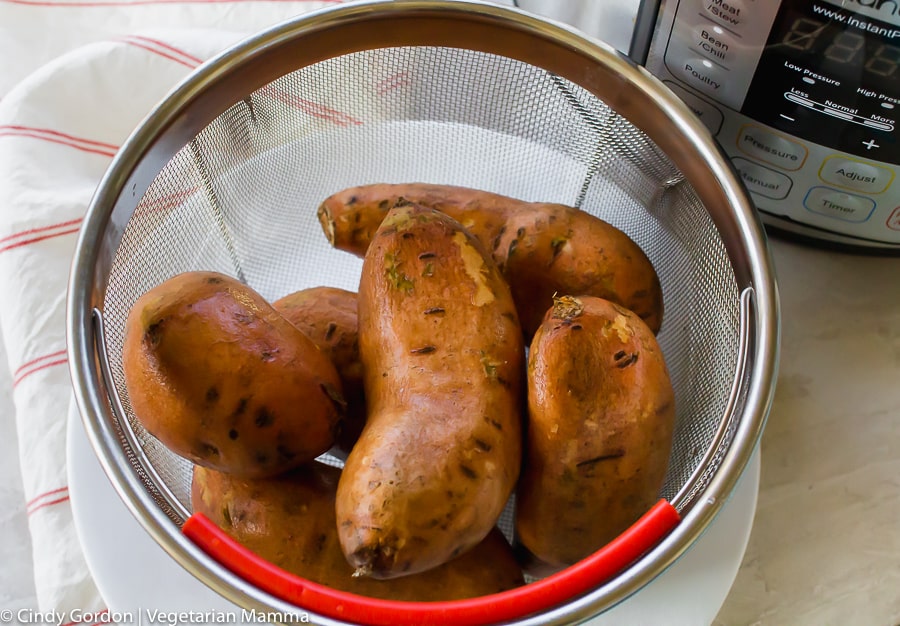 OTHER DELICIOUS INSTANT POT RECIPES
Instant Pot Baked Beans are a smoky, sweet vegetarian recipe that everyone loves.
I like to make Instant Pot Stuffed Peppers on weeknights when I'm craving some comfort food.
Learn how to make Instant Pot Black Beans and you won't need to buy canned beans ever again. Or maybe you would love some instant pot baby potatoes!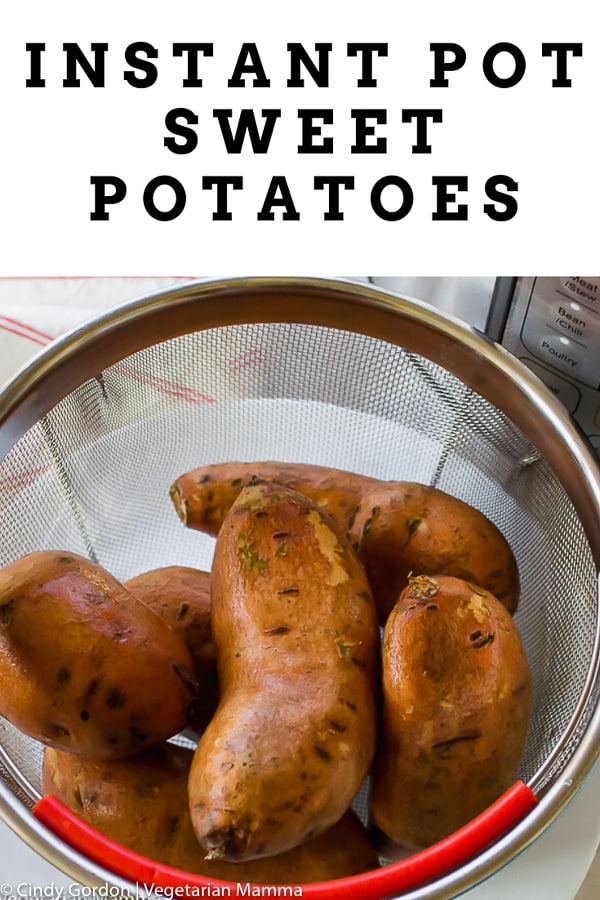 Have you made this recipe? Please leave a comment AND rating below! It helps other readers!
Be sure to tag @VegetarianMamma on instagram, if you share a picture on the gram! Let's get social, you can follow me on Youtube, Instagram, Facebook, Pinterest or join one of our Facebook Groups: Tasty Vegetarian Recipes and Vegetarian Air Fryer Recipes.
Don't forget to subscribe to our EMAIL newsletter.
Instant Pot Sweet Potatoes
Instant Pot Sweet Potatoes are cooked in a half hour from start to finish! They come out fluffy, smooth, and perfectly cooked every time!
Ingredients
6

medium

sweet potatoes

1.5

cups

water

steamer basket
Instructions
Wash your sweet potatoes with fresh water and scrub them to remove any dirt. Use a paring knife to cut off any blemishes.

Pour the water into the Instant Pot, then place the sweet potatoes into the steamer basket and lower it into the Instant Pot.

Place the lid on the Instant Pot and secure it. Move the steam valve to the seal position.

Use the manual function of your instant pot and set it to high pressure. Set the timer for 16 minutes.

Allow the instant pot to come up to pressure. The instant pot will count down the time. When the time has finished, the Instant Pot should beep.

Let the instant pot do a natural release for 12 minutes. This means you do not do anything for 12 minutes. It will naturally release the pressure.

When 12 minutes has passed, carefully move the value to "release". (Remember this can be hot, so be careful!)

Once all the pressure is released, remove the lid and serve.
Notes
The sweet potatoes cooked at this time are perfect for adding to casseroles and pureeing.

If you would like to eat the sweet potato as a "baked" sweet potatoes, lessen the cook time and release time by 2-3 minutes each.
Nutrition
Serving:
1
sweet potato
|
Calories:
194
kcal
|
Carbohydrates:
45
g
|
Protein:
4
g
|
Fat:
1
g
|
Saturated Fat:
1
g
|
Sodium:
124
mg
|
Potassium:
762
mg
|
Fiber:
7
g
|
Sugar:
9
g
|
Vitamin A:
32063
IU
|
Vitamin C:
5
mg
|
Calcium:
68
mg
|
Iron:
1
mg
All though this website attempts to provide accurate nutritional information, the information should only be considered an estimate. Varying factors such as different product types, different brands, etc. can change nutritional information. It is your responsibility as a consumer to read all labels to make sure the ingredients fit your dietary needs as well as calculate your own nutritional information as a double check.