Air fryer corn on the cob is the quickest and most delicious airfryer recipes to date. The airfryer quickly roasts the sweet corn, fresh or frozen, into an irresistible side dish!
Add a few select toppings and you suddenly have a lightened version of fried Mexican Street corn! You are going to love this air fried corn on the cob!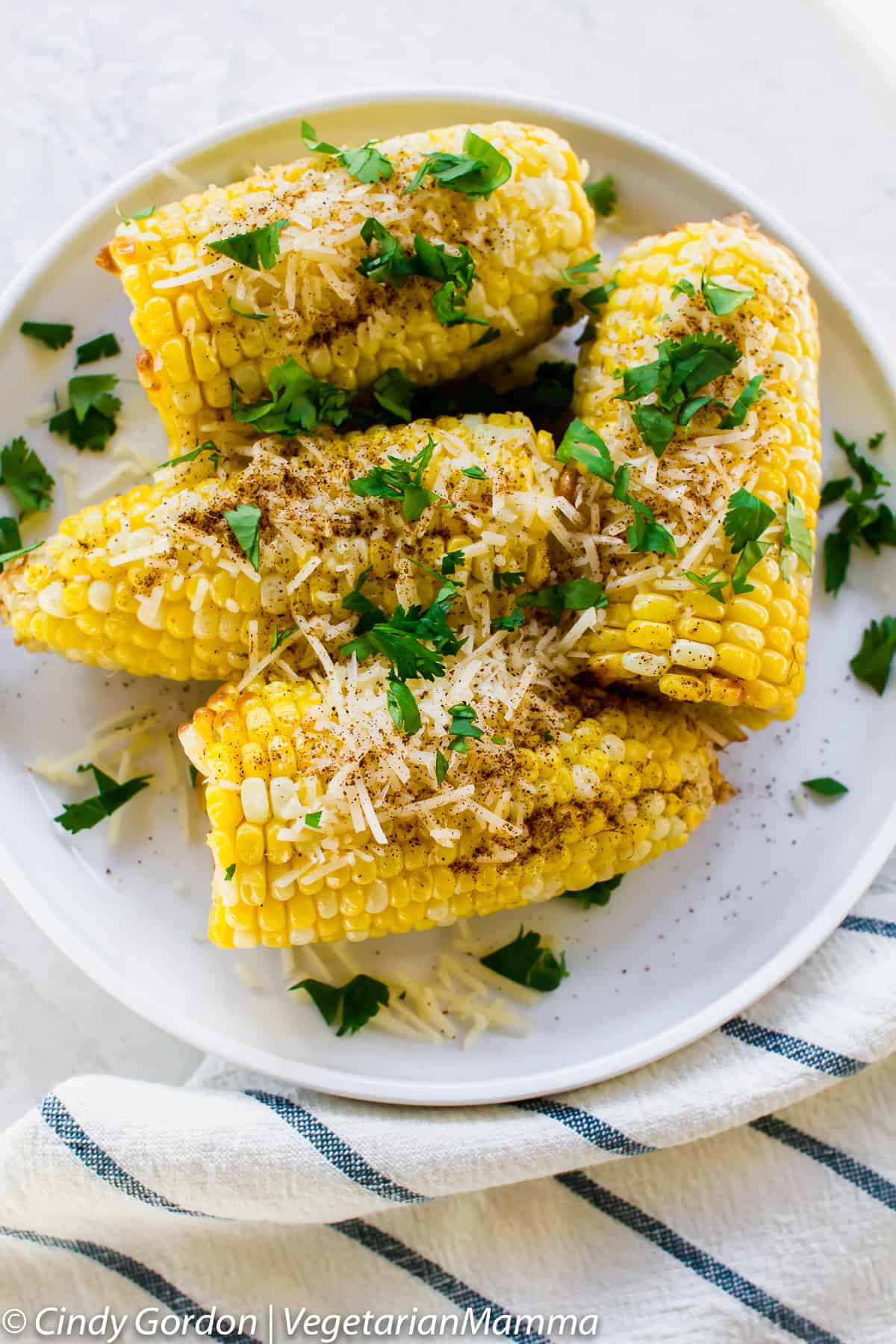 Air Fryer Mexican Corn on the Cob (skinny version)
Let's note and get this out of the way…right out of the gate. Skinny is a term that we use in this recipe to indicate that we made it "lighter" than the original type of recipe. While it may still have calories from the cheese…it is lighter than the versions using mayo, sour cream, and other cheeses. It's all perspective.
Air fryers have been one of those appliances that have been on my wish list for a while. I'd heard amazing things about them, reading about how they can take away the grease use and cut the fat calories from food, all with ease. Eating healthy with ease? Yes, please!
Needless to say, I was pretty excited when my mom got our family an air fryer for Christmas a couple of years back. It was something I had been wanting to experiment with ever since I'd first heard about it.

What Can You Cook in the Air Fryer
The options of what you can cook in this amazing appliance are truly endless! We've cooked air fryer tofu, air fryer sweet potatoes, air fryer frozen french fries, air fryer Brussel sprouts and more! Anything that your taste buds want to try straight out of the air fryer, give it a go!
But one of my most favorite food items to make in the air fryer? CORN! This is a very quick and easy way to quick corn! And not to mention, they make the perfect side dish.
How Easy Is It To Use An Air Fryer?
When I say it's super simple, it's simple. You literally set the temp, figure out the time, and wait for that food to be done.
Is there any other appliance out there that is as simple as that? And clean-up? A total breeze.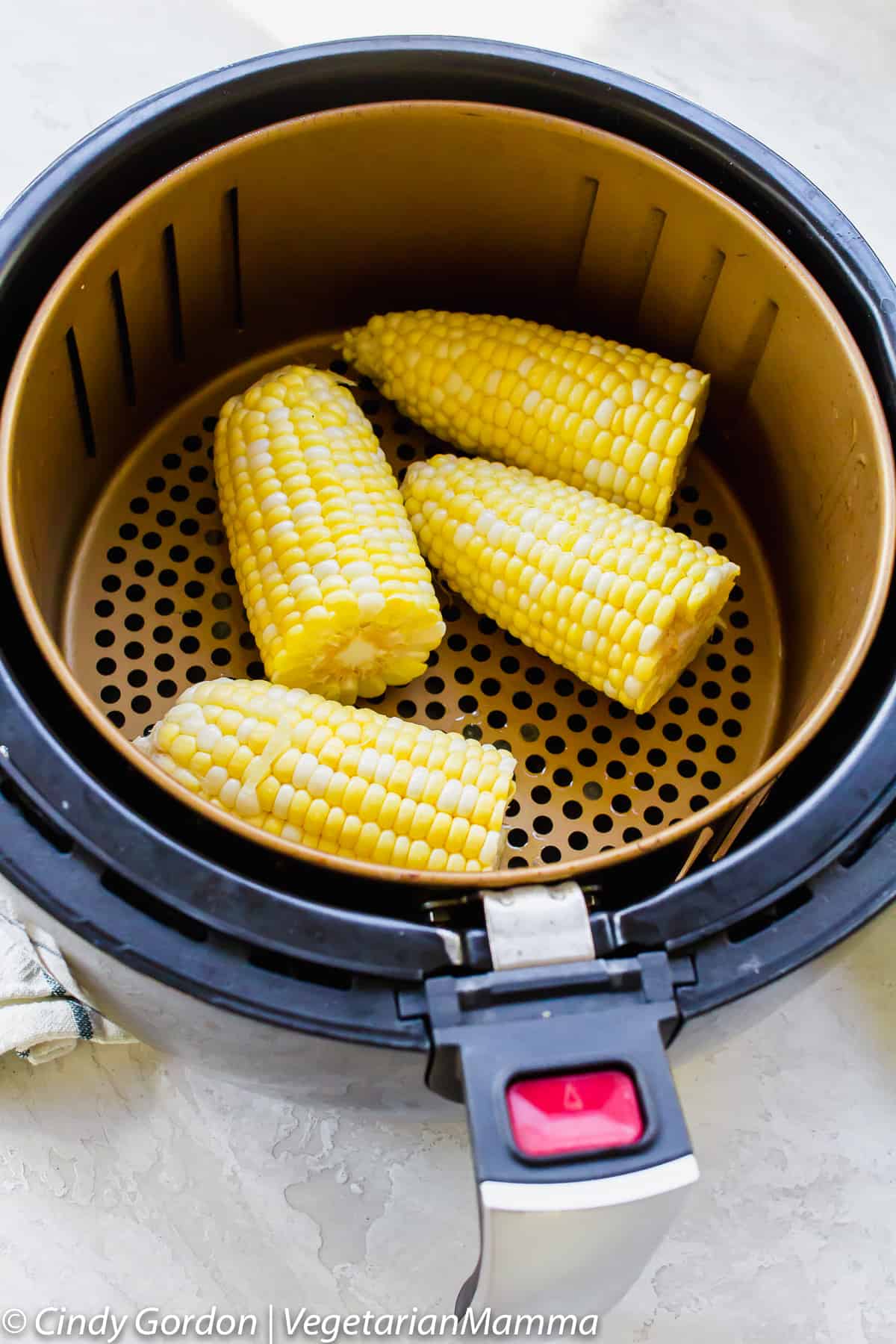 How to Use The Air Fryer Right Every Time
I've owned my air fryer now for a while, and I have to be honest…I've yet to find a recipe that I don't love. And did I mention how simple it is?
To say I'm a creature of habit is an understatement. I love being able to cook a meal and know with confidence that it's going to taste amazing each and every time.
With the Air Fryer, I absolutely have no doubts. I know that from the moment I press start, to the moment that I remove the food from the machine, it will be cooked to perfection each and every time. Wanting crispy corn in an air fryer? We have got you covered with this air fried corn on the cob recipe!
And trust me when I say that once you try corn on the cob in the Air Fryer, you will never want to go back to any other method.
Corn Facts
Corn is actually a grain plant that originated in southern Mexico. (Hello Mexican street corn on the cob!) The seeds or the kernels of the corn are the parts that hold the majority of the nutrients. That's a good thing since that is the part that we consume. It is reported that corn is a good source of vitamin A, B, E and is high in fiber.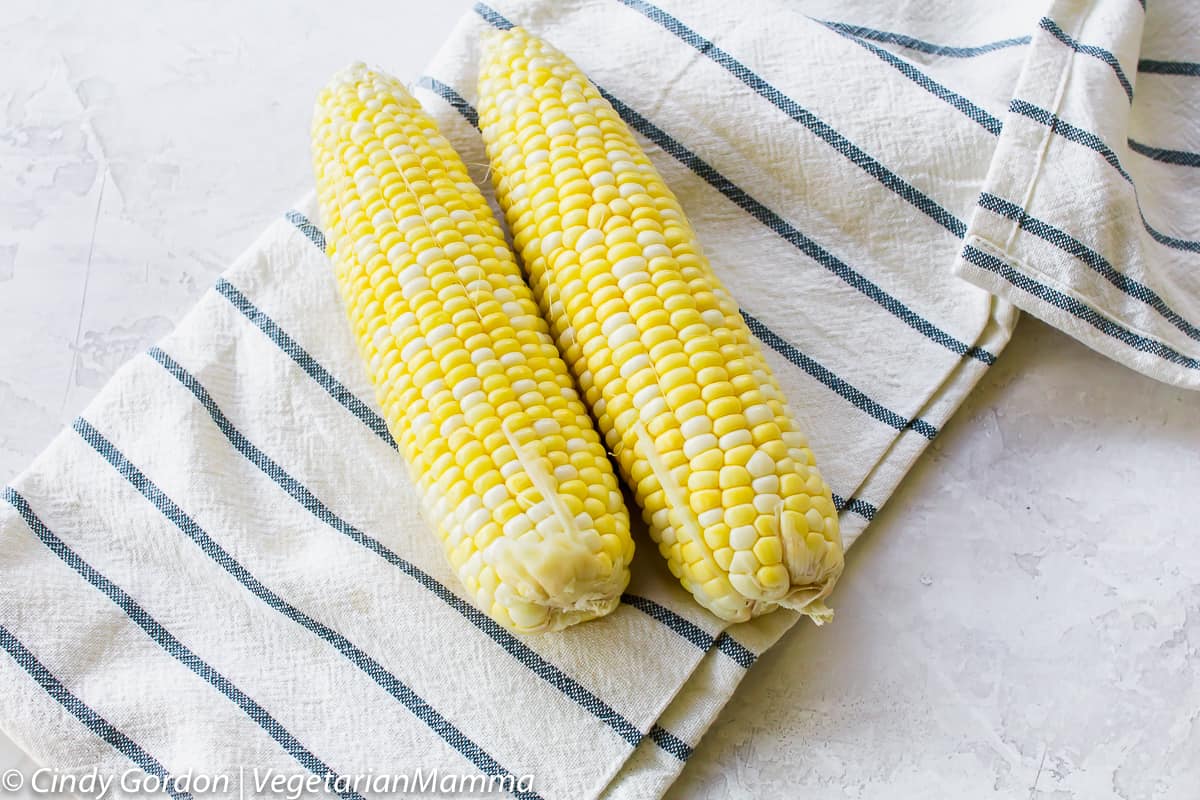 Corn on the cob in an air fryer
You do not need to preheat your air fryer for this recipe. Air fryers generally come up to heat very quickly with the air that circulates in a small space. No need to preheat. If you are a lover of fried food, you are going to like this recipe!
Can I use frozen corn in my air fryer?
Frozen corn in air fryer? This is a great question. I have used half ears of frozen corn in my air fryer. Typically, I let the corn thaw at least 30 minutes. I adjusted the timing of my recipe by adding 3 more minutes.
Roasted Corn on the Cob
Truly, you can cook corn on the cob a whole bunch of ways. You can boil it. There are even multiple ways to boil corn! The best method that I've found is to boil the water, insert the corn, cover and turn out off. Wait for 10 minutes and the corn is cooked nicely.
You can roast your corn in the oven or on the grill. You can grill the corn in the husks or you can remove the husks. The ways to cook corn, are pretty much endless!
For us, we love to use our Power AirFryer XL (affiliate ad link) to cook our corn on the cob!
Corn Airfryer Details
So basically here are the details. Things you won't need for this recipe: a baking sheet (for oven roasted corn) or large pot of water! Ha! And of course, the water to cover the ears of corn! No water needed for this recipe.
How to Prepare Corn Before Putting them in the Air Fryer
Here's what I did to the corn before putting the corn cobs in the air fryer.
Use 2 ears of fresh corn.

Remove the husk and silk, then cut them in half.

Rub them with oil and season them with salt and black pepper.

Place them in the air fryer basket.

No need to cover the corn with anything, just place in the basket.
As for cooking time, it is pretty easy. You can have some delicious corn in under 15 minutes, from start to finish!
When the corn is finished you are going to lightly garnish with some parmesan cheese, lime juice and cilantro!
Hungry for more? You are going to love these air fryer cooking recipes! Our list of delicious recipes is growing! Check them out!
What is Mexican street corn or Elote?
Basically ELOTE is a street food in Mexico that is very popular. The is cooked. Whether boiled, grilled or in our case the air fryer! Generally though, it is prepared with the husk on. In the air fryer, we are removing the husk and silk.
Classic Mexican Street Corn or Elote is coated in some tasty things such as: salt, chili powder, butter, lime juice, mayo and a type of cheese. (many times sour cream or cotija cheese)
While this classic is delicious, we wanted a light and easy corn. So we opted to remove the heavier cheese and the mayo!
Air Fryer Recipes:
Here are some more of my favorite airy fryer recipes.
My sweet friend Amanda from My Gluten Free Miami has made Gluten Free Air Fryer Mozzarella Sticks and I think you need to check them out!
If you love air fryer recipes, you need to check out our new site called AirFryerEats.com It has a variety of yummy and delicious air fryer recipes. The site features vegetarian, meat, gluten and gluten free items. You might want to check out: Air Fryer Shishito Peppers, Air Fryer Chicken Thighs, Air Fryer Corn, Air Fryer Brats (I used Beyond Meat, vegan ones), Air Fryer Green Beans (from a can) and Air Fryer Jalapeno Poppers.
We truly adore how easy this recipe is. I wouldn't have thought about corn on the cob in an air fryer, but the concept is actually pretty neat. I can quickly cook this on the counter while freeing up space on my stove to cook other things! That is a WIN!
Air Fryer Resources – if you are looking for air fryer resources, we have got you covered. We have a variety of air fryer posts that teach you everything you want to know about your air fryer.
Vegetarian Air Fryer Resources – We have a vegetarian air fryer newsletter, which you can subscribe to here. We also have a specific vegetarian air fryer recipes group on facebook. You can find that Veg Air Fryer FB Group here.
If you are looking for vegetarian recipes beyond air fryer ones, we have a Vegetarian Newsletter as well as a Vegetarian Recipes facebook group. This newsletter and FB group offers up recipes that on the stove, in the oven, on the grill, in the instant pot and more!
Other Resources:
More Air Fryer Goodies:
Oh yes and we will have a recipe coming out soon that tells you how to make Instant Pot Corn on the Cob!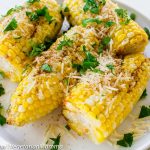 Print Recipe
Air Fryer Mexican Street Corn (skinny version)
Air fryer corn on the cob is the quickest and most delicious airfryer recipes to date. The airfryer quickly roasts the sweet corn, fresh or frozen, into an irresistible side dish!
Add a few select toppings and you suddenly have a lightened version of fried Mexican Street corn! You are going to love this air fried corn on the cob!
Ingredients
2

ears of fresh corn

husk and silk removed, halved

1

T

oil

1/2

t

chili powder

1

t

lime juice

1/4

cup

fresh cilantro

diced

1/4

cup

parmesan cheese
Instructions
Cut corn in half so you have four pieces.

Gently pour 1 T of oil over corn and rub in with your hands. Place corn halves into the air fryer basket.

Turn the air fryer on to 380 degrees F and cook for 8 minutes. At the four minute mark, remove basket, shake and return to cooking.

When air fryer stops, remove corn carefully from basket (it will be HOT!) Top with cheese, chili powder, lime juice and cilantro. You can adjust quantities to your taste.
Nutrition
Calories:
113
kcal
|
Carbohydrates:
1
g
|
Protein:
4
g
|
Fat:
10
g
|
Saturated Fat:
2
g
|
Cholesterol:
8
mg
|
Sodium:
212
mg
|
Vitamin A:
435
IU
|
Vitamin C:
1.3
mg
|
Calcium:
148
mg
|
Iron:
0.2
mg
All though this website attempts to provide accurate nutritional information, the information should only be considered an estimate. Varying factors such as different product types, different brands, etc. can change nutritional information. It is your responsibility as a consumer to read all labels to make sure the ingredients fit your dietary needs as well as calculate your own nutritional information as a double check.
Let's talk! Leave me a comment below telling me if you are a corn lover! Do you love your air fryer? Or are you dreaming of getting one?
PIN this image for later: