Air Fryer Zucchini Coins is a delicious and easy air fryer recipe. This vegetarian snack will make your belly rumble for more!


Air Fryer Fried Zucchini
Are you looking for air fryer zucchini recipes? Well we have one for you today! Air fryers have been one of those appliances that have been on my wish list for a while.
I'd heard amazing things about them, reading about how they can take away the grease use and cut the fat calories from food, all with ease. Eating healthy with ease? Yes, please!
If you want to learn more about air fryers be sure to visit our air fryer category page, there you will learn how to clean your air fryer and the most common air fryer mistakes! If you are ready to buy an air fryer, you can read air fryer reviews and learn about the best air fryers on the market!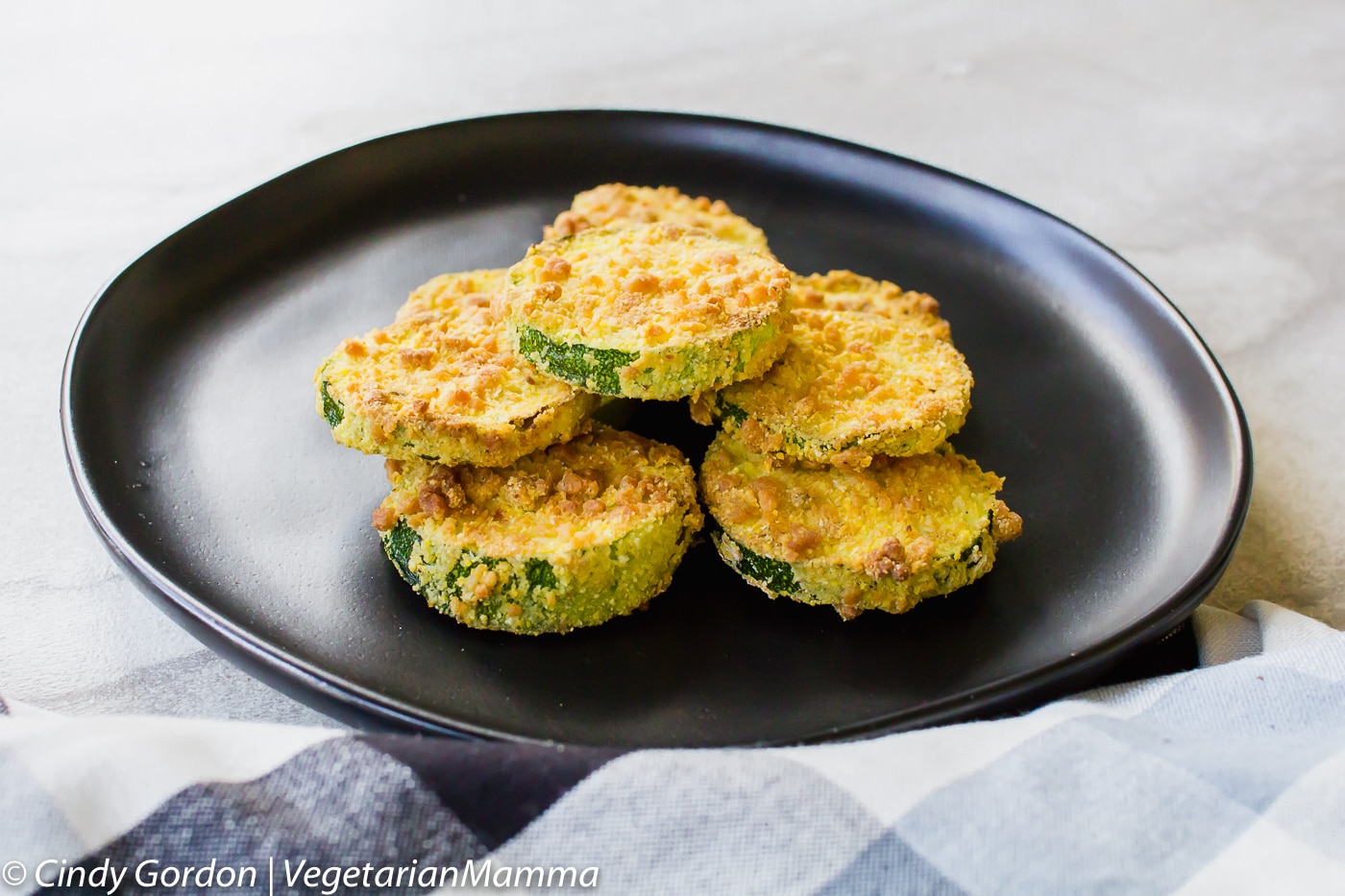 Needless to say, I was pretty excited when my mom got our family an air fryer for Christmas a couple of years back. It was something I had been wanting to experiment with ever since I'd first heard about it. We have been having SO much fun with airfryer recipes!
WHAT CAN YOU ACTUALLY COOK IN AN AIR FRYER?
Besides these air fryer zucchini coins, the options of what you can cook in this amazing appliance are truly endless! We've cooked tofu, potatoes, french fries, Brussel sprouts and more! Anything that your taste buds want to try straight out of the air fryer, give it a go!
I have been experimenting with all types of food and some beautiful green tomatoes caught my eye at our local market. I just had to try them in the power air fryer!
For us, we love to use our Power AirFryer XL (affiliate ad link). Have you found any great power air fryer recipes out there? Drop me a comment below!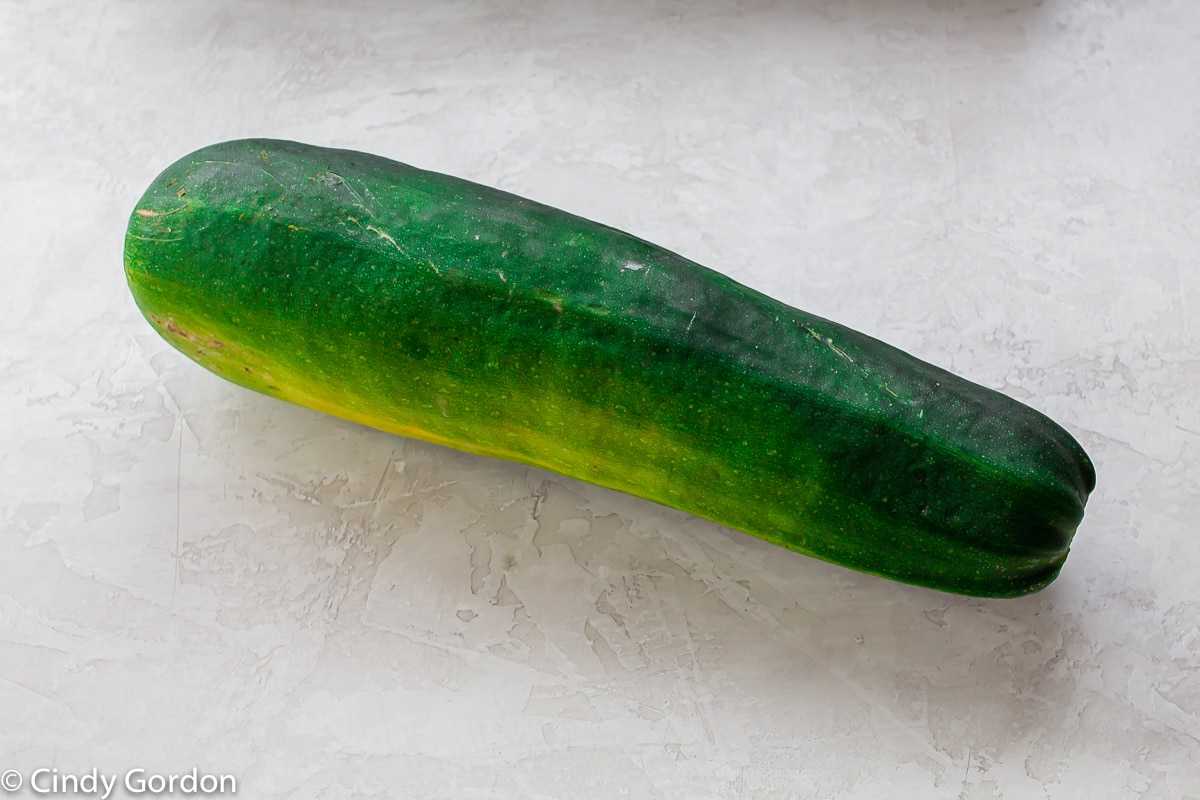 All about Zucchini
Today we are using zucchini in our air fryer to make air fryer zucchini coins! Who doesn't love a good fried zucchini recipe? YUM!
Zucchini's are part of the squash family. Squash is separated into two categories: winter squash and summer squash. Zucchini falls into the summer squash category.
Typically, summer squashes have a higher water content than winter squash and their skin is thin and edible.
Zucchini plants are pretty popular for home gardeners. There is a running joke that you can't look away from a zucchini plant because zucchini grows so fast.
It almost seems like they can double in size overnight. While that isn't quite accurate, they can grow fast during the summer!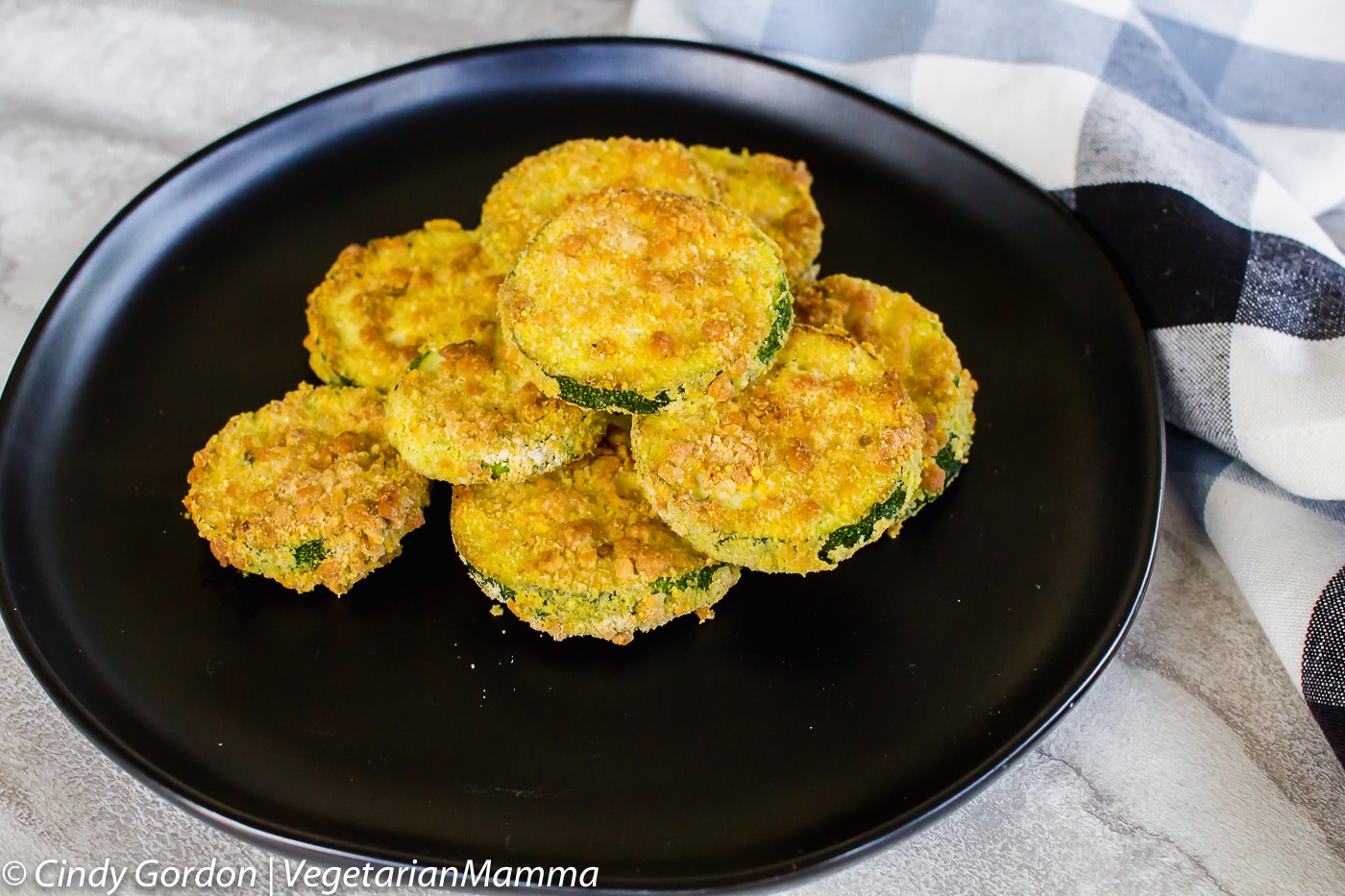 HOW EASY IS IT TO USE THE AIR FRYER?
Still not convinced about an airfryer? When I say it's super simple, it's simple. You literally set the temp, figure out the time, and wait for that food to be done.
Is there any other appliance out there that is as simple as that? And clean-up? A total breeze. After you are finished making your air fryer zucchini coins, simply take out the inner air fryer basket, dump it and wash. Then repeat with the outer basket.
AIR FRYER SUCCESS EACH AND EVERY TIME
I've owned my air fryer now for a while, and I have to be honest…I've yet to find a recipe that I don't love. And did I mention how simple it is?
To say I'm a creature of habit is an understatement. I love being able to cook a meal and know with confidence that it's going to taste amazing each and every time.
With the Air Fryer, I absolutely have no doubts. I know that from the moment I press start, to the moment that I remove the food from the machine, it will be cooked to perfection each and every time.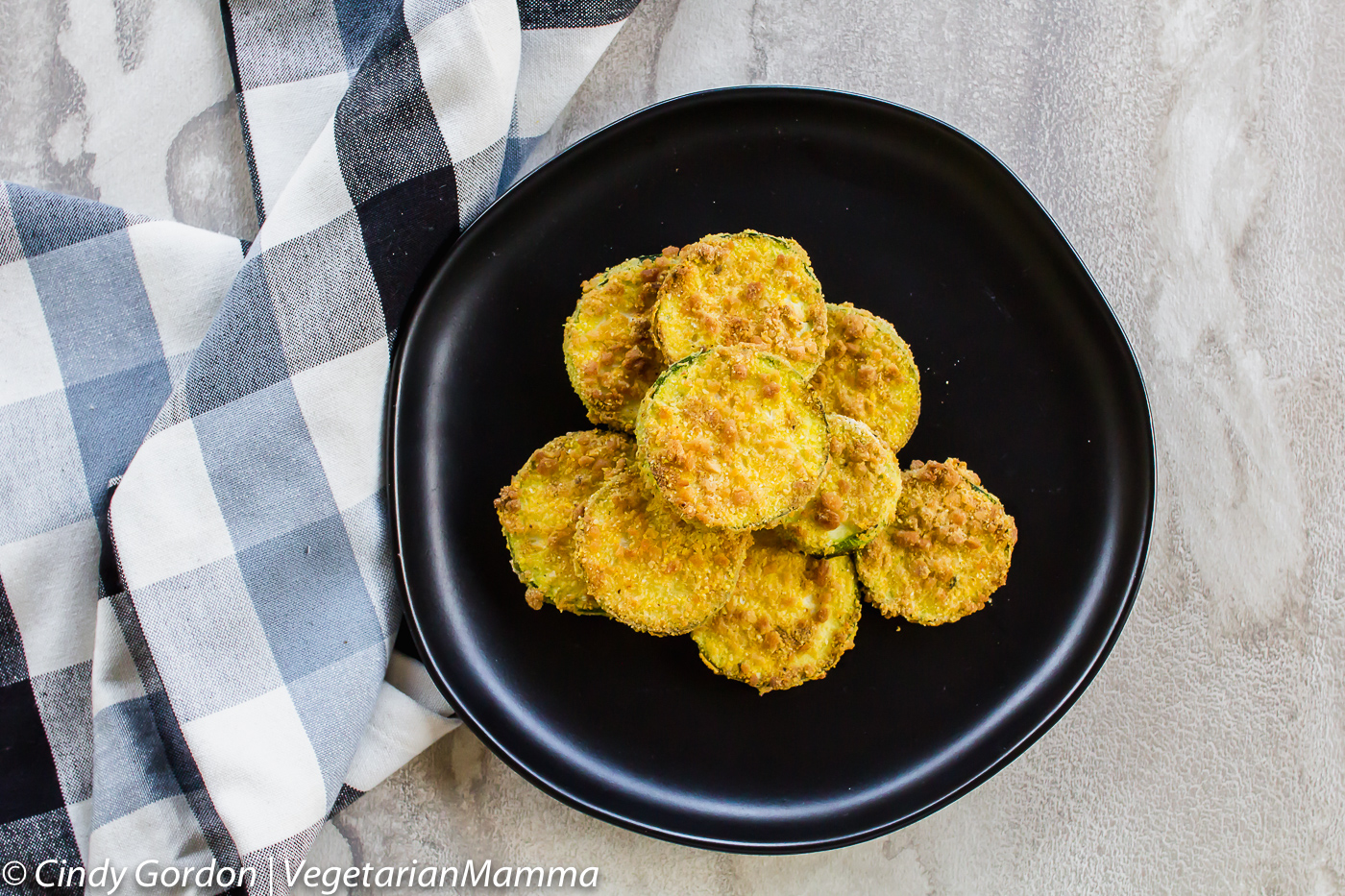 Remove Moisture From Zucchini
Zucchini has quite a bit of moisture in it. So we need to remove some of that moisture before we fry up our air fryer zucchini slices. To do this, you are going to lay the zucchini slices flat on a baking sheet.
Then sprinkle the slices with some salt, let rest for a few minutes, then slip and repeat. We outlined this process in our Gluten Free Eggplant Parmesan recipe.
For the coating, I used a combination of cornmeal and gluten-free pankos. In this particular recipe, we used Ian's Gluten Free Italian Bread Crumbs. (affiliate ad link) These particular gluten-free bread crumbs are super allergen friendly. So if you need to avoid things like eggs, milk, peanuts, tree nuts, soy and wheat, you should check them out!
Instead of using a convection oven or the traditional frying method you are going to fall in love with this air fried recipe.
Dip the sliced zucchini coins into the beaten eggs and then into the panko and cornmeal mixture. Place the breaded zucchini pieces into the air fryer basket.
You are going to cook until golden on both sides. I like to serve mine with a dipping sauce too!
The secret is in the sauce?
You don't need to dip them into a sauce but I like to dip the zucchini coins I love to dip them into ranch, you can also use sour cream or salsa! YUM!
Looking for vegan air fryer recipes? We have some of those too! You can even check out our YouTube channel for some air fryer videos.
Still don't have an air fryer of your own? Be sure to check out our air fryer reviews from several of the top models out there. You'll be whipping up free air fryer recipes in no time!
Want to learn more about Air Fryers? Check out our Air Fryer 101 post! Having an Air Fryer is great but may also mean that you have a ton of questions as well.
We have some great tips for using your air fryer! Be sure to check out our Common Air Fryer Mistakes post so you are avoiding common problems when using your air fryer.
How to clean your air fryer, that is the million dollar question that we've been hearing lately! Wondering the correct and best way to clean your air fryer? Check out these tips for cleaning your airfryer!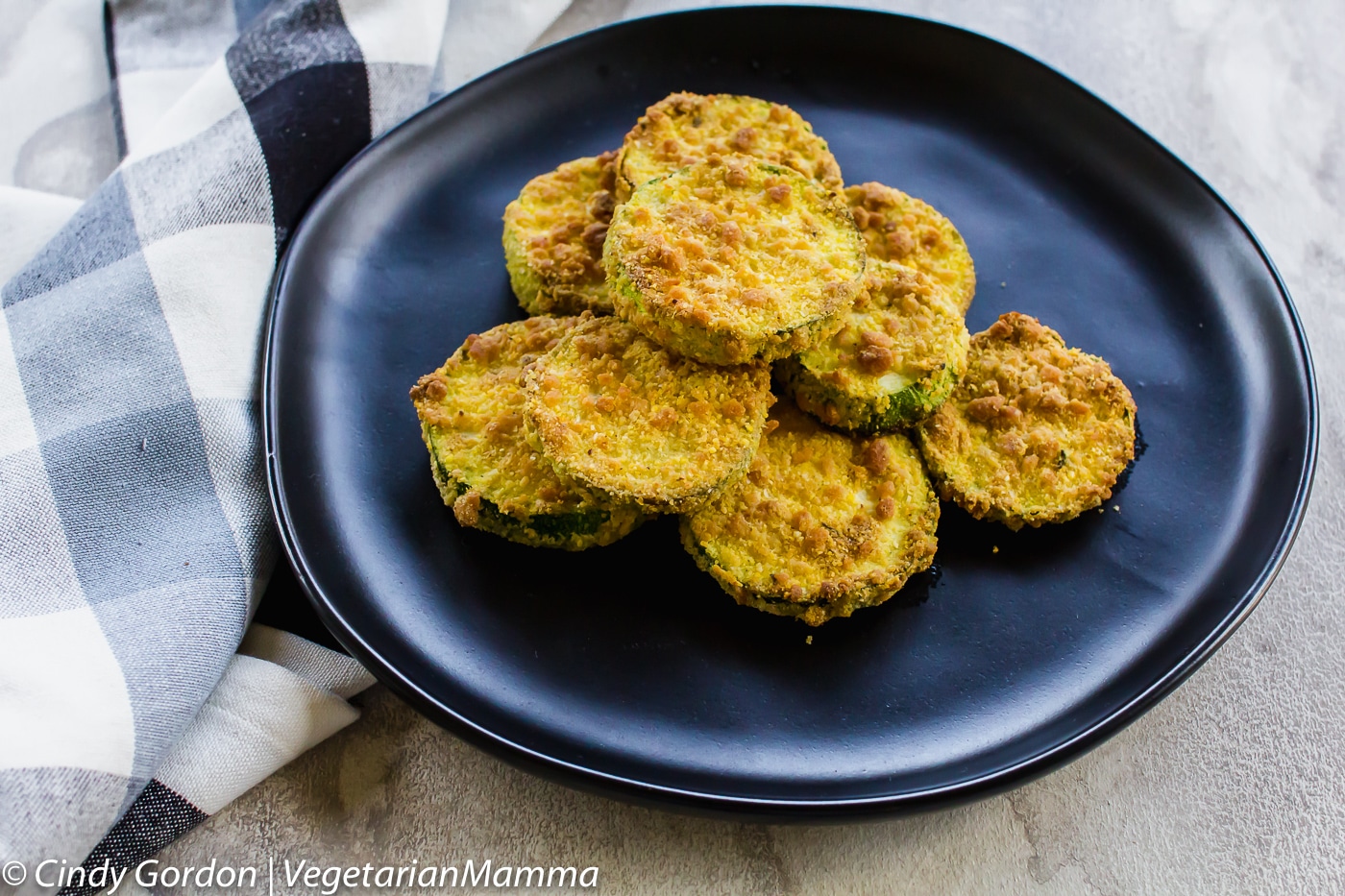 Air Fryer Recipes:
More Zucchini Recipes:
Pin for later: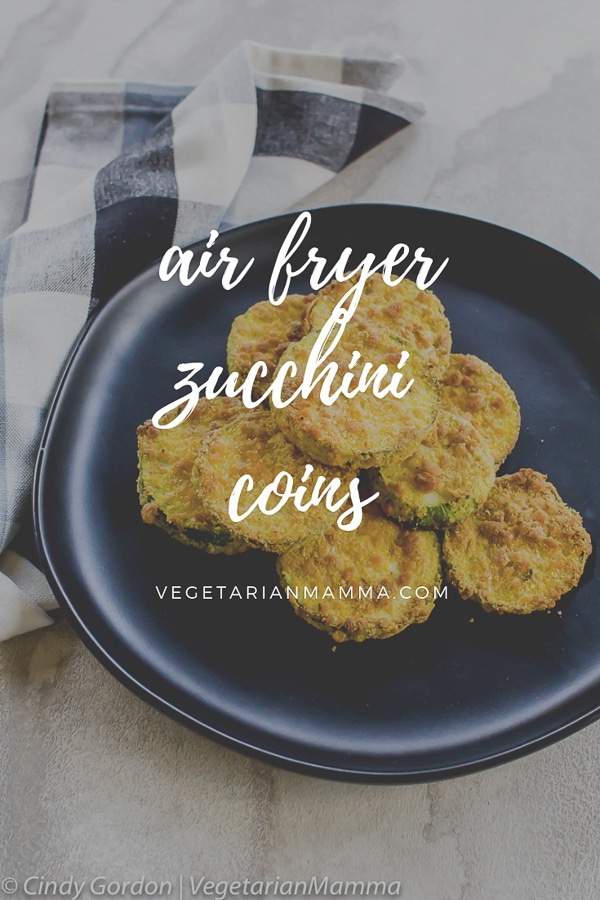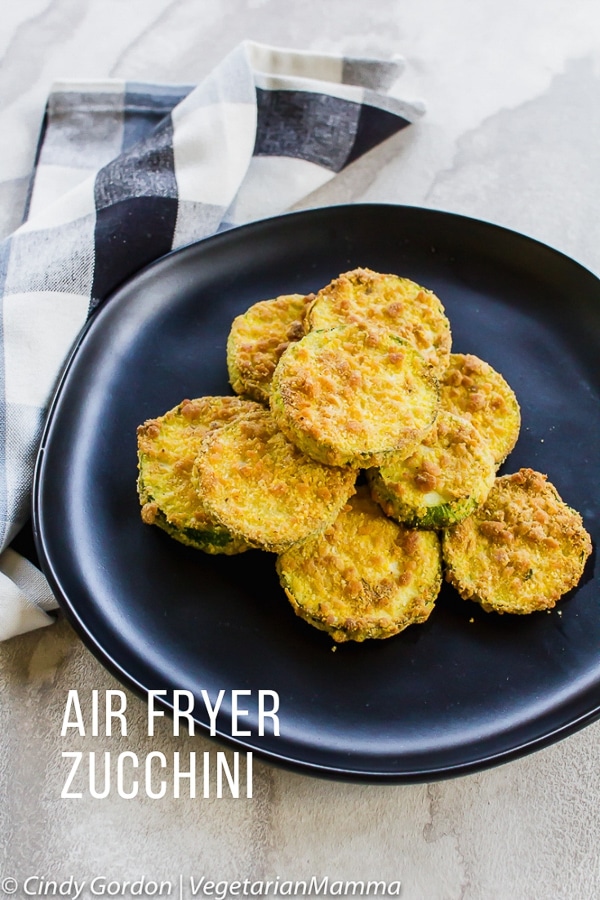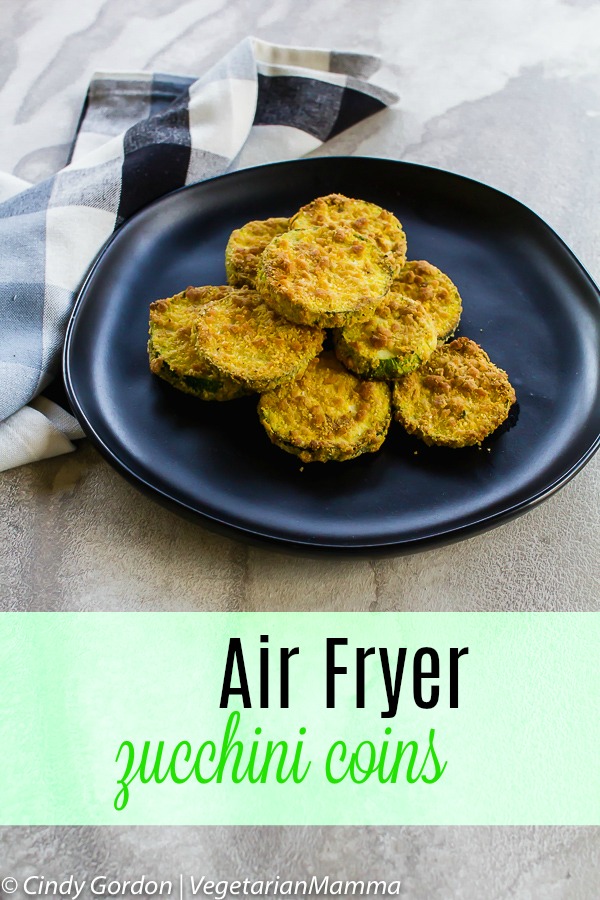 Get your fried zucchini coins recipe here: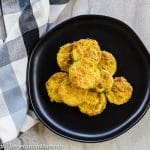 Print Recipe
Air Fryer Zucchini Coins
Air Fryer Fried Zucchini Coins is a delicious and easy air fryer recipe. This vegetarian snack will make your belly rumble for more!

Ingredients
2

zucchini

medium size, cut into coins

2

eggs

beaten

3/4

c

gluten free panko crumbs

3/4

c

corn meal
Instructions
Slice zucchini and salt to help remove moisture.

In a small bowl, scramble the egg.

In a second small bowl, place the panko bread crumbs and cornmeal.

Gently dip the zucchini coins in egg mixture. Dip into bread crumbs mixture and coat both sides.

Place zucchini coins into a single layer into your air fryer. Spray tops of the coins with oil spray. Fry at 400 degrees F for 8 minutes. Turn coins after 4 minutes. Spray again with oil. (Do not shake the basket, manually flip each coin)

ENJOY!
Notes
**The oil helps the coins to become golden brown and crisp up.
Nutrition
Calories:
565
kcal
|
Carbohydrates:
95
g
|
Protein:
15
g
|
Fat:
13
g
|
Saturated Fat:
3
g
|
Cholesterol:
183
mg
|
Sodium:
320
mg
|
Potassium:
764
mg
|
Fiber:
9
g
|
Sugar:
5
g
|
Vitamin A:
630
IU
|
Vitamin C:
35.1
mg
|
Calcium:
56
mg
|
Iron:
3.3
mg
Question: Is it just me or do you have any childhood food memories that you still make as an adult? You can let me know in the comments below! Let's keep this conversation going! I want to know!