Air Fryer Roasted Potatoes will complement any holiday or weeknight dinner. These air fryer potatoes will be one of the best air fryer recipes that you'll find!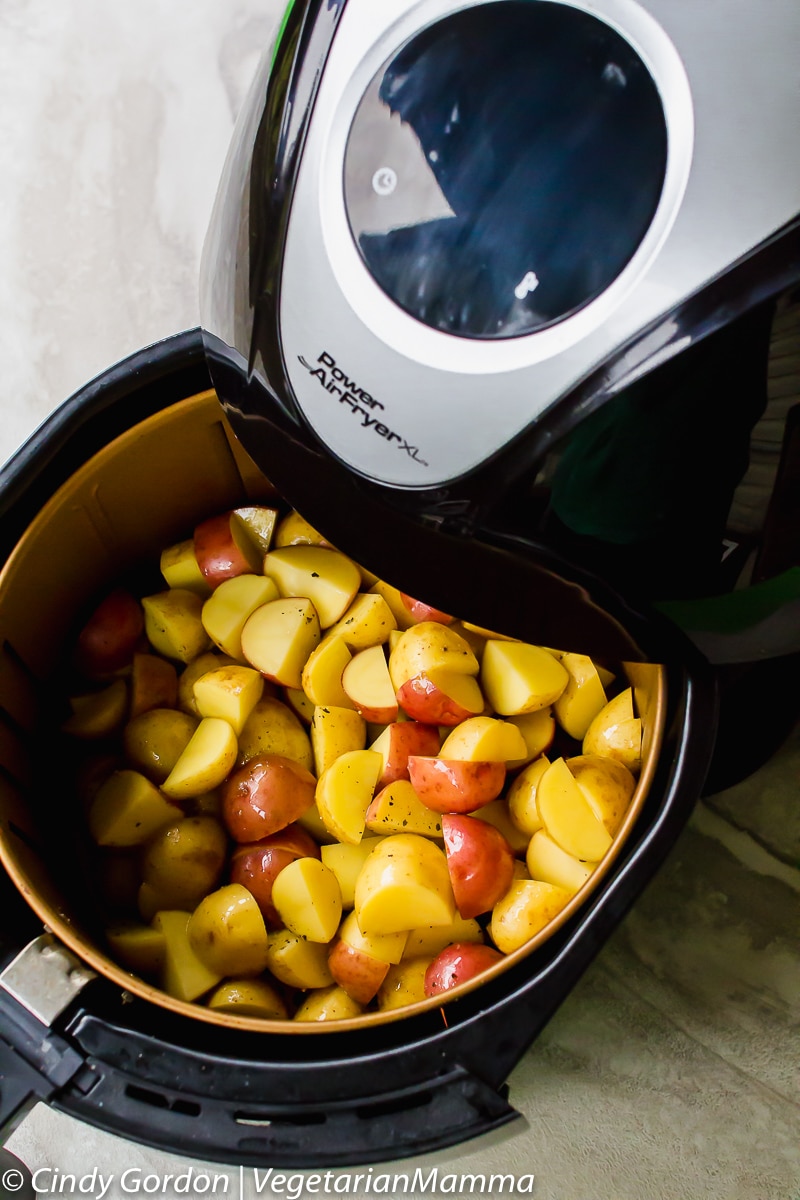 This dish can easily be made for holiday dinners or your weeknight family dinners! When it comes to the holidays, the amazing thing is that you can make these potatoes in a flash!
You don't have to take up stove or oven space for them either! Air Fryers, do not take much room on the counter!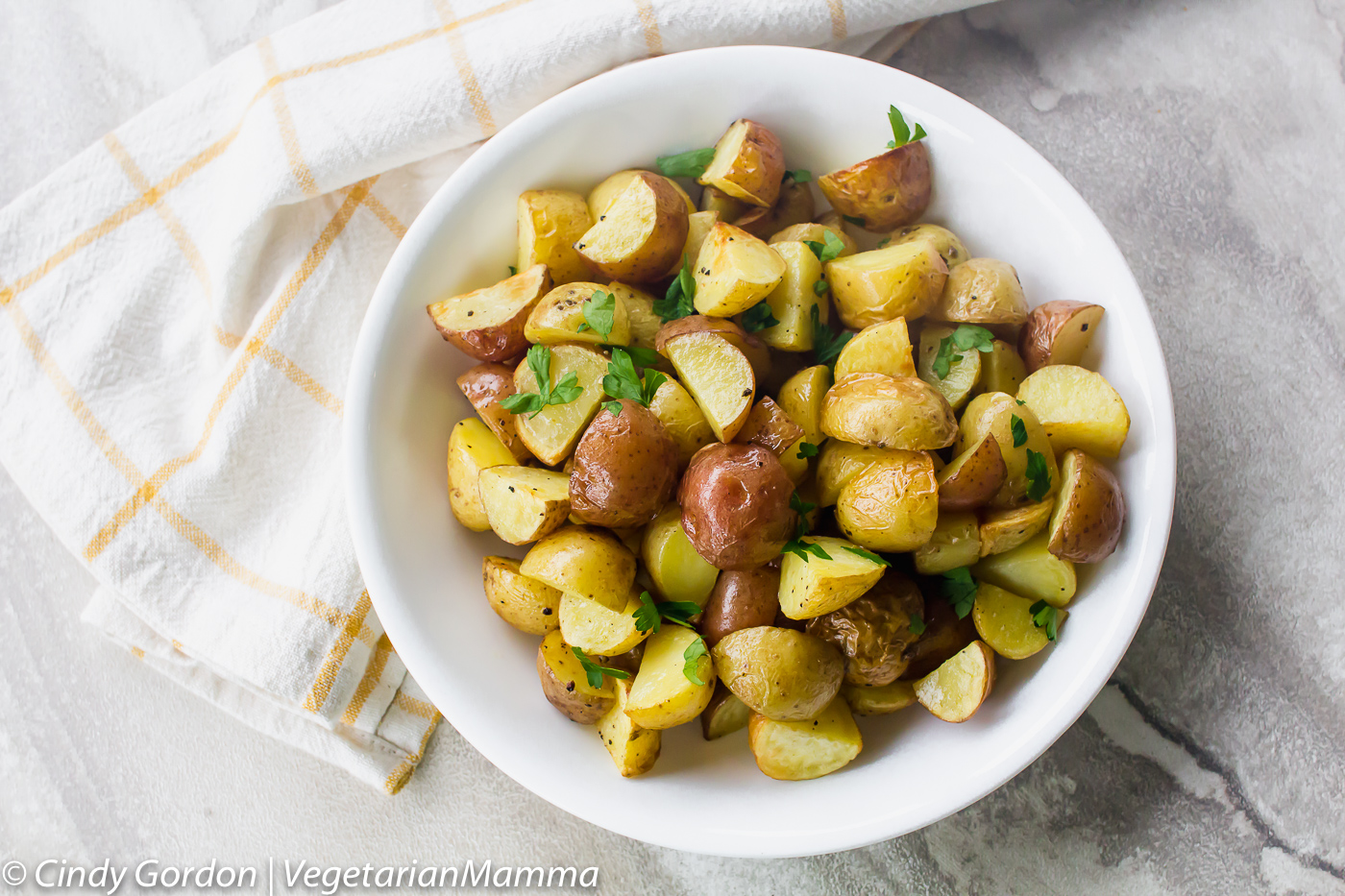 A FEW POTATO FACTS (IN CASE YOU'RE CURIOUS)
Potatoes are actually native to South America. They debuted here in North America in the 19th century. It seems that potatoes arrived to Canada and the United States via Irish immigrants.
Potatoes are pretty popular because they can survive various climates, they give pretty high yields of crops and they store for extended lengths! It is said that today they are one of the most popular vegetables in the world!
Serious Eats reports that there are roughly 4,000 different varieties of potatoes in the world. That is a hard fact to wrap my brain around! That is a lot of potatoes!
Potatoes are a starchy vegetable that belong to the nightshade family. Other nightshades include: eggplant, tomato and pepper.
There are many varieties of potatoes. You can source Russet Potatoes, White Potatoes, Yukon Potatoes, Blue and Purple Potatoes, Red Potatoes, New Potatoes, Fingerlings and Sweet Potatoes. Do you have a favorite type of potato?
If so drop me a comment below and let me know! I am curious!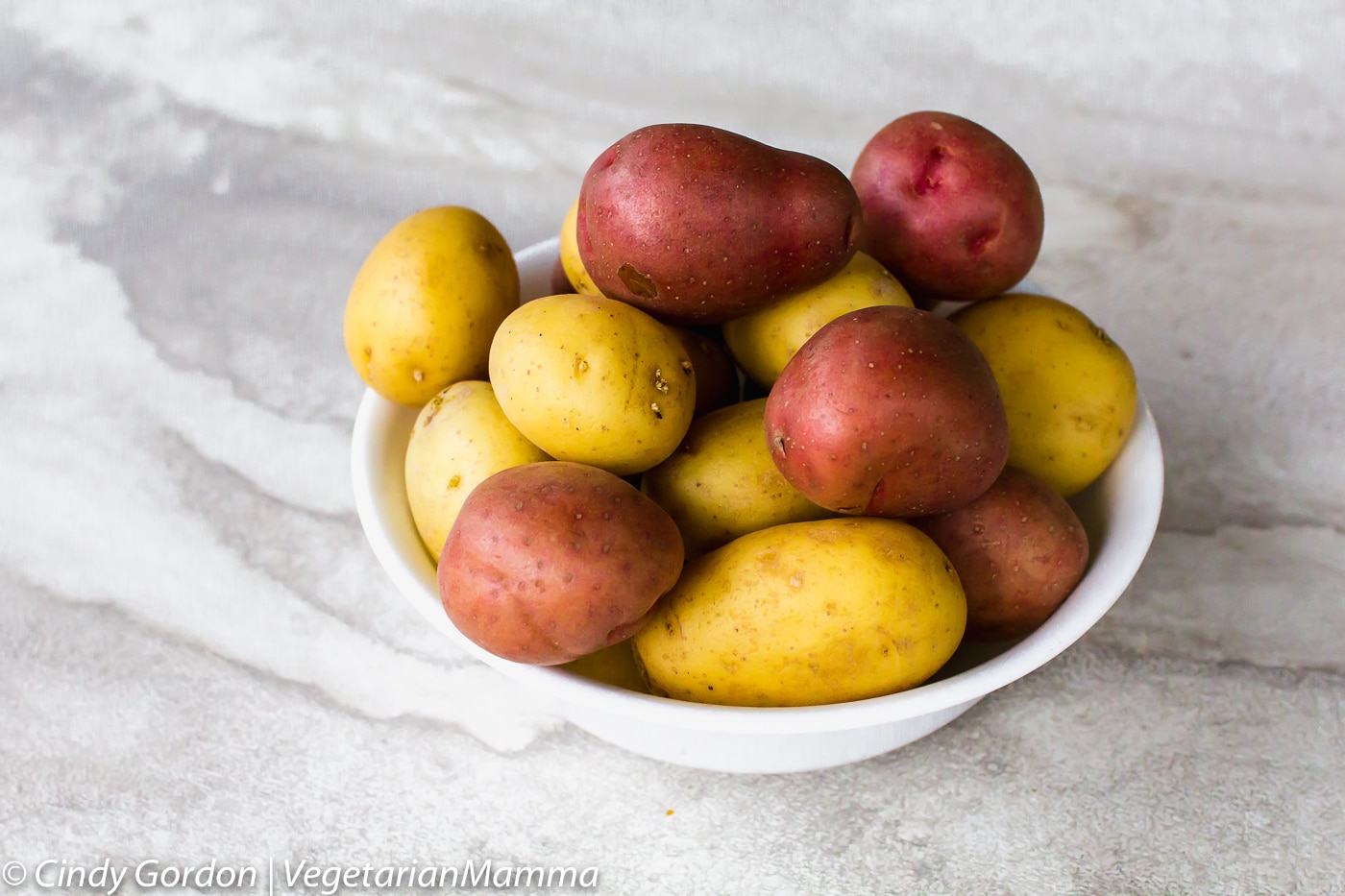 CAN YOU PUT RAW POTATOES IN AN AIR FRYER?
Yes you can! It's one of the reasons I love my air fryer. I simply cube my potatoes (as shown below) and toss with a little bit of oil. Then place in your air fryer.
Pro Tip: Be sure to stir them every few minutes to keep them from sticking.
ARE AIR FRYER POTATOES GOOD FOR YOU?
They are definitely healthier than frying them in the usual way. The air fryer will help you to cut the fat and calories, while maintaining great flavor!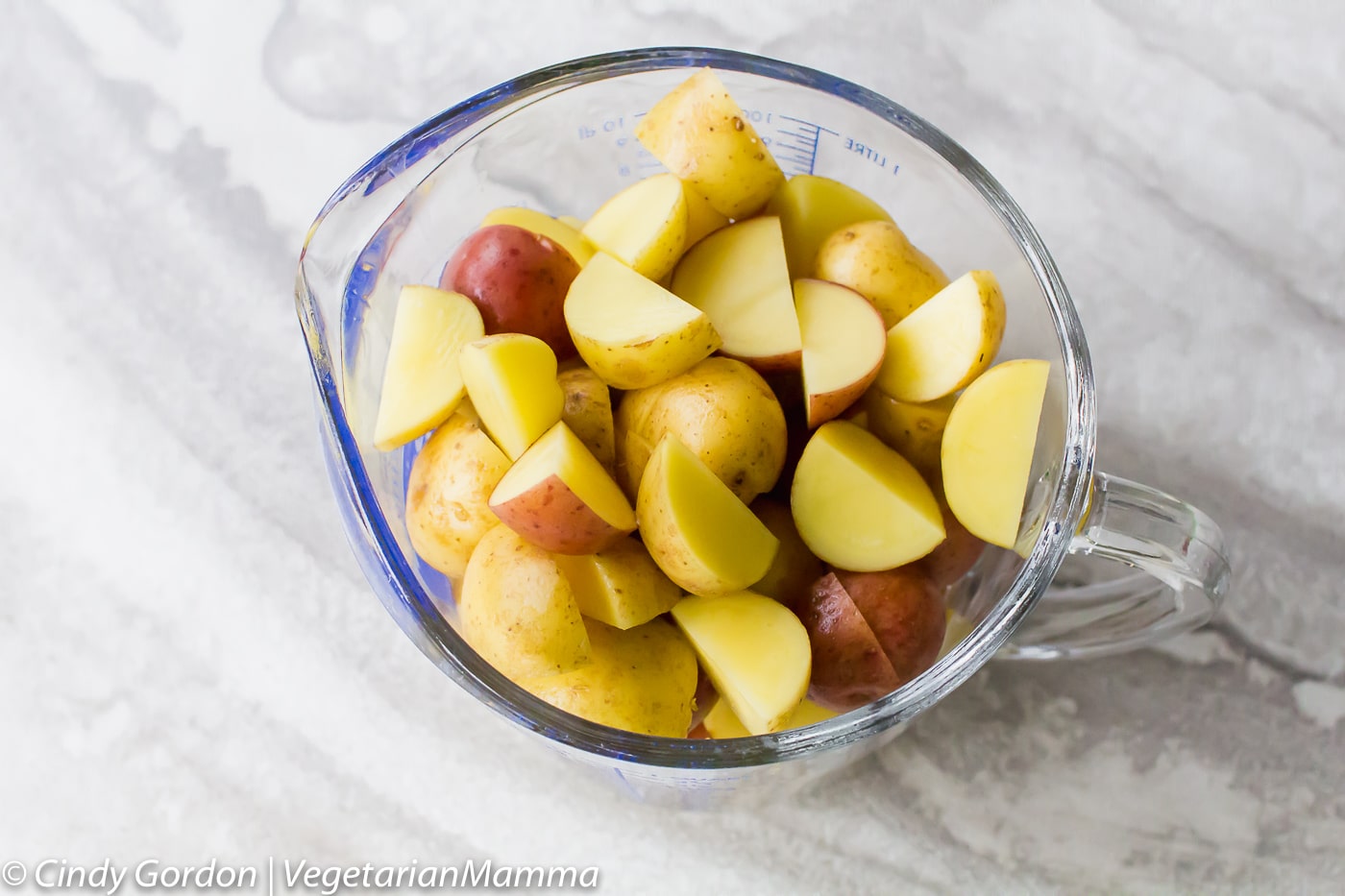 HOW TO SELECT THE BEST POTATOES
When selecting potatoes, be sure to select one that is firm and free of soft spots or blemishes. Oh, and you don't want a potato with sprouts.
Potatoes, should be stored in a cool dark place with good airflow. So we are talking about 40-50 degrees Fahrenheit.
If your potatoes start to develop any green areas or begin to grow sprouts you need to cut/trim those off before cooking.
HOW TO MAKE AIR FRYER POTATOES
Making air fryer roasted potatoes is simple and requires just two pantry ingredients.
Potatoes – cubed (as shown above)
Oil
Dice your potatoes (no need to peel!)
Place potatoes into air fryer.
Cook at 450°F for 15 minutes. Be sure to stir every 4 minutes so they don't stick.
And then just season with salt, pepper, and a little parsley before serving!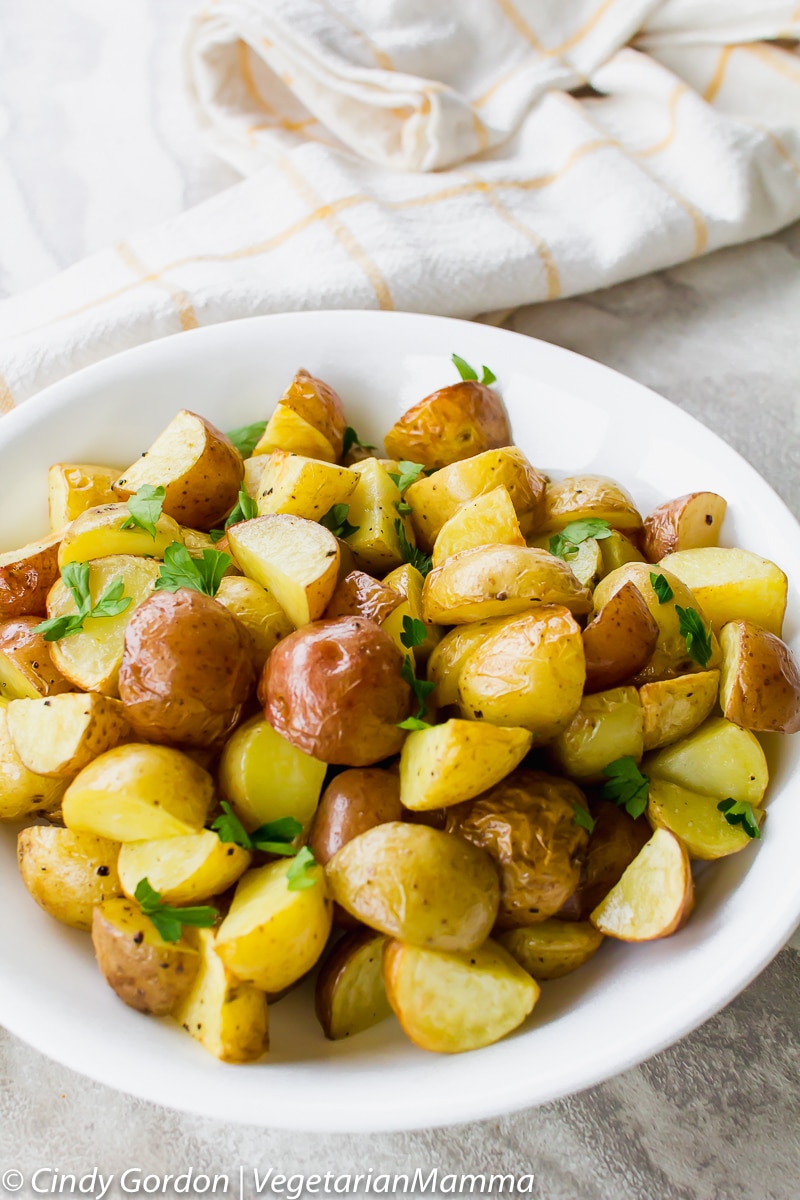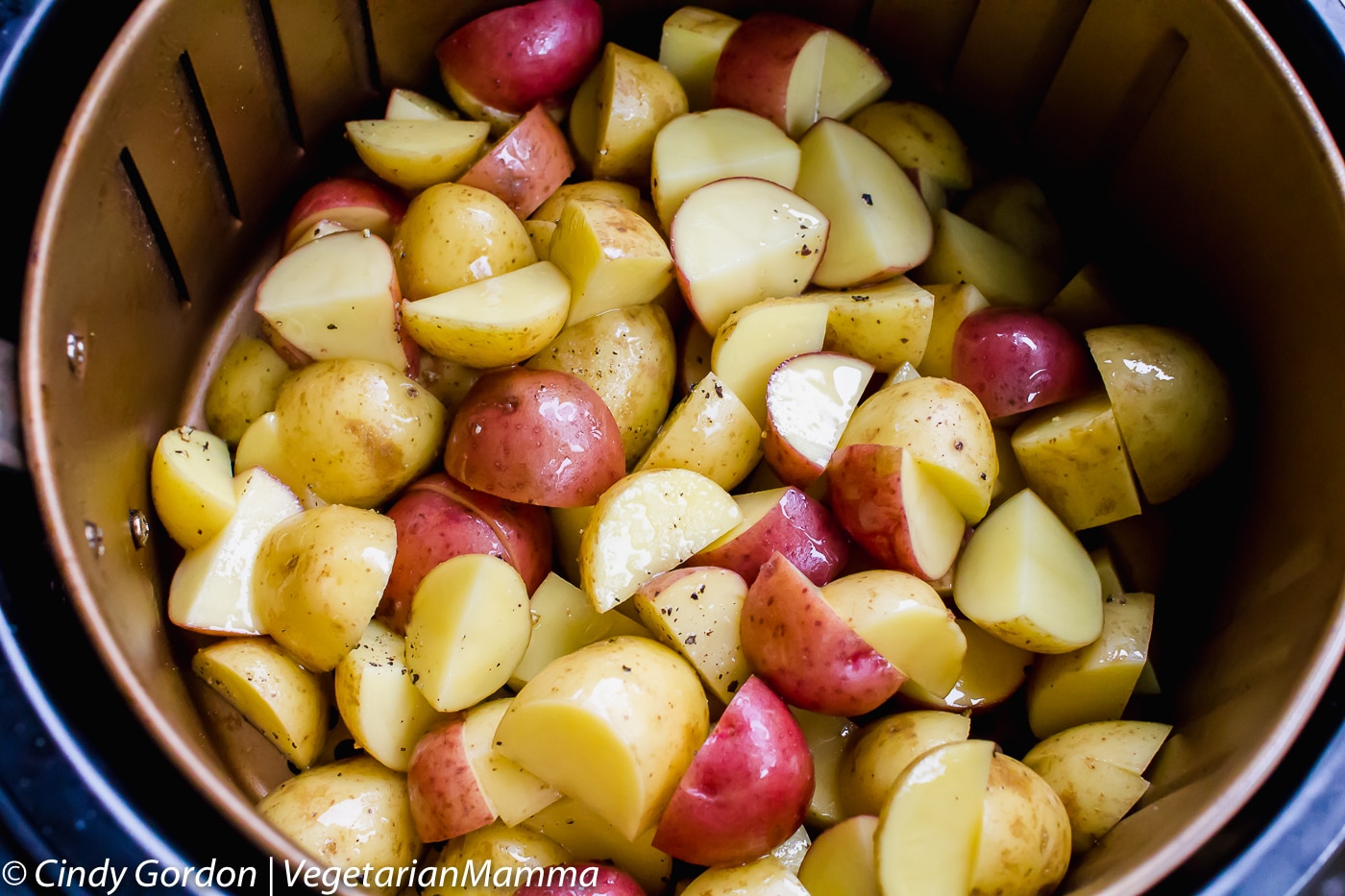 AIR FRYER POTATOES VS. OVEN ROASTED POTATOES
The great part about cooking with an air fryer vs. oven roasting is the time saved. The cook time in an air fryer is a breeze. Like literally no time…at all.
And they use less oil than an oven roasted version.
The only downside might be that they might not come out as crispy as the oven version, but with less fat, calories, and time I would call that a major win.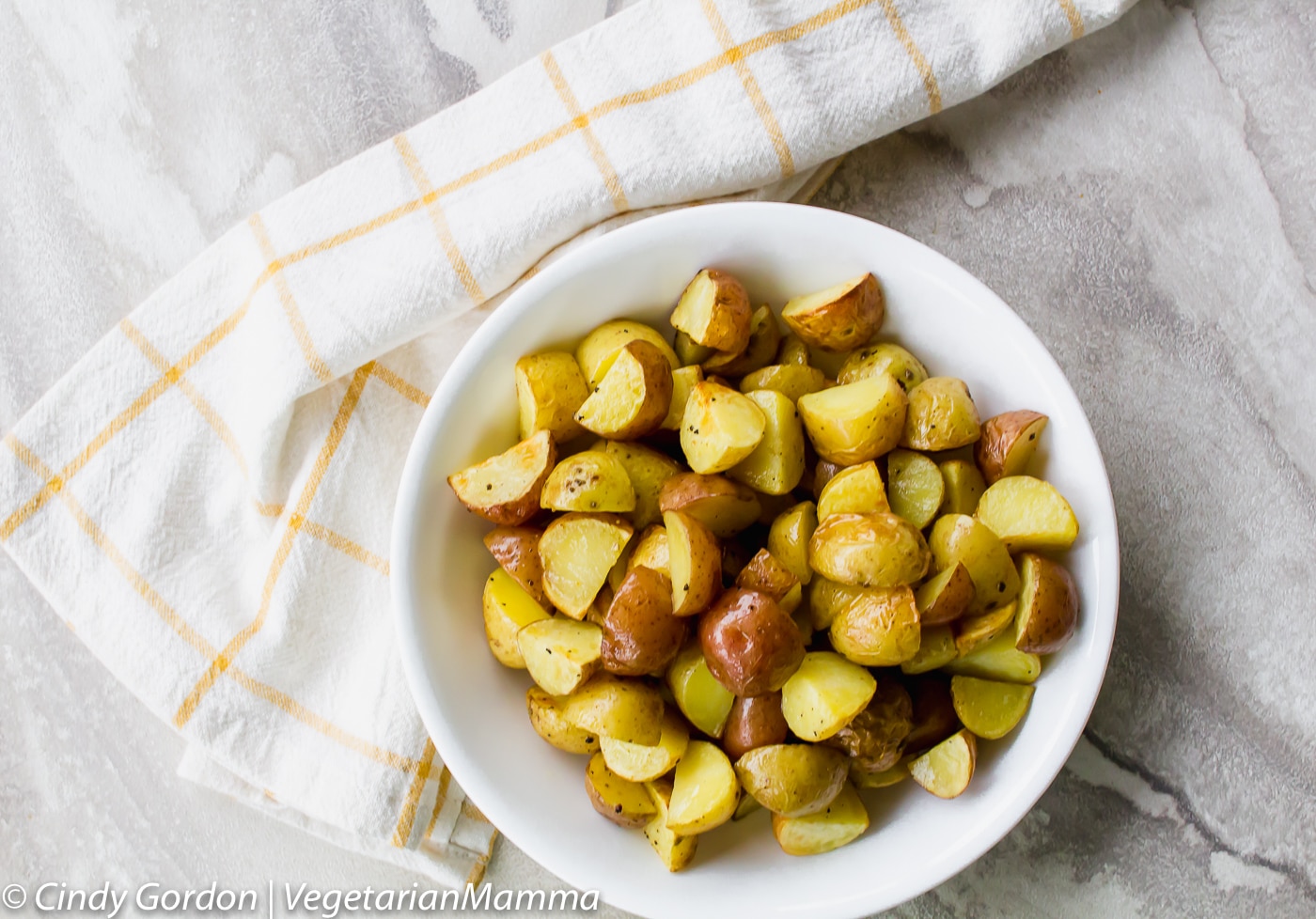 WHAT CAN YOU ACTUALLY COOK IN AN AIR FRYER?
The options of what you can cook in this amazing appliance are truly endless! You know I'm crazy over this fried green beans recipe, but we've also cooked tofu, potatoes, french fries, Brussel sprouts and more! Anything that your taste buds want to try straight out of the air fryer, give it a go!
While we don't eat meat in our family, that doesn't mean that you can't cook up some fried chicken, chicken tenders, or anything else beer battered or deep fried to that perfect golden brown that you love and that you want with ease in the air fryer basket.
I have been experimenting with all types of food and some beautiful green tomatoes caught my eye at our local market. I just had to try them in the power air fryer!
For us, we love to use our Power AirFryer XL (affiliate ad link) I know, you are probably wondering: how to roast potatoes in the air fryer? I get it, it seems a little crazy but we will get to that!
HOW EASY IS IT TO USE THE AIR FRYER?
When I say it's super simple, it's simple. You literally set the temp, figure out the time, and wait for that food to be done.
Is there any other appliance out there that is as simple as that? And clean-up? A total breeze.
If appliances were made to help you out in the kitchen and save you time, this power air fryer xl does just that. You'll be working in the kitchen so much less with the use of this appliance!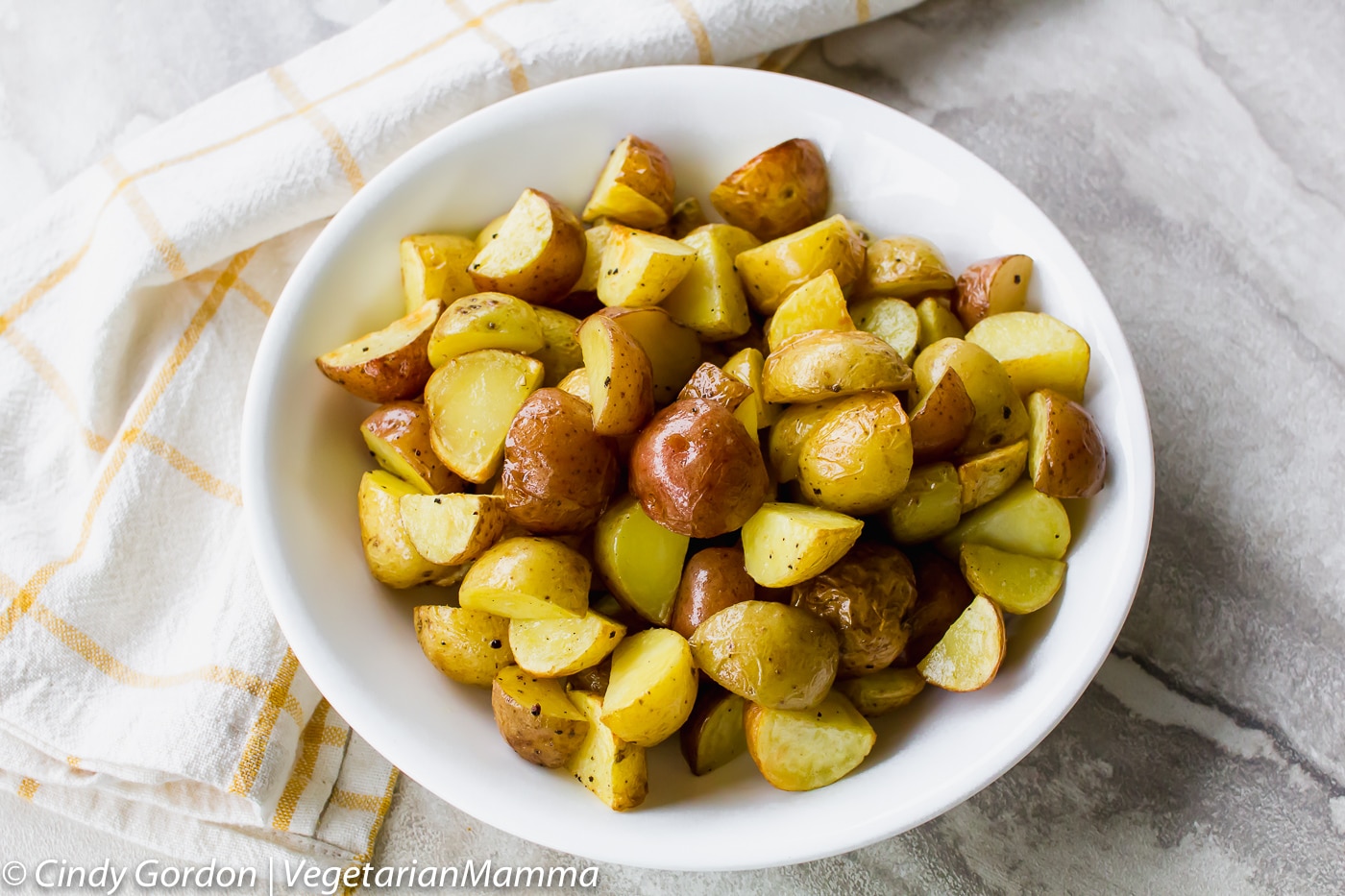 AIR FRYER SUCCESS EACH AND EVERY TIME
I've owned my air fryer now for a while, and I have to be honest…I've yet to find a recipe that I don't love. And did I mention how simple it is?
To say I'm a creature of habit is an understatement. I love being able to cook a meal and know with confidence that it's going to taste amazing each and every time.
With the Air Fryer, I absolutely have no doubts. I know that from the moment I press start, to the moment that I remove the food from the machine, it will be cooked to perfection each and every time.
Air Fryer Recipes:
All of the recipes above are power air fryer XL recipes! I made them all in that oil less fryer! If you are looking for the best air fryer or air fryer reviews, you can check out this post.
(And while I'm crazy over my Air Fryer, I'm also just as crazy about my Instant Pot as well. I love gadgets, what can I say? If you are looking for a few instant recipes or easy instant pot recipes, you can check out our instant pot stuffed peppers, instant pot taco soup, instant pot cheesy potato leek soup, instant pot black beans and instant pot leek soup.)
Pin this AirFryer Roasted Potato recipe for later: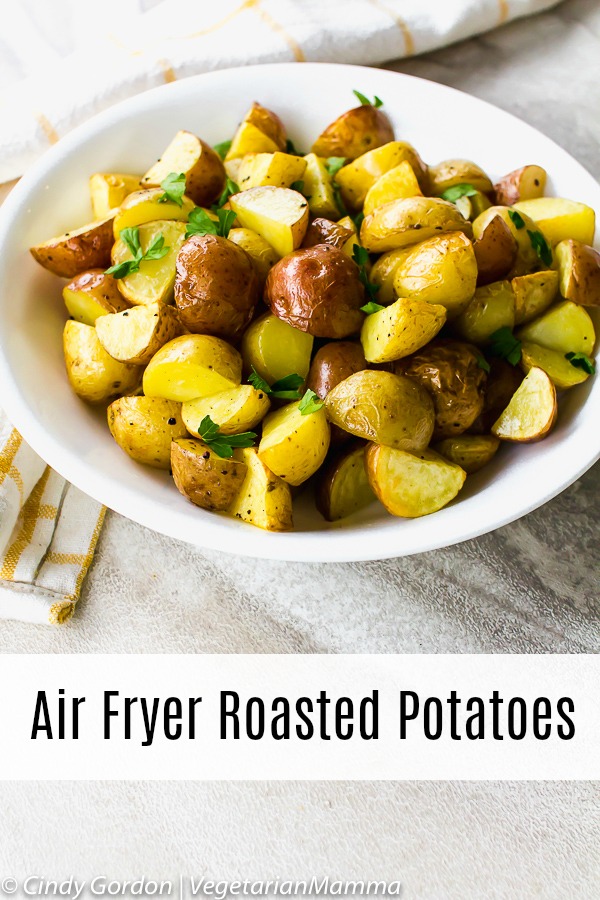 Or if you like this one better!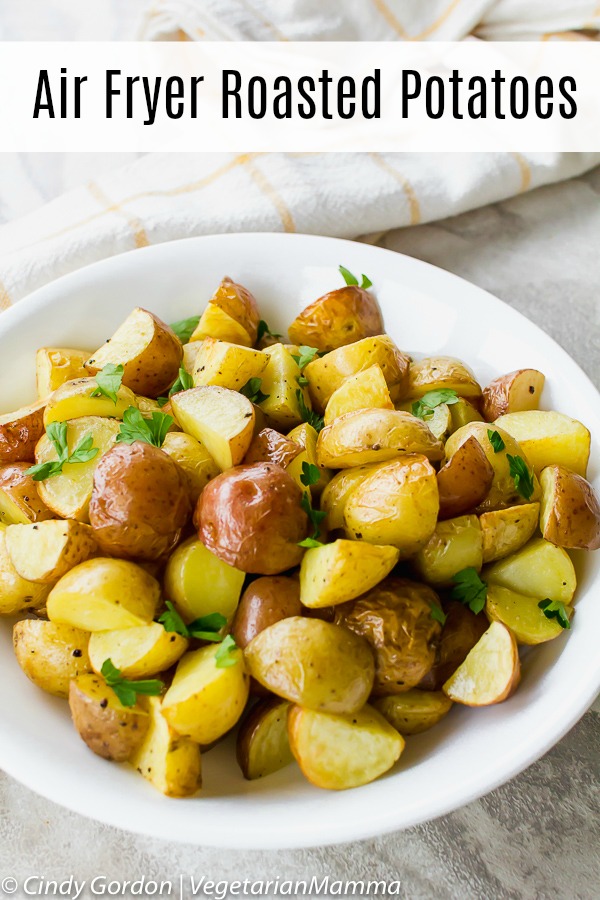 Let's check out this air fryer potato recipe!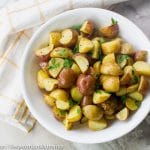 Print Recipe
Air Fryer Roasted Potatoes
Air Fryer Roasted Potatoes will complement any holiday or weeknight dinner. These air fryer potatoes will be one of the best air fryer recipes that you'll find!
Instructions
Dice your potatoes into cubes. See picture above for size reference. Place potato cubes into air fryer.

In a bowl combine the oil and potato cubes. Stir to coat potato cubes with oil.

Cook at 450 degrees F for 15 minutes.  Shake every 4 minutes to keep potatoes from sticking. ENJOY!
Notes
Salt and Pepper to Season and you can garnish with diced parsley.
Nutrition
Calories:
101
kcal
|
Carbohydrates:
17
g
|
Protein:
3
g
|
Fat:
2
g
|
Sodium:
14
mg
|
Potassium:
578
mg
|
Fiber:
3
g
|
Vitamin C:
15.9
mg
|
Calcium:
42
mg
|
Iron:
4.5
mg
Do you have a favorite type of potato?
If so drop me a comment below and let me know! I am curious!