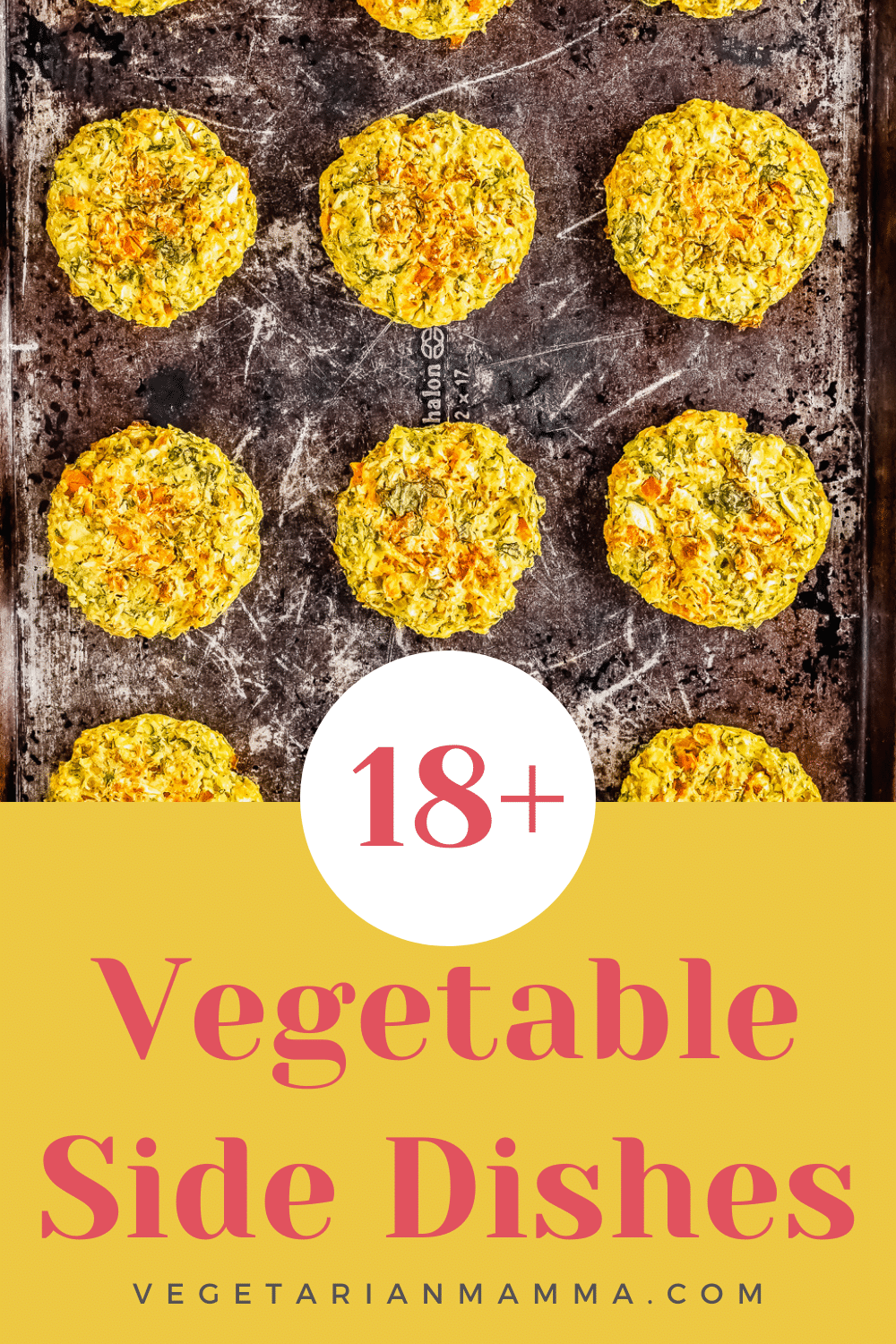 These vegetable side dishes are so good they will put your main course to shame! This list has everything you need for a great side dish, from simple roasted vegetables to new ways to air fry veggies. Read on to learn all the tricks to make these amazing 18+ vegetable side dishes.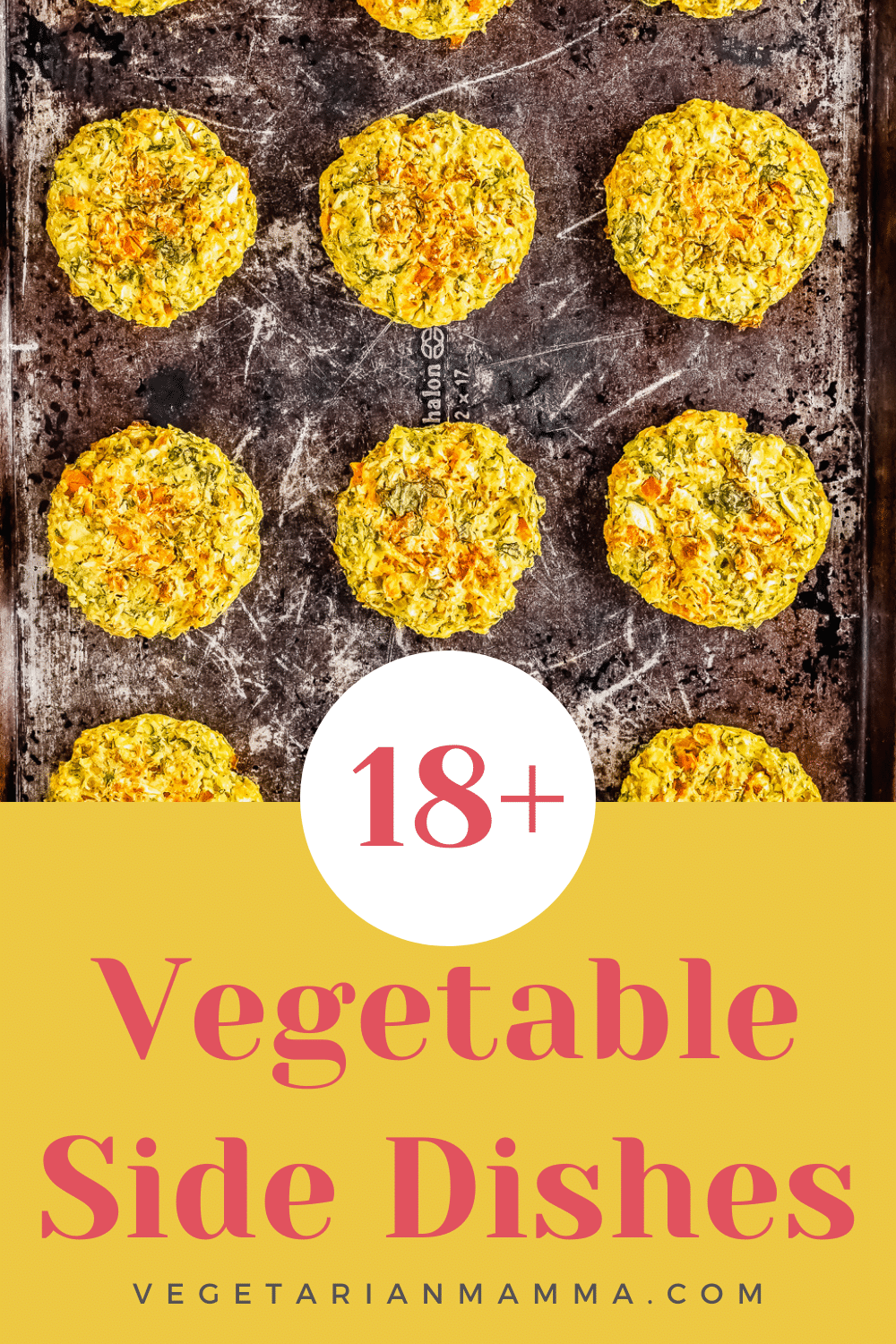 VEGETABLE SIDE DISH RECIPES
The main dish is always the star, but to me, a side dish makes the meal. I love how you can turn a simple, humble vegetable into a delicious side with just a few ingredients. I try to keep my vegetable side dishes healthy with just a little oil and some yummy seasonings. Sometimes, though, you need a comforting side to complete your holiday dinner menu.
This list of vegetarian side dishes has it all, from simple roasted veggies to dreamy vegan casseroles. Whether you need side dish ideas for a yummy vegetarian Thanksgiving or new ways to spice up old favs, I am here to help! Keep scrolling for all the key ingredients and some of my best vegetable side dishes.
INGREDIENTS FOR VEGETABLE SIDE DISHES
Veggies: This is the star of the show tonight! Once I learned how to make vegetables delicious, I started adding them to everything. If you are making multiple veggies, like roasted potatoes and Brussels sprouts, mix them together and save oven space! Keep scrolling for some of my favorite healthy vegetable side dishes and the most healthy veggies you can eat, too!
Pro tip: For the best vegetable sides, be sure everything is chopped evenly. That way, all your veggie pieces will cook evenly, making sure there is no raw potato or mushy carrot in the mix!
Oil: Sometimes just adding a little drizzle of olive oil to your vegetables, no matter how you cook them, can make a huge change in the taste. The olive oil can add a lot of richness and depth to the roasted, air fried, or sautéed vegetables. The drizzle of olive oil to the veggies will make the flavors come together and sing!
Spices: Sometimes vegetables are delicious on their own but sometimes they need a little help. A basic seasoning you can add to your vegetable side dish recipes is salt and pepper. When making roasted vegetables, we like to elevate the taste by adding in Everything Bagel Seasoning (Super YUM!) or a simple garlic salt. Just taste as you go! Add in a little bit of spice at a time until you reach your desired taste! Trust us, your taste buds will thank you!
If you have any questions about how to make air fryer potatoes, please leave a comment below and I will get back to you ASAP!
GREEN VEGETABLE SIDE DISHES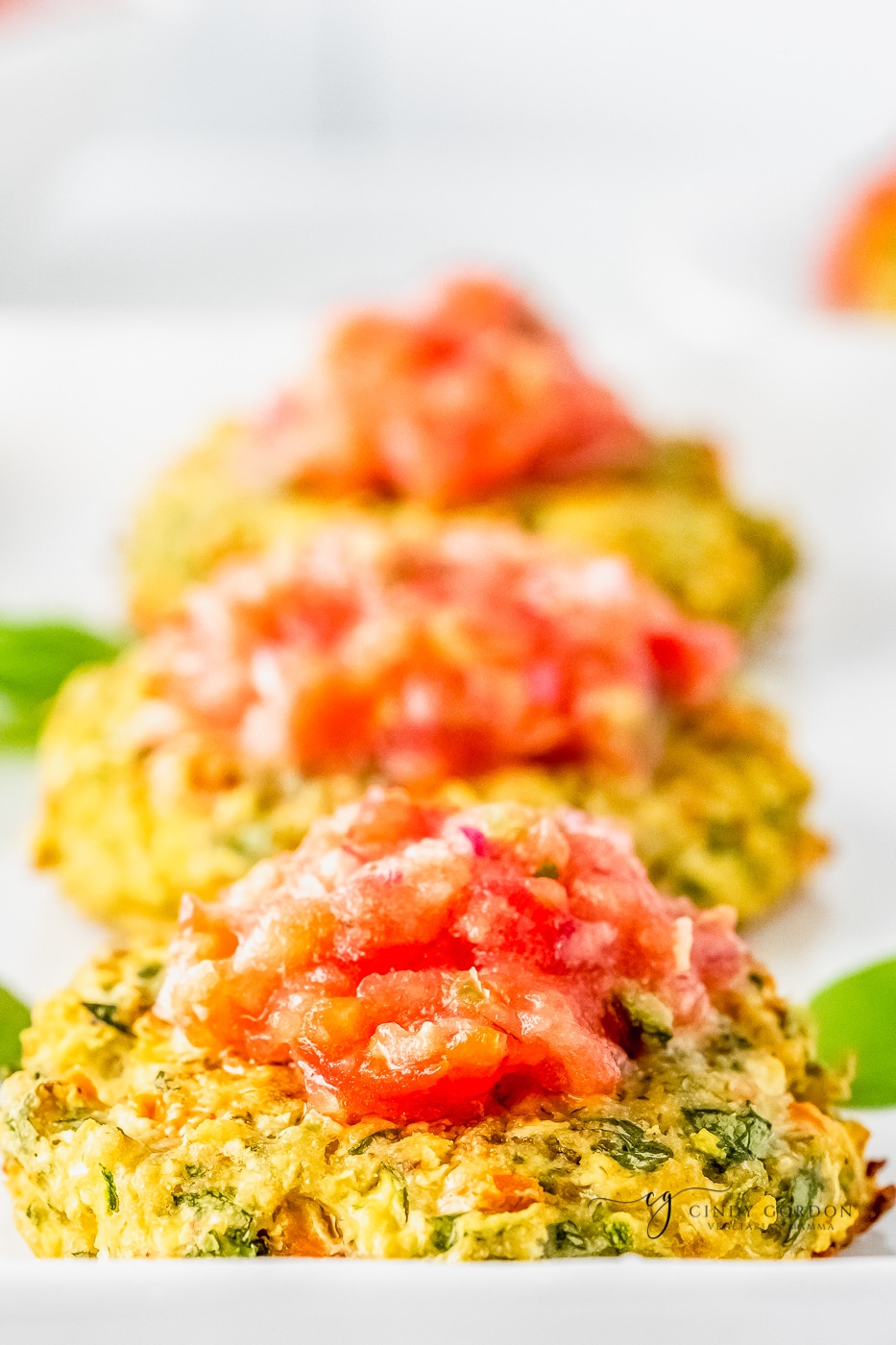 I am always looking for new ways to use vegetables. These Vegan Zucchini Fritters are a great simple side dish packed with veggies. You can even serve them as an appetizer or light main dish, too! This is my go-to for using up all my garden zucchini. Summer is made for zucchini corn cakes with sweet summer corn, but I make these baked zucchini fritters all year long! Plus, I keep them gluten-free with chickpea flour.
I munch on crispy Brussels sprouts all autumn long. But have you tried air fryer Brussels sprouts? They are ready in just 15 minutes and are perfectly crisp with that sweet, soft center. Making sprouts with simple seasonings has never been easier than this side dish recipe.
If you have not made green vegetables in the air fryer, it is time to start! I love making these simple green beans in my air fryer. They are super crispy and ready in just minutes! All you need is a little oil and whatever seasonings you want.
Roasted broccoli is one of my healthy comfort foods. However, it is truly better in the air fryer compared to the oven. Air Fryer Broccoli is a delicious and easy to make with just a little oil and a few spices. You will fall in love all over again with this air fried broccoli!
TASTY VEGETABLE SIDE DISH RECIPES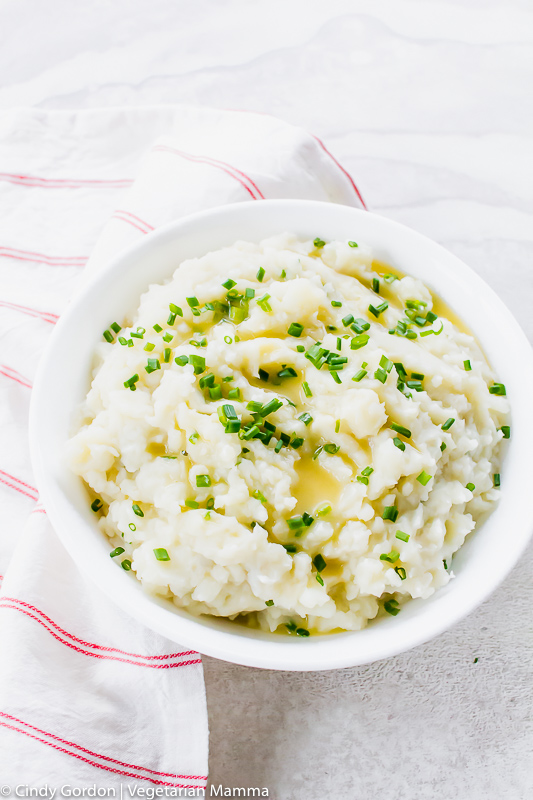 These five-ingredient Vegan Mashed Potatoes are the perfect quick, comforting, and flavorful side dish for tonight's dinner. While Vegan Mashed Potatoes can be packed with almost anything, I like to keep mine simple with Russet potatoes, oat milk, garlic salt, vegan butter and fresh chives.
Vegetable side dishes can be any mix of veggies! A simple combination of zucchini, yellow squash, tomato, and onion can create the perfect side dish. This cheesy zucchini bake will complement most any main course with a beautiful splash of color. Just swap the butter and Parmesan cheese for a dairy-free side dish.
Lightly breaded with a grain free, low carb coating, Air Fryer Keto Zucchini Fries are a simple side or snack that you will fall in love with. This is one of my fav ways to make zucchini — crunchy on the outside, soft and sweet on the inside. Yum!
Corn on the cob is easily my favorite side dish. I make it all summer long! This Smoked Corn on the Cob recipe is certain to bring a smile to your face. It only takes 30 minutes to turn fresh corn on the cob into a smokey sweet side dish.
HEALTHY VEGETABLE SIDE DISHES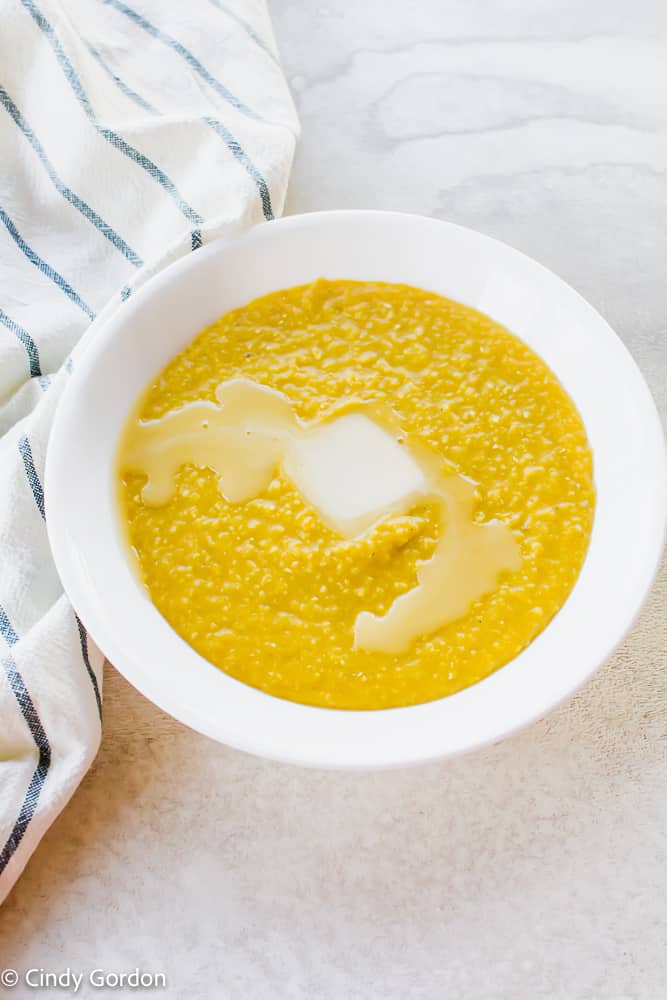 Did you know grits are just ground corn? These Vegan Grits are usually a breakfast side dish, but there is no time you cannot serve this 4-ingredient corn dish. Skip the dairy and make yours with just nutritional yeast, vegetable broth, and a little vegan butter.
I am simply in love with Mediterranean flavors. Whether I am eating them with pasta, in a salad, with some quinoa or more. Who does not love a fresh and delicious Mediterranean Quinoa Salad! This side dish is literally ready in 15 minutes. No need for the food processor or other kitchen equipment for this dish.
Gluten-free Wild Rice Stuffed Mushrooms are an insanely easy to make vegan appetizer. These vegetarian stuffed mushrooms will even make meat eaters drool with delight! These are hearty enough to be a filling side dish, appetizer, or vegan meal prep!
Sweet Corn Pudding is a delicious side dish that your entire family will love! Make this allergy-friendly and vegan so everyone can safely enjoy it. If you are looking for an easy vegan corn pudding for your holiday dinner, you have come to the right place.
Mushroom caps marinated in a savory balsamic vinegar mixture come out of the air fryer perfectly cooked and irresistibly delicious in just a few minutes. Balsamic Air Fryer mushrooms will be your go-to side dish from now on!
THANKSGIVING VEGETABLE SIDE DISHES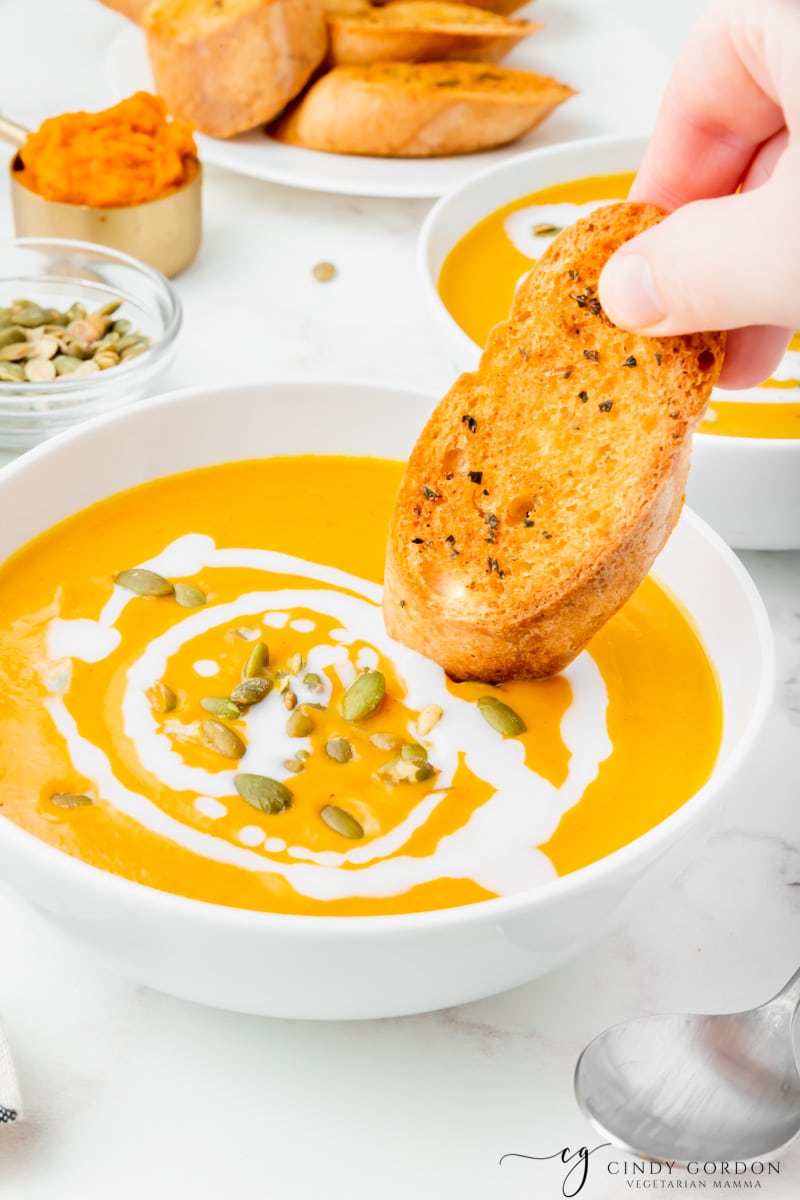 Fall is made for creamy soups, and this is one of my favorites! This vegan pumpkin soup is full of flavor and so luscious with coconut milk, cinnamon, nutmeg, and maple syrup, all topped with pepitas. If you have never made pumpkin soup, this recipe is so easy. This is a family go-to because it is made with basic pantry staples, and it is low carb.
If you want to impress the crowd at your next holiday gathering, bring a dish of Vegan Sweet Potato Casserole. The fluffy sweet potato filling and crunchy pecan topping will be the star of the show! The fluffy, sweet, cinnamon spiced filling is made with coconut milk for extra creaminess and flavor. Top it with an irresistible brown sugar pecan topping for the best vegetarian side dish!
I add so many veggies to my vegan stuffing, it is basically a vegetable side dish, so I am counting it. This Vegan Stuffing is the perfect holiday side dish! Packed with carrots, leeks, and celery, it will impress even your meat-eating family!
Green bean casserole has always been one of my favorite holiday recipes, but the heaviness of it is comparable to a main meat! This Vegan Green Bean Casserole takes the heaviness out but still brings you comfort just like grandma's original recipe. Use fresh green beans in this to give it a little extra crunch and flavor. Swap the typical creamy soup and milk base for coconut milk and vegetable broth mixed with sautéed mushrooms and onions for the same concept with fresher ingredients!
We are big sweet potato fans in my family. Instant Pot Sweet Potatoes are cooked in a half hour from start to finish. They are perfectly pillowy and perfect for a side dish or other ingredient. Add them to your sweet potato pie, sweet potato casserole, or even these chocolatey sweet potato brownies!
MORE VEGETARIAN RECIPES
I love all things potatoes. Mashed, baked, roasted, in a salad — they are all comforting and delicious with minimal work. But the best way to make potatoes, I think, is in the air fryer. If you have never made potatoes in the air fryer, you are in for a treat! Cooking potatoes in your air fryer is quick, simple and oh so delicious.
I use my air fryer more than any other kitchen appliance. Seriously! It makes almost anything in way less time than traditional cook methods. If you have not tried it yet, start with these easy vegetarian air fryer recipes. I promise you will not be disappointed!
I use tofu more than any other protein in my kitchen now that I have a tofu press! These easy tofu recipes are super versatile, delicious, and easy for meal prep, lunch, or dinner. Let me know which one is your favorite!
Pasta is a great budget-friendly dinner idea, but I get sick of the same spaghetti, alfredo, and carbonara dishes. This list of vegetarian lasagnas is great to break up the mid-week meal slump with tons of veggies without THINKING you are eating tons of veggies.
WHAT IS THE MOST POPULAR SIDE DISH IN AMERICA?
We have tons of locally grown produce in the United States. But what is the most ordered side dish?
Unsurprisingly, potatoes are the most beloved vegetable side dish! I will eat potatoes any way I can.
However, potatoes have a bad reputation when they are packed with nutrients! Potatoes are high in fiber, B vitamins, and antioxidants. They are also known to help prevent heart disease by keeping cholesterol and blood sugar levels in check. While they are high in carbs, it is totally cholesterol free!
WHAT ARE THE HEALTHIEST VEGETABLES?
I like to change up my veggies throughout the week because every one is full of nutrients and vitamins for my family. When planning a super healthy vegetable side dish menu, always think about what is in season first. This helps save money!
Some of my go-to healthy veggies for side dishes include spinach, carrots, broccoli, Brussels sprouts, kale, peas, Swiss chard, and asparagus. When in doubt, most green vegetables are super healthy.
Want a little more nutritional value in every meal? Add ginger and garlic! They are both nutritious and delicious, so win-win!
Vegetable Side Dishes : Featuring Vegan Zucchini Fritters
These vegetable side dishes are so good they will put your main course to shame! This list has everything you need for a great side dish, from simple roasted vegetables to new ways to air fry veggies. Read on to learn all the tricks to make these amazing 18+ vegetable side dishes.
Ingredients
Zucchini Fritter Ingredients
Salsa Ingredients
2

tomatoes

diced

½

jalapeño pepper

½

red onion

small

¼

cup

basil

1

lime

juiced
Instructions
Preheat oven to 350 degrees F (176 degrees C).

Use a food processor to blend the carrots and zucchini briefly. Blending time will depend on your food processor and your chop size preference.

In a large mixing bowl, mix the blended zucchini and carrots with all other fritter ingredients. Mix well.

Make the fritters by rolling ¼ cup of zucchini mixture into a ball. Flatten ball with your hand on baking sheet covered in parchment paper.

Bake for 7 to 10 minutes until desired crispiness. Tops should be golden brown.

While the fritters bake, use a food processor to make the salsa. Add all ingredients and blend until your desired smoothness.

Place fritters on a place and cover with salsa to serve. Enjoy!
Notes
To make on the stovetop, use a little neutral oil and cook over medium heat. Gently flip after 5 to 6 minutes.
Store leftovers in the refrigerator for up to 5 days or in the freezer for up to 3 months.
Nutrition
Calories:
84
kcal
|
Carbohydrates:
14
g
|
Protein:
5
g
|
Fat:
2
g
|
Saturated Fat:
1
g
|
Polyunsaturated Fat:
1
g
|
Monounsaturated Fat:
1
g
|
Sodium:
23
mg
|
Potassium:
374
mg
|
Fiber:
3
g
|
Sugar:
4
g
|
Vitamin A:
1412
IU
|
Vitamin C:
12
mg
|
Calcium:
40
mg
|
Iron:
1
mg
All though this website attempts to provide accurate nutritional information, the information should only be considered an estimate. Varying factors such as different product types, different brands, etc. can change nutritional information. It is your responsibility as a consumer to read all labels to make sure the ingredients fit your dietary needs as well as calculate your own nutritional information as a double check.