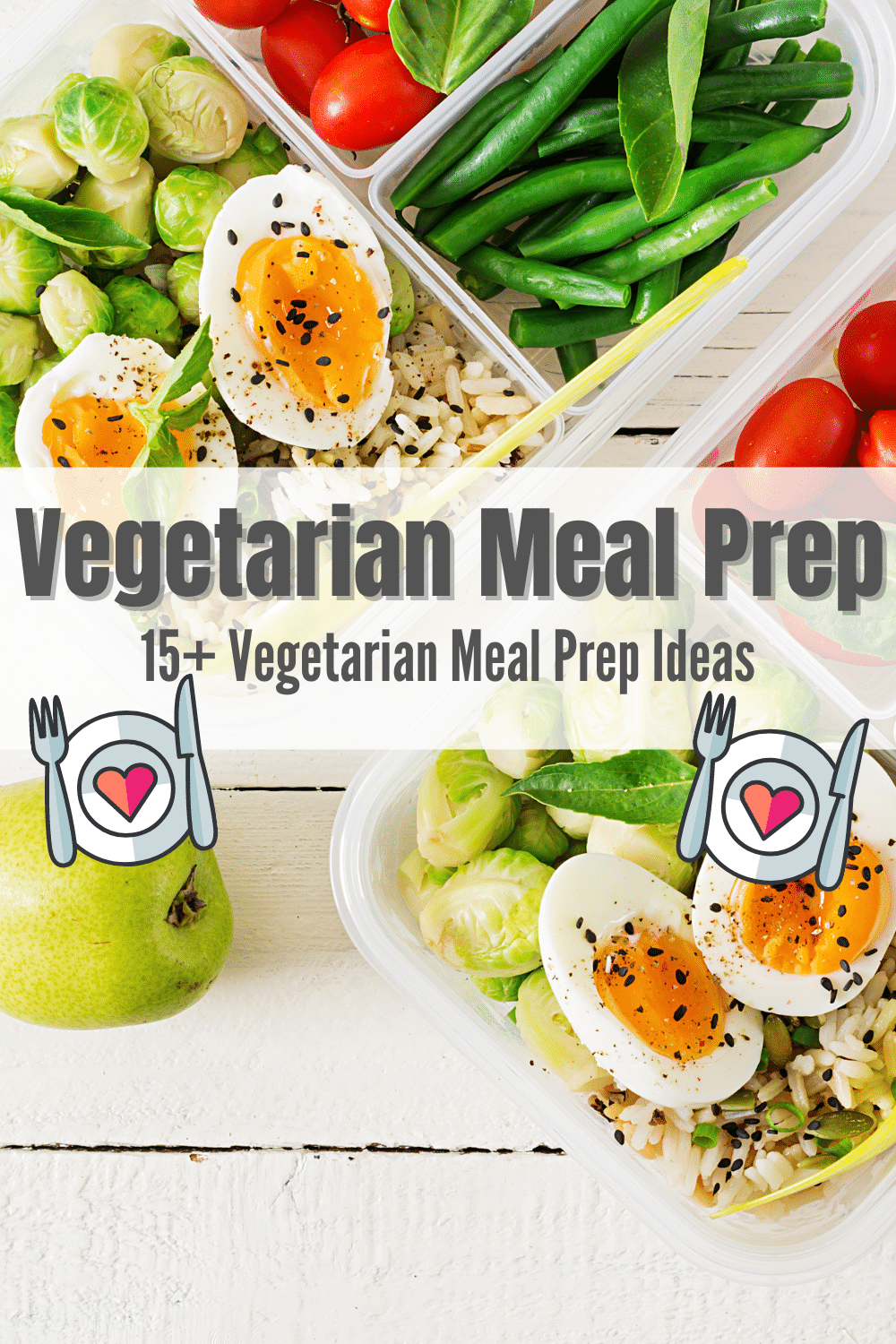 You are going to love these vegetarian meal prep ideas! This is list is packed with easy meal prep recipes from healthy snacks to delicious lunches you crave. Read on to learn all the tips to make over 15+ vegetarian meal prep recipes.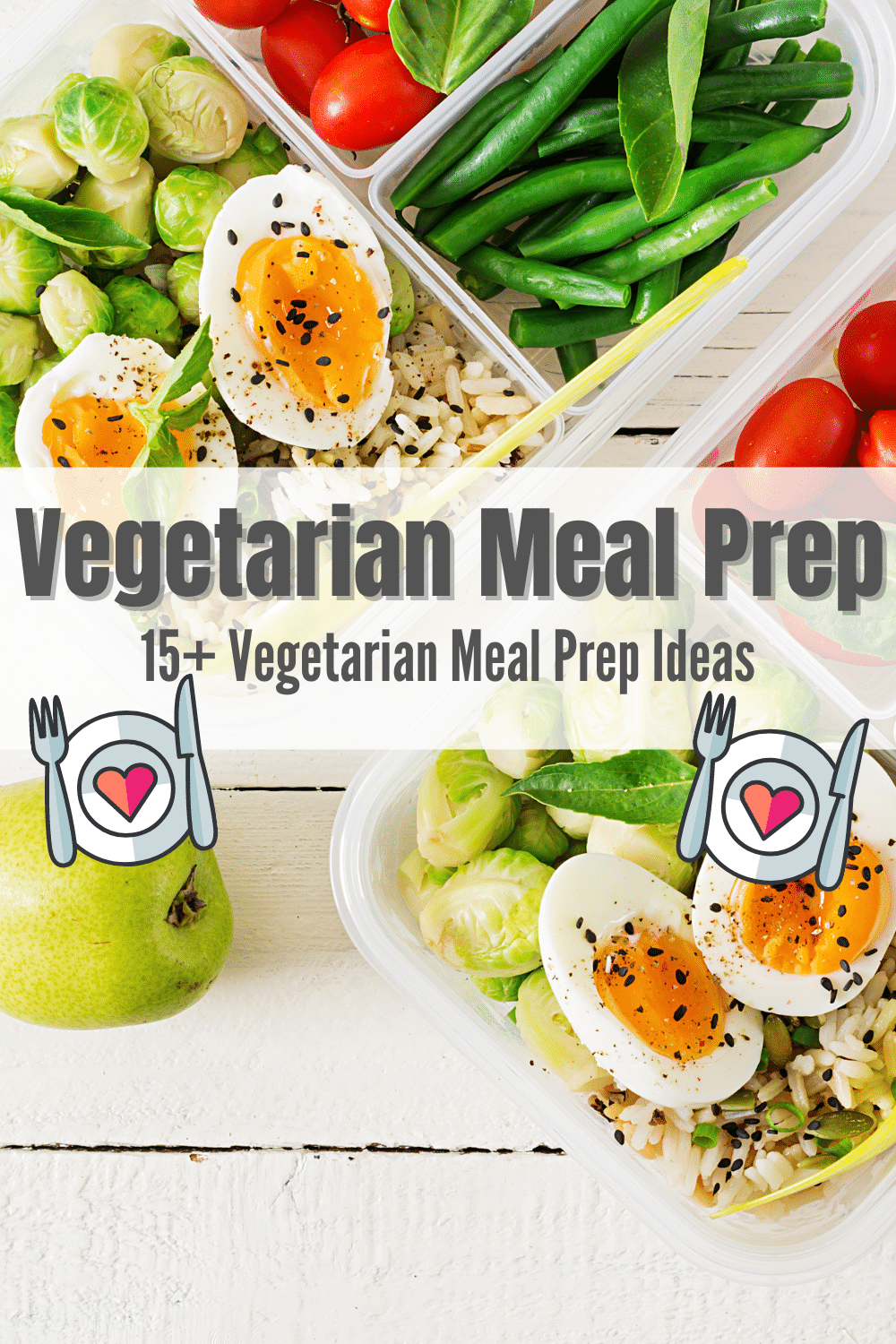 VEGETARIAN MEAL PREP RECIPES
Are you new to meal prepping? We are so happy you are here! We love to help people become comfortable with vegetarian meal prep.
Whether you are a lifelong vegetarian or are looking for more meatless meal ideas, we have got some easy and delicious breakfast, lunch, snack, and dinner recipes to share with you today! Keep scrolling for the best ingredients, tips, and recipes for your vegetarian meal prep.
INGREDIENTS FOR VEGETARIAN MEAL PREP
Protein: Our body needs 6 essential nutrients every day, and protein is one of the most important! Whether it is a quick breakfast, a healthy meal prep lunch, or an afternoon energy bar, pack protein into every meal you can.
Veggies: Changing up the fruits and vegetables every day can make a meal prep lunch feel fresh and different. They can be raw, cooked, or a mixture of both! Think about texture of every bite when building a meal prep bowl.
Crunch: Nothing is worse than biting into a spoonful of mush. Whether it is a salad, soup, or tofu bowl, be sure to add some crunchy elements to the meal like croutons, sesame seeds, or nuts. For the freshest bite, keep them in a smaller container or baggie until it is time to eat.
Carbs: Carbs are another important nutrient in most diets. Ingredients like rice, potatoes, and pita bread can take a small meal to a large lunch on a budget! If you are not on a keto or low-carb diet, add a starch like noodles to your next tofu bowl.
Variety: One of the biggest complaints about meal prepping is the same meals, day after day. I usually make a few different options every week for our family, knowing each of us will want at least 2 of the options. That way, there is more to choose from but less work to make it before work and school!
Containers: The beautiful influencers who meal prep can be intimidating — trust me, I know. However, you do not need any fancy containers, ingredients, or tools to make your weekly meal preps! I have used so many different meal prep containers over the years. Be sure to check any container before reheating to be safe.
If you have any questions about vegetarian meal prep, please leave a comment below and I will get back to you ASAP!
YUMMY VEGETARIAN MEAL PREP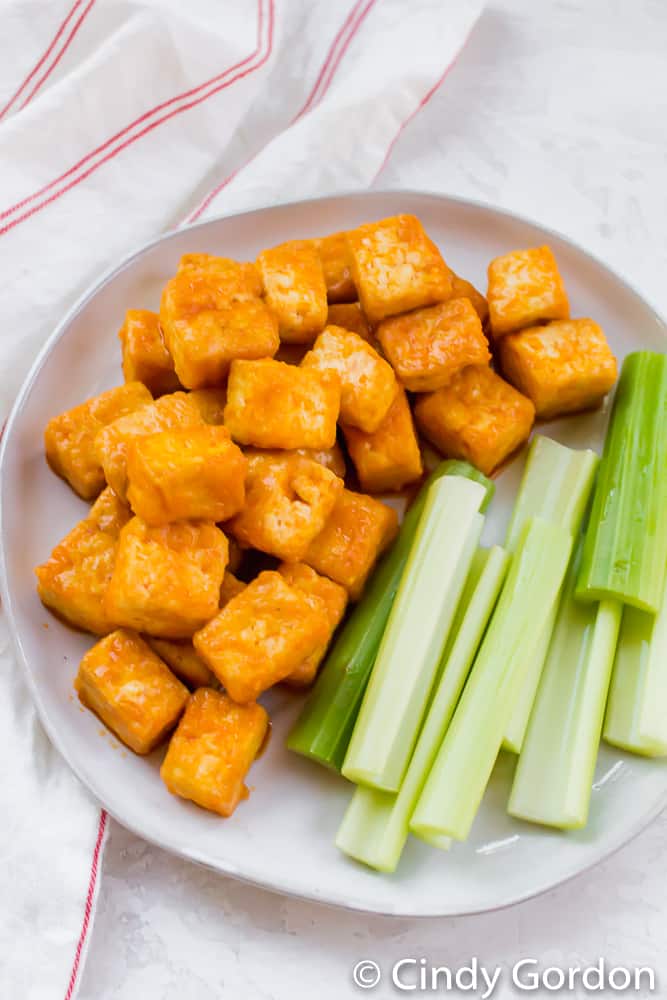 I've got a million ways to make tofu up my sleeve, but Buffalo Tofu is one of my all-time favs! Buffalo Tofu is the spicy, tangy tofu recipe your family will love! Make your own Buffalo sauce with just 4 ingredients to coat this crispy air fryer tofu that's ready in less than 30 minutes. You only need two ingredients to make this air fried tofu, and another 4 pantry staples to make the luscious buffalo sauce.
The best meal prep ideas start as weeknight dinners. This balsamic tofu and mushrooms recipe is a beautiful dish that brings a satisfying earthy flavor to your dinner table. This is an easy weeknight meal. The mushrooms add an earthy taste to the dish and the balsamic adds some delicious flavor!
If you are worried about eating the same thing every day, try making this Instant Pot taco meat! It is packed with veggies and made with Beyond Meat for a totally vegan taco filling! You can make so different things throughout the week from tacos and burritos to salads and soups.
These Air Fryer Plantains are a great meal prep snack that lasts all week! Sweet, ripe, plantains cook up quickly and easily in the air fryer to be crispy on the outside and tender on the inside. Traditionally, plantains would be fried in oil to get tender and crispy on the outside, but we are using just a tablespoon of oil to get the same effect from the air fryer.
Breakfast meal prep can take your day from good to great. This tofu bacon recipe will make you think you're eating the real thing! All the flavor is mixed into a deliciously savory and sweet marinade that fills the tofu with the salty bacon taste. I also use it to make vegan BLTs for work-from-home lunches.
SEASONAL VEGETARIAN MEAL PREP IDEAS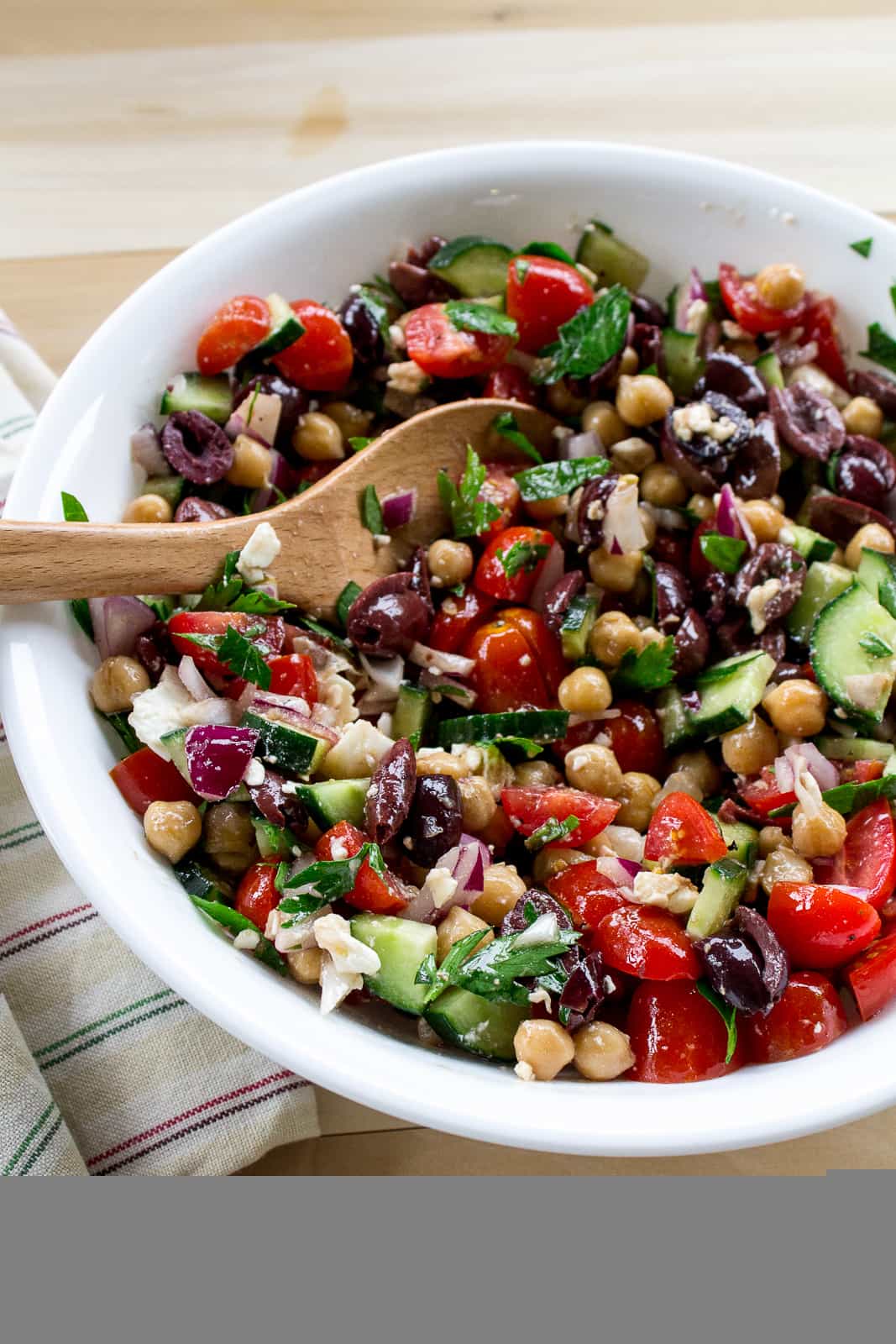 Summer is made for salads. I love a simply green salad, but I like to switch it up. This Mediterranean chickpea salad is packed with my fav summer veggies with a delicious Greek dressing. Measure the olives and feta cheese with your heart for the best results.
I love roasted pumpkin seeds! I snack on them all autumn long. Air fryer pumpkin seeds are a delicious crunchy snack your entire family will enjoy. They last up to 2 weeks for a perfect vegetarian meal prep snack — if you do not eat them all first!
Once the temperatures drop, it's only time until I make this luscious vegetarian coconut curry. This family friendly soup curry is also gluten-free and vegan. You are going to love the tofu and Thai flavors in this soup!
I add roasted asparagus to everything in the summer. That includes my meal prep! This simple yet delicious Air Fryer Asparagus recipe takes three ingredients from prep time to done in just 10 minutes.
These Air Fryer Mexican Sweet Potatoes are a delicious twist on a baked potato that will knock your socks off! We are topping these beauties with a fresh, homemade salsa made from black beans, corn, onion, jalapeño and more. Fresh lime juice and cilantro bring all the authentic Mexican flavor. This meal is vegan, and perfect for a simple dinner, lunch, or packed up as a meal prep meal.
I can't stop myself from making these Vegan Pumpkin Muffins every week in the fall! They're so simple with basic ingredients but tons of pumpkin spice flavor packed inside them. This gluten-free recipe is a family favorite with simple canned pumpkin, cinnamon, nutmeg, and ground ginger. Make some every week this fall for the best breakfast meal prep or healthy afternoon snack.
BEST VEGETARIAN MEAL PREP RECIPES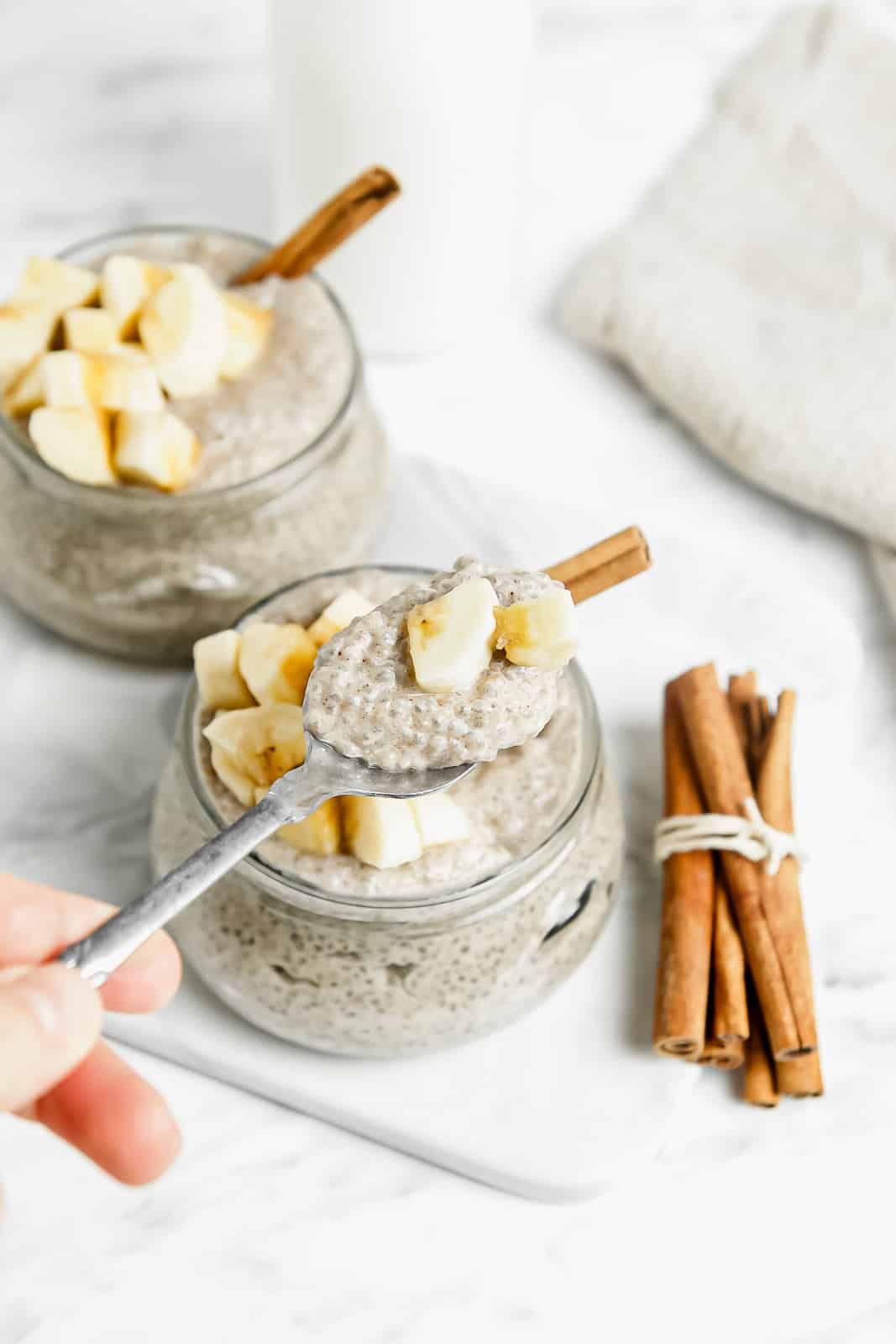 Imagine having banana pudding every morning waiting for you for breakfast. This banana chia seed pudding is just as yummy with so many nutrients to kickstart your day to greatness. It is as easy as mix and set! You only need 6 pantry staples to make this easy vegan pudding in a flash. Start your day on the best foot with this easy meal prep breakfast with some air fried banana chips for crunch!
Zucchini is one of my favorite veggies, and I'm always looking for new ways to use it year-round. Air Fryer Zucchini Boats are a quick and easy weeknight meal with tons of fresh flavor! Great for vegetarians with keto and low-carb options, too! Wanna make it keto? Lose the breadcrumbs and swap them for pork rinds!
Looking for vegetarian school lunch ideas? Try these kid-friendly crispy tofu bites! This simple recipe can be made for vegan and gluten-free diets and are perfect for dipping. Be sure to use a tofu press first for the most crunchy tofu.
Crispy chickpeas are perfect to eat by the handful or to dress up meal prep salads and bowls. Air fryer chickpeas make the process of cooking chickpeas so much faster. Chickpeas are an economical way to get healthy fats and vegetable protein into your diet. You need one bowl, a handful of seasonings, and your air fryer to create these healthy vegetarian snacks.
VEGETARIAN MEAL PREP BOWLS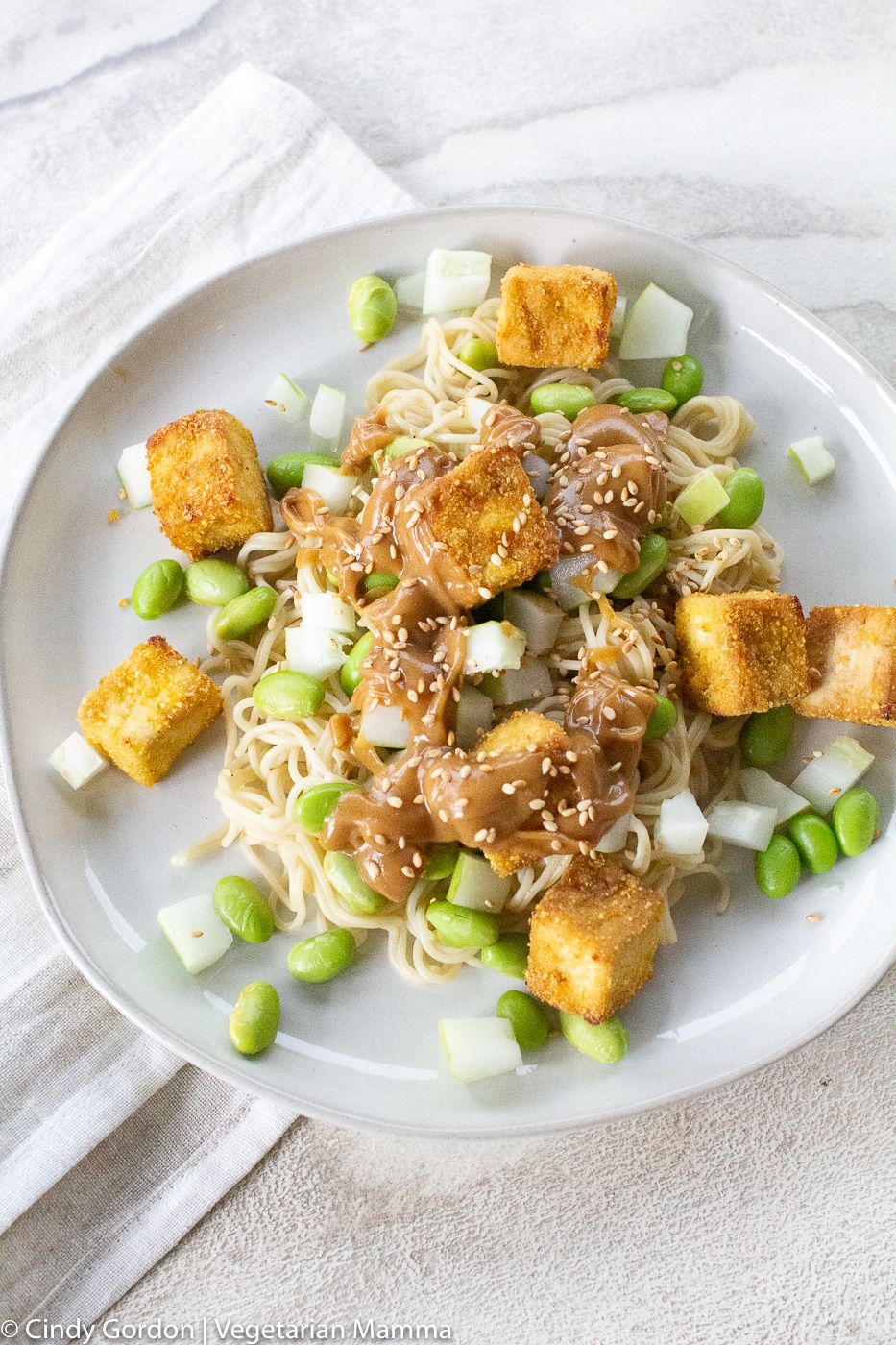 I am always looking for vegetarian lunch meal prep ideas. These tofu noodle bowls are one of my original favorites that started my prepping journey! These Asian-inspired noodle bowls are a delicious and easy lunch prep recipe. You can make these meal prep bowls at the start of your week and have a tasty lunch all week long!
These Cauliflower Air Fryer Taco Bowls are super simple to assemble and perfect for meal prep! This naturally vegetarian recipe is great for Meatless Monday and easy to make vegan without the sauce. Add this deliciously seasoned cauliflower to your favorite taco toppings for an easy weeknight dinner in a flash your family will love. Everyone can make their own bowl, so picky eaters rejoice!
If you want a little sweetness, a little spice, and a lot of flavor for lunch, try these sweet Thai chili tofu bowls! They are a great vegetarian meal prep idea that helps you clean out the fridge, too. Add some rice or keep it veggies and tofu only.
HOW TO MAKE THE BEST VEGETARIAN MEAL PREP
When it comes to vegetarian meal prep ideas, enjoying every meal is always the goal. Here's some tips and tricks to make the best vegetarian meal prep every time:
Think about texture. Once you have mastered all these vegetarian meal prep ideas, you will be a master prepper! Be sure to consider texture when building new meal prep bowls and boxes. Add crunch to your soup with homemade croutons, or sprinkle your tofu Manchurian with sesame seeds and sliced green onions.
Make a few meals per week. I usually meal prep on Sundays when I have a few hours to make multiple recipes at once. I try to plan at least 2 lunch options and 2 snacks so the whole family has something they love all week long! This helps reduce waste from trying to eat the same lunch for 5 straight days. Make meal prepping fun!
Switch it up. Honestly, I plan my meal preps on Pinterest! Whenever I see something I HAVE to try, I add it to the rotation of meal prep staples. This is a great way to try new recipes and learn about new ingredients you love.
MORE VEGETARIAN RECIPE IDEAS
Tofu is one of my favorite meal prep ingredients. Try this list of easy tofu recipes for tons of ideas to switch up your work lunches and easy dinners. Whether you are a seasoned tofu eater or a beginner, we have got some delicious and easy vegetarian meal prep recipes.
The air fryer is an amazing meal prep tool! If you have not fallen in love with yours yet, these vegetarian air fryer recipes will help. It makes dinner easier and so much faster. I also have a list of vegan air fryer recipes for a dairy-free, egg-free week of meals.
Make these vegetarian pasta recipes for comforting weeknight dinners or budget-friendly meal prep! There are an unlimited number of ways to use pasta for a quick Sunday dinner and leftover meal prep all week.
Pasta is a great budget-friendly dinner idea, but I get sick of the same dishes. This list of vegetarian lasagnas is great to break up the mid-week meal slump with tons of veggies without THINKING you are eating tons of veggies.
DOES MEAL PREP SAVE MONEY?
When done right, meal prep can save you so much money on groceries and takeout, too!
Try to pick 3 to 4 recipes a week, including snacks, and use as many pantry staples and overlapping ingredients as you can, like spiced and veggies. This helps keep meal prep costs low but keep your hunger satisfied all week long with healthy vegetarian meals!
HOW DO I START MEAL PREPPING?
Meal prep can be daunting, but if you start small, you will have success.
First, start by making multiple batches of your favorite lunch recipe and put them in pre-portioned containers. Then, as you get more comfortable with the process, make more recipes every week.
Soon, you will fall into a meal prep groove, and I promise you will never look back! Meal prep helped us save money, be more organized, and have healthier meals on hand all week long!
Vegetarian Meal Prep : Featuring Mediterranean Chickpea Salad
You are going to love these vegetarian meal prep ideas! This is list is packed with easy meal prep recipes from healthy snacks to delicious lunches you crave. Read on to learn all the tips to make over 15+ vegetarian meal prep recipes.
Instructions
Mix all ingredients together.

Season with salt and pepper.

ENJOY!
Nutrition
Calories:
280
kcal
|
Carbohydrates:
20
g
|
Protein:
8
g
|
Fat:
20
g
|
Saturated Fat:
4
g
|
Cholesterol:
11
mg
|
Sodium:
502
mg
|
Potassium:
335
mg
|
Fiber:
6
g
|
Sugar:
5
g
|
Vitamin A:
775
IU
|
Vitamin C:
18
mg
|
Calcium:
117
mg
|
Iron:
2
mg
All though this website attempts to provide accurate nutritional information, the information should only be considered an estimate. Varying factors such as different product types, different brands, etc. can change nutritional information. It is your responsibility as a consumer to read all labels to make sure the ingredients fit your dietary needs as well as calculate your own nutritional information as a double check.