These vegetarian Instant Pot recipes will take your weeknight dinners from fine to fantastic! Thanks to the pressure cooker, you can make slow-simmered soups in minutes and perfectly fluffy rice, too. Read on to find over 16+ easy vegetarian Instant Pot recipes I make all year long.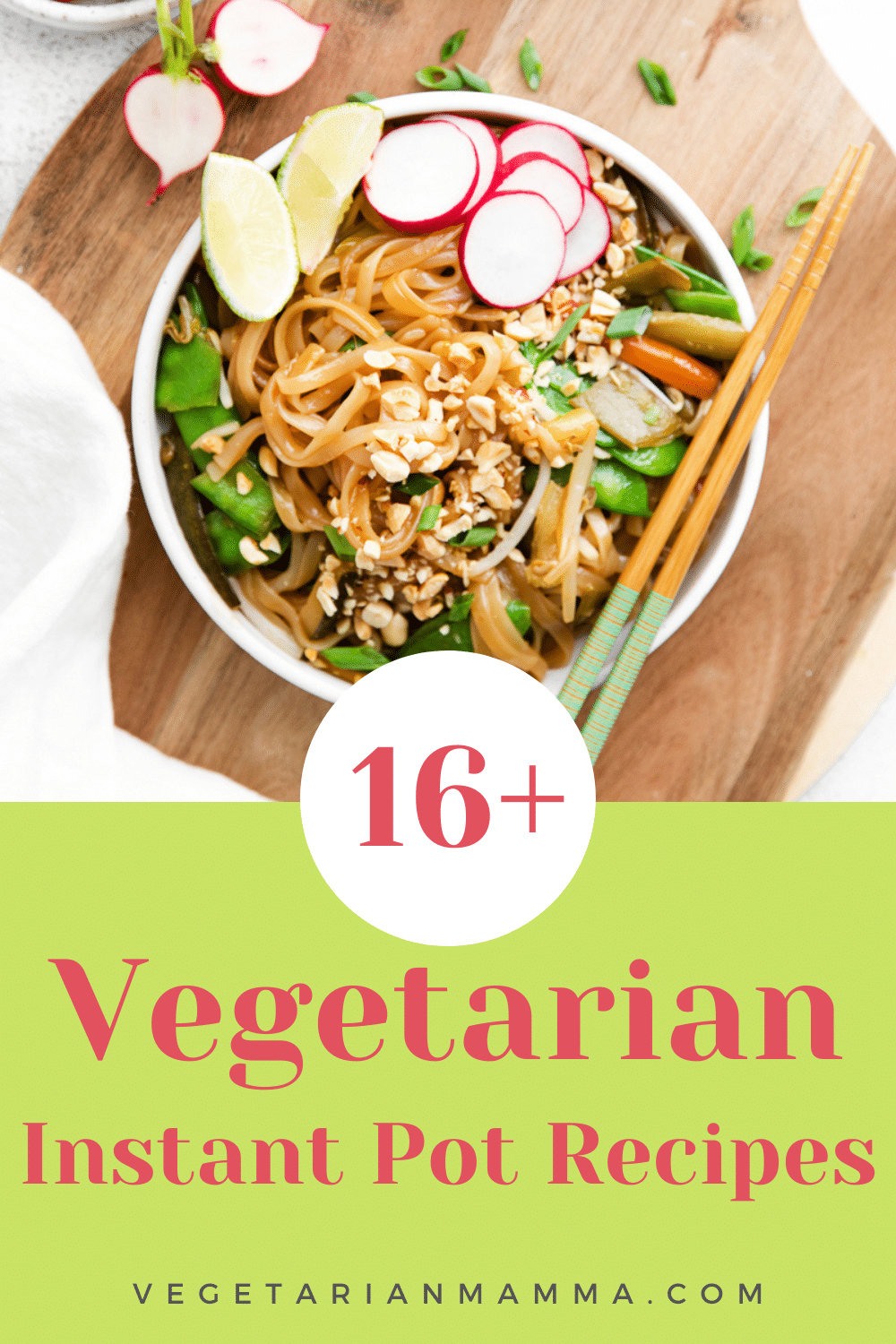 WELCOME TO VEGETARIAN INSTANT POT RECIPES!
Are you new to the Instant Pot? We are so happy you are here! I love to help people become experts with their Instant Pot If you are new, we suggest that you start with our Start Here page. We have a whole community just waiting to welcome you and share tons of amazing vegan and vegetarian recipes!
Whether you are a seasoned Instant Pot expert or a beginner, we have got some easy and delicious vegetarian Instant Pot recipes to share with you today! This easy-to-use pressure cooker can make some of the best dishes from soups and pastas to speedy side dishes. Keep scrolling for all the best Instant Pot tips for vegetarians and some of my favorite easy recipes!
BEST TIPS FOR MAKING VEGETARIAN INSTANT POT RECIPES
These tips and tricks will help you master your Instant Pot and make amazing dinners with it!
Know your Instant Pot. If you are new to the Instant Pot, welcome! It is an amazing kitchen tool to make delicious, flavorful meals in just minutes. But, if you are new, you should learn exactly how it works first. Since it is a pressure cooker, it can be dangerous if you do not know what you are doing. Always let the pin drop completely before trying to open the lid, and never release pressure with your face near the top.
Use more veggies. Really, recipes are just suggestions. When it comes to the Instant Pot, I recommend keeping a lot of things the same, like the amount of liquid and the cook time. However, feel free to add more vegetables to all these vegetarian Instant Pot recipes to add more flavor, make them more hearty, or just clean out your fridge.
Use the sauté feature, too. The Instant Pot is famous for being a countertop pressure cooker. However, it is my favorite kitchen appliance because it makes the best one-pot meals! If you need to cook your onions and veggies before adding them to the Instant Pot, simply use the sauté function! This saves on dishes and keeps all the flavor in one place.
Any liquid will do. When you use an Instant Pot, you always need a little bit of liquid, even if you are just steaming veggies in a flash. Any clear broth or water can be used in a pinch for different flavors. I always use at least half a cup. The steam from the boiling liquid helps the pressure cooker work, so always use a little liquid!
Do not overfill. Every Instant Pot is different, but they all have a max fill line. Be sure to find yours before using the pressure cooker. If you overfill the inner pot, it can spew boiling hot liquid out the top when you release the pressure.
Plan for more time than you think. Depending on your altitude and weather, it can take the Instant Pot anywhere from 10 to 15 minutes on average to come to pressure. That means it will spend time cooking before your timer officially starts. As long as you set the timer on the pressure cooker, it will do all the math for you. Just wait for the beep!
Natural release vs. quick release. Some recipes call for a natural release for a few minutes before a quick release. Once the Instant Pot timer goes off, it will stay warm but naturally release the pressure slowly. For a quick release, flip the seal knob on top to vent. Be careful! The steam will be very hot.
If you have any questions about how to make the best vegetarian recipes in the Instant Pot, please leave a comment below and I will get back to you ASAP!
FAVORITE VEGETARIAN INSTANT POT RECIPES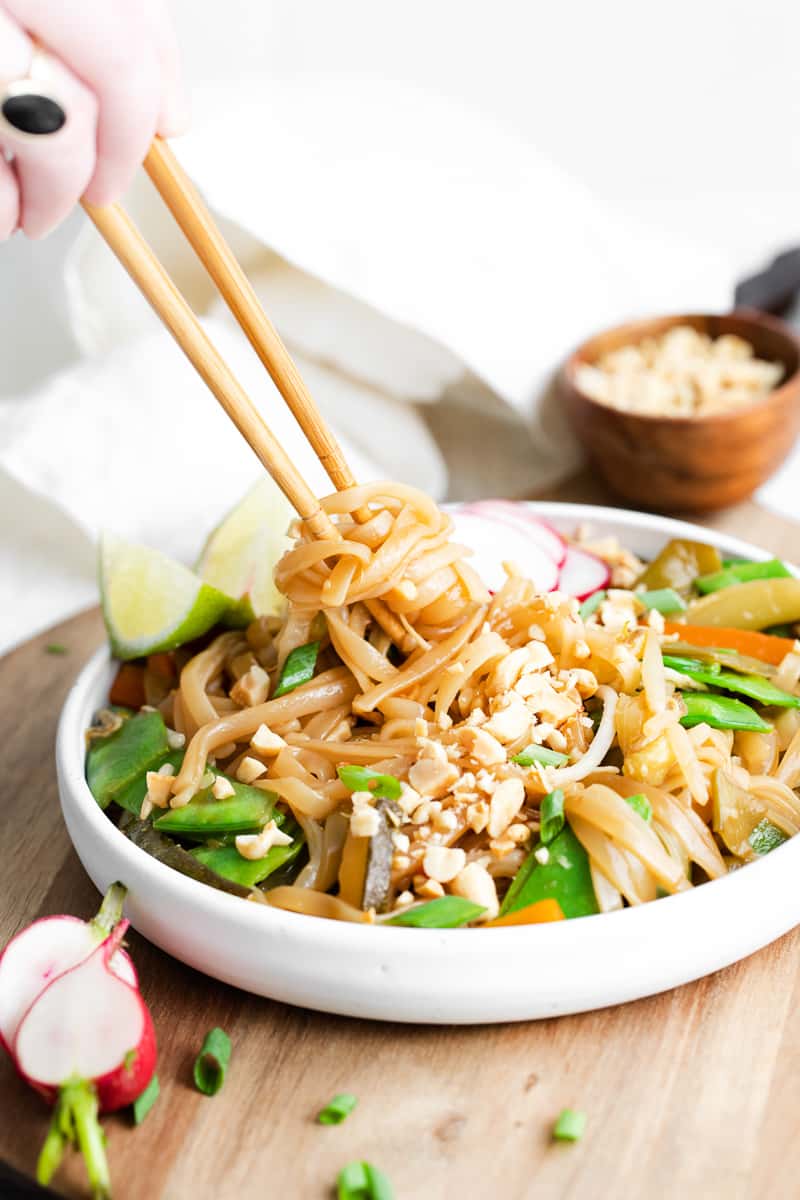 Instant Pot Pad Thai: Make this wonderfully seasoned Pad Thai dish, packed with vegetables and noodles, in the Instant Pot for a simple, fast, homemade meal that is better than takeout. Traditional pad Thai includes tamarind paste and fish sauce, but we are leaving both of those out in favor of using simplified, vegan ingredients instead.
Instant Pot Apple Butter: Thanks to the pressure cooker, it only takes about half an hour to turn your raw apples into the best spiced applesauce ever! Trust me, you will love this and look for excuses to eat it on everything. I make this Instant Pot Apple Butter ever fall for the best DIY gifts, but I always keep a bunch for myself.
Instant Pot Asparagus Risotto: Have you ever made a creamy risotto in the Instant Pot? Forget all that stirring and try this vegetarian recipe! I love adding fresh asparagus, Parmesan cheese, and a handful of fresh herbs.
Instant Pot Stuffed Peppers: Making vegetarian stuffed peppers has never been easier! Instant Pot Stuffed Peppers is a quick and filling meal you can make in a flash. I stuff these colorful bell peppers with marinara sauce, a little spaghetti, and plenty of cheese.
Instant Pot Quinoa: I love quinoa, but I do not love cooking it. This Instant Pot Quinoa recipe lets me wander the kitchen while my beloved kitchen appliance does all the work! I prefer white quinoa, but you can also use red quinoa or black quinoa in this recipe. You only need four ingredients for this quinoa recipe — quinoa, oil, salt, and water — so it is a great last-minute side dish. Dress it up or serve it plain!
Instant Pot Taco Soup: This Instant Pot Taco Soup can be made a variety of ways and is delicious either way! I love that you only have to wait 15 minutes for a luscious vegetarian taco soup packed with veggies and flavor.
BEST VEGETARIAN INSTANT POT RECIPES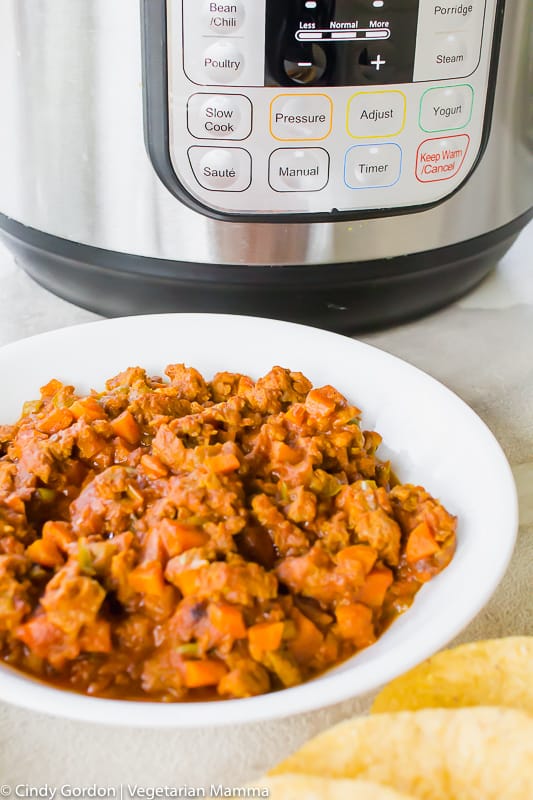 Instant Pot Vegan Taco Meat: I love Mexican food, but I have been trying to make it at home more. This Instant Pot Taco Meat recipe is packed with veggies and made with Beyond Meat for a totally vegan taco filling! There are a million ways to use this meatless taco meat. Try it on tacos, burritos, or even enchiladas!
Instant Pot Horchata: Add a creamy sweet drink to your Taco Tuesday menu with this yummy horchata recipe! It is made of rice milk, cinnamon, and a little sugar. I love mine ice cold!
Instant Pot Brown Rice: Making perfectly cooked brown rice does not have to be a science! Let your Instant Pot do the work! You will get fluffy, perfectly cooked rice every time for all your meal prep and cauliflower bowls.
Instant Pot Sweet Potatoes: I love cooking sweet potatoes in my Instant Pot because they are basically effortless and take half the time that it takes to bake them in the oven. A pressure cooker gives sweet potatoes the softest, most fluffy texture, so they are perfect for making sweet potato casserole in no time, or eating right out of the skin!
Instant Pot Potato Leek Soup: Here is the deal about this soup. Not only it is an amazing vegetable broth, but it is also one of those potato soup recipes that you will remember for a very long time. I love that you can make this soup in just 15 minutes flat. Seriously!
Instant Pot Rice Pudding: You did not think I would make a list of vegetarian Instant Pot recipes without including dessert, did you? It is my favorite meal of the day! I love this super creamy rice pudding recipe. It is perfectly tender and flavored with a touch of cinnamon.
TASTY VEGETARIAN INSTANT POT RECIPES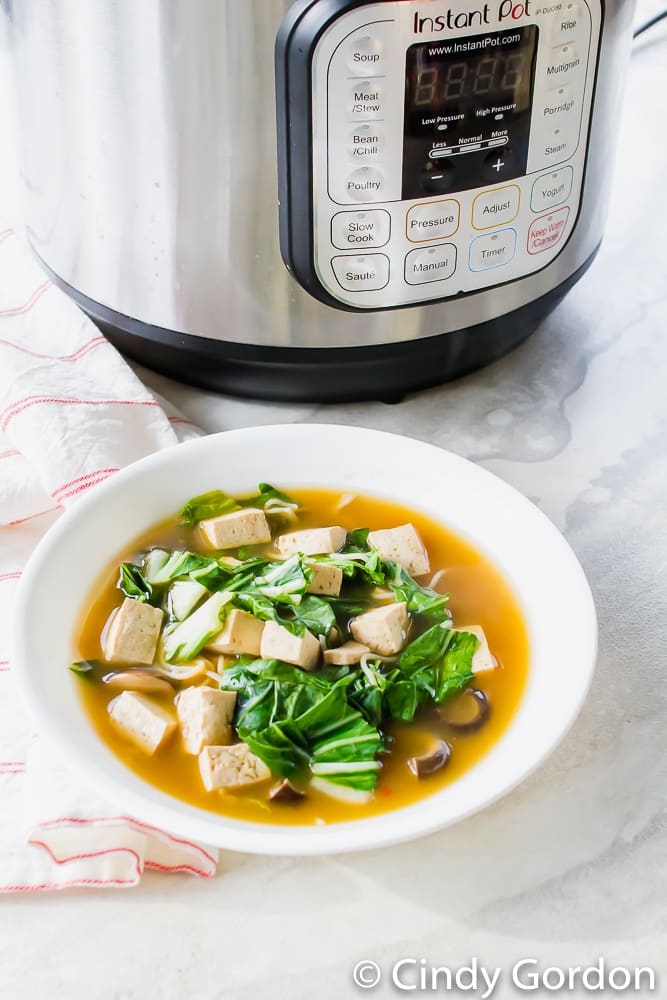 Instant Pot Ramen: This warm and hearty Instant Pot Ramen is a satisfying vegan dish that is light enough for any time of year! Perfect for potlucks and family dinners. The salty broth mixed with chewy noodles and fresh vegetables is a perfect soup when you are sick, when you are hungry, or when you are just looking to use what you have got in the house in a delicious yet satisfying way!
Instant Pot Jambalaya: The smell of Cajun food filling my kitchen is likely one of my favorites. Jambalaya is usually made with sausage, chicken, or shrimp, but I ditch all that and keep it simple with this yummy rice dish. Use white rice or brown rice for this quick vegetarian Instant Pot recipe.
Instant Pot Black Beans: If you have never made dried black beans before, this is the best recipe! They have a better texture than canned beans and, thanks to the Instant Pot, can be ready in minutes. No soaking needed for this easy vegetarian recipe!
Instant Pot Jasmine Rice: Rice is a super easy budget dish, and this Instant Pot Jasmine Rice is foolproof! You only need 4 ingredients — rice, water, oil, and salt — for this easy side dish or main dish ingredient! I do it weekly for meal prep and cheap weeknight dinners.
Instant Pot Steel Cut Oats: I love a bowl of creamy oatmeal in the morning. With the Instant Pot you wait a lot less for this breakfast recipe! Steel cut oats in the Instant Pot are easy to make vegan with non-dairy milk, too. Add your fav fruits and toppings like air fryer banana chips for the best breakfast!
Instant Pot 4-Bean Chili: This quick and easy recipe in my Instant Pot makes busy weeknights a snap. Instant Pot Four Bean Chili is a hearty and delicious dinner that you can have ready in a snap. Whether you are cuddling up with a warm bowl of chili or fixing a game day feast, this instant pot chili is perfect.
MORE VEGETARIAN RECIPES
I use my air fryer more than any other kitchen appliance. Seriously! It makes almost anything in way less time than traditional cook methods. If you have not tried it yet, start with these easy vegetarian air fryer recipes. I promise you will not be disappointed!
Pasta is a great budget-friendly dinner idea, but I get sick of the same spaghetti, alfredo, and carbonara dishes. This list of vegetarian lasagnas is great to break up the mid-week meal slump with tons of veggies without THINKING you are eating tons of veggies.
Need some new side dish ideas? These air fryer veggies are perfect! Keep the oven off tonight and make the crispiest potatoes or best mushrooms in the air fryer.
I use tofu more than any other protein in my kitchen now that I have a tofu press! These easy tofu recipes are super versatile, delicious, and easy for meal prep, lunch, or dinner. Let me know which one is your favorite!
Vegetarian Instant Pot Recipes : Featuring Instant Pot Pad Thai
These vegetarian Instant Pot recipes will take your weeknight dinners from fine to fantastic! Thanks to the pressure cooker, you can make slow-simmered soups in minutes and perfectly fluffy rice, too. Read on to find over 16+ easy vegetarian Instant Pot recipes I make all year long.
Ingredients
1.5

cup

Vegetable Stock

or water

½

cup

Soy Sauce

If you are gluten-free make sure the soy sauce is gf

2

tbsp

Brown Sugar

1

tbsp

Sesame Oil

1

tsp

Minced Garlic

1

tsp

Grated Ginger

2

Green Onions

thinly sliced

2

Carrots

thinly sliced or in matchsticks

1

zucchini

thinly sliced or in matchsticks

8

oz.

Pad Thai Rice Noodles

1

cup

Bean Sprouts

1

cup

Snow Peas

2

tbsp

chopped radish

½

cup

chopped peanuts
Optional to add more flavor:
red pepper flakes

Sriracha (to taste)

lime (additional fresh lime juice squeezed on serving)
Instructions
Gather all ingredients together.

Press Saute on the Instant Pot and add in the vegetable stock, soy sauce, brown sugar, sesame oil, lime juice, garlic, and ginger. Whisk the sauce and allow it to cook until the brown sugar dissolves-- about 2 minutes.

Add the green onions, carrots, zucchini and pad thai noodles. Turn the Instant Pot to Pressure Cook-Manual for 4minutes. Make sure the valve is in the sealing position. When the Instant Pot has finished cooking, let the mixture "natural" release for 2 minutes, then release the pressure manually by switching the valve to the venting position-- be careful, it will steam.

Remove the lid and add in the bean sprouts and snow peas. Attach the lid and allow the vegetables to warm for 5 minutes using the steam in the pot-- the Instant Pot can either be off or on the Keep Warm function.

Once finished, garnish with chopped radish and peanuts and enjoy.

Store in an airtight container in the refrigerator for up to two days.
Notes
These proteins can be added after the Pad Thai has already cooked: Cooked scrambled or hard boiled eggs, cooked tofu.
Nutrition
Calories:
419
kcal
|
Carbohydrates:
66
g
|
Protein:
11
g
|
Fat:
13
g
|
Saturated Fat:
2
g
|
Polyunsaturated Fat:
5
g
|
Monounsaturated Fat:
6
g
|
Sodium:
1068
mg
|
Potassium:
546
mg
|
Fiber:
6
g
|
Sugar:
11
g
|
Vitamin A:
5588
IU
|
Vitamin C:
31
mg
|
Calcium:
78
mg
|
Iron:
3
mg
All though this website attempts to provide accurate nutritional information, the information should only be considered an estimate. Varying factors such as different product types, different brands, etc. can change nutritional information. It is your responsibility as a consumer to read all labels to make sure the ingredients fit your dietary needs as well as calculate your own nutritional information as a double check.
VEGETARIAN INSTANT POT RECIPES POST
If you have made any of these vegetarian Instant Pot recipes, please be sure to leave a comment on the recipe page letting us know what you thought.