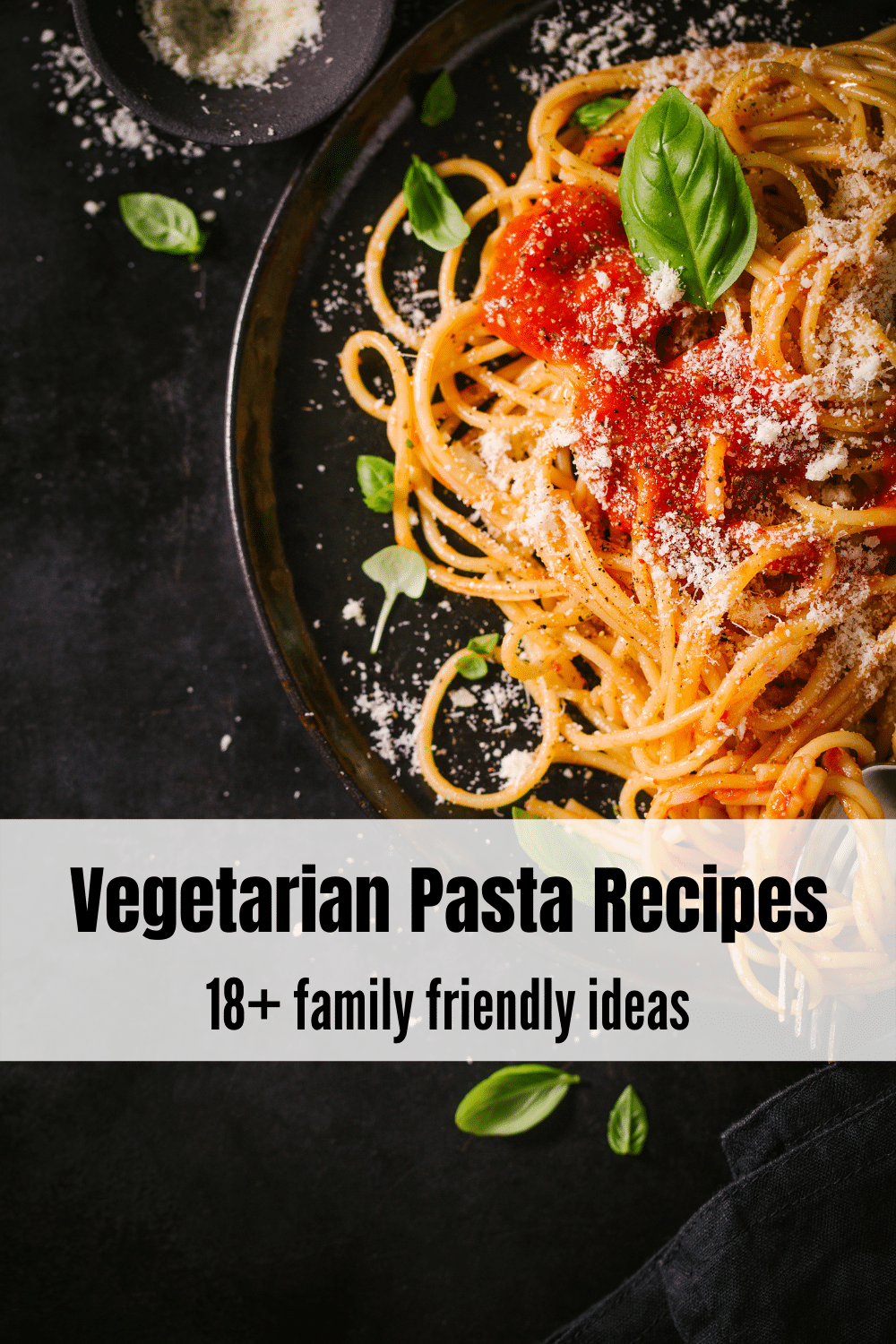 Make these vegetarian pasta recipes for comforting weeknight dinners or budget-friendly meal prep! There are an unlimited number of ways to use pasta! Read on to learn how to cook over 18 vegetarian pasta dishes.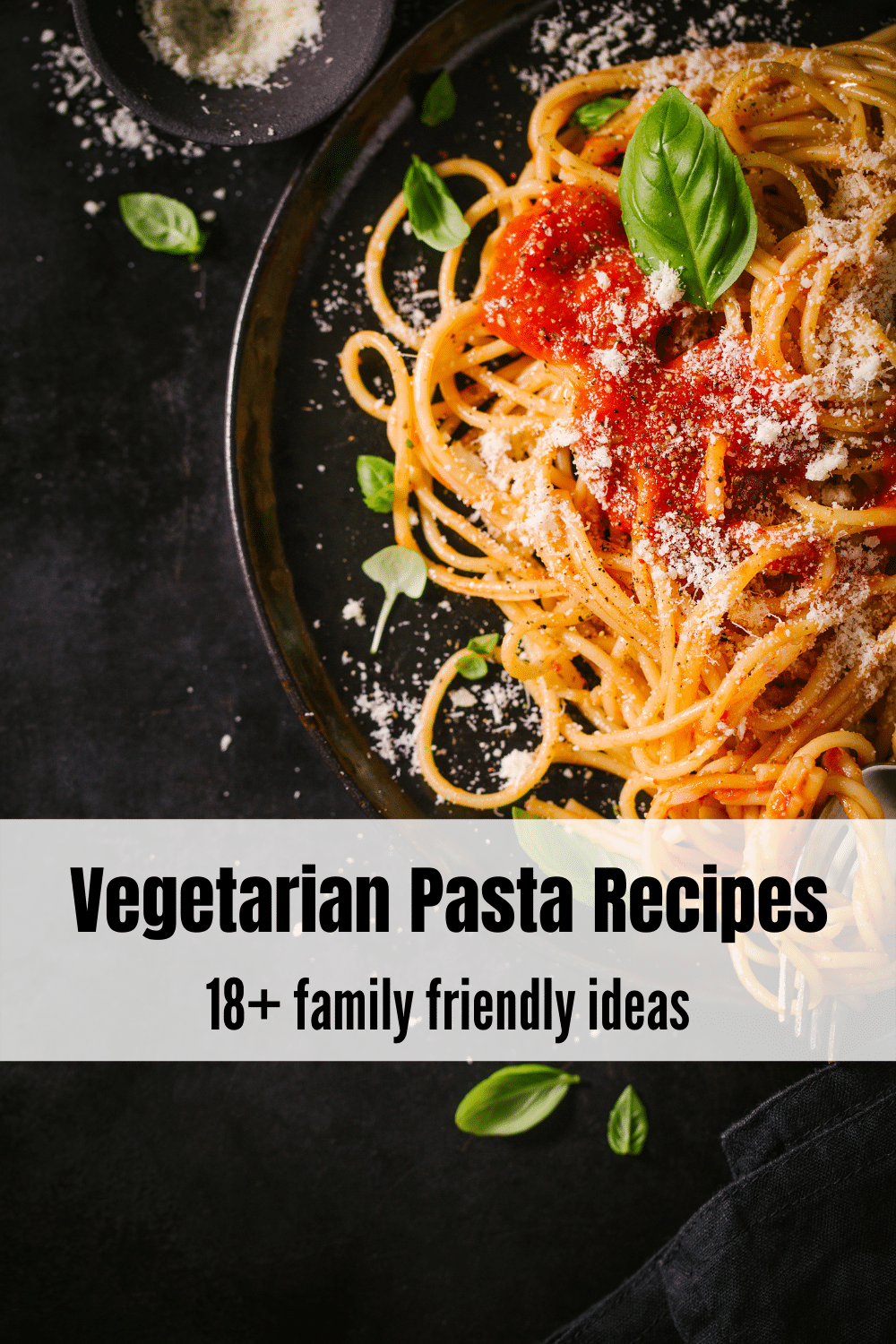 Are you new to vegetarian and vegan recipes? We are so happy you are here! We love to help people make delicious vegetarian dishes packed with nutrition and flavor, too. If you are looking for some like-minded friends, we even have a whole community just waiting to welcome you!
Whether you are a veteran vegetarian or new to the plant-based diets, we have got some easy and delicious vegetarian pasta recipes to share with you today! You can make super hearty pasta dinners and comforting soups with no meat.
BEST TIPS FOR MAKING VEGETARIAN PASTA RECIPES
Aim for al dente. The most perfect pasta is always cooked al dente. That simply means the pasta is still slightly firm when bitten instead of mushy. Follow the directions on your pasta, but always check a noodle for doneness before removing from heat.
Roast the veggies: If you want to add even more flavor to your favorite vegetarian pasta recipes, roast your vegetables before adding them to the dish. Whether it is for the sauce or just a chunky pasta primavera, the delicious char of roasted veggies is so much deeper than steamed or boiled vegetables.
Switch the sauce: Pasta recipes are great year round because they are budget-friendly and super versatile. I usually make light lemon sauces and broth soups during the spring and summer. I save my creamy alfredo sauces or hearty red sauces for the colder months.
Add fresh herbs. Normally, dried herbs are fine. I use them all the time! But for the best flavor, use fresh herbs like basil, thyme, rosemary, and oregano. You will be able to taste the difference immediately!
Use homemade noodles: For the freshest pasta, make your own! You do not need any fancy equipment to make homemade pasta.
Salt the pasta water. When I say salt the water, I mean really salt the water. Pasta is delicious, but it has no seasoning on it. You want to cook pasta in water as salty as the sea.
Save some water, too. If you want your luscious sauce to perfectly coat your noodles, save a little of the pasta water once the noodles are done. Add a little to the sauce. This helps the sauce cling to the pasta instead of slip right off. You can even add pasta water to a store-bought sauce!
FAVORITE VEGETARIAN PASTA RECIPES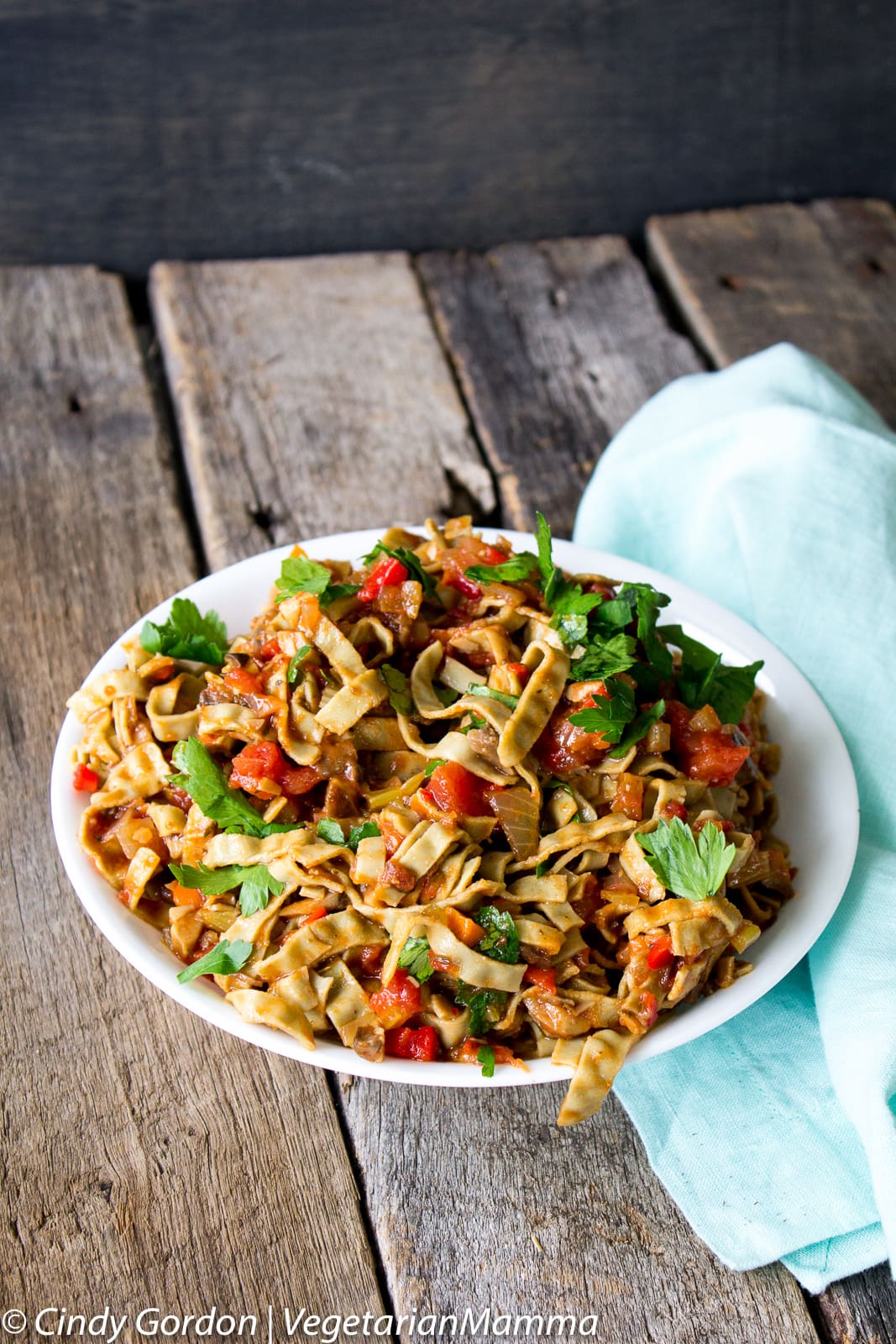 Vegetarian Bolognese: Bolognese is typically a hearty sauce that is filled with meat. It is full of flavor and originates from Italy. This Vegetarian Bolognese is full of chunky vegetables that give the sauce a comforting flavor and texture. Even your meat loving friends will love this Bolognese recipe.
Vegetable Ragu: To say this recipe is a comfort food would be 100% accurate, well at least in my recipe book. Everything about this recipe is comforting to my foodie soul. The heartiness of the lentils, the fresh ingredients, and the delicious pasta! Ragu is usually a meat based sauce, but we kept it vegetarian by adding lentils.
Air Fryer Eggplant Parmesan: If you like eggplant parm, you have to try it in the air fryer! It is super crispy on the outside and perfectly tender on the inside. This eggplant recipe will join your rotation of dinner recipes once you see how simple and delicious this is!
Vegetarian Spaghetti Sauce: This vegetarian spaghetti sauce recipe is a delicious minimalist approach to meatless spaghetti sauce. Using minimal fresh herbs and ingredients brings out the robust taste in this vegan spaghetti sauce. This sauce is truly as simple as mixing tomatoes, water, onions, oregano, crushed red pepper, and a little brown sugar.
Tofu Pad Thai: Not all pasta dishes need to be Italian! This classic vegetarian Tofu Pad Thai Recipe is packed with extra vegetables, crunchy peanuts, and fresh herbs. Skip the store and make your own pad Thai sauce that is sweet, savory, and packed with Thai flavors.
Spinach Mushroom Lasagna: Lasagna is the ultimate comfort food and my favorite vegetarian pasta recipe! Spinach Mushroom Lasagna is a simple and delicious pasta dish. It is a snap to prepare, and your family will be begging for a second serving of this fresh spinach lasagna!
Air Fryer Spaghetti Squash: Pasta is a quick and easy dinner that can be made with almost anything in your kitchen, but the heavy noodles are often too much for my family. I love this Air Fryer Spaghetti Squash because it is just ONE ingredient — all you need is a spaghetti squash! There is no added fat or oil in this recipe, and there is no adding water to a baking sheet and praying you do not spill it! Anywhere you would use pasta, try swapping it with spaghetti squash noodles for less carbs and less calories!
EASY VEGETARIAN PASTA RECIPES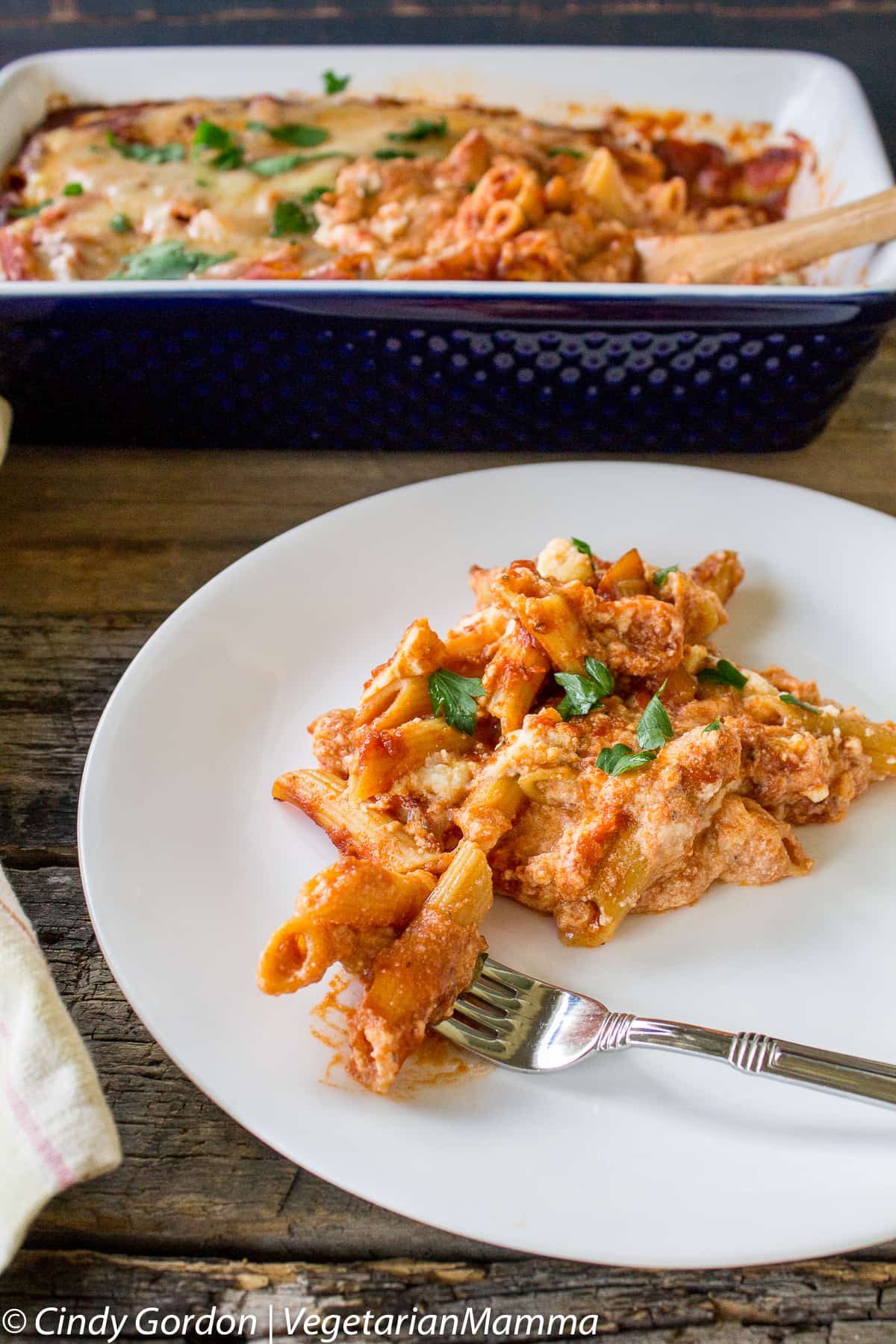 Deconstructed Lasagna: This is the ultimate easy comfort food dinner in our house! Skip the fussy lasagna noodles and use a penne pasta instead for this deconstructed lasagna recipe. The tender noodles are enveloped in a flavorful tomato sauce and topped with melted cheese. If you love baked ziti, try this vegetarian recipe!
Vegetarian Tuna Casserole: Classic tuna casserole is one of the best comfort foods. However, grandma's original recipe is not vegetarian friendly. For this recipe, I swap the fish for garbanzo beans but I keep all that traditional flavor! I use dairy products for this one, but you can easily make it vegan.
Pasta Primavera: When vegetables are the goal, pasta primavera is the recipe! This summery vegetarian pasta dish is filled with all the colors of the rainbow and perfectly al dente penne pasta. It is a great way to use tons of fresh vegetables before they go bad. From red bell peppers to purple onions and every color in between, there is no veggie you cannot add to this recipe.
Tofu Noodle Soup: Hearty, flavorful, and packed with veggies, this simple Tofu Noodle Soup aka Vegan Chicken Noodle Soup is the perfect pot of delicious comfort on any day! This is one of my favorite recipes to make on a rainy or cool day. There is nothing quite as comforting as a big pot of soup chock full of nutrient-packed veggies. Add your favorite noodles and some pan fried tofu for extra protein, and you have got a mouthwatering meal with healing benefits!
Caramelized Onion and Mushroom Pasta: This is my favorite date night pasta recipe! It feels so rich and decadent but is actually budget-friendly! Caramelize the onions in a deep red wine for extra flavor and richness! I have also added other veggies to the mix like asparagus and bell peppers.
Instant Pot Pad Thai: Skip the takeout tonight and make one of your Asian-inspired favorites in the Instant Pot! Traditional pad Thai includes tamarind paste and fish sauce, but we are leaving both of those out in favor of using simplified, vegan ingredients instead. I included all of my favorites, including snow peas, carrots, and zucchini to make a colorful and flavorful Pad Thai that rivals dishes I have eaten at Thai restaurants.
TASTY VEGETARIAN PASTA RECIPES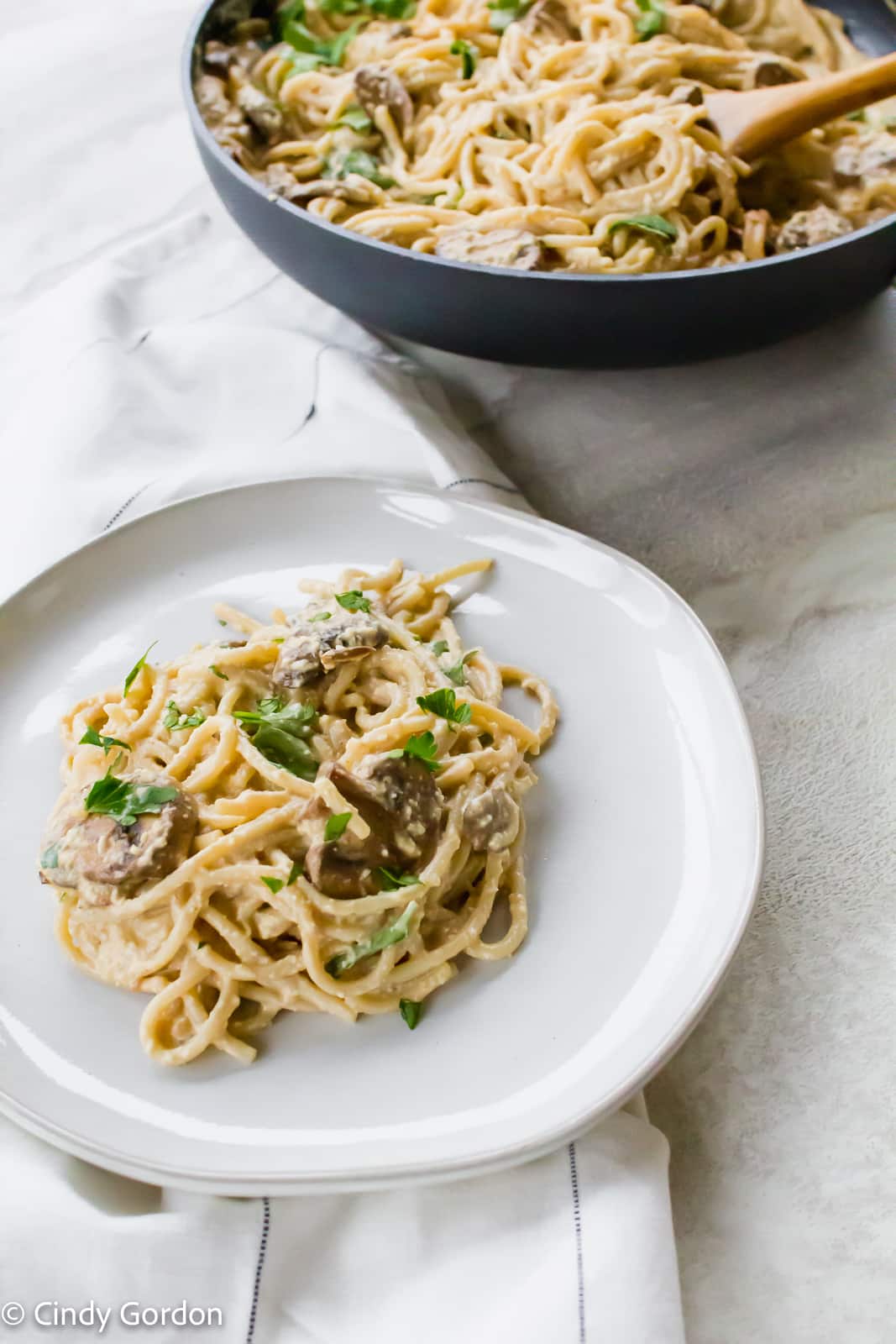 Vegan Carbonara: Carbonara is such a comforting Italian pasta dish, but it is made with nothing but animal products. Make your own carbonara sauce with soaked cashews, coconut milk, nutritional yeast, and a little lemon juice. Vegan Carbonara is totally egg-free and made with no dairy!
Mushroom Spaghetti Squash: Spaghetti Squash is common during the fall and can provide a hearty spaghetti-style meal with less carbs. Mushroom Spaghetti Squash brings some delicious earthy undertones to your table and is a great plant-based option for cold nights. This vegetarian spaghetti squash recipe will be a dinner time favorite!
Spaghetti Stuffed Garlic Bread: Take your two favorite parts of an Italian dinner and make one amazing dish! This easy vegetarian pasta recipe puts vegetarian spaghetti in warm, cheesy garlic French bread. This is a great way to reuse leftover spaghetti with a delicious side salad.
Pumpkin Pasta: Vegan Pumpkin Alfredo is a pumpkin pasta dish that is rich, savory, and perfect for fall. Pumpkin puree, vegan cheese subs and delicious Italian flavors come together to create a creamy, delightful meal for your family. We get tons of flavor from garlic and ground sage, which pairs beautifully with the slight sweetness of the pumpkin to create a well-balanced dish. This vegan alfredo sauce is ready in just 10 minutes!
Instant Pot Ramen: This warm and hearty Instant Pot Ramen is a satisfying vegan dish that is light enough for any time of year! The salty broth mixed with chewy noodles and fresh vegetables is a perfect soup when you are sick, hungry, or just looking to use what you have in the house in a delicious yet satisfying way!
Roasted Vegetable Lasagna: Roasted veggies are simply the best side dish. Throw your eggplant, mushrooms, bell peppers, and zucchini in the oven before assembling for a delicious Roasted Vegetable Lasagna. It adds all of that beautiful charred flavor to your already delicious vegetarian lasagna.
MORE EASY VEGETARIAN RECIPES
Tofu Chili: I do not put my chili on spaghetti, but I do love it as much as a comforting vegetarian pasta recipe! This hearty Tofu Chili is the best vegan comfort food for a cold night or tailgate. You can make this chili recipe in less than an hour with tons of succulent veggies and protein-packed beans. Plus, unlike most chili recipes, this chili is ready in less than an hour! It still tastes like it simmered all day. Make it spicy or keep it mild. There's no way to mess up this vegan chili!
Beyond Meat Meatloaf: Beyond Meat meatloaf is the vegan comfort food of your dreams! Enjoy all the flavors of a traditional meatloaf with a plant-based protein swap instead of meat. You can keep this meatloaf recipe vegan by ditching the dairy and replacing the traditional egg binder with a flax egg mixture! But of course, I do not skip the yummy ketchup, brown sugar, and Dijon mustard glaze on top. That is the best part!
Vegan Shepherd's Pie: The combination of hearty veggies and gravy topped with a comforting vegan mashed potato crust makes this Vegan Shepherd's Pie a family staple for weeknights and rainy days. Shepherd's pie is traditionally made with ground beef, but I choose to bulk up on the veggies instead of substituting a plant-based meat substitute. It is also commonly made with tomato paste, which I omit for dietary preferences, but helps make a flavorful vegetable gravy.
Instant Pot Taco Meat: I love Mexican food, and I have been trying to make it at home more. This Instant Pot Taco Meat recipe is packed with veggies and made with Beyond Meat for a totally vegan taco filling! There are a million ways to use this meatless taco meat. Try it on tacos, burritos, or even enchiladas!
Vegetarian Pasta Recipes : Featuring Vegetarian Bolognese
Make these vegetarian pasta recipes for comforting weeknight dinners or budget-friendly meal prep! There are an unlimited number of ways to use pasta! Read on to learn how to cook over 18 vegetarian pasta dishes.
Ingredients
¼

c

oil

1

c

finely diced white onion

1

c

finely diced carrot

1

c

finely diced celery

5

c

finely diced button mushrooms

1

red bell pepper

finely diced

2

T

Italian seasoning

dried spice

32

oz

jarred diced tomato

2

c

water

One box of Edamame & Mung Bean Fettuccini

Parsley for garnish
Instructions
In a deep pot over medium heat, warm half of the oil. When the oil is hot add in the onion, carrot, celery, mushrooms and peppers.

The pot will look full but the mushrooms will cook down. Saute until all veggies al dente (have a little tiny bit of crunch left) . Add additional oil as needed.

Add in Italian seasoning, stir to combine.

Add diced tomato and water, bring to a boil and then simmer for 20 minutes.

Prepare your Edamame & Mung Bean Fettuccini. Divide onto four plates. Gently pour warm sauce over the noodles. Top with parsley.

ENJOY!
Notes
This recipe makes a large portion. If you don't use it all you can easily freeze some for a dinner later in the month!
Nutrition
Calories:
133
kcal
|
Carbohydrates:
10
g
|
Protein:
3
g
|
Fat:
10
g
|
Saturated Fat:
1
g
|
Trans Fat:
1
g
|
Sodium:
38
mg
|
Potassium:
468
mg
|
Fiber:
3
g
|
Sugar:
5
g
|
Vitamin A:
4289
IU
|
Vitamin C:
31
mg
|
Calcium:
53
mg
|
Iron:
1
mg
All though this website attempts to provide accurate nutritional information, the information should only be considered an estimate. Varying factors such as different product types, different brands, etc. can change nutritional information. It is your responsibility as a consumer to read all labels to make sure the ingredients fit your dietary needs as well as calculate your own nutritional information as a double check.
VEGETARIAN PASTA RECIPES POST
If you have made any of these vegetarian pasta recipes, please be sure to leave a comment on the recipe page letting us know what you thought.