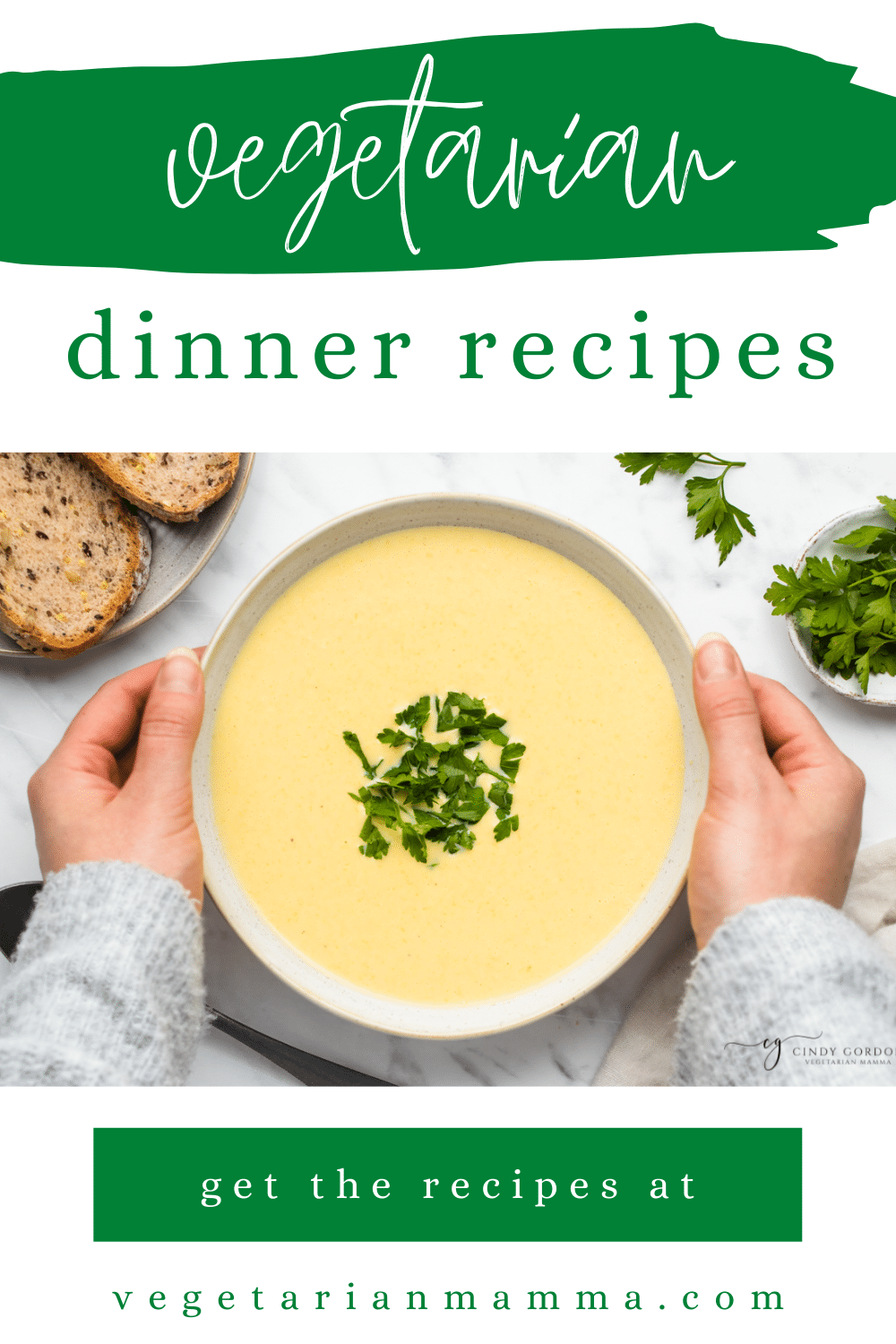 These vegetarian dinner recipes are perfect for weeknight dinners, big parties, or meal prep ideas! Make the most of your plant-based diet with the best recipes packed with flavor, protein, and of course, veggies. Read on to learn how to cook over 17+ delicious vegetarian dinner recipes.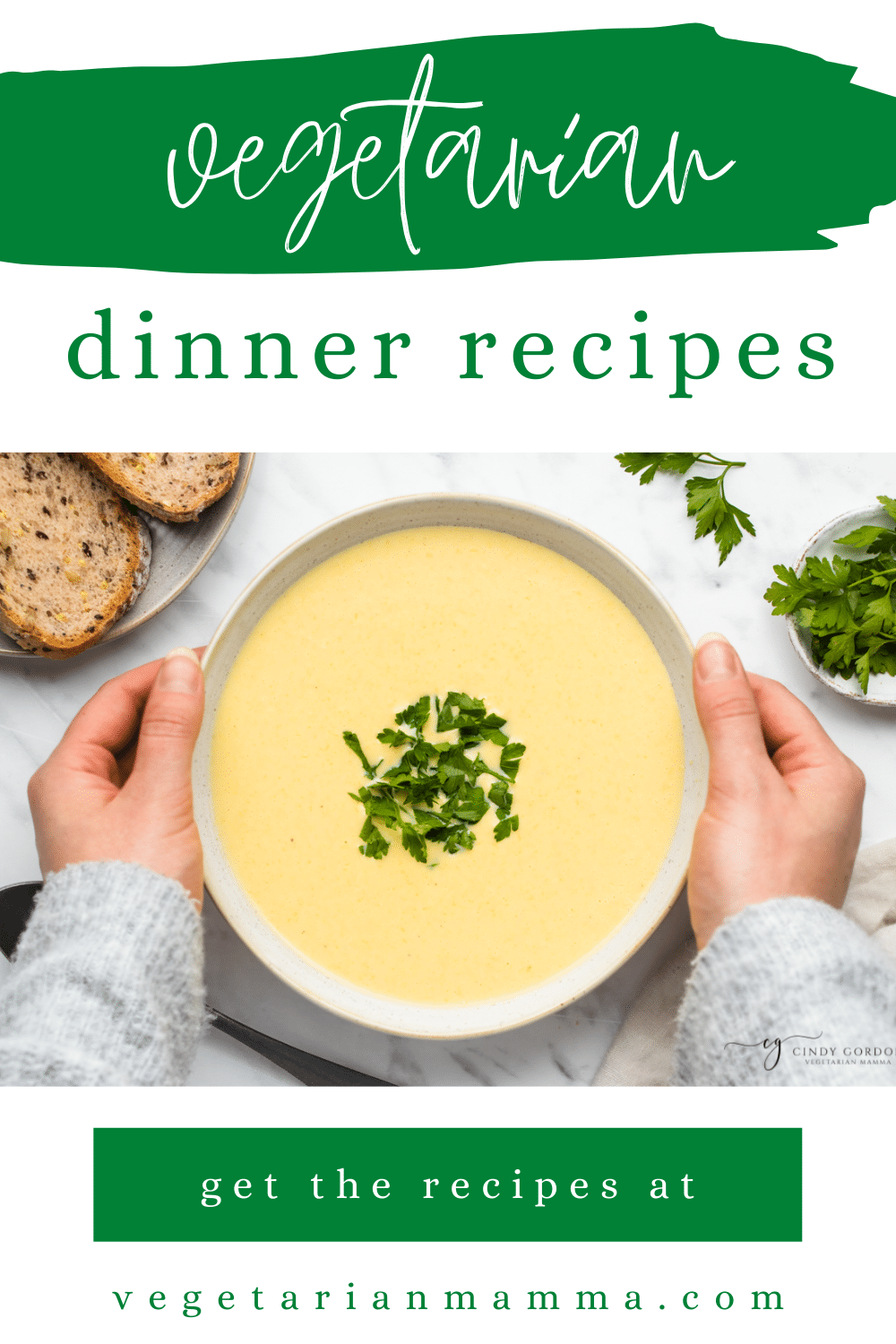 WELCOME TO VEGETARIAN DINNER RECIPES
Are you new to the vegetarian diet? We are so happy you are here! We love to help people become learn how to love eating vegetables and vegetarian dinner recipes. If you are new, we have a whole community just waiting to welcome you and share tons of great vegetarian and vegan recipes. We are so happy to have you!
Whether you are a lifelong vegetarian or just looking for more Meatless Monday ideas, we have got some easy and delicious vegetarian dinner recipes to share with you today! No matter your dinner craving, I have the recipe! Keep scrolling for some of my favorite dinner tips and the best vegetarian recipes on my blog.
BEST TIPS FOR MAKING VEGETARIAN DINNERS
Keep a stocked pantry. A well-stocked pantry can take your vegetarian dinner recipes from good to great. Whether it is more seasonings, different flavor profiles, or just extra veggies, feel free to play with all these recipes until they are perfect for your family.
Swap the proteins. Many of these recipes are made with tofu, plant-based proteins, or just packed with veggies. However, it is so easy to switch it up and use your favorite proteins! Crispy tofu is one of the best additions to any easy vegetarian recipe for more texture.
Add some flavor and heat with spices. If you want to add a little bit of spice or heat to your easy vegetarian recipes, we suggest red pepper flakes. Cayenne pepper is a great spice too, but a little goes a long way! For a more mild flavor, garlic salt is a constant go-to in my kitchen. Powdered garlic is sweeter than raw garlic but adds so much amazing taste to all my dishes.
If you have any questions about how to make the best vegetarian dinner recipes, please leave a comment below and I will get back to you ASAP! Let me know which one you loved best, too!
If you have specific ingredients that you need to use up, you need to check out this new site I found! Gumbo is a revolutionary new recipe search engine that uses that finds delicious meals based on the ingredients you have at home. Using Gumbo you can reduce your food waste, save money on your weekly grocery bills, and discover exciting new dishes that cater to your preferences and dietary restrictions. I've enjoyed using Gumbo to find new, tasty recipes with the ingredients I already have on hand!
FAVORITE VEGETARIAN DINNER RECIPES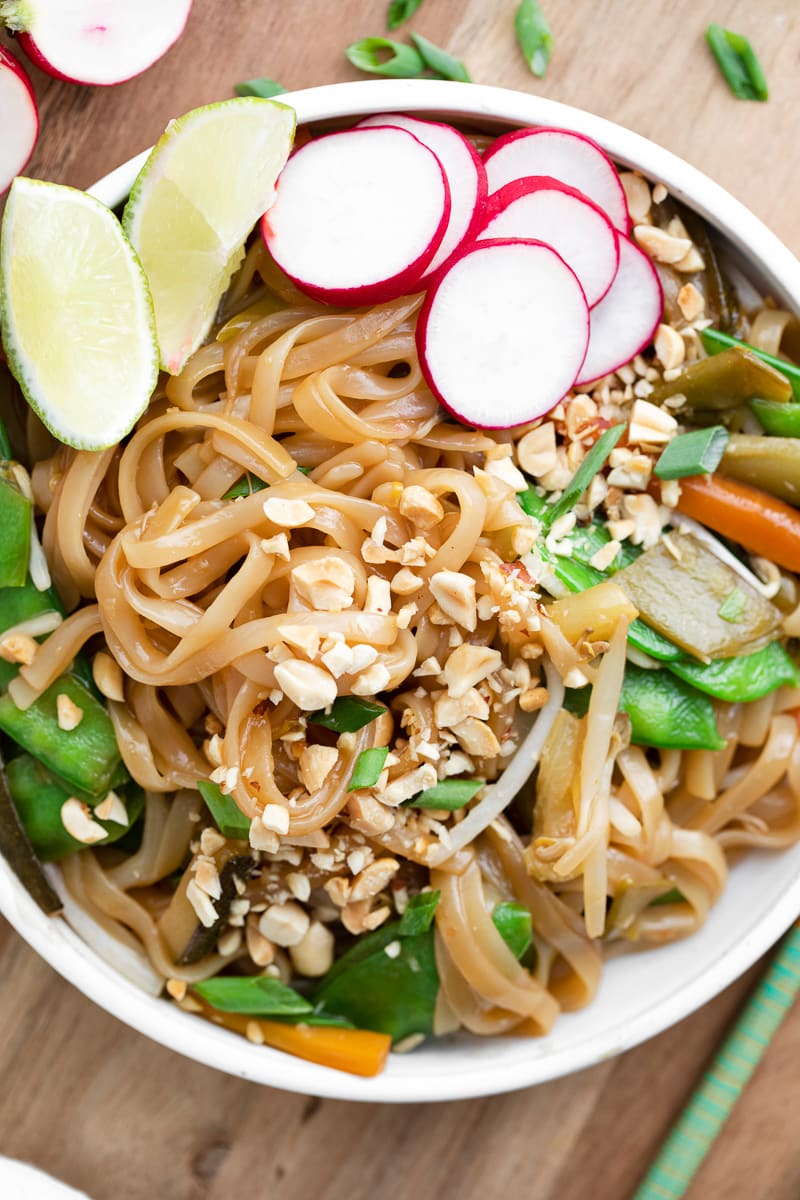 Instant Pot Pad Thai: Make this wonderfully seasoned Pad Thai dish, packed with vegetables and noodles, in the Instant Pot for a simple, fast, homemade meal that is better than takeout. Traditional pad Thai includes tamarind paste and fish sauce, but we are leaving both of those out in favor of using simplified, vegetarian ingredients instead.
Vegan Burrito: Looking for a fun takeout-style recipe that you can make at home? Try this delicious and hearty vegan burrito! They are filled with protein and veggies to keep you satisfied on the go! This vegetarian dinner recipe is filled with lots of yummy and healthy ingredients, and taste even better than the ones you have to stand in line to get!
Air Fryer Buffalo Cauliflower: Buffalo style has come to mean anything you can enjoy with hot sauce and some ranch or blue cheese for dipping, and this Air Fryer Buffalo Cauliflower fits the bill perfectly. These are the best vegetarian wings I have ever made. They are so crispy dressed in a vegan Buffalo sauce.
Vegetarian Spaghetti Sauce: I love a very simple vegetarian spaghetti sauce. Our meatless sauce has just a handful of common, simple ingredients that in the end will make your mouth water for a second serving. You might want to serve up some roasted potatoes and Brussels sprouts or a zucchini bake casserole with your vegetarian spaghetti.
EASY VEGETARIAN DINNER RECIPES
Tofu Manchurian: Did you know you can make the crispiest tofu in the air fryer? It is true! I love this Tofu Manchurian recipe because it is super crispy and the sauce comes together in minutes. You only need 3 ingredients to make the crunchiest tofu. Cover it all in this sweet and spicy Manchurian glaze made with soy sauce, sweet chili sauce, honey, ketchup, and garlic. It is so yummy, your whole family will be begging for more.
Broccoli Cranberry Salad: I love everything about this Broccoli Salad. To me, this combination of broccoli and cranberries is perfection. This creamy broccoli salad will remind you of warm spring and summer days, even when you eat it in the winter. Add even more crunch with these homemade vegan croutons!
Vegetarian Enchiladas: Enchiladas are a simple yet stunning vegetarian dinner recipe. These Vegetarian Enchiladas is so simple, versatile, and perfect for meal prep or a big family dinner. I stuff my tortillas with tofu, onions, brown rice, black beans, and fire-roasted tomatoes seasoned with cumin and chili powder for a smokey, sweet, saucy dish! Pair it with these Southwest seasoned black beans for a Tex-Mex night your kids will request every month!
Beyond Meat Meatloaf: Comfort food is my middle name. I am always on the hunt for the most comforting dinners without all the meat and dairy. Beyond Meat meatloaf will trick even the biggest carnivores into believing this perfectly spiced and sliced loaf is packed with beef and pork. You can keep this vegetarian meatloaf dinner recipe vegan by ditching the dairy and replacing the traditional egg binder with a flax egg mixture! But of course, I do not skip the yummy ketchup, brown sugar, and Dijon mustard glaze on top. That is the best part!
VEGETARIAN SOUP RECIPES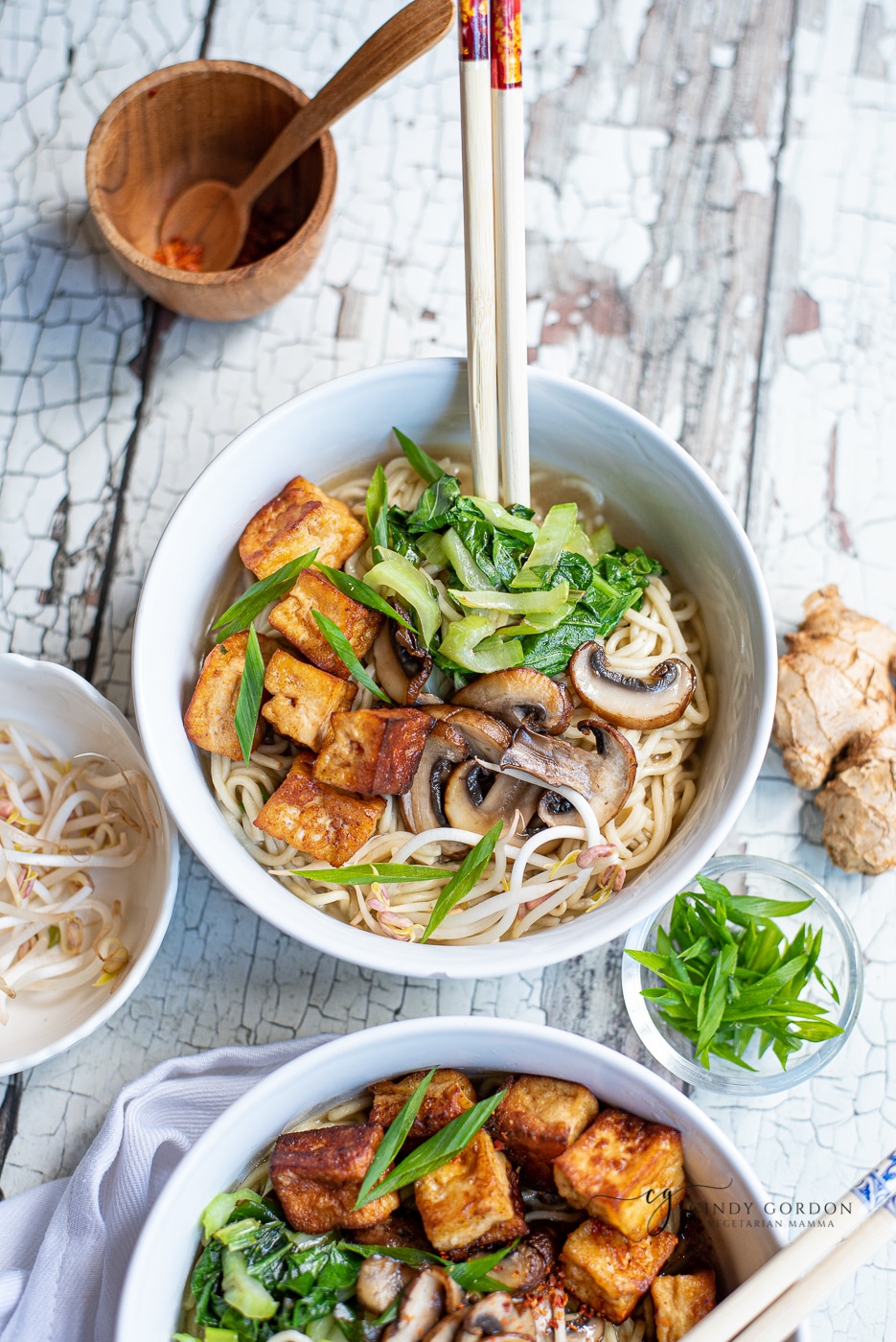 Soup season is my favorite season! There is no end of vegetarian and vegan soups on this blog.
Tofu Soup: I love a slow-simmered soup recipe, but I do not always love waiting. This Tofu Soup is so easy and ready as fast as you can chop and boil! If you love crispy tofu with an Asian-inspired marinade, you have to try this recipe. I use fresh noodles, but you can always use ramen noodles, rice noodles, or no noodles at all in this vegetarian dinner recipe! My favorite soup vegetables are cremini mushrooms, bok choy, and fresh sprouts. Add whatever is in your fridge for an easy weeknight dinner packed with flavor!
Vegan Pumpkin Soup: Fall is made for creamy soups, and this is one of my favorites! This vegan pumpkin soup is full of flavor and so luscious with coconut milk, cinnamon, nutmeg, and maple syrup, all topped with pepitas. If you have never made pumpkin soup, this recipe is so easy. This is a family go-to because it is made with basic pantry staples, and it is low carb. Plus, there are always leftovers for a great lunch meal prep!
Sweet Vegetarian Chili: Love to warm up with a sweet chili? Try this game-day vegetarian chili on for size! It is a veg chili but hearty enough that your meat-eating friends will not notice. Serve it with this crumbly, buttery gluten-free cornbread for a delicious dinner in a bowl.
Instant Pot Ramen: This warm and hearty Instant Pot Ramen is a satisfying vegan dish that is light enough for any time of year! This quick and easy dinner is made of excess produce, a little broth, and some ramen noodles for a cheap but filling dinner for the family or a great option for an office potluck!
Vegan Corn Chowder: I love a hearty summer soup, and Vegan Corn Chowder is a soup that screams summer with its chunky sweet corn and creamy coconut milk base. This vegan soup swaps the dairy milk for creamy coconut milk to give the chowder depth alongside a handful of spices and vegetables.
TASTY VEGETARIAN DINNER RECIPES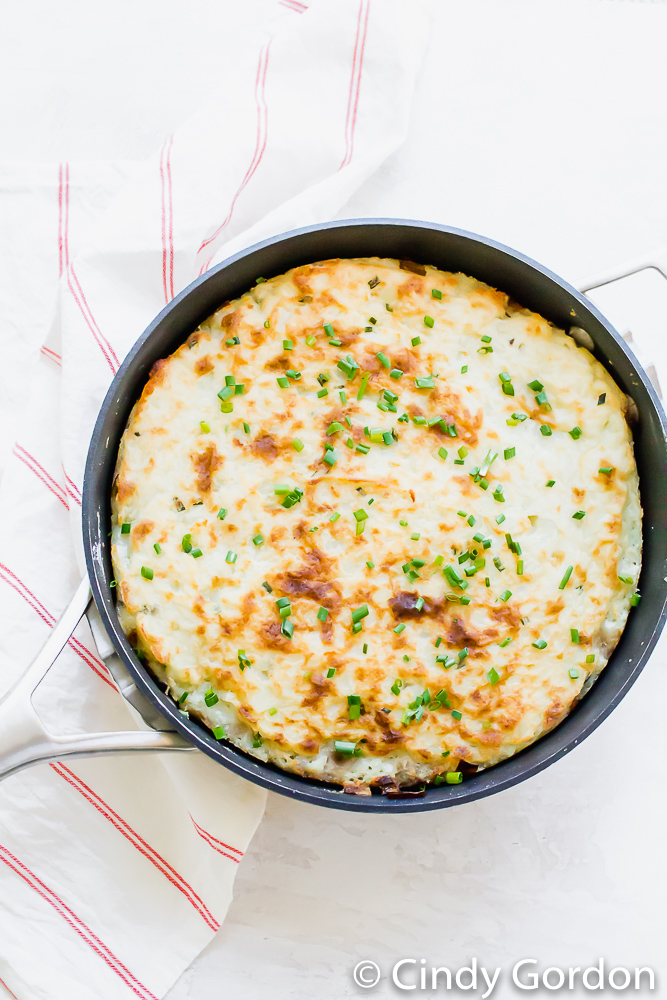 Vegan Shepherd's Pie: The combination of hearty veggies and gravy topped with a comforting vegan mashed potato crust makes this Vegan Shepherd's Pie a family staple for weeknights and rainy days. Shepherd's pie is traditionally made with ground beef, but I choose to bulk up on the veggies instead of substituting a plant-based meat substitute. It is also commonly made with tomato paste, which I omit for dietary preferences, but helps make a flavorful vegetable gravy.
Mexican Sweet Potatoes: I love using my Air Fryer to bake potatoes, and sweet potatoes are no exception. Air Fryer Baked Sweet potatoes come out perfectly soft and tender every time, and are ready in less than 45 minutes. These Air Fryer Mexican Sweet Potatoes are a delicious twist on a baked potato that will knock your socks off! We are topping these beauties with a fresh, homemade salsa made from black beans, corn, onion, jalapeño and more. Fresh lime juice and cilantro bring all the authentic Mexican flavor.
Vegetable Ragu: Ragu is usually a meat based sauce, but we kept it vegetarian. To bulk it up without adding meat, we added lentils! Vegetable Ragu is a hearty and flavorful pasta dish that is perfect for your dinner table. This vegetable ragu recipe is just right for busy week nights or lazy weekends. Serve it over air fryer spaghetti squash for an easy, healthy vegetarian dinner recipe.
Air Fryer Portobello Mushrooms: Something about a portobello mushroom screams perfect meat alternative. This Air Fryer Mushroom recipe is simple and easy with just four ingredients to get dinner on the table fast! These juicy portobello mushrooms are coated in oil, coconut aminos, and garlic salt, giving them a steakhouse feel without the steak. These basic seasonings help bring out the natural mushroom flavor without masking it.
MORE VEGETARIAN RECIPES
I use tofu more than any other protein in my kitchen now that I have a tofu press! These easy tofu recipes are super versatile, delicious, and easy for meal prep, lunch, or dinner. Let me know which one is your favorite!
I LOVE my air fryer. I use it all the time! These easy vegetarian air fryer recipes are totally drool-worthy! Learn how to make the crispiest tofu in the air fryer and so much more. It really can make anything!
These easy salad dressing recipes are so delicious and perfect for every season! Use them on your favorite salads, as veggie dips, or even on sandwiches and veggie burgers. I promise you will love all these recipes.
Pasta is a great budget-friendly dinner idea, but I get sick of the same spaghetti, alfredo, and carbonara dishes. This list of vegetarian lasagnas is great to break up the mid-week meal slump with tons of veggies without THINKING you are eating tons of veggies.
Need some new side dish ideas? These air fryer veggies are perfect! Keep the oven off tonight and make the crispiest potatoes or best mushrooms in the air fryer. If you have not tried vegetables in the air fryer yet, you must! It makes the best side dish for all these vegetarian dinner recipes.
Vegetarian Dinner Recipes : Featuring Vegan Shepherd's Pie
These vegetarian dinner recipes are perfect for weeknight dinners, big parties, or meal prep ideas! Make the most of your plant-based diet with the best recipes packed with flavor, protein, and of course, veggies. Read on to learn how to cook over 17+ delicious vegetarian dinner recipes.
Ingredients
2

tbsp

oil

¾

cup

leek

diced

4

cups

mushrooms

diced

2

cups

carrots

diced

2

cups

frozen peas

2

tbsp

maple syrup

4

tbsp

tomato paste

optional

4

cups

vegan mashed potatoes

premade

Fresh chives

diced for garnish
Instructions
Preheat oven to 350 degrees.

In a medium oven-safe skillet, heat oil. Add leeks and sauté.

Add carrots and mushrooms. Sauté until soft.

Add frozen peas to pan. Stir to combine.

Add maple syrup and flour. Allow mixture to warm, stirring continuously. Mixture will thicken. Add tomato paste (optional).

Cover mixture with layer of vegan mashed potatoes. Cook in oven for about 20 minutes, until potatoes begin to turn golden brown.

Top with diced chives. Enjoy!
Nutrition
Calories:
1770
kcal
|
Carbohydrates:
333
g
|
Protein:
55
g
|
Fat:
33
g
|
Saturated Fat:
3
g
|
Sodium:
982
mg
|
Potassium:
6242
mg
|
Fiber:
47
g
|
Sugar:
79
g
|
Vitamin A:
47075
IU
|
Vitamin C:
356
mg
|
Calcium:
339
mg
|
Iron:
14
mg
All though this website attempts to provide accurate nutritional information, the information should only be considered an estimate. Varying factors such as different product types, different brands, etc. can change nutritional information. It is your responsibility as a consumer to read all labels to make sure the ingredients fit your dietary needs as well as calculate your own nutritional information as a double check.
VEGETARIAN DINNER RECIPES POST
If you have made any of these vegetarian dinner recipes, please be sure to leave a comment on the recipe page letting us know what you thought!